This article explains in detail how to organize a trek to lake Song Kol with practical information on what to bring, which companies to contact and where to stay in Song Kol. It also gives you a few itineraries to hike to lake Song Kol independently.
No trip to Kyrgyzstan would be complete without going on a hike to one of the country's stunning mountains or lakes. Kyrgyzstan is the ideal country for mountain hikes since 90% of its territory is above 1,500 meters.
Out of all the possible hikes in Kyrgyzstan, a trek to lake Song Kol is the one hike you shouldn't miss.
It's hard to start describing just how beautiful this lake is. It's surrounded by small hills, yurt camps and herds of horses grazing.
The paths leading to Song Kol are considered to be some of the best hikes in Kyrgyzstan.
On your way to Song Kol, you'll come across plenty of yurt camps like this one…
Lake Song Kol is not the easiest lake to access in Kyrgyzstan, but it's totally worth hiking there.
As with most places, the more challenging it is to reach a destination, the more rewarding it will be. This is exactly the case with Song Kol Lake.
In this article, I'll tell you exactly how you can trek to lake Song Kol in Kyrgyzstan. I'll give you all the info and tips to help you hike there independently or with a local guide.
Nothing beats a gorgeous sunset at Song Kol lake…
[kt_box opacity="1″ background="#eded6d"]
Would you prefer to go on a horseback trek to Song Kul?
Read:
Everything you need to know about going on a horseback trek to lake Song Kul
[/kt_box]
1. Why should you hike independently to Song Kol?
Of all the hikes you could do in Kyrgyzstan, a hike to lake Song Kol is possibly the less difficult. It's an amazing adventure that offers a lot of the highlights of Kyrgyzstan in a condensed version.
It's also a very safe hike and a very affordable one!
You'll be hiking through the green hills, meadows, and valleys surrounding the lake.
Here and there you'll come across yurt camps where you might be invited for a glass of tea or a cup of Kymyz (fermented horse milk).
Local shepherds might invite you for a cup of Kymyz…
On an independent hike to Song Kol you'll be able to appreciate the beauty and quietness of untouched surroundings.
If you start your trek in Kilemche valley or in the village of Kyzart, you'll see herds of hundreds of horses grazing in the hills around you.
To reach Song Kol you will have to cross some very high beautiful mountain passes where you'll be able to catch your breath and see miles in every direction.
You'll witness gorgeous landscapes on your way to Song Kol…
When you finally reach the lake, you'll feel proud and see that it was absolutely worth the effort!
You'll also witness the lifestyle of the Kyrgyz nomads who bring herds of horses around the lake and who live in their yurts for the whole summer.
If you're lucky, you could even attend a game of Kok Boru, a traditional Kyrgyz game played on horses.
[kt_box opacity="1″ background="#eded6d"]
Read what are the top things to do around Lake Issyk Kul in Kyrgyzstan!
[/kt_box]
2. A few things you need to know before you hike independently to Song Kol
1) Do people in Kyrgyzstan speak English?
While the younger generation in big cities like Bishkek and Karakol does speak English, most of the herders and nomads that you'll encounter near Song Kol don't.
They might know a few words of English but they mostly only speak Russian and Kyrgyz. Learning a few words in those languages before your trip will be very helpful.
The Kyrgyz shepherds that you'll meet on your way to Song Kol don't always speak English…
Here are a few Russian expressions that you could use to let herders know you'd like to stay in their yurt for the night:
Skolka sto-it za notch?: How much does (the yurt) cost per night?
Magoo lee ya spat zdiess sivodnya vicheram?: Can I sleep here tonight?
Skolka sto-it yeda?: How much is a meal?
Spassiba: Thank-you
Voo-ee mojhet-ee-ay zapessat eta?: Can you write this down?
Here are a few Kyrgyz expressions that could also be very helpful in the mountains near Song Kol:
Salam: Hello
RaHmat: Thank you
Tualet Kayda?: Where is the toilet?
Kança?: How much?
Men jogolgon jatam: I am lost
Men bul jerde tikse bolot?: Can I camp here?
Knowing a few words of Russian or Kyrgyz will help you break the ice with the locals…
If learning languages is not your thing, I would recommend getting your hands on the Lonely Planet Russian phrasebook and dictionary.
It's packed with thousands of sentences that will help you in different situations and scenarios such as ordering food or finding a place to stay.
If you would like to travel to Song-Kol lake with a guide that speaks perfect English, I would recommend that you contact our friend Aleksei from Kyrgyz Nomad. He's an excellent guide, speaks perfect English and he knows the country like the back of his hand.
2) Is it safe to hike to Song Kol?
Hiking to Song Kol is safer than hiking to most other destinations in Kyrgyzstan. It's quite a popular destination for local shepherds during the summer so as you hike there, you'll come across plenty of friendly locals on their horses.
Because the area around Song Kol is not very rocky, there is very little risk for rock falls.
To see some of our safety recommendations related to hiking in Kyrgyzstan and to the country in general, read: Is it safe to travel to Kyrgyzstan?
The hike to Song Kol is one of the safest hikes in Kyrgyzstan…
To ensure complete safety while hiking to song Kol lake, we also recommend reading Things you need to know and do before you go trekking in Kyrgyzstan.
Before your trek to lake Song Kol, tell someone about your plans.
There's no wi-fi or cell phone connectivity in the mountains so in the unlikely event that something happens and you're in need of help, it's always good that at least one person knows where you are going and how long you're supposed to be gone for.
You should also have the physical condition required for the trek. It won't only be a lot more enjoyable for you to hike but it's also important that you're able to arrive at the lake itself.
Once you're there you can get a car back to Kyzart or Kochkor if you're too tired to continue the hike.
It is paramount that you have good travel insurance before heading towards lake Song Kol on foot.
The insurance we recommend is World Nomads. It covers almost anything that could virtually happen to you in high mountain altitudes and covers you on treks of up to 6,000 meters.
World Nomads is also one of the few policies that won't require you to be in your home country to purchase, renew or extend your insurance. If your trip happens to go on a little longer than planned, you can easily extend your plan online.
3) What kind of weather should you expect in the mountains around Song Kol?
The best time to visit Kyrgyzstan is between the months of June and September. The weather around Bishkek is at its best during that time.
In the mountains, however, the weather can be very cold at night depending on how high you are. The average temperature during the day can be between 10°C (50°f) and 25°C (77°f). At night the temperature easily goes down to 5°C or 0°C (41°f or 32°f).
In extreme situations and at high altitudes it could still snow and freeze at night. Watch this video to see what I mean:
I'd recommend you bring a good warm sleeping bag and some warm and waterproof clothes regardless of the time of the year you hike to Song Kol.
[kt_box opacity="1″ background="#eded6d"]
Read also: The 15 best and most beautiful places to visit in Kyrgyzstan
[/kt_box]
3. How long does it take to hike to Song Kol?
Depending on where you start your journey, hiking to Song Kol lake can take anywhere between a day and a whole week. Starting directly from Kilemche valley, for example, takes only a day.
If you start from the small village of Kyzart, reaching the lake on foot takes about two to three days depending on how fast you walk.
Alternatively, you can arrange for a trekking agency in Kochkor to drop you off at km 46 on the Kochkor-Jumgal road. From there, hiking to the lake should take around two days.
I cover these two itineraries to Song Kol below in 7. Where can you start a trek to Song Kol?
After a day or two of hiking, you'll be able to relax right next to the lake…
4. How much does hiking to Song Kol lake cost?
Going on a hike to Song-Kol can be almost free since you don't need a hiking permit or a porter to complete this hike.
You will only need to pay for staying in the yurts that you will encounter along the way and for the meals that you will eat at those yurt camps.
The hills around Song Kol lake are ideal to trek independently and even more so if you have experience following a map or if you have hiked before.
Read Costs of trekking in Kyrgyzstan to find out how much it would cost to rent a tent, some hiking poles and a gas stove in Kyrgyzstan.
Although it is a good idea to have this equipment, it won't be absolutely necessary on the hike to Song Kol.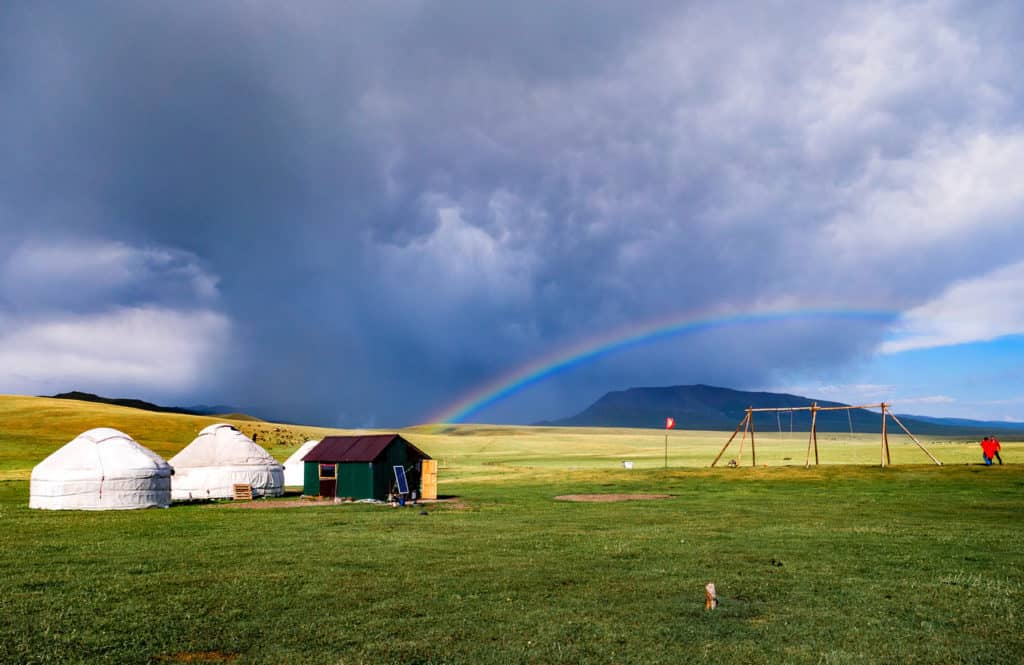 You can stay in a yurt camp without breaking your piggy bank…
If you don't have a tent, you can always stay in a yurt with a nomadic family on your way to the lake.
These nomadic families spend part of the summer tending to their herds and very often welcome travelers in their temporary homes.
They charge an average of 700 soms per day ( about 10 USD ) and this includes breakfast and dinner. It's possible to stay with them for a few nights and help them with their daily activities.
Paying for an organized trek to Song Kol Lake
There are a lot of companies in Kyrgyzstan offering guided treks to Song Kol lake and they all offer very different packages.
What kind of price should you expect for a trip to the lake? The price will depend on the duration of the journey, if you travel with an English speaking guide and if you'll sleep in yurts along the way and eat there.
It also depends on if you arrange your tour through a travel agency or through the local CBT (community-based tourism).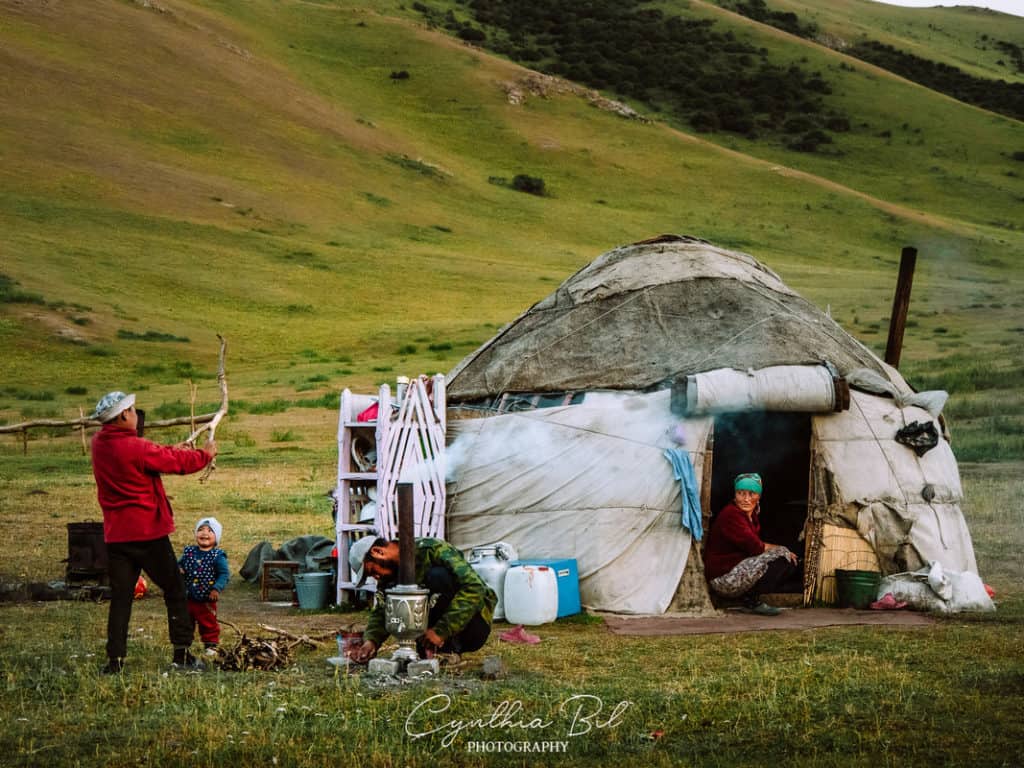 If you arrange your tour through a CBT, you'll save a lot of time. However, you might end up paying much more than if you would organize your trek independently as the CBTs in Kyrgyzstan tend to overcharge.
You could contact Kochkor CBT if you decide to start a trek to Song kol from Kochkor.
If you want a local guide that speaks perfect English and that won't overcharge you, I would suggest contacting Aleksei from Kyrgyz Nomad.
[kt_box opacity="1″ background="#eded6d"]
Kyrgyzstan on a budget – How much does it cost to travel and live in Kyrgyzstan?
[/kt_box]
5. What should you bring on a trek to Song Kol?
If you organize your trek through an agency, you won't have to bring much. You'll be sleeping in yurts along the way and eating homemade traditional Kyrgyz food. This means you practically won't have to carry anything except warm clothes.
If you are going independently on a trek to Song Kol, it's important that you pack wisely.
If you are going there during the summer, you won't need to pack much as you'll encounter plenty of yurt camps along the way.
In the event you would go there early in the Spring or later in the Fall, you should pack everything you need so you're completely independent.
There are barely any yurt camps between the months of October and May, so you'll also need a good tent and a gas stove.
To make sure you're prepared and you don't forget anything, Cynthia created a list of everything you need to pack and do when you're planning a multiple-day trek in Kyrgyzstan.
[kt_box opacity="1″ background="#eded6d"]
The top 28 things to do in Kyrgyzstan – culture, nature and sights
[/kt_box]
6. What are reliable guides or agencies organizing treks to Song Kol?
Many different travel agencies and companies organize treks to Song Kol. Some guesthouses in Kyzart and Kochkor can also organize a guided trek to the lake for an affordable price.
Prices will change depending on the company you deal with. Here are some of the different companies and organizations that organize treks to lake Song Kol:
This excellent travel company is one that we have used on various occasions to discover remote and off the beaten path places in Kyrgyzstan.
Kyrgyz Nomad is a relatively young company and was founded in 2012. The objective of its founder is to promote ethnic and ecological tourism in Kyrgyzstan. They will show you a different way of traveling away from the crowds.
The company organizes completely customizable tours and can provide English speaking guides. If you want to organize a horse riding adventure to Song Kol lake, this is the company I would advise contacting.
Contact Kyrgyz Nomad is you want an awesome guide who speaks English…
Trekking Union of Kyrgyzstan, or short "TUK", is an organization responsible for promoting and developing a lot of the adventure tourism and hiking trails around Kyrgyzstan.
They also mark and map new trails around the country and organize treks around Kyrgyzstan at a very affordable price.
They don't organize treks to Song Kol lake all year round but you should consider contacting them to see if they organize treks there while you are in Kyrgyzstan.
The prices for treks to Song Kol offered by the CBT in Kochkor are a bit pricier than what other companies offer. However, they can also arrange longer tours to Song Kol (up to 9 days) and can organize trips for larger groups without any problem.
If you want to hike for more than a week to the lake and back, this is the company I would advise contacting.
Guesthouses in Kyzart or Kochkor
If you are staying in Kyzart or Kochkor, it will be possible to organize a hike to the lake directly with your guesthouse or homestay. Most of the time, they will offer an even better price than most of the travel companies would.
7. Where can you start an independent trek to Song Kol?
Two day-by-day itineraries to hike to Song Kol
The following itineraries to Song Kol take into account that you will be traveling light and camping in yurt camps along the way.
If you carry your own equipment (tent, stove, and sleeping bag), hiking there might take a bit longer.
1) Itinerary One: Kochkor to Song Kol and onwards to Kyzart – 3 days
This first itinerary will start a bit outside of Kochkor on the road to Jumgal.
A big part of this itinerary can be found in the Song Kol & Jumgal trekking maps sold at the CBT in Kochkor. Before starting the hike, I would greatly advise getting your hands on a copy.
The map looks like this:
This map can also be bought online here.
To find out how to reach Kochkor from Bishkek by public transport, read this article.
Day one: From Kyzart pass or km46 to Kilemche valley
From Kochkor get a shared taxi going towards Jumgal or contact the Kochkor CBT to arrange transport and ask them to drop you off at km46 on the Kochkor-Jumgal road.
Alternatively, you can start the hike a bit farther near Kyzart pass.
If you arrange transport with the CBT in Kochkor, it should cost around 250 som to get there.
Once you get out of the vehicle at km 46, you should head towards the southern mountain chain following a trail of car tracks heading towards the lake.
You will gradually be going uphill and at a certain point, the trail will become steeper and steeper. If you follow these tracks for an hour and a half or for 3.8 km you will arrive at the Chaar-Archa pass.
This pass stands at 3061 meters and from there you'll have a pretty amazing view in every direction. It's a good idea to put a warmer sweater once you're on top of the pass as it gets blown by a constant cold wind.
Go down on the other side of the pass by following the car tracks. You'll be surrounded by gorgeous green hills and valleys as you head down the pass.
After about 3 km you'll come across a first small river and a metal bridge that crosses it. This is the Chaar-Archa river.
After you cross the bridge, keep following the car tracks towards the right. You'll be going uphill again for a short while crossing a small mountain range known as the Kyzart mountains.
Once you arrive on the other side, it will be all downhill from there. You'll see a valley down in front of you with a river flowing through it. This is Kilemche valley.
If you carry your tent and cooking stove, I would advise camping by this river.
If you don't have a tent, cooking equipment or a sleeping bag, then the best option would be to continue following the car tracks for a little bit more.
If you walk for another hour up from the valley along the tracks, you'll come across a small yurt camp hidden behind a hill.
This yurt camp is at this location every summer and the owners gladly host guests for a modest price. It's called Marat Japarov yurt stay.
This yurt camp typically charges 800 som a night including meals. The camp is easily recognizable by an old bus that was converted into a small house next to the yurts.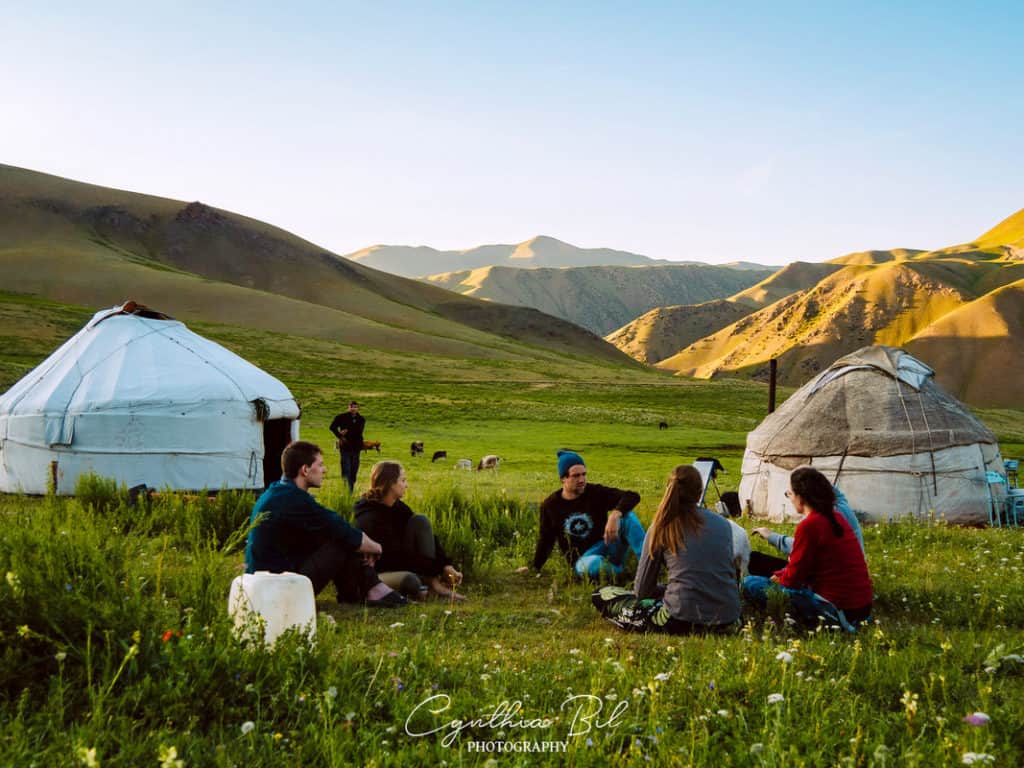 Day two: Kilemche valley to lake Song Kol
If you have a LifeStraw Waterfilter Bottle, make sure to fill it up before leaving on the morning of day two.
If you camped by the river, you can fill this bottle up directly with water from the river as its filtering system is extremely effective.
If you stayed at Marat Japarov yurt stay, ask them to fill your water bottle up or to provide you with a bit of water for the journey. There won't be any other river or water sources from there on until you arrive near the lake.
From the yurt camp, take the path that goes towards the east.
After about ten minutes of walking in that direction, you'll notice a huge opening in the mountains to your right. Heading in that direction, you'll pass a couple more yurt stays to your left.
The view from the pass is quite stunning…
Following the path will take you up all the way to the Jalgis Karagai pass. Reaching it from the yurt stay takes around two hours. The pass is quite high (3325 meters) and from it, you'll have a spectacular view on the valleys below.
From this pass, there is a path that heads down straight to the lake. There will be an old mausoleum tower next to the path when you arrive at the lake.
From there you can head towards your right and stay in the first yurt camp that you'll come across or in one of the yurt camps on the way to the Tuz Ashu pass.
You'll enjoy going for a short walk around the lake…
If you have your own tent, a great idea is to camp next to Song Kol and refresh yourself in the cool water of the lake.
Day three: Song Kol to Kyzart
Ask the shepherds tending to their cattle around Song Kol to point you in the direction of the Tuz Ashu pass. The distance from the lake to the pass is about 5 km and it's a nice gradual ascent to get there.
The view from the pass is really gorgeous, on one side you'll see the lake and on the other side in the distance, you'll even see Kochkor. There is a car path that can take you all the way from the pass to Kyzart and the remaining distance to the village is roughly 7 km.
Getting there should take around 5 hours.
Once you reach Kyzart you could stay in a guesthouse on the main road or get back to Kochkor.
From Kyzart, it's possible to hitchhike or take a taxi to Kochkor. You can easily get to Kochkor by shared local taxi for less than 2 USD.
If you want to pay for the whole taxi instead of waiting for it to fill up, you will pay at least 10 USD. Ask anyone in Kyzart to point you in the direction of the area where the taxis are parked.
2) Itinerary Two: Kyzart to Song Kol and back – 3 days
This itinerary starts in Kyzart and it's my favorite itinerary to reach song Kol. The valleys and mountains that you'll come across on this itinerary are absolutely breathtaking.
If you want to know how to reach Kyzart by public transport, read this article.
Day one: Kyzart to Kilemche valley
Start the trek as early as you can in Kyzart. Take the gravel road that goes towards the South-East in direction of the Tuz Ashu pass.
Follow the road for a little while and you'll come across a bridge that crosses the Bazarturuk river. The actual hiking path starts on the other side of this bridge.
After crossing the bridge, continue for about 15 km and you'll arrive at a crossroads. the road leading up the mountains to the right goes to The Tuz Ashuu pass. Instead of taking this road continue straight ahead.
As you follow this path, you'll walk through some stunning green mountains. After a couple of hours, you'll see a bridge that crosses the river to your left and a path that continues towards your right.
You can camp next to the bridge (it should be pretty late in the day by then) or you can continue on the path towards the right to get to a small yurt camp.
This is the yurt camp mentioned in day one of the previous itinerary (Marat Japarov yurt stay). You can stay there for the night at a very affordable price.
The lovely nomads at the yurt camp will treat you like a family member…
Day two and day three: Kilemche valley to lake Song Kol and back to Kyzart
Day two and day three of this itinerary will be exactly like day two and three of the previous one (see Itinerary one: Kochkor to Song Kol and onwards to Kyzart)
As a small reminder: Don't forget to fill in your water bottle before you start the trek on day two. It will be a long day of trekking without much access to water.
8. Is it safe to hike to Song Kol in winter?
Trekking to Song Kol in winter is relatively safe as long as you have a good guide, proper equipment, and warm clothes.
I would strongly advise not going there alone. That could be very dangerous. Temperatures during winter can drop to -30 C (-22 F) in the evening in the mountains that surround the lake.
It's important that you reach a yurt camp before the end of the day and that can only be done if you are going with a reputed guide or company that has organized tours like this in the past.
If you would want to reach Song Kol in winter, I would advise contacting Kyrgyz Nomad and going on a trek with them as I did with my brother.
Again, I want to state that reaching this lake in winter can and should only be done in the company of an experienced guide. Be safe.
9. Where to stay near lake Song Kol?
There are plenty of yurt camps around song Kol in summer so no need to book a yurt ahead of time.
If you would prefer to book your accommodation in advance or if you're planning to hike there in winter, read this article to find which camp you should book.
I hope you have an amazing hike to lake Song Kol. Whether you choose to start your hike in Kyzart or on the road between the small village and Kochkor, you will undoubtedly have a fantastic time in the Kyrgyz mountains!
If you have additional questions, do not hesitate to contact us or leave a comment below. Have a great trip to lake Song Kol!
* Disclaimer: This article contains some affiliate links and If you book your accommodation or purchase one of the recommended products through the links in this post, we'll receive a small commission at no extra costs for you.
KNOW BEFORE YOU GO – KYRGYZSTAN TRAVEL TIPS:
Everything you need to know about traveling independently in Kyrgyzstan (visa, how to get to and around Kyrgyzstan, where to stay,…):
Plan your trip to Kyrgyzstan:
Hiking, skiing and horseback riding in Kyrgyzstan:
KYRGYZSTAN TRAVEL RESOURCES: