A budget guide to Uzbekistan with plenty of info about the costs of backpacking in Uzbekistan. If you're wondering how much does it cost to travel in Uzbekistan, you'll find all the information here.
Uzbekistan is a country that is attracting more and more people since it became visa-free for most travelers.
It's a country that is rapidly becoming famous as the best place to see remains of the Silk Road in Central Asia.
If you're contemplating a visit to this country, you might be wondering how much money you'll need to travel to Uzbekistan. You would be surprised at how little money you actually need to discover the country. Uzbekistan is a very affordable destination.
Food in local markets is extremely low, and since the recent increase in tourism, inexpensive hostels can be found in almost every major Uzbek cities such as Tashkent, Bukhara or even Khiva.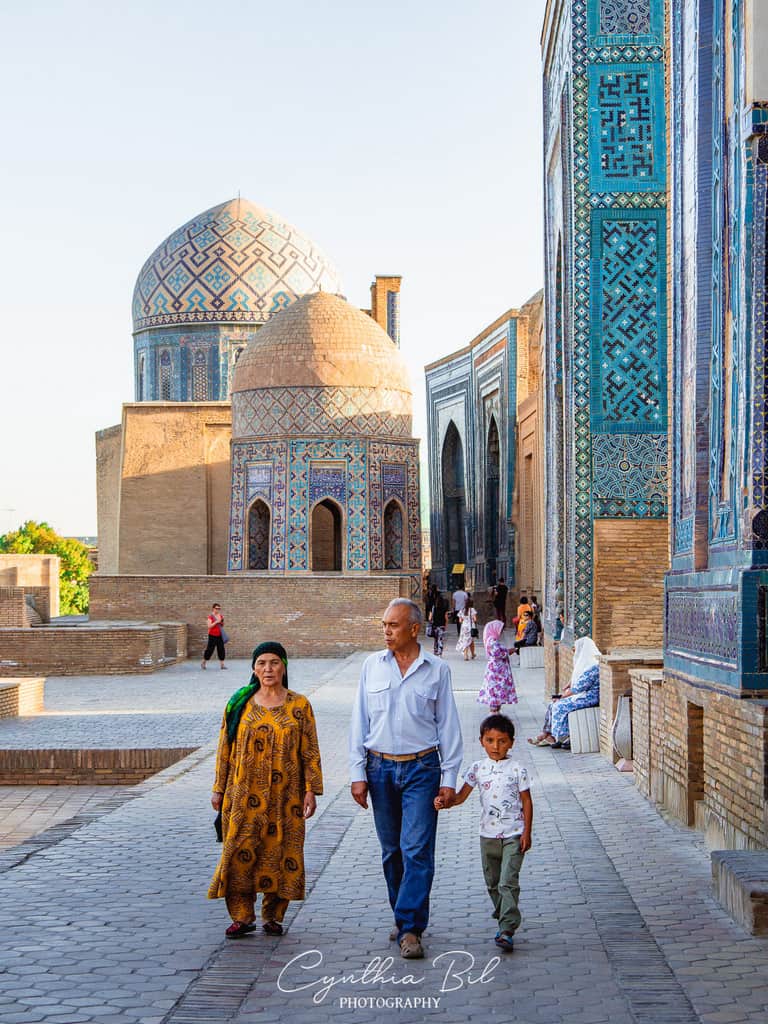 Visiting these gorgeous tile-covered monuments is actually super affordable…
Uzbekistan is a country that you can easily visit on a shoestring budget.
You won't be spending all of your travel money in very expensive transportation and accommodation and you'll even have some money left to buy some souvenirs for friends and family.
Food in Uzbekistan is also very affordable…
In this article, I'll tell you exactly how much traveling around Uzbekistan could cost.
How much money should you bring to Uzbekistan?
You'll find plenty of ATM's all around Tashkent and in touristic cities like Samarkand, Bukhara, and Khiva where you can take money out with a VISA card.
You currently still can't use credit cards, like Mastercards and Maestro, but this might change soon. There are also 2 ATM's at the international airport in Tashkent. You can usually take out cash in the ATM's in UZS or USD.
The only thing I'd still recommend is bringing some US dollars in cash, just as a back-up. For a 10-day trip, I would recommend taking 400 USD or €350 per person in cash to Uzbekistan.
In touristic places, like Bukhara, some of the machines can't keep up with the demand of the tourists and are quickly empty. If you have some spare US dollars, you can easily change them in a bank or in a local exchange office.
Just keep in mind that if you want to exchange money, your banknotes should be crisp and in good condition. It happened a few times that the exchange office gave me a lower rate as my banknotes were a little crumpled.
In big cities like Tashkent, you won't have problems finding ATM's nowadays…
It also used to be very difficult to exchange the Uzbek sum back into US dollars. Nowadays this no longer a problem.
Before you leave Uzbekistan, you can exchange your remaining som at the bank or in one of the exchange offices at the land borders or at the airport.
Is Uzbekistan cheap to travel?
Although not as cheap as other Central Asian countries like Kyrgyzstan or Tajikistan, Uzbekistan is still extremely affordable by Western standards. It's just slightly more expensive than Kazakhstan.
Mosques, shrines, madrasahs, and museums are generally very cheap (between 1 and 3 USD for the visit). It's super cheap to get around by train and hostels and guesthouses are not expensive.
Do you need to tip in Uzbekistan?
You don't have to leave a tip in the restaurant as the service is automatically included in the bill.
However, this is not mentioned on the menu and a lot of foreigners get confused or think they're scammed once they receive the bill. They think they're being overcharged but if you look at the bottom of the bill, you see that a service fee of 10 to 15% has been added to the total costs.
How much does accommodation in Uzbekistan cost?
Most Uzbeks in the bigger cities of Uzbekistan are realizing that tourism in the country will only increase with time. Because of this, a lot of young Uzbek entrepreneurs are opening hostels and guesthouses around the country.
You'll find very affordable hostels in Tashkent and Bukhara. Khiva and Samarkand, on the other hand, don't provide as many hostels but they have a good selection of inexpensive guesthouses.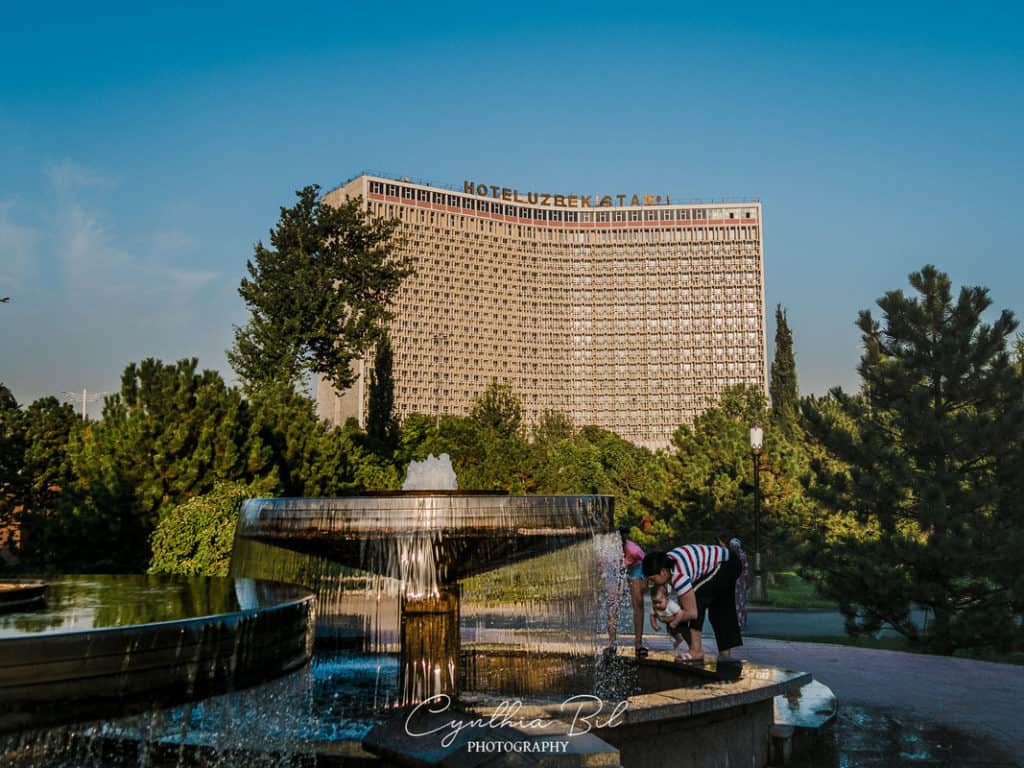 Tashkent has some super modern hotels as well as good budget accommodation options…
In smaller Uzbek towns and cities, budget accommodation is still very hard to find, unfortunately. A good option that still works very well in Uzbekistan is Couchsurfing.
If you can't find any cheap accommodation in the Uzbek cities that you plan on visiting, have a look on the hospitality accommodation website and you're very likely to find awesome hosts.
Camping in Uzbekistan
Camping is allowed in Uzbekistan nowadays. Things have changed a lot since the time when people had to register in hotels every night.
You had to keep those registration slips with you as they were checked by the border guards when leaving the country.
These rules became a lot more flexible. Nowadays you're allowed to camp, stay with a host family or book a room or apartment on Airbnb for 3 nights in a row without getting registered.
If you're traveling with your tent, don't hesitate to camp in the Uzbek countryside, there is very little light pollution and you'll see beautiful stars!
If you're planning to regularly camp in the wild or stay with a local family, I'd still advise you to stay in a ho(s)tel every 3 to 4 nights, just to have some proof of registration.
For more information on rules concerning accommodation in Uzbekistan read Everything you need to know about backpacking in Uzbekistan.
How much are Hostels and Guesthouses in Uzbekistan?
In Uzbekistan, you can find a bed in a hostel dorm for 8 to 15 USD a night during the high season. In the low-season, you can find even cheaper options! Of course, if you want a bit more luxury, you'll also find some beautiful fancy places where you'll feel like you're part of the royal family.
In Uzbekistan, tourists have to register every night in a hotel, a hostel or a guesthouse.
When you check-in, the owner of the establishment will ask you for your passport to write the registration papers. You have to keep these registration slips with you as they can be checked when you leave the country.
How much is accommodation in Tashkent?
The capital city, Tashkent, offers a wide choice of hostels for budget travelers to top-end hotels for those who enjoy that extra bit of luxury.
To stay in Tashkent on a budget (less than 20 USD a night), have a look at this list of budget hostels in Tashkent.
If you are willing to spend a bit more to stay in the capital have a look at this list of mid-range hotels in Tashkent.
How much is accommodation in Bukhara?
There are a few hostels in Bukhara but what is more popular there, are guesthouses and homestays. Have a look at this list of very affordable guesthouses in Bukhara.
Accommodation in Bukhara tends to be slightly cheaper than in Tashkent, Khiva, and Samarkand and you'll easily find places for 10 USD a night.
staying in Bukhara doesn't cost much…
How much is accommodation in Khiva?
There are plenty of very good hostels and guesthouses in Khiva but prices there are higher than in Bukhara. The best place to stay is in the old city near all the popular attractions and sights.
If you stay in the old city, you could stay in these affordable guesthouses.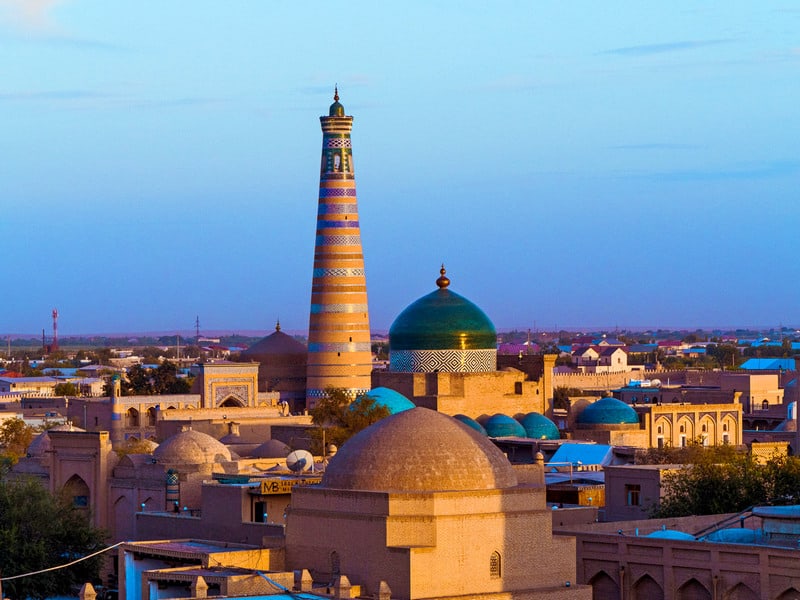 The best place to stay in Khiva is in the old city near all the sights and attractions…
How much is accommodation in Samarkand?
Accommodation is becoming more and more affordable in Samarkand. Have a look at this list for budget, mid-range and luxury accommodation options.
Renting an apartment in Uzbekistan
Another great option for accommodation in Uzbekistan is renting an apartment either on booking.com or on Airbnb if you're in bigger cities. You'll find very affordable deals and it can sometimes be even cheaper than staying in a hostel for a short stay.
If you're wondering what the prices are for renting an apartment on a monthly basis in Uzbekistan, here is an average of what it could cost according to Numbeo:
Apartment (1 bedroom) in City Centre 224.05 $
Apartment (1 bedroom) Outside of Centre 142.58 $
Apartment (3 bedrooms) in City Centre 495.24 $
Apartment (3 bedrooms) Outside of Centre 268.57 $
Getting around in Uzbekistan – costs of transportation
Transportation in Uzbekistan doesn't cost a lot and it's easy to travel around the country without spending a lot of money. The best option to travel comfortably is to take trains. They are just slightly more expensive than buses but much more comfortable.
Another great option in Uzbekistan if you're on a tight budget is hitchhiking.
Hitchhiking in Uzbekistan
Hitchhiking is relatively common in Uzbekistan and all over Central Asia. It's not unusual to see people standing by the side of the road asking for a ride.
One thing that you have to keep in mind though is that people will usually pay the drivers that pick them up for the ride. This means that any private car can potentially become a taxi.
If you want to hitchhike but you don't want to pay for the rides, you'll have to tell the driver before getting in the car.
How much does renting a car in Uzbekistan cost?
Renting a car in Uzbekistan is finally legal. Most car rental companies are based in Tashkent but it's possible to rent a car in Tashkent and drop it off in other Uzbek cities for an extra fee.
How much are buses in Uzbekistan?
Taking a bus is a bit cheaper than a 2nd class ticket on the Sharq train. A ticket from Tashkent to Bukhara, for example, costs around 7 USD in the low season.
You can check the bus schedules and buy your ticket at the local bus stations. You'll need your passport so bring it with you! You should also buy your ticket at least one day in advance.
It's easy and affordable to hop on a bus at the station in Tashkent…
Uzbekistan also has some minibusses that bring people between small towns. The most common ones are called Damas. These minibusses are great if you want to travel to a big city or go to nearby towns or villages.
It's the cheapest and most popular means of transport for the locals to travel in Uzbekistan. It's very easy to take a Dama to get around Uzbek cities or to travel between two different towns.
However, it's not the fastest way as they stop everywhere to pick up passengers.
How much are taxis in Uzbekistan?
A trip of 2 to 3 hours to another city will cost you around 60.000 UZS, depending on how good you are at bargaining.
Taking a shared taxi used to be the only way to travel from Bukhara to Urgench and Khiva. This trip costs 80.000 UZS and isn't very comfortable as it's an 8-hour long drive, mainly through the desert.
Since there is a train nowadays that connects Bukhara and Khiva, I'd go for this option.
You can also take a private taxi to get around cities. Just flag them down on the side of the road or, if you have a sim card, install the Yandex app on your phone. The app only works in Tashkent and functions like Uber.
Pay a maximum of 8.000 UZS for a ride within the city.
How much do trains cost in Uzbekistan?
Trains in Uzbekistan are extremely cheap and a great way to travel around the country.
To give you an idea of how much a train ticket costs, Cynthia and I paid 90.000 UZS ($10) per person for a 2nd class ticket from Tashkent to Bukhara on the Sharq train. We paid 180000 UZS ($20) per person for a 2nd class ticket from Bukhara to Tashkent on the Afrosiyob (high-speed) train. This was during the high season.
Read this article for more examples of how much certain types of train in Uzbekistan will cost.
For more information about the different types of trains in Uzbekistan, their schedules, and where you can buy tickets, read Taking trains in Uzbekistan – The Uzbekistan railways guide
How much does the metro in Tashkent cost?
On top of being a great way to move around the city, the metro of Tashkent is almost like a small museum. Visiting it is actually one of the best things to do in Tashkent.
There's a ticket office at the entrance of every metro station which is indicated on a yellow panel saying "Kassa".
You pay for the metro in the form of a token. The price of one token is 1.400 Uzbeki Som, which is €0.13 or $0.15.
As long as you don't exit the station, you can keep riding the metro with only one token. This means that you can visit all the metro stations in Tashkent for only €0.13/ $0.15.
How much does food in Uzbekistan cost?
No matter where you are in the world, the cheapest way to eat is always by buying food from the local supermarkets and cooking it yourself. While we were traveling around Uzbekistan, Cynthia and I would buy our groceries in a local supermarket and it saved us tons of money.
Prices for meals in restaurants in Uzbekistan are also relatively cheap. You can already have a good and hearty meal for $5 in a restaurant in a small town.
This doesn't really apply to Khiva though. Since this small city is geared for tourism, restaurant meals there tend to be way more expensive.
Most meals in Uzbekistan consist of mutton, beef and chicken meat, served in dumplings, on top of noodles or rice or alongside potatoes.
Here's a break-down of the average costs of what we paid for shopping and eating in restaurants in Uzbekistan (price in USD):
Restaurants
Meal, Inexpensive Restaurant 4.00 $
Meal for 2 People, Mid-range Restaurant, Three-course 15.00 $
McMeal at McDonalds (or Equivalent Combo Meal) 2.25 $
Domestic Beer (0.5 liter draught) 1.00 $
Imported Beer (0.33 liter bottle) 2.00 $
Cappuccino (regular) 1.33 $
Coke/Pepsi (0.33 liter bottle) 0.56 $
Water (0.33 liter bottle) 0.23 $
Markets
Milk (regular), (1 liter) 0.68 $
Loaf of Fresh White Bread (500g) 0.16 $
Rice (white), (1kg) 0.81 $
Eggs (regular) (12) 1.01 $
Local Cheese (1kg) 4.04 $
Chicken Breasts (Boneless, Skinless), (1kg) 2.60 $
Beef Round (1kg) (or Equivalent Back Leg Red Meat) 5.05 $
Apples (1kg) 0.97 $
Banana (1kg) 2.06 $
Oranges (1kg) 2.35 $
Tomato (1kg) 0.64 $
Potato (1kg) 0.41 $
Onion (1kg) 0.28 $
Lettuce (1 head) 0.23 $
Water (1.5 liter bottle) 0.29 $
Bottle of Wine (Mid-Range) 2.50 $
Domestic Beer (0.5 liter bottle) 0.51 $
Imported Beer (0.33 liter bottle) 1.63 $
Source: Numbeo
In conclusion, it's possible to make your trip to Uzbekistan as cheap or expensive as you want. While we do enjoy spending a bit more in restaurants every so often ( it's impossible to visit Uzbekistan without having a delicious plov ) we have been able to travel around the whole country and visit gorgeous cities without breaking our piggy bank.
If you were wondering how much it costs to travel in Uzbekistan, we hope this guide showed that it's totally inexpensive.
Uzbekistan is also a great destination for buying beautiful souvenirs! You'll find cheap silk products and gorgeous ceramic plates and pots.
Uzbekistan is a great destination to travel for a long time without becoming broke and the perfect country to add on your trip to Central Asia.
In case you're also planning on visiting more places, definitely check out our other guides on Uzbekistan!
KNOW BEFORE YOU GO – UZBEKISTAN TRAVEL TIPS: