What are the top things to do around lake Issyk Kul? Which places should you visit and which ones should you skip? Read this article to find out why this lake should absolutely be on your list of places to visit in Kyrgyzstan.
When most people plan a trip to Kyrgyzstan, they often come across online articles praising the beautiful mountains of the country and the amazing hiking trails that you can find there.
If you like nature and mountains, you'll be in heaven in Kyrgyzstan. This central Asian country is a pristine mountainous playground that charms hikers and nature lovers from all over the world.
One thing every traveler planning to visit Kyrgyzstan should know is that the country also harbours some of the most beautiful lakes in the world. Cynthia and I walked along the shores of many lakes during the year that we spent in Kyrgyzstan but our favorite one was definitely Issyk Kul.
Why should you visit lake Issyk Kul?
First of all lake Issyk Kul is quite unique. It's the seventh deepest lake in the world, the tenth-largest lake by volume, and the second-largest saline lake after the Caspian Sea. You're unlikely to find a lake that has all of these unique traits anywhere else in the world.
Lake Issyk Kul extends from West to East. The Northern and Southern shores of the lake are very different. While the Northern shore is full of resorts, the southern side of the lake is, in my opinion, the most interesting one.
The southern shore of Issyk Kul is wilder than the northern side and there are so many cool ethnocultural activities to see and do there.
From Mars-like canyons, stunning waterfalls, and some mighty eagle hunters to a gorgeous yurt camp right on the shores of the lake, you won't run out of awesome sights to visit. And that's without mentioning the day hikes that you can do in the mountains surrounding the whole area.
Watch this video to see what I mean:
[kt_box opacity="1″ background="#eded6f"]
Lake Issyk Kul is one of the 15 best and most beautiful places to visit in Kyrgyzstan!
[/kt_box]
What are the top things to do around lake Issyk Kul?
1. Skazka Canyon (Fairy Tale Canyon)
Even though Kyrgyzstan is one of the smallest countries in Central Asia, it just keeps surprising us by the variety of its landscapes. The country has some of the most pristine mountain ranges and alpine lakes I have seen in my whole life. Walking there will definitely make you feel like you're in another world.
Talking of otherworldly landscapes, Kyrgyzstan also has one of the most strangely beautiful environment you can find in Central Asia, the Skazka Canyon. Walking there will make you feel like you're on Mars.
This canyon is one of the most spectacular features of Kyrgyzstan's nature. It's a really scenic place and being there feels almost magical.
This place is often nicknamed "Fairytale Canyon" because of its strange rock formations that resemble animals, fantastic creatures and castles. It's not just the shape of the rocks in this canyon that are remarkable but also the thousands of different shades of colors you'll see there.
You'll be walking between shades of red, pink, orange and yellow. All these colors become even more breathtaking if you are in the canyon at sunset or right before the sunrise.
The Fairytale Canyon is located on the south shore of Issyk Kul, between the villages of Tosor and Kaji-Say.
This is where the canyon is located.
There are a few more canyons worth visiting in Kyrgyzstan, we cover them in The top 28 things to do in Kyrgyzstan.
2. Salburun Federation Eagle hunters
Central Asia and Mongolia are the birthplaces of the ancient tradition of eagle hunting. The nomads who roamed the steppes and arid lands began to tame these birds of prey thousands of years ago. This tradition is still passed on from father to son but because it's not essential to the survival of the nomadic people anymore, it is slowly disappearing.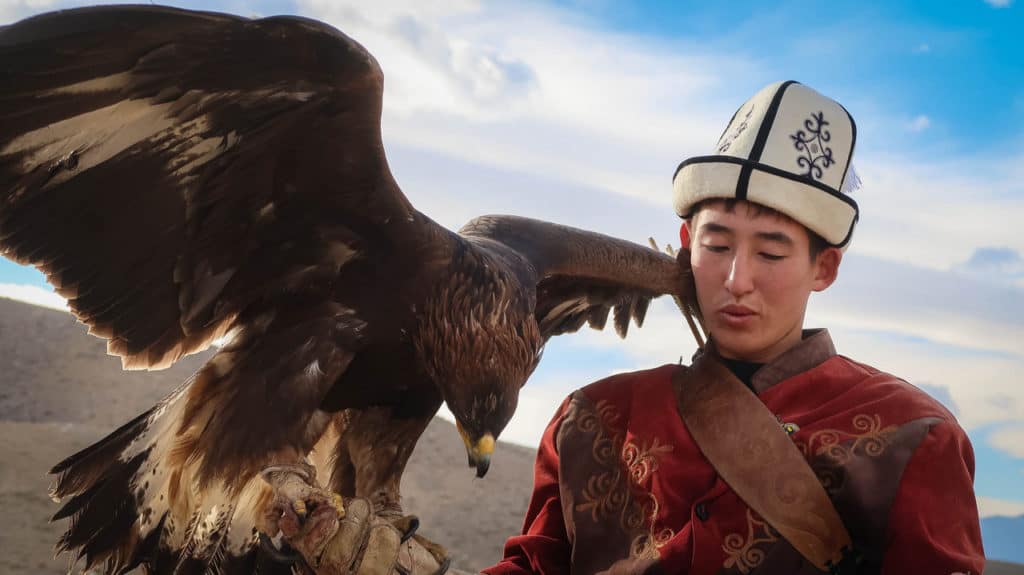 There are few eagle hunters left in the world and seeing them is a must when visiting Kyrgyzstan. There is currently a group called Salburuun Federation on the south shore of Lake Issyk-Kul doing its utmost best to keep the tradition going and pass on these skills to young disciples.
[kt_box opacity="1″ background="#eded6d"]
Reading Tip:
The Ancient Tradition of the Eagle Hunters and where to visit them in Kyrgyzstan
[/kt_box]
3. Yurt building workshop on the south shore of Lake Issyk-Kul
Yurts are the most important symbol of the Kyrgyz culture. They have existed for thousands of years and have been useful to the nomads when they moved camps from the mountains to the valleys in the summer.
Yurts are still built today in the exact same fashion and following the same method by which they were built thousands of years ago. Since this is such an important part of the Kyrgyz life, I think no trip to this country would be complete without attending a workshop to see how they are built.
Cynthia and I learned how to assemble a yurt and built our own in Kyzyl-Tuu, a small village on the south shore of Lake Issyk-Kul. This village is the center of the yurt craftsmanship in Kyrgyzstan, with about 50 traditional yurt makers living there.
We explain how to get there and how to book your own yurt building workshop in this article.
4. Barskoon Waterfall
The south shore of Lake Issyk-Kul is also a place where you can see one of the most beautiful waterfalls in Kyrgyzstan – the Barskoon waterfall.
Barskoon waterfall is actually not just one waterfall but three. The first one is easily accessible and is reached after hiking for 20 minutes on a small path in the forest. The other two waterfalls are located a bit higher and can be reached on foot or by horseback riding.
You could join one of our tours in Kyrgyzstan this summer to visit this waterfall.
5. Felt rug (Shyrdak) workshop
The art of felt-making has always played an important role in the lives of the Kyrgyz people. The secrets of this handicraft were handed down from generation to generation. The felt, made from lamb wool, was used to cover and decorate the yurts but this material was also used to make carpets (also called Shyrdaks), bags, toys, and clothes.
Bokonbayevo, a town on the southern shore of Lake Issyk-Kul, is a place where you can book a workshop and learn how to make your very own felt rug. Read this article to find out how to book your workshop and learn these traditional Kyrgyz handicraft techniques.
How to get to the southern shore of Issyk-Kul lake from Bishkek by public transport
There are a few options when it comes to traveling to the south shore of Lake Issy-Kul by public transport. One way to get there is with a marshrutka (shared minibus) but it's also possible to reach most of the villages by shared taxis or by taking a bus that goes from Bishkek to Karakol.
What I would recommend is to first reach Bokonbayevo where it's possible to see the Eagle hunters at work and take a felt rug workshop. You can easily use this village as a base to discover the rest of the region since there are plenty of shared taxis connecting each village with the next one. The Fairy Tale Canyon is also located just 30 minutes away from Bokonbayevo so it's very convenient to arrive there first.
How to get from Bishkek to Bokonbayevo by marshrutka
To hop on a marshrutka to Bokonbayevo or towards any of the villages located on the south shore of Lake Issyk-Kul, you'll have to go first to the western bus station in Bishkek. In Bishkek, people call this bus terminal "Zapadnyi" or New "Novyj" Bus station "Avtozakzal" or shortly "Vakzal".
This is the location of the bus station:
Look in the bus station for the marshrutka that goes to Bokonbayevo. This shared minibus doesn't have a schedule and it will only leave once it's full. Once one marshrutka leaves towards Bokonbayevo, another will take its place and leave when it fills.
A marshrutka from Bishkek to Bokonbayevo will cost around 250 som. The distance between the two cities is 400 Km and it should take about 6 hours to reach Bokonbayevo.
If you are in Bishkek for a few days prior to your trip to the south shore of Lake Issyk-Kul, it's very convenient to stay in Apple hostel as it's located very close to the Western bus station.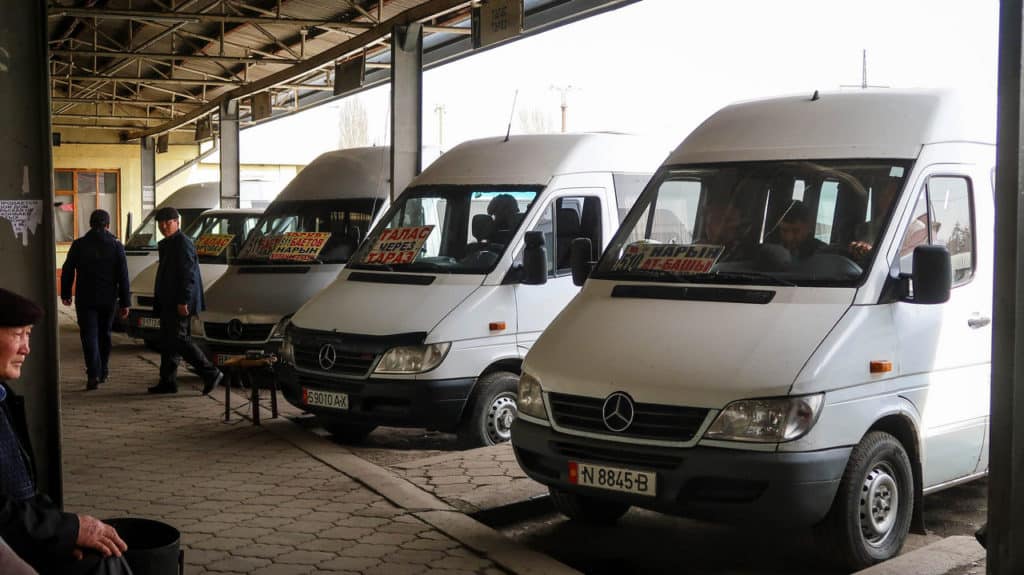 How to reach Bokonbayevo from Bishkek by Shared Taxi
If you don't want to wait for the marshrutka to fill up before it leaves, you can always take a shared taxi to Bokonbayevo. Shared taxis leave from the western bus station as well but they will be slightly more expensive than a minibus (300 to 400 som instead of 250).
The taxi will also only leave once it's full but since it only fits 6 people, it's bound to leave much sooner.
How to reach Bokonbayevo from Bishkek by bus
Another option to reach Bokonbayevo from Bishkek is to take a night bus. It leaves Bishkek at 9 O'clock at night and arrives in Bokonbayevo at 3 in the morning.
The ticket for this bus costs 200 som.
How to get to the Southern shore of Issyk-Kul lake with your own car
Driving in Kyrgyzstan is very convenient and will give you the freedom to stop whenever you want to take pictures. Do keep in mind however that you are very likely to encounter corrupt cops in Kyrgyzstan that will try to find any reason to give you a fine.
In this article, we wrote a whole section on how to deal with corrupt cops in Kyrgyzstan.
Getting from Bishkek to the south shore of Lake Issyk-Kul is very simple. You'll have to exit the city and reach highway A365. Follow this highway until you reach the lake. Upon reaching the lake, this highway becomes highway A363. You can follow it along the south shore of the lake all the way to Bokonbayevo or to Karakol.
The south shore of Lake Issyk Kul can serve as a great base from which you can explore the rest of the country. Have a look at this article to find more information about how to get to the southern shore of Issyk-Kul and explore the rest of the region.
How to get to the southern shore of Issyk-Kul lake from Karakol by public transport
Because the one-week itinerary that I share in this article starts in Bokonbayevo, I will explain how you can reach this village from Karakol. There are only 134 km between the two cities so getting there by public transport is relatively easy and it doesn't take very long.
How to get from Karakol to Bokonbayevo by Marshrutka
The easiest way to get from Karakol to Bakanbayevo is to take a marshrutka. Marshrutkas leave from the Southern bus station in Karakol.
This is where the station is located:
Ask the locals in the bus station to point out the Marshrutka going to "Bokombay" ( that's how they call Bakanbayevo). There are four marshrutkas connecting the two cities every day. They leave at 12:20, 14:20, 15:20, and 16:30.
It takes two hours to reach Bakanbayevo from Karakol and getting there by marshrutka costs 150 som.
[kt_box opacity="1″ background="#eded6d"]
Planning to visit Kyrgyzstan in Winter?
Read my 10-Day Kyrgyzstan Itinerary for Winter
[/kt_box]
A day by day one-week itinerary on the south shore of Lake Issyk Kul
There are so many things to along the southern shore of Lake Issyk-Kul. One week is barely enough to see all the beautiful places and do all the activities this beautiful lake offers.
Here is a one-week itinerary around lake Issyk Kul that allows you to see the most interesting locations and do the best activities without the stress of having to hurry up from one place to another all the time.
In this itinerary, I will explain how to reach each new destination by public transport but if you have your own car it will be much easier.
Day one – Meet the Eagle hunters of Salburun federation in the morning and hike to a beautiful viewpoint in the afternoon
For the sake of making things easier, your adventure around the lake should start in Bakanbayevo. I would recommend arriving there the night before you start this one-week itinerary. Keep on reading and I will tell you what are the best guesthouses in Bakanbayevo.
This small village is easily reached from Bishkek and Karakol and serves as a great base to do tons of fun activities.
On the first day of the adventure, you'll meet the eagle hunters. These hunters are preserving the traditional eagle training techniques and falconry skills of their ancestors. Meeting them and seeing these ancient traditions is something I consider the most interesting activity in Kyrgyzstan.
One group of eagle hunters that is very active in sharing this ancient knowledge with visitors is the Salburun Federation.
We explain what eagle hunting is and how to get in touch with Salburun Federation in this article.
I would suggest arranging an Eagle hunting demonstration in the morning ahead of time so you have the afternoon free to do some hikes or swim in the lake if you want a more relaxing program.
For the afternoon, I suggest going on a hike to a view-point called Shatyly Overlook. You'll need to arrange transport from Bokonbaevo to the Boz-Salkyn Valley. Or, it's possible to walk from town, but that adds an additional 3 hours/18 km.
You can arrange transport there and find information on how to do the hike independently by contacting CBT Bakanbayevo.
You could get a topographical map of the south shore of Lake Issyk Kul directly at the CBT so you can enjoy this hike and many others independently.
Where to stay in Bakanbayevo
Bakanbayevo is not a very big village but there is a surprisingly big amount of super comfortable guesthouses there. Most of them are very cozy and quiet. Here are the three guesthouses we recommend in Bakanbayevo:
Being in Guesthouse Aziza was super relaxing and it was the perfect place to meditate on our experience with the eagle hunters when we were in Bakanbayevo. This lovely establishment has a beautiful backyard and garden where you can read and relax in the shade in the afternoon.
If you like to cook your own meals, there a few convenience stores where you can buy food nearby.
Guest House Aziza has super cozy beds and there is a fantastic breakfast served on location every morning. The breakfast is composed of eggs, fruits and veggies, jam, butter, and delicious bread.
Click to check out rates and availability for "Guest House Aziza"
Staying at Nurgul is almost like staying at your mom's and having her cook delicious food for you every single day. Nurgul is very caring and does her utmost best to make sure her guests are comfortable and happy.
Her place is near the center of Bakanbayevo but because it's tucked away behind a quiet little garden it stays peaceful and calm.
Her rooms are covered in traditional Kyrgyz patterns and decoration.
Click to check out rates and availability for "Nurgul"
Gulmira and her family are fantastic hosts. They are extremely welcoming and will make you feel at home. On top of serving a fantastic breakfast, Gulmira can also cook a huge dinner for a modest price.
Gulmira can help you arrange awesome activities around Lake Issyk Kul such as the eagle hunting demonstration and the yurt building workshop.
This guesthouse has a fantastic garden with apricot trees. The bedrooms are very comfortable with plenty of electrical outlets.
Click to check out rates and availability for "Guesthouse Gulmira"
Day two – Participate in a felt-making workshop in Bakanbayevo, learn how to build a yurt in Kyzyl Tuu, and sleep in a yurt on the shore of Lake Issyk Kul
For the second day of this itinerary, you will take part in some of the coolest ethnocultural activities the area offers; a felt-making workshop in Bakanbayevo and a yurt building class in Kyzyl Tuu.
Felt-making workshop
There is a local NGO on the south shore of Lake Issyk Kul called Altyn Oimok. This NGO offers employment opportunities to women from rural Kyrgyzstan. One of the ways they to do so is to regroup women from different villages and help them make a living by preserving the ancient art of felt making.
In Kyrgyzstan, women traditionally had the role of making all the beautiful felt carpets, and the wall hanging felt decorations found inside the yurt.
In Bakanbayevo, it's possible to learn the two most popular carpet-making techniques of Kyrgyzstan. Ala-kiyiz or pressed felt carpets, and shyrdak, carpets made with mosaic-like felt pieces that are stitched together.
You can reserve your spot in a workshop in Bakanbayevo here.
You'll learn the meaning and stories behind traditional Kyrgyz handicrafts from UNESCO-certified craftswomen. You can also buy handmade, fair-trade handicrafts on-site and bring them back to your friends and family as a fantastic souvenir!
The decorations of the yurts were traditionally done by women…
The location of this tour is at Altyn Oimok (69 Karymshakova Street) in Bokonbaevo. Please see the map below for the exact location.
Ideally, you could book this workshop ahead of time and schedule it for the morning so you have the afternoon free to learn the art of yurt building.
[kt_box opacity="1″ background="#eded6f"]
Felt-making workshops and yurt building workshops are in The top 28 things to do in Kyrgyzstan!
[/kt_box]
Yurt building workshop
In Kyrgyzstan, yurt building was traditionally carried out by men. Learning how to build your own yurt is definitely one of the top things to do near Issyk Kul.
Nomads traditionally use natural materials to build their dwellings — felt made of wool, wood from the forests, and red minerals to paint the yurt's frame. You can learn about each step of the process and build your own yurt in Kyzyl Tuu, a small village West of Bakanbayevo.
You can book this workshop here.
Yurt building was traditionally done by men…
The meeting point for this yurt building workshop is at the Destination South Shore office at Toichubekov Culture House in the center of Bokonbaevo (37 B. Mambetov Street).
Once you book your spot on the workshop, the organizers will provide transport to the Felt Museum in the village of Kyzyl-Tuu where the yurt building takes place.
Where to stay on day two of this itinerary
For the second day of this itinerary around Issyk Kul, I would suggest staying at a yurt camp right on the shores of Lake Issyk Kul or in a yurt camp near an apple orchard.
It takes only 10 to 15 minutes to reach these yurt camp from Bakanbayevo by taxi.
Since yurts are such a big part of the Kyrgyz culture, no trip to Kyrgyzstan would be complete without spending at least a night in one.
These are the yurt camps we recommend:
This yurt camp is located right on the shores of Lake Issyk-Kul. It's set in a very relaxing area where you will be able to enjoy the sound of the waves.
It's the perfect place to spend time on the beach, sunbathe and swim away from the crowds. Even though staying in this camp will offer you a traditional experience, the camp has a modern flair to it.
Bel Tam yurt camp offers all the amenities expected of a western accommodation – full kitchen, bar and bathroom facilities including hot water, showers, and eco-friendly toilets.
The food is great and there are also vegetarian options available. It's possible to organize Eagle Hunting shows with the owner of this yurt camp.
Click to check out rates and availability for "Bel Tam yurt camp"
Here is where you'll find Bel Tam yurt camp:
This camp is set near apple orchards and not too far away from the shores of the lake. Travelers coming here will have the option to choose from different types of yurts with different levels of comfort:
A premium yurt with queen size beds can be booked as well as a nomad Yurt equipped with a Finnish sauna. For budget travelers, there is also the possibility of staying in a Hostel-style yurt.
It's possible to take traditional Kyrgyz cooking classes at this yurt camp
Click to check out rates and availability for "Almaluu Yurt Camp"
This is the location of Almaluu Yurt Camp:
Where to eat in Bakanbayevo
If during the first or second day of this itinerary you would feel like eating out, you're in luck. Bakanbayevo has some restaurants where you can eat a mix of traditional food and European dishes.
These are some of the restaurants you'll find in Bakanbayevo:
Cafe Argymak
This is where you'll find Cafe Argymak:
Kolomto
This is where Kolomto is located:
Day three – visit Fairy Tale Canyon and spend the afternoon on the beach
The third day of this trip around Issyk Kul will be dedicated to sight-seeing and relaxation! After a great night in a yurt camp and a few days spent learning about ancient traditions, you'll be continuing your journey towards the eastern part of the lake.
If you slept in a yurt camp, you'll need to get back to Bakanbayevo. You can ask the administrators of the yurt camp to arrange a taxi ride there.
From the small town of Bakanbayevo you'll need to take either a taxi directly to Fairy Tale Canyon or a Marshrutka that goes to Kaji-Sai.
If you take the Marshrutka, you can get down along the way at the entrance of the canyon. Just mention to your driver to let you off at "Skazka".
Fairy tale canyon is one of the most breathtaking canyons I have seen in my life and I'm sure you'll enjoy spending a couple of hours walking around these orange and yellow rocks.
After visiting the canyon, head back to the main road that runs parallel to the shore of the lake. From there, you can hop on a marshrutka that goes to Kaji-Sai, hitchhike to this town or get there by shared taxi.
Here is the exact location of Kaji-Sai:
Kaji-Sai is a beautiful little resort town on the south shore about halfway between Bakanbayevo and Karakol. It's not as expensive as the resort towns on the north shore of the lake. It's usually the place locals visit when they want to enjoy the beach and the salty water of Issyk Kul without breaking their piggy bank.
Where to stay in Kaji-Sai
Kaji-Sai has some lovely guesthouses and hotels. They tend to fill up very quickly in the summer since this town attracts a lot of Kyrgyz tourists. I would recommend booking a room there ahead of time.
These are the different guesthouses we recommend in Kaji-Sai:
This guesthouse really has the appropriate name. It has a lovely garden where you can sleep in a hammock in the shade of apricot trees.
The guesthouse is less than one kilometer from the beach so it's perfect for those who want to work on their tan or go for a swim. Even though the house is so close to the beach, it still feels very peaceful.
The owner grows his own vegetables and brought us some fresh tomatoes from the garden when we stayed there. He speaks English very well and he can give you tons of practical information about cool things to do around Lake Issyk Kul.
Click to check out rates and availability for "eco-house summer garden"
Guest House Dinara has a shared kitchen where you can cook your own meals if you want to save your travel budget. The owners are super friendly and also have a small garden where you can pitch a tent or sleep in a hammock.
The rooms are all very cozy and the beds super comfortable. Guest House Dinara is a peaceful and quiet place where I had some of the best sleep on the south shore of Lake Issyk Kul.
Click to check out rates and availability for "Guest House Dinara"
Day four – witness the beauty of Barskoon waterfalls, Seven Bulls, and arrive in Karakol
On the fifth day of this adventure around Lake Issyk Kul, you'll be visiting some stunning waterfalls, some gorgeous rock formation and you'll finally reach Karakol.
The Barskoon waterfalls
The Barskoon waterfalls really are an impressive sight. The whole area that surrounds the falls is equally stunning.
The lower falls are easily accessed or you can go on a more adventurous climb to the upper part of the falls ( You'll need a pair of sturdy shoes).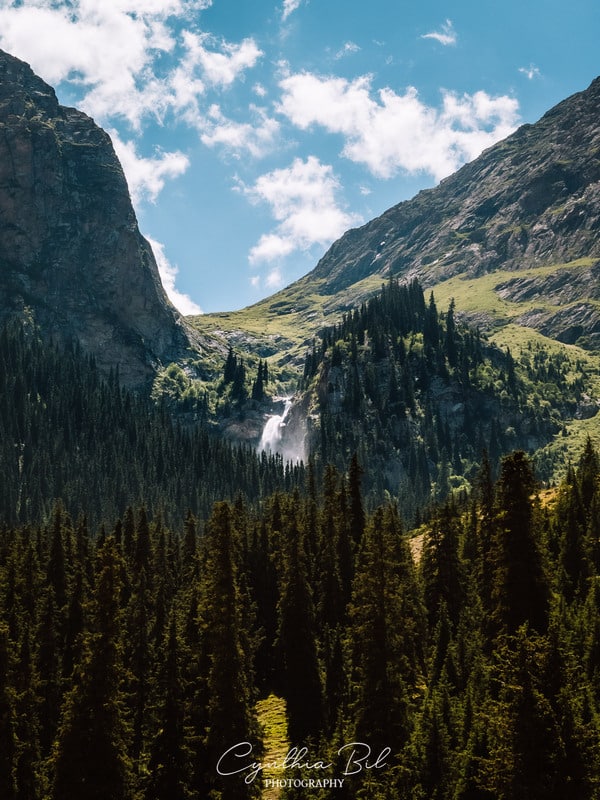 With its impressive height of 24 meters, the Barskoon Falls and the surrounding mountains are the ideal location to relax to the sound of gushing water.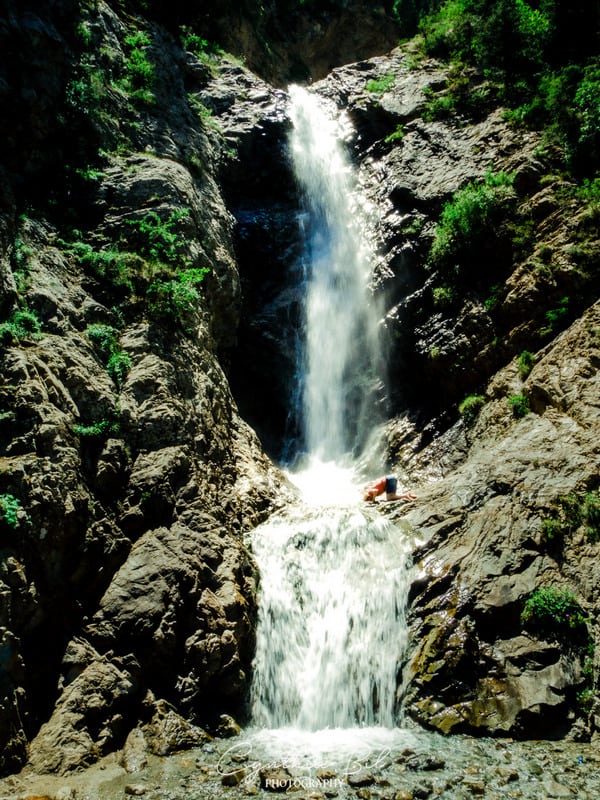 It's a spot loved by locals and they often come here to enjoy a picnic with their family. There are usually young Kyrgyz boys that stay around the falls in the summer and that offer horseback rides for a small price.
Here is where the falls are located:
The Seven Bulls of Jeti Oguz
Jeti-Oguz is the name of a huge sandstone formation Southeast of the Issyk Kul lake. It means seven bulls in the Kyrgyz language. The name comes from the huge red rocks that resemble seven bulls charging through the valley.
Jeti-Oguz is also the name of the river that flows nearby and of the valley from which the rocks emerge.
Once you arrive at the small town at the bottom of the rocks, you'll see a path that starts between the shops next to the public 'toilets' across from the rock formation.
There you'll find a car track and a smaller trail both leading you to the top of a plateau where you'll get some extraordinary views.
Here is where you'll find Jeti Oguz:
How to get to the Barskoon waterfalls, Seven Bulls and Karakol from Kaji Sai
It's possible to reach these different locations very easily from Kaji Sai by hoping on a Marshrutka going towards Karakol on the main road.
I would suggest installing Maps.me on your cell phone so you know where to get off the Marshrutka.
At the two crossroads that go out towards Barskoon waterfalls and Jeti-Oguz, you can get out and wait for a second Marshrutka going in that direction. You could also catch a shared taxi going to these sights or hitchhike there.
Once you finish visiting these destinations, you can get back on the main road and get a Marshrutka or a shared taxi to Karakol.
Karakol has plenty of cool sights to see and some fun things to do but we'll save the visit of the city for day five of this itinerary.
Where to stay in Karakol
In Karakol, Cynthia and I usually stay at Argo Guest House. The owners are super friendly and welcoming and the food they cook is absolutely fantastic. The guest-house is decorated with beautiful flowers and there are a few couches in the main lobby where we usually nap in the afternoon.
The guest-house is in a very quiet neighborhood and all the rooms are very luxurious and sparkling clean while still super cheap.
Click to check out rates and availability for "Argo Guest House"
Another guest-house we highly recommend in Karakol is Guest House Nice.
This guest-house is very close to the city center and the hosts speak perfectly English. The rooms are very modern and always sparkling clean. They have a huge spacious kitchen with all the utensils, pots, and pans you could need.
The owners are very knowledgeable on hikes to do around Karakol and can give you some good advice on what to see and what to skip in Karakol.
Click to check out rates and availability for "Guest House Nice"
Day five – Visit Karakol and go on a sunset cruise on Lake Issyk Kul
On the fifth day of this itinerary you'll wake up in our favorite Kyrgyz city; the eastern city of Karakol.
Karakol is the main city in the Issyk-Kul region and the fourth biggest city in Kyrgyzstan. It's mostly known for being a base to trek to Ala-Kul lake and to reach the Altyn Arashan hot springs.
However, this gorgeous city offers more than just hikes. On day five of this trip around Issyk Kul, you'll get to visit Karakol and see all the awesome sights and activities it offers and you'll end the day by going on a gorgeous sunset cruise.
Karakol is a great base to hike to Lake Ala Kul…
Top things to see and do in Karakol
Karakol has tons of cool free activities, here are the ones we recommend:
Visit a Dungan Village & eat traditional Dungan food
Karakol has a huge population of Dungan people. These are a group of Arab-Chinese Muslims who fled China during the revolution against the Buddhists in 1877.
They crossed the Tian Shan Mountains and arrived in Karakol. They brought with them their religion, their culture, and their delicious cuisine.
There is a small Dungan village just 15 minutes outside of Karakol called Yirdik where you can take part in Dungan cooking lessons, visit a Dungan museum and walk around a Dungan mosque.
If you have your own car, you can easily drive to Yirdik.
This is where the village is located:
You can book a tour to Yirdik here. During this visit, a local Dungan family will welcome you to their home to celebrate the diversity of Dungan cuisine over an elaborate home-cooked meal.
You'll be able to taste at least 8 kinds of home-cooked Dungan dishes in a family home and learn how to make your own ashlan-fu, the most famous (and delicious!) Dungan dish.
To book this tour, you can contact Destination Karakol, either by phone (+996 558 508 808), website or by visiting their office.
This is where their office is found in Karakol:
The cost of the tour, including guide, transportation, mosque visit, a museum visit, and traditional Dungan meal is $20 / person.
The nature around Karakol is stunning…
Visit the city with a free walking tour
One of the best way to see all the monuments, parks, and ancient buildings of Karakol is to join a free walking tour of the city.
This free walking tour will take you to a colorful Dungan Mosque built in three years…without using a single nail!
You'll also visit the brown and green Russian Orthodox Holy Trinity Church, an antique shop full of old soviet items, the fruit and vegetable market and the Russian Quarter of the city.
This tour is completely free but if you enjoyed your experience, donations are always welcome.
To book this walking tour, you can contact the Destination Karakol office.
Shop for old soviet items at an antique store
Karakol has a Soviet antiquities shop and it's definitely worth a visit!
Everything you can imagine from the soviet era is in this shop. There are so many ancient items on the shelves that the shop looks more like a museum than a store.
Whether you're looking for some old soviet dolls, ancient camera gear or an antiquated typewriter, you'll find it here. They also have some old coins and military pins.
this shop is worth stopping in and having a look. For more details about it, click here.
Visit a traditional Banya
Banyas used to be everywhere in Kyrgyzstan during the Soviet Union. It was a super big part of society. People from all social classes would go there to relax their muscles in the sauna and then take ice-cold baths.
Some of them were very popular because they were very healthy.
We've visited these bathhouses in Morocco, Kazakhstan, and Kyrgyzstan and always felt fantastically refreshed coming out. Nothing feels better than letting all your muscles relax in the heat of the sauna and then cool down in freshwater.
The one we recommend in Karakol is called Banya Kashkasuu.
Here's where you'll find it:
Visiting this bathhouse will prepare you for the Altyn-Arashan valley hot springs which you will visit on day six and seven of this trip.
Go on a sunset cruise on Lake Issyk Kul
Finally, the pinnacle and coolest of all the activities to do in Karakol; a sunset cruise on the lake.
After almost a whole week driving next to lake Issyk Kul, why not take a cruise on the salty water? This is by far the top activity you could do in Karakol and probably the best activity around Lake Issyk Kul.
This lake is one of the biggest lakes in the world and because it's filled mainly with saltwater, it never freezes! Going for a cruise on it feels almost like being on the ocean.
The cruise lasts for two hours and costs 1200 Som. It includes a complimentary beer. You can also buy snacks and drinks at the on-board bar.
Find more information about this fantastic sunset activity here.
Day six – go on a horseback ride in the Alty-Arashan valley, relax in hot springs and sleep in a yurt
Today you'll be hiking in one of the world's most beautiful valleys; the Altyn-Arashan valley. Altyn Arashan, which means "Golden Spa" in Kyrgyz, is a lush green valley near Karakol and Lake Ala Kul.
The place is famous for its pristine untouched landscapes and natural hot springs. It's also a very popular trekking destination and attracts hikers and mountain enthusiast from all over the world.
It's a valley that people hike through to get to Ala Kul lake.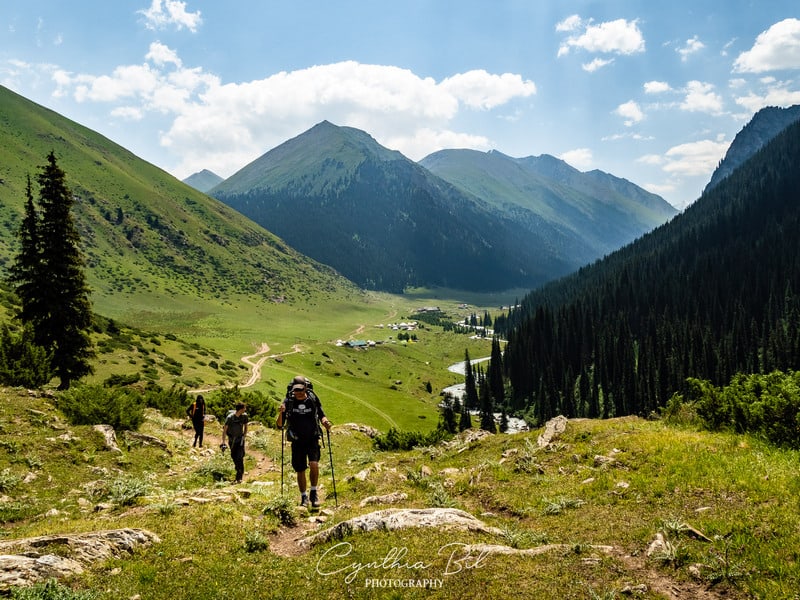 The Altyn-Arashan valley is a little paradise…
Walking in this valley always feels very soothing and it seems to recharge my soul and spirit with so much energy. The valley is breathtaking and could easily be used as a picture for a postcard.
To reach the valley from Karakol, you'll first have to get to the village of Ak-Suu (this town is also called Teploklyuchenka), either by public transport or with your own car.
From Karakol, you can take a marshrutka or a shared taxi to Ak-Suu. You'll have to look for a marshrutka that has a sign with "Kurort Ak-Suu" (Курорт Аксуу) from the main marshrutka station.
The price to reach Ak-Suu from Karakol will be around 15 to 25 som per person. Once you reach the town of Ak-Suu you will have the option of hiking to the valley or organizing a jeep ride or a horseback trek directly in town.
After a five hour hike (you'll need to start early in the day), you'll reach a group of guesthouses where the hot springs are located.
You can see their exact location in this video.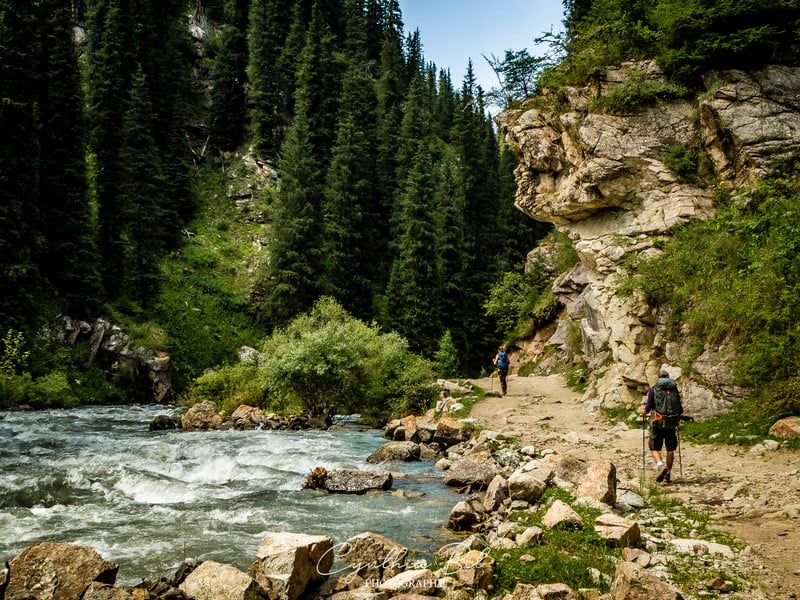 The Altyn Arashan hot-springs
Kyrgyzstan is a prime location for alpine glacial lakes but if you prefer warmer water, you'll be happy to hear that this Central Asian country also has tons of natural hot springs! Some of them are very popular because they're very beneficial for the health.
Locals often visit the hot springs to treat diseases and this is the case for the ones found in Altyn Arashan. They became so popular that a small resort consisting of small pools in private cabins have been built to accommodate the many visitors.
If you would prefer to be in a more natural setting, it's also possible to find small pools near the river where you can enjoy the hot water for free (watch this video).
Where to stay in the Altyn Arashan valley
If you have your tent, the best thing to do is to camp in the valley. You can camps almost anywhere in the valley during summer as the weather is really ideal and there are tons of gorgeous flat areas where you can pitch camp.
There are a few yurts where you can stay in the valley and a few lodges and guest houses next to the hot springs. If you travel there during the low season you can show up and book your stay on the spot but if you visit this valley during high season, you'll have to reserve online ahead of time.
We recommend staying at the Ala-Kul guest house in Altyn Arashan. It's a guest house where it's possible to stay in a room or in a yurt.
The owners are very helpful and can give you tips on reaching Ala Kul, they can also help you organize horse treks in the region.
The Altyn-Arashan valley is a fantastic hiking destination…
Day seven – Hike from the Altyn-Arashan valley back to Karakol
Day seven will be the final day of this awesome adventure around Lake Issyk Kul. You'll be hiking back to Ak Suu where you can catch a Marshrutka to Karakol.
Alternatively, you could continue hiking in the nearby mountains to reach Lake Ala Kul or go on a hike to Song Kol.
We hope this guide to the best things to do around Lake Issyk Kul was helpful and we hope you enjoyed the itinerary.
If there are any activities you would add to this guide, please let us know by getting in touch with us.
Have fun around Lake Issyk Kul!!
*This article contains affiliate links. This means that if you purchase a product through one of these links, we'll receive a small commission at no extra costs for you. This way you're helping us writing more informative and awesome guides like this. Thank you!
** The photos in this post were taken by Cynthia with a Lumix G90, the ideal camera for outdoor adventures.
KNOW BEFORE YOU GO – KYRGYZSTAN TRAVEL TIPS:
Everything you need to know about traveling independently in Kyrgyzstan (visa, how to get to and around Kyrgyzstan, where to stay,…):
Plan your trip to Kyrgyzstan:
Hiking, skiing and horseback riding in Kyrgyzstan:
KYRGYZSTAN TRAVEL RESOURCES: