Join Niko on a Morocco Adventure Tour in the winter of 2020
BOOKINGS CLOSED. SHOW YOUR INTEREST FOR 2021 BY CONTACTING US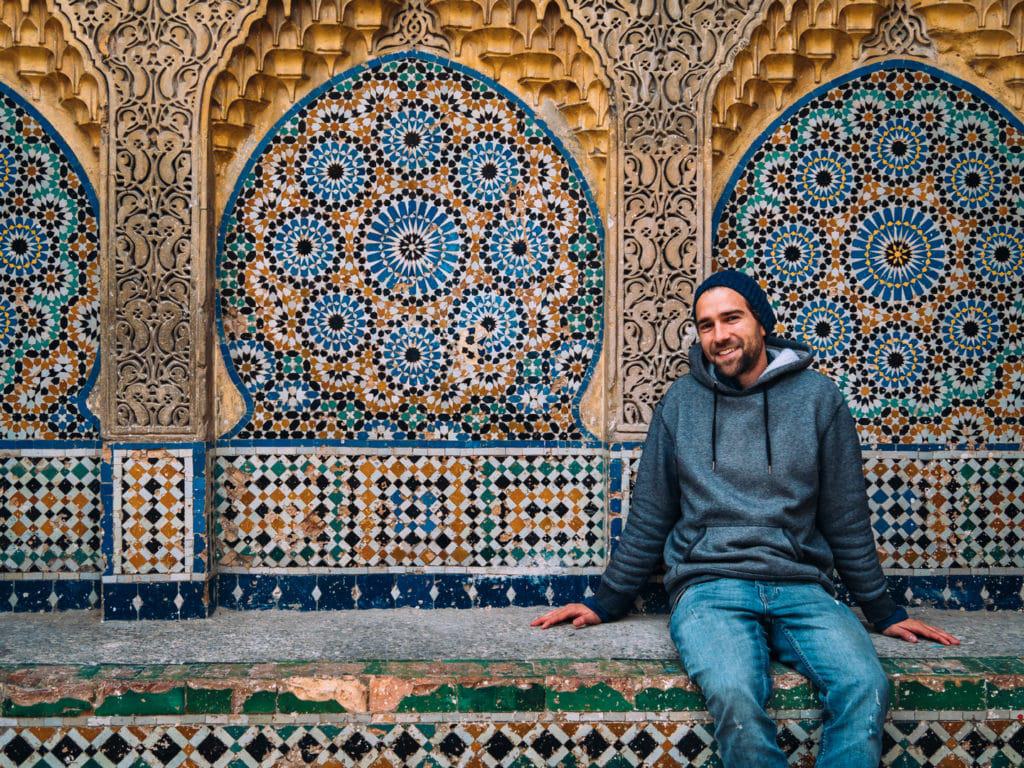 I have spent nearly a year and a half exploring Morocco and I totally fell in love with this gorgeous country. It has beautiful deserts, old mysterious cities and some of the best food I tried in my whole life!
Morocco completely charmed me. It's a land that beautifully mixes landscapes, age-old traditions, and cultures and I'm sure it will charm you too. After spending so much time there, I decided I would share my love for this country and organize tours there.
Do you love the idea of going on an epic adventure across Morocco? Would you love to visit a mysterious mud city or witness the traditional lifestyle of the Berber and ride camels while surrounded by huge sand dunes? Then this tour is for you! Join me on a 9-day trip filled with adventures across Morocco.
Available dates:
15th January to 23rd January 2020
Table of contents:
What can you expect on this epic trip to the Moroccan Sahara?
Who has never dreamed of sleeping in the Sahara cozily nestled between sand dunes while looking at the stars? During this trip around Morocco, we'll be traveling from Marrakesh all the way to the beautiful sand dunes of the Sahara desert in Merzouga.
Merzouga is a small Moroccan town in the Sahara Desert, not too far from the Algerian border. It's known as the door to Erg Chebbi, a huge stretch of sand dunes south of town. These dunes are considered one of the most beautiful places in Morocco. Once we arrive in the desert, you'll have the chance to ride camels across this huge epic arid landscape.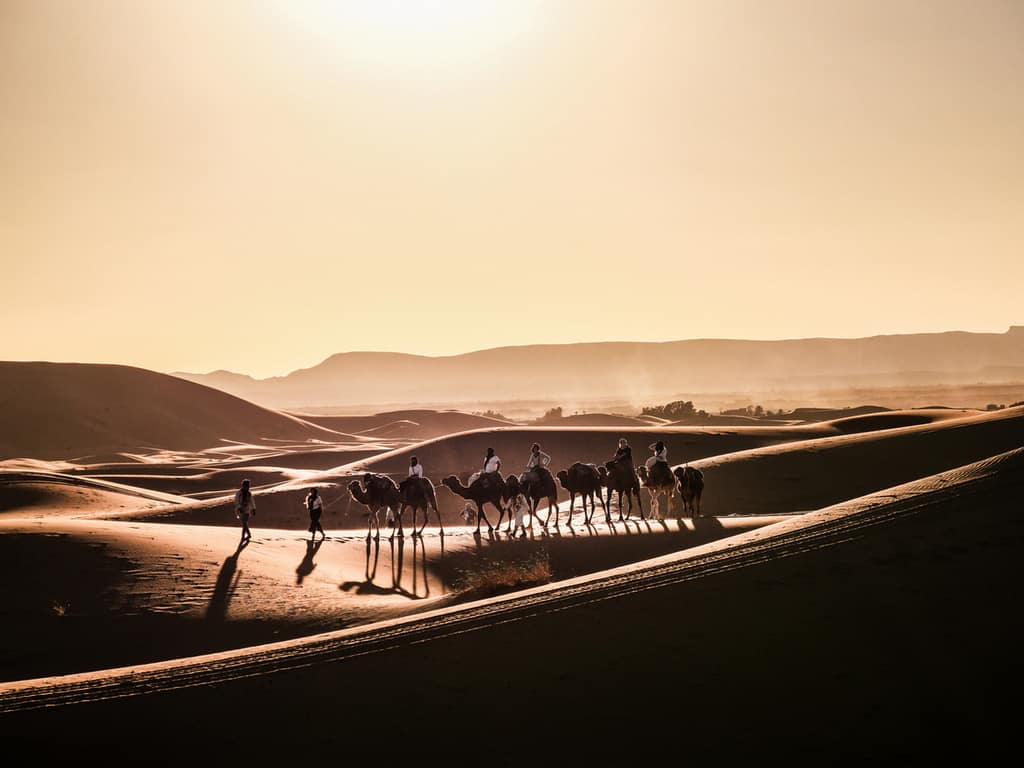 We'll have a wonderful dinner with a music performance by the Berber nomads who live in this part of the country. Once the party is over you'll witness a night sky filled with stars.
We'll be traveling there with an experienced local driver and a 4×4 vehicle. Along the way we will spend some time in gorgeous oases, we'll visit an old mud brick city and see the lifestyle of the desert nomads.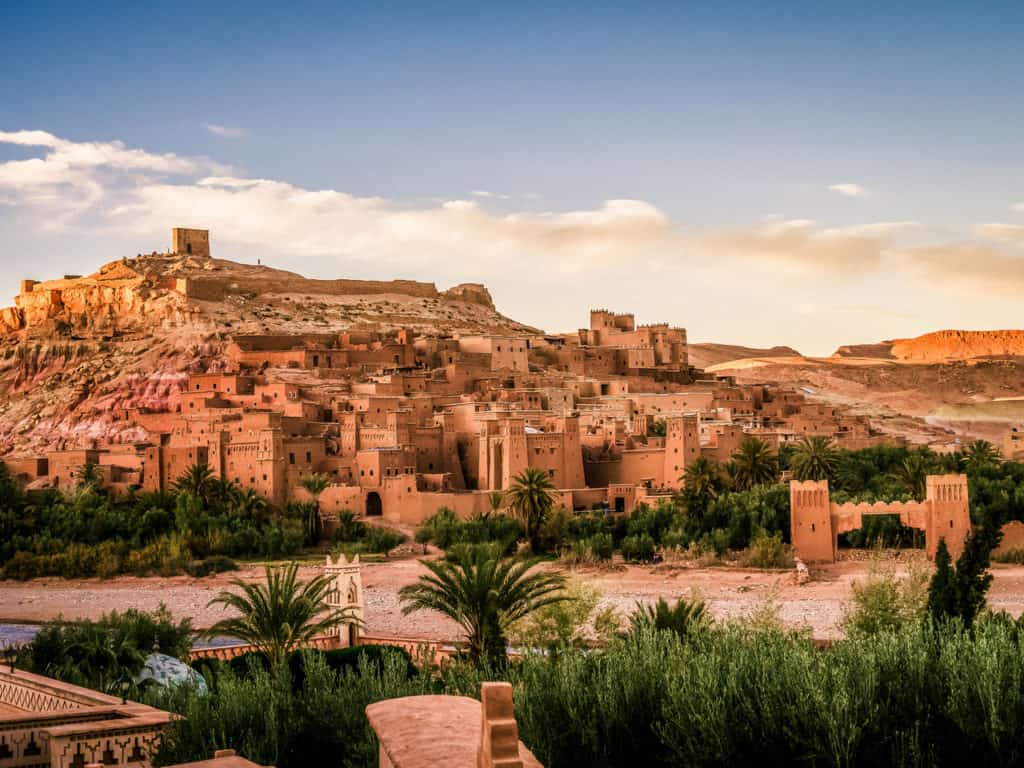 On our way back towards Marrakesh, we'll stop in some amazing rock gorges where we'll see some 300 meters high cliffs. We'll also drive through a valley known as the Rose Valley. After our journey, we will be back in Marrakesh where with the help of an official guide, we'll go through the small streets and alleys and see the craftsmen and the beautiful art of Morocco.
Over the course of this trip, we'll be sleeping in some traditional Moroccan riads and in a gorgeous desert camp.
I'm organizing this trip in partnership with our Portuguese friend and now a long-term resident of Morocco, Joao from Nomad Revelations. While Cynthia and I were traveling around Morocco, Joao provided us with invaluable information about the country and he gave us great insights into the Moroccan culture.
I'm looking forward to taking you on this trip around Morocco! It'll be a unique and unforgettable adventure across one of my favorite countries in the world!
---
Overview of the trip
When: from the 15th of January to the 23rd of January 2020. 9 days/8 nights
Start and finish: Marrakesh, Morocco
Accommodation: traditional riads, desert camp, and hotels
Maximum group size: 11 people
Who can join: This adventure around Morocco is suitable for travelers aged 18 and above. Families are also welcome provided that the children are at least 12 years old.
---
Day by day itinerary of the trip
Day 1: Arrival at Menara airport in Marrakesh
Welcome to Morocco, welcome to the red city! There is no doubt that Marrakesh is the most popular destination in all of the country.
People come from all over the world to discover this exotic city. After you arrive at the airport, I will be waiting for you to bring you to the riad. The colors, the sounds, and the smells of the city will enchant you and surround you with the magic and mystery of the 1001 nights.
The rest of the day is to get to know each other, either in the riad or on one of the terraces overlooking the most famous square in Africa – Jemaa el Fna. You'll have time to visit the city at your own pace and ease your way into the Moroccan culture.
Accommodation: Overnight in a Riad in Marrakesh
Day 2: Marrakesh – Ait Benhaddou – Ouarzazate
We'll be leaving Marrakesh very early and drive towards the High Atlas mountains. Along the way, we'll be driving through the mountain passage of Tizi n'Tichka that stands at an altitude of 2260m. There you will witness some of the most beautiful mountain landscapes Morocco offers. After driving through the gorgeous mountains, we'll have a lunch stop.
Following the mountain crossing, we'll visit an imposing UNESCO site called Ksar Ait Ben Haddou in the Ounila Valley. Ait Ben Haddou is an ancient fortified mud-brick village located between the Sahara and Marrakech.
It's a place known as a Ksar- the North African term for "Berber castle". This village is one of Morocco's World Heritage Sites and was used as a set in the TV-series Game of Thrones to portray the slaving city of Yunkai that Daenerys Targaryen laid siege to.
After visiting the mud city, we'll drive along small Berber villages and finish our day by visiting film studios in Ouarzazate where dozens of Hollywood movies were filmed.
Meals included: Breakfast and dinner
Accommodation: Riad in Ouarzazate
The old city of Ait Benhaddou…
Day 3: Ouarzazate – Agdz – Draa Valley – Nkob
Today we will explore the South of Morocco. This part of the country is absolutely magical! We'll leave Ouarzazate quite early and we'll drive towards the village of Nkob. This village is known for its 45 Kasbahs or mud castles. It's a beautiful and unique site in Morocco that showcases the architectural genius of the ancient Berber tribes who lived in the area.
On our way there, we'll be crossing the Saghro Mountains. Berber villages, mountains, and magnificent oases will make this day an unforgettable experience. There are a swimming pool and a tea room to relax at the hotel where we'll stay in Nkob.
Meals included: Breakfast and dinner
Accommodation: Hotel in Nkob
Day 4: Nkob – Alnif – Rissani – Merzouga – Erg Chebbi
After breakfast, We'll leave the rocky region of Nkob and start driving towards the desert and the sand dunes of Merzouga. We'll stop at a hotel with a pool to cool off and have lunch. We'll then be on our way to Rissani to visit a beautiful mosque.
After we arrive in Merzouga in the late afternoon, we'll hop on some camels and take a 2-hour stroll into the desert. A wonderful dinner and music await you in our desert camp. After the party is over, prepare yourself to see the stars as you have never seen them before.
Meals included: Breakfast and dinner
Accommodation: desert camp in Merzouga
Day 5: Dunes of Erg Chebbi
The 5th day of our tour will be to discover the Sahara Desert. We'll wake up early to climb to the highest dune to witness the sunrise. After breakfast, we'll make an incredible tour full of adrenaline around the Erg Chebbi Dunes. You will have the chance to visit the nomadic people and see how they live in this pristine beautiful landscape.
In the afternoon, we'll go to our hotel in Merzouga where you'll have the afternoon to relax in one of Morocco's most incredible pools. It will also be the ideal place to see an unforgettable sunset over the dunes of Erg Chebbi.
Meals included: Breakfast and dinner
Accommodation: hotel in Merzouga
Day 6: Erg Chebbi – Todra Gorges – Dades Valley
Today we will visit the famous Todra Gorges and see incredible cliffs that stand at 300 meters high. You'll be surrounded by walls that have been carved over the course of millions of years and you'll get the chance to see a very unique canyon in Morocco. These huge rock walls attract rock climbers from all around the world who want to ascend the hundreds of routes of solid, reddish limestone.
From there we'll go through the Dades Valley or the road of the Thousand Casbahs as it is also known. You will witness breathtaking landscapes as we head back North.
Meals included: Breakfast and dinner
Accommodation: hotel in Dades
Day 7: Dades Valley – Skoura – Marrakesh
After a delicious breakfast, we'll be heading towards Marrakesh. We'll follow the beautiful Rose Valley until we reach the great Atlas mountains again. The road curves along this valley, which is one of the most fertile in the south of Morocco. The valley of the roses is known for its apricots, its roses, and its beautiful traditions that come from the Berber culture.
This is the last day in the south of Morocco before we pass the High Atlas Mountains. The view will be amazing, and we'll have the opportunity to see many different types of mountain landscapes. We'll arrive in Marrakech right on time to explore a bit of the medina.
Meals included: Breakfast
Accommodation: Riad in Marrakesh
Day 8: Marrakesh
This day will be dedicated to exploring the old medina of Marrakesh. We'll be accompanied by an official guide who will show us around the little streets and alleys of the city. We'll see the craftsmen, the tapestries, the leather bags and all the beautiful art produced in Marrakesh. It will be an ideal day for shopping and finding little souvenirs to bring back to your friends and family! At the end of the day, we'll have dinner together, and drink a glass before saying goodbye.
Meals included: Breakfast
Accommodation: Riad in Marrakesh
Day 9: Marrakech – Airport
After breakfast departure to the airport.
Meal included: Breakfast
Costs of the trip
Price for the 8-day trip: 800 euro per person (max. 11 people)
What's included in this price?
Transfer from Marrakech airport to the traditional riad in the medina
3 nights in a riad in the medina of Marrakech (with breakfast and touristic taxes included)
4×4, driver, and fuel for 6 days
1 night at Fint Oasis (with dinner, breakfast and touristic taxes included)
Camel ride and overnight in a luxury camp in Merzouga (with dinner, breakfast and touristic taxes included)
2 nights at Auberge Café du Sud (with dinner, breakfast and touristic taxes included)
1 night in Dades (with dinner, breakfast and touristic taxes included)
Cultural visit of the medina in Marrakech with an official guide
What's not included in this price?
Plane ticket
Drinks
Travel insurance
Extras in hotels
---
What you need to know before joining this trip
Morocco has a visa-free policy for citizens of 69 countries, including citizens of most EU countries, USA, Canada, New Zealand, and Australia. Check here to see whether or not you need to obtain a visa or if you're granted a free visa on arrival.
During our tour, we'll be staying in riads (traditional Moroccan hotels) and we'll spend a night in a Berber camp in the desert. Because we won't be camping during this trip, there is no need to bring a sleeping bag or camping equipment.
Bathroom facilities in Morocco
During most of our trip, we'll have access to western-style toilets in the riads and the hotels where we'll be staying. Along the road, however, we won't always have access to them. At the gas stations or road restaurants, you'll have to feel comfortable with a squat toilet in the form of a separate small building with a hole in the ground. Sometimes there's toilet paper but it's better to bring a roll of toilet paper with you on this trip.
The food in Morocco is very delicious. It's inspired by the cuisine of the Berber people who were the original inhabitants of the country as well as various recipes that were brought by the Arabs. Whether you're a meat eater, a vegetarian or a vegan, you'll enjoy the Moroccan dishes! On this journey, we'll be trying traditional dishes such as Tajine and Moroccan couscous.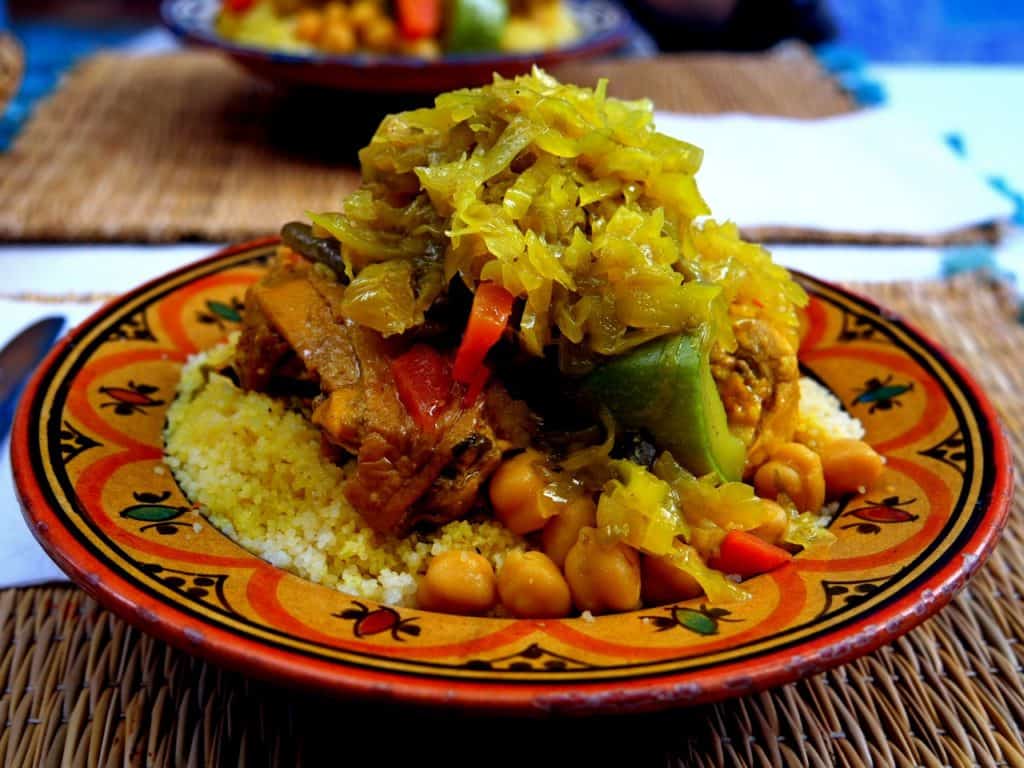 January and February are great months to travel around Morocco as it's usually less busy and there are fewer tourists in the country at that time of the year. At night in the desert however it can get a bit chilly. I would recommend bringing warmer clothes for the nights we will spend in Merzouga.
Gear/ equipment needed for this tour
It would be a good idea to bring sunglasses, lip balm, and sunscreen lotion for this trip. We will be riding camels in Merzouga during a whole afternoon and the sun there is quite strong. As soon as the sun disappears behind the horizon however, the Moroccan desert or the Atlas Mountains can become very cold. Mornings are equally cold so I would recommend bringing a warm sweater.
We will be traveling through some gorgeous landscapes, so don't forget to bring your camera and a few extra batteries.
The power sockets in Morocco are of type C and F. The standard voltage is 220 V and the standard frequency is 50 Hz.
I would recommend bringing a Universal power adapter if you want to be able to charge all of your electronic devices while in Morocco.
In case you have more questions about this tour, don't hesitate to contact me.
---
Booking
Cost of tour: €800 per person.
Express your interest to participate by the 1st of December 2019.
The earlier you do it, the earlier your spot in the group will be reserved (max. 11 people)
Confirm your participation with a deposit of €200 per person.
The remainder of the tour cost has to be paid 60 days before the tour.
If you book this tour after November 15th, you'll have to pay the full amount at once.
Payments can be made via Transferwise (secured online money transfer service) or Bank Transfer (only for countries within the EU).
As soon as we receive your booking, we'll send out the payment details. You have 48 hours to pay the deposit. If not, we have to cancel your participation and reserve the place for the next person who books.
If you have any more questions or want more info, please contact us here!
Cancellation policy
If for any reason you have to cancel your place on this tour, we'll give you a 50% refund if you cancel before the 15th of December 2019.
If we have to cancel this tour for any reason, you will receive a 100% refund of your deposit.
I can't wait to share this adventure with you!!
Niko