If you're a long-term traveler looking for good and affordable travel insurance, look no farther.
Here's my review of SafetyWing travel medical insurance and why it's one of the best travel insurances for long-term travelers.
Traveling comes with inherent risks, even if you take your biggest precautions. It doesn't matter whether you're going on a short backpacking adventure around Europe, a one week horseback riding trip to Kyrgyzstan or if you're about to make an overland journey from Europe to Asia.
Going on a horseback trek, for example, requires good travel insurance…
Anything can happen when you're on the road. From motorcycle accidents, lost luggage at the airport, pickpocketing, breaking your leg while skiing or falling from a horse, bad luck can strike you at the most unexpected moment.
—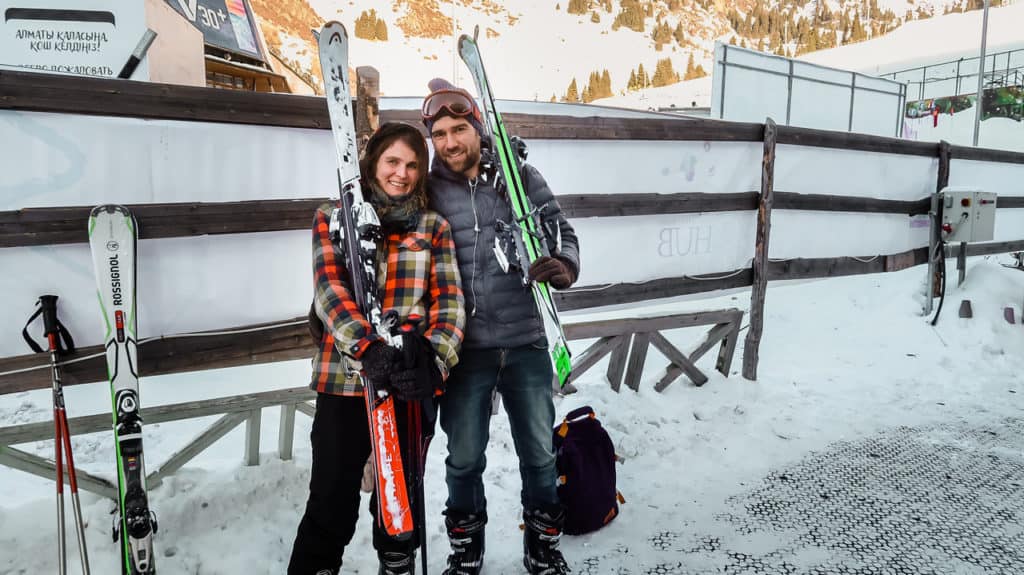 We love skiing in central Asia but we wouldn't do it if we didn't have good travel insurance…
After years of traveling with and without travel insurance (more than 12 years now!), I can assure you that unexpected situations happen all the time. If you don't have a plan B, your trip might end sooner than expected.
That's why it's good to always have travel insurance to back you up in case something goes wrong.
There are nowadays so many different options on the market that it's hard to know which one is the best.
Choose travel insurance that will cover you no matter where you go…
After testing out different insurances, Cynthia and I found one that offers a combination of medical insurance (in case we break a leg while skiing in Kazakhstan) and travel insurance (including trip interruption, travel delay, lost checked luggage, etc.)
This travel medical insurance is called SafetyWing and I'll tell you why it might be the perfect insurance to get for your trip.
Why should you get travel insurance?
As a long-term traveler, I've seen a fair share of disasters that could shorten or break an otherwise perfect adventure.
When I was in Tijuana many years ago, I had all my luggage stolen. During that same trip, one of my travel companions fell ill and needed to stay for several days in a hospital in Central-America. It wasn't exactly the best trip ever…
Falling ill while traveling can happen to anyone…
While this was all pretty extreme, it can happen to anyone. It's important to be prepared and have good travel insurance that covers all of these situations.
You might be hesitant to get travel insurance as they can be very expensive, are complicated to set-up or you think they'll never give the assistance you need while on the road.
Maybe you're not sure about getting travel insurance because you think they are too pricy…
While some insurance companies are indeed expensive and unreliable, I'll tell you why you should consider getting a travel medical insurance with SafetyWing.
What makes SafetyWing so great?
1. Finally affordable travel insurance!
SafetyWing is a very affordable travel medical insurance. At only 37$ per 4 weeks, this is cheaper than most travel insurances out there. That's the same price as buying a coffee every day!
This is perfect when you're a budget traveler or a digital nomad who's just starting an online career and you don't want to/or can't spend too much money on insurance.
It's a bit more expensive if you plan on going to the USA. In this case, it's $68 for 4 weeks (this option is only available to non-US citizens).
With SafetyWing you can go on a road trip without worrying about paying for expensive travel insurance…
2. You're covered around the whole world
SafetyWing covers you in every country of the world, except for Iran, North Korea, and Cuba.
That's one of the things I love so much about this company. I can travel worldwide and I'll still be covered (if I, of course, don't go to the 3 excluded countries).
3. SafetyWing has a super flexible policy
SafetyWing has a monthly subscription model and you can cancel whenever you want.
As a digital nomad and long-term traveler, it's hard to know how long you'll be on the road for. With SafetyWing you don't have to pay for coverage you don't need and you can cancel your subscription very easily.
Another advantage of this company is that you can buy a policy even when you're already traveling. You don't necessarily have to be in your home country when you set it up, a requirement that many other insurance companies have.
I got my travel insurance with SafetyWing in Kyrgyzstan. The whole process was super easy and took less than 20 minutes.
Setting up my SafetyWing travel insurance from Kyrgyzstan was super easy…
4. Lots of sports are covered
Cynthia and I are big fans of hiking and trekking. We're mountain lovers and we never miss the chance to go on a long hike in the mountains.
We just spent a whole summer bringing tourists on treks in Kyrgyzstan but I wasn't worried about stumbling over the rough terrain or sliding down a rock because I knew SafetyWing covers hiking accidents.
Cynthia wasn't afraid of tumbling down rocks once she had good travel insurance…
And that's not the only outdoor activity covered by the insurance policy. Whether you like canoeing, horse riding, skiing, scuba diving or sailing, SafetyWing got your back!
On this page, you can see all the sports and outdoor activities covered by SafetyWing.
5. You can reach SafetyWing for support 24 hours a day, 7 days a week
SafetyWing is easily reached from anywhere in the world and at any time you might need their assistance. They have a hotline you can call 24/7 if you want to speak directly to a staff member.
6. SafetyWing covers so many different things
For being such an affordable travel medical insurance, SafetyWing covers quite a lot of different situations and covers you for a considerable sum of money.
Here are just a few examples of things that are covered by SafetyWing:
Lost checked luggage ($3000 at $500 per item)
Emergency medical evacuation ($100,000)
Emergency medical expenses ($250,000 limit)
Emergency room visit ($250,000 limit)
Urgent care ($250,000 limit)
Emergency dental coverage ($1000 limit)
SafetyWing has a high $250,000 limit to how much money it covers for emergency medical expenses so you can travel with peace of mind…
It's important to mention that at this point in time SafetyWing doesn't cover theft of electronics (see below).
This is an important thing to consider for digital nomads who make their livelihood with laptops, cameras, and other electronic gear. SafetyWing is supposed to cover the theft of electronics in its policy by the end of 2019.
7. Family coverage
Families can travel with peace of mind since SafetyWing covers the children of insured parents. This brilliant insurance policy covers one child (up to 10 years of age) per adult without any extra fees.
Even parents traveling with their kids can benefit from SafetyWing…
[kt_box opacity="1″ background="#eded6f"]
Sign up for SafetyWing insurance now!
[/kt_box]
How does SafetyWing compare to other travel insurances?
Here is how Safetywing compares to other travel insurance policies in terms of prices for travelers between the age of 18 and 39. These are average prices.
[columns] [span6]
World Nomads
Travelex
Allianz
Saven Corners
[/span6][span6]
$37
$120
$81
$76
$63
[/span6][/columns]
How much does SafetyWing cost?
SafetyWing is one of the best value travel insurances in the world at the moment. They charge in general around one-third of what their main competitor charges.
Here are their prices:
[columns] [span6]
Age range:
18-39
40-49
50-59
60-69
[/span6][span6]
Monthly price:
$36.96
$59.92
$94.08
$127.68
[/span6][/columns]
These prices do not include coverage in the USA. If you need to travel there, prices will be slightly higher.
Age can't stop you from traveling when you're covered by good travel insurance…
How does the claim process work with SafetyWing?
Making a claim with SafetyWing is super easy and simple and that's another reason why I love this insurance policy so much.
To start, you just need to send the claim to the email address provided upon your sign-up. SafetyWing will get back to you quickly and let you know it's being processed. They usually contact you within 24 hours.
You can see live updates concerning your claim by visiting the claims section of their website. It's awesome to see the whole process instead of being left in the dark until your claim is either accepted or rejected.
You can see the status of your claim even while you're on the road…
What are some downsides of SafetyWing?
1. They don't cover theft of electronics
SafetyWing, unfortunately, doesn't cover the theft of laptops, cameras, and other electronic gear at the moment.
SafetyWing covers a lot of different situations and is fairly cheap. My tip is to get it and complement it with separate electronics insurance. This way you would still pay considerably less in comparison with conventional travel insurance.
2. Injuries caused by playing some team or extreme team-sports won't be covered
Although a lot of sports like rock-climbing, skiing or hiking are covered by this policy, some team sports such as hockey and adrenaline activities such as kitesurfing or whitewater rafting are not.
This is important to keep in mind if you're an adventurous traveler who likes to try extreme sports
I strongly suggest you read thoroughly about all the sports that are included and which aren't in the policy to avoid having any bad surprise.
Team sports like Kok-Buru are not covered by SafetyWing…
In conclusion: should you go for SafetyWing or not?
After looking at all its awesome perks, the very affordable price, and how easy it is to sign up and make a claim, I'm definitely going to continue using SafetyWing for the rest of my travels.
You can plan your trip without worrying when you have travel insurance that covers so many things…
Whether you're a long-term traveler, a digital nomad or going on your first trip to a foreign country, this travel insurance will be the perfect one for you.
Visit their website now and sign up before your next trip!