Kyrgyzstan Trip: 8-day O
verland E
xpedition
8-DAY OVERLAND EXPEDITION KYRGYZSTAN TRIP DATES:
June 21st – June 28th, 2022 (8 places left)
September 1st – September 8th, 2022 (fully booked)
Register here to join one of these tours!
(If you're from Belgium or the Netherlands, click here for the Dutch version)
When I first arrived in Kyrgyzstan in 2017, I immediately fell in love with the beauty of this Central Asian country. I loved it so much, that I even decided to live and travel there for nearly an entire year!
Kyrgyzstan is a fantastic outdoor destination and is one of the few off-the-beaten-path countries where you can still get a taste of the authentic nomadic culture.
After the success of my Overland Expeditions in 2018, 2019, and 2021 (watch the video here), I want to give travelers a new opportunity to join on some amazing adventures in Kyrgyzstan!
That's why I'm organizing new Adventure Tours in the summer of 2022!
This is what the participants said about the Overland Expeditions in the past years:
"The tour was just amazing! I am quite used to travel on my own, but joining you guys was definitely the right choice! Otherwise, it couldn't be possible to reach such beautiful places. Thank you so much for sharing with us your time and your experience as travelers." – Ignacio (Italy), Overland Expedition 2018
***
"This trip is perfect for those who want the benefits of group travel – getting to hard-to-reach places and meeting other travellers, but none of the downsides. There is plenty of room for flexibility and independence – participants are often free to choose whether to spend the day taking on the highest peak or just reading in the shade. Covering a wide range of activities, landscapes and places – some well-known, others further off the beaten path – this trip is a great way to experience Kyrgyzstan." – Anita (Norway), Overland Expedition 2019
***
" Cynthia & Aleksei made it possible for me to visit places that I would not have been willing…or able, to reach on my own! Their local knowledge was great and their enthusiasm for life and travel was contagious. The expedition was amazing value for money. I was taken care of very well and I have amazing memories and experiences to look back on. I hope they will be organizing more of these budget expeditions in the future…I would love to travel with them again." – Ruth (United Kingdom), Overland Expedition 2018
***
"It's a real adventure, you get to wonderful places where it would be very difficult to come on your own, you just must be prepared not to have the comfort of hot showers, electricity, and internet everywhere, but it's really worth this "sacrifice"!" – Wilfried (Belgium), Overland Expedition 2019
The Overland Expeditioners in 2021
Do you like the sound of an off-road adventure across wild and untouched mountainous landscapes to explore one of Kyrgyzstan's most beautiful alpine lakes?
Would you love to sleep in a yurt like the real Kyrgyz nomads in the middle of nowhere, surrounded by majestic mountains?
Then I invite you to join the 8-day Overland Expedition in Kyrgyzstan!
AVAILABLE DATES:
June 21st – June 28th, 2022 (8 places left)
September 1st – September 8th, 2022 (fully booked)
---
Check out my other Kyrgyzstan Adventure Tours:
---
During this road trip, we'll visit remote places that are hard to reach without an experienced local driver and a 4×4 vehicle.
We'll spend a day exploring the remote area around Kel Suu Lake, which is considered to be one of the most beautiful and spectacular mountain lakes in the Kyrgyz Republic. It's located next to the western side of the Kolshaal-Too mountains, not far from the Chinese border.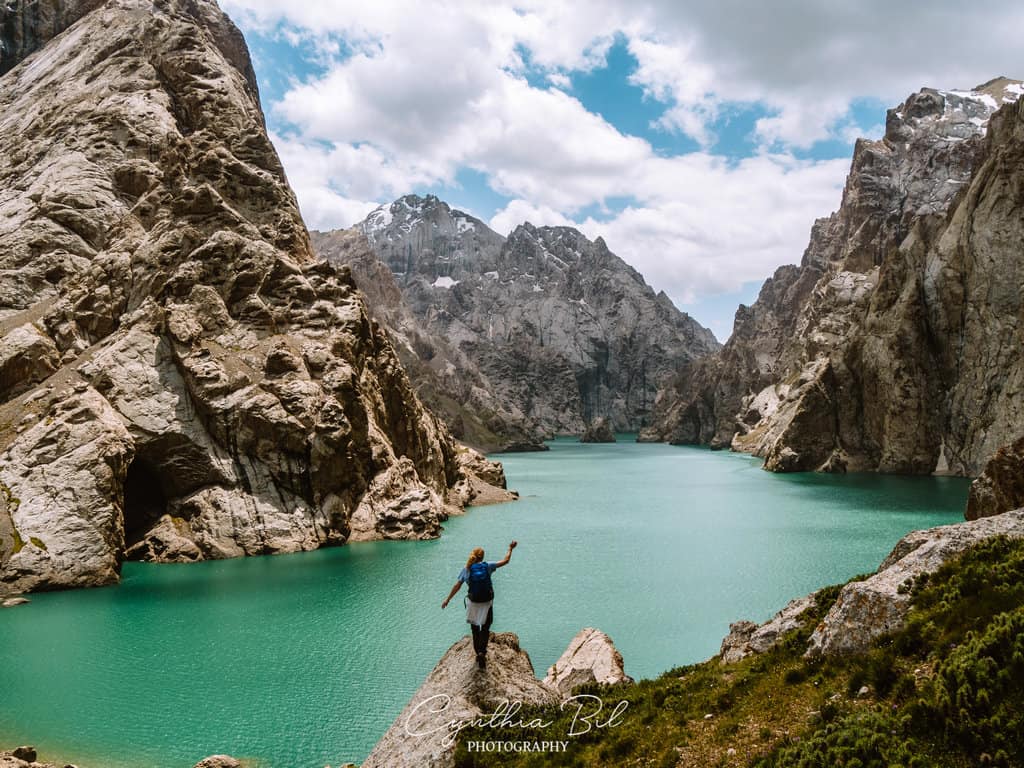 You'll have the chance to go on a few hikes in the area, row a small boat on the lake or just relax and connect with nature.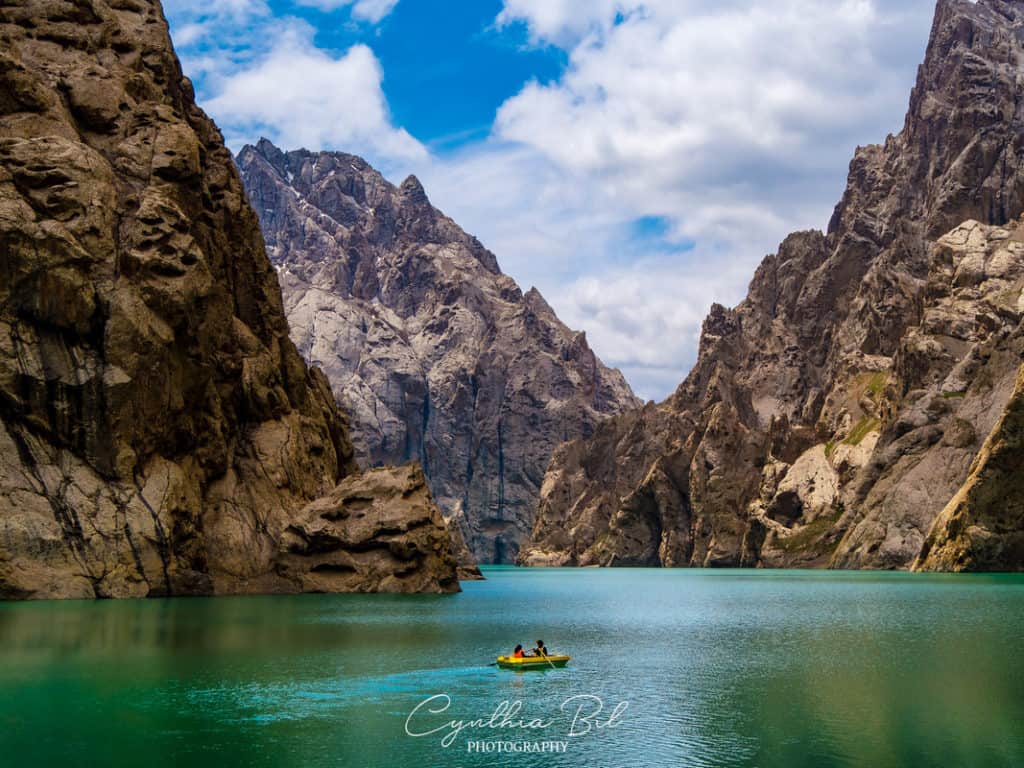 We'll also come across a 600-year-old caravanserai where travelers used to take a break during their journey along the old Silk Road.
From there, we'll go on a one-day horseback trip to the Panda Pass, a 4.100-meter high mountain pass from where we'll get a magnificent panoramic view over Chatyr Kul lake, which means "Celestial Lake" in Kyrgyz – the name says it all!
But Kel Suu and Chatyr-Kul aren't the only beautiful lakes you'll get to see during this trip!
We're also going on a one-day horseback trek around the beautiful Son Kul Lake during which we stop at one of the stunning Terskye Alatau mountain passes. Along the way, we'll see the settlements of nomadic shepherds and ride along the shores of Son Kul.
And last but not least, we'll also go on a rafting trip in the picturesque Chon Kemin Valley!
We'll be staying the majority of the time in the yurt camps of nomadic families in the great and untouched wilderness of Kyrgyzstan.
I'm organizing this Overland Expedition in collaboration with my good friend and local guide Aleksei from Kyrgyz Nomad.
During my time in Kyrgyzstan, Aleksei has been an indispensable resource for showing me the most beautiful places in the country and giving great insights into the culture.
Aleksei & me (Cynthia)
During the horseback trek, we'll also be accompanied by experienced guides who will make sure we smoothly find our way through the mountains.
Aleksei and I are looking forward to taking you on this trip with us!
It'll be a unique adventure and a great opportunity for you to discover the wild beauty of a truly magnificent country (which is one of my favorite destinations in the world!) and get a taste of the Kyrgyz nomadic culture!
---

The "Overland Expeditioners" in August 2019
Would you like to join this Adventure Tour?
---
DAY 1: BISHKEK – ORTO TOKOI RESERVOIR – SON KUL LAKE
We meet up in Bishkek around 10 in the morning. We pack our belongings in the van and start the journey towards Son Kul Lake, a beautiful mountain lake just below 3000 meters altitude. Along the way, we'll make a stop at the Orto Tokoi Reservoir.
We arrive at Son Kul lake in the late afternoon. After our arrival at the yurt camp, you'll have some free time to explore the area on foot. Dinner is shared with the group at the yurt camp and we spend the night in a shared yurt near the shores of Son Kul lake.
Meals included: Dinner.
Accommodation: Shared yurt
Facilities: no wi-fi, no electricity, no hot shower. You can refresh yourself in the lake. Toilet is outside.



DAY 2:

HORSE RIDING AT SON KUL LAKE
After enjoying a traditional Kyrgyz breakfast at the yurt camp, we mount our horses and go on a 4-hour horse riding trip in the surrounding mountains of Son Kul lake.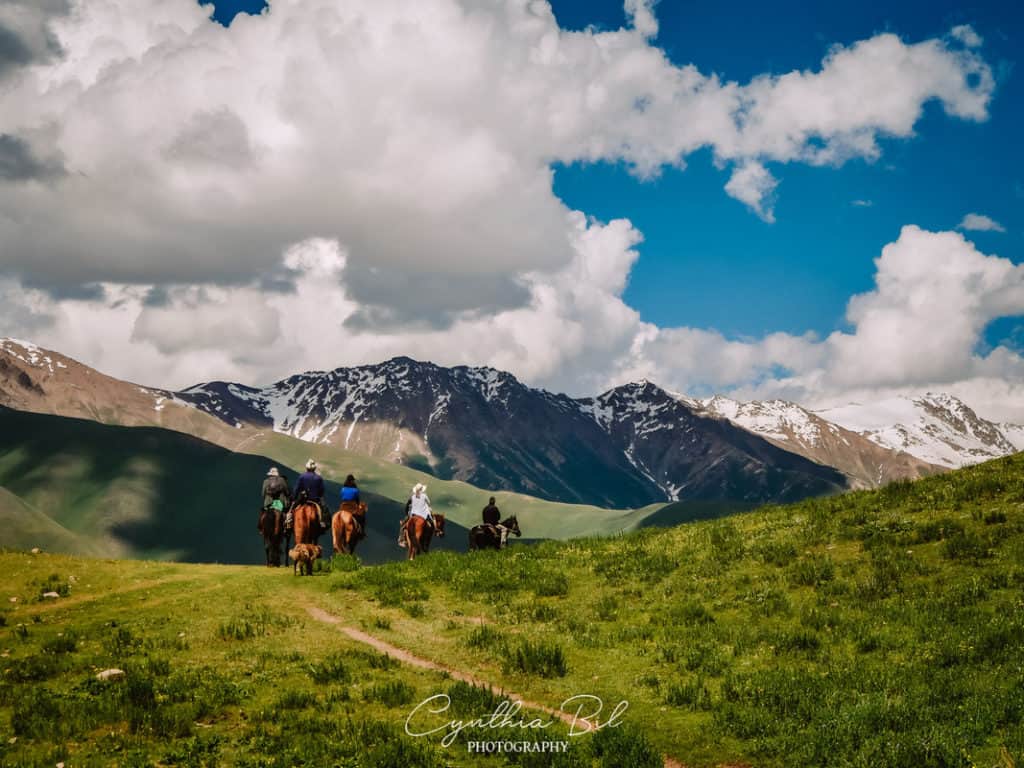 We ride to a 3500 meters high mountain pass where we enjoy a panoramic view over the lake and the nearby mountain range.
After a short break on the mountain pass, we return towards Son Kul to ride along its shores.
After our return to the yurt camp, you'll have the rest of the afternoon free so you can go swimming in the lake, go for a walk or just enjoy the beauty of the area.
Meals included: Breakfast, lunch, dinner.
Accommodation: Shared yurt
Facilities: no wi-fi, no electricity, no hot shower. You can refresh yourself in the lake. Toilet is outside.
DAY 3:

SON KUL LAKE – NARYN – KOK KIYA VALLEY
After an early breakfast, we say goodbye to Son Kul lake and continue our journey through Kyrgyzstan.
We drive all the way to Naryn where we have a stop at a local supermarket to buy some snacks for the coming days. Then we hit the road again and drive to the Kok-Kiya Valley, an area near the border with China.
Along the way, we get treated to some spectacular views over the At-Bashi range and the Eki-Naryn Canyon.
We arrive in the valley in the early evening. After stretching our legs from the long car ride, we make ourselves comfortable at a local yurt camp. There will be a little time to explore our new surroundings before having dinner at the camp.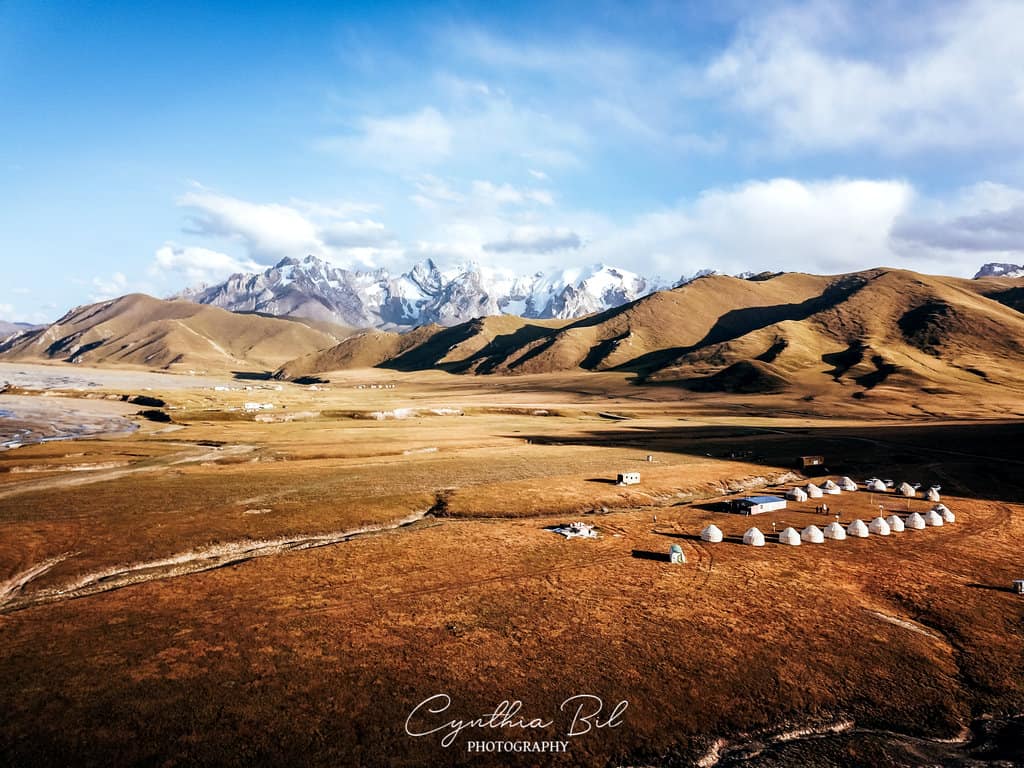 Meals included: Breakfast, dinner.
Accommodation: Shared yurt.
Facilities: No electricity, no cell phone connection & wi-fi, no hot shower. Toilet is outside.
Day 4:

Exploring Kel Suu Lake
After having breakfast in the yurt camp, we go on a day hike (around 3-4 hours one way) to explore the stunning Kel Suu Lake.
This lake is one of Kyrgyzstan's most beautiful and unique alpine lakes, located at 3500 meters altitude. It looks like a winding canyon and was formed years ago by a strong earthquake.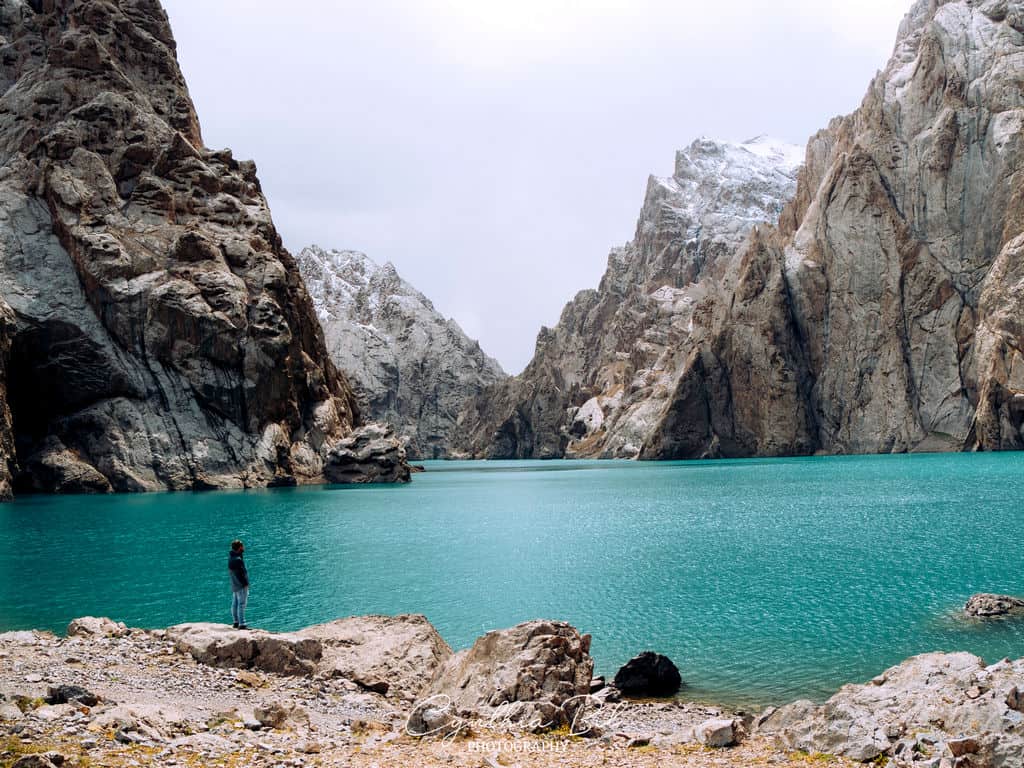 The lake is surrounded by hundreds of meters high cliffs that have numerous caves and alcoves. There's a small island in the center of the lake that you can reach by boat.
You can rent a boat from local shepherds and/or explore the area on foot. You could also go for a swim, however, the water is very cold (around 6ºC) and the lake is 5 to 10 meters deep so it can be dangerous.
After having a picnic at the lake, we hike back to the yurt camp.
Meals included: Breakfast, dinner
Accommodation: Shared yurt.
Facilities: No electricity, no cell phone connection & wi-fi, no hot shower. Toilet is outside.
Day 5:

Kok kiya – Tash Rabat
After having breakfast, we pack up our belongings and leave the Kok Kiya Valley to drive towards Tash Rabat. We drive off-road along the most beautiful scenery you can imagine.
We arrive in Tash Rabat in the late afternoon where we spend the night in a yurt camp and enjoy a lovely dinner from the Kyrgyz cuisine.
Meals included: Breakfast, dinner
Accommodation: Shared Yurt
Facilities: no wi-fi, no hot shower. Toilet is outside.
day 6: horseback trip to panda pass
Today we go on a horseback trip (6 hours in total) through the Tash Rabat Valley, all the way up to the Panda Pass.
This is a beautiful 4100-meter mountain pass that gives spectacular views over the Ak Sai Valley and Chatyr Kul lake.
Chatyr Kul is one of Kyrgyzstan's largest and deepest lakes and is frozen most of the year due to its location between glaciers. After enjoying the views and a nice picnic in one of the surrounding valleys, we return to our yurt camp near Tash Rabat.
Meals included: Breakfast, dinner
Accommodation: Shared Yurt
Facilities: no wi-fi, no hot shower. Toilet is outside.
Day 7:

Tash Rabat – Chon Kemin
We start the day with a nice breakfast at the yurt camp. Then we visit the historical complex of Tash Rabat, a 15th century stone caravanserai that used to function as a 'roadside inn' for the people and their animals who used to travel along the ancient Silk Road.
After this visit, we get back in the car and continue our road trip to Chon Kemin.
It will be a long day of driving but once we arrive in the late afternoon in Chon Kemin, it will all have been worth it!
The Chon Kemin Valley is another very picturesque location in Kyrgyzstan with the Chon Kemin and Chu River flowing through the Kungei and Iliysky Ala-Too mountain ranges.
After our arrival, you'll get the chance to explore the area before enjoying a homemade meal in the guesthouse.
Meals included: Breakfast, dinner
Accommodation: Shared room in guesthouse
Facilities: Hot shower, toilets, wifi.
Day 8

: rafting in chon kemin – return to Bishkek
The Chon Kemin Valley isn't only a popular place for nature lovers who love hiking and horse riding, it's also one of the most known places for rafting.
After enjoying a good breakfast at the guesthouse, we're off on our last exciting adventure: white water rafting on the Chu River!
Don't worry if you've never rafted down a mountain river before, this rafting trip is suitable for beginners.
If there's still some time after our rafting adventure, we can go on a short hike in the area before hitting the road back to Bishkek. We'll arrive in Bishkek in the early evening.
We drop off everyone at a central location in the city center where we can easily park the cars and unload the luggage. If needed, we'll call a taxi for you so you can easily get to your hostel or hotel.
This is the moment where the tour is finished! There's an optional dinner to say goodbye to our amazing group of friends!
Meals included: Breakfast
Note: This itinerary can be modified in case of weather conditions and other unforeseen circumstances.
---
Price for the 8-day trip: 1100 euro per person (max. 10 people)
What's included in this price?
Transportation: 4×4 offroad vehicle with an experienced local driver
Accommodation: yurt stay and guesthouse
All meals mentioned in the itinerary
All activities mentioned in the itinerary
1 horse per person during the 2 days of horseriding
Experienced horsemen who guide us during the 2 horseback trips
Entry fee for Tash Rabat
Border permits for the Kel Suu lake area
Rafting gear (raft, paddles, wet suits, life jackets, helmets)
River guide
Kel Suu is located near the Chinese border and there are military checkpoints on the road to the lake. Anyone who wants to go there needs a border permit. To arrange these border permits for you, we'll ask a copy of your passport when you finalize your booking.
What's not included in this price?
Airfares to and from Bishkek
Visa application fee (however, Kyrgyzstan is visa-free for most EU and other countries. Check this link to see if you can visit the country without having to obtain a visa)
Medical or travel insurance (mandatory to join our trip). We recommend SafetyWing or Battleface if you want a good insurance provider (in case you don't have one yet).
Lodging in Bishkek
Meals not mentioned in the itinerary (there will be an opportunity to buy snacks before we go off-road)
Alcoholic beverages, soft drinks, bottled water
Personal expenses and souvenirs
---
here to see whether or not you need to obtain a visa or if you're granted a free visa on arrival.
You need to be fully vaccinated or show a negative Covid- PCR test issued in the last 72 hours before entering Kyrgyzstan. Even if you're fully vaccinated, we still require you to do a PCR test before joining this trip.
You'll also need to take a PCR test upon leaving Kyrgyzstan. This test can be done in different lab centers in Bishkek. We'll provide you with all the info you'll need!
We put together this tour with the intention of providing you with an authentic Kyrgyz experience. Therefore we organized lodging in guesthouses and yurt camps of local families.
We sleep in shared spaces, exactly as the Kyrgyz families do. In the guesthouses you'll have your own bed, in the yurt we sleep in a bed or on thick blankets on the floor. These blankets are very comfortable and soft so we can ensure that you'll sleep very well!
Inside a yurt
Bathroom facilities in Kyrgyzstan
Along the road and in remote areas, there are no western-style toilets. Even at the gas stations or road restaurants, you'll have to be comfortable using a squat toilet.
With the exception of the guesthouses where you'll have a hot shower and western-style toilet, most toilets will be outside in the form of a separate small building with a hole in the ground. Sometimes there's toilet paper but definitely bring a roll (or two) of toilet paper with you on this tour.
The "bathroom" of a yurt camp
Breakfast is usually fried eggs, bread and/or porridge.
Lunch and dinner usually consist of 2 courses. The first course is often a hearty soup. The second course is mutton, beef and chicken, served with noodles or rice and a salad on the side. Mention if you're vegetarian so we can arrange meals without meat for you!
Drinking water during the tour
Bottled water isn't provided so you must bring your own refillable water bottle.
You'll be able to refill your water bottle(s) in clean water springs and streams along the tour. If there aren't any water springs at the yurt camp, we'll request boiled water to fill up your bottle(s).
I also highly recommend bringing a water filter or a steripen if you're worried about getting sick – I've been using a Lifestraw water bottle and that has always done the job for me!
The months June to September are great months for hiking and exploring the mountains. However, we'll be staying at an altitude of more than 3000 m above sea level and the weather in the mountains can be unpredictable. If it's sunny, it's hot (between 20ºC – 25 ºC), but it can start raining or even snowing within one hour.
At night the temperature can drop below 0 ºC and there can be frost in the morning. Bring warm and waterproof clothes that are suitable for any weather condition.
We never know beforehand what weather we can expect in the mountains!
Gear/ equipment needed for this tour
As there's limited luggage space in the car, you'll need to bring a backpack in which you can carry your clothes, personal items, tent, sleeping bag and camping mattress.
You won't have to carry your backpack that much but try to keep your luggage to a minimum.
Once you've booked for this trip, you'll receive a detailed packing list from us. You can already read my Packing List for Trekking in Kyrgyzstan to get an idea of what you'll need.
Bring a sunhat, sunglasses, lip balm, sunscreen lotion and a pair of long pants for the horseback trek. You'll also need your swimsuit to wear underneath the wet suit during our rafting trip.
You'll only be able to charge your electronic devices on the 7th evening of the trip. Bring enough batteries for your camera and a USB power bank to keep your electronic accessories charged.
Will this tour be dangerous?
We want to give you an adventurous experience, not a dangerous one! The biggest danger is that you might not want to leave Kyrgyzstan (that's why we stayed almost one whole year in the country!)
Kyrgyzstan is one of the safest countries in Asia. Safety is our priority and we wouldn't organize anything that would put you in danger!
The only danger is that you might fall in love with Kyrgyzstan and its citizens!
Do I need to have previous horseback riding/ rafting experience?
When you sign up, we'll ask about your horseriding experience. It's not a problem if you've never ridden a horse before.
We'll give instructions and the horses are used to carrying inexperienced riders. They'll walk very slowly so all you have to do is sit and enjoy the ride. We'll also have some experienced horsemen with us that will guide and help you if needed.
The same counts for rafting. You don't need to have previous white water rafting experience as the difficulty level will be Class II according to a Class I to VI international system.
There will be a safety briefing beforehand and we'll be accompanied by an experienced river guide. You'll quickly learn the basic rowing and raft handling techniques. We want you to have a thrilling new experience without putting your life at risk!
Also keep in mind that this is not a "glamping" trip, even though we're staying at yurts.
You need to be comfortable with living in basic conditions, not being able to take a hot shower for the full length of the trip (you can wash yourself in the lakes and/or rivers) and feel confident enough to use a tree or a hole in the ground as a toilet.
The majority of our previous participants had never ridden a horse before
On this trip, we'll be reaching high altitudes with an average of 3500 meters above sea level. You'll have the time to get used to the altitude but in case you ever had issues with altitude sickness, please seek medical advice before booking this trip.
The highest place we reach will be the Panda pass at 4100 meters
In case you have more questions about this tour, don't hesitate to contact me.
---
Cost of tour:

€1100 per person (max. 10 people)

---

Availability

June 21st – June 28th, 2022 (8 places left, guided by Aleksei)

September 1st – September 8th, 2022 (fully booked)
Confirm your participation with a deposit of €300 per person.
Deposits can be made via bank transfer in EUR or USD.
The remaining amount can be paid either in cash on the first day of the tour or via bank transfer at the latest one week before the start of the trip.
As soon as we receive your booking, we'll send out the payment details. You have 48 hours to pay the deposit. If not, we have to cancel your participation and reserve the place for the next person who books.
If you have any more questions or want more info, please contact me here!
Cancellation policy
If for any reason you can't join this tour, we'll refund your deposit if you cancel before April 30th, 2022.
In case we have to cancel this tour due to unforeseen circumstances beyond our control (pandemic, political reasons, natural disasters,…), you'll receive a full refund of the tour costs (minus transaction costs).
---
We're so excited to share this adventure with you!!
We hope to see you in Kyrgyzstan!
Cynthia & Aleksei