This article contains all the safety information you need to know about Kyrgyzstan to enjoy your trip there in 2020.
Kyrgyzstan is a country that stole our hearts. From the very first moment we crossed its border with Kazakhstan, we were stunned by its beautiful pristine mountains.
The country provided us with so many reasons to fall in love with it. It has thousands of high alpine lakes, a millennia-old culture, beautiful horse treks, and interesting traditions. There are just so many wonderful new things to discover and see in Kyrgyzstan.
Kyrgyzstan has so many of these pristine untouched landscapes…
Unfortunately, because of its suffix -stan, the country is often associated with other less popular and dangerous destinations like Afghanistan.
Eagle hunting is one of the fascinating traditions Kyrgyzstan has kept over the centuries
Kyrgyzstan really has a lot of amazing things to offer but is it a safe country? Well, we lived in this Central Asian country for nearly a whole year and in this article, we'll tell you what we think about the safety there.
If you are wondering if Kyrgyzstan is safe to visit as a solo (female) traveler, to backpack around independently with your friends or family or if it is safe for students and expats to live in its capital city Bishkek, you're in the right place.
The Kyrgyz people are some of the most friendly and welcoming people we have met!
1. Is Kyrgyzstan safe for tourists?
Kyrgyzstan is a destination that is becoming more and more popular with each year and tourism is growing at an incredible rate. Apart from all the sights the country offers, it is, overall, a very safe place to visit.
Actually, all five countries in Central Asia – Kazakhstan, Kyrgyzstan, Tajikistan, Turkmenistan, and Uzbekistan – were placed in Level 1 countries by the US Department of State, meaning they are among the safest countries in the world to travel to!
Kyrgyzstan, when it comes to safety, is at the same level as Canada, Estonia, Norway, Sweden, and Singapore. It's even safer than Level 2 countries such as France, Germany, Spain, and the United Kingdom.
Here we are spending the evening with a lovely Kyrgyz family who invited us for dinner
People in Kyrgyzstan are super welcoming as you see in this video that we filmed when a Kyrgyz family received us in their home.
It is true that there were some violent land disputes between the Kyrgyz and Uzbeks in the city of Osh in 1990 but that was 30 years ago. This dispute has not targeted or harmed any tourist in Kyrgyzstan.
It was a rare and isolated occurrence and the situation was resolved rather quickly. Kyrgyzstan is a very safe country where tourism numbers have been growing by the year.
We felt safer living in Bishkek than we did in some European cities…
The Kyrgyz government has been pushing more and more initiatives each year to attract tourists and we can easily say that we felt safer there than in some parts of Europe.
Now, do bad things happen in Kyrgyzstan? Yes of course. Petty crime such as theft is not unheard of and corrupt police can sometimes make it challenging to travel around the country by car (they'll give a fine to locals and foreigners for any reason they can imagine).
The countryside of Kyrgyzstan is very safe and if you go there during summer, some families might invite you to sleep in their yurt…
[kt_box opacity="1″ background="#eded6d"]
Planning to visit Kyrgyzstan in Winter?
Read my 10-Day Kyrgyzstan Itinerary for Winter!
[/kt_box]
2. Is Kyrgyzstan safe for students and expats?
The capital city of Kyrgyzstan, Bishkek, is attracting more and more expats and students every year. It is very normal to ask yourself the question of whether Kyrgyzstan is safe for foreigners. I would say that Kyrgyzstan is very safe for foreign students and expats in general.
The Kyrgyz people are very welcoming. When we were living in Bishkek, Cynthia and I often met young Kyrgyz students who were curious about where we came from and who would invite us for a coffee or a meal to talk about our adventures and practice their English.
The fact that I spoke a bit of Russian definitely helped but I was surprised by the amount of young Kyrgyz who speak almost perfect English.
Kids visiting the Burana tower near Bishkek were super happy to practice their English with me…
That being said, expats should still be vigilant about the safety of their personal belongings, especially in big cities like Bishkek, Osh or Karakol. Pick-pocketing is not uncommon in the open air markets such as the Osh bazaar or in city buses in Bishkek.
The best solution to avoid being pick-pocketed is to stay very alert and aware of your belongings at all times. You should leave all your important and valuable items at your hotel and walk around only with what is absolutely necessary.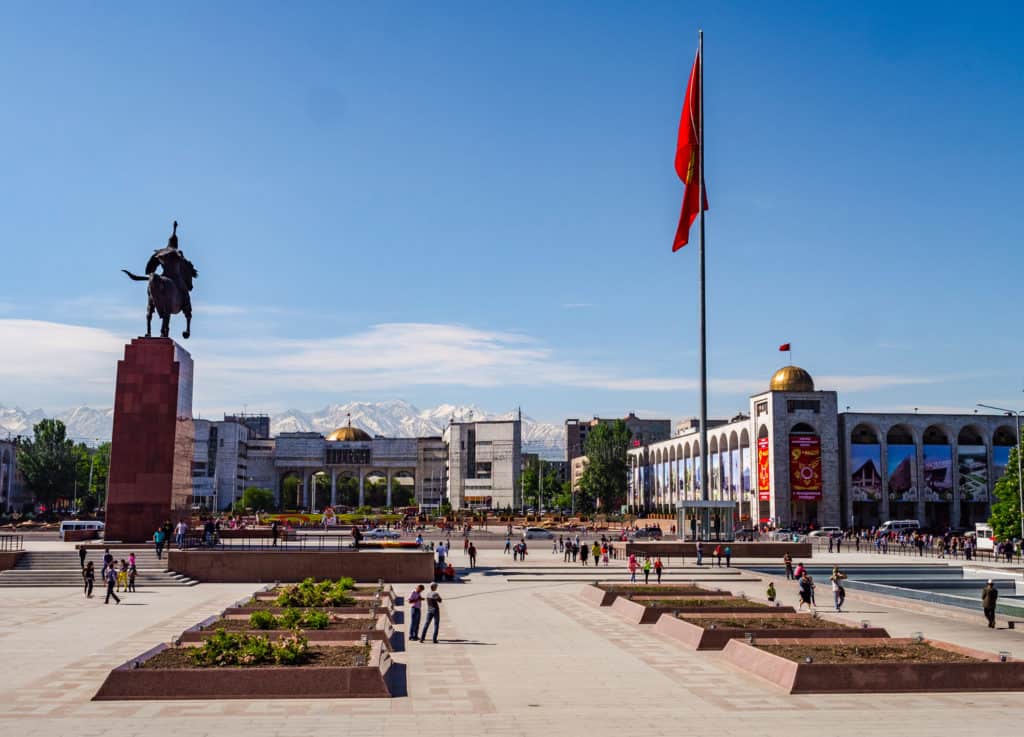 When walking around in big cities like Bishkek, only bring what is necessary…
Keep your wallet in your front pocket or carry a money belt. Another great option is to travel with a slash-resistant and lockable anti-theft bag. I would also recommend getting good travel insurance that covers theft.
Walking alone at night in big cities is also something that should be avoided. Foreigners can become targets for mugging.
Expats in Bishkek is a good Facebook group to become part of when moving to Kyrgyzstan. There are hundreds of expats and locals in this group that can answer your questions concerning safety around the country and that can help you adapt to life in central Asia.
[kt_box opacity="1″ background="#eded6d"]
Don't forget to read our complete City Guide To Bishkek!
[/kt_box]
3. Is Kyrgyzstan safe to travel for families?
Kyrgyzstan is the perfect family-friendly destination. In the Kyrgyz culture, children are very important and considered the "flowers of life". Children are treated with the utmost respect and love in Kyrgyzstan in a way that I have never seen anywhere else.
I would even dare to say that it might be easier for a family to travel around Kyrgyzstan than for a solo traveler.
When Cynthia's friend came to visit us in Bishkek with her husband and two young daughters, it was amazing to see how the Kyrgyz people responded to the presence of the kids. While the Kyrgyz people were always very welcoming, the fact that we were with children made them even warmer towards us.
Cynthia's friend who came to visit us with her husband and two daughters…
Kyrgyzstan is the perfect place for a family holiday in nature and away from the smog of big cities.
If you are wondering what could be good activities to do with your family in Kyrgyzstan, read: The top 28 things to do in Kyrgyzstan – culture, nature, and sights
Kids in Kyrgyzstan are considered the "flowers of life"…
Here are a few recommendations I would have for families traveling to Kyrgyzstan:
Avoid tap water in Kyrgyzstan
While tap water in Kyrgyzstan is generally considered safe (see below) I wouldn't advise it for young kids. It takes a while for the body to adapt to the tap water of a new location.
To avoid buying plastic water bottles, I would recommend bringing a LifeStraw Water Filter Bottle.
This is a bottle that filters water using a filtration device. If you drink water using this bottle, any dirt, bacteria or parasites gets trapped in the filter, while the clean water passes through.
Avoid the contact with stray animals in Kyrgyzstan
There are a lot of stray cats and dogs in Kyrgyzstan. They may look cute and inoffensive but they could have rabies. Even a small scratch or bite from such an animal could have dire consequences for your child.
Be up to date with your kid's basic vaccination
Your children should be up to date with their basic vaccination before traveling to this country. As an adult, you don't need any compulsory vaccinations to travel in Kyrgyzstan.
However, vaccinations for Hepatitis A and Typhoid are recommended, especially if you are visiting smaller cities or rural areas, or if you are an adventurous eater.
The government of Kyrgyzstan requires proof of yellow fever vaccination only if you're arriving from a country with risk of yellow fever.
Kyrgyz children are often at the center of traditional celebrations…
Travel with a first-aid kit to Kyrgyzstan
Scratches, cuts and small bruises can happen quickly and unexpectedly. I would suggest bringing a first-aid kit that contains antiseptic wipes, compresses, and band-aids, as well as painkillers and anti-diarrhea medicine. This is the first-aid Kit I recommend.
Exercise precaution if hiking with kids in Kyrgyzstan
Trekking in Kyrgyzstan is not entirely safe even for experienced trekkers. I would only recommend hiking with kids near Bishkek (In Ala-Archa for example). I would advise reading Things you need to know and do before you go trekking in Kyrgyzstan before you hike with there with kids.
I would also suggest reading The Ultimate Packing List for Trekking in Kyrgyzstan to make sure you bring the right equipment.
In Kyrgyzstan, kids take part in traditional celebrations such as Nowruz…
4. Is it safe to hike in Kyrgyzstan?
Hiking in the mountains is never 100% risk-free and the beautiful mountain treks of Kyrgyzstan are no exception. You will be confronted with hazardous terrain, unpredictable weather and the possibility of suffering from altitude sickness depending on where you hike.
Hiking in high mountains comes with inherent risks so it's important to be well prepared and follow some basic safety rules.
Hiking in Kyrgyzstan is much safer if you follow some basic safety rules…
We wrote some of these general safety guidelines in The Complete Guide to Trekking in Kyrgyzstan.
Whatever you do, do not hike alone in Kyrgyzstan. Hiking alone in Kyrgyzstan is not safe and should never be attempted regardless of whether you are an experienced hiker or not.
[kt_box opacity="1″ background="#eded6d"]
Want a great packing list to hike in the Kyrgyz mountains?
Read: The Ultimate Packing List for Trekking in Kyrgyzstan
[/kt_box]
5. Is it safe to go horseback riding in Kyrgyzstan?
Horseback riding in Kyrgyzstan can be very safe if you are in the company of a good guide who knows the horse you are riding and the terrain where you are.
Most travelers who go horseback riding in Kyrgyzstan do not necessarily have previous experience riding but they get along fine. Most of them, however, do not ride alone and will always be in the company of a local guide.
Riding a horse alone in the mountains of Kyrgyzstan is something I would never recommend doing. While horseback riding already comes with certain risks, doing it alone only augments those risks even more.
Horseback riding in the mountains of Kyrgyzstan is much safer when done with friends…
Regardless of your skills as a horse rider, riding a horse in completely new and different terrain is not the safest thing. Some of the high mountain passes in the country can be quite treacherous.
Another thing to consider is that most of the horseback riding in Kyrgyzstan is done at very high altitudes. If you are not used to being so high in the mountains, you could quickly suffer from altitude sickness.
Before heading to this central Asian country, make sure you pack up some altitude sickness medication such as Acetazolamide.
Finally, horseback riding can be dangerous simply because of the horses themselves. Horses all have their own personality and can react differently to different cues and commands.
While most of them will be docile, others can be very disobedient and slightly dangerous.
If you are horseback riding in Kyrgyzstan with a reputed company (see horseback riding to Song Kul) they will usually provide you with a good calm horse. In any case, take the time to get used to your horse and see how it reacts to different cues before taking it for a long ride.
[kt_box opacity="1″ background="#eded6d"]
Read:
Everything you need to know about going on a horse trek in Kyrgyzstan
[/kt_box]
6. Is it safe to drive in Kyrgyzstan?
After spending a whole year in Kyrgyzstan, I would say that driving there is not super safe. Many drivers in Kyrgyzstan completely ignore red lights and illegally pass other cars. Speed limits are almost only observed when the drivers know that some cops are around.
While drivers in Kyrgyzstan don't drive as fast as most people in Georgia, they still drive pretty recklessly. Once, my brother took a shared taxi to travel between Bakanbayevo and Bishkek and the driver sped up to almost 180 km per hour just because he felt like showing off!
If speed isn't enough, another factor that could be dangerous while driving in Kyrgyzstan is the presence of numerous potholes. The roads around the country aren't always very well-maintained and it's not uncommon to come across uneven pavement and open drains.
Some areas are so off-the-beaten-path that you will need a 4×4 vehicle to get there…
Because of these hazards and inadequate lighting, I wouldn't recommend driving in the Kyrgyz countryside at night unless you're an experienced driver.
Driving in Kyrgyzstan during winter can also be relatively dangerous. This Central Asian country receives huge quantities of snow during winter. Some roads become very icy and others are completely blocked.
Driving on the Ala-Bel pass towards Osh, or from Bishkek to Almaty is particularly treacherous during winter.
The Ala-Bel pass can be very dangerous during winter…
Another thing to consider when driving in Kyrgyzstan is the fact that there are considerably fewer gas stations as you move away from big cities like Bishkek and Osh.
If you plan to go off the beaten path and to destinations that are farther in the countryside, consider bringing an extra jerrycan to fill up with fuel whenever possible.
If you plan to drive very far from cities, bring an extra jerrycan filled with fuel…
One last thing to take into consideration while driving in Kyrgyzstan is the huge presence of corrupt traffic police.
if you travel around the country with your own car, you can expect that the road police will stop you very often and try to find any reason to fine you. This happened a lot to us when we were driving around the country with two English friends.
Cops stopped us 5 times per day, trying to get some money by telling us that we weren't wearing our seatbelts, that we were speeding and once there was a cop who just plainly told us to give him $50 without giving any reason why…
In the Ultimate Travel Guide to Backpacking in Kyrgyzstan, we explain how to deal with corrupts cop and how to avoid paying bribes.
Although these wide-open roads are quite beautiful, they become dangerous when covered in huge amounts of snow…
7. Is public transportation in Kyrgyzstan safe?
In Kyrgyzstan, there are different types of public transportation; buses, minibusses (also called marshrutka) and shared taxis. While buses and minibusses are relatively safe, shared taxis aren't always.
They usually are old Mercedez, not safely maintained and commonly lack the rear seat belts. On top of that, drivers of shared taxis drive insanely fast.
To find out how to take Marshrutkas, buses and shared taxis in Kyrgyzstan, read The best ways to get around in Kyrgyzstan.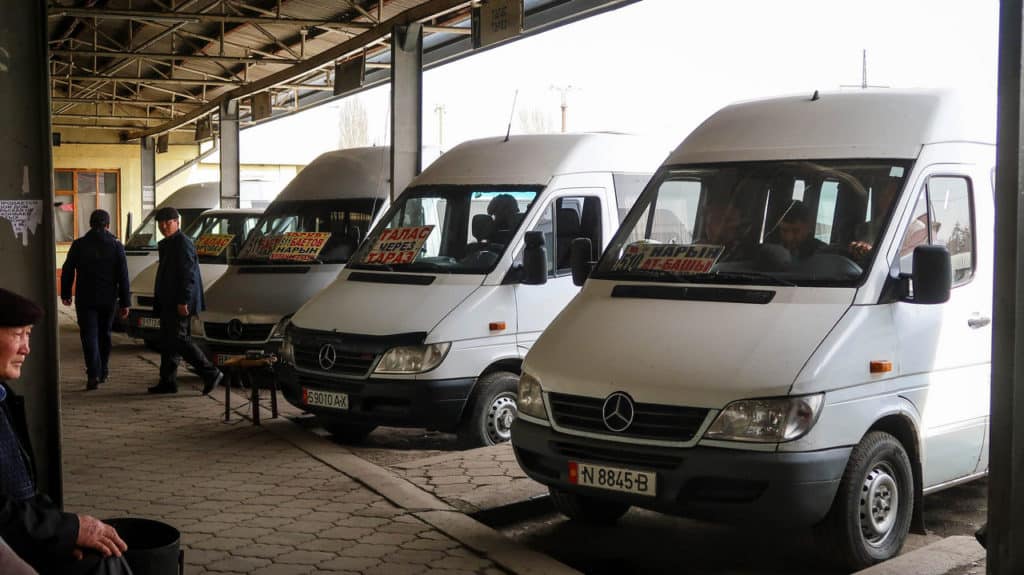 Marshrutkas at the western bus station in Bishkek
8. Is the food in Kyrgyzstan safe?
The food in Kyrgyzstan is not only super safe, but it's also super delicious. It's usually very hearty and filling. Imagine the type of food you would eat before going on a four-day trek in the mountains and you'll have an idea of what Kyrgyz traditional food looks like.
Most dishes consist of mutton, beef and chicken meat, served in dumplings, on top of noodles or rice or alongside potatoes.
Kyrgyz people are traditionally big meat eaters. If you're a vegetarian, it will be challenging to find some typical Kyrgyz dishes without meat. You can still ask for something without meat and possibly get it but expect some weird looks. Find out more about food and drinks in Kyrgyzstan here.
A traditional Kyrgyz meal made of meat and noodles…
9. Can you drink the water in Kyrgyzstan?
Tap water in Kyrgyzstan is generally considered safe although it takes a bit of time getting used to it. After living in Bishkek for a few weeks, Cynthia and I started drinking only tap water and we didn't have any problem.
What I wouldn't recommend is drinking water from the springs and many rivers you may encounter while hiking without purifying it. Because many shepherds let their flocks of sheep and goats roam freely near rivers, these water sources might be contaminated.
Bring purifying tablets or a LifeStraw Water Filter Bottle during your hikes in Kyrgyzstan.
[kt_box opacity="1″ background="#eded6d"]
Read also: The Ultimate Travel Guide to Backpacking in Kyrgyzstan
[/kt_box]
10. How is healthcare in Kyrgyzstan?
Modern health care is not available everywhere in Kyrgyzstan. The health care system is based on the Soviet style of health care which can seem very different in comparison to Western countries.
Generally, the medical personnel is knowledgeable but the system lacks the modern health care technology available in the rest of the world. There are very limited numbers of medical staff that speak English.
If you need medical attention at any point during your time in Bishkek, we highly recommend NeoMed Clinic.
This clinic is located in the city center of Bishkek and staffed with a few English speaking doctors. Their address is:
46 Orozbekova St.
Tel: (312) 906090
and this is where they are located:
If you need specialized healthcare while you are in Bishkek, we also recommend having a look at this list of all the clinics and hospitals in Bishkek.
If you need an ambulance in Bishkek, you should dial 103
11. Travel insurance for Kyrgyzstan
Most of the tourism is Kyrgyzstan is centered around mountain hiking. These treks and hikes in the Kyrgyz mountains will take you to some dangerous high mountains passes.
Because of this, it's very important to have good travel insurance before traveling to Kyrgyzstan. The one we recommend is World Nomads. It covers almost anything that could happen to you in high mountain altitudes and covers you on treks of up to 6,000 meters.
World Nomads is also one of the few policies that won't require you to be in your home country to purchase, renew or extend your insurance. If your trip happens to go on a little longer than planned, you can easily extend your plan online.
12. Are there areas of Kyrgyzstan you should avoid?
Most of Kyrgyzstan is very safe but there are still a few areas around the country that could pose a risk to your safety.
While there haven't been widespread violent disputes since 2010, tensions still continue to exist over the recognition of the Kyrgyz/Uzbek borders. Travelers should be careful while visiting the area surrounding the border near Osh.
There have been a few violent incidents in this region and several gunfire exchanges. You should only use officially recognized border crossings in this area if you plan to travel on to Uzbekistan.
The Uzbek-Kyrgyz border near the city of Osh can be quite tense…
Another border where tension still exists is the Kyrgyz-Tajik border. There has been an ongoing conflict between the two countries as to where the border is located exactly.
Violence and gunfire erupts occasionally and the border can be closed at short notice, particularly near the Tajik Vorukh enclave. I would only advise using flights to travel south from Kyrgyzstan to Tajikistan.
13. Is there terrorism in Kyrgyzstan?
There have been terror attacks in Kyrgyzstan in the past, particularly in the area near the Uzbek border south-west of Osh. A suicide bomb attack targeted the Chinese Embassy on the outskirts of Bishkek on 30 August 2016 and was reportedly carried out by the Turkestan Islamic Party.
While these were frightening events, Kyrgyzstan is, in general, a very peaceful country that does not suffer from the plague of regular acts of terrorism.
Kyrgyz people love to take pictures with foreigners
14. Is Bishkek a safe city?
Bishkek is a very safe city. Although It is quite populated, it has a very low crime rate and the few crimes that happen there are mostly petty crimes such as pick-pocketing.
The city attracts many expats who live there on a yearly basis. The numerous cafes around Bishkek with high-speed internet makes it a popular destination for digital nomads.
If you walk alone at night in Bishkek, I would suggest avoiding poorly lit streets as night crime has happened there occasionally in the past.
15. Helpful Russian phrases for Kyrgyzstan
Traveling in Kyrgyzstan is becoming easier and easier since more guides now speak English. Remember though that a big part of the population still speaks only Kyrgyz and Russian. Learning a few words or expressions in those languages before visiting the country will definitely be handy.
If learning languages is not your thing, I would recommend getting your hands on the Lonely Planet Russian phrasebook and dictionary. It's packed with thousands of sentences that will help you in different situations and scenarios such as ordering food or finding a place to stay.
Speaking Russian will help you meet friendly locals…
Here are a few Russian sentences that will help you get by all over Kyrgyzstan:
Hi: Привет -This is pronounced as Priviyett
How are you?: Как дела? – This is pronounced as Kak dee la?
I'm fine and you?: Нормально. А вы? – This is pronounced normalna, a voo-ee?
Thank-you: Спасибо – Spasseebaa
Yes: Да – Da
No: Нет – Niet
How much is this?: Сколько это стоит? – Skolka eta sto-ayt?
Where is the bus station?: Где автобусная остановка? – Geedee-yay avtobusnaya astanovka?
Do you speak English?: Вы говорите по-английски? – Voo-ee gavareetee -ay panngleskee?
Kyrgyzstan is a country that we both love so much. While it can sometimes be hard to communicate with people there and get the comfort that you are used to back home, it is a great destination for adventurous travelers.
Whether you are a family traveling to Kyrgyzstan, a solo female traveler or a young backpacker, we're sure you'll have a safe and unforgettable experience there!
KNOW BEFORE YOU GO – KYRGYZSTAN TRAVEL TIPS:
Everything you need to know about traveling independently in Kyrgyzstan (visa, how to get to and around Kyrgyzstan, where to stay,…):
Plan your trip to Kyrgyzstan:
Hiking, skiing and horseback riding in Kyrgyzstan:
KYRGYZSTAN TRAVEL RESOURCES:
Have you been to Kyrgyzstan before? Do you plan on going there soon? Let us know in the comments below!
*This article contains some affiliate links. If you book a hotel/hostel or purchase one of the recommended products through our website, we'll receive a small commission at no extra costs for you. This way you're helping us writing more informative and awesome guides like this. Thank you!