Is Bishkek worth visiting? What are the top things to do in Bishkek, the capital of Kyrgyzstan? In this in-depth city guide, you'll find an overview of the most interesting places to visit in Bishkek, recommendations about where to stay and where to eat in Bishkek and information about how to get around the city.
*This article contains affiliate links. This means that if you purchase a product through one of these links, we'll receive a small commission at no extra costs for you. Thank you!
Bishkek is probably the best place to start a journey around Kyrgyzstan. It's modern and cosmopolitan but still preserves the essence of the Kyrgyz culture and Soviet architecture.
On top of being super interesting, Bishkek is also a very safe city to visit (read: Is it safe to travel to Kyrgyzstan)
It's also super easy to travel from Almaty in Kazakhstan to Bishkek with a marshrutka (minibus). Although Bishkek is the capital of the country, it still feels somehow like a provincial town and it's really easy to get from one end of the city to the other.
Cynthia and I lived for a whole year in Bishkek not too far from the Ala-Too square. It was the perfect base for us to discover the country and patiently wait for a sports event called the World Nomad Games.
A young archer on top of his horse during the World Nomad Games…
We used Bishkek as a base to see and discover the beauties of Kyrgyzstan.
It was the ideal place from which to explore the country and living there really gave us amazing insights into the Kyrgyz culture.
In Bishkek, you'll have a first taste of the Kyrgyz culture…
While Bishkek is really beautiful, I wouldn't recommend staying there longer than a day or two if you're in Kyrgyzstan just for a short time. There are many beautiful day trips and short hikes that can be done right next to the city.
Visiting Bishkek can be done in a day or two but there are so many other destinations around the country to visit that I wouldn't advise staying there for too long.
There are also plenty of other majestic destinations to visit and activities to do around the country such as hiking in the Kyrgyz mountains and horseback riding near Song-Kul lake. Or even staying in a yurt camp near Issyk Kul.
This yurt camp in Issyk Kul is very easy to reach from Bishkek…
A few things to know about Bishkek
Do people in Bishkek speak English?
While the younger generation in Bishkek does speak English, most of the adults in their mid thirties and older do not.
They might know a few words of English but they mostly only speak Russian and Kyrgyz. Learning a few words in those languages before your trip will be very helpful.
Here are a few Russian expressions that you could use to communicate with people in Bishkek:
Gee-dee-yay na-ho-deet-sa magazine?: Where is the store?
Skolka sto-it yeda?: How much is a meal?
Spassiba: Thank-you
Voo-ee mojhet-ee-ay zapessat eta?: Can you write this down?
The older generation in Bishkek doesn't speak a lot of English…
Here are a few Kyrgyz expressions that could also be very helpful:
Salam: Hello
RaHmat: Thank you
Tualet Kayda?: Where is the toilet?
Kança?: How much?
Men jogolgon jatam: I am lost
If learning languages is not your thing, I would recommend getting your hands on the Lonely Planet Russian phrasebook and dictionary. It's packed with thousands of sentences that will help you in different situations and scenarios such as ordering food or finding a place to stay.
If you would like to discover Bishkek with a guide that speaks perfect English, I would recommend that you contact our friend Aleksei from Kyrgyz Nomad. He's an excellent guide, speaks perfect English and he knows the city like the back of his hand.
Can you drink the water in Bishkek?
Although I wouldn't suggest drinking the water anywhere in the country, in Bishkek, the tap water should be absolutely fine. If you just arrived in the country however and your body is not used to the new bacterias, I would suggest bringing a LifeStraw Water Filter Bottle.
This is a reusable bottle that filters water using a microfiltration device. When you drink tap water using this bottle, any bacteria or parasites will be trapped in the fibers of the filter, while the clean water passes through.
It's not only good for your belly and wallet, it's also great for the environment because you don't have to buy any plastic bottles of water! Click here for more info and prices.
When is the best time to visit Bishkek?
Bishkek is beautiful all year round but I would say the best time to visit the city is in Fall and Spring.
During the summer the weather can be very hot. It's better to spend the summer in the beautiful Kyrgyz mountains than inside the city.
Bishkek tends to become very cold in winter with temperatures sometimes reaching -30 C.
Winter can be very cold in Bishkek…
How can you get from the airport of Bishkek to the city center?
There are two international airports in Kyrgyzstan. Manas airport in Bishkek is the main one so this will probably be the one that you enter or depart the country from.
In this article, I explain how to take a taxi to and from the airport.
[kt_box opacity="1″ background="#eded6d"]
Plan your trip to Kyrgyzstan!
Read all our articles concerning backpacking around the country
[/kt_box]
Is Bishkek Safe?
The capital city of Kyrgyzstan is attracting more and more expats, students and travelers every year. It is very normal to ask yourself the question of whether Bishkek is safe for foreigners. I would say that the capital of Kyrgyzstan is very safe for foreigners.
The Kyrgyz people are very welcoming. When we were living in Bishkek, Cynthia and I often met young Kyrgyz students who were curious about where we came from and who would invite us for a coffee or a meal to talk about our adventures and practice their English.
Kids are always happy to practice their English with foreigners…
That being said, expats should still be vigilant about the safety of their personal belongings, especially in open-air markets such as the Osh bazaar or in city buses in Bishkek.
Avoid carrying valuable items at the markets and bazaars in Bishkek…
The best solution to avoid being pick-pocketed is to stay very alert and aware of your belongings at all times. You should leave all your important and valuable items at your hotel and walk around only with what is absolutely necessary.
Keep your wallet in your front pocket or carry a money belt. Another great option is to travel with a slash-resistant and lockable anti-theft bag. I would also recommend getting good travel insurance that covers theft.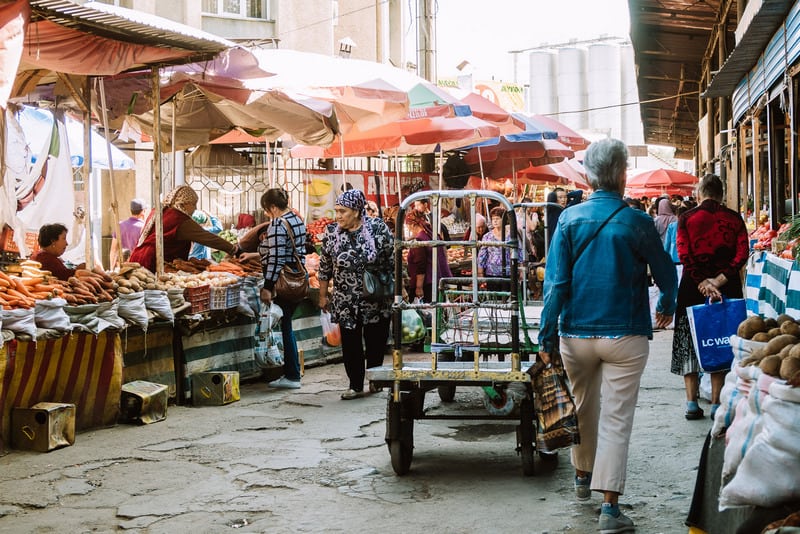 Walking alone in the outskirts of Bishkek is also something that should be avoided. Foreigners can become targets for mugging.
Expats in Bishkek is a good Facebook group to become part of when moving to Kyrgyzstan. There are hundreds of expats and locals in this group that can answer your questions concerning safety around the country and that can help you adapt to life in central Asia.
[kt_box opacity="1″ background="#eded6d"]
Worried about your safety?
Read: Is it safe to travel to Kyrgyzstan?
[/kt_box]
Top things to do in Bishkek
Here are some of the sights I would absolutely recommend visiting in and around Bishkek in one or two days:
1) Visit the Bazaars of Bishkek
Bishkek has some very interesting Bazaar where you can find paraphernalia of exotic items from the Soviet era. The most photogenic and interesting one is the Osh bazaar at the corner of Chuy and Kuliev streets.
It's a place that is always full of activity and people come here everyday to buy products from all over the Kyrgyz republic.
It's such a huge place that you could easily spend a whole day there and not see all of it. The Osh Bazaar is one of the top places to visit in Bishkek for photographers.
Another very interesting bazaar to visit in Bishkek is the Dordoi bazaar. This one is located 20 minutes outside of the city.
You'll meet plenty of interesting characters in the Osh bazaar…
It's Central Asia's largest market for imports. This place is huge and contains over 30,000 containers selling items from all over the world.
It supposedly is one of the ten largest markets in the world according to different sources.
From the city center of Bishkek, it's possible to catch a taxi to the bazaar for about 200 som.
A third Bazaar that is worth mentioning is the Soviet bazaar but this one is only open on Sundays between 7 and 11 AM and is located between Orto-Sai bazaar and Beta 2.
[kt_box opacity="1″ background="#eded6d"]
Find out how you can visit the Osh Bazaar!
[/kt_box]
2) Enjoy an evening at the Kyrgyz National Opera and Ballet Theater of Abdylas Maldybayev
If you want to have interesting insights into the Central-Asian art scene and see performances of good caliber, the Kyrgyz National Opera and Ballet Theatre is the place to visit.
The performances at this theater are usually well put together. The theater showcases performances by local students and higher caliber performances by Russian and Kyrgyz artists.
It's the ideal activity after a day spent visiting the parks of Bishkek. It's also totally-worth-it considering the very affordable prices of the shows.
Cynthia had a chance to see a ballet performance there based on the story of Romeo and Juliet and really enjoyed it.
Here is the location of the National Opera and Ballet Theater of Abdylas Maldybayev:
3) Plenty of parks to see
When I think back about the year Cynthia and I spent in Bishkek, the beautiful parks of the city is what first pops in my mind. The one I would recommend to visit during your first day in Bishkek is Oak Park.
This gorgeous statue is not too far from the entrance of Oak Park…
Oak park is located not too far from Ala-Too square and is the perfect place to relax on your first evening in Bishkek.
The park has ping-pong tables, plenty of squirrels, beautiful sculptures and majestic oak trees.
The park is visited by families during the day and lovers in the evening.
While we were living in Bishkek, it was one of my favorite place to lie down in the grass in the shade of the trees and relax in the afternoon.
Oak Park is beautiful even in winter…
Not too far from this park, you'll also find one of our favorite restaurants in Bishkek– Arzu (see below in where to eat in Bishkek)
This is where you can find Oak Park in Bishkek:
If you feel like you could enjoy a long walk during the first day of your trip, you could also visit Erkindik park right in the city center. This place is as soothing as Oak Park and when I was living in Bishkek, it used to be my favorite place to go for a morning jog. It's a park that is very long and narrow and there is a running path right in the middle of it.
This Park showcases art exhibitions on a regular basis.
4) Visit Ala-Too square
This huge square is the center and heart of Bishkek.
Cynthia and I were renting a small apartment just 15 minutes from it and the square became part of our daily walks when we wanted to take some time off from the blog.
In summer the square becomes very lively.
Families go there to spend time strolling around the fountains and admire the huge statue of Manas that overlooks the whole area.
This statue was built to commemorate the 20th anniversary of Kyrgyzstan's independence.
It really dominates the square and if the wind is blowing the giant flag, the combination of the two against the sky is absolutely impressive.
In the middle of summer, I wouldn't recommend visiting this square during the day though because it becomes extremely hot when the sun rays heat it up. It's better to go there for a walk in the early evening.
Here is the location of Ala-Too square in Bishkek:
5) Walk by the victory monument
The victory monument is definitely a site to see in Bishkek.
It has three huge curved arks that are meant to represent a yurt in the center of a beautiful square filled with flowers.
This monument was built to commemorate world war two during which many Kyrgyz soldiers fought.
Right under the three arks is the sculpture of a woman. She represents a Kyrgyz mother waiting for the return of her husband and son from the war.
The monument and the flowers that surround it are very beautiful but there is another reason you might want to check this place out – Weddings.
The amount of newlywed couples that choose this place for their wedding pictures is astonishing.
Once, Cynthia and I visited this monument and during the fifteen minutes that we spent there, we saw almost 30 newlywed couples lining up to take a picture under the arches. If you want to see what the traditional wedding dresses of brides and grooms look like in Kyrgyzstan, you're bound to see it near the victory monument.
6) visit one of the bathhouses
If you want to have an experience that is typically Kyrgyz, you have to visit one of the bathhouses in Bishkek. During the Soviet period, tons of saunas and bathhouses were built around Kyrgyzstan and they still play an important role in the everyday life of this Central-Asian country.
They are usually called Banyas and locals visit them for their numerous health benefits. They are known to help with diseases related to the nervous, endocrine, cardiovascular and musculoskeletal systems. It's also a place where people go just to hang out and spend a fun evening with friends.
The saunas are usually filled with steam, hot splashing water, and the rhythmic sounds of the Kyrgyz language. It's a place where you'll be surrounded by beautiful white marble slabs, people scrubbing themselves and whipping each other with leafy birch twigs.
These birch twigs are called a Venik (it literally means broom in Russian). People visiting Banyas usually whip each other with it to scrub off the dirt from the skin and it's also believed to improve fertility.
If there is one bathhouse that I would recommend in Bishkek, it's Zhirgal Banya. It's located on the corner of Ibraimov and Toktogul. This bathhouse has two huge white domes so it's pretty hard to miss.
On top of having saunas that are very relaxing, this bathhouse has two large pools of ice-cold water under its huge brick domes. It feels fantastic to dive in the cold water after sweating so much.
Here is the location of Zhirgal Banya in Bishkek:
7) Enjoy a great coffee in one of Bishkek's many Cafes
Before I came to Bishkek, I had no idea that it's where I would taste some of the best coffees I ever had.
Bishkek has an amazing collection of small cafes with great internet connections. I often tell my friends who work remotely that Bishkek is the ideal city for digital nomads.
One cafe I absolutely recommend for the delicious coffee and the cool crowd of backpackers and expats that go there is Sierra Coffee. The food is equally fantastic. They offer freshly roasted coffee, smoothies, soups, salads, sandwiches, muffins, and cookies.
when we lived in Bishkek, we were mainly working online and this cafe was our prime spot to get some work done while sipping on cups of black coffee.
This is where you'll find Sierra Cafe in Bishkek:
8) Try some delicious Kyrgyz traditional food
Traditional Kyrgyz food is hearty and delicious.
Most meals consist of mutton, beef and chicken meat, served in dumplings, on top of noodles or rice or alongside potatoes. People in Kyrgyzstan, typically eat meat every day.
Dumplings are super popular in Kyrgyzstan…
If you're a vegetarian, it will be challenging to find some typical Kyrgyz dishes without meat. However, it's not impossible. Just expect to get some weird looks when asking for meals without it. Vegans, on the other hand, will have a very hard time as nearly all the dishes contain animal products.
One of our favorite restaurants in Bishkek for traditional dishes is a place called Arzu (see below). They have two huge dining rooms and an outdoor terrace with beautiful fountains.
9) Try some delicious craft beer
Bishkek has some amazing breweries where you can taste local and international beers. One place I particularly loved is called Brewster Craft Beer. They have a great selection of locally brewed IPA, APA, red ale, and Belgian ale as well as a delicious apple cider.
The food at Brewster is also very good and everything is reasonably priced. This brewery kind of became our regular Friday routine in Bishkek. If you want to drink some great local beers, this is the place to visit.
Another awesome bar with some great craft beer is called Save the ales. While Brewster is set in a basement and gives the vibe of an English pub, Save the Ales has this huge outdoor area with chairs and tables. If the weather is nice, you might want to pay Save the ales a visit.
Here is where you'll find Brewster:
And this is the location of Save the Ales:
10) Awesome Day trips from Bishkek
Bishkek is a pretty big city that offers tons of fun activities but the countryside nearby is also filled with beautiful sites.
you might want to escape from the city for a day or two to enjoy Kyrgyzstan's wild mountains and pristine valleys.
There is plenty of wild nature and beautiful historical sights not far from Bishkek…
You don't have to go far from Bishkek to find yourself in the midst of nature. You could hike and see some of the most spectacular landscapes that Kyrgyzstan has to offer in one day.
Cynthia wrote a complete article on the best day trips from Bishkek. In it, she covers destinations like the hot springs of Issik-Ata and the beautiful Alamedin gorge.
You don't have to go very far from Bishkek to be surrounded by stunning nature…
Here are a few of the Day trips that we suggest from Bishkek:
You can find information on how to reach each of those places and what to do there in the article Things to do around Bishkek: 8 great day trips and hikes.
11) Walk by the White House
Your trip to Bishkek should definitely include a visit to the white house since it's the seat of all the administrative power in the country. Before Kyrgyzstan became a democracy, this building used to be the headquarters of the Kyrgyz Communist Committee.
The White House of Bishkek looks massive…
It's not possible to go in but it looks very impressive from the outside.
Here is where the white House is located in Bishkek:
12) Go on a walking tour of Bishkek
There are more and more companies offering walking tours of Bishkek. It's a great way to discover all of the places mentionned on this itinerary in a leisurely manner.
The walking tour we recommend includes a Kyrgyz cooking class at the end of it.
You'll get to visit the major sights of the city and complete the day by learning how to make national dishes at a cooking masterclass on this full-day tour.
13) Visit the State History Museum
This museum was closed while we were living in Bishkek and unfortunately we couldn't visit it. Apparently it will open very soon and will be absolutely worth a visit.
Kids love to play in the pools next to the museum in summer…
Here is where the museum is located:
[kt_box opacity="1″ background="#eded6d"]
Read also: Top things to do around lake Issyk Kul – A one week itinerary in Kyrgyzstan
[/kt_box]
Where to eat in Bishkek – What are the best restaurants and pubs in Bishkek?
There are two restaurants in Bishkek where Cynthia and I really enjoyed eating. These are Arzu and the Chebak Pub. While Arzu is the perfect place for traditional Kyrgyz food, Chebak Pub offered some of the best burgers ever and had a decent beer selection.
They are both right in the city center. If you do follow our recommendation and end up eating there, let us know in the comments below about your meal. We're sure you'll love it!
There are also a few more restaurants that we enjoyed in the capital of Kyrgyzstan. Here is the list of restaurants we recommend in Bishkek:
Arzu
This restaurant is right in the city center and just 5 minutes from Ala Too square. It's a place where you can enjoy fantastic food and a great service at a very affordable price.
Arzu's specialty is local traditional Kyrgyz food. I highly recommend trying the manti, the lagman, the sweet and sour chicken and the meat-ball dumplings. If you want to sample traditional dishes, this is the place to visit.
The restaurant has an outdoor terrace and seating area which I highly recommend during the summer.
Here is where you'll find Arzu:
Chebak Pub
Chebak Pub is the best place in Bishkek to enjoy a delicious pint of beer with some fish and chips. I know it's not the most traditional food but believe me, after a year in Central Asia, it's a nice change to have some international fast food.
They have a very good selection of local and imported beers. There are live bands playing in Chebak regularly and this contributes to the cool, relaxed atmosphere of the place.
The waiters speak a bit of English and there are a lot of pictures on the menu so you don't have to worry about not speaking Russian.
This is the location of Chebak Pub in Bishkek:
Navat
Navat is another great option to choose in Bishkek if you want some traditional dishes. The restaurant has a wonderful assortment of regional meals in a lovely ambiance.
There are musicians that occasionally play traditional music in the restaurant. Navat is beautifully decorated and the customer service there is fantastic.
I would suggest trying their beef dumplings.If you don't eat meat, they have very good vegetarian and vegan options.
There are a few different Navat restaurants in Bishkek as it's a franchise.
This is the one I would recommend:
Furusato
Furusato is not only the best Japanese restaurant in Bishkek, it's the best Japanese restaurant where I have eaten in my whole life. The food comes in reasonable portions and tastes delicious!
The owner greets you himself in Japanese as soon as you step foot in the restaurant. The service in Furusato is unlike anything I've seen before.
The outside sitting area is nice and cool and has small water sprinklers. Furusato is a small restaurant and tends to get busy, so it's better to call ahead of time or arrive early for dinner.
The Japanese dishes are a bit expensive by Kyrgyz standards but absolutely worth it!
Here is the location of Furusato:
[kt_box opacity="1″ background="#eded6d"]
Planning to hike in Kyrgyzstan?
Read: The Complete Guide to Trekking in Kyrgyzstan
[/kt_box]
Where to stay in Bishkek? – What are the best hostels in Bishkek?
Bishkek attracts travelers from all over the world and it's actually an inexpensive city for people who are traveling around Kyrgyzstan on a budget.
Bishkek offers a huge choice of hostels for budget travelers who want to save money to explore during the day, and swap stories with fellow backpackers in the shared kitchen or bar in the evening.
These are the hostels we recommend in Bishkek:
Compass hostel is a relatively new hostel in Bishkek. It has a very nice decoration that blends modern slick design with traditional Kyrgyz elements.
The rooms are very spacious, they have very big windows, and they are usually very quiet. This creates a really relaxing atmosphere.
Almost every room comes with a little work desk and plenty of storage space. The common areas are very clean and well maintained and a nice big breakfast is served every morning. The rooms have plenty of power outlets and a very good wifi signal.
It's possible to wash your laundry in this hostel for 200 som.
The hostel is also well located next to a lot of nice cafes and restaurants.
Click to check out rates and availability for "Compass Hostel"
This hostel is one of the best in Bishkek and it's run by an incredibly kind and helpful manager. The beds of the hostel are very big and comfy and almost all the rooms come with lockers.
There is a great breakfast (porridge, sandwich or eggs with pancakes) served at the hostel every morning. Apple Hostel is also very well located. It's just a ten minute walk from the hostel to the Western bus station.
The rooms of the hostel are very big and spacious as you can see in these pictures. There is also the possibility of renting a yurt in the backyard of the hostel.
One thing that we loved about Apple Hostel was the fact that it's possible to rent a bike from the hostel to explore the city.
Click to check out rates and availability for "Apple Hostel Bishkek"
This hostel is impeccably well maintained and the rooms are very clean and tidy. The hostel is also very well located and not too far from the Osh bazaar.
The hostel has a nice big backyard with plenty of trees. It's great to spend time there in the afternoon and relax in the shade.
Click to check out rates and availability for "Friends guest house & Hostel"
How to get to Bishkek?
How to get to Bishkek from Almaty?
Almaty, a huge city in Kazakhstan near the Kyrgyz border, is also a place from which a lot of people will travel south to Bishkek. We wrote a complete guide on how to reach Bishkek from Almaty by minibus here.
How to get to Bishkek from Osh?
Because flights between Bishkek and Osh are very cheap, that's the option I would recommend to use if you don't have much time to spend in Kyrgyzstan and you need to reach Bishkek quickly.
Osh International is a small airport located just 10km away from the city center of Osh. The airport offers number of direct daily flights within Kyrgyzstan.
There are many daily domestic flights to Bishkek's Manas International airport and it takes around 45 minutes to reach the northern city. One-way tickets are usually very cheap.
How to get to Bishkek from Karakol?
Karakol is the third biggest city in Kyrgyzstan. Because of its location on the eastern shore of lake Issyk-Kul, it will very likely be the starting point for trips towards Bishkek.
There are plenty of buses and shared taxis connecting the two cities. They gather at the main bus station (Автовокзал, Пржевальск каракол) and at the bazaar in Karakol.
Taxis and Marshrutkas can be found throughout the day at the bus station. They usually leave once they are full.
They also reach a lot of other major cities around Kyrgyzstan, here is a complete schedule of all the buses leaving from Karakol.
If you'd rather take a night bus and sleep along the way towards Bishkek, there is a bus leaving in the evening around 8pm and it arrives at 6am in Bishkek from the bazaar.
Here is the location of the main bus station in Karakol:
And here is the location of the Bazaar from which a night bus leaves:
How to get to Bishkek from Tashkent?
Tashkent is the capital of Uzbekistan and it's also possible to take a night bus between the two cities.
In this article, I explain how to take a bus from Tashkent to Bishkek.
I hope this guide was super useful and that you'll have a great time in Bishkek. If you have any questions or if you've already been to Bishkek, we'd love to hear from you in the comments below!
*This article contains affiliate links. This means that if you purchase a product or stay in a hotel through one of these links, we'll receive a small commission at no extra costs for you. Thank you!
In case you're also planning on visiting more places, definitely check out our other guides on Kyrgyzstan!
KNOW BEFORE YOU GO – KYRGYZSTAN TRAVEL TIPS:
KYRGYZSTAN TRAVEL RESOURCES: