Hello and welcome to Journal of Nomads!
Let's start with a proper introduction...
We're Cynthia and Niko, a Belgian – Canadian backpacking duo who loves hitchhiking, venturing to uncommon destinations, hiking in wild and untouched places, camping in the great outdoors and taking life on the road as it comes.
This is us in Georgia! Giving passing drivers a big thumbs up (while hoping they'll stop and give us a ride)
Instead of rushing through places and ticking off countries on a list, we like to spend quality time in the places we visit. We travel very slowly.
To give you a few examples of how slow: we wandered around Turkey for 9 months, lived in Georgia for 11 months and spent one entire year in Kyrgyzstan and Central Asia. We prefer to take the time to get to know a country, interact with the locals and immerse ourselves in different cultures.
Yeah, we're a bit like snails. We travel at the same speed and carry our homes on our backs. All our belongings fit in 2 backpacks and that has been the case for the past 7+ years.
We might not have many possessions and be the proud owners of a house or a car but like good ol' Dr. Seuss would quote: "We have brains in our head, we have feet in our shoes. We can steer ourselves in any direction we choose. We're on our own and we know what we know. And we're the ones who'll decide where to go."
But before you get all excited and quit your job and sell all your belongings to travel the world indefinitely, know that it isn't always sunshine and palm trees like what you might see on Instagram...
Hitchhiking in Kyrgyzstan during winter - no sunshine and palm trees around here!
Our travels from the very start until now
We both had already been traveling for a few years before we met each other and started this Journal.
In 2007, Niko left his home in the wild forests of Canada to go on a hitchhiking adventure to Alaska. He loved it that much that he hasn't stopped traveling ever since. In the following 7 years, he hitchhiked from Canada to Guatemala, lived in Mexico and Morocco for a while and traveled around Europe.
Niko hitchhiking from Canada to Guatemala - 2010
Cynthia had a rather 'common' lifestyle in Belgium until 2011, when she decided to take a break and go abroad for a while. What was supposed to be one year of travel eventually became many years. She spent two years in Australia and New Zealand, traveled around in Asia and hitchhiked and lived in many European countries.
Australia, 2012
At some point we were both dreaming of making an overland journey across the world to experience the vastness of this planet, witness how the land and culture change while crossing many borders and learn from the world and its many inhabitants through firsthand experiences.
The power of our intentions must have been very strong because briefly after we had set our own individual goals, we met each other in a very special way in 2014! This was the start of Journal of Nomads!
The second day that Niko and I met - France, 2014
After we decided we would hitchhike across the world together, we traveled to Ireland to work and save money in preparation for our overland adventure.
We first lived for 9 months in a tiny caravan on the property of friends, whom we helped in creating a beautiful retreat center in the midst of the Irish woods.
Later we moved to a tree house, where we lived for almost two months without electricity and running water. Our time in Ireland wasn't only a financial preparation, we also got a mental, emotional and spiritual boot camp!
Living in the woods in Ireland, 2014 - 2015
In September 2015, we embarked on our hitchhiking journey. We had the intention to travel all the way to Alaska over land and sea.
We hitchhiked across Central and Eastern Europe, spent one month on the Greek island of Crete, sailed across the Aegean Sea to Turkey and traveled for 9 months in Turkey before crossing the border into Georgia in August 2016.
Turkey, 2016
In Georgia, we took it very easy. We based ourselves in different cities where we worked as online teachers to save up for the next leg of our journey. It also gave us plenty of time to explore the country to its fullest.
Enjoying the view over Tbilisi. Georgia, 2016
In August 2017 we resumed our journey by hitchhiking across Azerbaijan for nearly 3 weeks. In Baku, we took a cargo ship to cross the Caspian Sea and entered Kazakhstan in September 2017.
Sunset on the Caspian Sea, September 2017
On the boat to Kazakhstan, we met 2 English travelers with whom we went on a road trip across the Kazakh steppe. Our initial idea was to travel for only a couple of months in Central Asia, after which we would take a boat in Vladivostok (Russia) towards South Korea and Japan.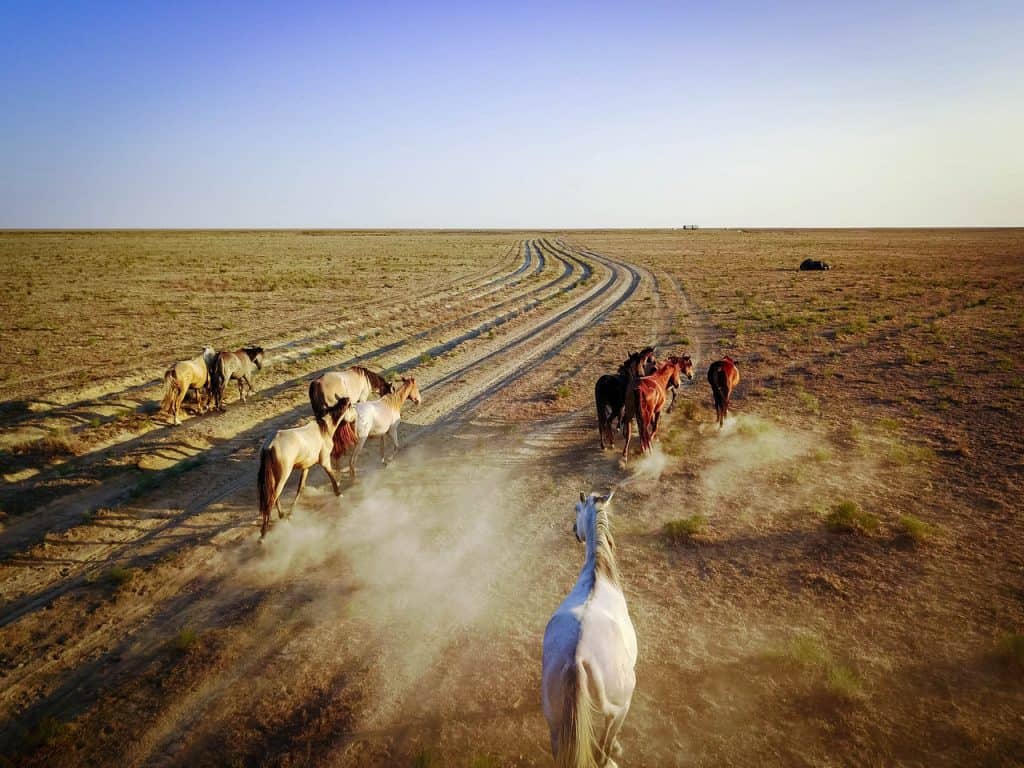 The endless steppes of Kazakhstan, September 2017
But as soon as we entered Kyrgyzstan, we immediately fell in love with the culture and the beauty of this country. That's when we decided to spend the winter here, while also taking the time to explore Uzbekistan and more uncommon places in Kazakhstan.
We ended up staying for one year in Central Asia, where we based ourselves in Bishkek, the capital city of Kyrgyzstan!
During that year we hiked many times in the mountains of Kazakhstan and Kyrgyzstan and we even marked a few new hiking trails! We also organized our first adventure tours in Kyrgyzstan and we attended the World Nomad Games in September 2018.
During our time in Kyrgyzstan, we decided to not continue our overland adventure. It was a hard decision to make as it had been an unforgettable journey to hitchhike from Europe to Central Asia, roughly 12.000 kilometers across 13 countries.
However, this wasn't the end of our travels but rather a new chapter in our journey around the world. Just like we constantly grow and change, our path in life is also continuously transforming itself.
We're now reaching our destinations mainly by airplane but we're still hitchhiking and traveling slowly, seeking adventures in uncommon places and taking life on the road as it comes: spontaneously, sometimes uncomfortably, but always with an open heart and an open mind.
What's the purpose of this Journal
With our stories, photography, and videos we want to give people a window to a world they're not aware of.  There's still so much beauty, wisdom, knowledge, and opportunities to be found around us, often in unexpected places and situations.
Despite what you might read in the media, the world is NOT a dangerous place and there are still many good people!
A farmer's family in Morocco who invited our friends and us for dinner and to spend the night at their home. November 2018
That's one of the reasons why we want to promote hitchhiking. It's an adventurous, dynamic and fun way of traveling and absolutely not as dangerous as many people think.
It's the best way to connect with the local people, to see the country through their eyes and by sharing stories with them, we learn more about the culture and traditions than if we would take a bus or a train.
You just have to trust your intuition and use your common sense. Throughout the years we never had any bad experiences.
On the contrary, we only met kind and warm-hearted people with the best intentions! Up until today, we're still surprised by how generous and helpful people are towards strangers.
One of the many families who've been incredibly kind to us - Azerbaijan, 2017
Here are some of our favorite hitchhiking stories:
We also write guides for backpackers and independent travelers who are interested in culture, outdoor adventure, and off-the-beaten-path destinations.
We want to provide useful information and tips to help travelers with the preparation of their next adventures and trips. Our content is based on first-hand experiences and knowledge. We practice what we preach!
Here are a few examples of useful stuff you can find on our blog:
We also have tons of practical travel information about every country we visit.
Go to our Countries Page and start exploring!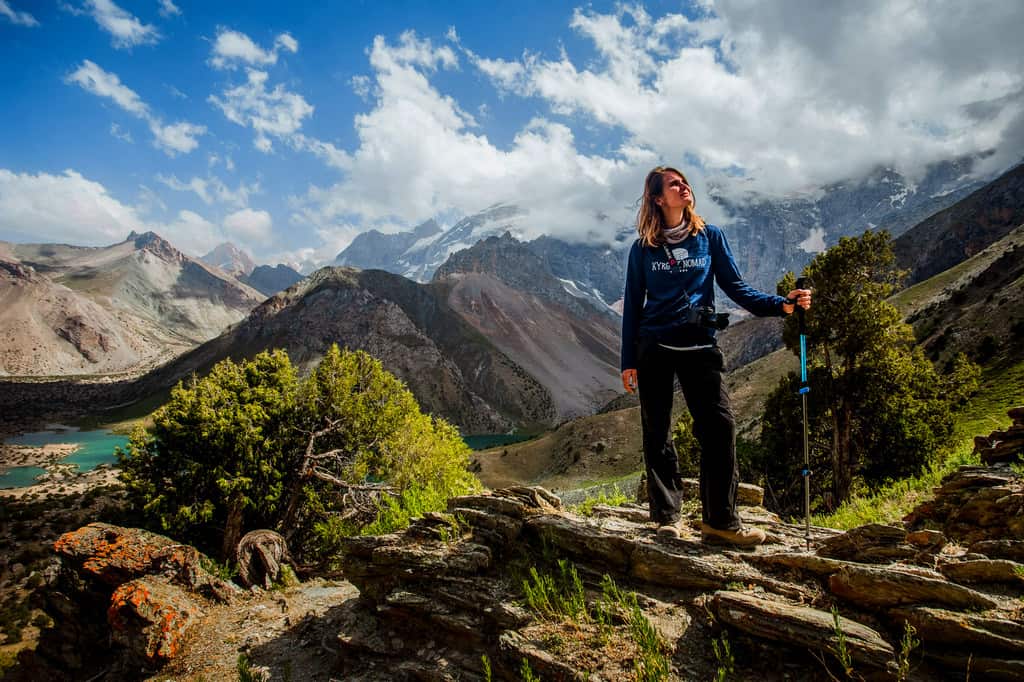 Trekking in the Fann Mountains in Tajikistan - August 2019
Nomadic Living
Last but not least, we also share our tips and experiences about creating and living a nomadic lifestyle and our secrets on how we can afford to travel the world full-time!
We don't have rich parents that are supporting us and we didn't inherit a lot of money. We also don't have the skills to create some sort of an amazing app that will change the world and sell it for millions of dollars.
Instead, ever since we first hit the road many many years ago, we always found a way to make and save money during our travels.
It's only since the last two years that we're doing the 'digital nomad thing', meaning making money from the blog, teaching English online, and doing freelance writing and photography jobs.
During a photography project for Panasonic Lumix in Morocco - March 2019
Before that, we always searched for work in the countries we traveled to.
You wouldn't believe what we did to make money (okay, we didn't sell one of our organs or smuggled drugs) but when the need is high, you're able to do anything! Luckily, most of the time we found really fun and cool jobs abroad.
Throughout the years, we also learned how to find free accommodation anywhere in the world and we became masters in budgeting and traveling as cheaply as possible.
In short, we're not bathing in money and luxury but we manage to eat a proper meal every day, afford a bed in a cheap hostel if we want to take a break from our tent, pay for a travel visa or buy the occasional airplane ticket.
Our temporary base in Tangier, Morocco. November 2018
Travel Photography
Photography was merely a hobby for Cynthia when she was still living in Belgium but during her travels, she developed her passion and skills to such level that she's now a published travel photographer and even works as a LUMIX Ambassador!
You can follow her work on Instagram.
Here are some of her favorite photo-essays:
Videos
Niko also loves to work with a camera. He films our adventures and turns the footage into beautiful, fun and informative vlogs.
If you're not that much into reading but still want to travel along with us, subscribe to our YouTube channel and have an entertaining time by watching our videos.
Come and travel with us
If you like what we do and you're as curious as we are about where the road will take us in the coming weeks, months and years, make sure you bookmark our website and sign up for our monthly newsletter!
We also don't mind it if you want to stalk us on Facebook, Instagram, Pinterest, Twitter and YouTube.
We're a very social duo and we love to connect with our readers. Don't be afraid to write us an email if you have questions or if you just want to say hello.
Did you know that you can also personally travel with us?
We're organizing some awesome and unique Adventure Tours in awesome destinations and we'd love it if you'd join us!!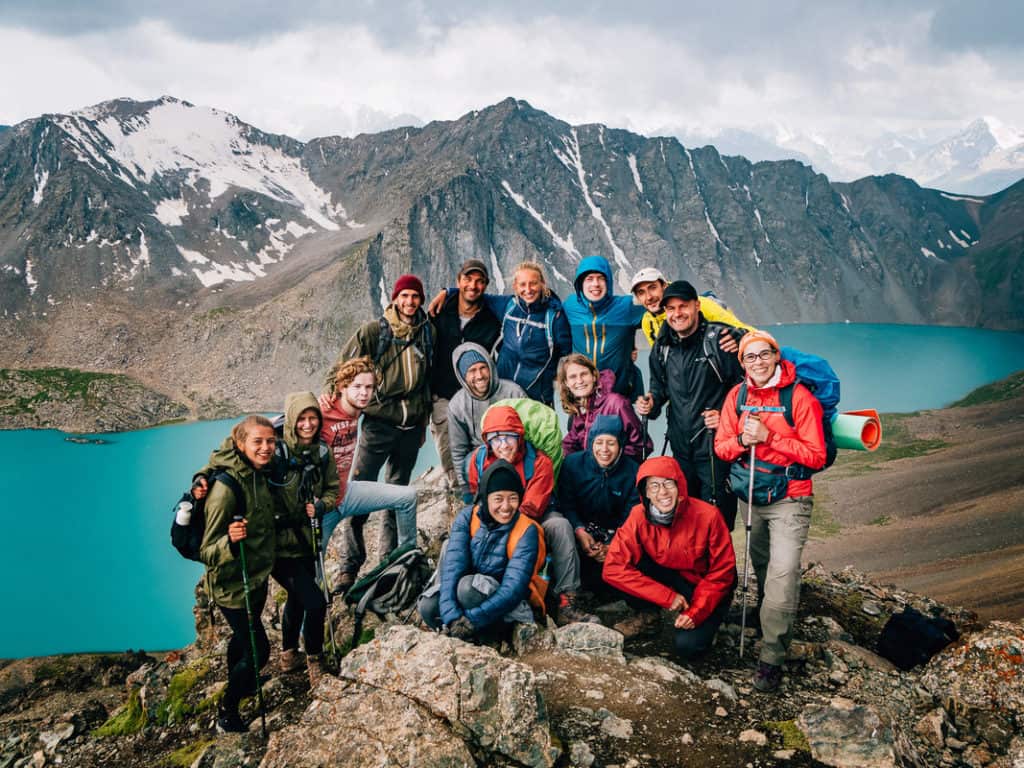 One of our Adventure Tour Groups in Kyrgyzstan 2019!
Are you interested in working or collaborating with us? Check how we can work together!
Thank you so much for visiting our blog and we hope to connect with you, whether it's virtually or somewhere along the road!
Lots of love and happy travels,
Cynthia & Niko