What are the best cameras for bloggers and travel photographers? What equipment do I use as a travel blogger and professional photographer? In this blog post, I'm going to walk you through everything that's in my camera bag.
Travel photography is more than a source of income for me. The photos I took during the past 10 years of my travels are my most precious souvenirs.
My pictures remind me of where I've been, what I've done, and who I became. Whenever I go through my photos, I relive the emotions and those special moments of my past. I can only confirm the famous quote by Fred R. Barnard: one picture is indeed worth more than a thousand words!
"Photography is a way of feeling, of touching, of loving. What you have caught on film is captured forever… It remembers little things, long after you have forgotten everything." Aaron Siskind
People often leave nice comments on my photos. I like to believe that my pictures are good, although I feel that there's always room for growth and improvement.
I also get asked a lot what camera I use and what the best cameras for bloggers and travel photographers are.
Taking a good photo isn't just about having the 'best' camera. Capturing the 'perfect' image has also a lot to do with light, composition, being at the right place at the right time, etc.
Photography is for me a mixture of technical skills, intuition, creativity and having the right gear to capture all of this in an image that speaks to people, tells a story, provokes an emotion.
Having a good camera will definitely make a difference though. Not only will the quality of your photos improve, it will also motivate you to grow and become better at photography. At least, that's what happened to me.
In 2011, at the beginning of my nomadic life and when travel photography was merely a hobby, I started out with a cheap point-and-shoot Nikon Coolpix. This camera enabled me to practice my skills and I got some good shots but the quality wasn't the best.
I then switched to Canon, of which I used several different DSLR's. I was pretty happy with those cameras but they were so bulky and heavy! As I traveled full-time for many years, I constantly had to carry ALL my gear, and, trust me, you feel EVERY kilogram!
Even when I go on hikes and I can store my belongings somewhere, I still have to carry my photography equipment as I need to create content and photos for my work. So it's very important for me that I can travel light!
Out of all the different brands I've used, I've been the most satisfied with the Panasonic LUMIX G cameras. I'm not just saying this because I'm currently working as a Panasonic LUMIX ambassador.
The Lumix G cameras and lenses are compact, light, and very versatile and the quality of my photos has visibly improved since I started working with them!
If you think I'm exaggerating about the Lumix G camera equipment being light, let me tell you this.
When my camera bag is fully packed with all my travel photography gear, it weighs around 5 kilograms! This is much lighter than what most other (professional) photographers travel with!
Let me now walk you through everything that is in my camera bag. Here's an overview of my travel photography gear and the cameras for bloggers I recommend.
Disclaimer: Some of the links in this article are affiliate links. If you make a purchase through them, I'll receive a small commission, at no extra costs for you. This way you're helping me running this website and writing more informative and awesome guides like this. I only recommend products that I like and trust. Thank you!
Cameras for bloggers and travel photographers
I want to be able to carry my equipment on my hikes and adventures so weight and size are important factors. I believe that the Lumix G series is the best combination of performance and quality within a lightweight and compact mirrorless camera.
I'm also traveling with two cameras. I occasionally go on photography assignments and I really can't afford it if something happens to my main camera. That's why I always have a back-up camera in my bag.
1. Main camera for outdoor and travel photography: Panasonic Lumix G90/G95
I've been using the Panasonic Lumix G90 for almost 3 years now. The majority of my photos on this blog are shot with this camera. The Lumix G90 weighs less than 500 grams, has 20.3 megapixels, records 4K photo and video, and is a micro four-third camera with interchangeable lenses.
The Lumix G90 is weather sealed, so the camera can withstand the most challenging conditions. I used it on my desert trip in Morocco, during my kayaking adventures in Canada, and on my treks in the mountains of Tajikistan and Kyrgyzstan.
The camera is still alive and fully functioning after all these adventures, even after getting caught in a sand storm in the Sahara desert and being soaked during heavy rainfall in the Kyrgyz mountains.
2. Camera for bloggers and street photographers: Panasonic Lumix GX9
I love using the Lumix GX9 for portraits and street photography as it's a small and discreet camera. I've used it a lot to take portraits of the Moroccan people.
The Lumix GX9 is smaller than the Lumix G90. It weighs 450 grams, has 20.3 megapixels, records 4K photo and video, and is also a micro four-third camera with interchangeable lenses.
The LumixGX9 isn't weather resistant so that's why I prefer using my Lumix G90 on my hiking and outdoor adventures. It's a great back-up camera for these adventures though, as it doesn't take up much space and weight in my bag.
The Panasonic Lumix G100 is the latest addition to my cameras.
This micro four-third camera with interchangeable lenses is very small (it has the size of my hand) and only weighs 342 grams. The G100 has 20.3 megapixels, shoots 4K photos and videos (24fps and 30fps), and full HD video (up to 60fps).
I've had the G100 for a couple of months now and only used it for photography so far. I'm very pleased with the quality, so this camera is very likely going to replace my Lumix GX9.
While my other cameras are perfectly usable for both photo and film, the G100 is specially developed for vloggers. It has the ability to film vertically without rotating the camera, so it can film in both 16:9 and 9:16.
The G100 has three built-in microphones so you can film without needing an extra microphone on the hot shoe. The camera also comes with the DMW-SHGR1 grip that includes a start-stop button and can serve as a tripod.
I haven't recorded many videos with it yet but I'm planning on getting into videography this year and will test the G100 extensively in the near future.
My favorite lenses for travel photography
The Lumix G Vario 14-140mm is the lens that I use most often when I'm on the road. This is, in my opinion, the best all-round lens as it's small and light (265g) so it doesn't add much more weight to the camera body.
It covers the focal length of a 28-280mm full-frame lens which gives me a great versatile zoom capability. I can capture great landscape shots and adventure scenes while having the ability to quickly zoom in for a detailed picture of a subject further away.
The Lumix G Vario 14-140mm is also weather resistant. Combined with a weather-sealed camera body like the Lumix G90, I don't have to worry about dust or water and I can take it on all my outdoor adventures.
If you're into architecture and landscape photography, you'd want to use a wide-angle lens that captures wide shots. I often used the Leica 8-18mm to fit the gorgeous architecture in Uzbekistan into my frame.
The Leica 8-18mm weighs 315 grams and braves the elements in nearly any kind of weather as it's splash-, dust- and freezeproof.
I recommend the Leica DG Summilux 15mm for portraits and casual documentary photography. I like using this lens in combination with the LumixGX9.
Due to the small size of both the camera and lens, you'll blend in your environment a little more. You won't intimidate your subjects as much as when you'd be using a big camera and pointing a huge lens in their faces.
This prime lens has a fixed focal length of 15mm (30mm full-frame equivalent) and with its small depth of field, you can isolate your subject and create a dreamy out-of-focus background. The wide-aperture allows more light into the sensor so this lens is also great for indoor photography and shooting in low light.
I don't really use the Lumix G II Vario 45-200mm very often but it's a great lens if you want to photograph sports, wildlife, or people from a distance on your travels.
This lens covers a wide focal length range (90-400mm full-frame equivalent) and yet, it's compact and weighs only 380 grams. That's more than 1 kilogram lighter than f.eg. the 1570 gram giant (Canon) telephoto lens covering the same range as the Leica 45-200mm!
Essential Camera Accessories for Travel Photographers
1. SD Cards
You're going to need at least one memory SD Card for your camera to save photos.
I exclusively use Sandisk Extreme Pro SD cards for my cameras and drone.
They come in different storage amounts but with the 64GB or 128GB you'll never run out.
I have one 128GB for my main camera and drone, one 64GB for my back-up camera, and a 32GB one as a backup.
If you're wondering which SD card to buy, keep in mind that each camera model has a different size file. If you shoot videos and/or photos in RAW format, you'll need more memory than if you shoot only photos in JPEG.
My suggestion is to get a 64GB SD card if you're only shooting photos (JPEG or RAW). Get a 128 GB SD Card if you're intention is to shoot video as well.
2. Multiple Spare Batteries
There's nothing worse than going on a photoshoot and having your battery die on you. You should bring at least one spare battery. If you're out camping or traveling in places where you don't have electricity for days, take multiple with you. I always bring at least two spare batteries.
You have 2 options for buying extra batteries: get native batteries or buy 3rd party (non-native brand) batteries.
3rd party batteries will be cheaper but you really got to make sure you buy quality ones. These batteries usually don't last as long as the native batteries. BM Premium is a non-native brand that sells Lumix batteries. I haven't tried these batteries yet so I really can't say if they're quality ones!
Native batteries are more expensive but they'll be of the highest quality. For the Lumix G90/G95, you need DMW-BLC12E batteries. The Lumix GX9 and the Lumix G100 both run on DMW-BLG10E batteries.
3. Power bank
Two years ago, I invested in the Anker PowerCore II 20000 and it was a game-changer!
This power bank is super reliable and gives me at least 4 cycles of phone or camera battery charge. This is especially useful when I'm on a multiple-day trek in the mountains without a source of electricity. It has 2 USB points so I can charge my phone and camera battery or two batteries at the same time.
4. Filters
I don't often use filters but they can add a whole new dimension to your photos.
They help with reducing the harsh light of the sun, eliminating reflections on water, smoothening out fast-flowing water, adding extra color to the sky or trees and – last but not least – protect your lens from scratches.
Tip 1: Don't budget on filters. If you're planning on using them, make sure you have quality ones or your pictures will be crap…
Tip 2: Make sure to check the thread size of the filter so it matches the front of your lens. It would suck to buy an expensive filter that is too big or too small for your lens…
Here are 2 types of filters that can be useful:
1) Polarizer Filter
If you want to invest in one type of filter, I'd suggest you get a polarizer one.
Not only will they protect your lens from scratches and dirt, they're especially useful for outdoor and lanscape photography.
They're great to use on bright days as they will minimize the glare from the sun on bodies of water, add clarity to the sky and deepen colours.
I have a Hoya 58mm Pro- 1 Circular Polarizer that matches my all-round Lumix G Vario 14-140mm lens.
2) Neutral Density Filter
A Neutral Density Filter (ND Filter) controls the amount of light entering the lens. This is especially useful for outdoor and landscape photography.
When you combine a longer exposure time with an ND filter, you can capture blurry, smooth, misty or silky images of water, even in bright conditions. This effect is very beautiful when shooting moving water. It's like you're adding motion or blur to your images and you'll bring otherwise static scenes to life.
Be aware that there's a difference between standard ND filters and graduated ND filters. Graduated filters will darken the background of a scene, usually the sky, and leave the foreground untouched. This is useful when you want to take photos of f.eg. a waterfall on a very bright day.
If you want to learn more about ND filters to know whether you'd need one or not, here's a comprehensive guide.
I have the Hoya 58mm Neutral Density NDX400.
5. Lightweight and Portable Tripod
Tripods are very useful for long exposure shots, astrophotography and taking photos of yourself.
I don't really use my tripod so much as both my Lumix G90 and Lumix GX9 have an integrated stabilizer in the camera that corrects movement and handshake in photos.
When I really want to make sure that my long exposure photo is going to be crystal-clear, I use my Compact Action Tripod by Manfrotto.
This sturdy tripod is easy to set up, has a comfortable grip and an ergonomic joystick head with an easy-to-use, intuitive scroll-wheel locking mechanism. It doesn't take much space as the minimum height is 44 cm and with its 1.2 kg, it weighs light compared to most other tripods.
Tip: if you buy this tripod, order an extra Manfrotto RRound-PL Compact Action Plate. You need this plate to attach your camera to the tripod. I've lost mine in the middle of nowhere and without this plate, my tripod is useless. Now I always carry a spare one!
6. Spare lens caps
Talking of loosing stuff.
Over the years I've lost quite a few of my lens caps. While there's always a creative solution (wrapping your lens in plastic bags being one of them), it's usually not the best option to protect your lens.
I've learned to have at least 1 spare lens cap for each of my lenses, just in case…
7. Camera Strap
Most cameras will come with a standard strap that you can hang around your neck.
I don't really like them because:
they're not very comfortable as they start digging into your neck and shoulders after hours of walking and
they have the brand all over it and you don't want to draw too much attention to your camera in certain places.
I first starting using a vintage camera strap. These straps look very colorful and cute and are easily mistaken for a bag strap. I recommend them for city trips and general travel photography.
Nowadays I have a Peak Design Slide camera strap. I highly recommend this one if you want to take your camera on long hikes and other outdoor activities as they're very sturdy, comfortable and practical.
The straps are made of the same sturdy material as seat belts. They have extra padding for comfort and on one side a rubber grip to stop it from sliding off your shoulder. The straps also have innovative metal slides so you can easily adjust the length on the go.
8. Waterproof dry bag
I once got surprised by heavy rainfall during a horseback trek in Kyrgyzstan. All my belongings, including my camera, got soaked. I was fortunate that my camera can withstand some water as it's weather-sealed, but ever since this experience, I always have a waterproof dry bag with me.
A quality dry bag will protect your electronics from rain and humidity, especially useful when hiking in the mountains or in tropical destinations. Even if your bag happens to become fully immersed in water during a kayaking trip, it will keep your belongings air-tight.
9. Camera cleaning kit
You'd be surprised how quickly bits of dust and dirt will cover your camera, especially if you use it outdoors often. That's why I always travel with a basic camera cleaning kit.
You don't need an expensive and extensive kit. Some lens wipes, a spotting brush, and a small rocket blower will do the job.
Important: Don't clean your sensor unless you know 100% what you're doing. If you scratch the sensor, your camera is very like going to be ruined. If your sensor is very dirty, take it to a camera store to get it professionally cleaned!
10. Universal travel adaptor
Instead of buying a new adaptor for every single country, get a good quality adaptor that will plug into any wall. I highly recommend a universal travel adaptor with multiple USB-ports as it will charge multiple devices and batteries at the same time, no matter where you are in the world.
Camera and photo storage
1. Camera bag
I have to admit something, I don't travel with a camera bag. I use a regular hiking backpack in which I store my camera in a shockproof camera case and my lenses in padded pouches.
Reasons why I don't use a regular camera bag/ backpack:
1) most camera bags don't have space enough for my hiking essentials,
2) camera backpacks with enough space for other belongings are usually way too big and/or not comfortable/suitable for a multiple-day trek,
3) I don't find the compartments inside a camera backpack handy as I'd have to take off and dig in my backpack every time I want to get my camera or change lens. I prefer putting the lens pouches in a small shoulder bag that I can easily access being on the move.
So far I've been very happy with my current set-up. My 20 L hiking backpack has the perfect size to store my camera, lenses, drone, water, and some spare clothes like a rain jacket and sweater when I go on a long day of hiking. It also has a pocket on the side, meant for hiking poles, but I mostly use it for my tripod.
I also use this hiking backpack as my small travel bag during my long-term travels as it also has a pouch for my laptop and external hard drive.
This bag NEVER leaves my side. Whenever I hitchhike or take public transport, I never put this backpack in the boot of a car or in the designated storage space. I always have it on my lap or near my seat.
Another advantage of using a regular hiking backpack is that it doesn't look professional and doesn't have THERE'S EXPENSIVE GEAR INSIDE OF ME written all over it. A backpack like this won't catch as much attention as a professional-looking camera bag would.
If you're often spending time outdoors and want to have the same set-up as I do, I recommend buying a water-and shockproof case for your camera and waterproof padded pouches for your lenses which you can all store in a comfortable hiking backpack.
If you're looking for a good everyday travel backpack with a special camera compartment, I'd get the Peak Design Everyday 20L Backpack.
2. External Hard Drive
I have two external hard drives to store all my photos. One I travel with and one that I store at my home base.
I travel with the Lacie Rugged Thunderbolt 2TB. This hard drive is drop-proof, shockproof, waterproof, and dustproof. In other words, this drive can withstand extreme conditions and is ideal to use on the road.
If you need more storage, depending on how long you're traveling and whether or not you're shooting video, you can also buy the Lacie Rugged Thunderbolt 4TB (or even get two of them).
Tip 1: Get an extra hard drive cable in case it dies or you loose it. It's really not that easy to find a replacement cable abroad…
Tip 2: The Lacie Rugged hard drives last a long time (I've had mine for several years) but make sure to replace them every 3 to 4 years. My first one died on me and if I hadn't created a back-up at home, I would have lost all my photos…
I've learned the hard way to ALWAYS have a back-up hard drive, especially while traveling long-term.
Now that I'm a semi-nomad with a home base, I transfer all my photos as soon as I get home. Before I had a home base, I used to have a back-up hard drive (a WD My Passport) at my mom's place who I visited about once a year.
However, creating a back up of all your photos once a year isn't enough. I once lost hundreds of photos when my first Lacie Rugged died on me after 4 years of extensive usage. So trust me when I tell you that having a second hard drive is really worth the investment…
Another option that I've been looking into and that seems ideal for long-term travelers and digital nomads is to set up a NAS system (Network Attached Server).
You can set this up at a safe place – your home base, at your parents' place, … – and you can upload your photos and files to the NAS wherever and whenever you have internet.
Here's a great article that explains how a NAS device works.
Drone for Travel Photographers
I've been traveling with the DJI Mavic Pro since 2017. It has now been replaced by a newer version, the DJI Mavic Pro 2.
Both versions are very compact and easily fit in a backpack. If you plan on purchasing the DJI Mavic Pro 2, get a polarizer filter to add that extra pop to your drone photos.
I also have two spare DJI Mavic Pro batteries because they only last for 25 minutes and I don't always have access to electricity. They don't weigh much and easily fit in your backpack as well.
However, before you get all excited and buy your drone, be aware that a lot of countries have drone restrictions and will even confiscate your drone upon arrival.
Yes, you can take amazing aerial footage with the DJI Mavic Pro (2) but it would be a bummer if you'd get fined or even have the drone confiscated if you'd fly it in a restricted area without realizing it.
That's one of the biggest reasons why I don't use my drone as often as I would like to.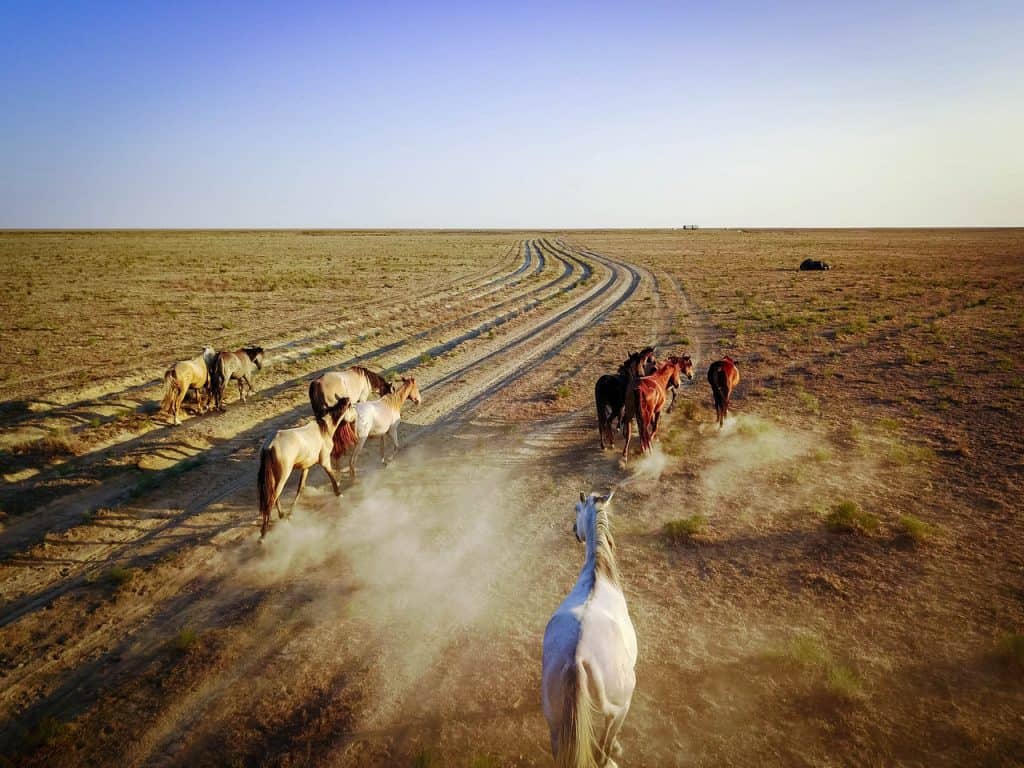 I hope this article was useful and that my tips have helped you choosing what to bring on your next travel blogging/ travel photography trip.
For more useful tips and stories on travel photography, read my other posts:
If you have questions, please ask me in the comments below or feel free to send me an email.
What camera gear do you always travel with? Tell me in the comments below!