If you're wondering what to see in Georgia and where to go in this beautiful country in the Caucasus, look no further! In this article, I'll share with you the 15 best and most beautiful places to visit in Georgia.
Georgia, a land of rock and stone, medieval fortresses and monasteries, green hills, majestic mountains, deep caves and rocky beaches. A country where culture and history lovers will have the feeling they've been transported to the past while walking through the villages and towns.
Outdoor lovers will be amazed by the stunning landscapes of the mountains and every traveler will experience the incredible hospitality of the people and will be treated to a feast of delicious food and wine (and the additional hangover).
Niko and I spent almost one year in Georgia and we're grateful that we had the chance to discover so many beautiful regions and unique places.
It was hard to make a selection of the most beautiful places to see in Georgia (there are so many of them!!) so we asked the lovely Natia Pashurishvili, a Georgian at heart and a traveler in soul, to help us with this list. Here are the top 15 places and the best cities to visit in Georgia, recommended by a traveler and a local!
The best places to visit in Georgia
1. Tbilisi
Tbilisi is the capital city and one of the best cities in Georgia to visit! Tbilisi lies on the banks of the Mtkvari (also known as the Kura) river and is surrounded by hills and mountains. It has been the capital of Georgia since the 5th century and its diverse architecture reflects its long and complicated history.
The Kura River in Tbilisi
One of the best ways to appreciate this unique place is to wander its streets, especially in the colorful Old Town.
During your walk in the city you'll come across over-renovated and hyper-modern buildings but you'll also find yourself in a warren of backstreets surrounded by ramshackled buildings that are beautiful in their own unique way.
Make sure you walk (or take the cable car) to the Narikala Fortress where you can enjoy the stunning panorama over the city.
Panoramic View over Tbilisi
Taking the cable car at sunset – one of the top attractions in Tbilisi!
How to get to Tbilisi:
Just like all the roads in Europe lead to Rome, all the roads in Georgia lead to Tbilisi! You can easily get there by plane (the main airport of Georgia is located in this city), by train, by bus, by mini-bus and by hitchhiking!
Read more about traveling by public transportation in Georgia and Tbilisi here.
Where to stay in Tbilisi:
You can pay as much or as less as you want to stay in Tbilisi. You can find a bed in a hostel starting from $4 -$5 (10 GEL) per night or you can spend a few nights in a lovely guesthouse for only $12 per night.
We recommend:
Budget Hostels:
Mid-Range Guesthouses:
What to do in Tbilisi
Read all about the top attractions in Tbilisi in our post: Georgia in 15 days – 3 Complete Itineraries!
One tip: visit the Chronicle of Georgia, a hidden gem in Tbilisi!
–> You can always book a tour to learn more about Tbilisi with Get Your Guide.
The Chronicle of Georgia in Tbilisi
2. Mtskheta
Mtskheta is the religious capital, the spiritual heart and therefore the most important city of Georgia. It used to be the capital city before King Gorgasali changed his base to Tbilisi.
It's also one of the oldest cities in Georgia, where 4000-year-old traces of human settlements were found. Mtskheta is home to three of Georgia's most important churches: Svetitskhoveli (try to say this 3x in a row…), Jvari and Samtavro Monastery.
Saint Nino lived in this city. She's known as the Enlightener of Georgia, is one of the most important saints in this country (many girls are named after her). She's the woman who preached Christianity in Georgia and the reason why this religion was adopted as the state religion in the year 330.
Overlooking Mtskheta from Jvari Monastery
Important Note: if you want to enter the churches, dress appropriately! Men aren't allowed to wear shorts or hats while women have to wear a long skirt and cover their hair with a scarf.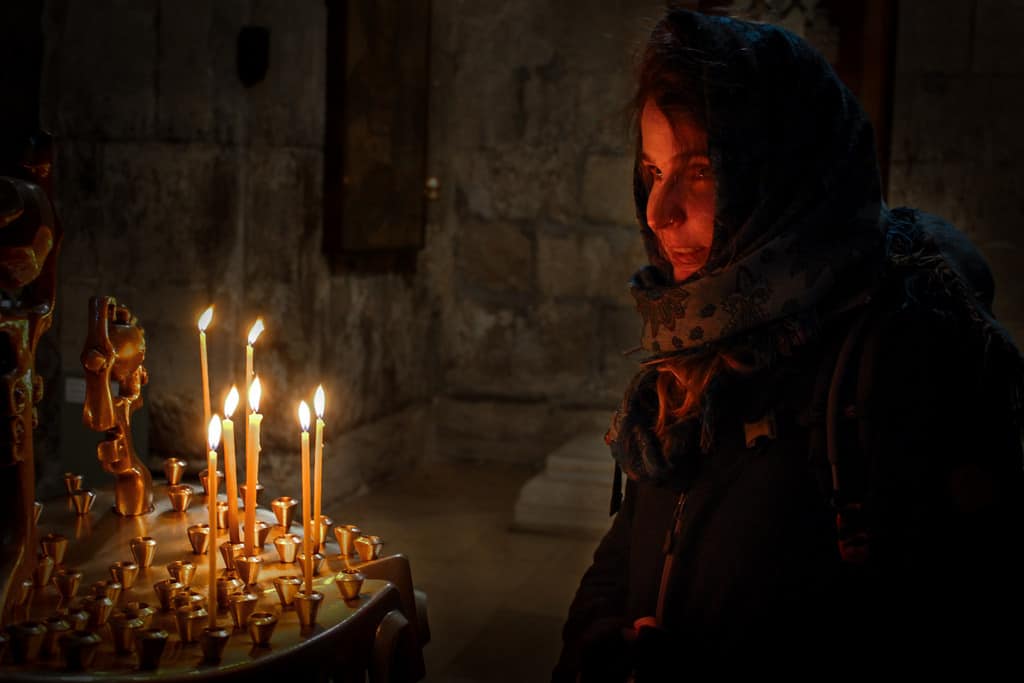 How to get to Mtskheta:
Mtskheta is 30 minutes away from Tbilisi. You can easily hitchhike there from the Tbilisi Mall (take minibus nr. 50 to get there) or you could take a minibus (mashrutka) all the way to Mtskheta for only 1 GEL. Our friends from Lost with Purpose wrote a very informative article on how to go from Tbilisi to Mtskheta.
-> You can also book one of these affordable day trips to Mtskheta with Get Your Guide :
3. Vardzia
Vardzia is a spectacular cave monastery near Aspindza in southern Georgia. It looks like one of the movie sets of Lord of the Rings, although it wasn't the home of dwarves but of many monks.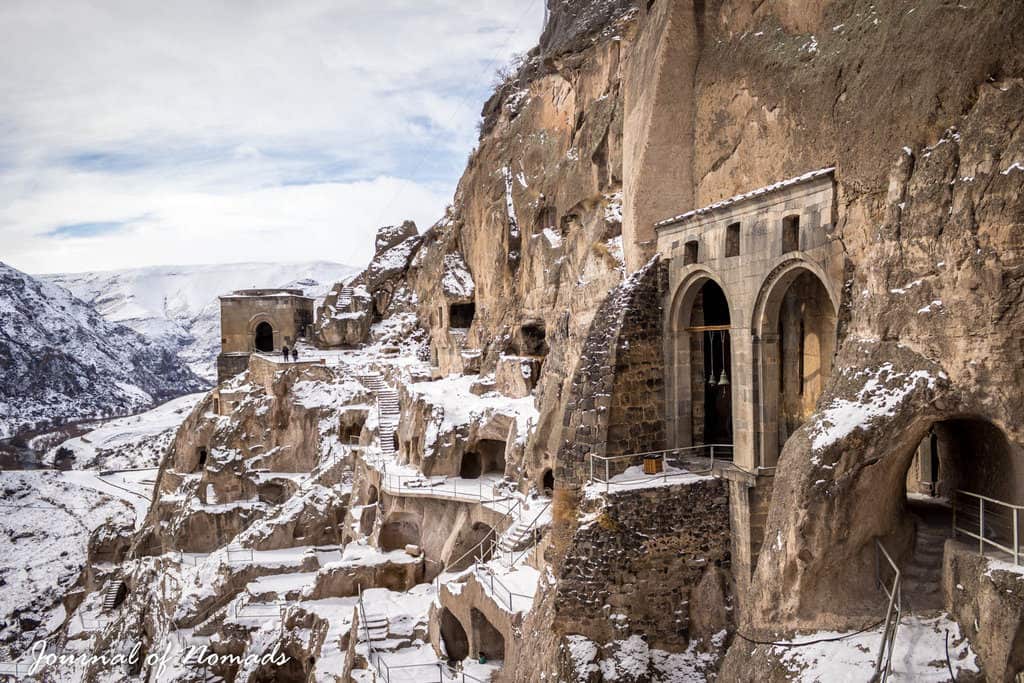 This underground monastery was built in the 12th Century, under the reign of King Tamar, the first woman that was ever crowned as a king (not a queen!) in Georgian history. It used to be completely hidden until a severe earthquake exposed and destroyed the cave monastery.
Read more about it in Vardzia, the ancient cave city of Georgia.
How to get to Vardzia:
You can take a mashrutka from Akhaltsikhe to Vardzia. The ride takes one hour, it costs 6 GEL and they operate 3 times a day. The first mashrutka leaves at 10.30 am, the last one from Akhaltsikhe to Vardzia leaves at 1.20pm. The last mashrutka is at 3pm from Vardzia to Akhaltsikhe where you can still catch another one to Tbilisi (if you want to return the same day).
You can also take a taxi to Vardzia but that will cost you 50 GEL (unless you're with a group, then you can share the costs and stop along the way at the Khertvisi Fortress).
Entrance fee for Vardzia: 3 GEL.
For those who want to hitchhike, know that it's a remote area and that you might (or not) have to wait for a while to get a ride.
-> You can always opt to join a tour with Get Your Guide:
4. Uplistsikhe
Uplistsikhe is located in eastern Georgia, about 100 km from Tbilisi. It literally means "Lord's Fortress" and it's an abandoned rock-hewn town that is more than 3000 years old. It was founded around 1000 BC and was continuously inhabited until the 13th century AD. At one point Uplistsikhe even had 20000 inhabitants!
The cave city covers an area of almost 40.000 m2 and used to have a pharmacy, a bakery, an amphitheater and even a prison. All the structures are connected by tunnels.
On top of the whole complex is a church that was built in the 9th century. This colorful building sticks out against the gray and sober caves.
How to get to Uplistsikhe:
The cheapest way to get from Tbilisi to Uplistsikhe is by taking a shared taxi (5GEL) or a mashrutka (3GEL) from Didube station to Gori. There you can take another mashrutka to the nearby village Kvakhvreli for 1 GEL. You can also negotiate with the driver and he'll take you to Uplistsikhe for 1 extra GEL.
If you're with a group, you can share a taxi that will cost you around 10 GEL.
Entrance fee for Uplistsikhe: 5 GEL.
–> You could also book a tour with Get Your Guide! Check out the options and prices:
5. Katskhi Pillar
Georgia doesn't only have unique places on the ground or in the mountains, but also in the air. Take the Katskhi Pillar, for example, a 40-meter high limestone monolith that is also known as "the Pillar of Life".
Around the 4th century, this rock became a place of seclusion for the 'Stylites', a religious group who had a "slight" obsession with sitting on top of narrow pillars to come closer to God. How they got up on the Katskhi Pillar and were able to build a church on top of there is still a big mystery!
It was only in 1945 that the first researchers were able to climb it. Oh, and the most extraordinary thing: a monk has been living on top of that remote pillar for 20 years!
Read more about him and this incredible pillar in Katskhi Pillar – the most incredible cliff church in the world.
How to get to the Katskhi Pillar:
From Tbilisi to the Katskhi Pillar: take a mashrutka from Didube Station to Chiatura. The earliest leaves at 8 am and after that nearly every hour. The ride takes about 3 hours and costs 6 GEL. In Chiatura take a taxi to the Katskhi Pillar, which shouldn't cost much as it's only 20 km away or you can hitchhike like us.
From Kutaisi to Katskhi Pillar: take a mashrutka from Kutaisi bus station to Chiatura. It costs 6 GEL and the journey lasts an hour and a half. Once in Chiatura you can hitchhike or take a taxi to the Katskhi Pillar.
–> or book a trip to Katskhi. Check out the price & itinerary here.
Where to stay near Katskhi Pillar:
No indoor sleeping facilities around here but we camped in the woods near the pillar. You can always return to Chiatura and take a mashrutka to Zestafoni or Kutaisi where you'll find guesthouses.
We recommend:
Budget: Hostel Mandaria
Mid-range: Hotel Balcony
6. Chiatura
Another point of interest in Georgia is Chiatura, a small town nestled between steep valleys and deep gorges.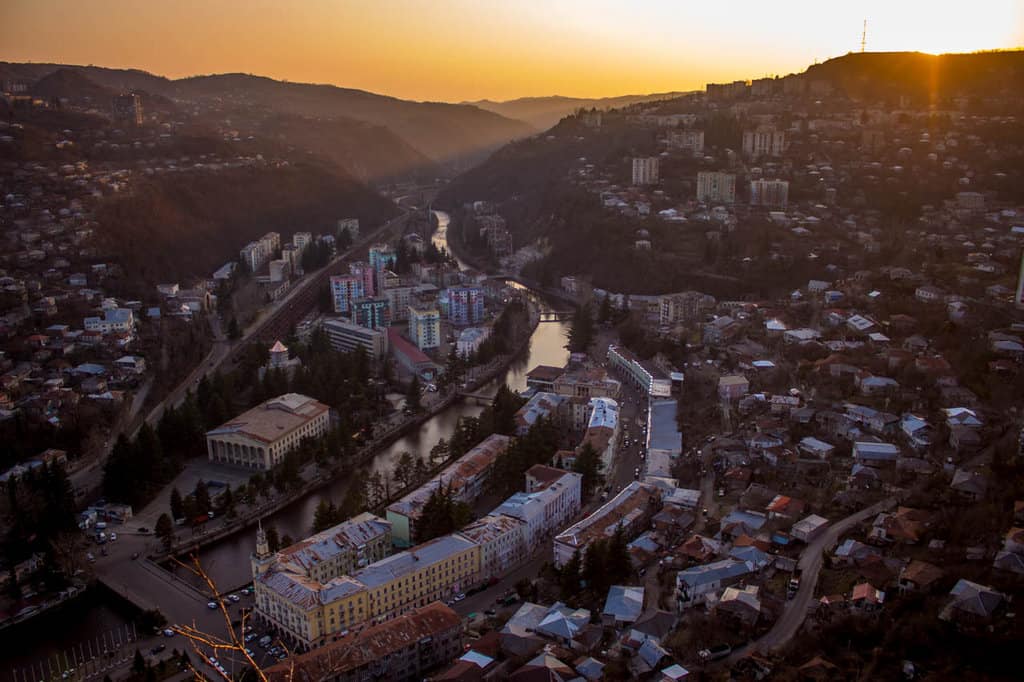 Chiatura was founded in the late 1800's as a mining colony. In 1954 the Stalinist government installed a system of cable cars, also referred to as a "rope road" to get the workers more quickly to the mines, instead of them walking to the sites on the steep cliffs.
Every corner of the town was connected with the mines through these cable cars and Chiatura became known as "the cable car city".
Most of these cable cars have rusted away but there are still some of these "air tramways" functioning today as a form of (free) public transportation.
It's truly an amazing (and little frightening) experience to step into these rusty flying cabins that are known as the "death-defying metal coffins". Chiatura is a strange and charming city where you can still feel the ghost of the Soviet Empire.
Read more about it in Visiting the ghosts of the past in Chiatura.
How to get to Chiatura:
From Tbilisi to Chiatura: take a mashrutka from Didube Station to Chiatura. The earliest leaves at 8 am and after that nearly every hour. The ride takes about 3 hours and costs 6 GEL.
From Kutaisi to Chiatura: take a mashrutka from Kutaisi bus station (near McDonald's) to Chiatura. It costs 6 GEL and the journey lasts 1,5 hour.
–> Or book a trip to Chiatura with Get Your Guide:
Where to stay in Chiatura:
There's maybe one hotel in Chiatura but I don't have any details about it. You can take the mashrutka to Zestafoni or Kutaisi where you'll definitely find guesthouses.
We recommend:
Budget: Hostel Mandaria
Mid-range: Hotel Balcony
7. Batumi
Batumi is a modern city on the coast of the Black Sea. It's the second biggest city in Georgia and honestly, it doesn't really feel like you're in Georgia.
One moment you can hear the church bells ringing, the next you hear the muezzin's call to prayer coming from the mosques (Batumi is right near the border with Turkey).
The architecture is a combination of European and Asian styles, often mixed with fairy-tale like towers, statues and buildings created by some hallucinating architects. This is definitely visible at night when the majority of the building is lit up and bathing in the colors of the rainbow.
Batumi is a 'glamorous' city, designed to attract tourists and gamblers to play in one of its many casinos. You love it or you hate it but we absolutely enjoyed living there for three months when there were barely any tourists around.
Read also our Guide to a Perfect Stay in Batumi.
How to get to Batumi:
You can get from Tbilisi to Batumi by mashrutka, which also stops in Kutaisi. It takes about 4,5 hours and costs 15 GEL. Shared taxis or buses are also possible but will cost you at least double the price.
I would suggest you take the train from Tbilisi to Batumi, which is very comfortable and cheap (18 GEL). The journey lasts about 5 hours and will take you along some beautiful landscapes.
Where to stay in Batumi:
Budget (starting from €6):
Mid-range (starting from €15):
What to do in Batumi:
Read: Our Guide to a perfect stay in Batumi
8. Ushguli & other villages in Svaneti
Located in northwestern Georgia and locked in the heart of the Caucasus mountains lies the historic province Svaneti. The only way to get there is by driving from Zugdidi to Mestia along steep windy roads looking over beautiful gorges, wild rivers, and majestic mountains.
Svaneti consists of several small villages, built on the slopes of the snow-covered mountains and surrounded by the breathtaking scenery of alpine meadows. Walking around in these picturesque villages that are dominated by tower-houses, gives you the feeling that you're thrown back into the European Middle Ages.
Read more about the Wild Heart of the Caucasus.
One village truly mesmerized us: Ushguli. This village is part of one of the highest inhabited settlements in Europe, at about 2200m above sea level.
It is very remote, the only road to get there is very rough and bumpy but oh so beautiful! The inhabitants live a remote and unique life. They ride on horses through the cobblestone streets while pigs, dogs, cows and goats walk next to them on the little paths. It feels like time stood still there! Watch the video below to see what I mean:
Unfortunately, it's also the most touristic village in the area (Mestia not included) but there are plenty of other villages in the area that not many tourists visit.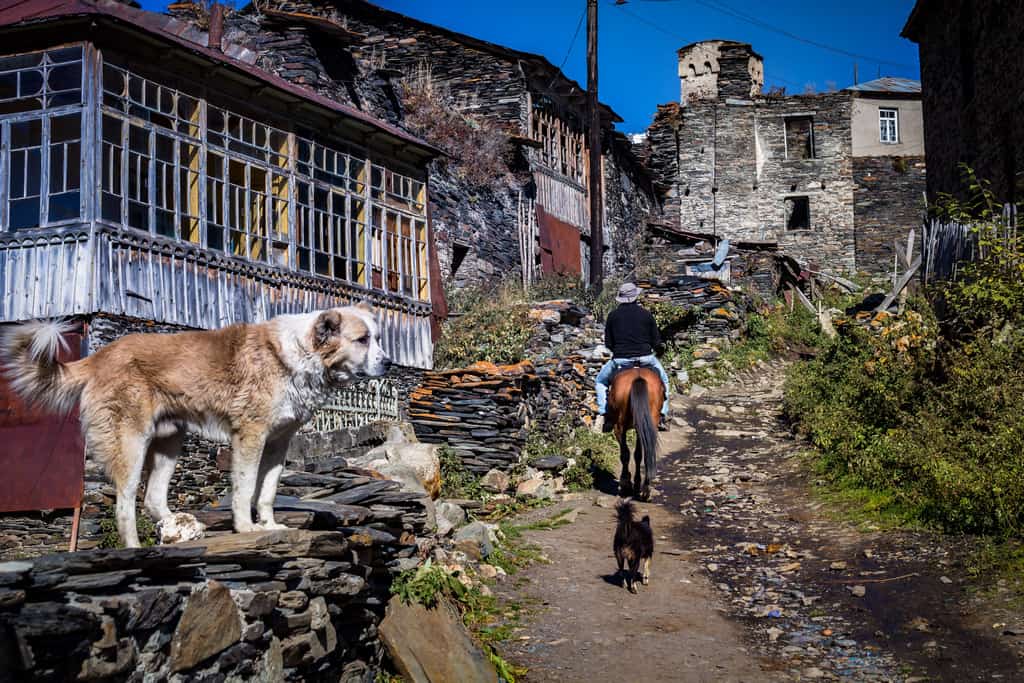 How to get to Mestia and Ushguli:
Mestia is the central village of Svaneti.
You can go from Tbilisi to Zugdidi by train and you can opt for the night train (8 hours) or day train (5,5 hours) – check here the schedule. Tickets cost between 16 and 21GEL.
You can also take a mashrutka from Tbilisi to Zugdidi, which departs every day from "Vagzali" bus station (in front of Tbilisi Centrali building). Look for the platform with a sign 'Mestia'. The bus departs at 7 AM, tickets cost 30 GEL and the journey will take about 9 hours.
From Zugdidi to Mestia: catch a mashrutka at the Zugdidi train station (look for the sign Mestia). They leave every time the bus is full, a ticket costs 20 GEL and the ride takes between 3 – 4 hours.
Or you can hitchhike. It took us around 7 hours to hitchhike from Tbilisi to Mestia!
You've got three options to get to Ushguli:
1) Hitchhike like we did. We were told that it was nearly impossible to hitchhike there but we got very lucky that day and caught a ride within 2 minutes!
2) Walk from Mestia to Ushguli. This hike takes about 4 days and you'll walk along the majestic valleys and meadows of the Caucasus. More about this hike here.
3) Take a shared taxi. The drivers know that this is your only way to go to Ushguli and back so they'll easily charge 120 – 150 GEL. If you can share the taxi with 3 other people, you'll get the costs down to 30 – 40 GEL.
4)Or go on a 4-day tour organized by Get Your Guide:
Where to stay in Mestia and Ushguli:
You'll have plenty of space to camp in Svaneti and it's definitely worthwhile! You can also find many guesthouses in Mestia starting from $20/night for 2 people.
We recommend:
Budget Guesthouses (starting from €7):
Mid-range Guesthouses (starting from €20):
Ushguli has also facilities to accommodate guests if you'd like to spend the night in this little village.
We recommend:
9. Omalo & other villages in Tusheti
Tusheti is one of the most beautiful and fascinating regions of Georgia. It's located in northeast Georgia, on the northern slopes of the Great Caucasus Mountains. There is only one road that goes to the area over the treacherous 2900m Abano Pass.
It's a beautiful mountain pass but it's also considered as one of the most dangerous roads in the world. You need a 4×4 vehicle and nerves of steel to cross the pass but it is definitely worth it! The road to Tusheti is only open for 5 months (late May to early October).
The inhabitants, the Tushs or Tushetians, nowadays only go up there during summer to graze their cattle, organize traditional festivals, provide accommodation and tours for tourists and reconnect with their roots. In winter they live in the lowland villages of Alvani and Akhmeta in Kakheti.
How to get to Tusheti and where to stay:
Read everything in Hitchhiking in Tusheti, Georgia's most beautiful and remote region.
Traveling to Georgia soon?
Read all the travel information you need to know in our
Top places to visit in Georgia, recommended by a local:
Natia was born and raised in rural Georgia surrounded by its mist-shrouded mountains, amazing landscapes and hiking routes. She's a huge nature lover who loves the simple things in life. You can read more about her on her blog and follow her on Twitter. Here are her favorite places in Georgia:
10. Sighnagi
Georgia has its share of big cities and tourist attractions but what's really special about my country, are the small towns. Sighnaghi is one of them.
Sighnaghi – photo by Irma Laghadze
Here you can experience the best that the region of Kakheti has to offer: some of the best food & wine, beautiful tiny streets and houses with colorful wooden balconies, breathtaking views over the Alazani valley, the smell coming from the bakeries, a variety of fancy castles and small family-owned wine cellars and vineyards.
Sighnaghi – photo by Irma Laghadze
How to get to Sighnaghi:
It's quite easy to hitchhike to Sighnaghi from Tbilisi. Often the first car you thumb will stop. It can take about 2 hours to get to Sighnaghi, because most drivers aren't going very long distances.
If you don't like to hitchhike, take a minibus from Samgori Metro Station in Tbilisi. The ride takes about 1 hour 45 minutes and it costs 6 GEL.
-> or book a tour to Sighnaghi with Get Your Guide. Check out the options here:
Where to stay in Sighnaghi:
There are many lovely guesthouses in Sighnaghi. You can already find a room for $15/night for 2 people on booking.com. If you travel by yourself, you can find a bed in a dorm for $8/night:
We recommend:
For Budget Travelers (starting from €5):
For Mid-range Travelers (starting from €12):
11. Shatili Khevsureti
Shatili Khevsureti is a mysterious medieval fortress village, surrounded by huge green mountains. Be sure that the diversity of the scenery will amaze any traveler and inspire incurable travel lust in everyone.
Modern life hasn't penetrated this region in Georgia yet. Locals put all of their efforts into pleasing their guests, assuring that they are always comfortable and happy.
During important feasts, the local people put on their folk costumes and go to the church where ancient pagan traditions, mixed with Christian beliefs, are still being practiced.
Shatili – photo by Koba Petriashvili
How to get to Shatili:
Shatili is about 140 km north of Tbilisi. Because of the snow, the road is only accessible from May to October.
Since you have to cross the Datvijvari pass, I highly recommend taking a minibus from Didube Metro station (it costs about $15) instead of hitchhiking, or rent a 4X4 car with an experienced local driver, because the road is unpaved and dangerous. Remember, safety first!
Where to stay in Shatili:
Budget: Shatili Guesthouse Mziani
Mid-range: Shatili Guesthouse Twins
You can also spend the night in one of the historical towers in Jurkha's Shatili Tower, starting from $10 per night.
There are also plenty of camping areas close to the river.
12. Juta, Chaukhi (2200m)
Adding superlatives to describe the surroundings of Juta is pointless. If you have the chance, just pack your bags and go. You won't regret it!
Juta – photo by Koba Petriashvili
Juta is the most peaceful and green place in Georgia and one of the most popular climbing and trekking areas among professional climbers. There are also many equally pleasant walks to be done around the village.
Juta – photo by Koba Petriashvili
How to get to Juta:
There are no buses going directly from Tbilisi to Juta.
You can take a minibus from Didube Station in Tbilisi to Stepantsminda for only 10 GEL ($4 – $5). The journey takes around 3 hours. Once you're in Stepantsminda you can rent a delica or any other 4×4 car to reach Juta, which is 24 km away. This will cost around 80 GEL.
You can also try to hitchhike there.
Where to stay in Juta:
Whether you're looking for a nice camping spot or a beautiful wooden guest house to stay at, be sure that Juta will suit all your needs.
There are a couple of wooden and tiny hotels only for $10-15 per/night: Zeta camping, 5th season and Juta guest house.
13. Kazbegi
Kazbegi is really an amazing travel spot for every taste and budget. From luxury lovers to hitchhikers, everyone can find something here to his or her liking.
the Gergeti Trinity Church in Kazbegi – photo by Irma Laghadze
There are plenty of walks through the amazing valleys and one will lead you to the Gergeti Trinity Church, located at an altitude of 2170m. You also shouldn't miss out on the hike to the Gergeti Glacier!
On the way from Tbilisi to Kazbegi, along the Military Highway, you'll pass the Ananuri Castle,the Jinvaly water reservoir and the Russia-Georgia friendship monument.
Russia – Georgia friendship monument in winter
How to get to Kazbegi:
"The first car you thumb will stop" is a rule that applies to any destination in Georgia, including Kazbegi!
If you don't like to hitchhike, you can take a minibus from Didube Station in Tbilisi to Stepantsminda for only 10 GEL ($4 – $5). The journey takes around 3 hours.
-> Book a trip with Get Your Guide. Check out the options and prices for a tour to Kazbegi here:
Where to stay in Kazbegi
You can put up your tent facing the stunningly beautiful Mount Kazbek (5047 m) and enjoy nature's grand surroundings.
If this is not your thing, there are plenty of guesthouses where you can book a room for 2 people starting from €20/night.
We recommend:
For Budget Travelers (starting from €6):
For Mid-range Travelers (starting from €20):
View over Stepantsminda (Kazbegi) – Photo by Nina Vaxanski
14.The Canyons of Martvili
Martvili is located in the Samegrelo region in the western part of Georgia and is 280km away from Tbilisi. The canyon, caves and waterfalls were formed over time by the Abasha River and you can enjoy the scenery and amazing views of the dark green canyon by taking a boat trip in the river.
Martvili Canyon – photo by Beqa Tours
The price per small boat (6 pax) is GEL 35 ($ 15). Working hours: 10 am to 6 pm; every day except on Monday.
You can also book a day trip with fun activities to the Martvili Canyon:
How to get to Martvili Canyon:
If you are lucky (and I am pretty sure you are, cause Georgia is hitchhikers paradise) you'll cover the distance from Tbilisi to Martvili in max 4 hours and from Kutaisi to Martvili in about 1 hour.
Travel by public transport: minibusses leave every day from Tbilisi Didube bus station to Martvili (20 GEL).
Where to stay in Martvili:
Budget:
Mid-range:
15. Bakhmaro
Bakhmaro is situated 2,000 meters above sea level and known as the highest alpine climatic resort in Georgia.
Camp above the clouds, take pictures of the milky way, feel the real vibes of rural Georgia, catch a glimpse of the sun setting on the Black Sea, enjoy magnificent views, pick berries and mushrooms in the forest, cuddle up by the campfire, wake to the faint hint of the early morning sunlight and enjoy the sweet sounds of nature – this is what visiting Bakhmaro is about.
Bakhmaro – photo by Mariam Koshadze
The best time to visit Bakhmaro is from June to September as most of the activities are outdoors.
How to get to Bakhmaro:
The journey from Tbilisi to Bakhmaro takes around 5 hours. You can hitchhike but also take a minibus from Tbilisi or from Chokhatauri.
Where to stay in Bakhmaro:
If camping is not your thing, you can always rent one of Bakhmaro's tiny wooden cottages on a daily or weekly basis here.
You can't book them online but have to ask the locals about it when you arrive.
Natia and her partner Koba Petriashvili on a hike in Georgia
KNOW BEFORE YOU GO – GEORGIA TRAVEL TIPS:
Everything you need to know about traveling independently in Georgia (visa, how to get to and around Georgia, where to stay,…):
The Ultimate Travel Guide to Backpacking in Georgia
Plan your trip to Georgia:
The best of Georgia in 15 days – 3 complete Travel Itineraries
Georgia on a budget – How much does it cost to travel to Georgia
7 Beautiful off-the-beaten-path Hikes
Everything you need to know about skiing in Georgia
Hitchhiking in Georgia – the good, the bad and the untold stories
GEORGIA TRAVEL RESOURCES:
Are there any places you would add to this list? Are you having plans to travel to Georgia? Let us know in the comments!
Disclaimer: This post contains affiliate links. If you purchase a product or service through one of the links, we get a commission at no extra costs to you! See it as a small donation to keep this blog going so we can create more awesome posts. Thank you!