Wondering what are the top things to do in Tbilisi? Here is our guide to the best things to do and the best places to visit in Tbilisi. Keep reading this article to make the best out of your visit to Tbilisi.
Beautiful churches, amazing singing, great food, and a fantastic culture …that's Tbilisi in a nutshell! Cynthia and I lived for about four months in Tbilisi, the gorgeous capital of Georgia. Just thinking about this city brings back thousands of beautiful memories.
Tbilisi has a huge cultural and historical richness, unlike anything we have experienced anywhere before. When we lived there, we fell in love with the city and its people and took our time to discover this gorgeous place.
We fell in love with this gorgeous city…
Tbilisi is a fantastic city! It's a place where you can taste some of the most iconic Georgian dishes, the best Georgian wines, see some amazing traditions and it's also a good starting point to do some of the most amazing hikes in Georgia!
If you're a remote worker and work online, you should also know that Tbilisi is one of the best cities in the world for digital nomads!
Tbilisi is positioned right in the center of the country and it's easily reached by public transport from the borders of Turkey and Azerbaijan. It also takes only a few hours to reach the city by train from Batumi.
We loved this city so much that we just can't wait to go back! To help you fall in love with Tbilisi, here is a guide to the top activities to do in the city. It also includes the best places to visit in Tbilisi, as well as where to stay and where to eat in Tbilisi.
A few things you need to know before going to Tbilisi
Tbilisi is a very big city. It's the biggest city in Georgia and now has a population of over one million inhabitants.
Tbilisi literally means "warm place" in the Georgian language because the city was built in an area where there are a lot of sulfurous hot springs (I'll tell you how to bathe in them farther down).
Because Tbilisi has the most important airport in the country, usually, most of the people will start their Georgian journey in Tbilisi, or Tbilisi will be the only place they will visit in Georgia.
The city of Tbilisi has different districts but most of the interesting sights and places to see are located near the old town.
The old town of Tbilisi looks the same way it has for centuries and is super well preserved. It has beautiful narrow alleys and old houses built around small courtyards.
If you love churches, you're in the ideal city to see plenty of beautiful ones! Tbilisi has a lot of gorgeous churches and I'll tell you which ones to visit in this guide.
[kt_box opacity="1″ background="#eded6d"]
Have a look at all our articles about Georgia!
[/kt_box]
Where is Tbilisi?
Tbilisi is located right in the center of Georgia. It's 5 hours from Tusheti and 6 hours from Batumi by car.
The city lies in the Eastern part Georgia on both banks of the Mt'k'vari River.
[kt_box opacity="1″ background="#eded6d"]
Find out what are the top things to do in Batumi!
[/kt_box]
Recommendations and tips before visiting Tbilisi
The younger generation in Tbilisi generally speaks a bit of English but if you want to get closer to the Georgian culture, it wouldn't be a bad idea to pick up a few Georgian words.
Here are a few Georgian expressions that will help you in Tbilisi:
Gamarjoba: Hello
Didi madloba: This means thank you very much
Gaumarjos: Cheers
Ara: no
Because Georgia has been part of the Soviet Union for a very long period of time, the older generation also speaks perfect Russian.
Learning a few words or expressions in Georgian or Russian before visiting the country will definitely be handy.
If learning languages is not your thing, I would recommend getting your hands on the Lonely Planet Russian phrasebook and dictionary. It's packed with thousands of sentences that will help you in different situations and scenarios such as ordering food or finding a place to stay.
I would also recommend getting a map software on your phone that works offline.
Maps.me has helped us navigate the narrow streets of Tbilisi and many other Georgian cities.
One of the cool features of Maps.me is that it can be used both online and offline. Connect to the wifi at your hostel and download a map of the part of Tbilisi you wish to explore. This map works with the GPS chip in your phone so it will continue working, even when you're offline.
And finally, I highly recommend getting a Lifestraw Water Filter Bottle. Although the tap water in Tbilisi is not dangerous, it may contain many new bacteria that your body just isn't used to.
If you drink water using this bottle, any dirt, bacteria or parasites gets trapped in its filter, while the clean water passes through.
[kt_box opacity="1″ background="#eded6d"]
Check out these awesome itineraries around Georgia!
[/kt_box]
Arriving at Tbilisi airport and reaching Tbilisi airport from the city center
There are three different ways that you can reach the city center of Tbilisi from the airport, by taxi, by bus or by train.
By train: You can take a train from the airport to the main train station in Tbilisi, however, it only runs at 8.45 am and 6.05 pm.
By bus: There's a minibus (#37) that runs daily (from 7 am to 11 pm) to and from the airport to the city center (Rustaveli station or Freedom Square). It costs only 0.50 GEL and you pay the driver but it can take up to 45 minutes to reach the city center as it stops everywhere along the way.
By taxi: There will be plenty of taxi drivers at the airport who will be very happy driving you to the city center. You'll have to bargain for the price but the normal rate for a taxi to and from the airport shouldn't be more than 30 GEL!
Alternatively, instead of hailing a cab at the airport, you could use Yandex providing that the airport wi-fi works well. Yandex is an app that works in Georgia the same way Uber does in other countries. Taxi drivers in Tbilisi tend to ask exorbitant prices if they see you're a foreigner.
For Georgia as for Central-Asian countries like Uzbekistan or Kazakhstan, it's better to download the Yandex app on your phone.
Yandex works as a cab-hailing app meaning you won't have to negotiate directly with the driver and you can avoid being ripped off. If you use Yandex in Tbilisi, the taxi rides become extremely cheap.
[kt_box opacity="1″ background="#eded6d"]
Discover Tusheti, Georgia's most beautiful and remote region
[/kt_box]
Should you exchange money at Tbilisi airport?
Airport exchange offices are never the best place to change money, I would suggest just changing a small amount of cash into Lari at the airport and then heading to the city center.
It's better to exchange money directly in Tbilisi. However, I would advise not changing money in the very touristic parts of town such as in Freedom Square or near the Old Town.
Also, another thing you need to be wary about is that some exchange offices in Tbilisi have commission rates as high as 30%. Before you exchange any currency in Tbilisi, make sure that the company where you're exchanging money does not have any commission fee.
Is Tbilisi safe?
After living in Tbilisi for four months and visiting it countless times afterward, I would say that Tbilisi is a very safe city.
There is a strong presence of police in the touristic parts of the city so no need to feel unsafe. Violent crime happens very rarely in Tbilisi and it never targets foreigners.
With the recent increase in tourism however, it's important to be aware that the most popular parts of town might attract pickpockets.
The best solution to avoid being pick-pocketed in Tbilisi is to stay aware of your belongings and surroundings at all times. You should leave all your important items at your hotel and walk around only with what you need.
I suggest always keeping your wallet in your front pocket or carry a money belt. Another great option is to travel with a slash-resistant and lockable anti-theft bag. I would also recommend getting good travel insurance that covers theft.
When is the best time of the year to visit Tbilisi?
Winters in Georgia can be extremely cold while in Summer, the city of Tbilisi will become super busy and crowded with tourists.
I would say, the best time to visit the city, in terms of tourist density and ideal weather is in the Spring and during Fall.
What are the top things to do in Tbilisi?
1. Visit the gorgeous cathedrals of Tbilisi
The amount of beautiful churches and cathedrals in Tbilisi is absolutely mind-boggling. If you're a fan of stunning old buildings with beautiful architecture, Tbilisi is the place for you! Wherever you stand in the city, there will always be a church not too far from you.
One of the most beautiful and impressive churches in Tbilisi is the Holy Trinity cathedral. The Georgians know it as "Sameba".
It's located on Elia Hill above the left bank of the Mtkvari in the historic neighborhood of Avlabari.
This huge cathedral was built between 1995 and 2004 so it's not as historical as the other cathedrals in the city. It's still very impressive though.
Sameba is the third largest Orthodox cathedral in the world.
Another very beautiful church to visit in Tbilisi is St. Nikoloz church. This church is located at one of the oldest fortress of the city, the fortress of Narikala.
The view you'll get of the city from this church is stunning! The shortest and most exciting way to reach Narikala is going there by the cable car from Rike Park.
Here is where you'll St. Nikoloz church and Narikal fortress in Tbilisi:
2. Get lost in the old Town of Tbilisi
Whenever I visit a new city, one of my favorite things to do is to walk around the older, more historical part. When Cynthia and I arrived in Tbilisi, one of the first things we did was going for a stroll in the old town.
The Old Town of Tbilisi is a mix of old and new architecture. It's a gorgeous mix of cobblestones, cafes, local art shops and colors.
It has been renovated a lot over the last few years. These renovations maintained the authentic look and style of construction that was originally used to build the houses so it's an area that still feels very authentic.
The old town is where you'll find all of the most awesome cafes in town. It's also where you can enjoy some hot sulfur baths (see below).
3. Enjoy a Georgian sulfur bath
Taking baths of boiling water was quite popular during the Soviet period. Many people would do it as a form of therapy since long immersions in hot water were supposed to have some healing benefits.
Tbilisi was built in an area that was known for its hot springs, in fact, the name Tbilisi itself means the "hot place". It's possible to enjoy hot sulfur baths in the old town of Tbilisi near the Abanotubani district.
These hot indoor pools are the best place in Tbilisi to relax your calves after a long walk around town. The baths feel especially good if you visit them during the colder months of the year.
Prices for the sulfur bath vary a lot. There are public rooms available for 3 GEL. The cheapest private rooms are 30 GEL while the more expensive ones go for 100 GEL.
The style of the private rooms also varies depending on the price you pay for them. The cheaper rooms are very basic, they have a soviet-era kind of look with just a hot bath and a cold shower.
The more expensive rooms, on the other hand, can be quite luxurious. They sometimes come with their own private saunas and they are much bigger.
4. Walk across the bridge of peace
Although my girlfriend use to joke that this bridge looks like a sanitary pad flipped upside down, it's a very beautiful and romantic place to spend the evening.
Some locals even say that you haven't really been to Tbilisi if you haven't crossed that bridge.
It crosses the Kura river and connects the old town with Rike Park.
The bridge is equipped with LED lights that glow at night with the colors of the Georgian flag.
Here is the location of the peace bridge in Tbilisi:
5. Visit the Mtatsminda park and get a gorgeous view of the city
If you want the most gorgeous view of the city, you should head over to Mtatsminda Park. It's the highest point in Tbilisi and the view you can get from this park is stunning!
It's a particularly good place to enjoy the sunset and a famous romantic spot for young Georgian couples.
You'll have a gorgeous view of the city from the Ferris Wheel in Mtatsminda Park…
The park has a lot of restaurants and bars as well as a Ferris wheel from which you can see the whole city. There's also an amusement park with plenty of roller coasters to go on.
You can reach this park with the bus 124 or by the Funicular railway.
6. Take a cable car to the mother of Georgia
Going up to the statue of the mother of Georgia located above the old town is an absolute must while in Tbilisi. The best way to get there is to take a cable car from Rike Park.
These are two great activities in one! By taking the cable car (you could also walk up) you'll get a fantastic view above the old city.
The cable car is also super cheap (just one Lari).
The cable car to the mother of Georgia will give you an amazing view of the old town…
The perfect representation for the Georgian national character is the 20-meter aluminum statue of Kartvlis Deda in Tbilisi.
This monumental "Mother of Georgia" is holding a cup of wine in one hand, which stands for hospitality and a sword in the other, which represents the Georgian's love of freedom and fierceness to fight for their liberty.
The mother of Georgia statue is quite impressive…
She is the protector and the definition of what Georgia was, is and will be: friends will be welcomed with wine, enemies with a sword!
Here is where you'll see the gorgeous statue in Tbilisi:
7. Swim under some waterfalls
When people hear the name Tbilisi, they rarely associate it with waterfalls but surprisingly enough, Tbilisi has two of them and stunning ones on top of that!
One of these two waterfalls is located in the botanical garden of Tbilisi and it's not forbidden to swim underneath it so don't forget your swimsuit!
The other one is in the old town, close to the sulfur bath. It's better to swim there on a hot summer day since this water never really warms up and stays rather cool throughout the year.
8. Enjoy savory traditional Georgian dishes
Alexander Pushkin once said – "Every Georgian dish is a poem" and it's absolutely true! Nowhere will you have dishes as savory and delicious as in Georgia.
The food in Georgia is fantastic and the best place to try it is in Tbilisi. It's meat-heavy and usually contains a lot of cheese but if you don't like eating meat too much, Tbilisi also has some great vegetarian and vegan restaurants.
Have a look at our article 10 dishes from the Georgian cuisine you absolutely have to try. It will give you an insight into Georgian cuisine and will give you an idea about the dishes you could sample in Tbilisi.
9. Try some Georgian candies
Tbilisi is the best place to try some traditional Georgian candies. The most delicious one, in my opinion, is Churchkhela. It looks like a sausage and has walnuts inside.
The first time my girlfriend and I saw churchkhela, we thought it was some kind of decoration. Maybe people liked to hang colored sausages in the front windows of their stores
We later found out that it's a traditional Georgian candy. The main ingredients are almonds, walnuts, hazelnuts or sometimes raisins that are threaded onto a string.
The string is repeatedly dipped in concentrated fresh grape juice which dries into a chewy gelatin-like coating around the nuts. It's packed with protein and sugar and is often served at home with coffee. A healthy candy for sweet teeth like us!
Another great Georgian candy to try is called Taklpi. It's a fruit roll that comes in various flavors, plums, apple, and kiwi, just to name a few.
10. Go on a day trip or on a multi-day trip outside of the city
Tbilisi is the perfect base for a day trip around the city or for a week-long adventure around Georgia. The most popular day trip from Tbilisi is to a holy Georgian town called Mtskheta.
Mtskheta is located just 20 km away from Tbilisi and it's one of the 15 best places to visit in Georgia. We explain how to reach this little town in this article.
If you plan to go on a big tour of Georgia and use Tbilisi as a base you can find some great itineraries in Georgia in 15 days – 3 Complete Travel Itineraries for backpackers, adventurers, and culture lovers.
If you would prefer a guided day trip outside of Tbilisi have a look at these great tours:
-From Tbilisi: David Gareji Monastery Where Time Stands Still
-Tbilisi: Mtskheta, Gori, Stalin Museum & Uplistsikhe Tour
-Borjomi & Bakuriani: Small-Group Full-Day Tour from Tbilisi
–Kazbegi, Gergeti & Ananuri Mountains Private Full-Day Tour
11. Enjoy the nightlife in Tbilisi
Tbilisi has a cool selection of bars, pubs, and clubs that are garnering international attention. There is always some cool event or party going on! All you need to do is to have fun.
If you want to party like a local in Tbilisi, you should check out Canudos Ethnic Bar. It has a pretty chill and fun ambiance.
Here is where you'll find this bar in Tbilisi:
If you're into electronic music, then the best option is the Bassiani club. This is where you'll find it:
12. Visit a flea market filled with soviet-era antiques
This flea market is called the dry bridge bazaar and it's the best place to find paraphernalia of old soviet-era items.
You can find absolutely everything and anything here, from paintings, and soviet buttons, to paintings and drinking horns. Yes, you heard that right, drinking horns!
After the fall of communism, locals started coming here to sell their goods in the hope of making a bit of cash. It became the primary means of survival for some people and they have been buying and reselling things in this market ever since.
Prices may be a bit overinflated, especially if the sellers realize you're a foreigner. It's better to go with a friend that speaks Russian or Georgian and that has good bargaining skills.
This bazaar is open every day of the week from 10 AM until 5 PM unless it rains.
Here is its location:
13. Walk around the stunning Chronicle of Georgia
The Chronicle of Georgia or the "monument of kings" as it's also called is a stunning place. It's surprisingly enough not a very known place in Tbilisi even among locals.
The Chronicle of Georgia consists of gigantic pillars that reminded us of Stonehenge.
The top parts are decorated with scenes of the history of Georgia, mainly with the kings and queens who reigned over the country while the lower parts portray the life of Jesus.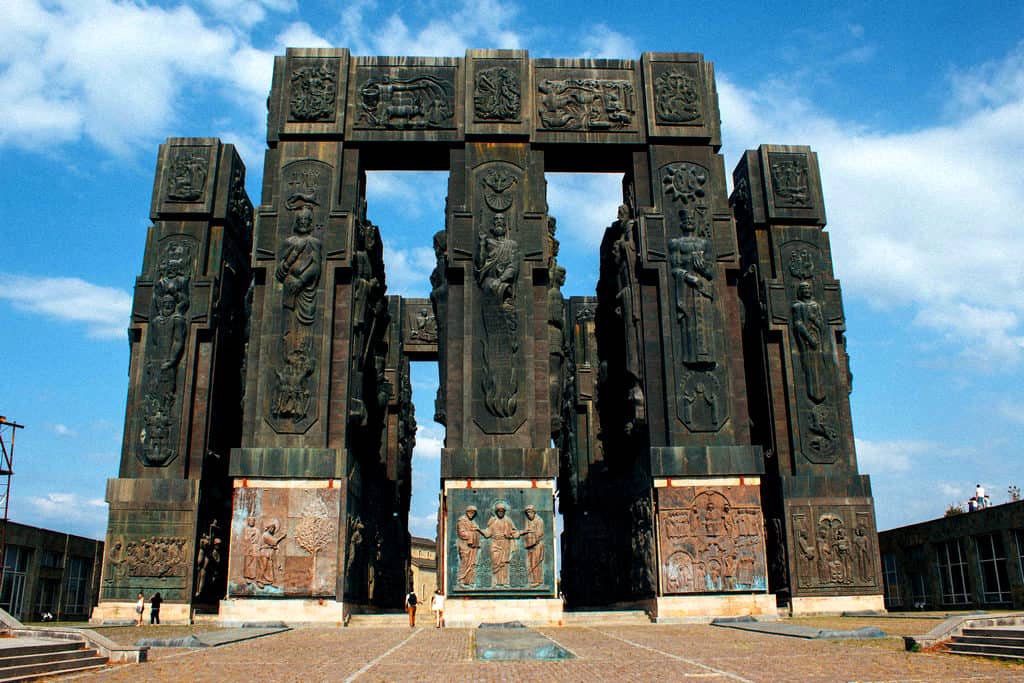 The monument was created by Zurab Tsereteli, a Georgian sculptor. The construction started in 1985 but it's still partially incomplete.
It must take ages (and huge ladders) to create a monument of this size!
In front of the monument is a cross that represents the Cross of St Nino, the woman who brought Christianity to Georgia.
Behind the rock pillars is a small chapel and when you walk around them, you'll have an amazing panoramic view over the Tbilisi Sea.
Find out how to visit this stunning monument in Discovering the Chronicle of Georgia – a hidden gem in Tbilisi.
14. Swim in Tbilisi sea
I started by telling you that Tbilisi has some waterfalls. Now I'll make the city look even more exotic by telling you it has a sea!
Well, it's not an actual sea but it's a pretty decent water reservoir and it's the perfect place to swim on a hot summer day.
Tbilisi sea opened in 1953 and became a popular spot for locals who want to escape the heat of the city during summer.
Bring some food and some water because there aren't many food stands or restaurants near the rocky beaches of the artificial lake.
Here is where you'll find Tbilisi sea:
You can take a taxi from Didube Metro Station to the Tbilisi sea. You'll have to bargain for the price but don't pay more than 12 GEL.
You could also take bus 11 or 36 to get there. Here is a website with all the different city buses in Tbilisi that can bring you to the reservoir.
[kt_box opacity="1″ background="#eded6d"]
Planning a trip to Georgia?
Read How much does it cost to travel and live in Georgia
[/kt_box]
Where to eat in Tbilisi – What are the best restaurants in Tbilisi?
If you're a fan of delicious food and want to try everything the Georgian cuisine has to offer, you'll have a blast in Tbilisi!
Tbilisi has traditional restaurants where you can sample the best of the Georgian gastronomy. There is also great European cuisine, and good vegan and vegetarian options in town.
Here are some of our favorite restaurants in the city:
Bina N37
Bina N37 is a lovely rooftop restaurant where you can enjoy some amazing Georgian food as well as great vegetarian dishes. This place has a very cozy and familiar atmosphere and the service is incredible!
The owner treats everyone with attention and care and the waiters are super attentive. Eating there feels almost like eating at your best friend's house.
The spacious balcony with its wine barrels will instantly make you feel at home. If you want some traditional Georgian food, they have delicious Khinkalis and Khajapuris as well as some savory shashlik.
Here is where you'll find this rooftop restaurant in Tbilisi:
Melograno
If you fancy an affordable Italian meal in a romantic setting, Melograno is the place for you!
This restaurant offers Italian dishes made with the freshest and most delicious ingredients. Here, you'll definitely get a lot for your money!
They have a great selection of pasta, fish, and vegetarian options. They also have a fantastic selection of homemade lemonades.
The outdoor courtyard is in the shade and it's a great place to relax in the afternoon.
Nikolozi
This restaurant is decorated to look like the inside of someone's living room.
Black and white pictures, shelves full of books, and an old keyboard are some of the few elements that add to the cozy atmosphere of the place.
Nikolozi has very affordable prices and you'll get nice big portions. I highly recommend the eggplant with walnut, the soup, and the khinkalli, they all taste so good. The homemade red wine is also a must!
Here is the location of Nikolozi:
[kt_box opacity="1″ background="#eded6d"]
Read also: Vardzia – the ancient Cave City of Georgia
[/kt_box]
Where to stay in Tbilisi? – What are the best hostels in Tbilisi?
Tbilisi is a city that is worth taking the time to discover so you'll want to stay there at least a couple of nights.
Tbilisi has a wide choice of hostels for budget travelers who want to save money to explore during the day and swap stories with fellow backpackers in the shared kitchen or bar in the evening.
It's a city that can get pretty expensive during the summer holidays but there are still a few comfortable and more importantly, affordable places where you can stay.
Most hostels will charge you around 15 – 20 GEL ($6 – $8) for a night in a dorm. Here are some of the hostels that we recommend in Tbilisi:
The name of this hostel says it all, it has a gorgeous terrace from which you can admire the city center of Tbilisi. Hostel terrace is perfectly located right in the heart of Tbilisi right next to all of the interesting sights and attractions.
Cynthia and I loved relaxing and having a tasty breakfast with a view on the terrace of this hostel. The dorm rooms are very spacious and they have large windows.
Something I thought was really cool is that some of the rooms have a decorative fireplace. Although these fireplaces are just for show, they give the rooms a warm atmosphere.
Click to check out rates and availability for "Hostel terrace"
This hostel is super quiet and relaxing and if you want a good long night of sleep, it's the place you should book. The hostel is in a big house on a very quiet street near the old city.
M42 is a place where you can find the perfect combination of positive energy, awesome people, friendly meetings and bright colors.
This hostel is super clean and spacious and it has a big garden where you relax with other travelers in the evening. If you'd rather cook your own food instead of eating out, the hostel has a super big kitchen with all the pots and pans you could need.
Click to check out rates and availability for "M42 Hostel"
This hostel has a very artsy vibe and it's beautifully decorated. Namaste offers bright dorms and private rooms with nice city views as well as a stunning terrace. Have a look at how gorgeous the hostel is!
It's a very cozy hostel in a picturesque place. You can grab a morning coffee sitting on the wide balcony and watch the Old City while you slowly wake up.
Click to check out rates and availability for "Namaste Hostel"
How to get to Tbilisi?
How to get to Tbilisi from Batumi by train?
There is a train that goes from Batumi to Tbilisi twice a day. The train covers the distance between the two cities in five hours. The first train leaves Batumi at 07:30 AM and arrives in Tbilisi at 12:25 PM while the second train leaves at 18:55 PM and arrives at 23:50 PM.
We have never been able to buy a ticket on the Georgian railway official website. What we did instead was buying our tickets from the train station in Batumi one day in advance.
Here is the location of the train station in Batumi. It's quite a long walk outside of the city, so I would advise hoping in a cab to get there:
Batumi is a lovely city to explore for a couple of days…
How to get to Tbilisi from Batumi by bus
There are two bus companies that operate between Batumi and Tbilisi, Metro Georgia and Book away. You can find the schedule for the different buses and their prices on this website. It takes 6 hours to cover the distance between the two cities by bus.
You can buy your tickets online ahead of time and then take the bus from this terminal:
Another option instead of taking a bus is hoping on a small shared van called a Marshrutka. They leave from the station just behind the Railway Station in the center of town, you just have to show up and they leave once they're full.
How to get to Tbilisi from Batumi in your own car?
If you have your own car or if you're renting one, you'll have a pleasant journey driving from Batumi to Tbilisi. There are 374 km between the two cities and driving there takes almost 6 hours.
We hope you have a fantastic time in Tbilisi, we also hope that this guide helped you find the best activities and things to do in Tbilisi. Have you been to this city before or would you like to visit Tbilisi in the future? Let us know in the comments below or by contacting us.
Disclaimer: This post contains affiliate links. If you purchase a product or service through one of the links, we get a commission at no extra costs to you! See it as a small donation to keep this blog going so we can create more awesome posts. Thank you!
KNOW BEFORE YOU GO – GEORGIA TRAVEL TIPS:
Everything you need to know about traveling independently in Georgia (visa, how to get to and around Georgia, where to stay,…):
The Ultimate Travel Guide to Backpacking in Georgia
Plan your trip to Georgia:
The best of Georgia in 15 days – 3 complete Travel Itineraries
Georgia on a budget – How much does it cost to travel to Georgia
7 Beautiful off-the-beaten-path Hikes
Everything you need to know about skiing in Georgia
Hitchhiking in Georgia – the good, the bad and the untold stories
Our Georgian city guides:
Top Things to Do in Batumi – Our Guide to a Perfect Stay
Top Things to Do in Tbilisi – Our Guide to a Fantastic Time in Tbilisi
GEORGIA TRAVEL RESOURCES: