In this article, you'll find all the info about the costs of living and backpacking in Georgia.
Georgia is an underrated backpacker's destination. Not only is it the perfect destination for nature, culture and history lovers, it's also very cheap to travel and live here.
We spent 11 months in this stunning country and it's one of the cheapest countries we've been to so far. It still surprises me that Georgia isn't added to one of those generic lists of 'Cheapest destinations in the world' or 'The best countries for digital nomads'. Maybe the writers haven't been here before, didn't do their research very well or just copied what every other blogger wrote before them…
In any case, Georgia is the perfect place for budget backpackers and digital nomads who want to settle down for a while.
For starters, Georgia is very generous when it comes to the length of the visa. Citizens from the European Union, North America, Oceania, Central Asia, South America (with the exception of Chile and Uruguay) and Southern Africa can enter Georgia one year visa-free – more info here.
[kt_box opacity="1″]
Planning a trip to Georgia?
Read: Everything you need to know about backpacking in Georgia!
[/kt_box]
This article is a breakdown of the living and travel costs in Georgia, written with the average budget backpacker in mind.
[su_box title="Current conversion rate at the date of writing this article" style="soft" box_color="#ffffff" title_color="#192645″]1,00 USD = 2,40 GEL[/su_box]
[kt_box opacity="1″ background="#eded61″]
Don't forget to read how to
See the best of Georgia in 15 days – 3 complete travel itineraries!!
[/kt_box]
How much does accommodation in Georgia cost?
Traveling:
Late spring, summer, and early autumn is a perfect time to camp in the lush and pristine countryside of Georgia. You can pitch your tent almost everywhere for free and no-one will bother you about it.
If you see a nice piece of land and you suspect it belongs to someone, ask for permission first and 99% of the time the owner will say yes. Just keep an eye out for wild dogs or animals. You might also get an occasional visit from a local who will insist on sharing a glass of wine or chacha (similar to grappa or raki) with you. Read more about our camping experiences in Georgia.
Hostels are very cheap and ideal if you travel by yourself. On Hostelworld you can find a bed in a mixed dorm room starting from $5 per night, even in the capital city Tbilisi!
In case you can't find a hostel in the town you travel to or you want more privacy, then staying in a guesthouse or homestay might be a better option, especially when you are traveling with a partner or friend. You can find a nice twin or double room on Booking.com starting from $12 per night (for 2 people!!).
Living:
Renting an apartment in Georgia is really cheap. It's one of the reasons why we stayed for almost one year in Georgia, although it depends on where you are and in which time of the year you're starting to rent. My suggestion is to look for housing before or after the high season (May – September) as the prices will be lower.
What we paid:
We lived in 3 different cities during 4 different seasons and here's what we paid on a monthly basis:
* utilities = gas, water, electricity, and internet
September to January in Tbilisi (the capital city of Georgia):
Rent: $175 for a studio outside the city center
$250 for a one bedroom apartment outside the city center
Utilities: 60 GEL (about $25) in autumn, 80 GEL (about $33) in winter
February to April in Batumi (modern and touristic city on the coast of the Black Sea):
Rent: $300 for a two bedroom apartment in the heart of the city center
Utilities: 125 GEL (about $52) in winter, 75 GEL (about $31) in spring
May to July in Gori (a non-touristic town about 80 km from Tbilisi):
Rent: $200 for a two bedroom apartment
Utilities: 50 GEL (about $20) in summer
As you can see, the prices for the utilities depend on the weather conditions and the rent on the season + location. You can also keep the costs lower if you share a flat with someone.
How to find an apartment to rent in Georgia:
We found our first apartment through AirBnB. Most hosts give a good discount if you rent per month. You can always send them a private message and negotiate about the monthly price, especially when you want to rent the flat during low-season.
There are a few Facebook groups on which you can find apartments and flats to rent and where you can also write a post with your preferences. For example: 'I'm looking for a one bedroom flat in the city center of Tbilisi for $250 per month'. You can also find people in these groups who are searching for a roommate.
– Apartments for rent in Tbilisi
– Flatshare & Roommates in Tbilisi
Another great group is Georgian Wanderers. This is a great community of expats and Georgians who will help you with any question you have about living and working in Georgia.
On the website myhome.ge you can also search for an apartment or house.
Getting around in Georgia – costs of transportation
Hitchhiking in Georgia is very easy and fun. You meet great people who will often invite you to a meal or a drink (Georgia is very famous for its hospitality but watch out with the amount of wine you drink – talking out of experience…) and it's an adventurous and free way of getting around!
Mashrutka (mini-bus) – travel like a local!
The moment you set foot on Georgian ground, you'll see these small buses all over the roads. It's the main public transport for the local people to get around in cities, villages and across the country. It's the cheapest transportation and relatively comfortable. The mashrutky don't have a fixed schedule but you'll find them all over the place. You can stop them by waving your hand at the driver.
A short distance ride within a city or village will usually cost you between 0.50 GEL and 2 GEL, a long distance ride to go from one city to another usually costs between 5 GEL and 30 GEL (f.ex. Tbilisi – Batumi will cost you 20 GEL). We never know how much exactly we have to pay, but we always ask people on the mini-bus in English or Russian how much it costs (any ride within Tbilisi is 0.80 GEL)
You get off the mashrutka by yelling 'Ka'cheret (ga- aa -tche-re) -which means 'stop' and you pay the driver when you get off the bus.
There are city buses in Tbilisi and Batumi that will bring you to all the main areas of the two cities. A ticket costs 0.50 GEL and you can buy it on the bus itself. Get on the bus in the middle part where you'll see a ticket-officer (they were a special jacket) and give him/her your money. They will take care of your ticket. It's hard to figure out the specific routes and schedules but after a couple of months I found out that you can use Google Maps. Just type your current location and the address or area you want to go to and dear Google will give you the time and number of the bus you have to take!
→ There's also a bus that runs between the Tbilisi airport and the city center which costs 0.50 GEL
I've sometimes seen big buses on the roads but there's only one mainline between Tbilisi and Batumi.
If you want to travel from one city to another, I would suggest you take the mashrutka or the train. The train is pretty straightforward and very cheap. You pay about 18 GEL for a 5-hour train ride in comfort from Tbilisi to Batumi.
You first have to register on the website Georgian Railway and then you can look for timetables and tickets. If you're having a hard time navigating the website, ask the help of a friend or your host or you can also go to the train station. The Georgians are always happy to help you out!
Georgian taxis are everywhere and they normally aren't expensive but sometimes the drivers like to take advantage of unwary foreigners. Before you get in the taxi, make sure you agree on the price! When you want to take a taxi within Tbilisi or Batumi for a short distance, you should pay between 5 and 8 GEL per ride.
You should pay less in other cities. Some taxis have a meter but there are a few cheeky drivers who will turn it off if they see you're a foreigner. If you don't feel like bargaining and you want to count on a fair price, you could use apps such as Taxify.
→ One tip if you want to take a taxi to or from the airport: the standard price between Tbilisi city center and the airport is 25 GEL (and not 65 or 70 GEL as the cheeky drivers like to charge tourists).
Be ready: Being a passenger in a Georgian vehicle will significantly raise your adrenaline levels! Somehow all the drivers have this need for speed and you'll often hear yourself gasping for breath and making a little prayer when the drivers are racing each other on the roads.
How much does food in Georgia cost?
The cheapest way to eat, no matter in which country you are, is by buying food from the local supermarkets. Georgia is so cheap though that we treated ourselves by eating out once a week in a nice restaurant. You just have to try the delicious Georgian cuisine! Here's a break-down of the average costs of what we paid for shopping and eating in a restaurant.
Meal for 2 people in an inexpensive restaurant: 15 GEL
Meal for 2 people in an expensive restaurant: 50 GEL
Coffee/ Tea: 2 GEL
Cappuccino: 3 GEL
Bottle of domestic beer: 2.5 GEL
Bottle of imported beer: 4 GEL
Glass of house wine: 5 – 6 GEL
Bottle of house wine: 15 – 20 GEL
Cocktail: 10 GEL
Glass of Cola/Lemonade: 1 – 2 GEL
Glass of Water: 0.50 GEL
Loaf of bread: 0.80 GEL
Local Cheese (500 gr): 4 GEL
Rice (1kg): 2 GEL
Pasta (500g): 1 GEL
Eggs (12): 3.5 GEL
Tomatoes (1kg): 2.5 GEL
Cucumbers (1kg): 2.5 GEL
Onions (1kg): 1 GEL
Potatoes (1kg): 1.2 GEL
Bananas (1kg): 3.8 GEL
Apples (1kg): 2.2 GEL
Oranges (1kg): 3 GEL
Chicken breasts (1kg): 8 GEL
Bottle of water (1.5L): 1 GEL
Bottle of wine (75cl): 6 GEL (white) – 9 GEL (red)
Bottle of domestic beer (0.5L): 2 GEL
Bottle of imported beer (0.33): 2.20 GEL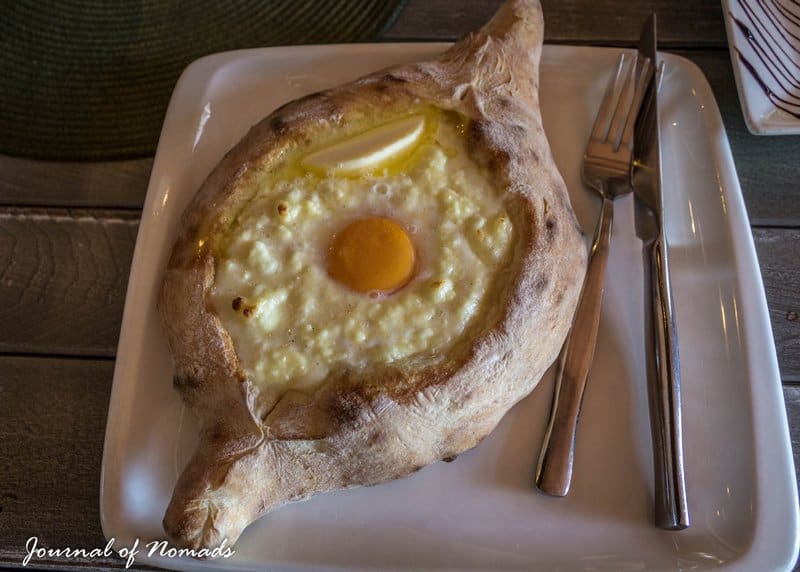 You might also want to do some additional activities and visits. The entrance fee to most museums and National Heritage Places like Vardzia will be around 3 – 5 GEL. A guided tour will cost you between 15 and 50 GEL. Just know that those public places are closed on Mondays.
Vardzia
Conclusion: you can make your trip to Georgia as cheap or expensive as you want. For us, as budget backpackers, it's a great destination to travel and live for a long time without becoming broke!
[su_box title="How much does it cost to live and travel in Georgia" style="soft" box_color="#ffffff" title_color="#192645″]Average costs per day (accommodation + transport included) per person = $20
Average costs per day (when camping and hitchhiking) per person = $6
Average living costs per month for two people = $500[/su_box]
[kt_box opacity="1″ background="#eded61″]
Feeling inspired to visit Georgia? Head over to our Backpacker's Guide to Georgia where you'll find EVERYTHING you need to know about this stunning destination!
[/kt_box]
What's your average travel budget per day? Do you know other great budget destinations? Let us know in the comments below!
KNOW BEFORE YOU GO – GEORGIA TRAVEL TIPS:
Everything you need to know about traveling independently in Georgia (visa, how to get to and around Georgia, where to stay,…):
The Ultimate Travel Guide to Backpacking in Georgia
Plan your trip to Georgia:
The best of Georgia in 15 days – 3 complete Travel Itineraries
Georgia on a budget – How much does it cost to travel to Georgia
7 Beautiful off-the-beaten-path Hikes
Everything you need to know about skiing in Georgia
Hitchhiking in Georgia – the good, the bad and the untold stories
Our Georgian city guides:
Top Things to Do in Batumi – Our Guide to a Perfect Stay
Top Things to Do in Tbilisi – Our Guide to a Fantastic Time in Tbilisi
GEORGIA TRAVEL RESOURCES: