This is a complete guide for the independent traveler with everything you need to know about backpacking in Georgia.
Georgia is a small country right on the intersection between Europe and Asia, sandwiched between Russia in the north and Turkey in the South. It's an ancient country tugged away in the Caucasus Mountains and home to very determined people who, despite a tough history of war and conquerings, still strongly value their unique religion, culture and centuries-old traditions!
Georgia, or Sakartvelo as the citizens call it, is slowly on becoming a very popular touristic destination. After living there for almost one year, we understand why travelers are drawn to this magnificent and wild country!
[kt_box opacity="1″ background="#eded6d"]
Planning a trip to Georgia? Here are
3 complete travel itineraries to see the best places of Georgia in 15 days!
[/kt_box]
Ushguli – Svaneti
1. Do you need a visa for Georgia?
Georgia is very generous with its tourist visa regulations. Citizens from the European Union, North America, Australia and the countries on this list can enter Georgia visa-free for one full year! This means that you can just show up at the airport in Tbilisi or at any land border and you'll be allowed to enter Georgia.
If your country of residency is not on that list, you'll have to apply for an e-visa, which will allow you to stay for 30 or 90 days, depending on your home country. You can check that out here.
How to apply for an e-visa for Georgia and what do you need?
What you need to apply:
Passport
Document proving the purpose of travel (if it's tourism, just provide your itinerary with proof of accommodation)
Proof of accommodation
Travel and health insurance
A bank statement or document proving sufficient financial means to cover your travel expenses in Georgia
Where to apply for an e-visa:
There's no need to go to an embassy or consulate. You can apply online on this website. All you need is a credit or debit card and scanned copies of your documents. Fill in the online application, upload the scans of your documents and pay. That's it! After 5 working days, you receive your e-visa. Print it out and bring it with you on the day you enter Georgia.
How much does an e-visa for Georgia cost?
A standard tourist visa for Georgia costs 20USD + 2% service fee.
→ Important:
You can't enter Abkhazia or South Ossetia, two separatist regions in Georgia, on a Georgian visa. It's currently not even possible to visit South Ossetia from Georgia. You can enter Abkhazia but only on foot and with a special visa. Read more about it in the travel guide to Abkhazia by Megan Starr.
How can you renew or extend your visa for Georgia?
You can't extend your visa for Georgia but you can easily renew it.
If you're a citizen of a country that gets a free visa on arrival, you can simply renew this visa by crossing the border into one of Georgia's neighboring countries, stay there for a few days and come back. You'll receive a new (free) visa upon your return.
If you entered Georgia with an e-visa, you can apply for a new one. However, if you have an e-visa for 90 days, you're allowed to stay in the country for 90 days within 180 days so you can only apply for a new visa every 6 months. If you have an e-visa for 30 days (you can stay 30 days within 120 days), you can re-apply every 3 months.
Enjoying the sunset in Tbilisi
2. Entering and exiting Georgia
2.1 By Plane
There are 3 international airports in Georgia:
1) Tbilisi International Airport
Tbilisi is the capital city of Georgia and this is the country's main international airport. The airport is about 17km from the city center.
How to get from Tbilisi airport to the city center and back?
By taxi: There will be plenty of taxi drivers at the airport who will be very happy driving you to the city center. You'll have to bargain for the price but the normal rate for a taxi to and from the airport shouldn't be more than 30 GEL!
By bus: There's a minibus (#37) that runs daily (from 7 am to 11 pm) to and from the airport to the city center (Rustaveli station or Freedom Square). It costs only 0.50 GEL and you pay the driver but it can take up to 45 minutes to reach the city center as it stops everywhere along the way.
By train: You can take a train from the airport to the main train station in Tbilisi, however, it only runs at 8.45am and 6.05 pm.
2) Batumi International Airport
Batumi airport is the second biggest international airport in Georgia and is located 2km south of the city Batumi.
How to get from Batumi airport to the city center and back?
By taxi: You'll have to bargain for the price but a taxi to and from the airport should cost between 15 and 20 GEL.
By bus: There's one bus (#10) that runs regularly from the airport to Batumi center and back. The bus stop is in front of the terminal and it takes about 20 minutes to get to the city center. It costs 0.40 GEL and you pay on the bus itself.
3) David the Builder Kutaisi International Airport
This airport is about 14km west of the city Kutaisi.
How to get from Kutaisi airport to the city center and back?
By taxi: A taxi between the airport and the city center of Kutaisi costs around 20 GEL.
By bus: There are buses going from Kutaisi airport to the city center of Kutaisi (5GEL) but also to Tbilisi (20 GEL) and Batumi (18GEL). You can purchase tickets for these buses at the Georgian bus counter right near the exit of the terminal.
2.2 By Land
You can enter Georiga overland from Turkey, Russia, Armenia and Azerbaijan (read our border crossing report here).
For more info about the different border crossings, go to this page on Caravanistan.
3. Which vaccinations do you need for Georgia?
You don't need any compulsory vaccinations to travel in Georgia. However, vaccinations for Hepatitis A and Rabies are recommended. Rabies can be found in dogs, bats and other mammals in Georgia.
To be honest with you, we weren't vaccinated for Rabies and even though there are a lot of stray dogs in Georgia, we never dealt with any aggressive ones. In case you get bit, just go straight-away to a doctor for a check-up.
Most stray dogs are sweet and won't harm you but be cautious
4. What do you need to bring to go backpacking in Georgia?
4.1 Money
In Georgia, you pay with Georgian Lari (GEL). 1USD is about 2.5 GEL (January 2018).
There are ATM's in every city so if you have a credit or debit card, you don't need to bring cash money – except for when you want to visit remote villages and regions, such as Tusheti. There are also plenty of exchange offices, especially in the capital Tbilisi, in case you want to exchange some dollars or euros.
[kt_box opacity="1.0″ background="#eded6d"]
Traveling in Georgia is very cheap.
Read "How much does it cost to travel in Georgia" to calculate your budget.
[/kt_box]
4.2 Travel Insurance for Georgia
It is mandatory to have travel insurance if you are traveling to Georgia. However, when we entered the country, we were never asked about it. Traveling without insurance is a risk so it's probably better to have one.
If you don't have travel insurance yet, I suggest to sign up for the travel insurance provided by World Nomads! Click here for more information and prices.
4.3 Power sockets in Georgia
The power sockets in Georgia are of type C and F. The standard voltage is 220 V and the standard frequency is 50 Hz.
4.4 Which clothes do you need for Georgia
Georgia has three different climates. The climate along the coast of the Black Sea is rainy and mild, with average temperatures of 20°C in summer (June – September) and 5°C in winter (December – March).
The climate in the central and eastern areas of Georgia is more arid, with average temperatures of +25°C in summer and 0°C in winter. The mountains have an Alpine climate, with heavy snowfall in winter. The average temperature in the mountains in summer is +20°C and -20°C in winter.
Pack appropriate clothes for the period in which you're traveling. If you're planning on doing some hiking and camping in the mountains, bring warm clothing, even during summer as it can become cold at night.
As a woman, it's okay to wear miniskirts, short shorts, and tops (if you don't mind being stared at by some men). Only if you want to visit a church, you'll have to cover your legs and arms and you'll also have to cover your head with a scarf.
5. What is the best time to visit Georgia?
You can visit Georgia the whole year round, depending on what you want to see and do during your trip.
If you want to do some hiking, then the period between May and September would be the best time. All the roads to the mountains are open and the temperature is pleasant for camping. It's also the only period in the year that you can visit Tusheti, Georgia's most remote region. The landscapes there are absolutely breath-taking and you'll find some very unique and ancient settlements.
Omalo – Tusheti
If you love skiing and you don't mind the cold and snowy weather, then you should visit Georgia between the months of December and March. The website Georgia Starts Here has a great overview of the best ski resorts, check it out here.
Georgia is just magical during the winter! It might be cold but everything turns into a beautiful winter wonderland. Have a look at our photo-essay of the cave city Vardzia and even Batumi, Georgia's most extravagant city at the Black Sea coast, isn't spared by the snow.
Winter Wonderland in Batumi
No matter at what time of the year you visit Georgia, you're in for a beautiful treat!
[kt_box opacity="1″ background="#eded6d"]
Our selection of The 15 most beautiful and unique places to visit in Georgia can help you with making your itinerary!
[/kt_box]
Vardzia in winter. See more photos here
6. The best ways to get around in Georgia
6.1 Traveling in Georgia by public transport
You can get around in Georgia by mashrutka (mini-bus), train, bus, and taxi.
* Getting around by mashrutka (mini-bus)
Travel like a local! Taking a mashrutka is the cheapest way to get around in Georgia. It's the main public transport for the locals to travel in and around cities and across the country.
The mashrutky don't have a fixed schedule but you'll find them EVERYWHERE! Just stand on the side of the road and wave at one of the approaching mini-buses. The driver will stop for you. If you want to get off, move towards the front of the mini-bus and say (or shout) "ka-che-rett" (Georgian for "stop").
For short distances, you pay the driver once you get off. If you're going on a long journey with the mashrutka, you pay up front at the ticket office (in case you're at a bus station) or the driver himself. Have a look at our article "How much does it cost to travel in Georgia" to get an idea of the prices. We also share in detail how to get to certain cities and places worth visiting in the 15 most beautiful places in Georgia.
→ You can also take a city bus to get around in Tbilisi and Batumi. A ticket costs 0.50 GEL and you can buy it on the bus itself. Get on the bus in the middle part where you'll see a ticket-officer (they were a special jacket) and give him/her your money. They will take care of your ticket.
It was hard to figure out the specific routes and schedules of the buses, but after a couple of months I found out that you can use Google Maps. Just type your current location and the address or area you want to go to and dear Google will give you the time and number of the bus you have to take! Hooray for technology!
* Getting around by metro
It's also possible to take the metro in Tbilisi. It's very cheap and easy. Purchase a metro card for 2 GEL at the entrance of the metro station and put some credit on it. This can be done using one of the zillion orange ticket machines you'll see around you (if needed, you can always ask a local for help, they'll be more than happy to assist you!).
One trip with the metro costs 0.50 GEL and you can use one metro card to pay for multiple passengers. You can also use this card to pay for a ride on the city bus or mashrutky in the city!
* Getting around by train
There aren't that many train lines in Georgia and some of the trains are very slow but it's quite an experience! You can check the website of Georgian Railways for routes and timetables. The fastest and most straightforward train ride is the one between Tbilisi and Batumi. You pay 18 GEL for a seat in economy class and you can comfortably sit back, relax and look out the window to watch the marvelous views passing by.
You can buy tickets at the train station or online, on the website of Georgian Railways where you'll first have to register. If you're having a hard time navigating the website, ask for help in the hostel/ hotel you're staying.
Busy times on the slow train
* Getting around by taxi
You can find taxis everywhere and they aren't expensive but sometimes the drivers like to take advantage of unwary foreigners. Before you get in the taxi, make also sure you agree on the price!
For a short distance in Tbilisi or Batumi, you should pay between 5 to 10 GEL per ride. Some taxis have a meter but there are a few cheeky drivers who will turn it off if they see you're a foreigner. If you don't feel like bargaining and you want to count on a fair price, you could use apps such as Taxify.
* Domestic flights in Georgia
Georgia isn't a big country to travel in but if you want to save some time, you can always opt to take a domestic flight between Natakhtari (Tbilisi) and Mestia (Svaneti) and between Kutaisi and Mestia. A one-way flight between Natakhtari and Mestia costs around $50, a one-way flight between Kutaisi and Mestia $40. You can book your flights on Vanillasky.ge
6.2 Driving in Georgia
You can travel around by driving your own car or a rental car. They drive on the right side of the road in Georgia. Here's a useful checklist with all the requirements. The state of the roads is generally ok although I would recommend you to rent a 4WD if you're planning on driving in the mountains.
Be careful! We really love the Georgian people but they are crazy drivers! Up until now, it's the only country where I haven't felt safe on the roads! They love overtaking on blind bends and speeding like crazy while simultaneously checking their phone. Expect the unexpected!
Fuel can be a problem. Go to official-looking gas stations and make sure you get the right petrol for your car! In case you're renting a car, ask the rental company to write down in Georgian which fuel you need so you can show this at the gas station.
If you're an experienced and confident driver, then going on a road trip through Georgia will definitely be worth it! You'll be able to get to very remote places and camp under the stars!
Our friend Mitchell from mitchellk-photos made a few spectacular road trips in Georgia. Have a look at his stunning photo diaries!
On the road to Tusheti
6.3 Hitchhiking in Georgia
We mainly traveled around Georgia by hitchhiking and it was an adventure on its own! Although I nearly peed my pants a few times, due to the recklessness of the drivers, we had a great time hitchhiking! We had an average waiting time of 5 to10 minutes, which is pretty good!
If you want to hitchhike, I'd recommend learning some basic Russian. Although the younger generation (-30) speak English, the majority of the people won't understand this language. They speak Russian as a second language (see "9. Which languages are spoken in Georgia"). You could try to learn Georgian but it's a super difficult language to master!
[kt_box opacity="1″ background="#eded6d"]
If you'd like to hitchhike in Georgia, read our tips and stories in
9 months of hitchhiking in Georgia – the good, the bad and the untold stories!
[/kt_box]
It's not unusual in Georgia to end up with a gallon of homemade wine while you're hitchhiking (gift from one of our drivers)
7. Accommodation in Georgia
Whether you want to camp (in the wild) or stay in a hostel, guesthouse or luxurious hotel, Georgia has it all! We mainly camped or used booking.com to find accommodation in Georgia. Hostels are the cheapest option, starting from 5USD per night for a bed in a dorm. You can find a nice twin or double room on booking.com, starting from 12 USD per night.
For specific recommendations, read our article 15 amazing and unique places to visit in Georgia.
Tips if you want to go camping in Georgia:
There are a few designated camping areas in Georgia and nobody will tell you off if you pitch your tent somewhere in a meadow or a forest. Just be aware of wild dogs and animals. Don't keep your food in the tent, but hang it in a sealed bag in a tree, at a small distance from your campsite. If you're planning on camping in the mountains, keep in mind that it can get cold at night.
8. Food and drinks in Georgia
The food in Georgia is finger-licking delicious! It doesn't matter whether you're a meat eater, a vegetarian or a vegan, you'll enjoy the Georgian cuisine!
The most popular dish in Georgia is khachapuri. It's a gooey cheese-filled bread that looks a little like pizza. Rich in carbohydrates and dairy, it could cause a lot of trouble to lactose-intolerants but they might find the cramps worth it!
There are so many more delicious Georgian dishes that I could write a whole article about it. Oh wait, I did! Read 10 dishes from the Georgian cuisine that you absolutely have to try to prepare yourself for this culinary journey!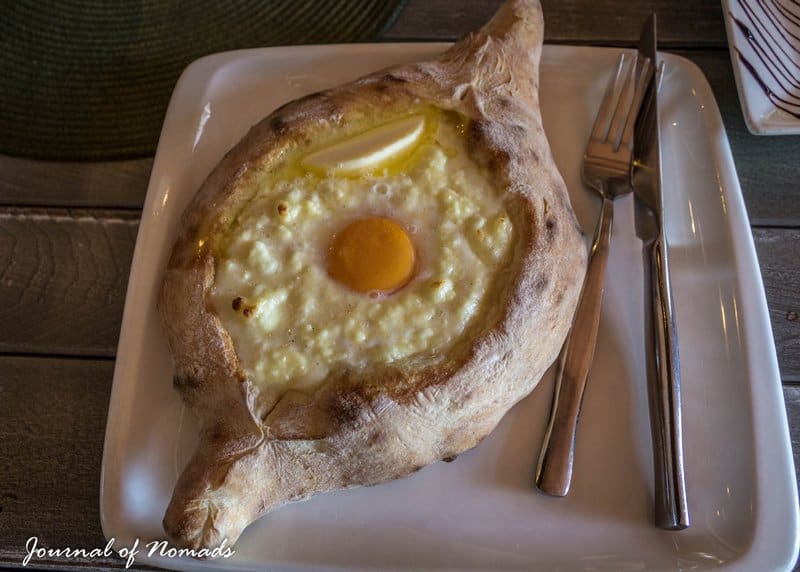 Khachapuri
Alcohol flows freely in Georgia. From Georgian craft beer to home-made wine to the notorious chacha (a Georgian pomace brandy, ranging between 40% to 65% alcohol…). You've got to try it all but please, consume in moderation!
Georgians love a good toast and they drink wine with abundance but as a foreigner, it's often hard to keep up with all these toasts and drinks. I'm talking out of experience…
Read more about the drinking traditions in Oh Georgia, sweet mother of wine. You'll also find tips on how to prevent a hangover…
Did I already mention that it's also not unusual to drink wine out of horns?
9. Religion in Georgia
Orthodox Christianity is the main religion in Georgia and there are many centuries-old churches and monasteries that you can visit all over the country. The Georgians are very religious and you'll see a lot of images of the different saints in households, cars, and mini-buses.
One of the most important saints in the country is Saint Nino, known as the Enlightener of Georgia. Many girls are named after her (Nino, Nini, Nina). She's the woman who preached Christianity in Georgia and the reason why this religion was adopted as the state religion in the year 330.
10. People & Culture
Despite repeated periods of foreign occupation, the country's rich and ancient historical roots date back thousands of years. Georgia's monumental architecture, unique traditional music, colorful dances and art combine to give the country, and its hospitable and gracious citizens, a strong sense of national identity.
The development of the nation is linked to King Parnavaz's endeavor to unite Georgia in the 3rd century BC. At that time people from various parts of the country spoke different languages and had little in common. Some of these smaller regional ethnocultural entities still have their own specific traditions, customs, folklore, cuisine, and language. A great example of this are the Svans, the people who live in Svaneti.
Georgians call themselves Kartveli and their land is called Sakartvelo. These names were taken from Kartlos, a pagan god that is said to be the father of all Georgians. The foreign name of Georgia has been used all over Western Europe, and it is mistakenly believed to come from the country's patron saint, St. George. However, the term Georgian does not refer to St George, but rather to the ancient Persian word, Gorg, Kurj or Gurj, which means wolf, a totemic symbol of Georgian culture.
Georgians are one of the most hospitable people we encountered. They truly believe that guests are a gift from God so you can expect many invitations for a meal when you visit small towns and villages. This meal will probably turn out to be a supra, a large dinner party involving many toasts with wine. Beer is only used to toast to the enemy so never toast with beer!
If you get invited, bring flowers, sweets or chocolate for the hosts. Make sure that you give an odd number of flowers since even numbers are given on funerals.
The common greeting is a handshake while saying 'Gamarjoba' (which means 'hello'). Once a person knows you better, you might get greeted with a kiss on the cheek.
You don't have to worry about giving a tip because most restaurants include a 10% service charge in the bill. If there's no service charge presented on the bill, there's no need to tip but of course, they will appreciate it if you do.
11. Which languages are spoken in Georgia?
Georgian is the official language of the country. It's a Kartvelian language that is over 2000 years old (!). It's one of the oldest spoken languages in the world and probably the hardest one to learn with its complicated grammar rules and peculiar throat sounds. The language has very little in common with any other spoken languages. Georgian also has its own alphabet.
English is spoken, but only by the younger people who live in the cities. If you want to be able to talk with the locals, I'd suggest you learn some Russian.
Georgia used to be part of the former Soviet Union, so the Russian language is widely known in the country and is considered to be the international language. I must mention that this is slowly changing. The English language is now taught in schools, but for the time being, it's still convenient to be able to speak Russian.
[kt_box opacity="1″ background="#eded6d"]
We learn Russian by using the audio classes of Pimsleur. This is a great learning method to study a new language. Click here for more information.
[/kt_box]
A phrasebook can also be useful. I recommend the Lonely Planet Russian Phrasebook & Dictionary.
You learn a lot more about the culture and traditions when you're able to speak a common language!
12. Is it safe to travel in Georgia?
Georgia is one of the safest countries I've ever been to! You can walk around with an expensive camera late at night and nobody will try to rob you. The Georgians are very respectful and genuinely nice people!
There are just a couple of things you should be careful about:
As a woman alone it is safe to travel or hitchhike in Georgia but … men will stare at you. A lot! Some guys will try to hit on you and – even though it's their full right to try to seduce a girl – they don't easily take no for an answer. Don't be afraid to be rude if they don't leave you alone. It's the only way to keep the guys at a distance.
Be careful on the road. I already mentioned how dangerous people's driving style in Georgia is. ALWAYS buckle up whenever you get in a car and be VERY careful whenever you cross a street. There aren't many pedestrian crossings and even if there is one, the cars won't stop for you, not even when there's a stop sign or when the traffic light is red … They like to ignore the traffic rules.
Never go hiking in the mountains without proper equipment, and preferably, don't go alone. The mountain regions are sparsely populated, there are wild animals and stray dogs and if something happens, there's no-one around to help you. Be adventurous but don't be stupid!
[kt_box opacity="1″ background="#eded6d"]
For some great hiking suggestions, check out our article
[/kt_box]
13. A few more useful things to know before you go backpacking in Georgia
13.1 Is it safe to drink tap water in Georgia?
It's hard to make one general statement for an entire country but I would say yes, it is safe to drink the tap water in Georgia. This small and developing country puts a huge effort into its drinking water quality.
There are several water supply companies in Georgia who's main job is to filter and control the water quality. However, the water in Tbilisi sometimes tasted like chlorine and in some buildings, the water pipes are pretty old and rusty. If you don't want to take risks, you can always filter the water using a Lifestraw Water Bottle.
Niko and I spent nearly one year in Georgia and we never got sick from drinking the water. Did you actually know that Georgia is known for it's bottled mineral water coming from Borjomi, Bakuriani, Bakhmaro,…? During one of our many hitchhiking trips, we met people from neighboring countries such as Turkey and Azerbaijan, who came all the way to Georgia with the intention of buying bottles of water from Borjomi!
You'll find many waterfalls and rivers in Georgia
where you can drink the water without becoming sick!
13.2 Bathroom facilities
You can find western-style toilets in cities, guesthouses and hotels but in remote areas and in the public toilets of bus and train stations you'll have to be comfortable with using a squat toilet. Not all public toilets have toilet paper so it wouldn't be a bad idea to carry some with you. It's also really bad to flush the paper into the toilet as the drains block easily so use the small bin provided.
13.3 Internet in Georgia
It's very easy and cheap to get mobile internet in Georgia. We suggest Magticom. You can buy a sim card for about 5 GEL at any Magticom shop (you'll see them everywhere in the big cities). Bring your passport as you'll have to get registered.
Once you've got your sim card, install the Magticom app on your phone. Once it's installed, you can set up the app in English. Enter your phone number, add a password and you're ready to buy credit at any moment of the day. We used to buy 4000 MB for only 10 GEL per month. You can also get unlimited internet for 150 GEL per month.
In case you're a digital nomad and you need to work online, you can count on the internet in the big cities. It might be a bit slower in some hostels but in general, it's reliable and fast. We rented a flat and had our own private connection (that came with the apartment). Just keep in mind that once or twice a month there might be a power cut, even in Tbilisi or in Batumi, but they usually never last longer than 4 hours.
I'm wishing you an amazing time in Georgia! I'm sure you'll love the country as much as Niko and I did! If you still have questions about your upcoming journey, let us know in the comments below or send us an email.
[kt_box opacity="1″ background="#eded6d"]
Find more inspiration for your upcoming trip in our Travel Guide to Georgia.
Don't forget to check out our Travel Videos of Georgia!
[/kt_box]
Disclaimer: This post contains affiliate links. If you purchase a product through one of the links, we get a commission at no extra costs to you! See it as a small donation to keep this blog going. Thank you!
KNOW BEFORE YOU GO – GEORGIA TRAVEL TIPS:
Everything you need to know about traveling independently in Georgia (visa, how to get to and around Georgia, where to stay,…):
The Ultimate Travel Guide to Backpacking in Georgia
Plan your trip to Georgia:
The best of Georgia in 15 days – 3 complete Travel Itineraries
Georgia on a budget – How much does it cost to travel to Georgia
7 Beautiful off-the-beaten-path Hikes
Everything you need to know about skiing in Georgia
Hitchhiking in Georgia – the good, the bad and the untold stories
Our Georgian city guides:
Top Things to Do in Batumi – Our Guide to a Perfect Stay
Top Things to Do in Tbilisi – Our Guide to a Fantastic Time in Tbilisi
GEORGIA TRAVEL RESOURCES: