The first time we saw Batumi, Georgia's second largest city, it wasn't really love at first sight. It gave us the impression of a little Las Vegas where tourists from Turkey and Russia would gamble the night away in its casinos. We had just crossed the border with Turkey and didn't bother taking the time to visit the city center. Instead we continued hitchhiking towards Tbilisi. We never thought we would return to Batumi one day and fall in love with it!
How we fell in love with Batumi
Four months later we went back for a brief visit. The only reason why we gave the city a second chance was because a friend had asked us to go on a trip to Batumi with her . Well, it was Niko who convinced me to go because at first I didn't really feel like it. And I'm glad he did! I didn't realize how much I had missed the fresh sea breeze that welcomed us as soon as we arrived in this coastal city. It was in the middle of winter but the sun was shining, the weather was sweet and yes, it made me want to move my itchy feet!
It wasn't just the stunning view over the snowy mountains on one side and the dark blue sea on the other that enchanted me. There was something about Batumi that I really liked. It's a beautiful city in it's own wickedy-wackedy way. I was marveled by the strange architecture - something that doesn't happen often (I'm from Bruges...) – and I really enjoyed its refreshing vibe. So much that after just spending one day Niko and I both decided we would live there for a few months.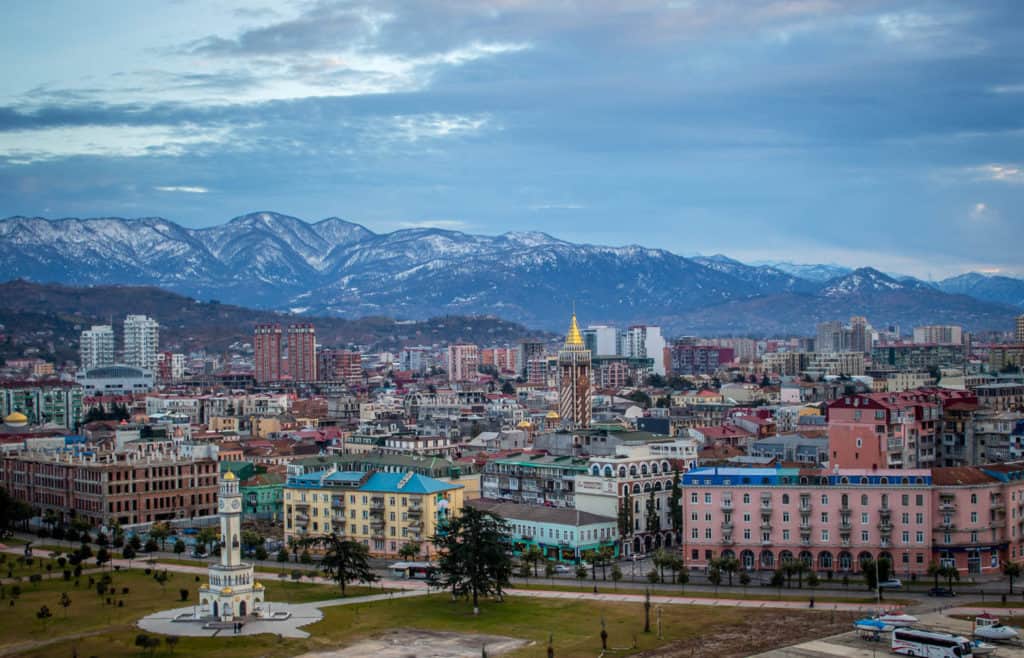 Now, three months later our time in Batumi came to an end. We moved to another part of Georgia for our final chapter in this country and although I'm excited about the change, I know I'll miss this city a lot. I've seen how the winter covered Batumi in a beautiful white coat (see Winter Wonderland in Batumi) and how spring put it in bloom. It almost feels like saying goodbye to a lover with whom I had a short romance.
My fondness for Batumi is based on personal experiences and I wouldn't want to create high expectations for anyone who's interested in paying this city a visit. Note that Niko and I were living there during the low season (between October and April) when the city wasn't overrun by tourists. Our impressions could have been completely different during summer but in case I aroused your curiosity and you're considering a trip, I made a list of our favorite places and things we did in Batumi. And nope, it doesn't include gambling in the casinos or partying in the countless night clubs (it's not exactly our kind of thing...).
Our favorite places and things to do in Batumi
1. Go to the beach
The fresh sea air was one of the main reasons why we chose to live in Batumi after spending five months in the capitol city of Georgia. It wasn't exactly the right season to sunbath on the rocky beach or swim in the salty waters of the Black Sea but it was definitely very pleasant to walk for hours along the sea shore, especially during sunset. We heard that the beach can be very crowded during summer but if you come any other time outside the high season, you'll be able to enjoy precious moments of peace and quiet.
2. Walk, run or cycle on one of the longest seaside boulevards in Europe
The Batumi Seafront Boulevard was my favorite place to go for a walk after a long day of teaching online. It's 7 kilometers long and you can either choose to walk on the pavement next to the rocky beach or through the line of trees in the park. Niko loved going here for his morning or evening runs.
If you don't like walking long distances but you want to see the whole boulevard, there are various bicycle rental points so you can always bike along the cycling path! Oh, and the best thing is there are no cars around, just the sound of the wind blowing through the trees, waves breaking on the shore, birds whistling in the trees and the screams of little kids wanting ice-cream.
Things you'll see along the boulevard:
Start the walk in Miracle Park, which is near the Sea Port of Batumi. The park is famous for the Alphabet Tower, the Statue of Love, the Ferris Wheel and the Chacha Clock Tower.
The Alphabet Tower
This metallic structure symbolizes the uniqueness of the Georgian alphabet. The tower combines the two helix strands of the human DNA with the 33 letters of the alphabet, a representation of how the Georgian language is part of the people. You can even go on an elevator that will bring you to the top. There's always some music on the ground floor and, cheesy as we are, Niko and I sometimes danced to the tunes of ballads playing.
The Statue of Love aka Ali & Nino
Talking of romance. One of the most famous statues in Batumi is the Statue of Love. It's an eight meter steel sculpture of a man and a woman created by the Georgian artist Tamara Kvesitadze. She made this moving metal artwork in 2010, inspired by the tragic love story of Ali and Nino based on the novel by Kurban Said. The story is very similar to that of Romeo and Juliet.
The moving statue tells the romance of Ali, an Azerbaijani Muslim and Nino, a Christian Georgian princess. The story is set in Baku (Azerbaijan) between 1918 and 1920. Their families resisted their love because of their different cultural and religious backgrounds but when Ali and Nino finally found a way to be together, the first World War hit home and Ali was killed during the invasion of Soviet Russia. Yes, very sad story!
Each day the two figures slide towards each other, but after merging into a brief embrace their segments pass between each other and the statues move away from one another. They can never truly connect...
It is said that the statues come to life once a day at 7 pm but you can't really count on that. The first time we went to see the statue, the figures kept their ground and didn't even move one inch. Other days we saw them moving during day time. I guess you should just go and hope you came at the right time to see them merge into one piece every 10 minutes. Evening time is the best as the figures are illuminated with colorful lighting effects.
The Ferris Wheel
We went a few times for a ride on the Ferris Wheel. It costs only 3 GEL and it gives a beautiful panoramic view over the city, the beach and the port. It closes at night but then it's just nice to get hypnotized by the lighting effects of the wheel. Be warned if you're under mind-altering substances, you might spend hours staring at the buzzing colors!
The Chacha Clock Tower
This 25 meter clock tower is known as the "Chacha Tower". Chacha is the national drink of Georgia, a strong spirit distilled from the grape residue (pomace) left after making wine. Some compare it to grappa, vodka or brandy. The Chacha Tower was the brainchild of the city government with the intention of creating a tower fountain, where instead of water the Georgian chacha would flow to give everyone (citizens and tourists) the opportunity to taste it. Every day at 7pm, the tower would dispense chacha for free. Wait, what?! Free booze?! Oh Georgia, how wonderful art thou!
Unfortunately we're also dealing with Georgian time here, which means you can't predict when it will actually work (remember Ali and Nino). Until today we haven't seen any chacha coming out of the fountain. Maybe they ran out? Oh wait, we're in Georgia, no way they would run out of alcohol! But your best bet to try chacha is to go to the Chacha Time bar or make friends with the locals. They'll always have a plastic bottle filled with chacha lying around and they'll be more than happy to share it with you. Trust me when I tell you that chacha flows freely in this country! No need for a fountain here!
As soon as you walk from Miracle Park further along the Boulevard (or stagger, depending if the chacha fountain was working or not) you can already see the first of many love sculptures you'll come across. I told you that Batumi was the city of love! This theme is captured across the whole boulevard through a series of fascinating sculptures, each with their own romantic story to tell. You'll see themed statues bearing red love hearts such as a man skating, playing golf or down on one knee proposing to the love of his life.
There are also a few sculptures made by the Georgian artist Irakli Tsuladze, such as "Me, You and Batumi", which you can find in the Miracle Park or "First Love"along the shore line.
And while you're on your romantic walk, don't forget to visit The Love Bridge on the Batumi Pier for a nice view over the sea on one side and the skyline of the city on the other.
There are two places where you can find musical dancing fountains at night. One is in the park across from the Love Bridge, the other one is installed in the Ardagani Lake, a 30-minute walk from the Love Bridge. As soon as the sun sets, the fountains will give you a real dance and light spectacle! Instead of watching a movie on our laptop, we went to the park or to the lake to see these fountains in action. Every night they danced to the musical soundtrack of pop, rock and classical music. They were even rocking on the famous tunes of AC/DC's "Highway to Hell!" and spinning on Michael Jackson's "Thriller". Literally every night they were putting on a different show! Are you starting to understand why I loved this place so much?
Niko and I are the kind of people who prefer watching dancing fountains instead of going to a night club and dance until the early hours. Now I'm going to spice up our wild image even more by telling you that we often went playing a mega game of chess with the Large Outdoor Chess Set in the park next to the fountains.That is if we weren't chasing the toddlers who liked to interfere with our game by running off with some of the chess pieces...
The longer you walk on and around the boulevard, the more statues, little parks and features you'll discover. With every walk I discovered a few new sculptures and I was often wondering whether I had overlooked them the previous time or if they were recently added. I still have the feeling I haven't seen them all!
3. Ponder upon the strange architecture
Like I mentioned in the beginning of this post, I loved the wonderful and weird architecture of the buildings in Batumi. I secretly suspected that some of the architects were high on drugs (or maybe drank too much chacha) when they designed these buildings.
Two of them really caught my attention. The first one was a high pointy tower that has a ferris wheel on the upper floors. The building was intended to be the Batumi Technical University but the 35-floor building never met the education standards. Now there are plans to make it into a hotel. I bet the hotel guests will love to go on a ride on that ferris wheel!
The second one is the local McDonald's. This building has been nominated as the coolest McDonald's in the world. The exterior is covered by 460 glass panels while the entire building is surrounded by a reflecting pool. And if you think that's pretty awesome, wait until you see the interior design... It has an open-air patio that features a large expanse of vegetation. You almost feel like you're in a vegan restaurant but the contrast couldn't be bigger. Maybe this is a way to make the customers feel healthy while eating a greasy burger?
4. Visit Disney Land in Europe Square
Okay, it's not really Disney Land but the colorful buildings around Europe Square somehow reminded me of a little fairy-tale place. I liked sitting there to enjoy the atmosphere and the beauty of the buildings.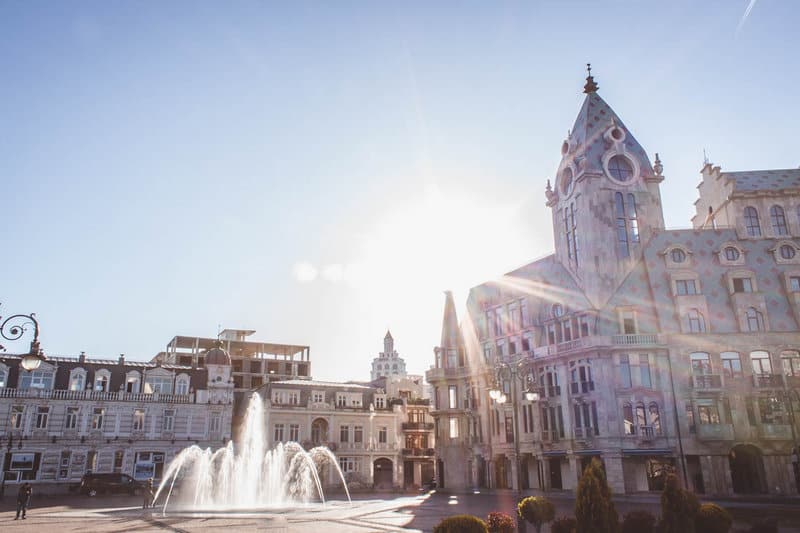 At night the square becomes even more colorful when it's illuminated (they really love colorful lights in Batumi!) The square got its name when Batumi joined the Assembly of European Nations. It definitely has a very European touch to it (the architectural style also reminded me of my hometown Bruges).
5. Get lost in the streets of Batumi
Just like walking on the Boulevard, you can find hidden features while wandering the streets in Batumi. There are two main shopping streets where it can be chaotic but if you go through the little streets, you might come across some nice surprises. There are small green parks everywhere, fountains, statues and several beautiful churches. And it's especially nice to get lost in the old part of the city!
6. Go fishing or visit the fish market
We didn't really go fishing but we liked hanging out with the fishermen at the harbor of Batumi. And if you're nice, they might give you a go with their rod and share a drink with you. There are also small boats in the harbor that offer you (fishing) trips. I don't know how much they charge but you can always bargain with the captain.
If the act of fishing is not your thing but you enjoy eating fresh fish, you can always go to the Batumi Fish Market. It's a fun experience and very cheap: buy the fish or seafood you like, hand it over to the vendor and they will clean the fish right in front of you. If you want, you can go to the eatery next to the market where they will prepare the fish for you. You just have to tell the woman you bought a 'catch' and wait for your meal.
7. Relax in the 6 May Park
6 May Park is Batumi's first garden and one of Georgia's oldest public parks. It has a small zoo, an aquarium and a dolphinarium. It was the first dolphinarium in the whole Soviet Union. It wasn't open when we were there and honestly we don't like to support places where animals live in captivity. What we did like was walking around the lake in the center of the park. It is named Nurigeli Lake and it has a tragic story. According to a legend, a baby boy named Nuri fell into the lake and drowned. The baby's mother used to visit the lake every day and called out to her baby "Nuri Geli", which means "Nuri I am waiting for you". I so hope that this was just a story!
8. Take a ride on the Argo Cable Car
A great way to have an aerial view over Batumi is by taking the Argo Cable Car that will give you a fascinating view over the city. The ticket is 10 GEL per person for a roundtrip in winter and 15 GEL during summer, a bit pricey knowing that you can have a good meal for this money in a restaurant but I would still recommend you to do it. Not just for the panoramic view on the top station's deck but for the 2.5 kilometers ride over the city that gives you a nice overview of the old and shabby parts mixed with the modern and new sites of Batumi. The entrance of the Argo Cable Car is located in Gogebashvili Street near the Sea Port and is open daily from 11 am to 1 am.
9. Batumi Botanical Garden
This is one of the biggest and richest botanical gardens in the world. The garden was the brainchild of the Russian botanist Andrey Nikolayevich Krasnov. It officially opened in 1912, covers and area of 111 hectares and is divided into nine sections displaying flora from different parts of the world.
The garden is located near Mtsvane Kontskhi (Green Cape) resort and you can take marchrutka (mini bus) number 150 or 31 from Parnavaz Mepe Street of Tbilisi Square in Batumi. The Garden is open from 8 am until 9pm and an entrance ticket costs 6 GEL.
10. Enjoy a chacha cocktail in Chacha Time
"Every time is a chacha time!" This is the slogan of the Chacha Time bar in Old Batumi (Giorgi Mazniashvili St, 5). We discovered this bar during one of our walks and found the symbol of the mustache quite funny. Out of curiosity we went into this cozy bar and had a look at the menu. The majority of the drinks are based on chacha and the cocktail menu is hilarious! You can find cocktails like chachito (mojito), chacha tonic (gin & tonic), chacha on the beach (sex on the beach), chachacolada (pinacolada),... Just be careful though when you start drinking it! It's a very strong spirit!
11. Have a delicious meal at Nita's House
There are many restaurants and coffee-shops in Batumi, which all vary in prices. We discovered Nita's House (on the corner of Rustaveli Str. and Dumbadze Str, close to Europe Square) during our second night there. We normally don't eat out much as we stick to a budget but in Nita's House you can have a delicious meal for two for only 15 GEL. There's a variety of Western food (the Caesar Pizza and Club Sandwich with fries were our favorites) and Georgian food (the famous Adjara Khadjapuri). We loved the atmosphere in this small restaurant and came here once a week to treat ourselves to a delicious dinner. We kind of became regulars here.
12. Treat yourself to tasty fresh pastries at the Fresh Bakery Batumi and a good glass of wine in GoodWine.
We met the owners of Fresh Bakery Batumi and GoodWine during our trip to Svaneti. They are really cool people from Ukraine who started their business in Batumi a few years ago. We met them a few times, tried their goodies and definitely approved! The name Fresh Bakery says it all: every day they bake freshly made pastries, ideal to treat yourself to a good breakfast or a snack if you get hungry from all the walking in the city center (address: 54/62 Gorgiladze str.). Ask for Ruslan (the owner) and say hello from us!
GoodWine is a small wine shop located on the Batumi Boulevard near the Batumi Pier. If you'd be thirsty after a long walk or want to treat yourself to a bottle or cup of wine while enjoying the sunset, definitely pay Sergei (the owner) a visit and send him our regards. You can buy a glass of some of the best wine for 1 GEL!
Where to stay?
Batumi can get pretty expensive during the summer holidays but there are still a few comfortable and more important affordable places where you can stay.
Most hostels will charge you around 15 - 20 GEL ($6 - $8) for a night in a dorm. If you travel as a couple and like more privacy, there's great guesthouse in the city center we would recommend you:
My Warm Guesthouse: 40 GEL ($16) for a double room. Friends of ours stayed here and really enjoyed it!
* If you make a booking using the link, we get a small commission, at no extra expense to you. We found great hostels & guesthouses through booking.com and only recommend the places where we've stayed or would go to! This way you'll help us to keep this blog going so we can give you even more useful and awesome tips!
You could also check out flats on AirBnB. It's of course cheaper during the low season but some of them are still pretty affordable if you're traveling as a couple. We found a place where we could stay for $10 a night!
* If you use this link to make a booking on AirBnB, you'll get $15 in travel credit and we'll also get extra travel credit for our next booking (win-win!) at no extra expense to you and you'll help us to continue our travels!
And in case you're traveling with a tent, there are many nice spots where you can camp without being disturbed at night. Wouldn't recommend the beach though, it's a little too rocky to sleep comfortably.
How to get there?
You can hitchhike like us which is very easy in Georgia but if you don't like this, there are three more options (prices based from Tbilisi to Batumi):
You can take the train which will cost you 18 GEL ($7) or a bus which is 25 GEL ($10). If you want to travel like the locals, you can  try to catch a machrutka (mini bus) that leaves from Didube or Railway Station in Tbilisi (20 GEL/ $10) or at the McDonald's in Kutaisi (10 GEL/$5).
Writing this post brought back some great memories and I will always treasure our time in Batumi. I hope this list will be helpful if you're planning to visit this crazy and unique city. I hope you'll have the same positive experiences we did. Let us know in the comments if you're planning to go there or what you thought of Batumi. If you would add any other places or activities to this list, let us know!