Are you a photography lover and you're planning a trip to Morocco? Then you'll love my guide to the most beautiful photography locations in Morocco!
In this guide, you'll find an overview of the best places to visit in Morocco for landscape, nature and street photography.
Morocco is a country that has pleasantly surprised me in many ways. The country has so much more to offer than the desert, camel rides and the beautifully tiled courtyards you see on Instagram.
Sunset in the Sahara desert of Morocco. Very pretty of course but there are so many more beautiful places to visit in Morocco!
Niko and I spent 6 months traveling around Morocco and we were blown away by the variety of landscapes, the mishmash of cultures, the colorful medinas and the laid-back attitude of the people.
You can travel from the Atlantic coastline along high mountain passes to the Sahara desert in one day, and see modern cities, mud-brick fortresses, lush palm groves, and beautiful waterfalls within 24 hours!
Morocco is also a super photogenic country. Whether you're into street, nature, landscape or people photography, you'll definitely return from your trip to Morocco with hundreds of stunning photos!
The fortified walls of Essaouira, a coastal town in Morocco
As I've traveled far and wide around the country – both for personal (photography) projects and on a photography assignment for Panasonic Lumix– I discovered some really beautiful places in Morocco that are very perfect for different types of photography.
Here's a detailed overview of the best places to visit in Morocco, with pictures of course!
[kt_box opacity="1″ background="#eded6d"]
Do you love taking stunning portraits?
Read my photography guide with valuable tips on how to take photos of people in Morocco!
[/kt_box]
The best places to visit in Morocco for landscapes and nature
Map of the best places to visit in Morocco for landscapes and nature
1. The Sahara Desert
While the country has so much more to offer than just desert, camels and sand dunes, it would be a shame to miss out on iconic photos of the Sahara Desert when you're going on a (photography) trip to Morocco!
Throughout the day, the sun plays a beautiful light show with the vibrant red, orange and yellow colors of the endless sea of sand. Groups of grumpy camels and blue-robed Berbers are often ideal subjects for your desert photos.
The best time for a photoshoot in the desert is at sunrise and/or sunset during which you can play with shadows and silhouettes in the soft golden light.
The best places to access the Sahara desert of Morocco, especially if you're relying on public transport, are the villages of Merzouga or M'Hamid.
You can easily hike into the desert or hop on a camel from both villages and spend as much time there as you need to get stunning photos.
Something I also really recommend is going on a desert trip and spend the night in a desert camp.
The starry sky in the desert is one of the most beautiful skies you'll ever get to see! There's zero light pollution so it's a great opportunity for night photography!
[kt_box opacity="1″ background="#eded6d"]
Read how to get to the Sahara desert in:
How to plan a desert trip to the Sahara in Merzouga
[/kt_box]
2. Ouzoud Waterfalls
The Ouzoud Waterfalls, or Cascades d'Ouzoud, is one of Morocco's most magnificent waterfalls and the second tallest waterfall in Africa.
The Ouzoud Falls is a collective name for the several waterfalls that gush into El-Abid River gorge near the village of Tanaghmeilt, about 2,5 hours driving from Marrakech.
Being the second tallest waterfall in Africa, the Ouzoud Falls are really impressive to see.
It's also a very photogenic location. You can get stunning photos of the waterfalls but you have to be prepared to share the location with tons of other tourists and waterfall-enthusiasts.
While it was a creative challenge and I had to show lots of patience, I was still able to get some interesting shots of the waterfalls – even with people in it.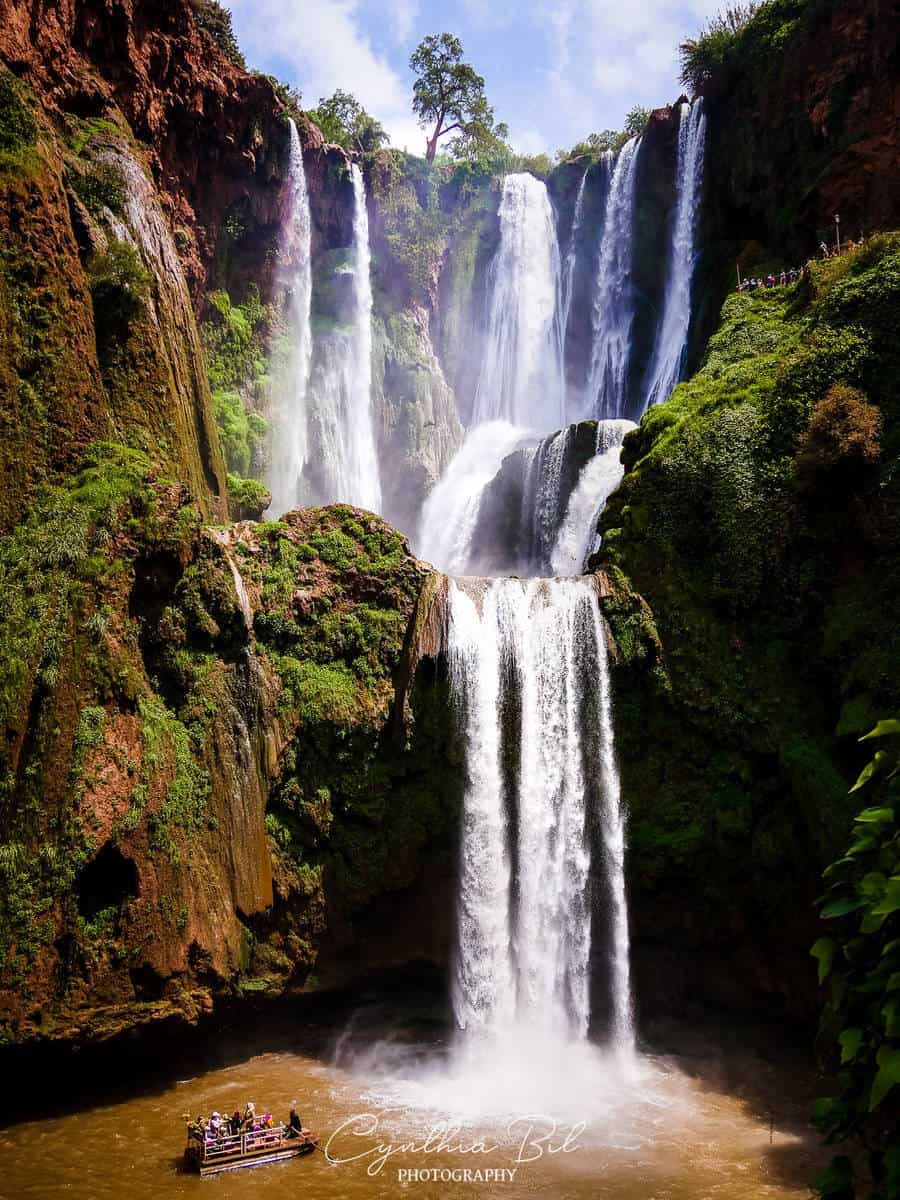 If you don't want to have people in your photos, you should visit the Ouzoud Waterfalls early in the morning or late in the evening.
[kt_box opacity="1″ background="#eded6d"]
Read all about how to get to the Ouzoud Waterfalls from Marrakech and the best photography viewpoints in:
Everything you need to know about visiting the Ouzoud Waterfalls
[/kt_box]
3. The Akchour Waterfalls and God's Bridge
The Akchour Waterfalls in the Rif Mountains near Chefchaouen are also worth a visit.
While they aren't as impressively tall as the Ouzoud Waterfalls, they are very pretty, photogenic and – an extra advantage – a lot less touristic!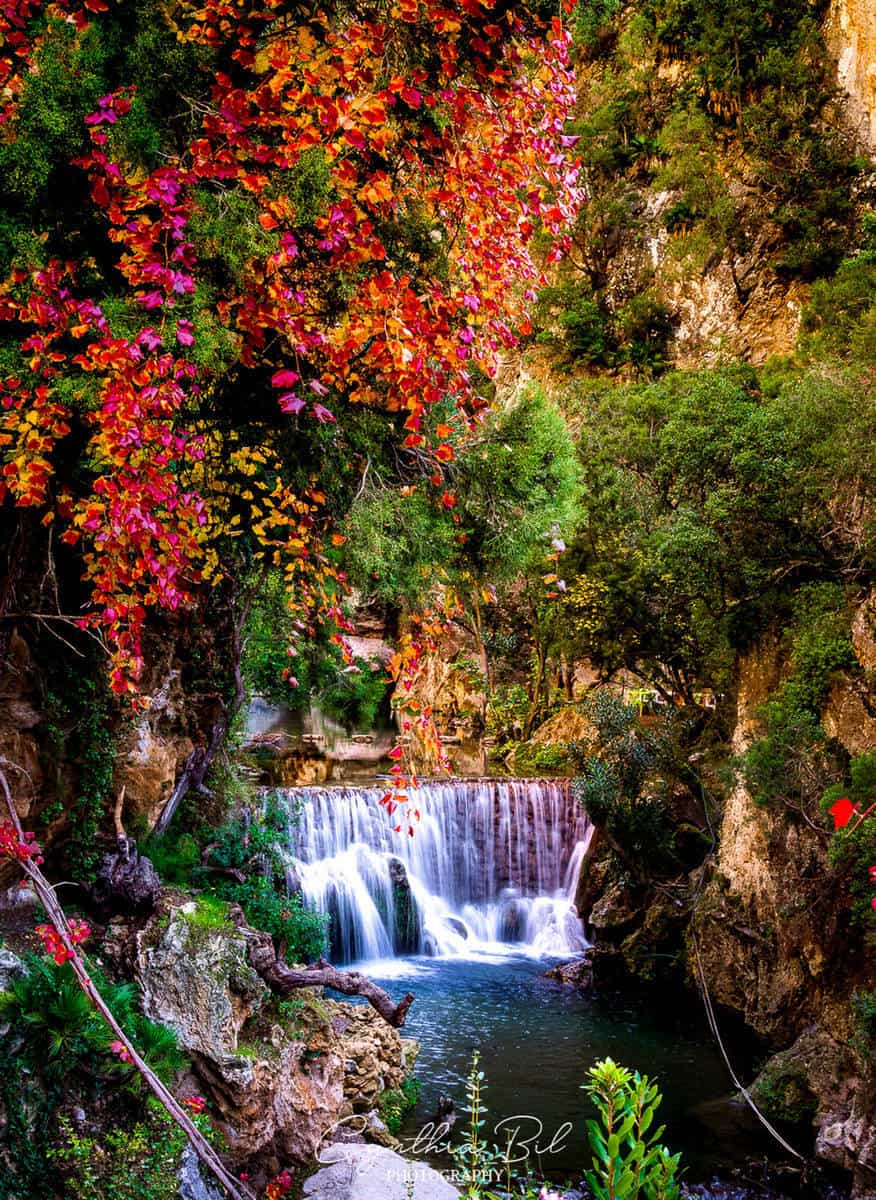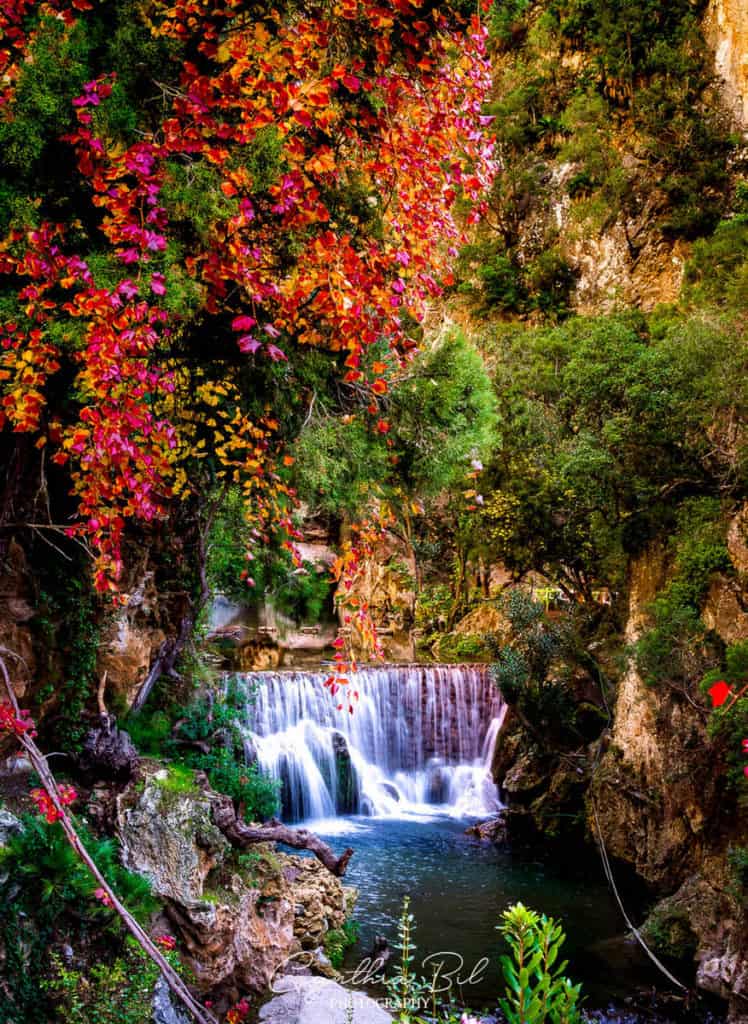 The Akchour waterfalls consist of a series of small cascades, a 20-meter tall waterfall (the small Akchour) and a 100-meter tall waterfall (the big Akchour) located in the Talassemtane National Park, on a day trip from Chefchaouen.
Small Akchour Waterfall
The waterfalls can only be reached on foot. It's a 1-hour hike to get to the small Akchour and another hour to see the big Akchour at the end of the hiking trail.
Big Akchour Waterfall
The hiking trail winds around stunning lush gorges and along the river shore where you'll come across many pretty cascades. It's a relatively easy hike and a very enjoyable one!
The God's Bridge is a beautiful natural rock arch, located near the Akchour waterfalls in the Talassemtane National Park.
This wonder of nature is also only accessible on foot. You have to hike 45 minutes through a spectacular canyon until you reach God's Bridge. This natural rock bridge is almost 30 meters hight and connects the walls of the canyon.
[kt_box opacity="1″ background="#eded6d"]
Read all the info about how to get to Akchour Waterfalls and God's Bridge, including a description of the hiking trail :
How to get to the Akchour Waterfalls from Chefchaoen
[/kt_box]
4. Legzira Beach Arch
Another photogenic natural rock arch can be found on Legzira Beach in southern Morocco.
Legzira, known as one of the most picturesque beaches of Morocco, is located between the two small towns of Mirleft and Sidi Ifni on the Atlantic coast of Morocco.
What makes Legzira Beach so special are the sedimentary rock arches that connect the coastline and the ocean.
The arches are only accessible during low tide and the best time to capture this beauty on camera is during sunset when the cliff turns into a vibrant red color.
The best way to get to Legzira beach is to take a taxi from Agadir to Tiznit and catch a bus from Tiznit to Legzira.
5. Sunset at the Moroccan Coast
Morocco has a stunning coastline with some of the most incredible sunsets I've ever witnessed.
My favorite sunset happened in the beach town of Essaouira when the sky turned completely purple after a cloudy day.
But you don't necessarily have to go to Essaouira to capture stunning sunsets. You'll see a stunning sunset at nearly any coastal town of Morocco.
This being said, I do recommend you go to a fishing town like Essaouira, Asilah or Taghazout as the fishing boats can give your sunset photos an extra special touch.
Sunset in Taghazout
6. Paradise Valley
Paradise Valley is a small oasis in the Tamraght River valley in the Moroccan High Atlas mountains.
This lush oasis consists of crystal-blue natural pools and natural water slides carved out of the rocks surrounded by palm trees and stunning mountain views.
Paradise Valley is a tourist destination but if you visit this oasis during low-season, you'll be able to enjoy some peaceful time in this little paradise and take some great photos!
[kt_box opacity="1″ background="#eded6d"]
Read more about Paradise Valley and how to get there in:
How to visit Paradise Valley – 9 things you should know
[/kt_box]
7. Draa Valley
The Draa Valley, also known as La Vallée du Draa, is a stunning green oasis in the midst of a dry landscape. It's located between de Saghro Mountains and the Sahara Desert, between the cities of Ouarzazate and Zagora.
The gateway to the valley is Agdz, from where you get a panoramic view of two million palm trees!
You'll also see several ancient kasbahs (fortified villages) which are very photogenic as well!
8. Tinerhir Oasis
The magnificent Tinerhir Oasis is one of the most beautiful and lush palm groves of Morocco.
This 30-kilometer long palm grove, surrounded by ksour and kasbahs (fortified villages), stretches from the Todra Gorges almost all the way to the town of Tinerhir.
The Tinerhir Oasis is abundant with palm trees and fruit trees such as apples, pears, pomegranates, figs, almonds, and peaches.
When you walk through the oasis, you'll encounter many locals cultivating the plots. Just be careful when you want to photograph the people as they don't really like it when you take their photo. Always ask first!
[kt_box opacity="1″ background="#eded6d"]
Read more about Tinerhir and how to get there in:
Rock climbing and other fun things to do in the Todra Gorges and Tinerhir
[/kt_box]
9. Imlil and Mount Toubkal
Imlil is a small village in the High Atlas mountains of Morocco. The village is surrounded by rivers, waterfalls, mountains, and waterfalls. It's a very photogenic place!
It's particularly beautiful during spring when the trees start blossoming.
Most travelers come here to hike to Mount Toubkal, the highest mountain peak (4160 meters) of North Africa.
Climbing Mount Toubkal is challenging but it's worth the effort! The views you get along the way and on top of the mountain peak are just breathtaking!
[kt_box opacity="1″ background="#eded6d"]
For more practical travel info about Imlil and Mount Toubkal, read:
The Complete Travel Guide to Imlil and Hiking Mount Toubkal
[/kt_box]
10. The Atlas Mountains
Dotted with Berber villages and split by canyons and ravines, the Atlas Mountains are a series of mountain ranges with very diverse terrain, climate, and wildlife.
The Atlas mountains engulf most of Morocco and are primarily inhabited by the Berber people. The Berbers, also called the Amazighs, is an ethnic group that is indigenous to North Africa.
You'll come across many Berber villages while traveling through the Atlas Mountains. You can easily recognize those settlements and villages as the houses are made of rocks and clay-bricks which have been dried in the sun.
Most villages are nestled on the side of the hills and are a great subject for your landscape photos!
My friend and colleague photographer Stephen Lioy recently went hiking in the Atlas Mountains. When I asked him about his favorite photography locations, he shared with me the following places:
Ijoukak
Built at the height of the Almohad Dynasty in 1156 A.D., the surprisingly-intact Tinmal Mosque is all that remains of the once-grand Almohad city that was built high in the mountains near modern Ijoukak.
Photo by Stephen Lioy
Though modern visitors largely visit en route to the Tizi n'Test pass and the deserts beyond, Ijoukak is also a perfect starting point for hikes up to the rarely-visited Tichka Plateau.
Zaouiat Ahansal
Off a turn on a remote mountain road in the Central High Atlas, the four villages of the Ahansal Valley (Zaouiat Ahansal) were founded by a traveling Islamic saint whose burial place is now a popular pilgrimage site.
Photo by Stephen Lioy
Packed with historic buildings (many authentically restored by the Atlas Cultural Foundation) and backed by imposing mountains that are popular among both hikers and rock climbers, this is one of the highlights for me of all Morocco.
11. Ait Ben Haddou
Ait Ben Haddou is ksar, a fortified village, and a great example of the Moroccan earthen clay architecture. It's been a UNESCO World Heritage Site since 1987.
This iconic landmark of Morocco attracts daily many tourists as it's one of the best places to visit in Morocco.
Inside the walls of Ait Ben Haddou are many narrow streets and half a dozen kasbahs (fortified houses).
The best time to photograph Ait Ben Haddou is during sunrise or sunset. Not only is this the moment to take fantastic landscape photos with this ksar as your main subject, but it's also the time when there are barely any tourists (they come between 9 am and 6 pm).
Read How to get to Ait Ben Haddou from Marrakech by public transport, by car or with an organized tour.
[kt_box opacity="1″ background="#eded6d"]
Visit all the places by following our Morocco itinerary:
Discover the best places in Morocco with these 7-day itineraries
[/kt_box]
The best cities in Morocco for street photography
1. Essaouira
Essaouira is my favorite city in Morocco! Even though this coastal city is a tourist destination, it has a very relaxed atmosphere.
The medina (city center) of Essaouira is an explosion of colors with blue as the dominations color. There are many stunning doors, gates, and alleys that are a great subject for your photos.
You should also visit the fish market and the souks (Arab for market place) if you want to capture colorful and candid photos of daily life in Essaouira.
Another fantastic location (and my favorite photography place in Essaouira) is the fishing port.
When you go there in the early evening, just before sunset, you'll see the fishermen unloading their catch of the day.
Locals stroll around the chaotic port to buy fresh fish while cheeky seagulls try to snatch some yummy fish bits from unattentive vendors.
It's a hectic, smelly, muddy and chaotic experience and ideal for street photography!
[kt_box opacity="1″ background="#eded6d"]
Read more about where to go and what to do in Essaouira in:
Things to do in Essaouira, the Ultimate Guide to Morocco's City of Wind
[/kt_box]
2. Chefchaouen
Chefchaouen is a small town in the Rif Mountains in the northwest of Morocco. It's definitely one of the best places to visit in Morocco for photography!
Chefchaouen is a very pretty town with its blue-washed streets and buildings. That's why it got nicknamed "the Blue Pearl of Morocco".
This "Blue City" is ideal for street photography! Walking in the narrow streets of Chefchaouen's medina is a true sensory experience. There's literally always something special to see around every corner.
[kt_box opacity="1″ background="#eded6d"]
Read all about what to see in Chefchaouen and how to get there in:
The 12 Top Things to do in Chefchaouen, the Blue City of Morocco.
[/kt_box]
3. Fez
The city of Fez is one of the oldest of Morocco's imperial cities. It's also often referred to as the country's cultural capital.
Fez is primarily known for its Fes El Bali walled medina, vibrant souks and medieval Marinid architecture.
The city is also home to madrassahs (Arab for religious schools) such as Bou Inania and Al Attarine, both beautifully decorated with intricate cedar carvings and ornate tile work.
What interested me the most during my visit to Fez, especially from a photographer's perspective, are the ancient leather tanneries.
The Chouara Tannery is the largest of the three tanneries in Fez and is reputed to be the oldest one in the world.
For almost 1000 years, the structures of the tannery and the leather tanning techniques have barely changed. It's fascinating to witness the whole tanning process and worth documenting on camera!
[kt_box opacity="1″ background="#eded6d"]
Read my photo-essay on the tanneries in Fez, including information on how to visit the tanneries and how much it cost:
In Photos – How to visit the Leather Tanneries in Fez.
[/kt_box]
4. Marrakech
Marrakech is probably the most famous and popular city in Morocco.
The medina of this old fortified city is densely packed with mazelike alleys, thriving souks (markets) and stalls that sell traditional pottery, lanterns, textiles, jewelry, fruits, etc.
While wandering around this chaotic city, you'll stumble across many interesting photography subjects.
While it's often super busy in Marrakech, especially at Jemaa el Fna which is the main square of the city, it's definitely a place to capture some great shots.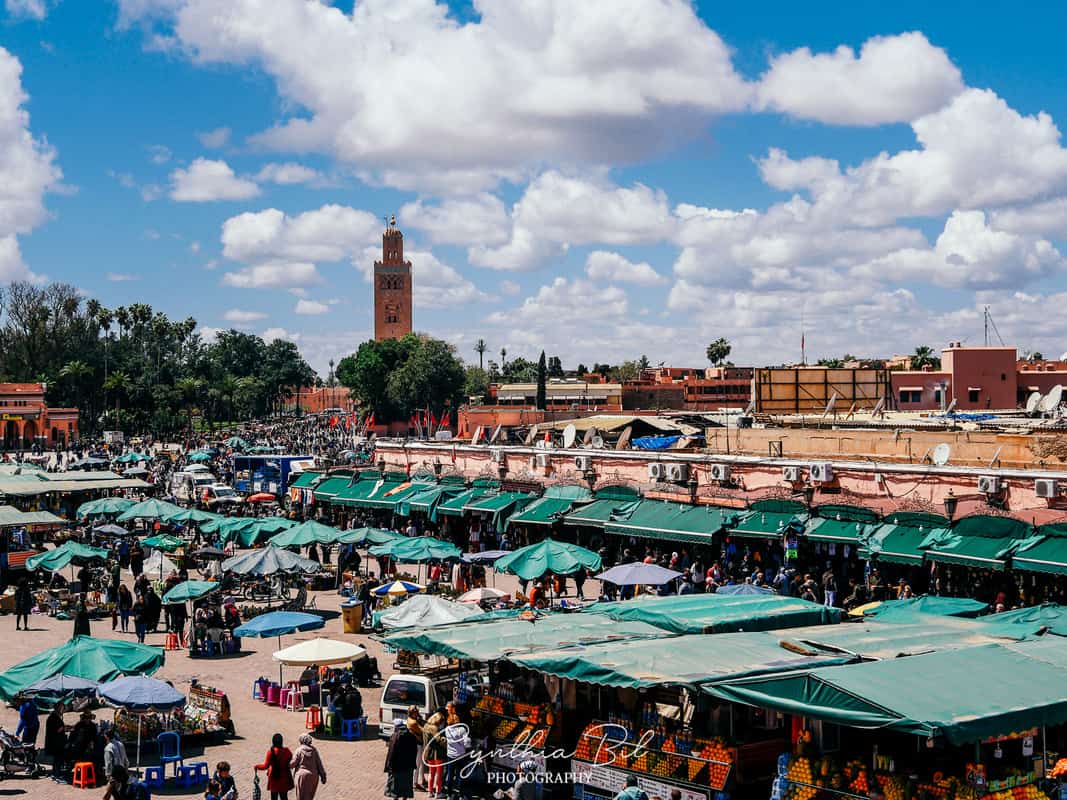 Aside from its vibrant souks and colorful alleys, some other beautiful photography locations in Marrakech are the Koutoubia mosque, the Bahia palace, and the Ben Youssef Madrasah.
Koutoubia mosque at night
[kt_box opacity="1″ background="#eded6d"]
Read our comprehensive travel guide to Marrakech:
What to do in Marrakech – A Complete Guide to Morocco's Red City
[/kt_box]
5. Casablanca
Casablanca is a huge metropolis on the Atlantic coast. It's the economic capital of Morocco and, honestly, it lacks the traditional charm of other cities like Tangier, Marrakech or Chefchaouen.
However, I included the city to this list as there are two places in Casablanca that are worth photographing: Mahkama du Pasha and the Hassan II mosque.
The incredibly beautiful building of Mahkama du Pacha is a perfect example of ancient Moorish construction techniques.
The walls are covered in beautiful tiles, the doorways and ceilings present an intricate array of carved stone and the plasterwork incorporates floral designs and calligraphy. It's a great setting to take stunning photos!
The Hassan II mosque is the largest mosque in Africa and the 10th largest in the world. The mosque stands right at the edge of the water and its 210 meter-tall minaret is one of the city's major landmarks.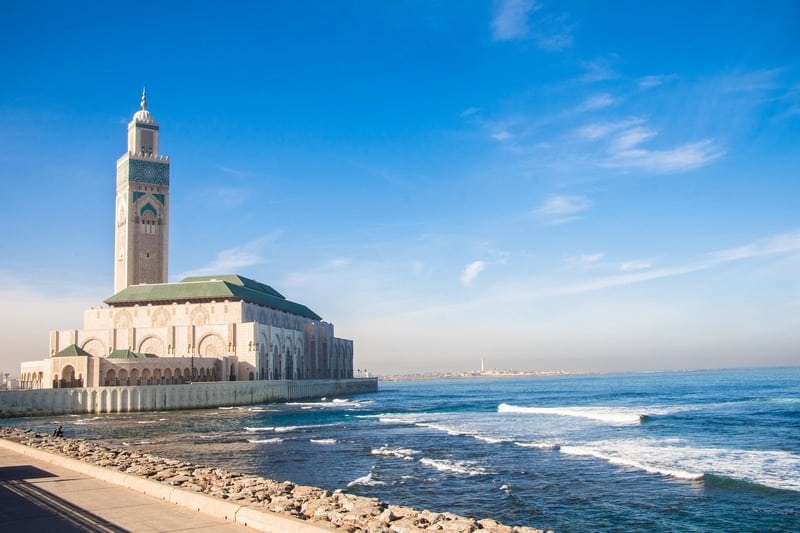 The architecture of the Hassan II mosque is extraordinary and the building is a fantastic subject for stunning photos, especially during sunset.
[kt_box opacity="1″ background="#eded6d"]
Read more about this city in:
Casablanca City Guide – What to see and do in Casablanca in 2 days
[/kt_box]
6. Rabat
I'm usually not a big fan of capital cities but Rabat, Morocco's capital, was a very pleasant surprise! Niko and I enjoyed our visit that much that we even returned a few times.
A lot of tourists tend to skip Rabat so while walking in its old medina with its many stalls and markets, you won't encounter many foreigners.
While the medina offers great opportunities for street photography, there are more great photography locations in Rabat.
Kasbah des Oudaias is where the original city of Rabat was built. The citadel is now mainly a residential area and consists, like most medinas in Morocco of narrow little streets. Part of the walls and the houses have been painted blue, which reminded me of Chefchaouen.
This fortified Kasbah is perched on top of a cliff overlooking the place where the Bou Regreg River and the Atlantic Ocean meet. It serves as a great location to take photos of the sunset over the river.
Another beautiful shooting location to get unique photos is the Hassan Tower and the nearby Mausoleum.
The Hassan Tower was intended to become the minaret for the largest mosque in the entire world but the Moroccan ruler Yacoub al-Mansour who had initiated the project died before it could be completed.
Hassan Tower in Rabat
The unfinished tower, the pillars arranged in symmetrical perfection on the ground and the mausoleum make this site a unique location for a photoshoot!
[kt_box opacity="1″ background="#eded6d"]
To get the most out of your stay in Rabat, read:
Top Things to do in Rabat, the Complete City Guide
[/kt_box]
While I listed the most known cities in Morocco that offer great photo opportunities, you shouldn't limit yourself to only these destinations.
Tangier, another interesting city in Morocco
Most Moroccan towns and cities have stunning medinas where you can wander for hours around the little streets and alleys and stumble across many interesting photography subjects!
What camera and lenses should you bring to Morocco
For street photography in Morocco, I highly recommend a small camera that doesn't attract much attention.
The Moroccan people generally don't like being photographed for several reasons and they'll act funny when they see a camera near them. Definitely read my guide with the dos and don'ts for portrait and street photography in Morocco!
If you're going to the desert and the Atlas Mountains, definitely bring a camera and lenses that are dustproof!
My Lumix G90, a weather-sealed and dustproof mirrorless camera
For a detailed overview of which cameras and lenses you should bring to Morocco, read my Morocco Photography Guide.
All the photos in this post have been taken with the Lumix GX9 (ideal for street photography) and the Lumix G90, a compact camera that is weather-sealed and dustproof, in my opinion, the perfect all-round camera for travel photography!
[kt_box opacity="1″ background="#eded6d"]
Read my in-depth review of the Panasonic Lumix G90/G95:
The Lumix G90/G95 – Why this is the best do-it-all camera for travel!
[/kt_box]
I traveled to Morocco with the following lenses:
I hope you enjoyed this post and that it gave you plenty of inspiration for your (photography) trip to Morocco!
If you have any questions, don't hesitate to contact me!
Do you have more suggestions for beautiful places in Morocco for photography? Let us know in the comments below!
*This article contains affiliate links. If you book a hotel/hostel or purchase one of the recommended products through our website, we'll receive a small commission at no extra costs for you. This way you're helping us writing more informative and awesome guides like this. Thank you!
Read the rest of our articles for more travel tips for Morocco:
Everything you need to know about traveling independently in Morocco (visa, how to get to and around Morocco, where to stay,…):
Planning to rent a car in Morocco? Read this first:
A few travel and safety tips for Morocco:
Planning to travel to Morocco during Ramadan? Read this first:
How is it to travel to Morocco during Ramadan?
Hiking, surfing and nature trips in Morocco:
Our Moroccan city guides:
MOROCCO TRAVEL RESOURCES: