What should you do in Marrakech? Find out in this article what are the top attractions in Morocco's most iconic city. Here you'll discover where to stay in Marrakech as well as where to eat in the Moroccan city.
Marrakech was the very first city I visited in Morocco, and well, let's just say it wasn't love at first sight. I arrived there super stressed after a long flight, didn't speak a word of Moroccan Arabic and got scammed by a taxi driver right out of the airport.
Marrakesh was a shock to my system. I arrived in square Jemaa el Fna on a busy day.
Jemaa el Fna is generally very busy at night…
The square was full of snake charmers, women walking around selling henna tattoos and men holding monkeys on leashes. The air was full of unknown smells and sounds.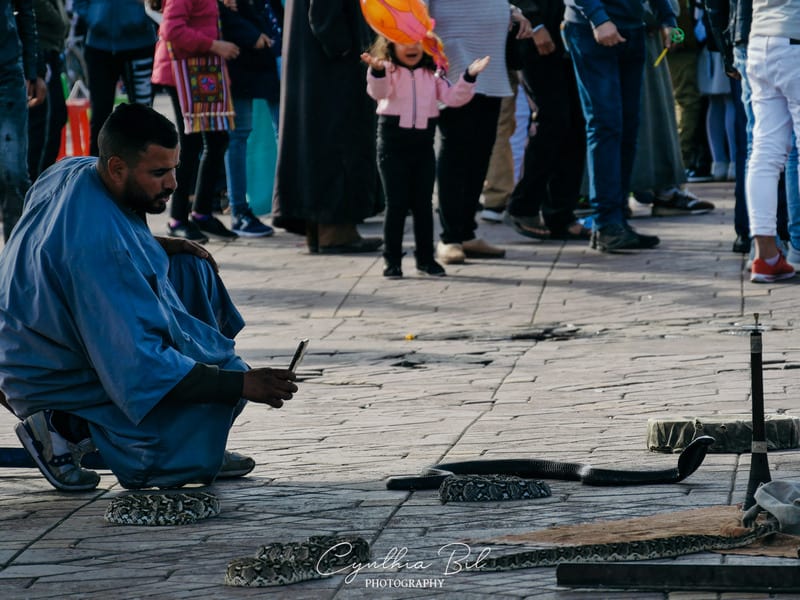 snake charmers entertain the crowds in the center of Marrakech…
Often time I would catch whiffs of incense in the little streets, at other moments it would be the smell of leather that would fill my nose.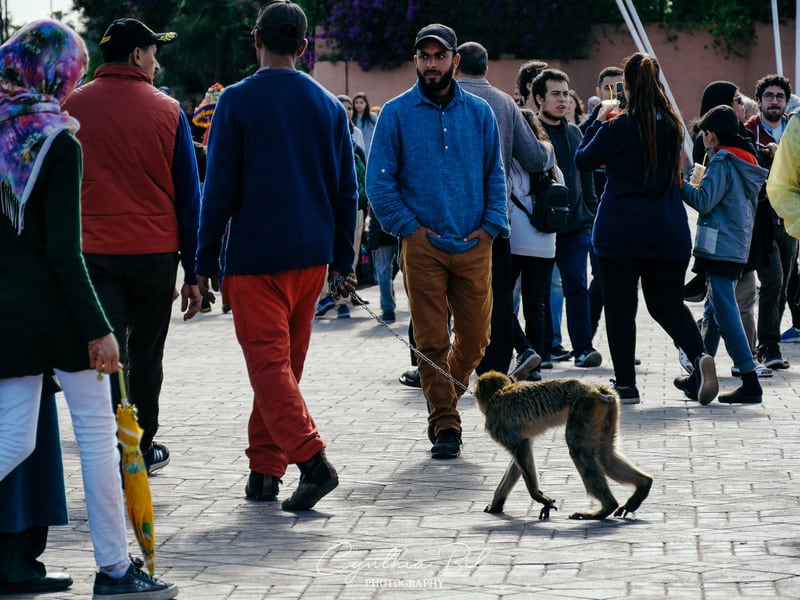 The loud call to prayer kept resonating all over the city while street kids were running around me with their extended open hand, begging for a few dirhams.
The square was bustling with activity. Left and right I could hear the shouts of people trying to sell Moroccan lamps and fruit juices.
Street performers were bumping into each other trying to attract the attention of a busy crowd. I had never seen so much chaos in my life.
Like many other tourists, I had decided to land in Morocco in the most chaotic city there is in the country instead of taking a flight to calmer cities such as Tangier or Essaouira.
A poor decision which lead to a dire situation. I was pickpocketed on my first day in Morocco and lost my wallet to some petty thieves.
Beware of pickpockets in the small streets of Marrakech…
Although my first impression of Marrakech wasn't a good one, I eventually stayed there for a whole month and grew to love the hectic, busy jungle that is this Moroccan city. I would get lost in the little back alleys every day and slowly learned to speak Arabic.
I also decide to explore the rest of the country and eventually completely fell in love with Morocco.
Mount Toubkal near Marrakech is one of the reasons why I fell in love with Morocco…
Now, every time I think back of Marrakech, I feel flooded by an odd nostalgia. I feel a mix of love and longing for this huge, busy city.
I would absolutely recommend a visit there but I think it would be better to acclimatize yourself first in other calmer cities before if it's your first time in Morocco.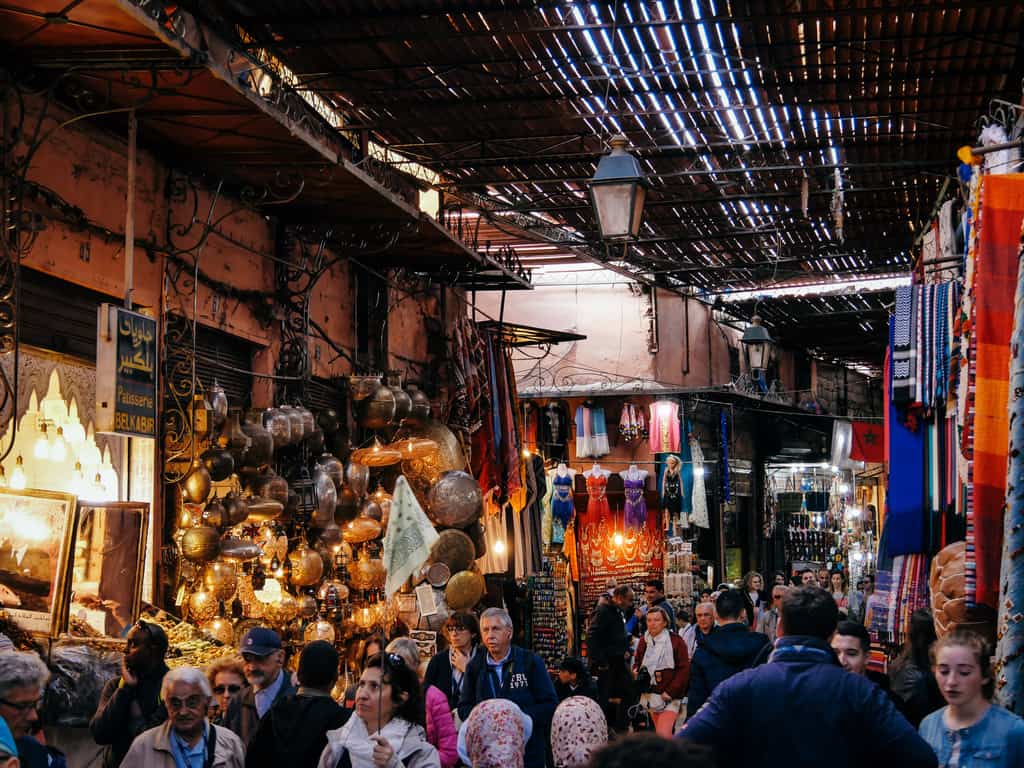 Walking in the Souk of Marrakech is a very intense experience…
Not everyone will love their time in this city, but nobody will be able to leave it without an unforgettable sensory experience.
If you're wondering what to do in Marrakech, I'll tell you all about it in this guide. I'll also cover what you should avoid in Marrakech as well as where you should eat and where you should stay in Marrakech.
[kt_box opacity="1″ background="#eded6f"]
Planning a trip to Morocco?
Read: How much does it cost to travel in Morocco on a Budget!
[/kt_box]
Things you need to know before going to Marrakech
Where is Marrakech?
Marrakech is in the perfect location. It's almost located right at the center of Morocco. The majority of the most touristic destinations in the country are within easy reach of this city.
The snow-covered mountains of the High Atlas and the beautiful dunes of the Sahara desert are relatively close to Marrakech so it's generally the first city tourists will visit in Morocco.
Marrakech is a good base from which to visit Merzouga…
Marrakech was at one point the capital of Morocco.
Marrakech is 240 km south of Casablanca, 320 km southwest of the Moroccan capital Rabat and 574 km southwest of Tangier.
Merzouga, the famous desert village of the Sahara is just 9 hours away from Marrakesh so the city is often the starting point of expeditions to the desert.
A bit of history about Marrakesh
The history of this beautiful city easily stretches back in the past a thousand years. Morocco is even named after Marrakesh.
It was founded in 1070 by the dynasty of the Almoravids and became the capital of their empire. Marrakesh also went on to be captured by various other caliphates and dynasties such as the Almohad Caliphate and the Marinids who captured the city in 1269.
Marrakesh was later captured by the Saadians who greatly embellished the city.
The city of Marrakech was embellished with beautiful gates…
Over the course of Moroccan history, Marrakech has always maintained a rivalry with Fez to become the leading city in the country. The country was often fragmented in two with Marrakesh as the southern capital and Fez as the northern one.
Eventually, Rabat was chosen as the capital of the country. This was seen as a compromise that afforded neither city supremacy over the other.
[kt_box opacity="1″ background="#eded6f"]
stayed in Morocco for too long?
Read: How to renew your travel visa for Morocco
[/kt_box]
A few recommendations and tips before visiting Marrakech
Before visiting Marrakech, I would suggest learning a few words of Moroccan Arabic. Shop owners in the markets of Marrakech are very good at picking foreign languages but the vast majority of the people only speak Arabic.
Learning a few words of Moroccan Arabic will help make everything easier and will go a long way!
Speaking Arabic will make locals loosen up and you'll be able to get very natural-looking pictures of them…
I highly recommend getting your hands on the Lonely Planet Moroccan Arabic Phrasebook. It is packed with all the essential words and phrases you will need on your trip to Morocco and will help you in every situation — from finding a hotel room to ordering tajine or joining the local festivities this book will cover almost every situation you could imagine.
I would also recommend getting a map software on your phone that works offline.
Google maps has helped us navigate the narrow streets of Marrakech and many other Moroccan cities.
One of the cool features of Google maps is that it can be used both online and offline. Connect to the wifi at your hostel and download a map of the part Marrakech you wish to explore. This map works with the GPS chip in your phone so it will continue working, even when you're offline.
And finally, I highly recommend getting a Lifestraw Water Filter Bottle. Although the tap water in Marrakech is not dangerous, it may contain many new bacteria that your body just isn't used to.
If you drink water using this bottle, any dirt, bacteria or parasites gets trapped in its filter, while the clean water passes through.
[kt_box opacity="1″ background="#eded6f"]
Reading Tips and tricks to learn Moroccan Arabic will make your trip a lot easier!
[/kt_box]
Arriving at Marrakech Menara airport
Menara airport is the airport in which you'll land if you take a flight to Marrakech. It's located only 6 km from Jemaa el Fena, the main square of the city and getting there from the airport by taxi takes about 15 minutes.
Should you exchange money at Marrakech Menara airport?
Airport exchange offices are not the best place to change money, so just convert a small amount of cash into Dirhams at the Marrakech airport and take a taxi to the city center. There you'll encounter plenty of exchange bureaus.
If you're wondering where you can exchange money in Marrakech, here is a link to a google map with all the major exchange offices in the city. They usually offer a much better rate than what you get at the airport.
How much is a taxi from Marrakech airport to the city center?
There are a lot of scammer taxi drivers that park at the airport waiting for unwary tourists arriving in the country for the first time.
They know that these new arrivals are very often unaware of prices in Morocco. They have no qualms in tripling or even quadrupling the price of a taxi ride to the city center!
Unless the official taxi prices are somewhere near the exit of the airport on the wall (more and more airports in Morocco adopt this practice to avoid taxi scams), you shouldn't pay more than 100 MAD for a ride to the city center.
Depending on your haggling and negotiation skills, fares to Jemaa el Fenaa should range from 50 MAD to 100 MAD.
Is Marrakech safe?
Marrakech is a relatively safe city. There are no violent crimes in this city, however, it's a place that is quite notorious for theft, scams and con artists.
Traveling there requires to be alert all the time as your attention will be solicited in all directions and the streets can be extremely crowded.
The market streets in Marrakech are extremely crowded…
The best solution to avoid being pick-pocketed is to stay aware of your belongings and surroundings at all times. You should leave all your important items at your hotel and walk around only with what you absolutely need.
I suggest always keeping your wallet in your front pocket or carry a money belt. Another great option is to travel with a slash-resistant and lockable anti-theft bag. I would also recommend getting good travel insurance that covers theft.
At times I found Marrakech to be quite tiring but ultimately it was worth it and if you take the time to really discover and get to know the city, you'll surely grow to like it.
One thing you need to remember is that Marrakech is not all floaty dresses, ornate riad walls and water fountains like some social media influencers would like you to believe.
[kt_box opacity="1″ background="#eded6f"]
Wondering if Marrakech is safe?
Read Is Marrakech Safe? – Your Guide to Safety in Marrakech
[/kt_box]
There are plenty of riads with beautiful fountains in Morocco but that's not the only thing the city is about…
[kt_box opacity="1″ background="#eded6f"]
Find out How much it costs to live and travel in Morocco!
[/kt_box]
Top things to see and do in Marrakech
1. Go for an evening visit of square Jemaa el Fna or stop there during the day
If you want to truly understand and feel what Marrakesh is about, you should visit its main square. Jemaa el Fna is a place unlike any other. It's where you'll find the best and worst of the city.
The central square of Marrakech becomes full of life at night…
You'll find the freshest and cheapest fruit juice served all day in the square, the smell of grilled meat, snake charmers, monkeys who have been captured from the wild to perform for tourists, and ladies jumping on your hands to convince you to get a henna tattoo.
You can find freshly squeezed fruit juice throughout the day in Jemaa el Fna…
There are horse carriages parked on one corner of the square.
What is so great about visiting the city this way is that you'll have the time to relax while seeing the best attractions of Marrakesh. You'll be able to reach areas that are far from each other rather quickly and you'll see things that would not be accessible by car.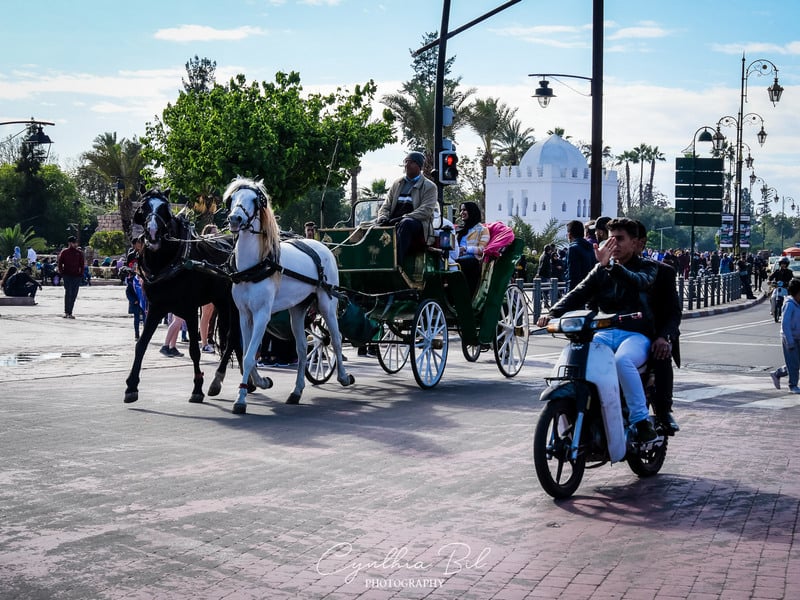 you can catch a horse-drawn carriage at a corner of the square…
When it starts getting dark the square becomes alive with street performers, musicians, snake charmers, and mouth-watering food stalls.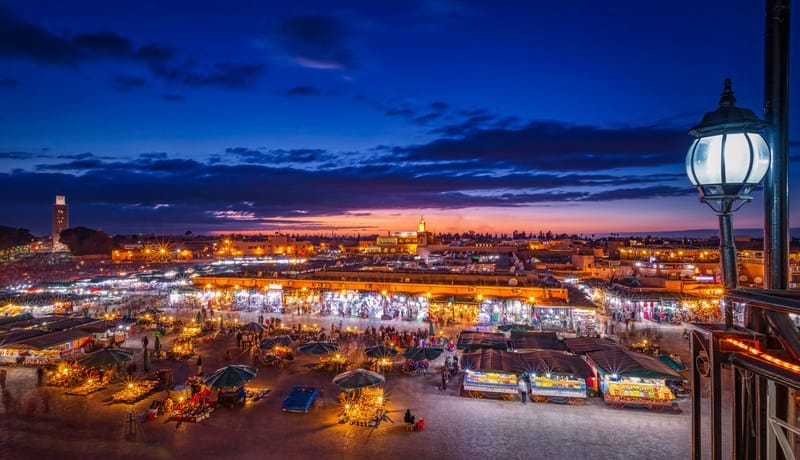 There are thousands of people filling up the square and an endless amount of captivating street performances and shows.
I would recommend not bringing more money than you need to this square as it's a hub for pickpockets but if you just carry the minimum in a money belt, you'll be able to fully enjoy the square and its busy atmosphere.
2. Take some cooking classes in Marrakech
I don't think there is a better way to discover a city or a country than by learning about the local cuisine.
There are plenty of great chefs in Marrakech offering cooking lessons. We highly recommend booking this cooking class. You'll learn to cook some authentic Moroccan tagines, shops for ingredients at a souk and learn about the uses of different spices and herbs.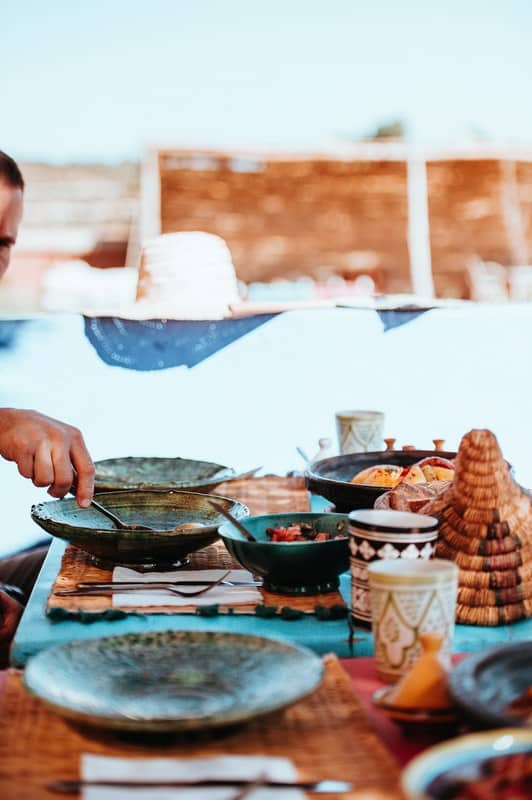 This cooking class is really fun and once the tagine is ready, you get to eat the fruit of your labor on top of a roof terrace near the city center.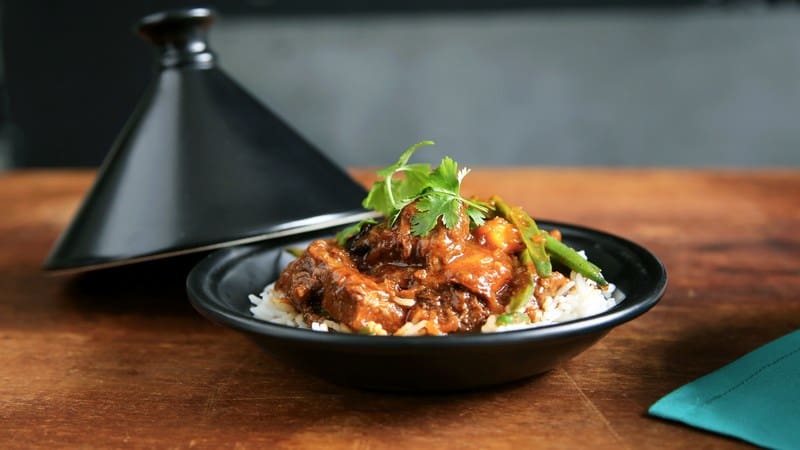 Taking some cooking lessons is one of the top things to do in Marrakech…
3. Visit the leather tanneries in Marrakech
Marrakech, just like Fez has some pretty big leather tanneries. The two cities are known for their production of world-class leather.
The 11th-century tanneries in Fez are much bigger than the one in Marrakech. However, if you aren't heading to Fez, the Marrakech tannery still makes an interesting visit.
In Marrakech, it's better to ask your hotel where the tanneries are located or have a good map of the city. On the way there, many scammers might offer to guide you but they will charge an exorbitant price.
You should walk to the tanneries by yourself and avoid the help of "friendly" strangers offering to show you the way there (this is a common scam in Morocco).
The best way to visit the tanneries in Marrakech is to hire a local guide for 2 to 6 hours for as little as $30 USD to show you the local side of Marrakech including the medina and the tannery.
4. Sip on a healthy fruit juice in Jemaa el Fna square
The juice stands in the square are really worth the visit. The juices just cost about $0.50 a cup so they are super cheap but also super healthy.
You can find freshly squeezed juices there made from all the fruits you can imagine.
5. Visit Jardin Majorelle, a stunning botanical garden
This is probably Morocco's most gorgeous botanical garden. Although Marrakech can be quite hectic, this garden is the best place to escape from the noise and chaos of the city.
This peaceful place stands out so much from the busyness of the streets that surround it that it can truly be called an oasis in the desert.
It was designed by the French painter Jacques Majorelle. He incidentally became more famous because of his botanical garden than because of his paintings.
The garden is home to more cacti and desert plants than any other garden in the world. This beautiful atmosphere is completed by the indigo blue walls of the house snuck between the plants.
This place is a prized location for Instagrammers who line up in front of the blue walls in the afternoon. I would suggest going there as early as possible to avoid crowds of photo bombers pulling up duck faces.
6. Get lost in the souks and the back alleys of Marrakech and buy souvenirs for friends
Marrakech and its tiny back alleys are often compared to a big open-air maze where one can get lost for hours. As much as some people can dread the feeling, I tend to enjoy it. I think getting lost in the streets is always a great way to discover a new city.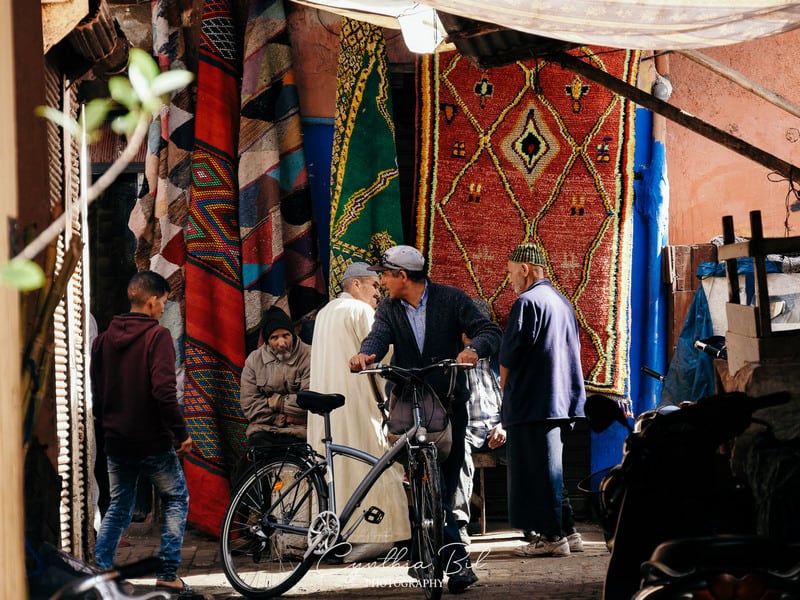 As you walk through these back alleys and small markets, you'll find handmade pottery and ceramic, leather products, bags and shoes, and beautiful wood crafts.
Shopping in Marrakesh is almost like a sport. It's a really fun experience but you have to follow a few simple guidelines if you want to avoid paying too much. If you plan to buy something in the markets of Marrakesh, be prepared to haggle and negotiate prices.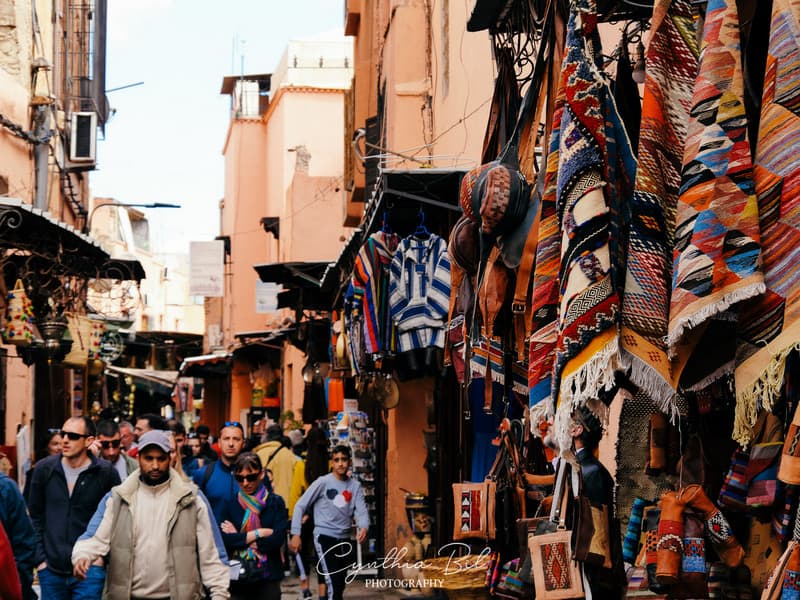 Getting lost in the market is a fun thing to do in Marrakech…
Prices generally start really high but don't be scared to haggle and make an offer much lower than the starting price. Moroccans love to haggle and will generally expect you to do the same.
You can generally offer a bit more than half of what the seller was asking and take the negotiations from there. Whatever you do, keep the negotiations friendly and you'll be bringing your friends a beautiful new rug for their living room or a Moroccan lamp for their kitchen.
7. Visit the Saadian tombs
If you've been a follower of this blog for a while now, you'll know that I love cemeteries. In the modern world, we don't often think of death and beauty as compatible. One look at this gorgeous place will convince you of the contrary.
These tombs are one of the only remains of the Saadian dynasty that reigned over the Marrakech between 1524 to 1659. It's a stunning place with great mosaic work.
You don't always know who's tomb you are looking at but it's hard not to be impressed by all the intricate carving and tilework of this stunning place.
The tombs are extremely well-kept. If you want to see the most famous hall there – the Chamber of the Twelve Columns- you may have to wait in a queue but it will be well worth the wait.
8. Get a good scrub in a traditional hammam
One of the best and most traditional experiences you can have in Morocco is to visit a traditional hammam. The hammams in Marrakesh come in all different styles. Some are almost like spas and expensive while others are a bit cheaper and used mostly by locals.
The ones visited by locals are the establishments I would recommend. Popular local hammams are a great part of the Moroccan culture.
Before you go, you'll need to get some natural Argan soap and a scrubbing cloth. Once you arrive at the hammam, you'll be handed a bucket and you'll undress before going to a closed room. There you'll be in the midst of locals scrubbing each other's back and talking about daily life.
All you need to do is fill your bucket with hot water and scrub yourself in the sauna-like room. These hammams are very cheap and cost around $3USD. they're an important part of Moroccan culture and will make you feel like a local.
Spending time in a hammam is one of the most relaxing activities in Marrakech…
9. Visit the Koutoubia mosque
This stunning mosque is a must-see in Marrakesh. It's the highest mosque and its minaret can be seen from almost everywhere in the city center.
The mosque is just 200 meters from Jemaa el Fnaa square. Non-Muslims cannot enter this mosque but it's possible to admire it from the outside.
The mosque becomes particularly gorgeous at night when it's illuminated and covered in a golden light.
Koutoubia is not only an important spiritual center but also an admirable piece of architecture. It has stunning arches and beautiful proportions.
If your hostel or riad is not too far from the city center, you'll hear the call to prayer coming from the top of Koutoubia's minaret throughout the day and see people congregate together towards the building.
10. Stay in a traditional riad in Marrakech
Morocco is a country that is rich in its stunning mix of architecture. In Marrakech, there is a special type of building that combines both architecture and history. They are called riads.
They are typical Moroccan buildings that started appearing during the Idrisid dynasty.
They usually have indoor courtyards with gardens and fountains. Their walls are covered in colorful tiles and some even have indoor pools.
These beautiful establishments can take you from the bustling streets of the city to a calm oasis of peace.
No stay in Marrakesh would be complete without at least one night in a riad. Further in this article, I'll tell you what are some of the best riads in Marrakech.
11. Visit Ben Youssef Madrasah
Madrasas are ancient Quranic schools. They can be found all over Morocco and in other Muslim countries such as Uzbekistan. They usually have beautiful intricate tile patterns and they are masterpieces of architecture.
Ben Youssef Madrasah used to be the biggest Quranic school in North Africa. It has a gorgeous inner courtyard and ornate tiles.
Make sure you go upstairs to look into tiny rooms that were once home to around 900 students.
If you go there early enough during the day, the inner courtyard will be absolutely quiet and peaceful.
Here is the location of the Madrasa:
12. Walk around the ramparts of Marrakech
Marrakech has some ancient fortified walls that stretch 19 km around the city center. These defensive walls were built in the 12th century and much of the original construction still remains.
They were originally built to provide protection for the inhabitants of the city and there are nineteen gates that provide entrance into the heart of the Medina through these walls.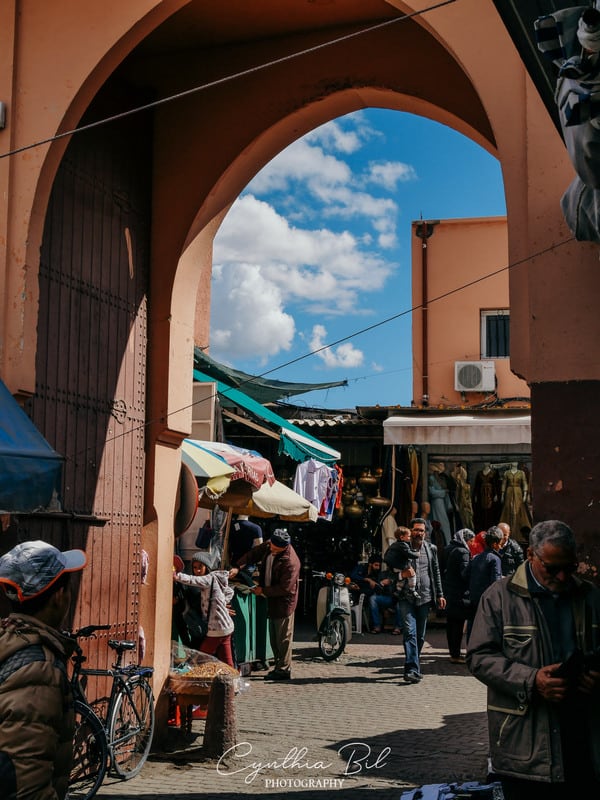 Bab Aganou is perhaps the most unique of Marrakech's nineteen gates. It used to be a royal entrance to the city and it's decorated with floral patterns and inscriptions from the Quran.
This is where you'll find this beautiful gate:
Bab al Khamis (Khamis means Thursday) marks the entrance to the flea market held around the gate each Thursday morning. If you love flea markets, this one is totally worth it!! In this weekly street bazaar, you'll find old treasures, ancient wooden doors, and beautiful antiques.
This is where you'll find this street market every Thursday:
The fortification around the Medina has a reddish color and that's where the name of the city itself comes from. The city of Marrakech got its epithet the "Ochre City" from the color of the reddish-pink clay used to build its ramparts.
The best way to see the walls is to take a long walk around the city. It's easier to see the walls from outside the perimeter of the old medina than from the inside. Don't forget to bring a good paper map or install Google maps on your phone.
Another way to visit the walls is to hire a horse carriage at one corner of the Jemaa el Fenaa square (see above). Visiting the walls by calèche takes around 40 minutes and the price can be negotiated.
13. Visit a traditional Berber carpet museum
Marrakech has a few carpet museums that were opened to promote the rich heritage of the Moroccan and Berber carpet and weaving collections.
One of the best carpet museums to visit in Marrakech is the Dar Si Said Museum of Weaving and Carpets. The collection of carpets on display is not very different from the other ones you would find in Marrakech but the beauty of the building itself is what makes this museum worth a visit.
The museum is located inside a beautiful old palace, with small yards and gardens filled with flowers and shrubs.
Each room of the museum is decorated with intricate wooden ceilings and multicolored tiles. If you want to see the most beautiful halls, you'll have to go on the second floor.
Here is where you'll find Dar Si Said Museum of Weaving and Carpets:
14. Visit the Bahia palace
This palace is probably the highlight of the touristic attractions in Marrakech.
It was built in the 19th century and intended to be the greatest palace of its time. Its name Bahia means "brilliance" in Arabic. It's a beautiful building that captures the essence of the Islamic and Moroccan style.
It's one of the masterpieces of Moroccan architecture, one of the major monuments of the country's cultural heritage and one of the main places of tourism in Morocco. It's absolutely worth a visit but because the courtyards are exposed to the sun, I would go there on a cloudy day.
Here is the location of Bahia Palace:
15. Enjoy a traditional mint tea in one of the many small cafes of Marrakech
The traditional mint tea that Moroccans are so fond of is absolutely delicious and it's a drink you should try during your visit to Marrakech.
If my time in Morocco could resume itself in one flavor it would be the flavor of mint tea. I've never drunk more tea in my whole life than when I was in Morocco.
Moroccans are so fond of this sweet drink that they call it the "Moroccan Whiskey". It is served with almost every meal and tastes absolutely delicious.
I liked the Moroccan tea so much that it became one of the 13 things that made me fall in love with Morocco.
There are many small cafes and restaurants in Marrakech where you can enjoy this traditional drink. One of the best cafes in Marrakech to have a mint tea is Zwin Zwin Cafe. The cafe has a beautiful rooftop terrace from which you can enjoy panoramic views and the sight of the Atlas mountains.
Here is the location of Zwin zwin cafe:
Things I don't recommend doing and places I don't recommend visiting in Marrakech
Here are a few places and activities I deem worth skipping in Marrakech. Now bear in mind that this is only my opinion but the activities that follow really didn't appeal to me and I'll tell you why.
Visiting the Yves Saint Laurent museum
Yves Saint Laurent spent a good deal of time and money in Marrakech and he built this small but beautiful modern museum to showcase himself, his work and his models and friends.
Unless you're a fan of Paris high-fashion designer clothing, this museum risks being quite boring. The entrance is 7 euro per person and that's a very high cost for so few exhibits. There's nothing in the museum related to Morocco or Marrakech. Even if you are into fashion, all you will see are rooms full of dresses.
Taking a picture with the snakes or monkeys
In the large squares of very touristic cities such as in Jemna El-Fna in Marrakesh, you might encounter people walking around with animals such as snakes or monkeys.
When you walk by, these scammers place the animal on you and invite you to take a picture. They may even snatch your camera out of your hand to take a picture of you with the animal. They then try to convince you into paying them a super large sum of money for the picture you took with their critters.
If you give less than what they're expecting (which is usually something around 100 MAD or 10 euros), they'll throw the money back at you and start shouting while asking you to pay more.
The first way to not fall into this trap is to avoid people insisting on you taking a picture with their animals. If you do like a photo, however, pay them only what you consider to be a fair price and then walk away.
[kt_box opacity="1″ background="#eded6f"]
Read: 12 Common Scams you might encounter in Morocco (and how to avoid them)
[/kt_box]
Visiting the Marrakech museum
There is not much to see in this museum apart for the exterior of the building itself. The building is nice but the displays are not so interesting. Also, you have to read French or Arabic if you want to learn anything about what you're looking at.
What are the best day trips from Marrakech?
Marrakech is a fantastic city where you can see tons of beautiful sights but at time it can become a bit overwhelming. Because it's so close to many interesting destinations, it's easy to take a small break from the hustle and bustle of the city.
You can leave Marrakesh in the morning, visit cool waterfalls and mountain villages during the day and come back in the evening.
These stunning waterfalls can be reached in a day from Marrakech…
To help you make the best of your time in Morocco, I wrote a complete guide to the best day trips around Marrakech.
In this guide, I explain how to reach each destination by public transport and with your own car from Marrakech and what you can do there.
North-Africa's highest peak is just a couple of hours south of Marrakech…
Where to eat in Marrakech
Marrakech has a huge selection of delicious restaurants that can satisfy travelers with different budgets. Whether you want a fancy restaurant where you can try some Moroccan wine or a local eatery, you'll find some savory options in the city.
Here are some of the best restaurants in the city:
Le Trou au Mur
If you want some authentic Moroccan food, this is the place to visit. They have a delicious mechoui and mixed salads that you can savor from a rooftop terrace with a view over Marrakesh.
This restaurant has some beautifully stunning decoration and the staff is super friendly and helpful.
When we called the restaurant to confirm our reservation, the owner offered to send one of his employees to meet us so we could easily get to the restaurant without getting lost. They even had someone walk us back to our hostel.
This is where you'll find Le Trou au Mur:
Libzar
This restaurant is a bit outside the city center but it's well worth the 45-minute walk or the 5-minute taxi ride to get there. It's the perfect place if you love salads and fresh vegetables.
I had a fantastic grilled eggplant with honey and almonds, a cauliflower fritter, and sweet pumpkin puree.
Here is where you'll find Libzar in Marrakech:
Dar Zalij
This place is slightly expensive but so worth the price. It was probably our most expensive meal in Marrakech but compared to restaurant prices in Europe it wasn't too pricey.
They serve generous portions and have delicious vegetarian options. If you eat meat, I absolutely recommend the lamb tajine or the chicken tajine with lemon.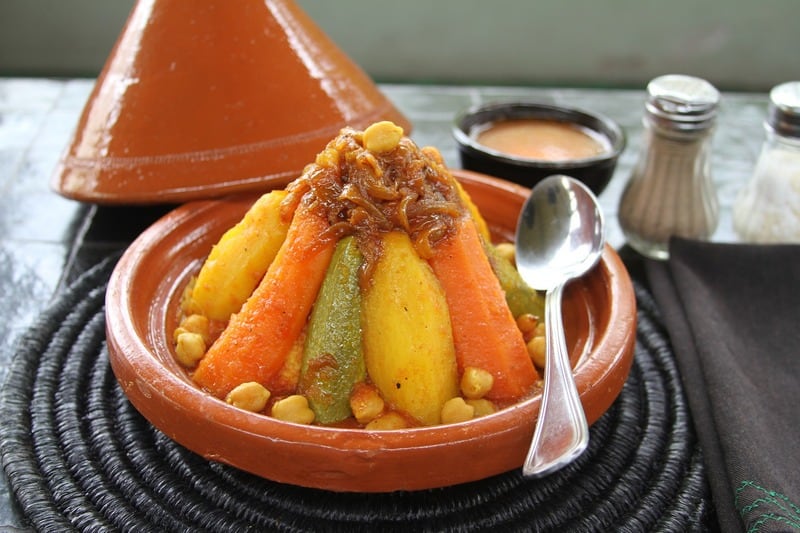 If you have a sweet tooth, the chocolate and orange pastila will be the perfect dessert.
There seems to be live music in this restaurant every evening. There were some Sitar players while we were there and a belly dancer.
Here is where Dar Zalij is located in Marrakech:
Where to stay in Marrakech?
Marrakech is a city that is worth taking the time to discover, so you will want to stay there at least a night or two.
It's a city rich in traditional architecture. One of the best experiences you can have in Morocco is staying in a Riad, typical rich Moroccan houses with indoor courtyards and fountains, designed with zellij (Moroccan tiles).
Marrakech has some gorgeous establishments…
Marrakech also offers a wide choice of hostels for budget travelers who want to save money to explore during the day and swap stories with fellow backpackers in the shared kitchen or bar in the evening.
If neither a Riad or a hostel is the right choice for you, the city also has plenty of beautiful mid-range guesthouses on Airbnb where you could stay (if you use this link to sign up with Airbnb, you get a 30% discount on your first booking).
What are the best hostels in Marrakech?
This hostel has some of the friendliest staff in Marrakesh and it felt like they were old friends we hadn't seen for a while. They were very helpful and diligent.
This gorgeous hostel has a great rooftop terrace where there are plenty of long chairs to lounge. For digital nomads who work from their laptops creating online content, this hostel will be the ideal location. The hostel has a lot of power sockets in the dorms as well as in the shared areas.
Jemaa el Fnaa, the main square of Marrakech is just 15 minutes away from this establishment so the location of the place is ideal to see all the main sights of the city.
Click to check out rates and availability for "Kasbah Red Castel Hostel"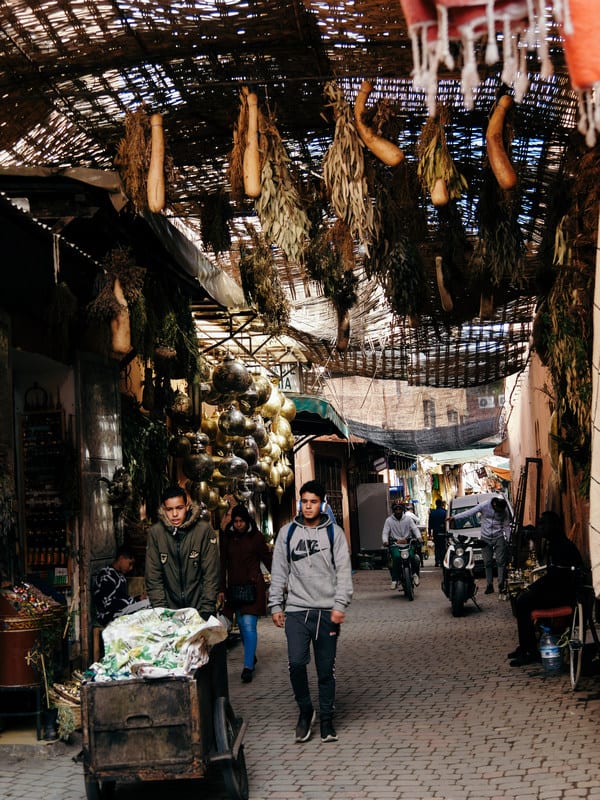 This hostel is located right in the heart of the medina. Although it's located right in the center of the city, it's still an oasis of peace and tranquility.
There is a great breakfast served in the hostel every morning composed of delicious pancakes, omelets, and fruits.
The staff of the mosaic hostel was super friendly. They recommended some awesome things to do around the city and made us feel at home. They also had an awesome music playlist that played every morning and it was the perfect way to start the day.
Click to check out rates and availability for "Mosaic hostel"
This is the cleanest and most beautiful hostel in Marrakech, hands down. The rooms, bathrooms, and shared areas are impeccably clean. The hostel is also covered in beautiful decorations. Although this is a hostel, you'll find the same level of comfort here than you would in a fancy riad.
The placed is managed by a young Moroccan entrepreneur who is really keen on providing his guests with the very best experience possible.
He speaks English very well and can help you with anything you would need during your visit to Marrakech.
Click to check out rates and availability for "Be Nomad"
What are the best riads in Marrakech?
Marrakech has so many beautiful riads that we couldn't possibly put them all here. They are becoming more and more affordable and give you the impression of being part of a Moroccan royal family without breaking your piggy bank.
These are the ones we recommend in Marrakech:
This Riad is smaller than other establishments so it has a cozier and more private atmosphere than what you would get in other places.
The rooms are very comfortable and they are painted in very light shades of colors as you can see in these pictures.
The Riad is in a perfect location in the heart of the Medina. It was ideal for our quick visit to Marrakech and was very enjoyable. The staff was excellent, they were always available to answer all of our questions and the breakfast was really varied.
Click to check out rates and availability for "Riad les 2 portes"
Luxurious is the best way to describe this lavish palace. Riad Jomana seems to come straight from the Arabian night's novel.
It has a very traditional look with colorful tiles and a water fountain. This riad is famous for its super huge rooms with humongous beds. If you want to feel like a royal without spending too much money, this is the place where you should stay.
Click to check out rates and availability for "Riad Jomana"
This Riad is full of lovely trees, shrubs, and flowers. It feels very quiet and peaceful even though it's very close to the city center. The Riad has a washing machine and getting some clothes washed while you're there is not a problem.
This riad is quite small with only 4 rooms but the rooms are really spacious.
Click to check out rates and availability for "Riad Dar Tamlil"
How to get to Marrakech?
how to get from Casablanca to Marrakech by train?
Marrakech can be reached from Casablanca by taxi, by bus, and by train. However, the cheapest and most convenient way to travel between the two cities is by train so that's the option I will cover here.
Traveling around Morocco by train is a great choice because they're cheap and they are a great way to see the stunning Moroccan landscapes.
It's very easy to buy your train tickets directly at the train station. Ticket prices and time schedules can be found on the ONCF website. Once you know which train you will take, you can head over to the train station to buy your ticket. Bring cash to buy your ticket as it's not always possible to pay by debit or credit card.
There are eight trains per day between Casablanca and Marrakech departing every couple of hours. Travel time between the two cities is around 2 hours and a half.
Here is where you can hop on the train in Casablanca:
How to get from Casablanca to Marrakech with your own car?
If you have your own car or if you're renting one, reaching Marrakech from Casablanca becomes very easy. To reach Marrakesh from Casablanca, just follow the highway N11 towards the south until you reach highway A7. Follow highway A7 and you'll arrive in Marrakech.
The distance between the two cities is 244 km and getting there will take around 3 hours.
How to get from Essaouira to Marrakech by bus?
One of our favorite cities in Morocco is Essaouira and if you travel along the coast you'll probably end up visiting it as well.
Marrakech and Essaouira are both very traditional cities and it's a great idea to visit both if you want to understand the Moroccan culture in greater depth.
Essaouira is one of our favorite cities in Morocco…
To reach Marrakech from Essaouira you'll have to reach one of the bus stations in the city first.
There are two bus terminals in Essaouira, one is used only by CTM and the other one is used by Supratour and the various other bus companies that operate there.
The Supratour terminal is much closer to the old city while the CTM one is located a bit farther. The Supratours bus stop can be found just southwest of the square known as Bab Marrakech.
Here is the location of the two bus terminals in Essaouira where you can get a bus for Marrakech:
You can find the bus schedules on the CTM and the Supratour websites.
How to get from Essaouira to Marrakech with your own car?
If you have your own car, it doesn't take a lot of time to reach Marrakech from Essaouira. There is only 191 km between the two cities and it takes a bit more than an hour and a half to get to Marrakech from Essaouira.
[kt_box opacity="1″ background="#eded6f"]
Have a look at our guide to Guide to Essaouira, Morocco's windy city
[/kt_box]
How to get from Fez to Marrakech by bus?
Fez has a bus station with buses departing to Marrakech every single day. Buses in Morocco usually tend to be old, rusty and without lights but the main company that connects Fez and Marrakech, CTM, has really modern and comfortable vehicles.
They offer European-quality service, for double the price by Moroccan standards, but they usually include the 5 to10 dirham required for transporting luggage (malletas), and they're not overcrowded.
People go to the station in the morning to book their ticket for the afternoon or the day after, and collect stickers for luggage, so beware of showing up at the last minute and not finding a place.
Here is the location of the CTM bus station in Fez:
How to get from Fez to Marrakesh in your own car?
If you have your own car and you want to drive to Marrakech, it's easier to get there using the coastal highway. The highway that follows the coast is almost brand new and by using it you won't have to drive through the treacherous windy mountain highways in the center of the country.
Reach the coast by driving to Rabat first and then drive south from there to Casablanca and then to Marrakech.
I hope this guide was useful and that you'll have a great time in Marrakech. If you have any questions, don't hesitate to write them in the contact below or contact us directly.
*This article contains affiliate links. If you book a hotel/hostel or purchase one of the recommended products through our website, we'll receive a small commission at no extra costs for you. This way you're helping us writing more informative and awesome guides like this. Thank you!
Read the rest of our articles for more travel tips for Morocco:
Everything you need to know about traveling independently in Morocco :
Planning to rent a car in Morocco? Read this first:
A few travel and safety tips for Morocco:
Planning to travel to Morocco during Ramadan? Read this first:
How is it to travel to Morocco during Ramadan?
Hiking, surfing and nature trips in Morocco:
Our Moroccan city guides:
MOROCCO TRAVEL RESOURCES: