This article covers all the common scams you might come across in Morocco and tips on how you can avoid them.
Morocco is a gorgeous country where most people are generous and always ready to help you. It's also a very safe destination. I lived there for more than a year and it was a fantastic experience.
Whether you are planning to go to the Sahara Desert, spend time in Marrakech, visit Chefchaouen, climb to the summit of Toubkal or relax on the beautiful beaches of Essaouira, traveling to Morocco is an experience not to be missed. It's a country that has excellent food, beautiful landscapes, and very friendly people.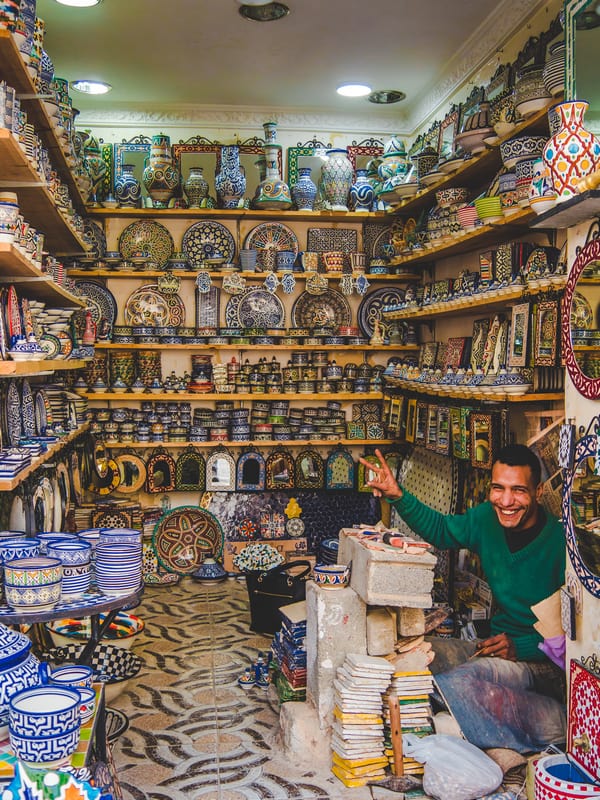 [kt_box opacity="1″ background="#eded6d"]
Planning a trip to Morocco?
Read our Ultimate Travel Guide to Backpacking in Morocco!
[/kt_box]
Most Moroccans are honest and very helpful to travelers. However, the country is a very popular destination and just like every other touristic destination, scamming unwary travelers is quite a common thing. You will find warm and friendly people all around the country but if you're not careful, you could easily fall for a scam or a tourist trap.
Most Moroccans are very hospitable and helpful people!
The sad part is that most victims don't realize what happened until someone points out the ridiculous price they ended up paying for a product. It's a sad experience to feel cheated and it can change the happy mood of a trip pretty quickly.
In this article, I'll tell you about the most common scams in Morocco and give you tips and pointers on how to avoid them.
1. Nice guy showing the way
This scam can be encountered everywhere in Morocco and comes from the very low wages Moroccans are paid (the daily wage in Morocco is about 10 USD). This dishonest trick is particularly rampant in big cities.
It consists of offering unsolicited help such as pointing out the way to a hotel or guiding you to a restaurant. Once you arrive at the location the scammer will ask you for an overinflated tip in exchange for his service.
For example, while you're walking with your backpack in the streets of the old medina of Fez or Marrakech, someone approaches you and suggests to guide you to your hostel. Once you arrive there, he asks for 30 or 50 MAD for the five minutes it took to help you and will not leave until you give him a tip.
While walking in the old Medina of Tangier, Cynthia and I encountered such scammers trying to bring us to restaurants or shops on a daily basis. It was really common but after months of backpacking around the country, we were used to it and knew what would happen if we followed these people.
The Old Medina of Tangier
How do you avoid this scam
Unfortunately, it's not very likely that the police is going to help you if you find yourself harassed by someone that brought you to your hostel.
Be very wary of exaggeratedly friendly strangers who approach you out of nowhere and offer their help. Only ask for help if you absolutely need it, and if so only ask people inside their shops or traffic and police officers. If there are young guys around just ask for directions but always remember to insist that you don't need them to guide you.
Quick tip: Learning some words in Moroccan Arabic will help you avoid this trap.
[kt_box opacity="1″ background="#eded6d"]
Worried about your safety in Morocco?
Read Is Morocco Safe?
[/kt_box]
2. Over-inflated price for a camel or horse ride
This scam is more common in places like Merzouga, Marrakech or in coastal towns where camel tours are very popular. People there will offer you a ride on their animal and either bring you farther than agreed and then overcharge you or simply charge you an inflated price from the very beginning.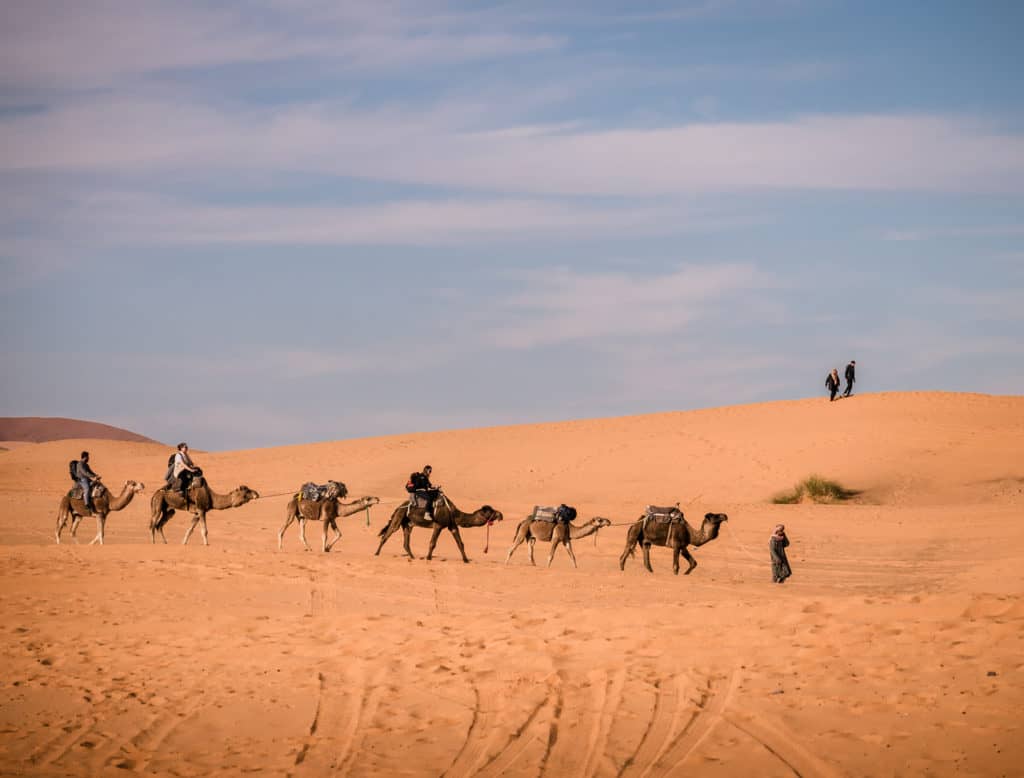 Another variant of the scam is when the camel owner brings you very far from your starting point and demands double the payment just in order to return you to the village you started from. This can be a very stressful and scary experience but there are ways to ride camels in Morocco without putting yourself in such a situation.
How to avoid this scam
If camel riders ever try to strand you in the middle of nowhere, threaten them to call the authorities. Mentioning the police will make them change your attitude towards you immediately.
The best way to avoid this classic con is to refuse to ride a horse or camel unless it's from a trustworthy company. You can find these companies by booking your camel or horse tour online beforehand.
You can find some great and affordable tours on Get Your Guide:
Click here for more location-specific camel and horse tours.
[kt_box opacity="1″ background="#eded6f"]
Planning a trip to Marrakech?
Read: What to do in Marrakech – A Complete Guide to Morocco's Red City
[/kt_box]
3. Fake items sold at the market (Argan oil, carpets, saffron)
Popular items sold at the markets, such as Argan oil, pottery, carpets, saffron, etc. will usually be fake and overpriced. For example, sellers might claim that a carpet is over 100 years old or that it came from a Berber tribe in the mountains and then ask a ridiculous price for it.
They might even insist that you can make a very high profit by reselling it in your country and then they'll lower its price just for you. If you pay the asked amount of money, you'll be scammed at a hugely inflated price and it's also very unlikely that you'll be able to resell the carpet for a higher price back home.
Argan oil is often diluted with other more common types of oils but its price will remain the same. If you want to buy Argan oil, it's better to get the oil in the region surrounding Essaouira or Agadir. This is where the oil is locally produced so the chances that you'll buy fake Argan oil there are very small. However, watch out in cities like Marrakech and Fez.
Saffron is a very expensive spice that is unfortunately commonly faked and sold at a super high price in Morocco. It's one of the most widely faked spices on the market and it's quite hard to distinguish the real thing from the fake copies.
How do you avoid this scam
What I would recommend is to first check with your hotel or hostel staff how much certain items should cost and if you can trust the quality of these souvenirs. If you have local friends that you trust, you could always go to the market with them to buy gifts. Not only can they recommend items and tell you which ones to avoid, but they can also help you haggle the prices.
When it comes to saffron, a good way to distinguish the real from the fake is to smell it. Never buy this spice in a sealed container. Real saffron has a very intense and strong distinctive odor. If you put your nose in a jar that is supposed to contain saffron and you don't smell anything, it's likely you're being sold safflower. It's a very similar flower but it doesn't have the same flavor.
4. Fake tour guides
This scam is quite similar to the one where a "friendly Moroccan" shows you the way to your hostel.
The scammer pretends to be an official guide who is being paid by the tourism board of the city and offers to bring you on a tour. Very often he also has a fake ID resembling the ones carried by the official guides. This fake guide, however, is not paid by the city council nor is he officially working for them.
Although at first he may not ask for money, he'll bring you to shops where he will receive a commission if you buy something. He might also try to bring you to the restaurant of one of his friends.
We encountered one of these fake tour guides while we were visiting the city of Tinerhir. He invited us to visit the city with him and even after we politely refused, he kept insisting that he would bring us to the best carpet shop in town (probably his brother's or uncle's shop).
In the following days, every time we met him in the streets, he would insist on bringing us there and started to become even slightly aggressive.
Another version of this scam is when a self-proclaimed tour guide claims that the only way you can visit a destination is by using his services. We had that happening to us when we visited the Ouzoud waterfalls near Marrakech.
A guide was waiting for our group far away from the official entrance of the site.
He went on saying that it was impossible to visit the waterfalls independently and that each member of the group would have to pay him 3 euros at the end of the tour for his services. The driver of our van was on the scam with him as he had dropped us off far from the entrance.
Because I spent a lot of time in Morocco and I learned Moroccan Arabic, I was well aware of what was going on. Cynthia and I managed to leave the group and we explored the area around the falls by ourselves.
How do you avoid this scam
Avoid any tour operator or guides that do not have an official website or reviews that you can look up online. Always ask them if they have an office that you can visit and what exactly will be covered in the price of the tour.
I would suggest booking a tour with Get Your Guide. They offer various day trips or multi-day tours from Marrakesh and other Moroccan cities and you can also check the customer reviews for each tour.
Ait Ben Haddou – only a day-trip away from Marrakech!
5. Pickpockets in Morocco
Something you should definitely be aware of in the more touristy cities of Morocco is pickpocketing. This is particularly likely to happen in Jema El-Fna in Marrakech or in the small busy streets of Fez.
Unwary tourists visiting these cities can get their most precious valuables stolen (often wallets or passports) while they're walking around in the crowds.
A skilled pickpocket in Morocco can take off with just as much money or valuables as an armed robber would anywhere else. And there isn't much danger of confrontation or risk of being identified. By the time the poor victim realizes what's happened, the pickpocket will be far away.
Pickpockets usually work in gangs and will try to look around to spot anyone carrying expensive valuables or someone neglecting to keep an eye on his phone or bag.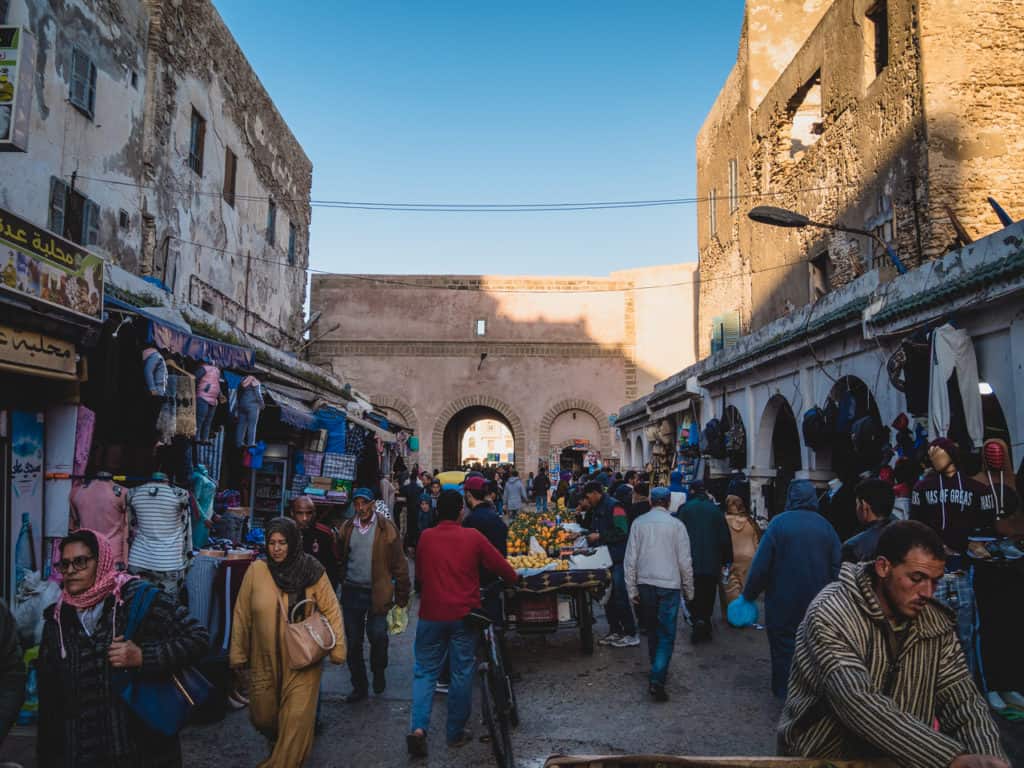 Be careful in crowded places!
How to avoid pickpockets in Morocco
The best solution to avoid this scam is to stay very alert and aware of your belongings at all times. You should leave all your important and valuable items at the hotel and walk around only with what is absolutely necessary.
Keep your wallet in your front pocket or carry a money belt. Another great option is to travel with a slash-resistant and lockable anti-theft bag. Keep a low profile and avoid walking around with very expensive jewelry. I would also recommend making a copy of your passport and only carry this copy with you around if you need to show some ID.
Just in case, get good travel insurance that covers theft.
[kt_box opacity="1″ background="#eded6f"]
Read also: Is Marrakech Safe? – Your Guide to Safety in Marrakech
[/kt_box]
6. Henna women of Jemna El-Fna
Imagine this scenario: you're standing on the main square of Marrakech when all of a sudden you feel something warm on your hand. You turn around to see an overweight Moroccan lady who spilled some ink with her ink syringe on your hand. She kindly offers to fix her mistake by giving you a full henna hand tattoo.
Now here's the catch; as soon as the tattoo is finished (and there is no guaranty it's going to be a nice one) she will ask you for one hundred to two hundred Dirham for the few minutes it took her to draw the art piece on your hand. She won't care whether you like the end result or not. It's also likely she will harass and follow you if you refuse to pay.
Note that even if you were the one who approached one of these ladies for a Henna tattoo, any price that was initially agreed upon is not likely to be honored once the tattoo is done.
Another reason to avoid Henna tattoos in the streets of Morocco is that most of these scammers will use something known as black Henna instead of the real deal. It's an ink that stains your skin black instead of brown and it's really dangerous because it contains paraphenylenediamine (PPD), a hair dye. When it's applied on your skin, it may look like a real tattoo, but allergic reactions to PPD can cause blisters, open sores, and scarring.
It's easy to tell whether the Moroccan henna ladies are using black henna or the traditional one. Traditional henna paste is usually dark green, khaki, or greenish brown color. It's never black. If a henna artist is applying a thick black paste on your hand, stop her immediately.
How can you avoid this scam
If a woman spills some ink on your hand, you should immediately wipe it off and walk away. Even if she is super insistent on fixing her mistake by giving you a complete hand tattoo, do not accept her offer. For one, it will be overpriced and you don't know if she will be using the dangerous black henna ink.
The best way to get a safe, fairly priced henna tattoo is to ask your hostel staff on what could be the most reputable place to go to.
7. Pictures with live animals
In the large squares of very touristic cities such as in Jemma El-Fna in Marrakech, you might encounter people walking around with animals such as snakes or monkeys.
When you walk by, these scammers place the animal on you and invite you to take a picture. They may even snatch your camera out of your hand to take a picture of you with the animal. They then try to convince you into paying them a super large sum of money for the picture you took with their critters.
If you give less than what they're expecting (which is usually something around 100 MAD or 10 euros), they'll throw the money back at you and start shouting while asking you to pay more.
How do you avoid this scam
The first way to not fall into this trap is to avoid people insisting on you taking a picture with their animals. If you do like a photo, however, pay them only what you consider to be a fair price and then walk away.
[kt_box opacity="1″ background="#eded6d"]
Read: Backpacking in Morocco – How much does it cost?
[/kt_box]
8. Restaurants with hidden prices or two separate menus
Some Moroccan restaurants use very dodgy techniques to cheat unwary travelers. For example, the waiters may claim that bread and water are complimentary with the meal but then charge for them afterward. They may also charge you for food you have never ordered.
Another more sinister trick is to have two separate menus. They'll show you one before you order on which the food is cheaper. When it will be time to pay, you'll notice that your bill is much more expensive than what you expected. If you ask for an explanation they will bring a different menu with much higher prices. There is no point in arguing with them because you'll never see the first menu with cheaper prices again.
This happened to me during my first week in Marrakech. I ordered a lot of food in a restaurant after seeing how good the prices on the menu were, only to be conned when they brought a different menu at the end of the meal.
The waiters were all standing around me like a mob, insisting that I was wrong about the prices while they were holding a completely different menu with different prices. In the end, I just got angry and walked away without paying anything.
How do you avoid this scam
If you ever are the victim of this scam, simply pay what you assume the initial price was and walk away. The restaurants operating this type of racket are known by the cops, so they will never file a report against you if you just walk away without paying their "tourist" prices.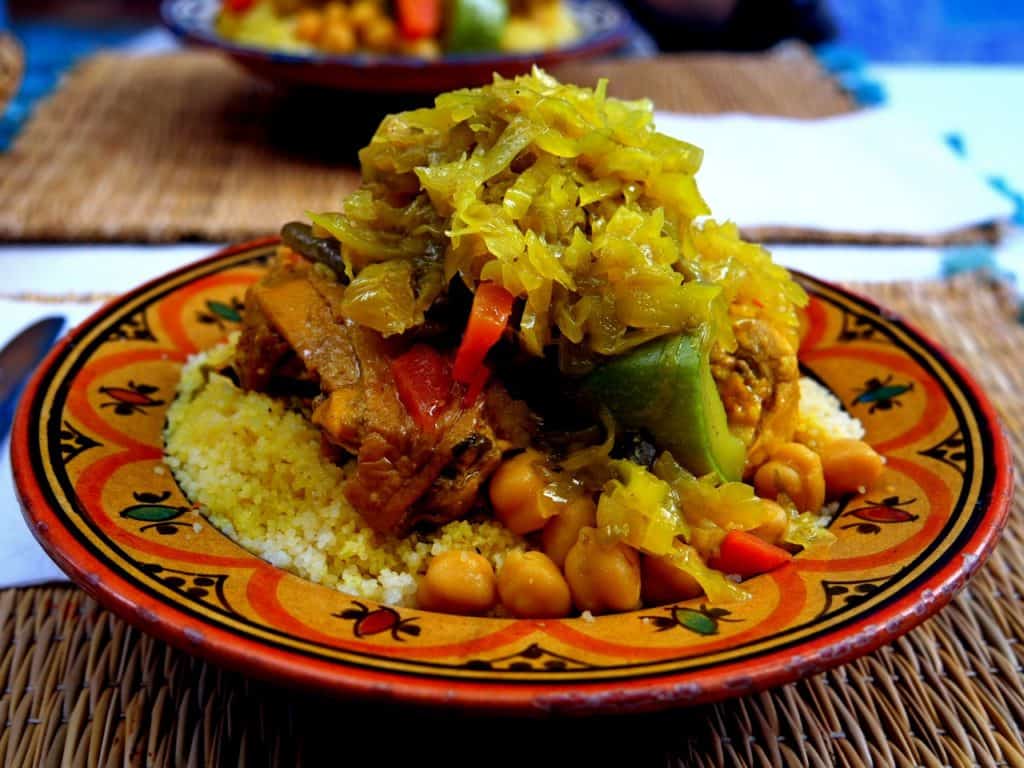 9. Tannery scams
Morocco is famous for its leather tanneries. The ones located in Fez and Marrakech are particularly popular among tourists (read our article about the leather tanneries in Fez). The problem is that they became a center for a nefarious "fake guide" scheme.
When walking in the vicinity of these tanneries, you are approached by overly friendly "guides". They assure you that if you visit the tanneries by walking through the main entrance, you'll have to pay a super high price. They then guide you through a different entrance where they assure you that you won't have to pay for a ticket.
The problem is that once you are in the tanneries, they start asking for money, and usually much more than what you would have paid if you had bought the ticket. Some travelers reported being aggressively pressured into paying for that overly charged "exclusive tour" of the tanneries.
How can you avoid this scam
If you want a tour of the tanneries, it's better to go through the main entrance. If you want to get closer to the workers, agree on a price beforehand and insist that you will not pay more. It's always better to ask your hotel or hostel staff for a professional tour guide.
10. Fake Moroccan fossils and minerals
Morocco is a famous destination for fossils but most of those sold in the shops are fake. It's common to see dinosaur jaws and trilobites being sold at the souk of the old Medinas but none of them are actually millions of years old. They're usually fake concrete sculptures designed to imitate the real thing.
Morocco is also a big hub for fake or enhanced geodes and other quartz crystals. The sellers might have real geodes with quartz crystals but will then add purple dye to the inside of it to simulate the appearance of amethysts.
How do you avoid this scam
The odds of you finding actual fossils on the Moroccan markets are getting smaller day by day. Here are a few tips to distinguish fake fossils from the real ones:
If you see many identical looking fossils side by side on a stand, they will usually be mass-produced concrete castings. You can tell they're fake because they all look the same.
Rare fossils will never be cheap. If it's really a fossil it should cost a fortune.
Dinosaur teeth are almost never found attached to a jaw so finding a jaw with teeth attached to it in the souk is a clear indicator that it's a fake.
Perfect looking fossils are likely to be fake copies. Most of the actual fossils are cracked and have a lot of missing parts.
There is no problem in buying a fake fossil if you think it would be a nice addition to your living room, just remember that it might not be worth the price you'll pay for it.
11. Kif and hashish drug scams in Morocco
This is probably the most sinister of all the scams in this article. The way it works is quite simple and that makes this racket even scarier.
A hashish dealer will sell you a big amount of the drug and even smoke a part of it with you. Once you're high as a kite, a cop (who works together with the dealer) will show up and demand that you pay a huge bribe to cover up the crime. You'll end up paying twice and if you don't, you could end up in a Moroccan jail.
While we were traveling in Chefchaouen, we got many times approached by hashish dealers. We simply brushed them off and continued walking, well aware that there is a whole illegal scheme at work in that part of Morocco. We're not saying that buying hashish in Chefchaouen will end up in a scam as it's a place where many tourists typically buy it without any problems but we wouldn't risk it.
How do you avoid this scam
Never buy any drugs in Morocco. If caught you will face serious jail time and there will be no way around it.
12. Fake beggars
In Morocco, some people will pretend to be poor and afflicted by different ailments such as blindness or being unable to walk. They will then stand on the side of the road and put on a show for a few pennies. In some cities, there is a racket in place that enables begging ladies to rent a baby for a day. By sitting with "their" baby they look miserable and inspire pity even more. This is gross and shouldn't be encouraged.
How do you avoid this scam
Unfortunately, this scam is encountered all over the world. I would recommend ignoring beggars, otherwise, you risk attracting more of them and this could potentially escalate in a dangerous situation.
This cat might also beg – for cuddles and food
---
Bonus scams: Car rental scams in Morocco
Morocco is a country where it's very easy to rent a car and drive around the whole country. The roads are in very good condition, the landscapes are pristine and gas is cheap.
Renting a vehicle in Morocco is a great option if you want to see as much of the country as you can in a short time and have the biggest amount of freedom while doing so.
Here are a few car rental scams that many tourists fall for in Morocco:
Getting charged for damage that was already on the car
Although this is not very likely to happen with bigger companies, it's something that you could fall for if you rent through a smaller agency.
It's very important to inspect the car thoroughly and take note of every crack or damage that was already on the car before you take off with it.
Record a video with your smartphone of the car condition before you leave. This is a backup if the agency tries to charge you for damage that was already there.
Pay attention to the interior as well. There are many accounts online of foreigners who were charged for cigarette burns that were already inside the car.
Getting charged for a hidden cleaning fee
Another common scam when it comes to rental cars in Morocco is to be charged a cleaning fee when the car is returned.
You only have to pay a cleaning fee if it was already stated on your initial contract.
Getting the car with a gas tank that is almost empty
Normally car rental agencies in Morocco have a policy of leaving you with a car that has a quarter of the tank already filled up with gas.
However, some dubious car rental agencies have scammed people by giving them a car with a gas tank that was almost empty and then sending them to a gas station owned by family members or friends to make an even bigger profit.
Tips: If you're planning to rent a car in Morocco, read Renting a Car in Morocco – Everything you Need to Know.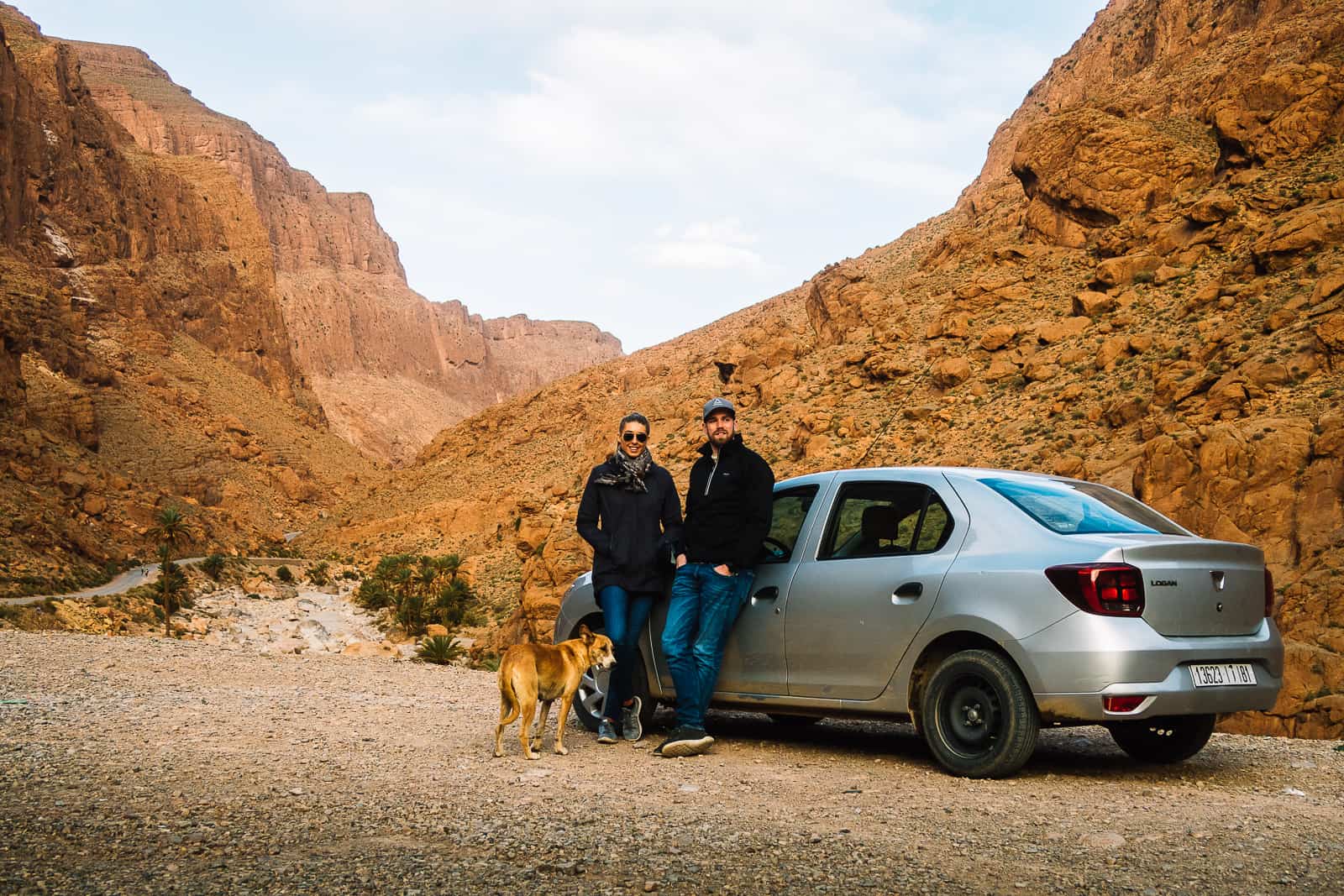 Emergency phone numbers in Morocco
If you ever run into a dodgy situation in Morocco and need to call the police, you can do so by typing 190 or 112 in big cities.
If you're outside the city, the number to call is 177. This will contact the Royal Gendarmerie.
A few other useful numbers for when you travel around Morocco are 150 to call an ambulance and 15 for the fire brigade.
I hope this list of common scams in Morocco helps you have a better and safer trip around the country. If you think any scam is missing or should be added to this list, contact us or let us and other readers know in the comments below.
Have you ever been a victim of a scam while traveling around the world? Tell us your story in the comments below!
* We're not scammers so we like transparency :). This article contains some affiliate links and If you book a tour or purchase one of the recommended products through the links in this post, we'll receive a small commission at no extra costs for you. This way you're helping us writing more informative and awesome guides like this. Thank you!
KNOW BEFORE YOU GO – MOROCCO TRAVEL TIPS:
Everything you need to know about traveling independently in Morocco :
Planning to rent a car in Morocco? Read this first:
A few travel and safety tips for Morocco:
Planning to travel to Morocco during Ramadan? Read this first:
How is it to travel to Morocco during Ramadan?
Hiking, surfing and nature trips in Morocco:
Our Moroccan city guides:
MOROCCO TRAVEL RESOURCES: