Are you looking for a great Morocco itinerary to see the best places in the country in 7 days?
Here are 3 complete itineraries to discover the North, the South, and the coast of Morocco.
Whether you're planning only a short trip or an epic journey to the country, these Morocco itineraries will help you plan every step of your adventure and see the most beautiful places in Morocco.
What is there not to love in Morocco? The country is extremely safe while being completely exotic, it has some of the most beautiful waterfalls, a blue city, awesome surfing beaches, and immense sand dunes!
Morocco is a country I completely fell in love with and to which I keep going back year after year. The people and the culture completely charmed me as well as the gorgeous destinations around Morocco.
The gorgeous Moroccan mountains south of Marrakech are one of the reasons I fell in love with the country…
There are so many awesome destinations in this country that one cannot help but wonder what are the best places to visit in Morocco? And if on a short visit to the country, what would be the best Moroccan itineraries?
In this article, I'll give you some itineraries for Morocco that you can combine together to create the ultimate trip! I give 7 days itineraries but if you want a two-week itinerary or longer, you'll find plenty of interesting combinations here.
How to spend one week in Morocco – 3 Morocco 7-day itinerary suggestions
A week-long vacation in Morocco will allow you to see some great destinations in the country. Before booking your flight to Morocco, I would suggest looking at the three following itineraries. They aim at discovering different parts of the country.
One itinerary starts in Tangier, while the other starts in Marrakech.
I'll also give you information on how to organize your own week-long surfing trip to Morocco.
In this article, I'll also tell you how to organize your own Moroccan surfing trip…
North of Morocco 7-day itinerary
If you have seven days to spend in Morocco and want to visit the northern cities of Morocco such as Tangier, Chefchaouen, and Fez, this itinerary will be the one for you. On this itinerary, you'll also visit the beautiful Akchour waterfalls located next to Chefchaouen.
These are the different places you will visit on this itinerary:
Day 1 – Tangier
Tangier is a gorgeous coastal city that can be reached by ferry from Spain or by airplane. If you take an early ferry from Tarifa or an early flight, you'll have the whole day to explore the city.
Tangier has an aura of mystery. It was a hot spot for spies and international intrigue during the second world war. It was also the favorite city and home of many literary expats such as William Burroughs and Paul Bowles.
I lived in Tangier for more than 6 months and it's still to this day one of my favorite cities in the world. For day one of this itinerary, I suggest visiting all the interesting sights of Tangier.
Tangier has some stunning rooftop terraces…
In my article Top Things to do in Tangier, I give a list of all the best places to visit around Tangier, how to reach them and where to eat in the city.
Here are just a few of the highlights you should see in Tangier, click on the links to find more about each location:
If you want some great hostels to stay in on the first day of your trip, read Best Budget Hotels and Hostels in Tangier.
Day 2 – From Tangier to Chefchaouen and afternoon visit of Chefchaouen
Day two of this itinerary will have an early start. Because it takes around 3 hours to reach Chefchaouen by bus, you should be at the bus station in Tangier around 8 AM to reach the blue city as early as possible.
There are two bus stations in Tangier where you can take a bus to Chefchaouen. One of them is the main city bus station "Gare Routiere" at Place al Jamia al Arabia.
There are several buses leaving daily from Tangier to Chefchaouen. The price of a ticket is 45 dirhams, and you have to pay 10 dirhams extra for your luggage. The bus journey takes about 3 hours but it can happen that you'll have to get off the bus at some point and that you'll be put in a taxi (you don't need to pay extra) if there aren't enough people on the bus going directly towards Chefchaouen.
Read How to get from Tangier to Chefchaouen by bus to find more information about bus schedules and ticket prices. Chefchaouen is located in the Riff mountains of Morocco and the way there is gorgeous
Every Moroccan itinerary should include a visit to Chefchaouen…
Once you arrive in Chefchaouen, you will be charmed by the blue colors of the Medina. It's one of the prettiest towns we've seen in Morocco because of its blue-washed streets and buildings. That's why it got nicknamed "the Blue Pearl of Morocco".
There are many different theories as to why Chefchaouen is so blue. Some say that the shades of blue on the walls keep the mosquitoes away, others believe that the blue helps to keep the houses cool during the warm summer months.
The most popular theory is that it was painted blue by the Jews who fled to Chefchaouen to escape the Spanish Inquisition in the 15th century.
Because you won't have a whole day for the visit of Chefchaouen on the second day of this itinerary, day 3 will be dedicated solely to discovering the blue streets of the town and the surrounding hills.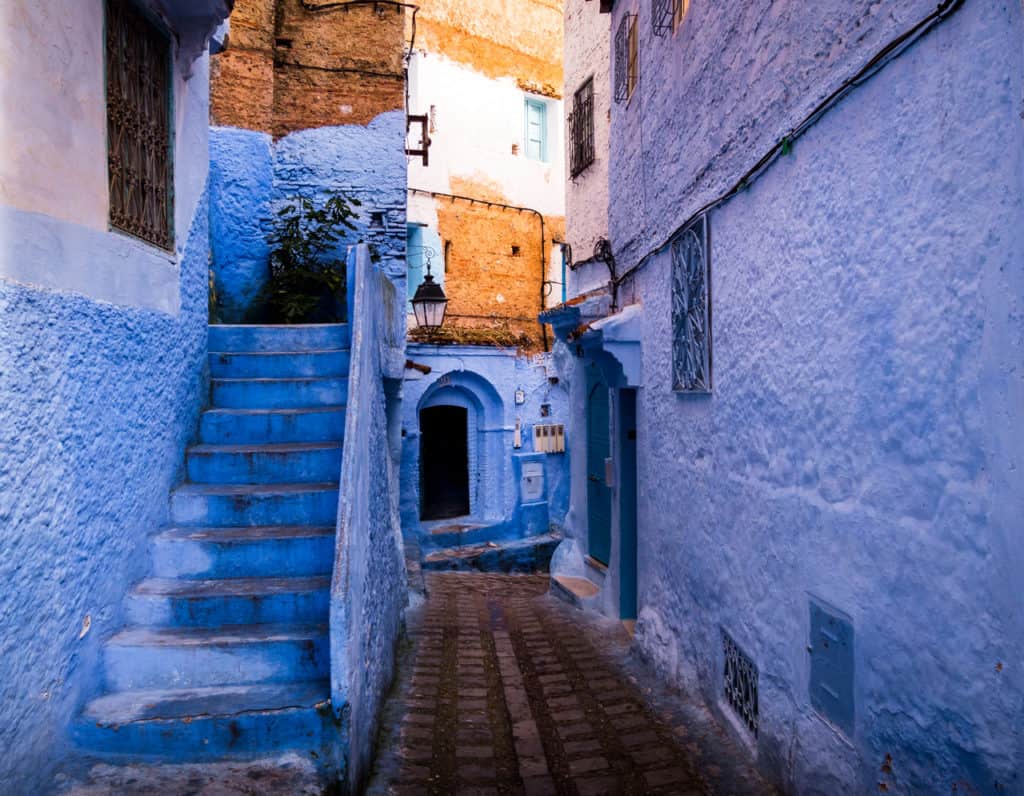 Day 3 – Full day visit of Chefchaouen, the Spanish Church and the surrounding hills
Welcome to Chefchaouen! Welcome to the blue city of Morocco! There are so many fun things to do in this small town. You can get lost in the maze of streets, shop at one of the many little bazaars or get a panoramic view of the city from the Spanish mosque.
You can also spend part of the day hiking in the nearby Rif mountains. A popular one is a path that starts just behind the waterfall of the Ras el'Ma River while hiking into the direction of the Spanish mosque.
For a complete list of things to do and places to visit in Chefchaouen, read this article. If you're traveling around Morocco on a budget and want to stay in a hostel, read Best Budget Hotels and Hostels in Chefchaouen.
Day 4 – Hike to the Akchour Waterfalls
Most people assume that Morocco is a vast arid desert but the northern part of the country is very lush and has some gorgeous waterfalls. Some of the most beautiful waterfalls in Morocco are the Akchour waterfalls in the Rif mountains. This series of waterfalls is a lot calmer and less visited than the Ouzoud waterfalls near Marrakech.
Akchour is a small town with one street on which you can find a few restaurants. The town is the base of the hike to the waterfalls and it's located just 40 minutes from Chefchaouen by car.
In How to get to the Akchour Waterfalls from Chefchaouen, I explain how to get a local taxi between the two towns.
I also explain how to hike all the way to the last and final waterfall from the small town. Hiking there and back takes a whole day but it's definitely worth the effort!
At the end of day 4, it will be easier to come back to Chefchaouen by taxi and sleep there instead of sleeping in Akchour.
There are more accommodation options in Chefchaouen and that's where you'll start your journey towards Fez on day 5 of the itinerary.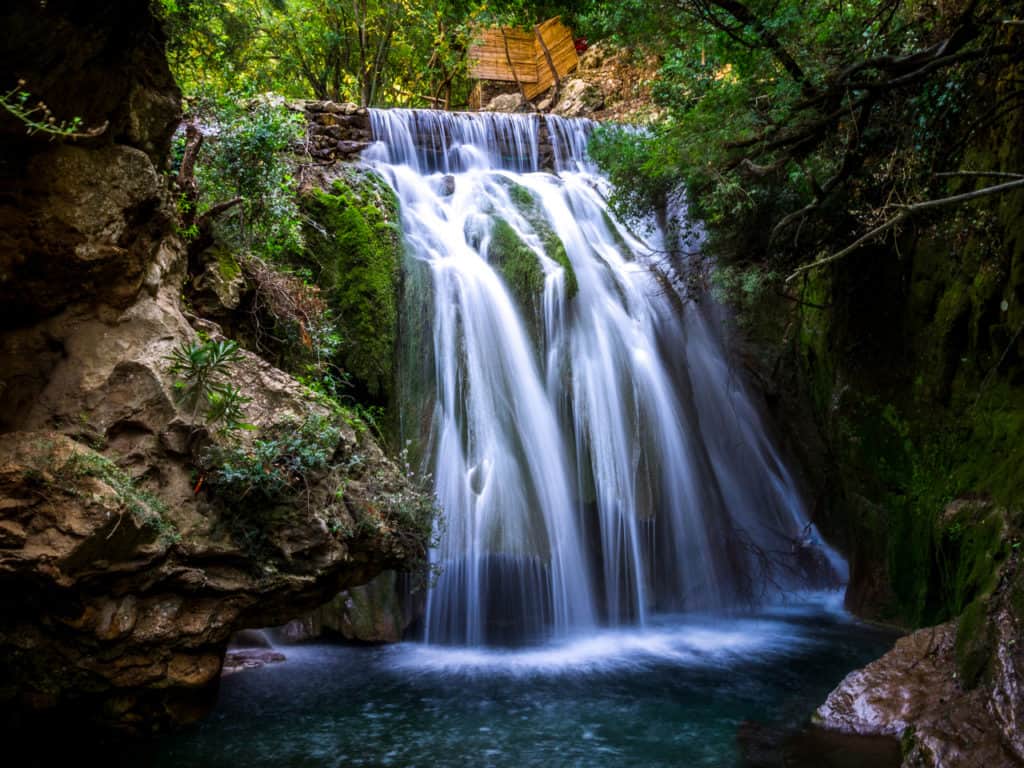 Day 5 – Driving from Chefchaouen to Fez with a short visit of Fez
The next city on this itinerary is Fez. However, the distance between Chefchaouen and Fez is quite big (200 km) and driving between the two cities takes almost 4 hours by car and around 6 hours by bus. So the fifth day of this itinerary will be mainly a driving day.
It's very easy to take a morning bus from Chefchaouen to Fez but I recommend buying your ticket in the bus station the evening before.
There are several buses leaving daily from Chefchaouen to Fes. A ticket costs around 75 dirhams + 5 to 10 dirhams extra for luggage and the ride takes about 6 hours. Check the timetables here.
Where to stay in Fez
If you're a budget traveler, then we highly recommend you stay at the Funky Fes. This hostel is exactly like its name says – funky! It has a great atmosphere, you'll meet many fellow backpackers, the beds are comfortable, breakfast is included in the price and you have an awesome rooftop terrace on which you can chill and relax.
Check out the prices and availability for Funky Fes here
If you like to stay in a private room in a Riad but you still want to watch your budget, I'd highly recommend Riad Dar Adam.
This beautiful riad is located right in the city center, the hotel is decorated in the most beautiful mosaic tiles and you'll feel like a king/queen in this place. Best thing of all, you get all this luxury for a very decent price (starting from €30 for a room per night).
Check out the current prices and availability for Riad Dar Adam here
If you'd like to make the best out of your city trip to Fez and you've got some money to spend, you'll love staying at Dar Essoaoude. This boutique-style hotel has a garden, every room comes with a balcony and a view over the mountains and city. The hotel also offers a free and healthy breakfast, included in the price!
Check out the current prices and availability for Dar Essoaoude here
Day 6 – Visiting the beautiful sights of Fez
Fez is one of the most important cities in Morocco. It's a destination rich in culture, traditions, delicious dishes and so much more!
Fez has one of the first universities and the oldest medieval Medina in the world. It's a city that offers something new and exciting to do each day. Here are a few of the things you shouldn't miss in Fez:
Visit the Chouara tanneries
The tanneries of Fez is one of the most iconic places in the city and also in the whole country! The tanneries are still operating today in the way they did during the medieval ages. Check out this photo-essay Cynthia wrote about the tanneries.
In it, you'll find how to visit the tanneries and how much the visit costs.
If you want a gorgeous view of the old Medina of Fez, you should hike up to Mount Zalagh. This small day hike is located a bit North of the city. It will bring you through beautiful hills covered in olive trees.
From the top of the hill, you'll have a view of the entire city and the surrounding landscapes.
Reaching the summit of the trail is easy even for inexperienced hikers. The trek shouldn't take more than an hour or two.
To reach the mountain, take a grand taxi from Bab Guissa in the north of the medina. Ask the driver to take you to Mount Zalagh or, in Arabic, Jbel Zalagh. The trip by taxi should normally cost no more than 7 or 8 Dhiram.
This is where the trailhead starts in a small pine forest:
These ruined tombs are falling apart and are now a shadow of their former self but they're totally worth visiting if you want to add mystery to your trip.
There is very little that is known about these tombs apart from the fact that they were built in the 14th century. This suggests that they were built during the Merenid dynasty, but it is not certain who was buried there and why.
This mystery attracts so many people to visit the tombs every year that the site is one of the most visited places in Fez. The tombs are really gorgeous during sunset. Just be careful of not staying on the hill too long after nightfall, as the descent gets difficult in the dark.
You can take a taxi from the city to get there or you can hike up a small hill to the tombs.
This is where the tombs are located:
Visit the palace of Dar Batha
Most of the palaces in Morocco are off-limits to visitors since they belong to the royal family. This one, however, has been open to the public since it was transformed into a museum in 1915.
Dar Batha has a stunning collection of traditional artifacts that includes a ceramic collection from the 14th century. The palace has a fantastic Andalusian-style garden at its entrance where you'll see different types of plants, shrubs, and flowers.
Here is where the museum palace is in Fez:
Day 7 – Driving back to Tangier or onwards to Marrakech
The last and final day of this itinerary will be to drive (or take a bus) back to Tangier or continue onward towards Marrakech for the second itinerary (exploring the southern part of the country).
The best way to get from Fez to Tangier or Marrakech is by bus with a bus company called CTM or with Supratour buses.
I've traveled around Morocco with different companies and I have to say that these two companies although being slightly more expensive than others provide much more comfortable buses and better service.
The Gare Routiere Boujloud ( main city bus station) is located off the main peripheral highway, R501. Exit the Fez el Bali Medina through the blue gate Bab Boujloud, walk across the square and exit the square through Bab Mahrouk opposite the cemetery and turn right into the downhill road, the bus station is on the next access road on your left.
Going to Tangier or Marrakech from Fez will take a whole day so it's better to leave early. I would also recommend buying your ticket a day ahead of time.
South of Morocco one week itinerary- From Marrakech to Merzouga and back
This itinerary will take you from Marrakech to the gorgeous sand dunes of the Sahara desert and will help you discover the Southern part of the country.
If you dream of sleeping in the Sahara cozily nestled between sand dunes while looking at the stars, this Moroccan itinerary will be the perfect one for you!
In this itinerary, you'll start by discovering the small souks and markets of Marrakech and then you'll travel all the way to Merzouga.
This is a small Moroccan town in the Sahara Desert, not too far from the Algerian border. It's known as the door to Erg Chebbi, a huge stretch of sand dunes south of town.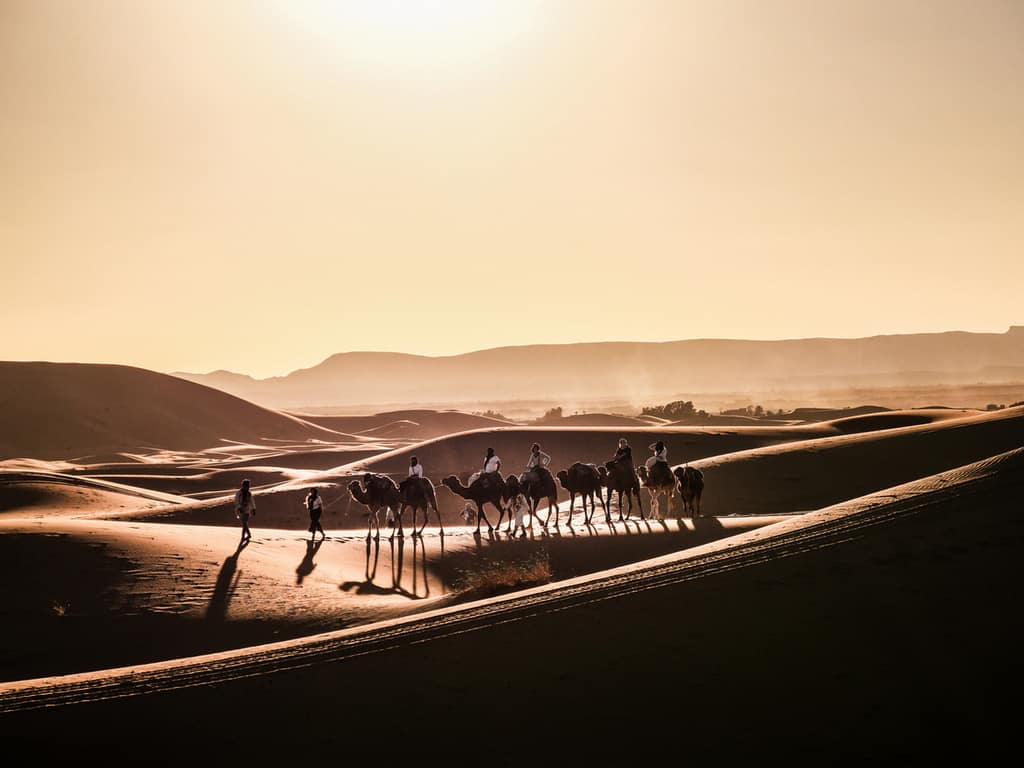 These dunes are considered one of the most beautiful places in Morocco. Once you arrive in the desert, you'll have the chance to ride camels across this huge epic arid landscape.
Along the way, you'll also visit an old mud city that was used as the setting for many Hollywood movies.
For this itinerary, I will assume that you rent a car in Marrakech since exploring the South of Morocco by bus is a bit complicated.
If you'd want to do this itinerary with a small group of fellow travelers, you can still join our Adventure trip to the Moroccan Sahara.
You'll get to ride a camel during this itinerary to the South of Morocco…
These are the different places you will visit on this itinerary:
Day 1 – Exploring the old Medina of Marrakech
Welcome to the red city of Morocco! Welcome to Marrakech.
Marrakech is by far the most popular and iconic Moroccan city. Day one will be dedicated to starting exploring the old medina of the city.
You'll see the craftsmen, the tapestries, the leather bags and all the beautiful art produced in Marrakech. It will be an ideal day for immersing yourselves into the Moroccan culture.
You'll get to try some delicious typical Moroccan fruit juices in the central square of the city and visit plenty of sights.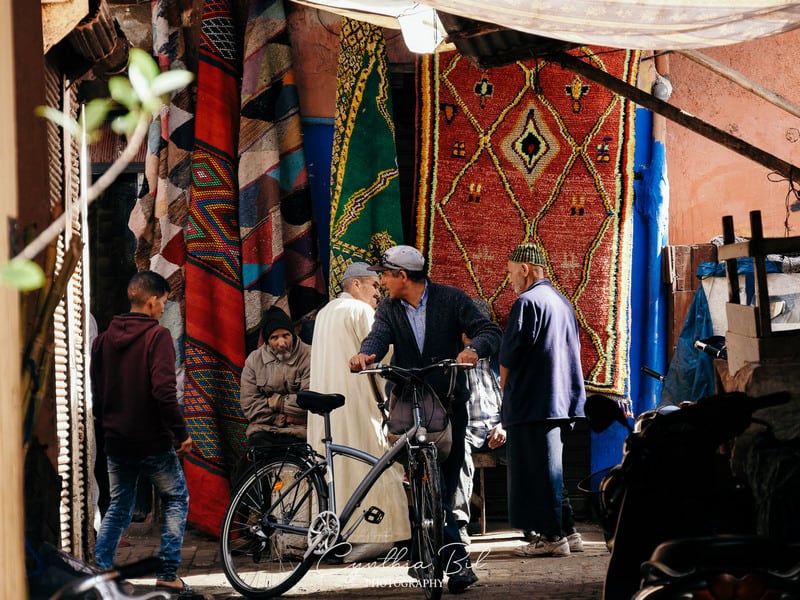 For a complete list of activities we recommend doing in Marrakech, read What to do in Marrakech – A Complete Guide to Morocco's Red City.
Here are some of the places and activities we recommend in the red city, click on the links to find out more about each location:
In the evening, you can walk around the center square Jemaa el Fenaa and see how Marrakech has a whole different vibe at night.
Where to stay in Marrakech
Here are our two suggestions as to where to stay in Marrakech, the first option is a great hostel and the second one is a very cozy riad:
This hostel has some of the friendliest staff in Marrakesh and it will feel like you're meeting old friends. They are very helpful and diligent.
This gorgeous hostel has a great rooftop terrace where there are plenty of long chairs to lounge. For digital nomads who work from their laptops creating online content, this hostel will be the ideal location. The hostel has a lot of power sockets in the dorms as well as in the shared areas.
Jemaa el Fnaa, the main square of Marrakech is just 15 minutes away from this establishment so the location of the place is ideal to see all the main sights of the city.
Click to check out rates and availability for "Kasbah Red Castel Hostel"
This Riad is smaller than other establishments so it has a cozier and more private atmosphere than what you would get in other places.
The rooms are very comfortable and they are painted in very light shades of colors as you can see in these pictures.
The Riad is in a perfect location in the heart of the Medina. It was ideal for our quick visit to Marrakech and was very enjoyable. The staff was excellent, they were always available to answer all of our questions and the breakfast was really varied.
Click to check out rates and availability for "Riad les 2 portes"
Day 2 – Marrakesh – Ait Ben Haddou – Ouarzazate
On the second day of this itinerary, you'll be leaving Marrakech as early as possible to drive towards the High Atlas mountains. Along the way, you'll be driving through the mountain passage of Tizi n'Tichka that stands at an altitude of 2260m.
There you will witness some of the most beautiful mountain landscapes Morocco offers. After driving through the gorgeous mountains, you'll arrive in a vast flat plain called the Ounila valley.
There, you'll visit an imposing UNESCO site called Ksar Ait Ben Haddou. Ait Ben Haddou is an ancient fortified mud-brick village located between the Sahara and Marrakech.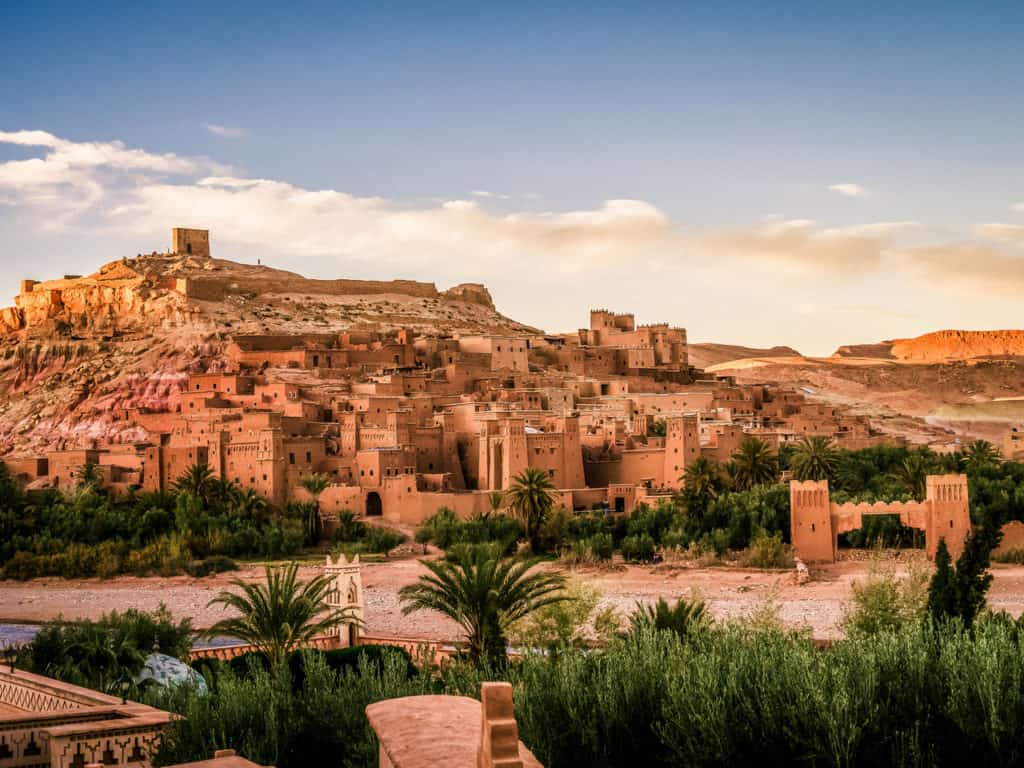 It's a place known as a Ksar- the North African term for "Berber castle". This village is one of Morocco's World Heritage Sites and was used as a set in the TV-series Game of Thrones to portray the slaving city of Yunkai that Daenerys Targaryen laid siege to.
How to get from Marrakech to Ait Ben Haddou
The distance between Marrakech and Ait Ben Haddou is around 133 km and it takes about 3 hours and a half to reach the mud city.
To get there you'll have to follow highway N9 towards the South.
There are two main entrances into the mud city. One can be reached by a bridge where you will need to pay a small entrance fee. To reach the second, it is necessary to cross the river using the stepping stones (in the dry season the river is completely dry). There the entrance will be totally free.
After your visit to the old Berber city is over, continue the journey South to reach Ouarzazate and get some rest for the day.
How to get from Ait Ben Haddou to Ouarzazate
Ouarzazate is less than half an hour from Ait Ben Haddou by car so getting there is very easy. Continue following highway N9 and you'll be there in no time.
If you still have time and the energy for it, Ouarzazate has some very interesting studios that were used for many Hollywood movies and they are super interesting to visit.
Where to stay in Ouarzazate
Here are a few different options we recommend in Ouarzazate:
At Ecolodge La Palmeraie, you can rent cozy little cabins next to a pool surrounded by palm trees. The environment is very calm and quiet. It's one of the best places to relax after a long day of driving.
The owners speak many different languages and will be there to answer any questions you could have about Ouarzazate or Morocco in general. They own a majestic peacock that strolls around the cabins during the day.
The buffet breakfast served on location every day is delicious and will leave you filled for day 3 of this itinerary.
Click to check out rates and availability for "Ecolodge La Palmeraie Ouarzazate"
This is one of the best and most affordable Riads in Ouarzazate. The owners Joao and Rita will make you feel at home. They are super helpful, speak many languages and will give you a warm welcome.
The rooms of this Riad are super gorgeous and colorful! Have a look at the pictures here. If you want a taste of luxury without breaking your piggy bank, this is where you should stay.
Click to check out rates and availability for "Hotel Dar Rita"
Day 3 – Ouarzazate – Agdz – Draa Valley – Nkob
Today you'll be exploring the South of Morocco. This part of the country is absolutely magical! No need to hurry in leaving Ouarazazate that morning since the final destination is only two hours away by car. Once you're ready, start following highway N9 towards Nkob.
This village is known for its 45 Kasbahs or mud castles. It's a beautiful and unique site in Morocco that showcases the architectural genius of the ancient Berber tribes who lived in the area.
On our way there, we'll be crossing the Saghro Mountains. Berber villages, mountains, and magnificent oases.
Because the driving time between Ouarzazate and Nkob is relatively short ( around two hours), you can stop in the oases along the way and explore the little villages that you come across on foot at a leisurely pace.
Here is the road from Ouarzazate to Nkob, note that along the way you will have to leave highway N9 and take the junction R108 in Agdz:
Where to stay in Nkob
Nkob is a village that is known for its mud kasbahs and most accommodations in town conserve that lovely charm of the ancient terracotta and mud buildings. Here is a riad we recommend in Nkob that has the traditional architecture of the region:
This beautiful Riad is a haven of peace and the perfect place to relax after a long journey. The owner has a lovely little garden where he grows most of the fresh vegetables he cooks with.
In the evening, the owner and the staff put on a lovely music show for the guests. Riad Nkob is the best place to immerse yourself in the southern Moroccan culture.
There is also a fabulous breakfast served every morning composed of dates, fresh fruits, olives, eggs, and bread.
Click to check out rates and availability for "Riad Nkob"
Day 4 Nkob – Alnif – Rissani – Merzouga – Erg Chebbi
After breakfast, you'll leave the rocky region of Nkob and start driving towards the desert and the sand dunes of Merzouga. There are plenty of small towns along the way where you can stop to have lunch.
We suggest stopping in Rissani to visit a beautiful mosque.
Here is the road you'll have to take to reach Rissani from Nkob:
After you visit the mosque, you'll be very close to Merzouga and you'll start seeing more and more sand dunes appearing on the side of the road.
This is the road between Rissani and Merzouga:
After you arrive in Merzouga in the late afternoon, you'll hop on some camels and take a 2-hour stroll into the desert. A wonderful dinner and music will await you at your desert camp. After the party is over, prepare yourself to see the stars as you have never seen them before.
Most of the desert camps in Merzouga offer a similar standard package: a camel ride into the desert where the camp is located, a dinner with traditional music, a night in a traditional Berber tent and breakfast the next day.
You could choose some camps from this list or read How to plan a desert trip to Merzouga to find out which desert camps are the best.
Day 5 – Dunes of Erg Chebbi
The 5th day of your trip will be to discover the Sahara Desert. You can wake up early to climb to the highest dune of the desert to witness the sunrise.
After breakfast, the desert camp owner will take you back to town by camel. From there my suggestion for the day is to take a pleasant long walk to a lake where you can see flamingos.
Another cool thing to do in the desert is to rent a board and do some sandboarding. Read this article to find all the cool free activities you can do in Merzouga.
In the afternoon, you'll go to your hotel in Merzouga where you'll be able to relax after a day of fun activities. It will also be the ideal place to see an unforgettable sunset over the dunes of Erg Chebbi.
Here are some of the hotels we recommend in Merzouga:
Auberge Camping La Liberté has a very good restaurant and a delicious breakfast served every morning. This hotel is located very close to the sand dunes and organizes camel and 4×4 tours in the desert.
Click to check out rates and availability for "Auberge Camping La Liberté"
Located right beside the desert of Erg Chebbi, Auberge Les Roches has a beautiful interior courtyard where you will find palm trees and a pool. BBQ facilities are available in the hotel and free Wi-Fi access is provided in public areas.
The guest rooms are decorated with traditional Berber carpets and designs. They all offer either a beautiful view of the sand dunes or of the terrace. Each room has a private bathroom that comes with a shower and a toilet.
The center of Merzouga is a 10-minute walk away from this hotel while you can find an oasis just 20 minutes away.
Click to check out rates and availability for "Auberge Les Roches"
Day 6 Erg Chebbi – Todra Gorges – Dades Valley
Today you'll leave Merzouga and visit the famous Todra Gorges and see incredible cliffs that stand at 300 meters high.
You'll be surrounded by walls that have been carved over the course of millions of years and you'll get the chance to see a very unique canyon in Morocco.
These huge rock walls attract rock climbers from all around the world who want to ascend the hundreds of routes of solid, reddish limestone. Check out my post about Things to do in the Todra Gorges Tinerhir to see awesome pictures of the place and find other activities that you can do nearby.
Here is the road from Merzouga to the Todra gorges:
From there you'll continue your journey north through the Dades Valley or the road of the Thousand Kasbahs as it is also known. You will witness breathtaking landscapes as you head back towards Marrakech.
The final stop for the day will be in Boumalne Dades.
Here is the accommodation we recommend in Boumalne Dades:
This stunning hotel is built in a very traditional style. The best part is the view you get from the terrace and the pool. The rooms are very cozy. They're super clean well decorated and they're equipped with a fan and a little working desk.
Click to check out rates and availability for "La Kasbah De Dades"
Day 7 Dades Valley – Skoura – Marrakech
After a delicious breakfast, you'll be heading towards Marrakesh. you'll follow the beautiful Rose Valley until you reach the great Atlas mountains again.
The road curves along this valley, which is one of the most fertile in the south of Morocco. The valley of the roses is known for its apricots, its roses, and its beautiful traditions that come from the Berber culture.
This is the last day in the south of Morocco before you pass the High Atlas Mountains. The view will be amazing, and you'll have the opportunity to see many different types of mountain landscapes but it will be a long drive (5 hours).
You'll arrive in Marrakech right on time to bring the car back to the car rental company if you rented one and explore a bit of the medina.
You could stay in the same accommodation you stayed in on your first day in Marrakech or choose a completely new place.
Join our Morocco tour to do this itinerary with a local guide and a fun group of travelers from all over the world!
Other places to visit near Marrakech
If you still have some time left to spend in Morocco after your one-week itinerary to Merzouga, there are a few nearby destinations that you could visit:
1. Toubkal
The small village of Imlil located just an hour and a half of Marrakech sits at the base of the highest mountain peak in the country. I couldn't resist climbing to the summit and it was an experience I'll never forget!
This peak is called Toubkal and it's sometimes called one of the easiest peaks above 4000 meters. It's a day trip from Marrakech I highly recommend. Read The Complete Guide to Hiking Mount Toubkal in Morocco for more information on how to get there.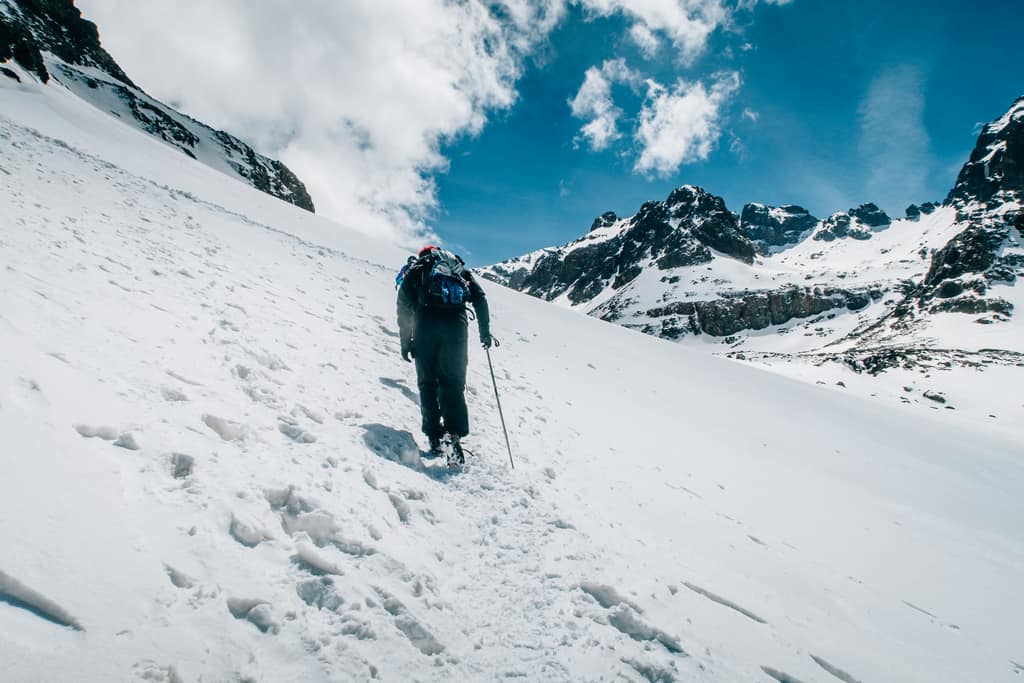 Toubkal is a mighty mountain…
2. Ouzoud waterfalls
This is a great day trip from Marrakesh if you have your own car or if you are renting one. The road from Marrakesh to the Ouzoud waterfalls is quite scenic and there are many beautiful photo stops along the way.
The Ouzoud waterfalls are a series of very tall and very impressive waterfalls that plunge from high cliffs in a huge pool of water. These cascades are 110 meters high and they are surrounded by lush vegetation all around.
In Everything you need to know about visiting the Ouzoud Waterfalls, I explain how to get there by yourself or with a travel company.
These gorgeous waterfalls are just a couple hours away from Marrakech…
If you want to visit other awesome destinations near Marrakech, read The Best Day Trips From Marrakech.
One week itinerary to discover the Moroccan coast and surfing villages of Morocco
Morocco is quickly becoming one of the world's favorite winter surfing destination. The size of the waves and the ideal weather during winter makes Morocco the perfect destination for a surfing holiday.
After spending many years in Morocco, I can tell you that it's a surfer's paradise. There are tons of great surfing beaches near popular cities such as Essaouira, Rabat or Agadir.
I recently wrote a guide to surfing in Morocco, in it I mention all the best villages to surf from and how to get there. You could combine visits to these different surf towns and create your own one-week itinerary to surf in Morocco.
My suggestion is to start from the South in Agadir and make your way towards the North in Rabat or vice versa.
A sample itinerary would look like this:
Day one – Surfing in Agadir
Day two – Surfing in Tamraght and Aourir
Day three – Surfing in and near Taghazout
Day four – Surfing in Tamri
Day five – Surfing in Imsouane
Day six – Surfing in Sidi Kaouki
Day seven – Surfing in Essaouira
I hope these three Morocco itineraries will help you plan your perfect trip around Morocco. If you have questions or comments concerning any of the destinations mentioned in these itineraries let us know in the comments below. Have a great time in Morocco!
*This article contains affiliate links. If you book a hotel/hostel or purchase one of the recommended products through our website, we'll receive a small commission at no extra costs for you. This way you're helping us writing more informative and awesome guides like this. Thank you!
Read the rest of our articles for more travel tips for Morocco:
Everything you need to know about traveling independently in Morocco:
Planning to rent a car in Morocco? Read this first:
A few travel and safety tips for Morocco:
Planning to travel to Morocco during Ramadan? Read this first:
How is it to travel to Morocco during Ramadan?
Hiking, surfing and nature trips in Morocco:
Our Moroccan city guides:
MOROCCO TRAVEL RESOURCES: