Have you always dreamed of going on a surf trip to Morocco? Are you wondering where are the best surf camps in Morocco or what are the best surf schools in Taghazout? If you're planning to surf or kitesurf in Morocco and don't know where to start, read on…
Morocco is quickly becoming one of the world's favorite winter surfing destination. The size of the waves and the ideal weather during winter makes Morocco the perfect destination for a surfing holiday.
After spending many years in Morocco, I can tell you that it's a surfer's paradise. There are tons of great surfing beaches near popular cities such as Essaouira, Rabat or Agadir.
If you have your own car, it will be easy to go surf anywhere on the Moroccan coast.
The Moroccan coast itself is absolutely humongous! Morocco has a 1,835 kilometers long coastline with ideal surfing conditions.
The beaches are long and pristine, the waves get very big, and renting surfboards in Morocco is very cheap.
In this complete guide to surfing in Morocco, you'll find all the information you need concerning the best Morocco surf spots, what is the best time to surf in Morocco, where are the best surf schools in the country and how much renting surf equipment will cost.
What are the best surfing destinations in Morocco?
If you're wondering what are the best spots to surf in Morocco, you're not alone.
Morocco receives thousands of surfers every winter looking for the best surf resorts in Morocco.
The Atlantic coastline of Morocco is fantastic for surfing and most beaches are easily accessed either by public transport or with your own vehicle.
If you're planning to be in Morocco for a couple of weeks, the following list of Morocco surf spots will help you plan your trip. I've listed them from the southernmost destination, Agadir to the surf spots located farther north along the coast. I've also included Dakhla to the list of best surfing spots in Morocco.
Surfing in Agadir
Agadir may not be the best Moroccan surf destination on this list but it's an easily accessible and affordable destination. The city has an airport connecting it with all the other major Moroccan cities.
If you're short on time, this is the destination you should choose. There are plenty of beautiful beaches near the city that will appeal to beginner and experienced surfers.
What's fantastic about Agadir is that after a day riding the waves, you can relax in a spa or enjoy the local nightlife.
Surfing in Tamraght and Aourir
10 minutes south of Taghazout is where you'll find the small surfing towns of Tamraght and Aourir. These towns are perfect for new surfers that want to surf on smaller waves.
I would suggest that less experienced surfers try the waves in the area known as banana beach. It's a long right hand point break that curves in the shape of the banana.
I'm not sure if the area was named because of the shape of the bay or because of the countless banana plantations that can be found nearby.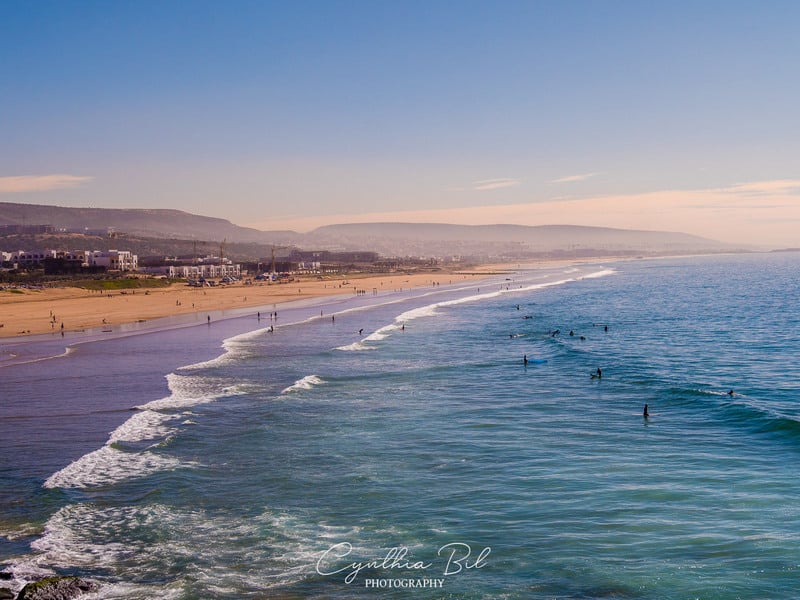 Surfing in and near Taghazout
Taghazout is one of the best surfing areas in Morocco if not in the whole world.
People come from all over to enjoy the near perfect waves of this small Moroccan village.
Taghazout is super easy to reach from Agadir or Essaouira by public transport so it's a destination you should absolutely include in your surfing trip. Taghazout is also considered one of the best destinations in the world to learn surfing.
A great thing about Taghazout is that the surf schools there are very affordable. Same goes for accommodation.
Cynthia and I stayed in Taghazout for almost a whole week and it barely cost anything.
Taghazout is a beautiful little hippie town with gorgeous cafes, stunning murals, and nice weather almost all year round.
There are so many beautiful surfing spots north and south of Taghazout that you could stay there for weeks and surf in a new area every day.
Taghazout is a great destination for surfers because it offers all kinds of surfing conditions, from soft beginner waves to heavy reef breaks for more advanced surfers.
Here is a map with a few of the most popular surfing spots around Taghazout:
Newbie surfers should check out spots called Banana point, Panoramas, Devil's rock, and crocodile beach.
Most of these areas are closer to Tamraght. If you ask the locals or any surf instructor in Taghazout, they'll point you in the right direction.
Intermediate surfers should head towards spots known as La source, Mysteries, Hash point, Douze k12, k11, and Anza Placa.
And finally, the best spots for experienced surfers would be Anchor point, killer point, boilers, and slab.
The best time to surf in Taghazout is from late Fall to early Spring. Between the months of September and April, the swell of the waves is fantastic and the wind is ideal.
During the rest of the year the conditions are not as good anymore since a strong North-West wind blows most of the time.
If you are looking for less crowded beaches and more affordable surf lessons it wouldn't be a bad idea to come during the low season though.
If you're willing to travel further North towards Essaouira, the two next Moroccan surfing hubs you should check out are Tamri and Imsouane.
Surfing in Tamri
Tamri is a very good location for intermediate surfers. It's located between Taghazoute and Imsouane.
What's so great about Tamri is the fact that it's really not touristic. It's probably the most quiet of all the surfing spots on the Atlantic coast of Morocco.
It's also an area that attracts a lot of local and exotic birds.
If you go there at the right time of the year you might see some flamingos and you'll get the chance to do some excellent bird watching.
Here is the location of Tamri:
Surfing in Imsouane
Imsouane is a beautiful Moroccan town located right between Essaouira and Taghazout. Imsouane is the favorite destination in Morocco for many surfers.
They visit the town for its breathtaking scenes, for its calmness and tranquility and for its perfect surfing conditions.
Imsouane has one of the longest breaks in the world.
Imsouane is a relatively remote location and there aren't many transport options available to reach it. You can rent a car and drive along the beautiful coast line to get there, catch a taxi (about 800-1200 MAD from Agadir or Essaouira), or ride the Souk to Surf shuttle bus.
The Souk to shuttle bus runs to Imsouane from Taghazout, Tamraght, Essaouira, and Agadir on a daily basis. It costs around 80 MAD per person.
The two main surfing spots in Imsouane are La Cathedrale, a beach break spot and La Bay, a point break spot.
Imsouane has smooth long waves that rarely gets messy or big. The wave peels over soft sand for 300 meters making this an ideal surf spot for beginners and intermediate surfers.
Here is the location of Imsouane on the Moroccan coast line:
Surfing in Sidi Kaouki
Sidi Kaouki is another coastal village where you can, not only surf, but also observe stunning birds. The area surrounding the village and the small river that runs next to it are spots often visited by flocks of flamingos.
Sidi Kaouki is much less touristic than the city of Essaouira located 30 km north. Because of this, renting surfboards in Sidi Kaouki is much cheaper.
You can rent surf boards in Sidi Kaouki for 100 MAD per day which comes down to about 10 USD a day.
This small village is a good destination for horseback riding and camel riding as well.
This article breaks down the costs of getting from Essaouira to Sidi Kaouki by bus or taxi.
If you start your travels in Morocco from Marrakech, you should join this Overnight Surf Trip to Essaouira and Sidi Kaouki.
Surfing in Essaouira
Essaouira is our favorite city in Morocco and it's a superb surfing, windsurfing, and kite-surfing destination. It's a windy coastal city and this makes it a top destination for surfers and kite surfers.
The swell of the waves is much stronger in winter so you'll see more surfers there at that time of the year.
Essaouira is easily reached from Marrakech, Casablanca, and Rabat by public transport.
You'll see plenty of surf shops and surfing schools, as well as windsurfing schools in Essaouira. If you always wanted to learn water sports, wait no longer and book your flight to this beautiful sea-side city now!
The best spot for surfing in Essaouira is at the far end of the main beach where camels and horses are gathered.
Essouira itself is also a very lovely place to hang out and meet other travelers. The city has a very special charm.
There's a young crowd of surfers and backpackers that gravitate there throughout the year, the city has a peculiar Portuguese architecture and its streets are filled with the beautiful handicraft of local artisans.
If you're planning to spend time in this lovely city, read our In-Depth Guide to Essaouira, Morocco's windy city.
Surfing in Safi
If you drive two hours north of Essaouira or two hours and a half south of Casablanca, you'll arrive in the little town of Safi. Safi has amazing waves that can rise to 5 meters high and break for up to 500 meters.
Pros come from all over the world to ride the big hollow barrels these waves generate.
Safi has gained a very good reputation in the surfing community over the years and is now a world-famous surfing destination for expert wave riders.
I wouldn't recommend beginner surfers to choose Safi for a Moroccan surfing holiday.
The current is very strong, the waves are tricky, and there are protruding rocks making this a destination much more suited for very experienced surfers.
Surfing in Dakhla
Dakhla is located south of Agadir in an area known as the Western Sahara. This is an area where the legal status of the territory and the issue of its sovereignty remains unresolved even today.
Although Dakhla is located in the Western Sahara, it's totally possible to visit the town and even surf there. It's very affordable to get a flight from Casablanca or Agadir to Dakhla.
Dakhla is also very popular among the kite-surfing community.
Dakhla is frequented by surfers for the quality of its waves and gorgeous landscapes. The peninsula of Dakhla is an exceptional surf destination with its long sandy desert beaches.
[kt_box opacity="1″ background="#eded6d"]
Planning to travel around Morocco?
Read all our guides on the country!
[/kt_box]
What is the best season to surf in Morocco?
The very best time to surf in Morocco is between December and March. That's when the waves are at their highest and the wind is perfect.
This is the season that attract more experienced surfers, especially Europeans.
But surfing season in Morocco already starts in September and continues until April.
September and October are two great months to surf along the whole Moroccan coast since the first winter swells arrive, there is usually no wind and a lot less tourists.
[kt_box opacity="1″ background="#eded6d"]
Planning to visit other coastal cities?
Read 10 Things to do in Rabat – A Complete Guide to Morocco's Capital City
[/kt_box]
How high are the waves on the Moroccan coast in winter?
Morocco is probably not as popular as Australia's Gold Coast, or Hawaii's Waimea Bay when it comes to surfing but the waves in this North-African country can get pretty high in winter.
When the wind is good in Taghazout during winter, the waves can swell to 4 or 5 meters (13 to 16 feet) and are usually at least 300 meters long.
[kt_box opacity="1″ background="#eded6d"]
Don't forget to read: What to see in Casablanca in two days – Top Things To Do in Casablanca
[/kt_box]
Is surfing in Morocco safe?
Morocco as a whole is a very safe country. After traveling in this country for more than a year I can guarantee that Morocco is very safe to travel to!
Last year alone more than 10 million people visited Morocco, making it one of the most visited countries in Africa. With such a high amount of visits, the amount of crime in Morocco is still extremely low.
Surfing in Morocco is not more dangerous than surfing anywhere else in the world but there are general safety rules you'll have to follow.
You should always surf with a partner that is more experienced than you and that can help you out if you get in trouble.
It's also better to surf in areas that correspond to your skill level. Always ask the locals about the wind, tides and swell conditions before going out with your surf board at sea.
[kt_box opacity="1″ background="#eded6d"]
Don't forget to read Top Things to Do in Tangier – The Ultimate City Guide
[/kt_box]
Do you need a wet suit to surf in Morocco?
The water temperature on the Atlantic coast of Morocco stays chilly throughout the year so you'll definitely need a wet suit to surf there.
On the southern coast of the country, between Essaouira and Agadir, the temperature drops between 16 and 18 °C (61-64°F) in winter. Although the water is colder during that period, the surf season is at its best.
You can bring your won wet suit from home but it's also possible to rent wet suits in any surf school or surf shop in the different coastal towns.
I would suggest grabbing a 4/3mm wet suit if you go there in winter.
In summer, you won't need to wear a wet suit that is as thick. A 2 mm shorty should do the trick. If the wind is up or you go surfing early in the morning, you might need a 3/2mm wet suit.
[kt_box opacity="1″ background="#eded6d"]
Read Morocco on a budget – How much does it cost to live and travel in Morocco?
[/kt_box]
What should you bring on a surf trip to Morocco?
There are a few essentials you shouldn't forget on your next surfing adventure in Morocco. Here are the things we recommend bringing along:
Although the weather and the water can be chilly during winter, you shouldn't let that deceive you. The sun can be absolutely vicious and you could end up with a bad sunburn.
The best sunscreen you can bring to surf in Morocco is a sunscreen with Zinc Oxyde. It's a powdered solution that is insoluble in water. It doesn't come off in the ocean and will stay on your skin until you wash it off it the sower.
The sun sets very early in Morocco during winter. In Taghazout, you're likely to meet fellow surfers and spend the evening with them.
Bring a headlamp so you can find your way back to your accommodation after dinner or partying.
In Morocco you'll be exposed to completely new food, water, and bacteria. If you want to fully enjoy your surfing holiday and not have to run to the bathroom, it wouldn't be a bad idea to bring some probiotics in tablets or powder.
Another recommendation I would have would be to avoid drinking tap water on the coast of Morocco without filtering it. While tap water in Morocco is generally considered safe, the exposure to completely new bacteria could make you sick.
To avoid buying plastic water bottles, I would recommend bringing a LifeStraw Water Filter Bottle.
This is a bottle that filters water using a filtration device. If you drink water using this bottle, any dirt, bacteria or parasites gets trapped in the filter, while the clean water passes through.
I sincerely hope you don't have to use a first aid kit but it's better to be safe than sorry. Surfing in Morocco like anywhere else in the world comes with certain dangers.
If you are an experienced surfer always going after the biggest waves, its not a bad idea to have at least a small First Aid kit with you.
It should include antiseptic liquid, cotton, bandages, heat and cold spray, and a small pair of scissors. Emergency Services can sometimes be hard to locate in remote surfing areas.This is the emergency kit we recommend.
You're probably wondering why you would need warm clothes in Morocco. The sea breeze that hits the coast in the evening can cool down the temperature very quickly.
Even if the day is warm and sunny, the evening could always be much colder than expected. We recommend bringing a warm sweater and some track pants to stay warm. It's also helpful to have a beanie hat.
After a whole day of surfing, it's also easy to catch a little cold. So make sure to stay warm.
It may sound crazy but it will be way cheaper to bring your own surf wax from home or buy it online before your trip.
[kt_box opacity="1″ background="#eded6d"]
23 Travel Tips for Morocco – Everything You Need to Know Before You Go
[/kt_box]
Where can you learn how to surf in Morocco?
Morocco is gaining international fame as a world-renowned surfing destination. Because of this, many young Moroccans are opening surf schools in the different surfing towns along the coast.
There are so many different surf schools and surf camps in Morocco that it can sometimes be hard to know which one to choose.
Here are the different surfing schools we recommend in a few of the towns along the Moroccan coast:
Surf schools in Agadir
Whether you are looking for a surf adventure, a yoga retreat, trekking in the mountains or just pure relaxation, you will find it all at Crocro Surf Maroc camp, your personal surf, trekking and yoga instructor in Morocco.
The Camp is located just 16 km from the city of Agadir and 45 minutes from the international airport of Agadir Al Massira.
This area not only has a perfect climate (more than 300 sunny days a year) but also amazing spots for the surfers of all levels. Their friendly and qualified surf instructors will teach you to surf on your own not just follow commands like paddle and stand up.
You will know when to do everything by yourself, you will feel the wave and make it the ocean your ally.
Surf schools in Taghazout
Taghazout is a village where the waves are perfect for surfers of all levels. There are many surf schools based directly in town.
This surf school has been been in Taghazout for well over a decade now. Most of the surf instructors at the camp are ISA (International Surfing Association) certified, can speak many languages and are from all over the world!
They offer surfing classes as well as yoga retreats in beautiful surroundings.
SurfCamp Taghazout also provides accommodation as part of their surfing packages. The school owners also have a lovely hostel that offers a 180-degree panoramic view from its rooftop terrace of Taghazout Bay.
They offer surf packages that will be ideal for most people, but also accommodation only options for others. You can contact them here and create your own personalized surf trip.
Hash Point surf camp is another great surfing school I highly recommend in Taghazout.
With this school you'll learn how to surf in Morocco's safe beach breaks or improve your surf level on one of the many right-handers of Taghazout. Their qualified teachers will guide and teach you every step of the way. They offer surf school packages for all levels.
The lessons include 2,5 hours of lessons in the morning and 2 hours of practice time in the afternoon, under the supervision of great teachers. Each surf instructor teaches a group of max 8 students.
Once a week, they organize a surf talk on the terrace of their hostel where they catch up with you on your progress and your surf knowledge.
This awesome school commits to providing you with three things: surf, yoga and having a great time! The school was launched by two friends who visited Taghazout and fell in love with the small town.
Their surf camp caters for up to twenty-five people (although they can stretch for larger groups).
What differentiates them from other surf schools in Taghazout is the fact that they don't just use one beach. They drive to the beach that is going to be perfect for you on that day (unlike most other surf schools that will just use the same stretch of beach day in, day out).
This means that you get to catch as many green waves as you can!
Surf schools in Essaouira
This school based in Essaouira offers surfing as well as kite-surfing lessons. They have a great crew of super experienced instructors who speak almost all the languages you could imagine.
The school offers many different packages for a fully customized trip.
This is probably the surfing school in Morocco that left the biggest impression on us and we highly recommend it! It's owned and operated by Moroccan twins Mouhssin and Yassin Kharbouch.
They bring passion and love for the sport to their school. They have both been surfing since they were kids. Born and raised in Essaouira, they know all the surf spots and have been working as surf coaches for several years.
The twins offer surf lessons and trips in Essaouira to suit your needs. Whether you're a beginner or looking for some extra tips, you can join their surf lifestyle and feel at home with them. They also offer surf trips to other local surf spots around Essaouira.
Have you surfed in Morocco before? Are you planning to surf in Morocco soon? We hope this guide helps you have an unforgettable holiday on the Moroccan coast. If you have any questions, let us know in the comments below.
*This article contains affiliate links. If you purchase one of the recommended products through our website, we'll receive a small commission at no extra costs for you. This way you're helping us writing more informative and awesome guides like this. Thank you!
Read the rest of our articles for more travel tips for Morocco:
Everything you need to know about traveling independently in Morocco (visa, how to get to and around Morocco, where to stay,…):
Planning to rent a car in Morocco? Read this first:
A few travel and safety tips for Morocco:
Planning to travel to Morocco during Ramadan? Read this first:
How is it to travel to Morocco during Ramadan?
Hiking and nature trips in Morocco:
Our Moroccan city guides:
MOROCCO TRAVEL RESOURCES: