What are the best travel tips for Morocco? In this article, I'll tell you a few things that you should know before visiting Morocco. I'll also explain some key points that make Morocco stand apart and I'll give you travel advice that will help you enjoy your trip to Morocco even more.
Morocco is a country that attracts people from all over the world and this all year round thanks to its exotic landscapes and gorgeous traditional cities. It's a country that has charmed our hearts with its waterfalls, port cities, and huge sand dunes.
There is definitely a lot to do in Morocco but what should travelers know before visiting this North-African country? What are the best travel tips for Morocco?
Travel tip for Morocco #1: You should definitely visit the waterfalls
Read more to find out what you should know before visiting Morocco. These are useful travel tips and small everyday life details that we couldn't help but observe while visiting this beautiful country.
Morocco is not just a huge desert…
Our top travel tips for Morocco
1. A lot of shops and restaurants in Morocco are closed on Fridays
Morocco is a Muslim country and as such, Fridays are sacred days. A bit like Sundays for Christians. In Morocco, Fridays are usually the days when families and friends gather, stay at home and share a hearty Couscous.
Because of this a lot of cafes, stores, and restaurants are not open on Friday until the late afternoon.
Things are quiet on Friday mornings in Morocco…
Imagine walking out of your hostel in Morocco one morning with a super hungry belly just to find out that nothing is open. Not a single open restaurant in sight and no shop where you can buy some snacks.
That has happened to us on quite a few occasions and for some reason, we always forget to prepare for this ahead of time!
A quick tip: If you're backpacking around Morocco and you're in a small town on a Thursday night, buy food for the next morning.
In rural areas, you might not find any shop open on Friday mornings…
2. People generally get up late and stay up late
In the north of Morocco and especially in Tangier, life starts rather late in the morning. If you're an early bird, you might have trouble finding a place open for a coffee before 10 AM.
By the same token, people stay up super late. When we were staying in a hostel in the old medina of Tangier, we could hear people talking and howling with laughter in the streets until 2 AM. Needless to say, we didn't get much rest that night.
Two happy travelers in the old Medina of Tangier…
People in Morocco also stay up very late during Ramadan. Since they're only allowed to eat after sunset, a lot of restaurants are opened during that month until one in the morning.
For those who enjoy a midnight snack, Ramadan will be the perfect time to travel to Morocco.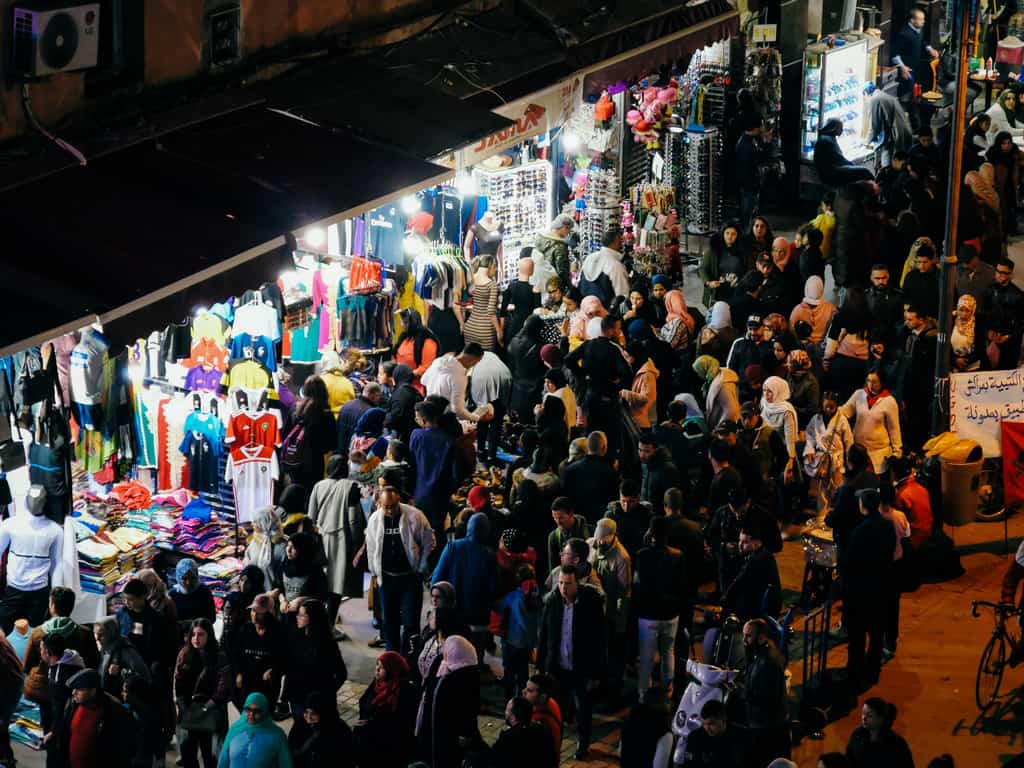 People stay up late in big touristic cities and especially during Ramadan…
3. It's easy to travel around Morocco by bus, by train or even by hitchhiking
Trains in Morocco are super cheap and cozy. They're also a great way to see the Moroccan countryside in comfort.
Their only downside is that they aren't very fast except for the new high-speed train linking Tangier, Casablanca, and Rabat. That's OK for me though since I love studying languages and long train rides in Morocco meant I had more time to study Moroccan Arabic.
Trains in Morocco are very comfortable…
In Morocco, it's very easy to buy your train tickets in person directly at the train station. There is no need to try to buy them online ahead of time.
All the information on prices and timetables can be found on the ONCF website, once you know which train you will take you can head over to the train station to buy your ticket.
Make sure to bring cash to buy your ticket as it's not always possible to pay by debit or credit card.
Every town or city has a bus station making it really easy to travel around the country…
It's also equally easy to get around Morocco by bus. My advice though would be to buy a ticket from a bus company called CTM. Their buses are super comfortable, they take you directly to your destination and they don't stop to pick people along the way.
Getting around Morocco by train or by bus is easy but hitchhiking wins the prize for the easiest means of transport around the country.
Hitchhiking in Morocco is not only possible, but it's also super easy. We hitchhiked as a couple and almost never had to wait for more than an hour to get a ride. We also hitchhiked with two friends and our waiting time was similar, despite being 4 people and having an equal amount of big backpacks.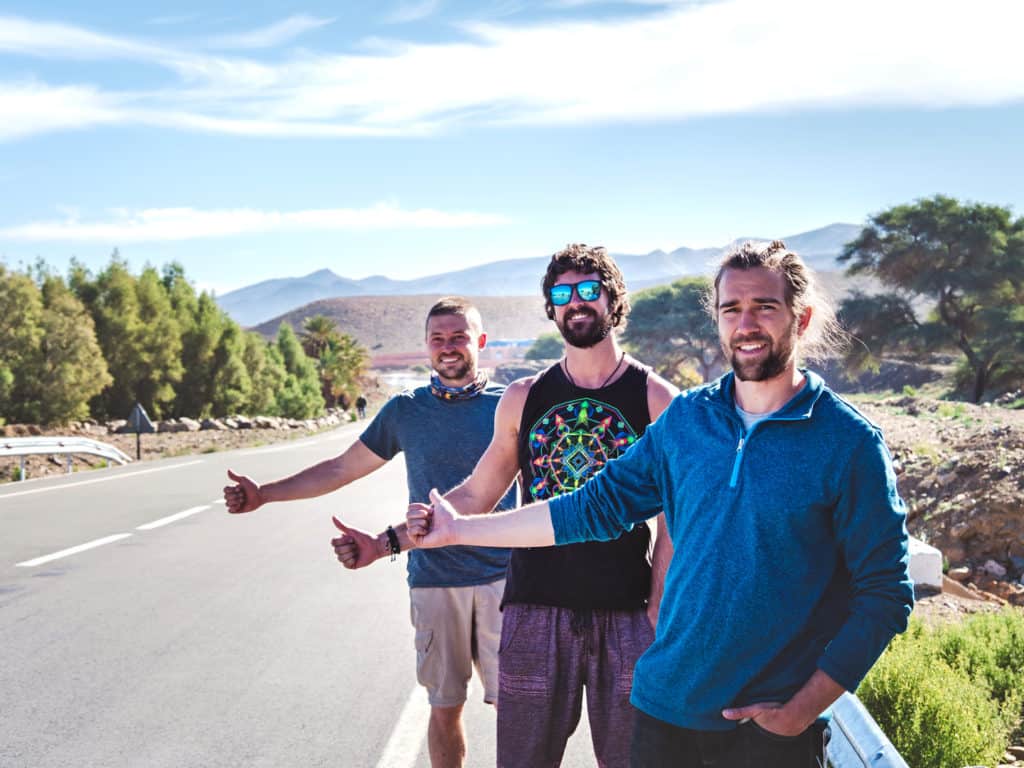 Hitchhiking in Morocco is super easy…
A lot of people giving us rides in Morocco invited us in their homes for a meal and they were super happy to hear our stories and talk with us. Learning a few words in Moroccan Arabic would be of tremendous help if you hitchhike around Morocco.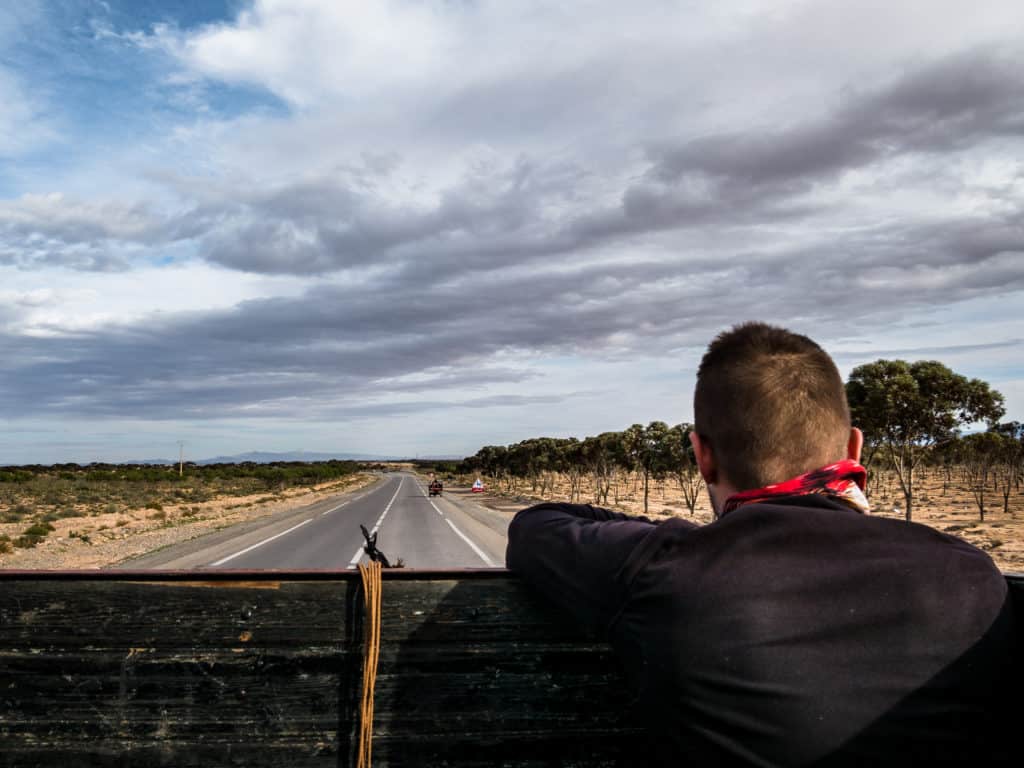 We sometimes got rides in pick-up trucks…
Another great tip is to ask someone to write down your destination on a piece of cardboard in Arabic.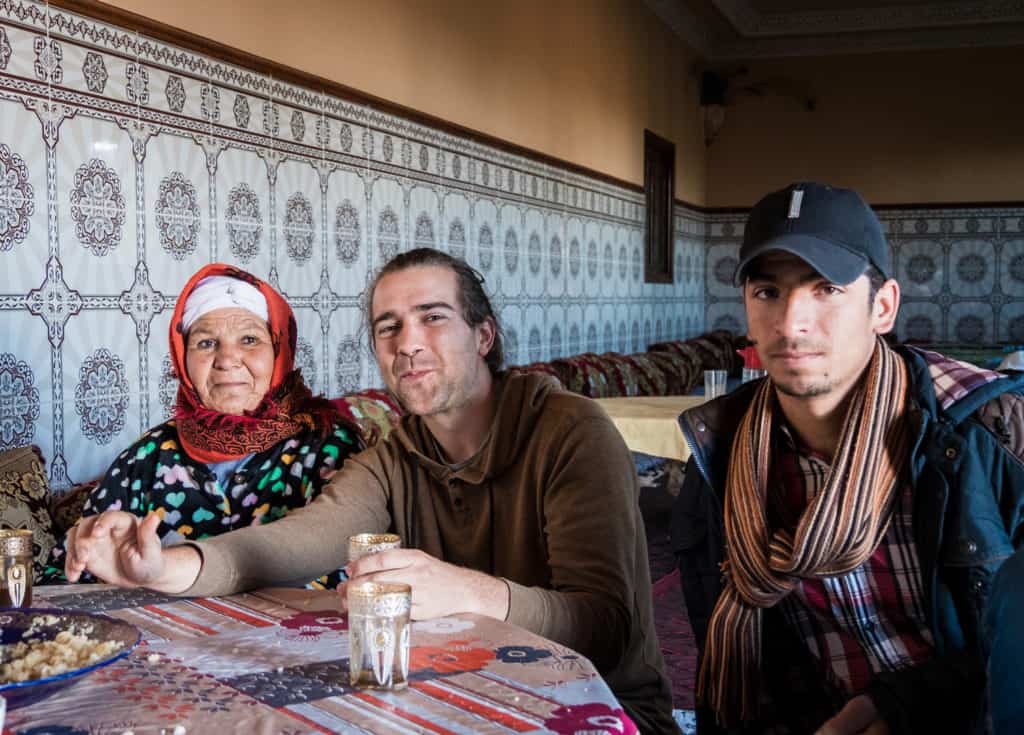 This is a lovely family who hosted us in their home when we were hitchhiking in Morocco…
[kt_box opacity="1″ background="#eded6d"]
Read our Travel Guide to Backpacking in Morocco
for mo info on how to get around the country
[/kt_box]
4. Moroccans speak so many languages!
I love learning languages and often pride myself in the fact that I speak quite a few of them. One day I was on the square of Jemma al Fenaa in Marrakesh and I was talking with two youngsters about my language skills. They didn't seem very impressed and they quickly put me to shame by speaking in more than eleven different languages!
In Marrakesh, you'll meet people who speak many different languages…
And that didn't happen only once while I was in Morocco. All over Tangier, Rabat, and Meknes, I met young Moroccans who were absolute language masters.
This is a reflection of Morocco's diverse influences. Berber, Arab, French and Spanish speaking groups of people have shaped what is now a very unique culture. It's not uncommon to meet people who speak all of these different languages in Morocco.
Moroccans are language masters…
[kt_box opacity="1″ background="#eded6d"]
Want to learn Arabic?
Read: Tips and tricks to learn Moroccan Arabic
[/kt_box]
5. Morocco isn't a party country
Morocco isn't really the place to come and party. Although alcohol is sometimes allowed in certain hostels, generally it isn't. Drinks in bars are also more expensive in Morocco than what you would typically pay in Europe.
Alcohol is not impossible to get though and most cities will have a few liquor stores. Because Cynthia and I are wine lovers, we continued buying our traditional weekly bottle whenever we were staying in apartments we had booked online.
Parties and drinking however always happen behind closed doors. Drinking in public in Morocco is prohibited. In general, being drunk outside is never a great idea in this Muslim country and is bound to get you in trouble.
Morocco is a Muslim country and not really the place to come and party…
6. Healthy and cheap food everywhere
Fruits and veggies in Morocco are some of the best I had in my whole life. They are plentiful, easily accessible all year round and they are super fresh. Morocco could be a very good travel option for Vegans.
Bigger Moroccan cities usually have an open-air fruit and vegetable market or they will have fruits and vegetables for sale in the old city.
Fresh fruit and veggies all year round…
My favorite fresh produce market in Morocco was the one in Tangier. It has everything you could imagine and some of the lowest prices I have seen in my life.
Apart from finding delicious food there, the place is a photographer's paradise. Cynthia went there a few time to snap amazing pictures of the market's atmosphere.
So many different kinds of olives…
[kt_box opacity="1″ background="#eded6d"]
Curious about the price of food in Morocco?
Read: Morocco on a budget
[/kt_box]
7. In Morocco always ask before taking pictures
Photographing people in Morocco is much harder than in other countries.
The Moroccans are very nice, friendly and talkative people. They usually smile, offer their help and are interested in who you are and where you come from. But the moment you aim your camera at them, their attitude changes.
Some people will suddenly cover their faces and firmly object having their photo taken, others might even scream at you.
This happened to Cynthia when she was in Chefchaouen. She had her camera in her hand and was waiting for a woman and her child to pass by so she could take a photo of the blue street. The woman thought she was going to photograph her and made a huge scene.
In this North-African country, people are rarely very keen on having their picture taken. It's always better to approach people first and engage in conversation with them for a while to break the ice before asking to take their portrait.
approached the right way, people will gladly let you photograph them…
Taking pictures of people in Morocco is a real challenge. After a few months in the country though, Cynthia became really good at it. She wrote a cool guide in which she explains the techniques she used to approach and take pictures of people there.
With the right techniques, taking pictures of people in Morocco is not as hard as it sounds…
[kt_box opacity="1″ background="#eded6d"]
Read: How to photograph people in Morocco
[/kt_box]
8. Buy and register your Sim card in a shop, not on the streets
If you're planning to stay in Morocco for a long period of time, you might be wondering how to get a good internet connection whilst in the country.
The best way to have fast, decent and reliable internet in Morocco is to buy a sim card and use your mobile data as a hotspot for your laptop.
Moroccans often sell sim cards directly on the streets…
What we recommend is that you go to an official agency to register for a sim card instead of buying one from a street vendor. You'll need your passport to register but at least you'll know that the number is and stays yours.
When you buy a sim card on the streets, the sim card might stop working after a couple of weeks. The agency, on the other hand, will explain how to recharge your mobile data on a weekly or monthly basis.
[kt_box opacity="1″ background="#eded6d"]
Read also: Surfing in Morocco – A Guide to the Best Surfing Spots in the Country
[/kt_box]
9. If you're not Muslim you won't be allowed to enter most of the mosques in Morocco
Unless you're a Muslim, most mosques around the country will be off-limits. If you'd really love to see the inside of one, however, you could always visit the mosque Hassan II in Casablanca. A ticket to visit this mosque costs 120 MAD.
A mosque open to the public I highly recommend visiting is an old abandoned mud-brick mosque called Mosque Ikalane. It's located in the small town of Tinerhir near the Todra gorges in the south of Morocco.
Mosque Ikelane in the small town of Tinghir is open to the public…
This mosque is usually guarded by a very friendly old man who will be happy to tell you about its history and the current restoration projects.
The caretaker of the mosque will be very happy to tell you about the history of the place…
Mosque Ikalane looks like a simple mud-brick building with a brown pointy cupola and is one of the few mosques you'll be allowed to visit when in Morocco. There are no official entrance fees but if you give a small donation to the old man for the restoration work, it will be very welcome.
This is what the inside of the mosque looks like now…
10. Moroccans have the best mint tea in the world
You know how certain tastes can trigger emotions and memories? Whenever I taste mint, I can't help but think of Morocco.
Moroccans have adopted mint tea as their national drink and they consume loads of it.
They are so fond of this sweet drink that they call it the "Moroccan Whiskey". It is served with almost every meal and tastes absolutely delicious. I just couldn't stop ordering this sweet drink while I was traveling in the country and it's one of the 13 things that made me fall in love with Morocco.
Moroccans sure love mint tea…
11. Morocco has a lot of rooftop terraces
In the old Medinas of popular Moroccan cities, the streets between buildings are usually very narrow. Because of this most of the buildings have rooftop terraces and this is where women will hang their laundry and where they will socialize.
Riads in popular towns like Chefchaouen also have terraces but these are usually used by tourists to admire the sunset after a long day of hiking in the Rif mountains.
One recommendation I can give you before you visit Morocco is to take advantage of the rooftop terraces as much as you can while you're there. They are the perfect place to see the cities from above and to get really cool views of the medinas.
The rooftop terraces in Chefchaouen are the perfect place to admire the sunset…
Tons of restaurants in cities like Meknes and Marrakesh also have rooftop terraces where you can eat while you admire the central square of the city.
Restaurant terraces will give you a cool view of the city…
12. Couscous Fridays
In Morocco, Fridays are days when families gather together and eat couscous. You'll see this dish in every restaurant but Friday in Morocco is when it's traditionally eaten with the families and loved ones.
I find it beautiful to see family and friends gather for that special meal. Moroccan families will also sometime put a plate of couscous with some spoons on a stall in the street for the poorest of the community or the homeless.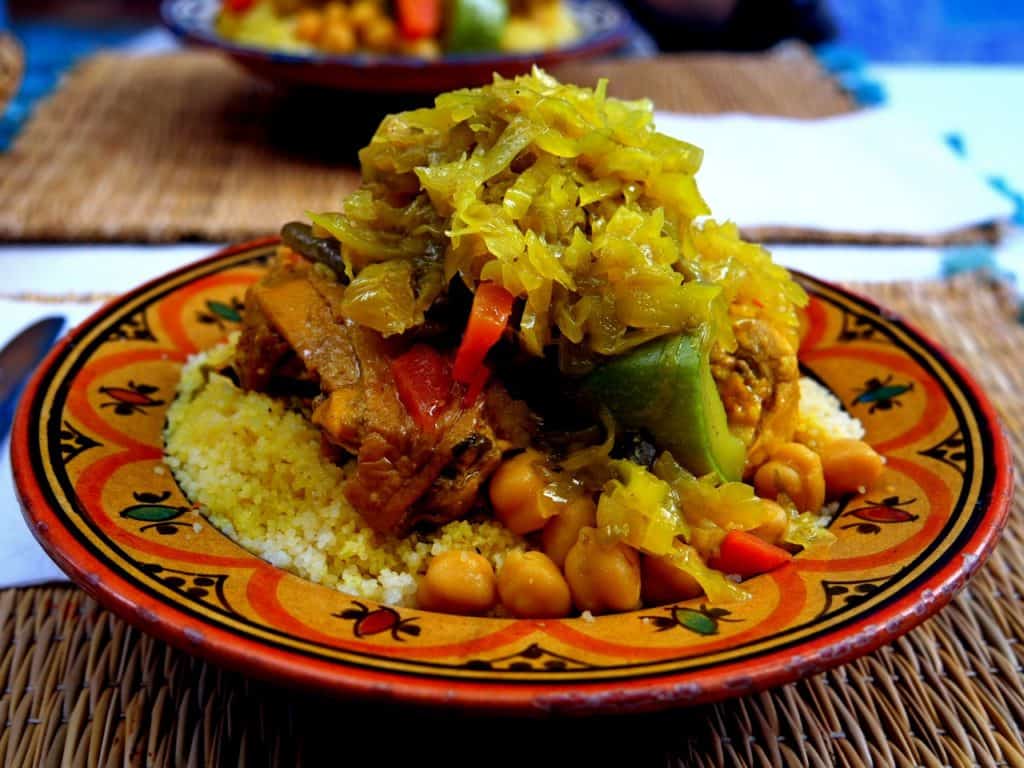 Nothing beats a good dish of couscous, meat, and vegetables…
When I was living in Tangier, my neighbors would always invite me for couscous on Fridays and it felt great to share that traditional moment with Moroccan friends.
Some of the different spices used with couscous…
13. Hashish is everywhere!
Hashish is absolutely everywhere in Morocco. When Cynthia and I were in Chefchaouen, we would be approached by guys who would ask us first if we were looking for a restaurant and then almost inevitably if we wanted some hashish.
This started happening so often that every time someone approached us, we knew he'd be offering us hashish at one point. Cynthia and I got offered some hashish by local dealers at least 8 times per day.
Most of the hashish is produced in the Rif mountains near Chefchaouen…
Hashish is commonly and casually offered in the streets of Morocco and you shouldn't be alarmed by this.
I can't tell you how much the hash costs as we don't smoke it but apparently it's very cheap and you won't likely get in trouble for buying and smoking it in your hostel in Chefchaouen. However, I wouldn't recommend smoking it openly anywhere else, you could get into pretty serious trouble.
Chefchaouen is a place where you're not likely to get in trouble for smoking hashish…
14. Moroccan men love to sit in Cafes
Cafes are the place where Moroccan men typically socialize. Cafes are found in every popular street and they're usually filled to the brim with middle-age men drinking coffee, and mint tea while they watch football or have long conversations about politics and the weather.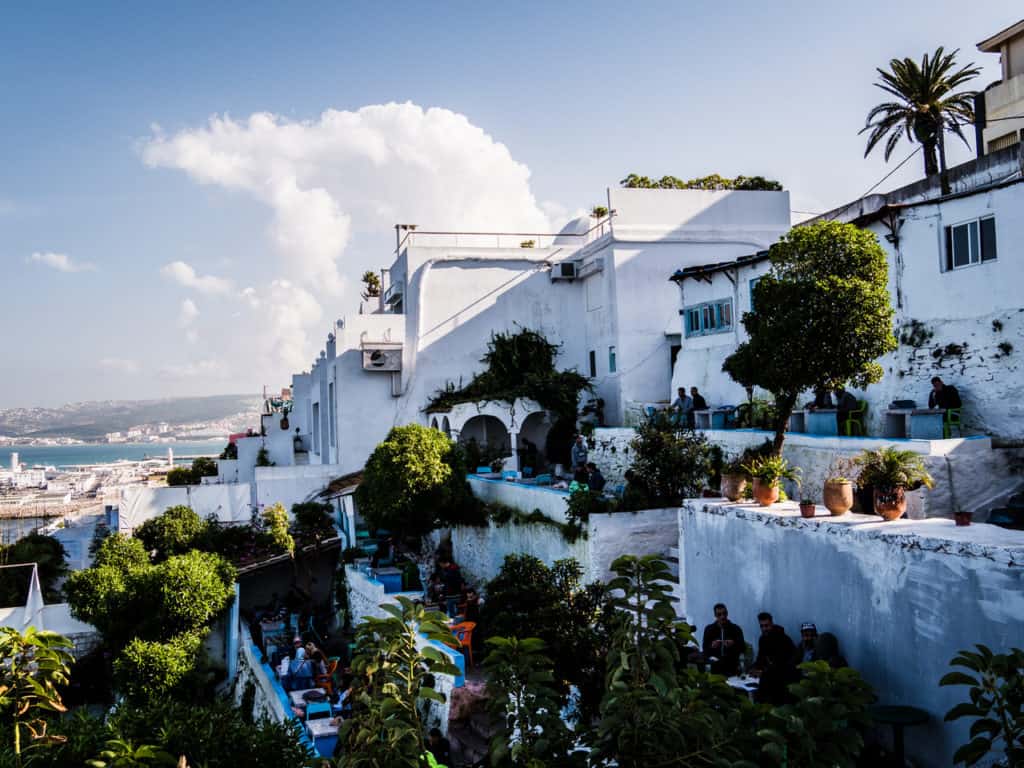 Cafe Hafa is one of the most popular cafes in Tangier…
15. Houses and hotels can be cold in winter
Because most houses in Morocco are poorly insulated, they get quite cold in winter. Most Moroccan families will have electrical heaters though but some hostels and hotels won't.
If you plan to travel to Morocco in winter, I suggest bringing a good warm sleeping bag. Very often hostels provide very few blankets to their guests. I can assure you that I would have been cold very often in Moroccan hostels if it wasn't for my sleeping bag.
If your hostel doesn't have a heater or warm blankets, you can always use it for extra warmth or as an extra comfy pillow.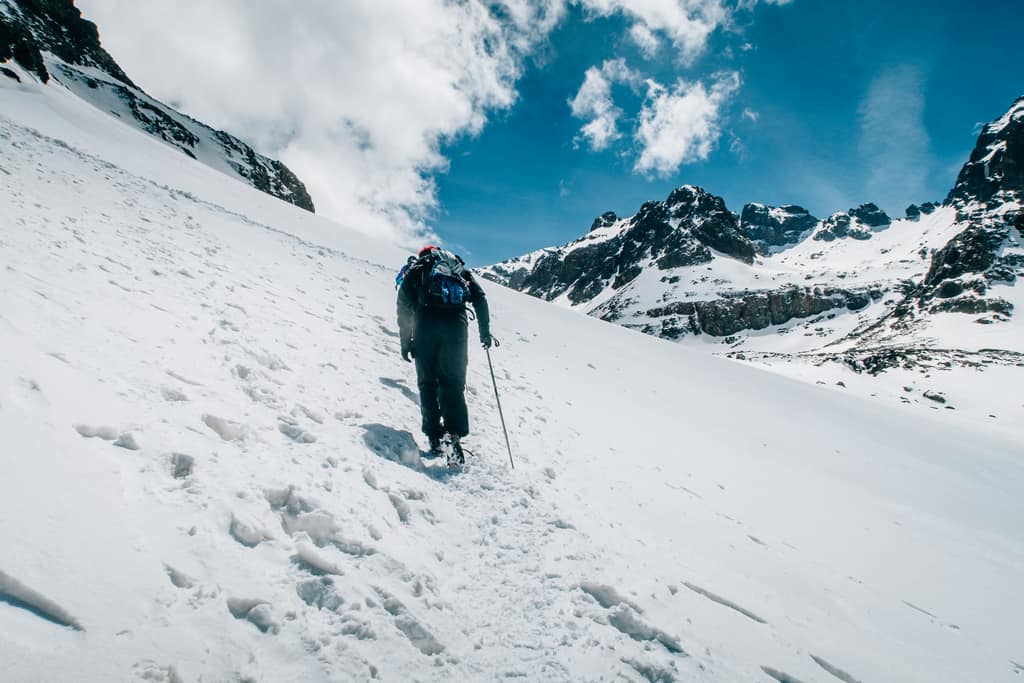 Some parts of Morocco can be cold during winter…
16. When you buy things, always bargain
If you visit Morocco, you'll have to learn to haggle prices. Moroccans love to haggle and bargain and it's a big part of their culture. If you're patient enough and don't accept the initial deal, you can lower the price by a huge amount.
Moroccans love haggling prices and some would consider it the national sport…
Another point to consider is that there are usually tons of shops in the souks selling exactly the same things. If you can't get a good deal with one seller, don't despair and pay the neighboring stand a visit. You'll probably end up getting a better offer.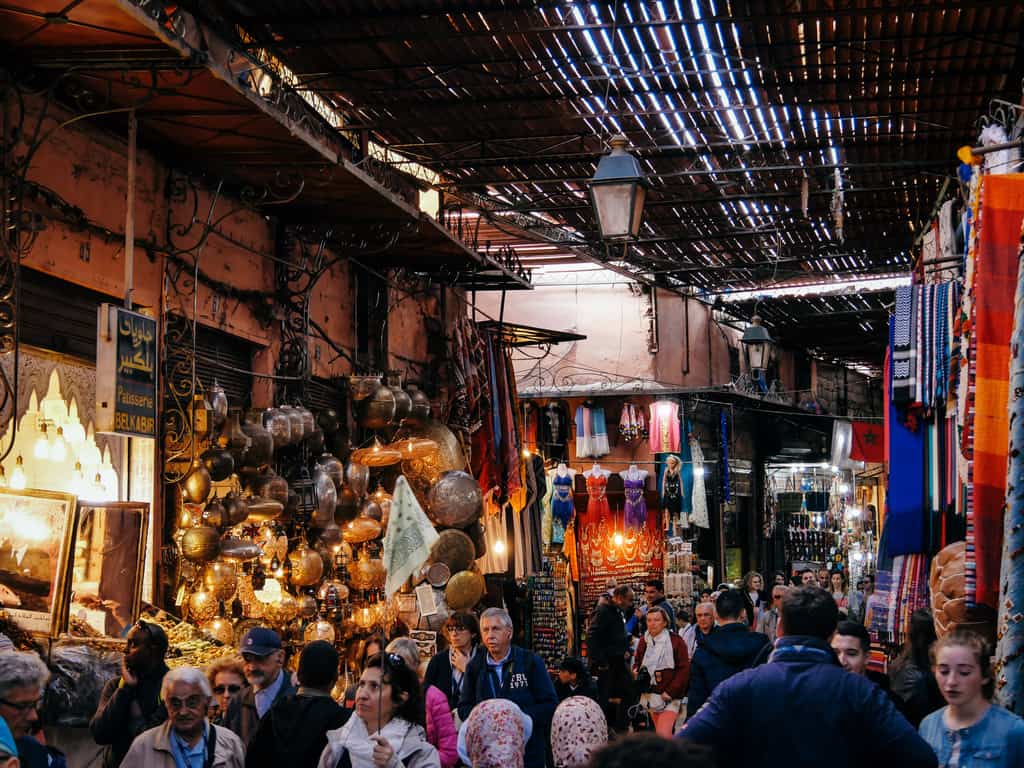 If you learn how to haggle, you'll be able to reduce the price of things by a lot…
I would suggest learning a few helpful words in Moroccan Arabic before hitting the markets.
17. Juices! So many good fruit juices everywhere
Morocco is the land of fresh fruits. Every Moroccan city has a type of fresh fruit juice stores called Makshada. You can simply walk in, look at the menu and ask for a blend of your favorite fruits.
They're filled with vitamins and they're the perfect way to start the day. My personal favorite juice is a mix of strawberries and orange juice. I'm crazy about it, and at one moment, it was an essential part of my daily Moroccan routine.
You can buy fresh fruit juice everywhere!
18. In hammams, strangers will gladly wash your back
Visiting a Hammam is the quintessential Moroccan experience. In Essaouira, just like in most major Moroccan cities, you will have two options when it comes to visiting Hammams. You can either go to the popular local hammam where the majority of the locals go to or you could visit a spa type hammam.
I would personally recommend the first type over the latter. Popular cheap local hammams are a great part of the Moroccan culture.
All you need to do before you go is grab some natural Argan soap and your scrubbing cloth. Once there, you'll be handed a bucket and you have to undress in the midst of locals scrubbing each other's back while chatting about their daily life.
This is how the soap used in hammams is made…
It's not uncommon for strangers to offer each other a good back scrub in traditional hammams. If someone offers to wash your back, they'll probably expect the same thing in return.
Hammams in Morocco are separate for men and women. Women will typically strip down to their panties and not wear any bra while men will wear some underpants.
19. Lookout for bedbugs in hostels
Because of the temperate climate and the steady stream of travelers, Moroccan hostels can be plagued with bedbugs.
Whenever you book a hostel in Morocco, double-check the reviews. If you see mention of bedbugs, you should avoid the place unless you want to give the little fellas a free snack and carry the bugs on your trip with you.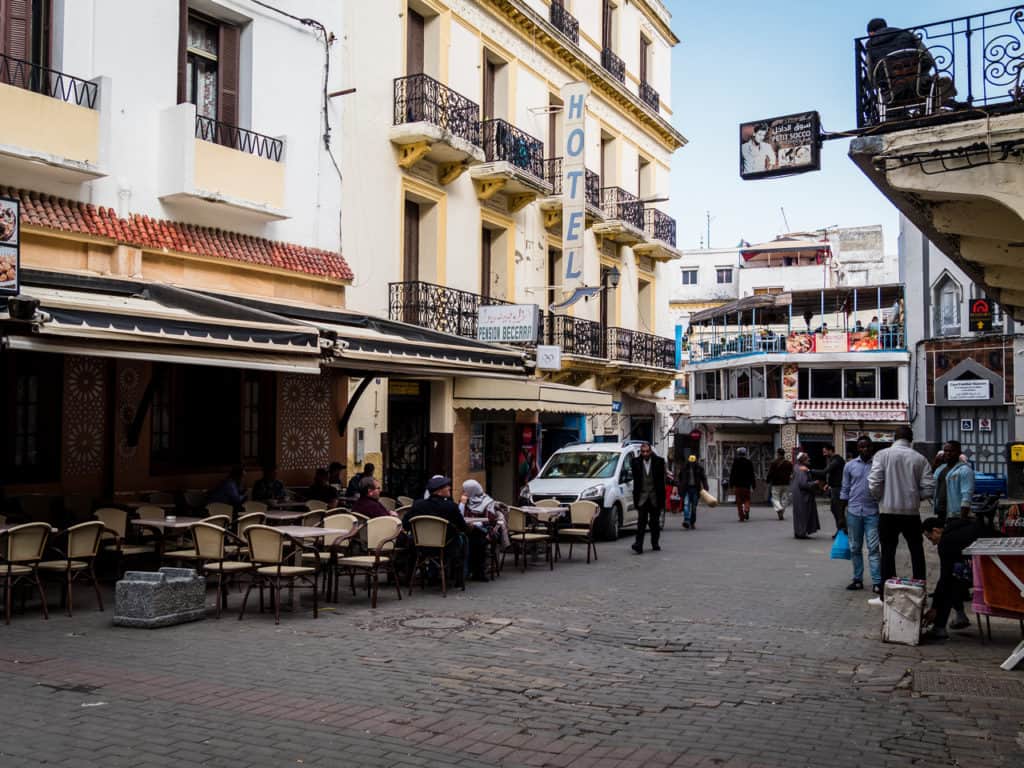 20. Morocco is not a huge desert and its landscapes might surprise you
Before I visited Morocco, I was expecting the country to be very arid and a huge desert. I was actually surprised and blown away by how varied the landscapes are here.
You can find everything in Morocco, from green valleys, wild-flowing waterfalls, serene lakes, snow-capped mountains and beautiful coastlines to subtropical palm groves, spectacular canyons, arid mars-like landscapes and desolate sand dunes stretching as far as the eye can see.
Morocco has some gorgeous waterfalls…
When Cynthia and I were traveling from region to region, we sometimes felt like we were traveling from one country to another.
Morocco also has some beautiful snow covered mountain peaks…
If you love nature and hiking as much as we do, you definitely won't be disappointed in Morocco! I would suggest reading our hiking guides to Morocco: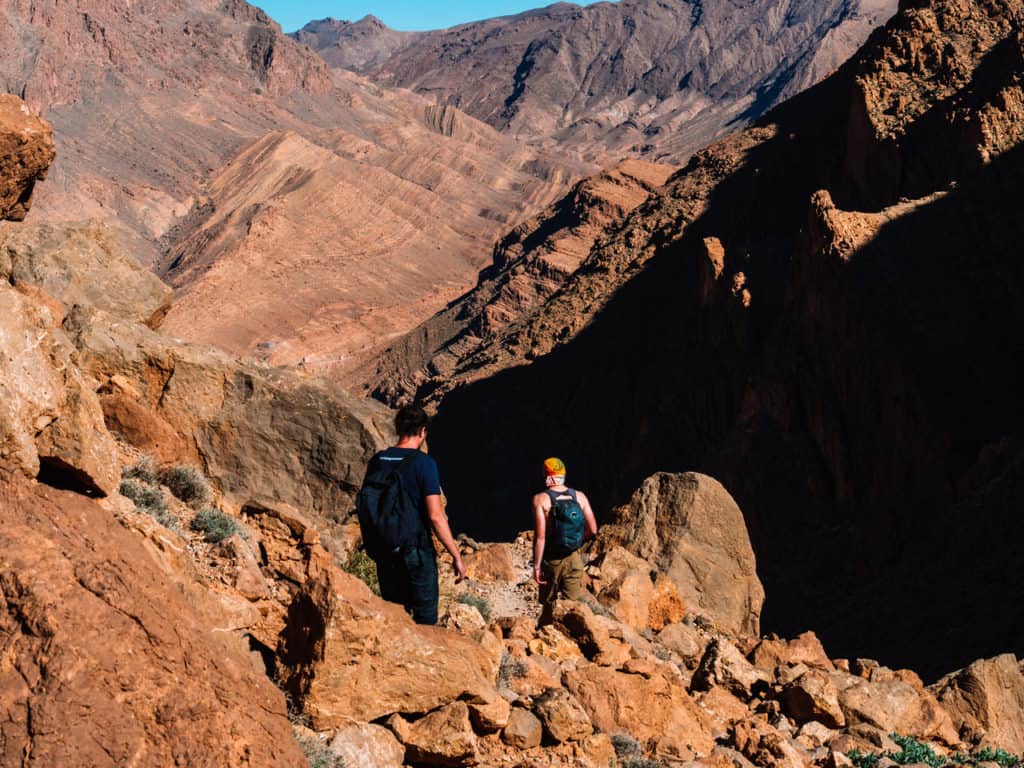 If you love mountain hikes, you'll have a lot of fun near the Todra gorges…
21. Morocco has a very varied culture
Morocco is a mix of cultures and ethnic groups. I love to say that the Moroccan culture is a rich tapestry that weaves tons of different influences and traditions together.
Morocco is a mix of Berber, Arabian and European cultural influences. This also reflects itself in the language. Moroccan Arabic blends words of Berber origin with classical Arabic. French and Spanish words are also assimilated in the colloquial language.
[columns] [span6]
[/span6][span6]
[/span6][/columns]
When we were traveling through the villages of the Atlas Mountains, we saw elderly women who wore the traditional Berber facial tattoos, a rich heritage of the Berber traditions that were widespread around the country before the invasion of the Arabs.
Morocco is a melting pot of ethnicities so it's not uncommon to meet people with blue eyes and blonde or ginger hair in the Rif mountains.
[columns] [span6]
[/span6][span6]
[/span6][/columns]
The Moroccans living in the desert near Merzouga have a very different culture than those living in big cities…
22. Morocco doesn't have a tipping culture
If you're worried about whether or not you should leave a tip to your waiter in Morocco, don't be. Moroccans don't have a tipping culture as it exists in America.
It will still be appreciated if you do though and you could always leave 10 or 20 MAD on the table if you enjoyed the service.
In cafes or restaurants, waiters won't necessarily expect a tip…
23. Moroccans are very expressive and talk with their hands
Moroccans are some of the most expressive and passionate people I have met. They can sometimes talk very loudly and might swing their hands in the air while doing so. They might seem like they're angry or arguing but they're probably only having a casual everyday conversation.
Once, Cynthia and I were in our hostel in Essaouira when we heard a Moroccan lady shouting from the neighboring roof. Another woman popped her head from another rooftop terrace and they started shouting at each other while wildly swinging their hands in the air.
We asked the hostel owner what they were talking about with the most incredulous look on our faces. Oh them? They're simply talking about fish he replied. I swear, I never laughed so hard!
These are just a few tips fo Morocco. Is there anything you would add to this list? What are the things you wished you knew before visiting Morocco? Let us know in the comments below.
*This article contains affiliate links. If you book a hotel/hostel or purchase one of the recommended products through our website, we'll receive a small commission at no extra costs for you. This way you're helping us writing more informative and awesome guides like this. Thank you!
Read the rest of our articles for more travel tips for Morocco:
Everything you need to know about traveling independently in Morocco :
Planning to rent a car in Morocco? Read this first:
A few travel and safety tips for Morocco:
Planning to travel to Morocco during Ramadan? Read this first:
How is it to travel to Morocco during Ramadan?
Hiking, surfing and nature trips in Morocco:
Our Moroccan city guides:
MOROCCO TRAVEL RESOURCES: