Chefchaouen is a city that attracts backpackers from all over the world and because of this it has plenty of hostels and low budget hotels. Where should you stay in Chefchaouen and what are the best hostels and budget hotels in the city? Read to find out which ones we compiled.
Chefchaouen could easily claim the title of the most beautiful town in Morocco. It's one of the prettiest we have seen in the country and that's because of its blue-washed streets and buildings. It even got nicknamed " the blue pearl of Morocco" because it has so many blue houses!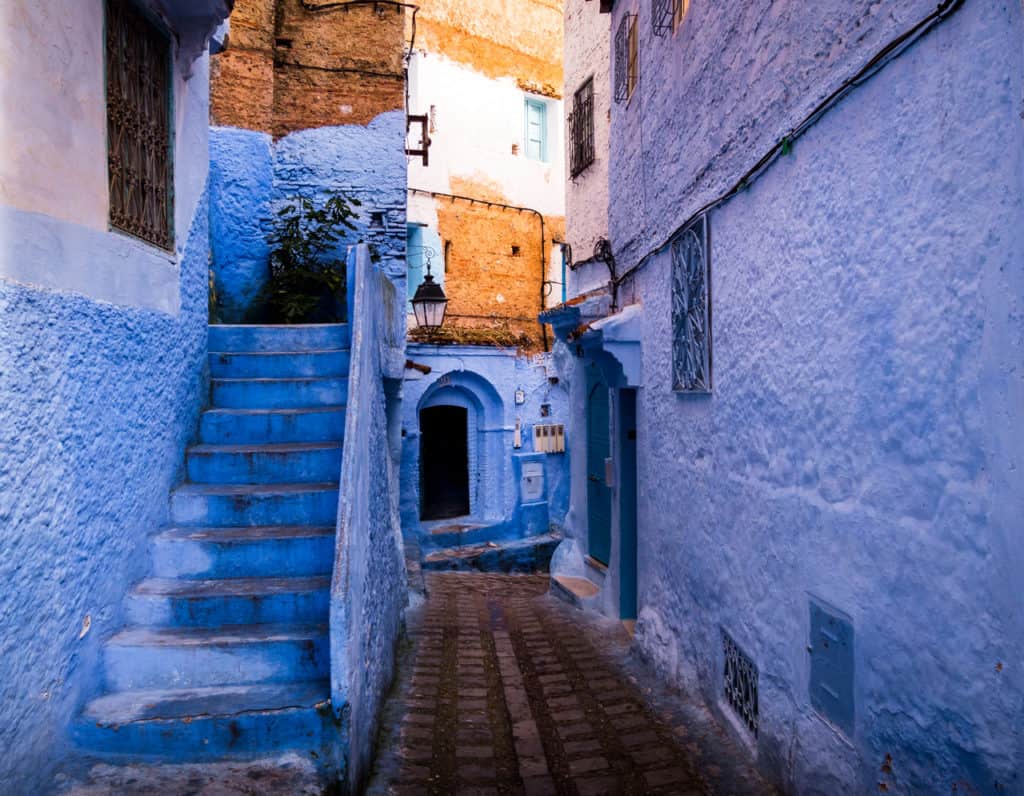 There are plenty of fun things to do in and around Chefchaouen, like visiting the Akchour waterfalls for example or visiting the Spanish Mosque.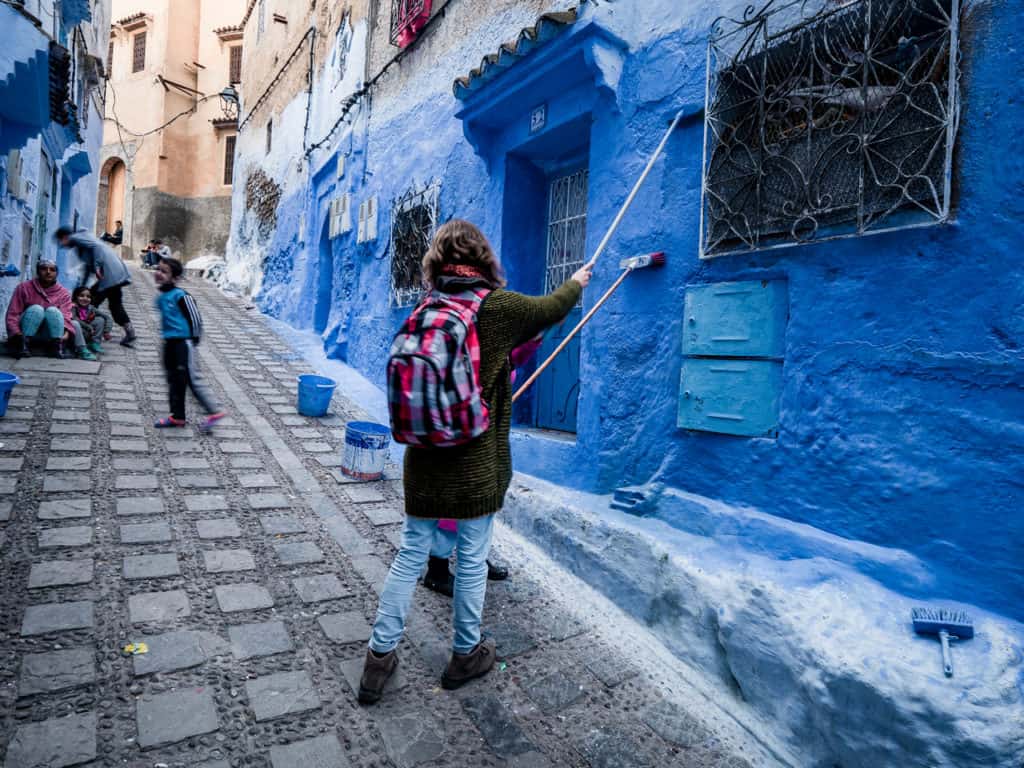 Cynthia even painted some of the houses with a new shade of Blue while in Chefchaouen…
There are also plenty of great hikes in the mountains around the small town. Chefchaouen is a place that has so much to offer that it's worth staying there for at least 2-3 days.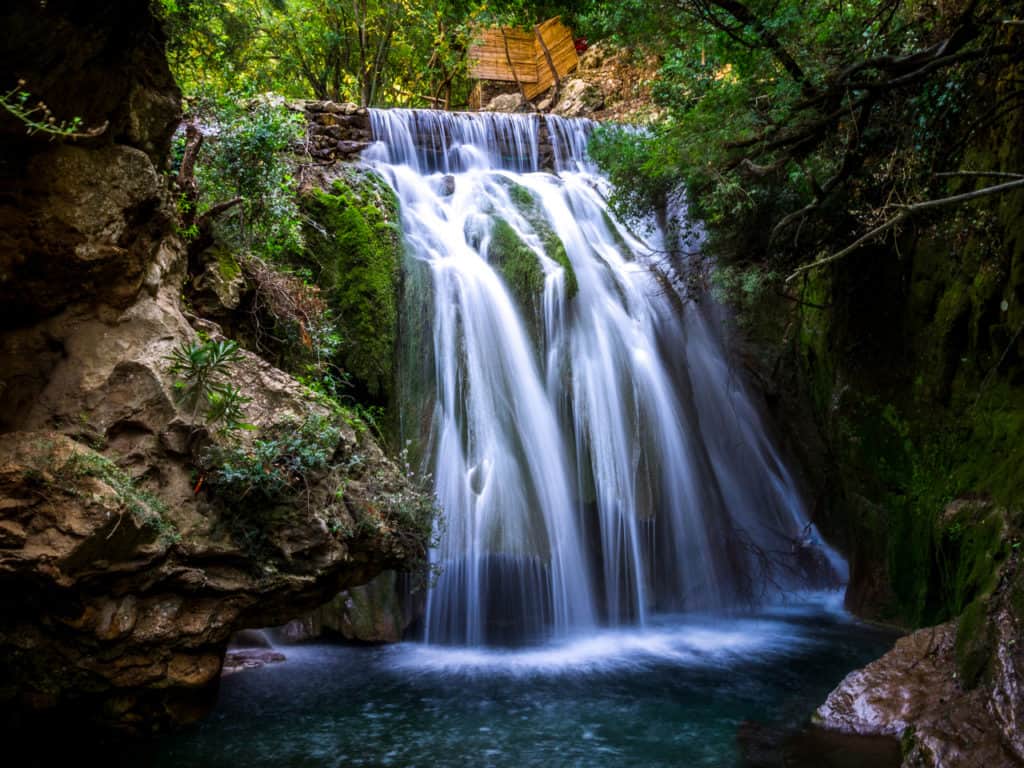 The Akchour waterfalls are a great place to visit right next to Chefchaouen…
The good thing is that Chefchaouen really isn't an expensive town. You'll find a lot of really cheap hostels where you can stay on a budget and plenty of budget hotels there.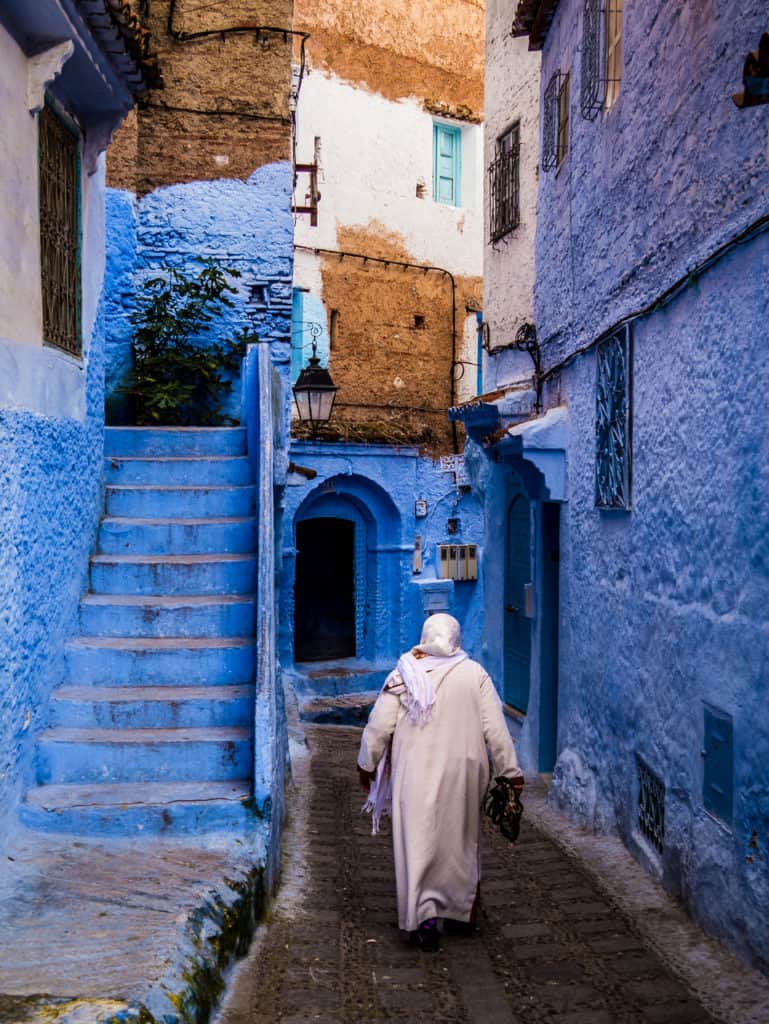 So what are the best and cheapest hostels and low budget hotels in Chefchaouen? Read this list to discover the ones we compiled during our visit to this beautiful town.
Chefchaouen is full of colors…
The best and cheapest hostels and low budget hotels of Chefchaouen
This is the hostel where Cynthia and I first stayed when we arrived in Chefchaouen. Our room was huge and super clean and we had a private bathroom with a very nice warm shower right inside the room. It's the cheapest hostel in town and has several dorm rooms as private rooms.
There's also a fantastic rooftop terrace from which you have a great view of the city and mountains. In the evening, this is where we would hang out and we met so many travelers and backpackers from all over the world there.
This hostel is located in the old medina which is perfect if you want to be surrounded by all the blue buildings. Hoel Souika has a big common kitchen where you can prepare and cook your own meals to save money. It's also possible to buy a delicious breakfast on location every morning.
Click to check out rates and availability for "Hotel Souika"
The rooftop terrace of Hotel Souika is the perfect place to admire the sunset…
The location of Hotel Asmara is perfect. It's right next to the gates of the old city (the blue part of Chefchaouen) and right next to the fruit and vegetable market and to some restaurants.
There is also a small square next to the hotel where you can have a nice breakfast with the locals in the morning.
Even though this hotel is located in the center of town, it's still very quiet at night and we had great nights of sleep there. The hotel has big cozy beds and if you're looking for comfort, this is the place to be.
Click to check out rates and availability for "Hotel Asmara"
Although this hostel is very cheap it's still very nice and provides good value for your money. This hostel also has a beautiful rooftop terrace where you can meet other travelers.
The bunk beds are very comfortable and they have a lot of electrical outlets to charge all of your electronic devices. The staff that works at Hostel Aline is also super friendly and helpful and they can give you tons of great suggestions about cool things to do in Chefchaouen.
Hostel Aline is located a bit in the outskirts of the old city next to the hills where you can admire the sunset.
Click to check out rates and availability for "Hostel Aline"
If you're in Chefchaouen during the right season you'll be able to drink plenty of delicious orange juice…
This hostel is beautifully decorated and very welcoming. It's located in a very convenient place and much easier to find than other hostels on this list. It's right in the center of the Medina and next to a gorgeous mosque.
This hotel has a big shared lounge where you can relax on the traditional Moroccan couches and it also has a rooftop terrace with a view of the mountains.
Click to check out rates and availability for "Hotel Abi Khancha"
This budget hotel is located on the way towards the old Spanish mosque that overlooks Chefchaouen. It's a quaint little place with lots of character and I'm sure it will charm you as much as it charmed me.
The little rooms are very cozy and decorated with various shades of blue. The main areas also have lush plants and flowers that add to the charm of the place. Dar Antonio is the perfect place from which to explore the narrow streets of the old Medina.
Click to check out rates and availability for "Dar Antonio"
If you're arriving by bus, this hostel will be ideal as it's located just 15 minutes from the bus station. The building is wonderful, completely blue inside and out. The architecture of this place reminded me of a riad with its central light well.
The terrace has a gorgeous view of the surroundings. The cleaning of this hostel is perfect and you can see that the owners take cleanliness very seriously. Hostel Mauritania is close to the main square. The souks and all the small fruit and vegetable stalls are easily reachable within minutes.
Click to check out rates and availability for "Hostel Mauritania"
This hotel is right next to Plaza Uta El-Hammam, the vibrant heart of Chefchaouen's old medina. This square is lined with restaurants and little cafes where you can enjoy a traditional Moroccan dish or tea while breathing in the local atmosphere of the plaza.
It's also right next to the old Kasbah so it will be the ideal location if you want to be in the center of all the interesting sites of the city. This hostel is super clean and cozy and they serve an excellent breakfast every morning.
Click to check out rates and availability for "Hotel al Kasbah"
A word of advice before you book your hostel in Chefchaouen
A lot of the hostels in this article are located in the old city. While this part of the city is beautiful, a few scammers here take advantage of unwary travelers (see 12 Common Scams you might encounter in Morocco).
One of the typical scams that you might encounter in the old medina is the "Nice guy showing the way". This scam consists of offering unsolicited help such as pointing out the way to a hotel or guiding you to a restaurant. Once you arrive at the hostel the scammer will ask you for an overinflated tip in exchange for his service.
For example, while you're walking with your backpack in the streets of the old medina of Chefchaouen, someone approaches you and suggests to guide you to your hostel. Once you arrive there, he asks for 30 or 50 MAD for the five minutes it took to help you and will not leave until you give him a tip.
How do you avoid this scam?
Be very wary of exaggeratedly friendly strangers who approach you out of nowhere and offer their help. Only ask for help if you absolutely need it, and if so only ask people inside their shops or traffic and police officers. If there are young guys around just ask for directions but always remember to insist that you don't need them to guide you.
A quick tip: Learning some words in Moroccan Arabic will help you avoid this trap.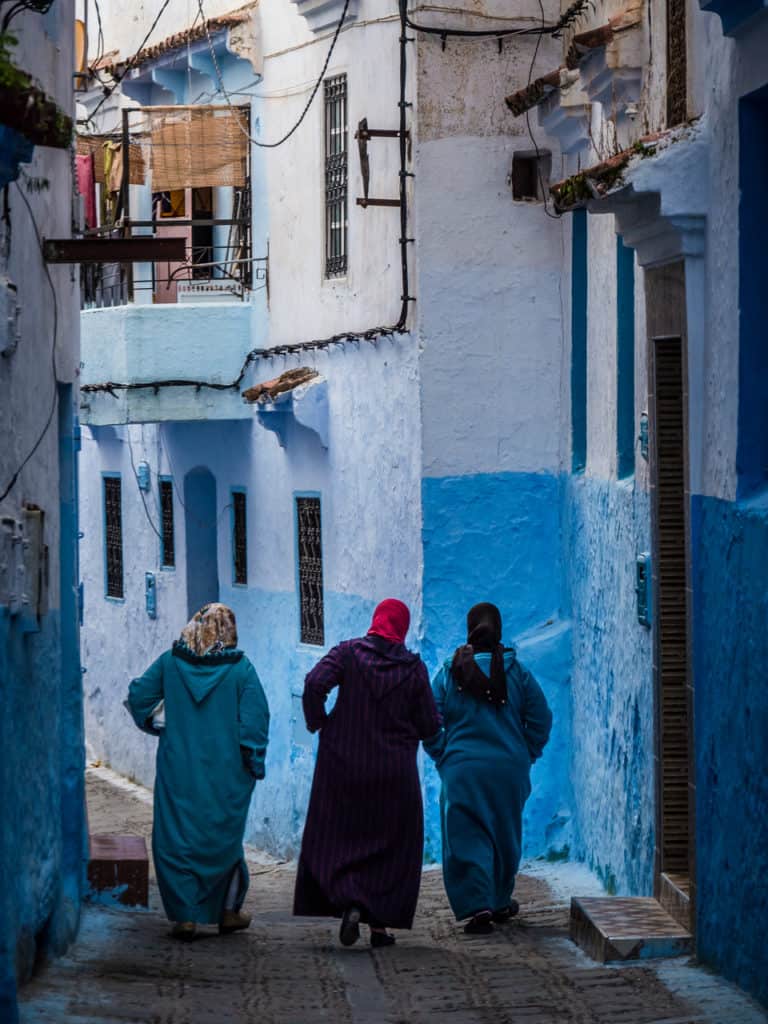 We hope you find a great hostel in Chefchaouen and that you have an awesome time in this city. If you have any questions or if you've already been to Meknes, we love to hear from you in the comments below!
* This article contains some affiliate links. If you book a hotel/hostel through our website, we'll receive a small commission at no extra costs for you. This way you're helping us writing more informative and awesome guides like this. Thank you!
KNOW BEFORE YOU GO – MOROCCO TRAVEL TIPS:
Planning to rent a car in Morocco? Read this first:
A few travel and safety tips for Morocco:
Planning to travel to Morocco during Ramadan? Read this first:
How is it to travel to Morocco during Ramadan?
Hiking, surfing and nature trips in Morocco:
Our Moroccan city guides:
MOROCCO TRAVEL RESOURCES: