Backpacking in Morocco – The complete guide for the independent traveler with everything you need to know about traveling in Morocco.
Morocco, also known as the Kingdom of Morocco, is a North African country bordering the Atlantic Ocean and the Mediterranean Sea. The country is characterized by its Berber, Arabian and European cultural influences.
Morocco is a gateway to the African continent while being an uncontrolled mix of North Africa, Spain, Portugal, and France. It's a country of proud people with a rich and interesting history. It's also a very safe country for foreign tourists.
One of the many ksour -Berber fortified villages – in the Atlas Mountains
If you like discovering ancient cities, riding camels in the desert with the Saharan nomads or discovering beautiful waterfalls such as the Ouzoud Waterfalls near Marrakesh or the Akchour waterfalls near Chefchaouen, then come to Morocco! It is a country of dizzying diversity and natural beauty!
The Akchour Waterfalls in the Rif Mountains
---
1. What visa do you need for Morocco?
When it comes to tourist visas, Morocco doesn't have a very strict policy. Most travelers won't have to apply for a visa as citizens coming from 69 different countries can stay up to 3 months visa-free in Morocco.
If your country is not on the list above, you can apply for a visa on the Moroccan consulate website.
All travelers arriving in Morocco need to have a passport that is valid for at least six months from the time of entry.
Visiting Ait Ben Haddou
Can you renew or extend your visa for Morocco?
Renewing your visa by doing border runs
It is possible to renew the 90-day tourist visa for Morocco by leaving the country for a few days and then re-entering it, thus getting a brand new 90 days in the country. Border runs are not officially permitted, but it is certainly not frowned upon. I've been renewing my visa this way without any problem.
In this article, I explain how and where to cross the border to renew your 90-day tourist visa for Morocco.
Extending your visa without leaving the country
You can also extend your Moroccan visa by applying for a visa extension at the local police station of the city where you are staying. This should be done no later than 15 days after entering the country but it can be quite complicated and it's not 100% guaranteed that your application will be accepted.
To apply for a visa extension, you'll have to give an application letter in Arabic with copies of your passport, pictures, and reason why you want to stay longer in the county.
The best way to extend the visa for Morocco is to do border runs as I explain in this guide.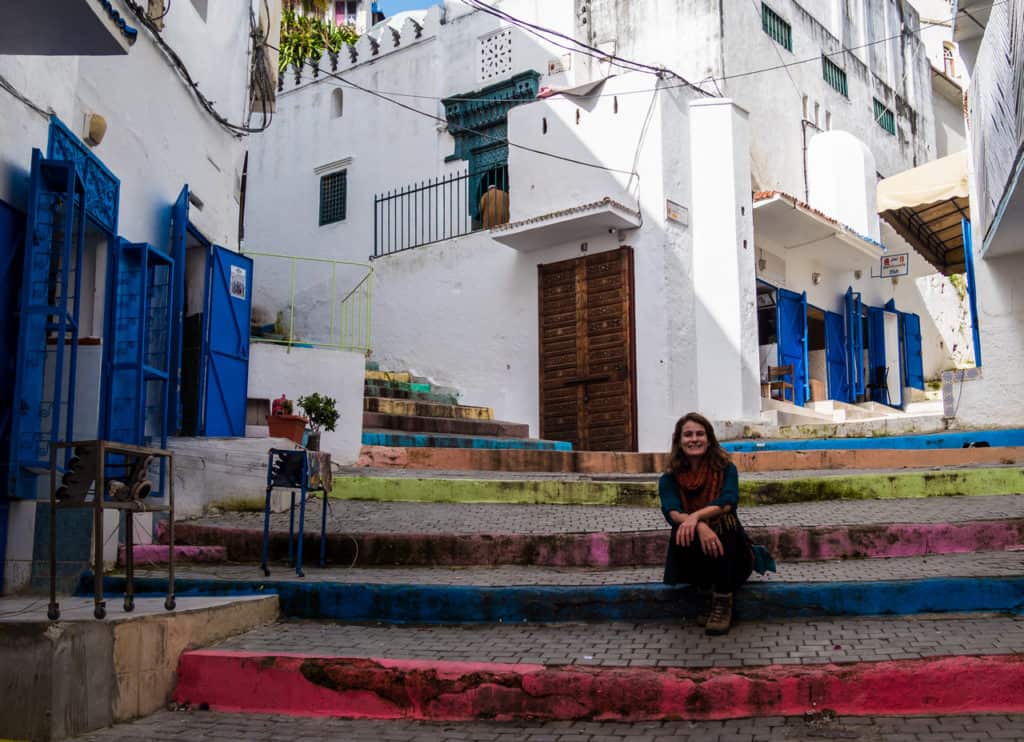 ---
2.Entering and exiting Morocco by air, by land or by sea
You can travel to Morocco by car, by ferry or by taking an airplane. It's still impossible to enter Morocco overland from Algeria as the Moroccan/Algerian border has been closed for 25 years. However, you can enter Morocco from Mauritania and many people traveling overland across Africa will enter the country through that border.
2.1 Entering Morocco overland through the Mauritanian – Moroccan border
The visa policies apply the same way for citizens of the following 69 countries when you enter Morocco by its southern border.
There are shared taxis going directly to the Moroccan border from Nouakchott and Nuadhibou in Mauritania.
2.2 Taking a ferry to Morocco
Most ferries connecting Europe with Morocco will arrive in Tangier. Have a look at this article for a complete section on taking ferries to and from Tangier.
It is also possible to take a ferry from Europe to Nador and Al Hoceima.
There are two Ferry companies that operate in the Strait of Gibraltar bringing people from Tarifa to Tangier and vice versa. The FRS service runs 8 times per day while the Inter Shipping service runs up to 6 times per day.
Taking a ferry to Spain and back to Morocco is also a great way to renew your Moroccan travel visa.
Tangier ferries also connect Morocco with Spain, Italy & France with crossings available to Tarifa, Algeciras, Malaga & Barcelona (in Spain), Genoa & Savona (in Italy) & Sete (in France). Tangier Ferry crossings are operated by FRS, Inter Shipping, Balearia, Trasmediterranea, Grandi Navi Veloci, Grimaldi Lines & AML and, depending on the time of year, you'll find a choice of up to 69 daily ferries crossings.
Port of Tangier
2.3 Flying to Morocco
There are many international airports in Morocco and the Mohammed V international airport in Casablanca is considered the busiest one in the country. In this guide, I will explain how to get to and from this airport to Casablanca.
How to get to and from Mohammed V International Airport to Casablanca
You can get from the airport to the city center by bus, train, shared taxi, or with a rented car.
A very convenient way to get from the airport to the city center is by bus. There is currently a CTM bus that leaves the airport on an hourly basis and takes 45 minutes to reach the city center. The bus leaves the airport from Terminal 1 and you buy your ticket directly on board for 20 MAD.
There used to be a city bus going from the airport to the city center but that is no longer the case.
Trains leave the airport on an hourly basis and it takes about 45 minutes to reach downtown. They operate daily between 6 AM and 10 PM.
They leave from terminal 1 of the airport and a ticket is around 42 MAD. You can buy your ticket directly at the station in the airport.
There are taxis waiting at the main terminals of the airport. They typically charge between 250 and 300 MAD to bring you to the city center. They also charge the same to bring you from the city center to the airport.
If you are renting a car, it will be easy to drive from Casablanca airport to the city center. Just follow highway N11 towards the city center. It should take 40 minutes to get there from the city center.
---
3. Which vaccinations are required for Morocco?
You don't need any vaccinations to enter Morocco but we recommend to be vaccinated against Hepatitis A and B and rabies.
---
4.What you need to bring to go backpacking in Morocco
4.1 Money
The official currency of Morocco is the Moroccan Dirham (MAD). 1USD is about 0.97 MAD (January 2019). ATM's are very easy to find in the cities and towns but bring cash with you when visiting remote villages and regions. There are also plenty of exchange offices in every major city in case you want to exchange some dollars or euros.
[kt_box opacity="1″ background="#eded6d"]
Want to know how much it costs to travel to Morocco?
Read our Budget Guide to Morocco!
[/kt_box]
4.2 Travel insurance for Morocco
It's not mandatory to have travel insurance if you are traveling to Morocco. However, if you're planning on doing activities such as rock climbing or doing some treks in the mountains, it's always a good idea to have international travel insurance!
If you don't have travel insurance yet, I suggest to sign up for the travel insurance provided by World Nomads! Click here for more information and prices.
4.3 Power adaptor
The power sockets in Morocco are of type C and F. The standard voltage is 220 V and the standard frequency is 50 Hz.
Bring a Universal power adapter if you want to be able to charge all of your electronic devices while in Morocco.
4.4 What to wear in Morroco?
Morocco has temperatures that vary greatly depending on the time of the year and the region of the country you visit. The country has hot summers and in the mountainous areas, very cold winters.
Because Morocco is a mountainous country but also borders the warm Atlantic ocean, the weather varies a lot depending on where you are and the time of the year you visit this country. This will greatly influence the choice of clothes you will need to bring there.
It can be quite chilly in the mountains during the winter.
In this guide, for example, I cover what to wear on a Sahara Desert camel trek in Merzouga. Since the days in the desert are very hot while the nights can be very cold, it's important to wear clothes that serve many purposes and that are above all very functional.
It can be relatively hot in the summer (37°C) in the desert near Marrakesh but when you go to the Atlas Mountains, the temperature will be a bit lower.
Hitchhiking near the desert, even in winter, it's very hot during the day!
In winter the temperature rarely goes below 0°C in Marrakesh although it does reach the freezing point at night in the Atlas mountains. The north of Morocco is usually very rainy during the winter months.
Always pack appropriate clothes for the period in which you're traveling. In winter you should always bring warm clothes, such as a sweater, a jacket, a hat, a raincoat or an umbrella (it can rain a lot in the area around Tangier and Chefchaouen in winter).
Rainy day in Fez
If you are visiting Morocco in summer bring clothes that are light. Unlike most people think, you don't have to completely cover up in Morocco, just dress appropriately.
If you are planning to do some hiking while in Morocco such as a hike to the Akchour waterfall, it can be a good idea to have a good pair of hiking shoes.
4.5 A phrase book and a dictionary
Derija, the Arabic language spoken in Morocco, is very different from classical Arabic although it is still mutually intelligible with the Arabic spoken in Algeria.
If you do not speak the language, I strongly suggest getting your hands on the Lonely Planet Moroccan Arabic Phrasebook. It is packed with all the essential words and phrases you will need on your trip to Morocco and will help you in every situation. From finding a hotel room to ordering tajine or joining the local festivities, this book will cover almost every situation you could imagine.
If you already have a phrasebook such as this one, an Arabic dictionary could also be very useful.
Asking for directions in a mix of French and Arabic
4.6 A travel guide for Morocco
A travel guide that covers all the major cities in Morocco is something you should absolutely have in your backpack during your trip to this country. I recommend the Lonely Planet Morocco Travel Guide. It covers what to see and skip, and what hidden discoveries await you in this beautiful country.
Another guide that has proven to be quite useful during my trips around the country was The Rough Guide to Morocco.
[columns] [span6]
[/span6][span6]
[/span6][/columns]
---
5. What is the best time of the year to visit Morocco?
The whole year round can be a good time to visit Morocco, depending on what you want to see and do during your trip. Generally, the best time to visit the country is in spring, between April and May as the weather is warm and dry around most of the country.
The weather also becomes very lovely in the fall (September to October) when the temperatures are not so hot. This is especially noticeable when visiting Merzouga and the Sahara desert.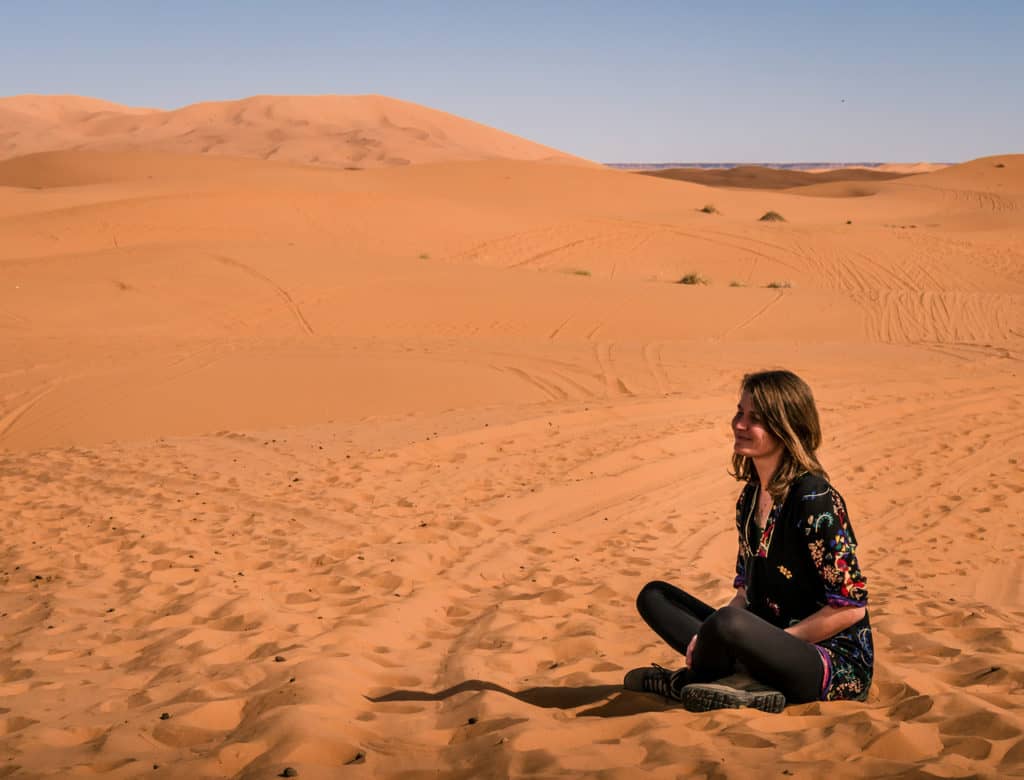 [kt_box opacity="1″ background="#eded6d"]
Discover the best places to visit in Morocco in a 7-day Itinerary!
[/kt_box]
---
6. How to get around Morocco
There are different ways to travel around Morocco. You can travel by train, by taxi or by bus. You can also drive with your own car or hitchhike around this African country. And finally, the domestic flights are quite cheap in Morocco.
6.1 Getting around Morocco by train
Traveling around Morocco by train is a great choice because they're cheap and they are a great way to see the stunning Moroccan landscapes.
It's very easy to buy your train tickets directly at the train station. Ticket prices and time schedules can be found on the ONCF website. Once you know which train you will take, you can head over to the train station to buy your ticket. Bring cash to buy your ticket as it's not always possible to pay by debit or credit card.
All the major tourist destinations in Morocco are connected by train. However, if you would like to travel a bit more off the beaten path, it's possible to take a bus to get there. The bus company Supratours works together with the ONCF railway network by extending the railroad lines and reaching areas not served by the train.
On the train in Morocco
6.2 Getting around Morocco by bus
When it comes to traveling around Morocco, there are only two bus companies that I would recommend: CTM and Supratours. They are the most reliable bus companies around the country and they have by far the most comfortable buses. They also have very similar prices and schedules.
You can buy your tickets online with both companies and their websites are very easy to navigate. The CTM website, for example, can be viewed in English.
6.3 Getting around Morocco by shared taxi
There are two types of taxis in Morocco: Petits Taxis (small taxis) and Grands Taxis (big taxis).
The Petits Taxis are smaller cars. You can use them to take short rides within cities but they're not allowed to take people outside the city.
The Grands Taxis are used to take long rides from city to city or from the airport to the city center. The Grand Taxi is commonly a shared taxi in Morocco, which means that the taxi won't leave before it's full unless you pay for the entire taxi (all 6 seats). They can be found at the port when arriving by ferry, at the airport, in bus stations, at the train station and at the bigger hotels in the cities.
It can often be good to pay straight away for two seats to get the taxi to leave earlier and give yourself more space. This is particularly useful if you are a woman traveling alone, as you will get the front seat to yourself.
The fare for shared taxis is usually fixed and not negotiable. Although the price is a bit higher than with a bus, it is still very reasonable.
It's important to make it clear that you are only paying for one spot. You can do this by using the French expression, "une place", which literally means one spot.
If you are traveling with a small group of friends, you could privately hire an entire taxi. This will give you the opportunity of traveling through unpopular routes without having to wait hours for other passengers. The fare for the entire taxi should be six times the cost for one place.
6.4 Hitchhiking in Morocco
Hitchhiking in Morocco is not only possible, it's also super easy. We hitchhiked as a couple and almost never had to wait for more than an hour to get a ride. We also hitchhiked with two friends and our waiting time was similar, despite being with 4 people and an equal amount of big backpacks.
People in Morocco never asked us for money when we were hitchhiking and they were super happy to hear our stories and talk with us. Some of our drivers even invited us for a coffee and a meal.
You could always ask someone to write down your destination on a piece of cardboard in Arabic.
[kt_box opacity="1″ background="#eded6d"]
Read:
The Ultimate Guide to Hitchhiking
[/kt_box]
6.5 Driving in Morocco
Driving in Morocco is the perfect way to discover the country if you want the freedom to go wherever you want. The buses in the south of Morocco are often limited to early morning and late afternoon departures and this is not always very convenient.
If you have your own car or if you are renting one, you will have the freedom of traveling at your own rhythm and of stopping whenever you want to stretch your legs and relax or take some pictures.
[kt_box opacity="1″ background="#62afea"]
Check out prices for renting a car in Morocco
[/kt_box]
Driving on highways and on countryside roads in Morocco is usually quite safe. Driving in big cities like Casablanca, Tangier, or Marrakesh is more challenging. Large cities are often very chaotic and you'll definitely notice a big difference between driving in cities, small towns and rural areas.
Another thing worth noting is that the red lights and stop signs in the large Moroccan cities are sometimes completely on the far right of the road or hidden behind tree branches. Pay attention that you don't miss them!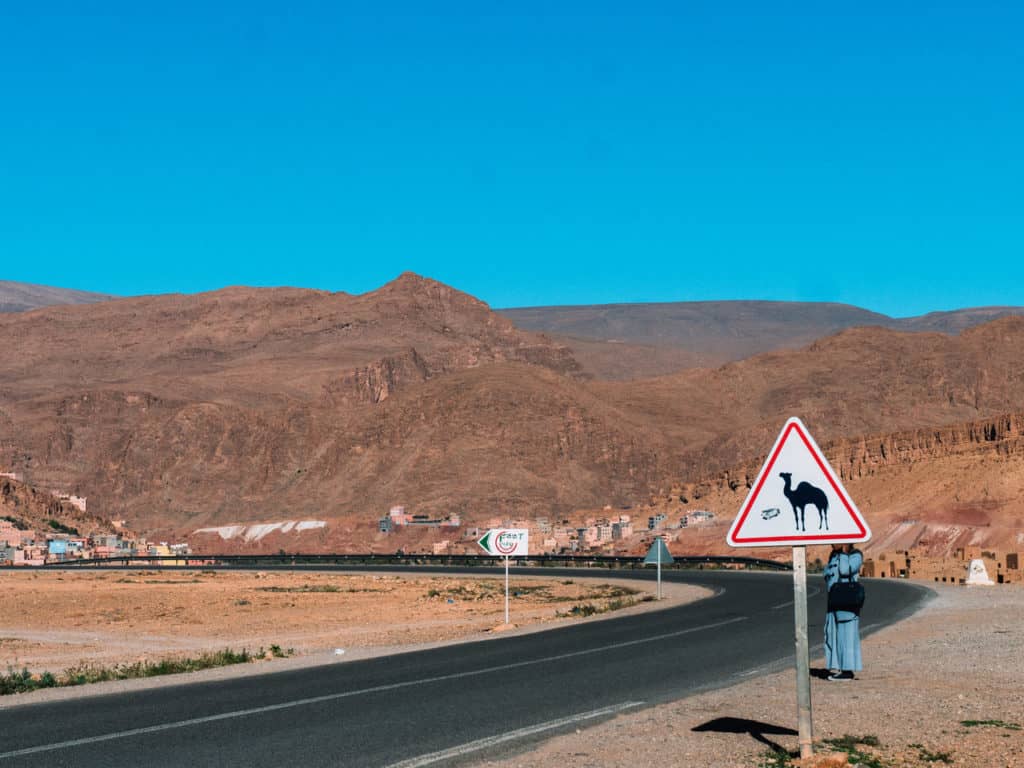 Another road sign you'll often see in Morocco…
There are a lot of police checks along the highways. They are clearly signposted in advance and you need to approach them slowly and stop completely until the policeman waves you on or asks you to pull over. If you're worried about corruption, don't be. The Moroccan cops are very friendly and polite and we never had to pay a bribe, unlike our experiences with the cops in Kyrgyzstan…
6.6 Domestic flights in Morocco
We discovered that domestic flights within Morocco are extremely cheap.
If you don't have much time and you want to cover a big distance, for example traveling between Marrakech and Fez, it's worth checking out the prices of a domestic flight between those two cities. The flight will only be slightly more expensive than a train or a bus but you'll end up saving a lot of time.
The national carrier Royal Air Maroc is the main domestic airline and you can buy your tickets online here. Royal Air Maroc has flights to Tangier, Nador, Oujda, Fez, Er-Rachidia, Marrakech, Essaouira, Agadir, Laâyoune and Dakhla.
Essaouira
[kt_box opacity="1″ background="#eded6f"]
Planning a trip to Marrakech?
Read: What to do in Marrakech – A Complete Guide to Morocco's Red City
[/kt_box]
---
7. Accommodation in Morocco
There's a big selection of budget hostels, guesthouses, and hotels in Morocco that cover a wide spectrum of prices and budget ranges. Have a look at our budget guide to Morocco in which I give an overview of the prices for the different types of accommodation in Morocco.
7.1 Wild camping in Morocco
Wild camping is allowed almost everywhere in Morocco, whether it's on a beach near Essaouira, in the forest or between the sand dunes of Merzouga.
The best time to camp in Morocco is from late spring to late fall. Camping during winter is not ideal. The northern part of the country becomes very cold and rainy during the winter months and the south is much colder at night due to the arid desert-like landscapes.
You can camp almost everywhere for free, but a bit of discretion is advised if you camp near towns. Commercial campgrounds are quite popular and people will want you to pitch your tent there instead, for which you will have to pay.
If you camp in the countryside, people will most likely invite you for a meal or to share a tea with them in their house if they see you.
If you camp in a palm-grove, you'll get treated to spectacular sunsets!
7.2 Hostels, hotels and guesthouses
Hostels and smaller hotels are always very cheap and ideal if you travel by yourself in this North-African country. Morocco offers a huge choice of hostels for budget travelers who want to save money and swap stories with fellow backpackers in the shared kitchen or rooftop terrace of the hostel.
You can find a bed in a mixed dorm room starting from $5 per night on Booking.com, even in touristic cities such as Tangier, Fez or Essaouira.
In case you can't find a hostel in the town you travel to or you want the comfort of your own private room and bathroom right in the heart of the old center of a popular Moroccan city, then staying in a guesthouse, homestay or renting a room or apartment on Airbnb might be a better option, especially when you are traveling with a partner or friend.
We often stayed a private room on Airbnb for $20 or less. If you sign up on Airbnb by using this link, you'll get 30% discount on your first booking!
Most hostels, guesthouses and Airbnb homes in Morocco have awesome rooftop terraces!
7.3 Staying in a Riad in Morocco
A Riad is a very special type of Moroccan building that combines architecture and history. They are very typical Moroccan buildings that started appearing during the Idrisid dynasty. Riads usually have indoor courtyards with gardens and fountains. One notable feature of their construction is that they are designed with zellij (Moroccan tiles).
Although staying in a Riad in Morocco will be more expensive than in a hotel or a guesthouse, it's the ideal place to stay if you want a romantic getaway with your loved one. No stay in Morocco would be complete without at least one night in a Riad!
You can usually find Riads in major cities such as Fez, Marrakesh, and Tangier. The price of a room for two people in a Riad usually starts from $60. Booking.com has a wide selection of luxurious yet affordable Riads where you could stay all over Morocco.
7.4 Staying with locals in Morocco
During our travels in Morocco, we often got invited by local people to share a meal and a tea. Moroccans are very generous and welcoming and if they pick you up hitchhiking late during the day, it is very likely they will invite you over to sleep at their house.
If you find yourself in a more remote area of Morocco, it's also possible to approach the locals and ask them if you can pitch your tent on their property.
This family invited us to spend the night on their farm
---
8. Food and drinks in Morocco
The food in Morocco is very delicious. It's inspired by the cuisine of the Berber people who were the original inhabitants of the country as well as various recipes that were brought by the Arabs. Whether you're a meat eater, a vegetarian or a vegan, you'll enjoy the Moroccan dishes!
There are plenty of restaurants within all price ranges in Morocco. You can find yourself eating tajine, beans or harira with msemen in the most traditional places or having a Mediterranean dinner in a luxurious restaurant. In big cities, you will find many yummy sandwiches stands as well as some little shops selling delicious crepes.
On Fridays, it's typical for Moroccan families to get together and eat Couscous and share some with their neighbors.
One dish that I would highly recommend trying while in Morocco is the Pastilla. If you love the mix of sweet and salty flavors than you definitely need to try this. It's a flaky pie that was traditionally made with pigeon but is now made with chicken.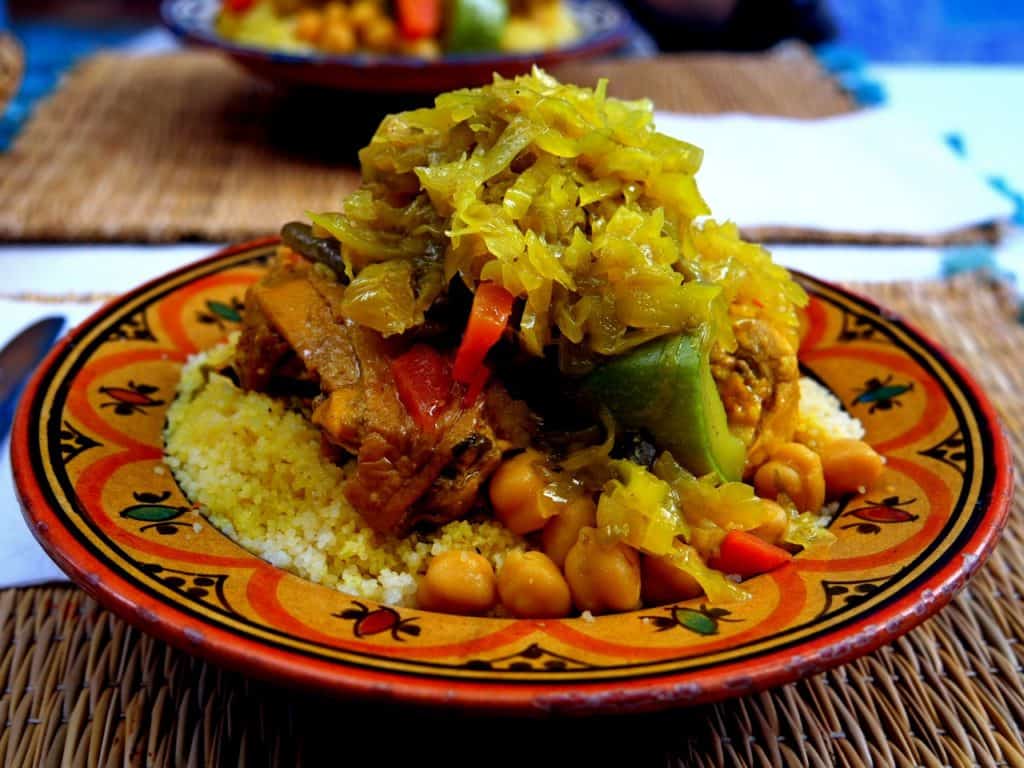 The most common local drink in Morocco is tea. It's boiled with fresh green mint and loads of sugar. People in the south of the country tend to drink their tea with a lot of sugar while people in the north add a bit less sugar to their tea. If you don't want any sugar, you have to ask ahead of time.
Morocco also has a big coffee culture and you'll often find many stalls and shops selling fresh fruit juices.
Despite being a Muslim country, alcohol is still available in Morocco especially in more touristy cities such as Marrakesh, Fez, Tangier, and Essaouira.
---
9. Religion in Morocco
Over 98% of the Moroccan population is Muslim and the vast majority of Muslims in Morocco are Sunni. Although we noticed that many people are actively practicing their religion, they have quite a liberal view about it. For example, as a foreign woman, you don't have to wear a headscarf but this doesn't mean you should walk around in a mini skirt.
The second-largest religion in the country is Christianity, but most Christians in Morocco are foreigners.
---
10. People and culture of Morocco
The original inhabitants of Morocco were the Berber people. The Moroccan culture was also developed and shaped under the influence of the Arabs who conquered the region. Even today a good part of the population still considers itself more Berber than Moroccan and sees the Arabic speakers as a different culture.
Berber woman living in the Atlas Mountains
Because of this, at least a third of the population speaks an Amazigh (Berber) language on top of Derija, the Moroccan dialectal Arabic.
The Berber people can be divided into three main groups with different dialects: the Riffians, the Chleuh, and the Central Moroccan Amazigh. The Sahara is also the home of the Touaregs who have their own language and culture.
Touareg man living in the Sahara
While people in big cities such as Marrakesh and Casablanca are very busy due to their "fast-paced" lifestyles, most people around the country are very hospitable. This is particularly true in smaller remote villages where people aren't so used to see foreigners. They will most likely invite you for tea or for a meal in their homes and might even invite you to spend a few days with their families.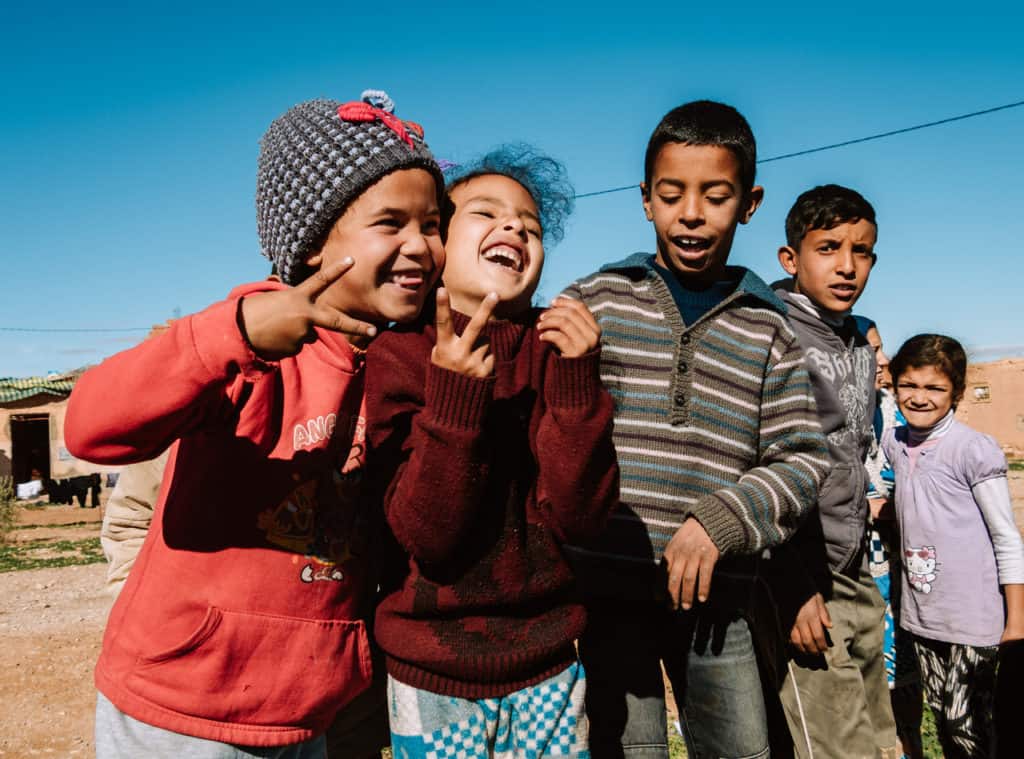 Curious kids saying hello in a remote region of Morocco
Men in Morocco will usually greet each other with a handshake followed by a kiss on the cheek and saying" salaam" which literally means 'peace' but is used to say 'hello'. This is quite similar to the way people greet each other in other Muslim countries such as Azerbaijan.
When Moroccans go to work, they are expected to shake each of their colleagues' hands. If a Moroccan has dirty or full hands, the other person will grab his/her wrist or forearm instead of the hand. After shaking hands, people will touch their heart with their right hand as a sign of respect.
Moroccans will never kiss a member of the opposing sex in public. Couples, even married couples, rarely touch in public as this is considered indecent. Contact between members of the opposing sex in public is strictly limited to hand-shaking.
---
11. Which languages are spoken in Morocco?
Moroccan Arabic is the main language spoken in Morocco. It's quite different from the other dialects spoken in the Arabic world but mutually intelligible with Algerian and Mauritanian Arabic. People in Morocco also often speak one of the three Amazigh languages present in the country and they also understand and speak some French.
Out of all the countries I have visited, I would say Morocco is the one place where people have most amazed me with their language speaking skills. If you walk in Jemaa el Fna, the central square of Marrakesh for example, it's not uncommon to meet people who speak fluently 4 or 5 different languages.
Useful expressions to know before visiting Morocco
Before going to any country, it is always important to know some basic words and expressions that will help you get by and ask people for help and assistance if needed so I included 10 Derija expressions in this guide that will help you get around in the country.
Afak: "Afak" is the Derija word to say please. You can use it after asking for something. One way I used this word when I first arrived in Morocco was to simply point at fruits or vegetables and say "heda afak". This translates as "this, please" and although by itself it doesn't mean much, believe me, it goes a long way.
Fayn: "Fayn" is the word for where. You can use it to ask for the toilets- "Fayn al toilet afak?" – Where is the bathroom, please? "Fayn al cafe afak?" – Where is the cafe, please? You could also ask for the Taxis using this word.
Shukran: This is the word to say thank you. You can use it after the waiter brings your food or after someone points you in the direction of the toilets or the market. Moroccans greatly value when foreigners speak their language and using this expression will definitely make them smile.
Ech Hal or Bech Hal: This is the expression to use to say "How much" when you want to buy something. You can say "Ech Hal heda?" or Bech Hal while pointing at some vegetables at the market. This literally means how much is this?
Smeetee: "Smeetee" literally means "My name is…" So when meeting someone you could say smeetee and then follow by saying your name.
Shno smeetek?: After telling people what your name is the best thing to do is to ask them. Shno smeetek? translates as "What is your name?"
Sabah al Khayr: This means Good morning.
La bass?: This is an expression used to ask people how they are while saying hi at the same time.
Bislama: This means Goodbye.
Anta tahdar al engleezeeya?: This translates as "Do you speak English?"
If you would like to learn even more Moroccan Arabic sentences and expressions, you could always read my guide on the language: Tips and tricks to learn Moroccan Arabic. In this article, I explain how to learn Darija quickly and effortlessly.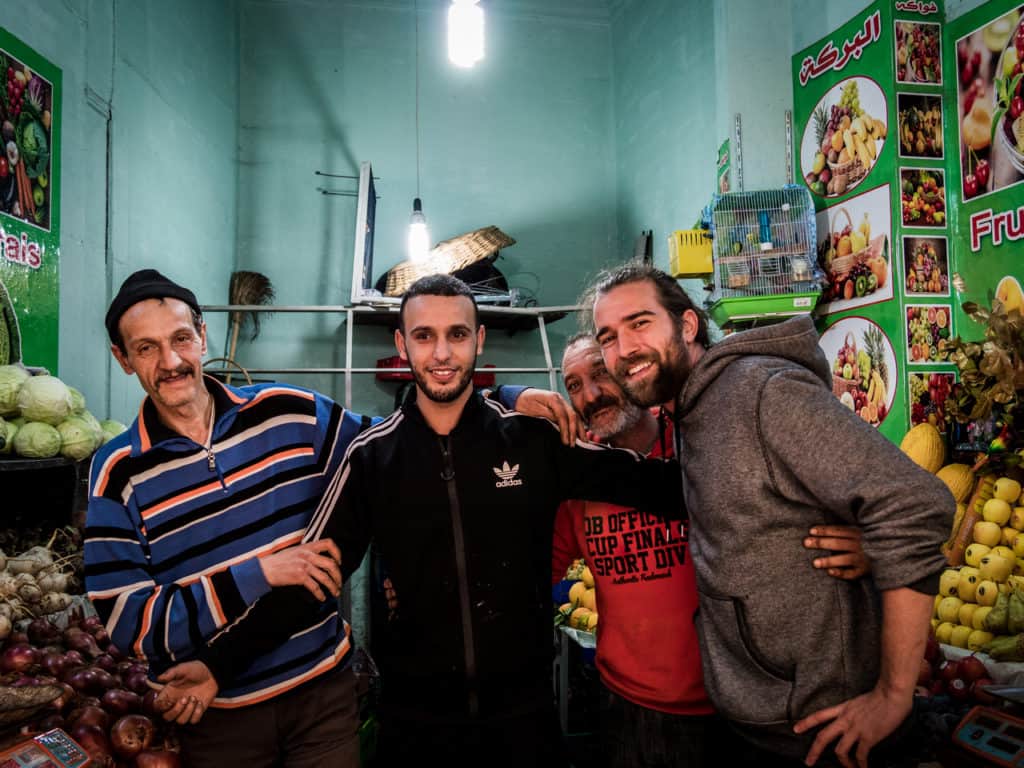 Speaking some Derija helps to connect with the local people
---
12. Is Morocco safe?
Answering the question ''Is Morocco safe?" is quite easy. After traveling in this country for more than a year I can guarantee that Morocco is very safe to travel to! Last year alone more than 10 million people visited Morocco, making it one of the most visited countries in Africa. With such a high amount of visits, the amount of crime in Morocco is still extremely low.
However, a low percentage of crime incidents in a country doesn't mean that crime is not present.
The only crime that you might encounter in Morocco is petty crime such as scams and pickpockets. It's very unlikely that you'll be assaulted or hurt as a tourist.
In the article Is Morocco safe, I answer all the questions you could have concerning safety in Morocco. I talk about the safety of families in Morocco, terrorism in Morocco, healthcare in Morocco and about the areas you should avoid in Morocco.
12.1 Common scams in Morocco you should be aware of
Morocco is a very popular destination and just like every other touristic destination, scamming unwary travelers is quite a common thing in the country. You will find warm and friendly people all around Morocco but there are also the type of people who like to con tourists. In 12 Common Scams in Morocco, I describe each scam into detail with tips on how to avoid them. A must-read before traveling to Morocco!
[kt_box opacity="1″ background="#eded6f"]
Worried about safety in Marrakech?
Read: Is Marrakech Safe? – Your Guide to Safety in Marrakech
[/kt_box]
---
13. A few more useful things to know before you go backpacking in Morocco
13.1 Drinking water
It's safe to drink tap water in Morocco but only if you know beforehand if the town or city properly filters its water. Although a lot of major cities in Morocco have good filtering systems, some of them still don't.
The Moroccan authorities are becoming more and more concerned about the pollution caused by the plastic bottles of water. Many hotels will offer filtered water that is safe to drink to their guests.
Opt for bottled water or use a LifeStraw Water Filter Bottle to filter the tap water during your first days in Morocco as you don't know how your body might react to the bacteria composition of the local water.
Bottled water is available everywhere and if you want to be eco-friendly, bring a LifeStraw Water Filter Bottle. This is a bottle that filters water using a filtration device. If you drink water using this bottle, any dirt, bacteria or parasites gets trapped in the filter, while the clean water passes through.
These water filter bottles are very light to carry and super useful for when you go trekking in the mountains. You can use them to drink the water in the middle of nature without worrying about becoming sick. Click here for more info and prices.
13.2 Bathroom facilities
Public toilets are rare in the small towns and villages of Morocco and they usually don't have toilet paper, so always carry some with you. You can find public toilets in bus and train stations where you might have to pay a small fee to use them.
In general, people will not flush toilet paper into the toilet as the drains block easily. It's better to use the small bin provided instead. Hostels and hotels usually have western toilets but everywhere else you'll be training your leg muscles while using a squat toilet.
13.3 Internet and getting a sim card in Morocco
The internet in most major Moroccan cities is relatively fast and reliable but it's difficult to find a good wifi connection in the more remote areas.
Many Moroccan cafes, restaurants, and hotels offer free WiFi as long as you are a paying customer. However, in my experience, the quality of the signal varies and it's often not strong enough if you're working online.
The best way to have fast, decent and reliable internet in Morocco is to buy a sim card and use your mobile data as a hotspot for your laptop.
There are 3 major telecommunication companies from which you can buy a sim card; Orange, Inwi, or Maroc Telecom. We bought a prepaid sim card from Orange and paid monthly 100 MAD for 15 GB of mobile data.
Go to an official agency to register for a sim card instead of buying one from a street vendor. You'll need your passport to register but at least you'll know that the number is and stays yours. When you buy a sim card on the streets, the sim card might stop working after a couple of weeks. The agency will also explain how to recharge your mobile data on a weekly or monthly basis.
Morocco has now 4G internet coverage in all of its major cities.
13.4 Corruption and bribes in Morocco
Corruption in Morocco has decreased dramatically over the course of the last years. As foreigners, we didn't experience acts of bribery and corruption with cops and officials while we were in the country. But take this with a grain of salt. Just because we didn't see it, doesn't mean it's not present.
When I asked some Moroccans about corruption in the country, most of them seemed to agree that the police became much more honest. They also need to wear cameras now which makes everything they do more transparent.
This is quite different from how the police were perceived by the population in 2015. During a survey, almost 4 out of every 10 households reported having paid a bribe to the police during that year.
13.5 Useful apps to travel around Morocco
Here are a few apps that you should download before your next trip to Morocco:
Google maps has helped us navigate the narrow streets of the old medinas in many Moroccan cities.
One of the cool features of Google maps is that it can be used both online and offline. Connect to the wifi at your hostel and download a map of the part of the city you wish to explore. This map works with the GPS chip in your phone so it will continue working, even when you're offline.
You can also use Maps.me to find your way around the cities but this app doesn't seem to be as accurate as Google maps in Morocco (while it was the other way around in Kyrgyzstan).
The advantage of having Maps.me is that it requires less data than Google maps and it also works both online and offline.
This app has been a lifesaver while we were traveling in Morocco. Although the Arabic spoken by the vast majority of Moroccans is a dialect of classical Arabic, they do understand it. In doubt, just write down the sentence you want to say to people and the translating app will quickly help you out.
This is usually the first app we use when we're making our way towards a new city. Booking.com is a hotel and hostel booking website that is also available as a phone app. While traveling around Morocco, we made most of our reservations in hostels through Booking.com and we realized that no other app comes close to it in terms of inventory and price.
This is a currency conversion app that always uses the latest rates in effect. It's quite useful to keep track of how much things cost in Morocco.
13.6 Renting an apartment in Morocco
Renting an apartment in the bigger Moroccan cities can be relatively cheap, although it depends on where you are and in which time of the year you're starting to rent. Our suggestion is to look for housing before or after the high season (May – September) as the prices will be lower.
If you're looking for tips, resources and prices concerning renting an apartment in Morocco, check out my article about How much it costs to travel and live in Morocco. You'll find info on how to find an apartment in Morocco, including a list of Facebook groups where cheap flats are advertised for all the major Moroccan cities.
The beach of Taghazout – imagine living here for a while!
I wish you an amazing time in Morocco and I hope you'll love your travels around the country as much as Cynthia and I did!
If you still have questions about your upcoming trip to Morocco, send us an email or let us know in the comments below!
Have you already been to Morocco? We'd love to hear your experiences!
*This article contains affiliate links. If you book a hotel/hostel or purchase one of the recommended products through our website, we'll receive a small commission at no extra costs for you. This way you're helping us writing more informative and awesome guides like this. Thank you!
KNOW BEFORE YOU GO – MOROCCO TRAVEL TIPS:
Everything you need to know about traveling independently in Morocco :
Planning to rent a car in Morocco? Read this first:
A few travel and safety tips for Morocco:
Planning to travel to Morocco during Ramadan? Read this first:
How is it to travel to Morocco during Ramadan?
Hiking, surfing and nature trips in Morocco:
Our Moroccan city guides:
MOROCCO TRAVEL RESOURCES: