In this post, you'll find a complete list of things you need to pack before you travel to Morocco.
Whether you're going on a vacation, on a backpacking trip or a hiking adventure to Morocco, this packing list will help you decide what to bring on your trip!
Morocco is a destination that is well rounded for tourism. What I mean by that is that it's a country that can appeal to all kinds of travelers. If you are a classy vacationer who loves comfort, you'll find what you're looking for in the lovely coastal town of Essaouira or in the city of Ifrane in the Moroccan mountains.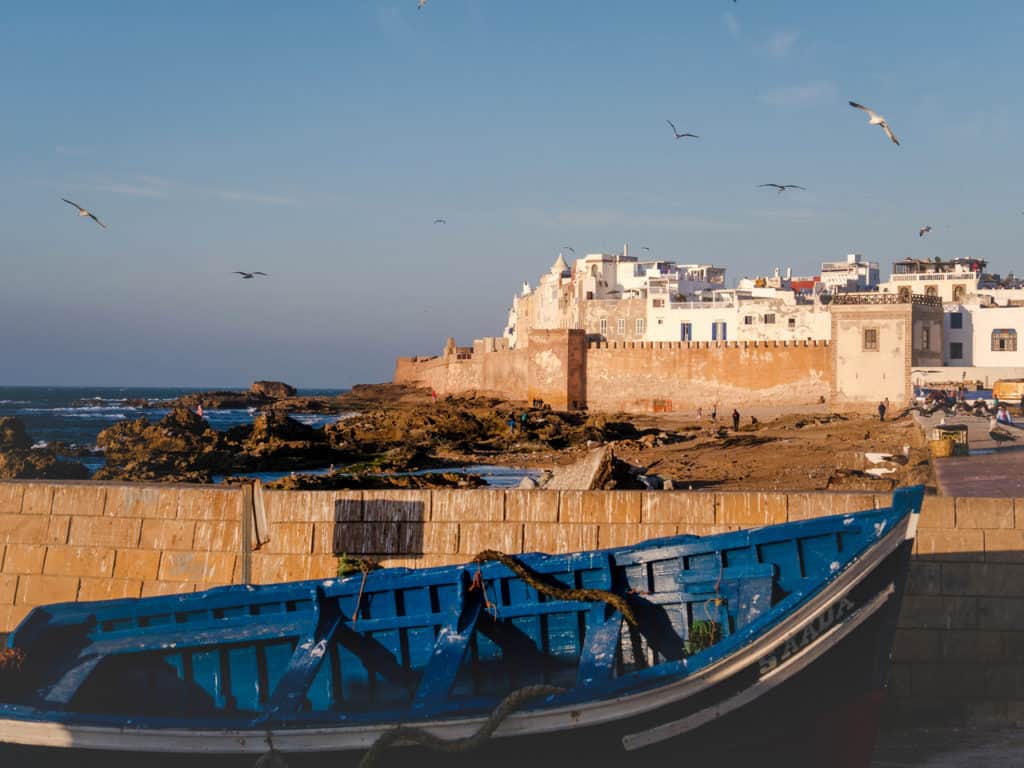 Essaouira
The same is true if you're an adventurer who wants to hike and camp off-the-beaten-track. Morocco has plenty of amazing mountain trails and gorgeous nature parks such as the treks around Tinerhir, the hike to the summit of Imlil and the hike to the Akchour waterfalls. If you're a surfer, you'll find some of the coolest surf spots in the world in this North African country.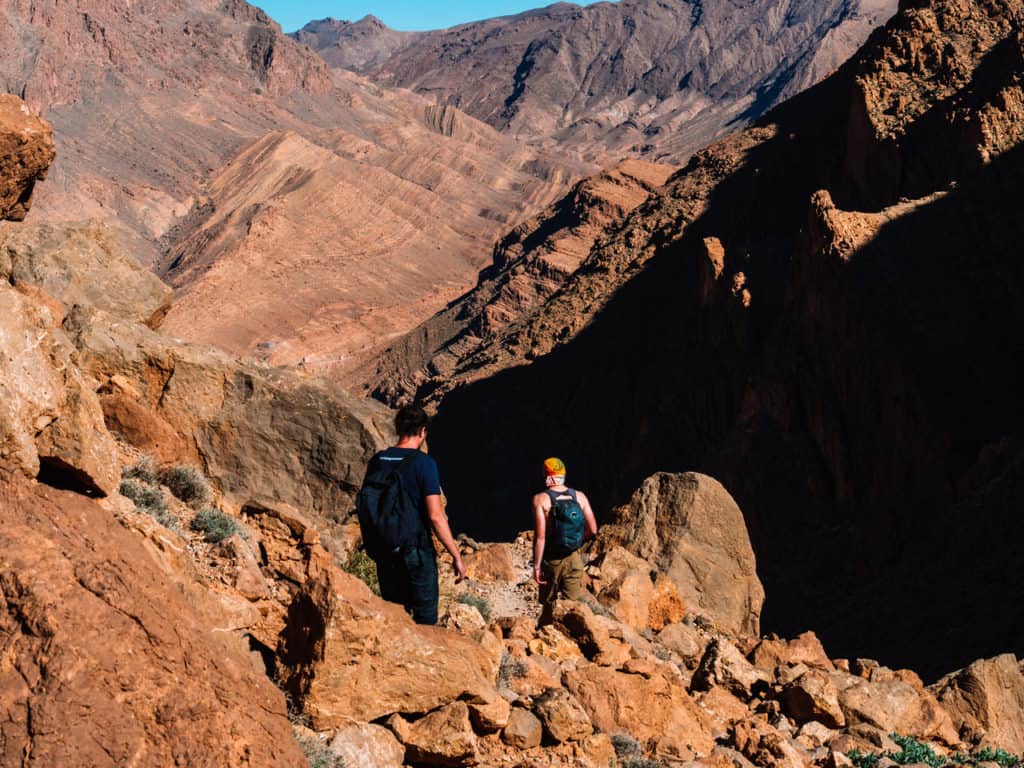 Hiking in the Atlas Mountains near Tinerhir
It doesn't really matter what kind of traveler you are, Morocco has so many different locations and landscapes that you will find something that appeals to you there. This also means that people coming to Morocco are likely to bring different shoes, wardrobe, luggage, and equipment. I wrote this article with all the different travelers in mind to help you pack your bags on your next trip to this amazing country.
In this article, I explain what you can wear in Morocco whether you are a man or a woman. I also cover what kind of shoes and hiking equipment you need for Morocco and what kind of medication you're allowed to bring in the country. I also give you tips on what could make great gifts for your Moroccan friends.
1. What to wear in Morocco
Morocco has a climate that varies drastically from destination to destination. You need to pack clothes that will work well as layers and that you can adapt to all kind of temperatures. The Sahara desert near Merzouga, for example, can be very hot during the day but freezing cold at night. If you visit Tangier in the north of Morocco in winter, it's very likely that you will encounter rain.
The clothes you should bring to Morocco should be light-weight but practical and sturdy at the same time.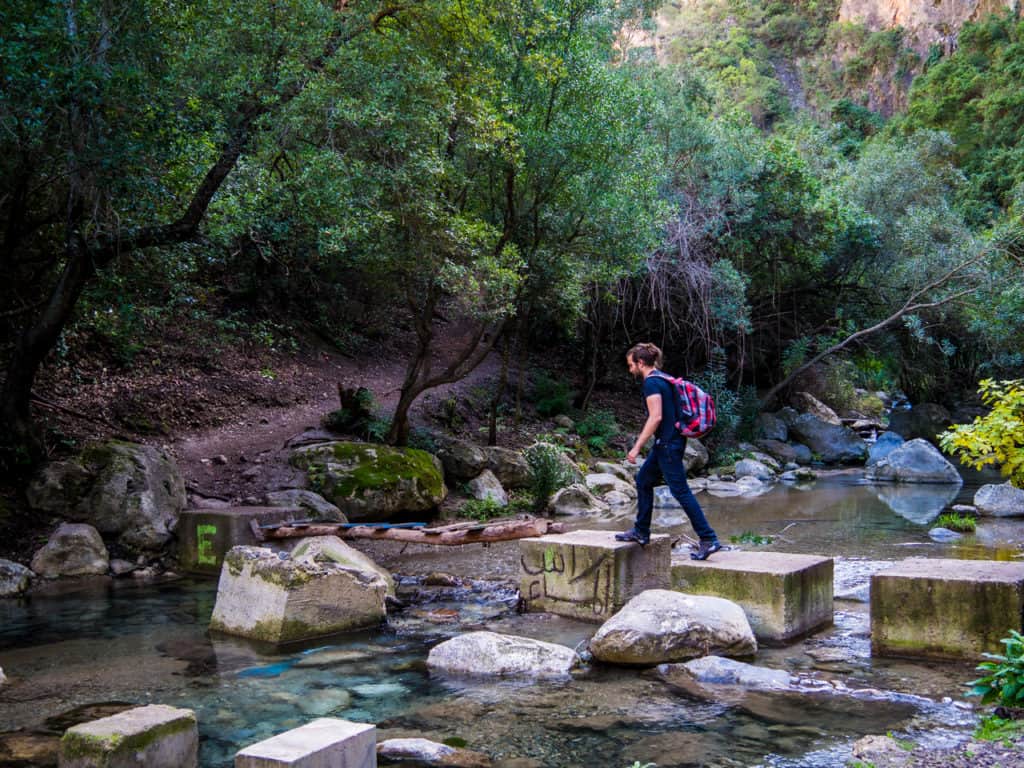 Hiking to the Akchour Waterfalls
1.1 What to wear as a man in Morocco
Men traveling to Morocco won't have to be as careful as women when it comes to how they dress. However, it is still important for foreigners traveling to Morocco to dress modestly and avoid showing off expensive watches, designer brands, jewelry, and fancy electronics.
Try blending in as much as possible. This will help you have a much better experience in Morocco and it will make people approach you much more easily. I would also suggest wearing long sleeves if you have tattoos on your arms. Moroccans are more and more open when it comes to tattoos, especially the younger generation, but it's still frowned upon by older people.
Bring light-colored clothes to the desert in the summer.
Here are a few articles of clothing that I consider essential for men traveling to Morocco:
These pants are just so practical. The small zip around the leg converts the pants into a pair of shorts in an instant. They are perfect for any weather conditions.
You can wear them as a pair of shorts on the Moroccan beaches and at night in the Sahara desert as long pants to protect you from the cold. On top of being so practical, they are really classy. I recommend buying the light-colored model as they will be less hot to wear in the sun. You can buy them here.
Most hotels in Morocco have stone floors. These can be really cold in winter so wool socks come in handy to keep your feet warm. It's also the best type of socks to bring to the desert. It may sound a bit counter-intuitive but believe me, it gets super cold at night! I forgot to bring warm socks with me on my first night in the desert near Merzouga and I was so cold I couldn't sleep at all.
I recommend you bring more than one pair of these super hot Merino wool socks to Morocco so you'll have warm feet and good nights of sleep.
I travel everywhere with a neck gaiter, whether it's in the desert of Morocco or in the busy streets of Tangier. It can be worn around the neck for warmth or put over the mouth to keep out wind and sand. I usually wear mine on top of my head like a bandana and this protects my head from the sun. I recommend this model which is made of lightweight microfiber fabric.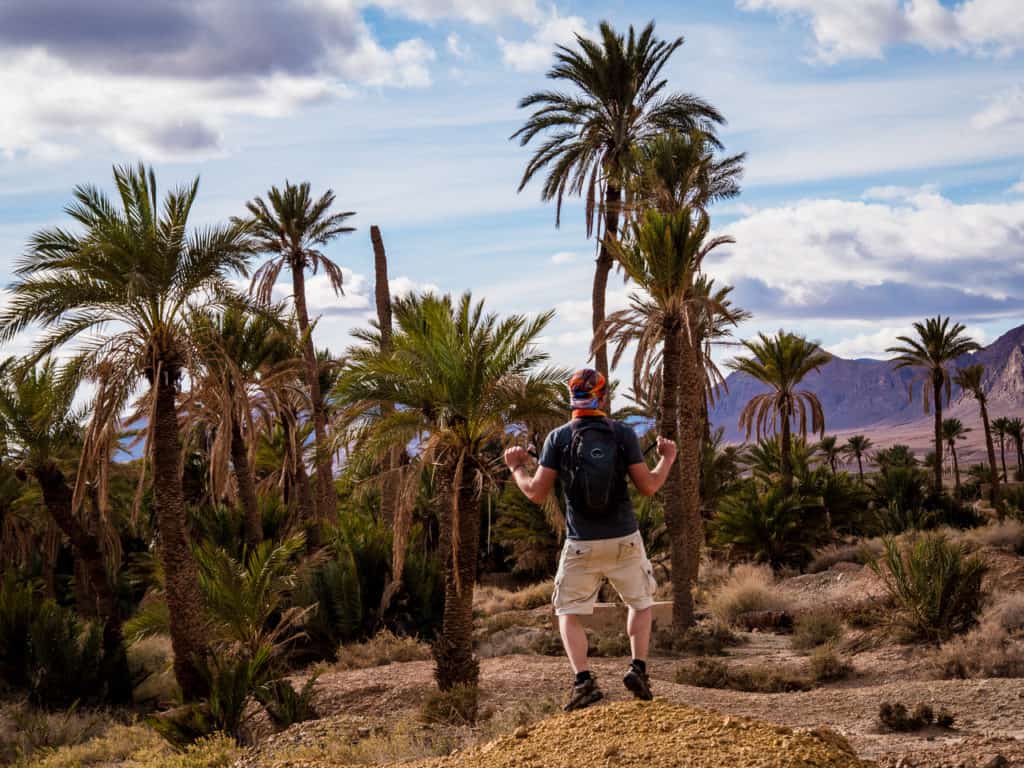 My friend Simon is wearing it all: convertible hiking pants, merino wool socks and 2 neck gaiters (one on his head and one around his neck)
A lot of people picture Morocco as a country that is super warm all year round. However, the reality is very different. Winters in Morocco can be very cold. This is especially true if you are traveling to villages of the Atlas mountains or to the desert.
As soon as the sun disappears behind the horizon, the Moroccan desert or the Atlas Mountains can become very cold. Mornings are equally cold so if you're planning to spend the night there, bring a warm sweater. I recommend this warm sweater lined with sherpa fur if you want to be prepared for cold nights in Morocco.
Since the weather varies so much in Morocco, it's good to bring a long sleeve button down shirt. If the weather becomes warmer, you can roll up the sleeves and unbutton this shirt but at least you'll be ready for colder temperatures. These shirts can also look quite stylish and sophisticated.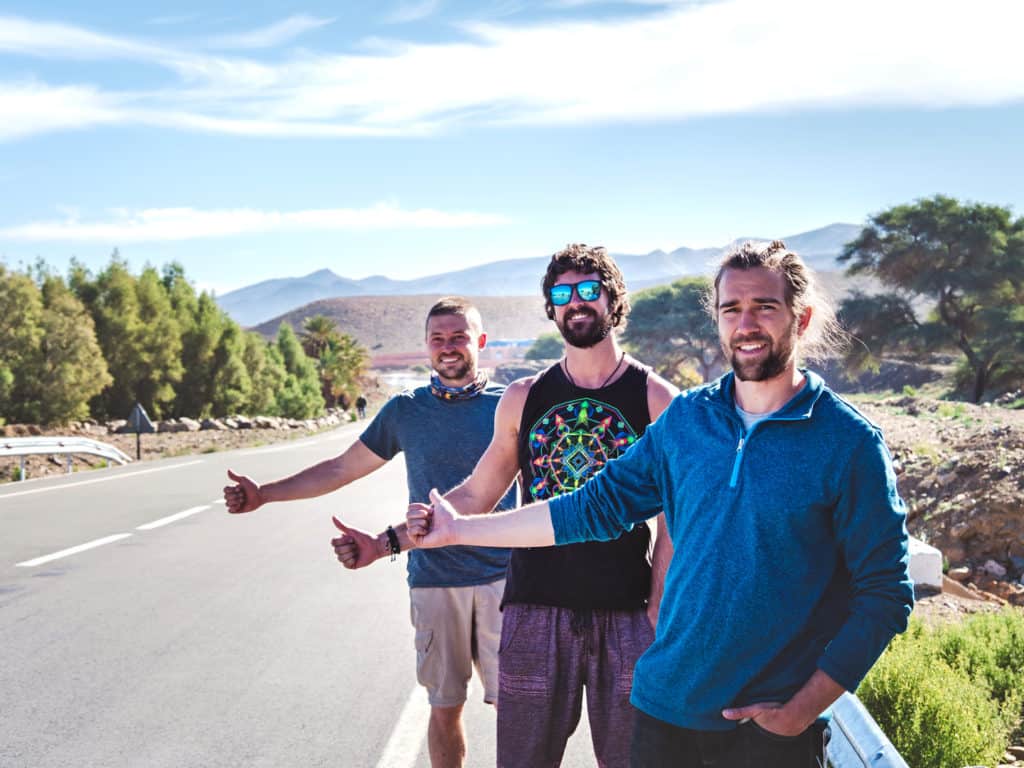 Hitchhiking with my friends in Morocco
1.2 What to wear as a woman in Morocco
It's not mandatory for foreign women to wear a headscarf but it does help a lot with blending in. If you're a woman, you're more likely to get unwanted attention from Moroccan men so I would suggest keeping your knees and shoulders covered. On top of the few of the clothing items I recommended for men, I would recommend that women traveling to Morocco also bring these:
For the hot humid weather that is typical in the coastal areas of Morocco, I would recommend bringing pants that are light and flowy. These pants will dry quickly if you sweat and are not as heavy as a pair of jeans. The best models are those that are made of cotton or linen. These materials are top choices for a breathable fabric to wear in hot weather conditions.
The pants I recommend are the CandyHusky light pants. These pants are very comfortable and they look awesome!
A scarf will be your best friend in Morocco for a lot of reasons. It will be useful to cover your head and your face from the sand and the sun. If it's large enough, you can also use it to cover your shoulders and this will help you avoid any unwanted attention.
Another advantage of the scarf is that it can serve as a blanket if you want to lay down on the sand while you're on a trip in the Sahara desert.
If you go on a tour to the desert, you could also ask your guide to tie it on your head in the traditional way. A scarf we recommend is this Shemagh Scarf made of cotton.
Women traveling to Morocco should always wear skirts or pants that cover the knee or that go even lower. They are quite comfortable and perfect for the mild temperatures that are present in Morocco during spring and fall. We recommend these skirts.
The sun in Morocco can be at times unexpectedly scorching hot. Especially after spending the whole day on the beach. If you want to avoid getting a sunstroke, I recommend covering your head with a straw beach hat.
Apart from being elegant and practical, these hats can be folded and crushed without ever losing their original shape. This makes them super easy to pack. One hat that is of particularly good quality is the Lanzome beach hat.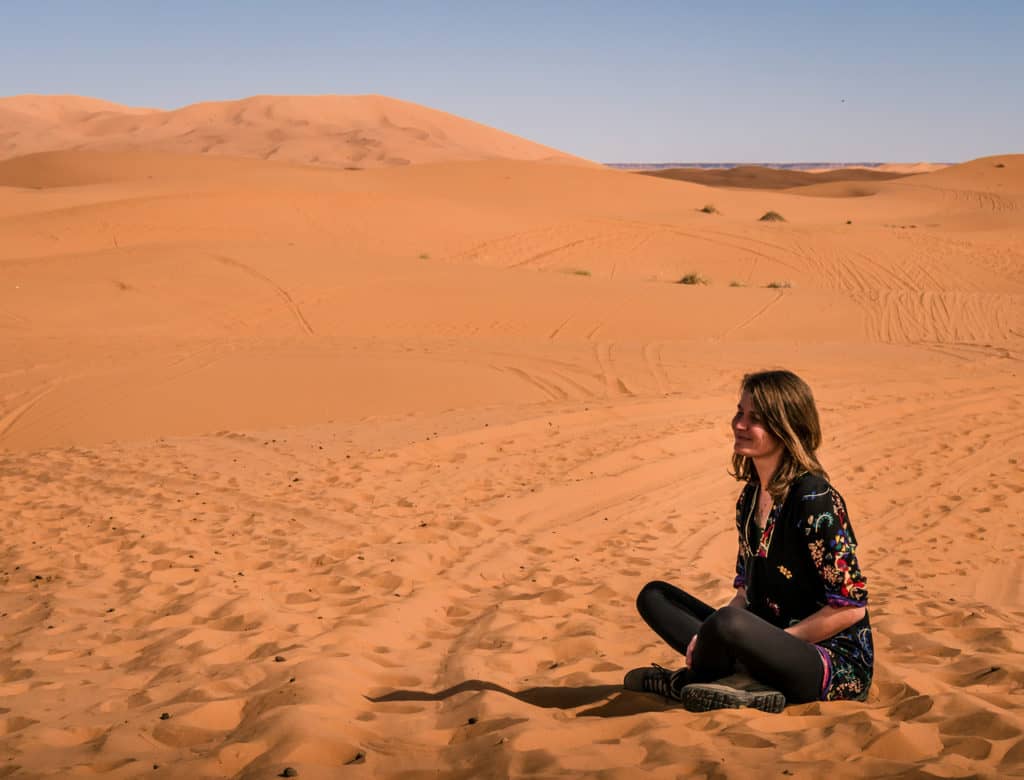 1.3 Clothes to bring to Morocco for both men and women
The temperatures in Morocco can drop very low, especially at night in the desert or in mountain areas. Mornings are equally cold so if you want to keep your head warm in those areas we suggest getting this beanie.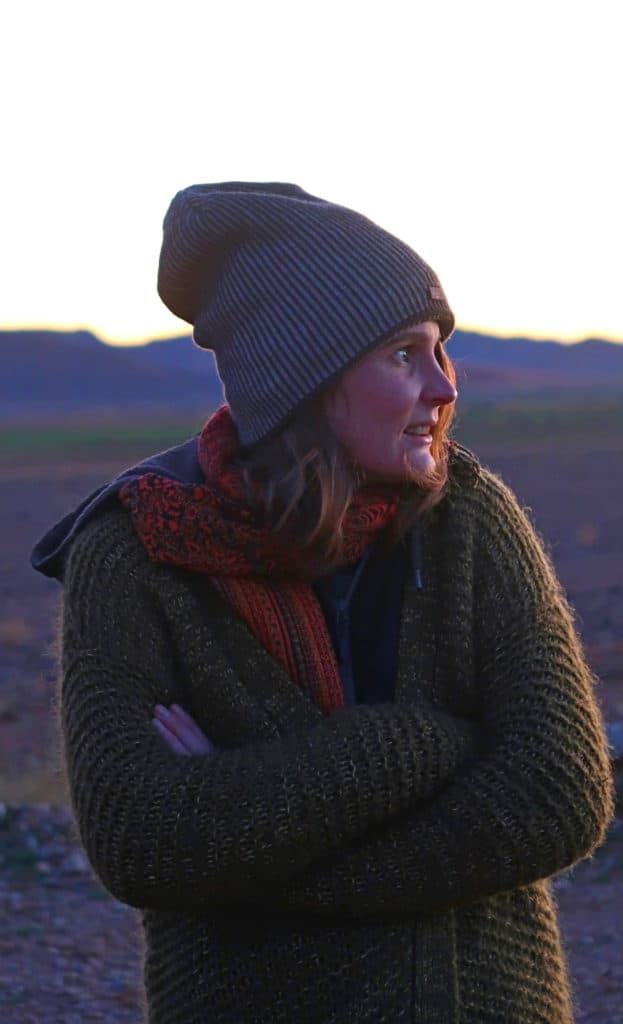 A cold night in the Atlas Mountains
You should absolutely pack a swimsuit for Morocco. There are plenty of beautiful beaches along the coast and hotels and ryads are likely to have pools as well. Nothing beats taking a dip in a pool of water after a long day of sightseeing.
Sandals are ideal for long excursions in the Moroccan souks and hours of sightseeing. Try finding a pair of sandals that are comfortable and fit your feet nicely. Here is a good selection of sandals for men and women.
I recommend bringing flip-flops as well as sandals in Morocco. While sandals are good for walking outside, flip-flops will be ideal for visiting hammams.
1.4 Clothes to avoid in Morocco
There are a few clothing items that I wouldn't recommend wearing in Morocco. Moroccans value cleanliness and tend to always opt for nice elegant clothes if possible. I would suggest avoiding thorn clothes such as thorn jeans or shirts.
Women traveling to Morocco should avoid wearing clothes that show too much cleavage or skirts that are very short. It's also important to avoid see through clothes.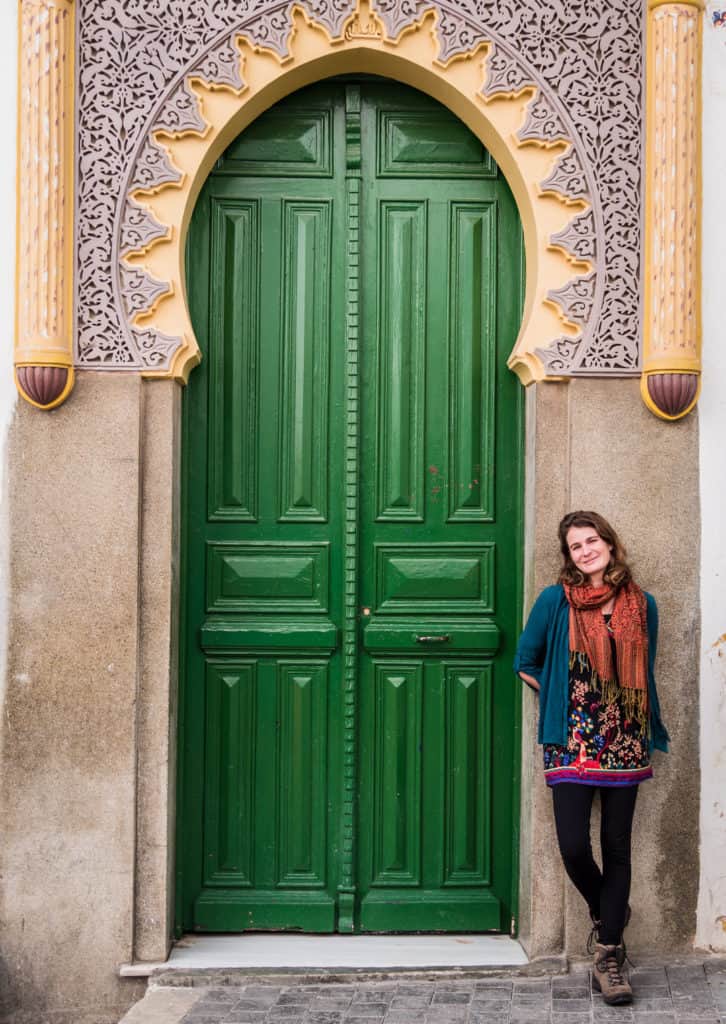 [kt_box opacity="1″ background="#eded6f"]
Planning a trip to Marrakech?
Read: What to do in Marrakech – A Complete Guide to Morocco's Red City
[/kt_box]
---
2. Packing list for vacationers traveling to Morocco
Visiting a country is much more fun and easier when you get a good night of sleep. There are plenty of good reasons to bring earplugs to Morocco. Moroccans tend to go to bed late and because of this, the streets are animated and noisy until past midnight. A small hostel where I stayed in Tangier was on a busy street that was active until two in the morning. Needless to say, I didn't sleep much. Another thing to consider is that Morocco has many mosques. A loud call to prayer at 4 o'clock in the morning is bound to wake you up.
A good tip is to bring earplugs to Morocco. If you travel on night trains or night buses around the country, a good pair of earplugs will also help you have a much better night of sleep. They will create a quiet and calming environment, blocking out background sounds and engine noise. I recommend earplugs that are reusable and designed to reduce pressure during airplane flights.
If you're on a short vacation to Morocco and don't want to carry too much weight on your back, it would be better to bring a wheeled duffel bag instead of a backpack. Most of the small streets in the old medinas of Morocco are very uneven so consider bringing one that is sturdy and that has good strong wheels.
If your duffel bag has a strong hard case, it will be ideal for 4×4 tours in Merzouga or near the Todra Gorges. We recommend the Samsonite Duffel bag.
It's important to also bring a small daypack with you in Morocco. It will be useful to go on short day trips, to walk around in the busy streets of Marrakesh and Fez, and to hike to the Akchour waterfalls near Chefchaouen.
Small daypacks that I love and recommend are the Cabinzero backpacks. They have a slick urban look, that doesn't shout "I'm a tourist" when you're walking around. The bags are made out of a waterproof polyester material that feels very sturdy, yet they weigh about 900g, which is lighter than most of the daypacks we've had so far.
It has thick-padded shoulder straps, a mesh padding on the back which should help with air-circulation, a full lining to protect the inside, heavy-duty YKK zippers that have lock loops to keep the backpack secure and reinforced seams. Check these bags out here.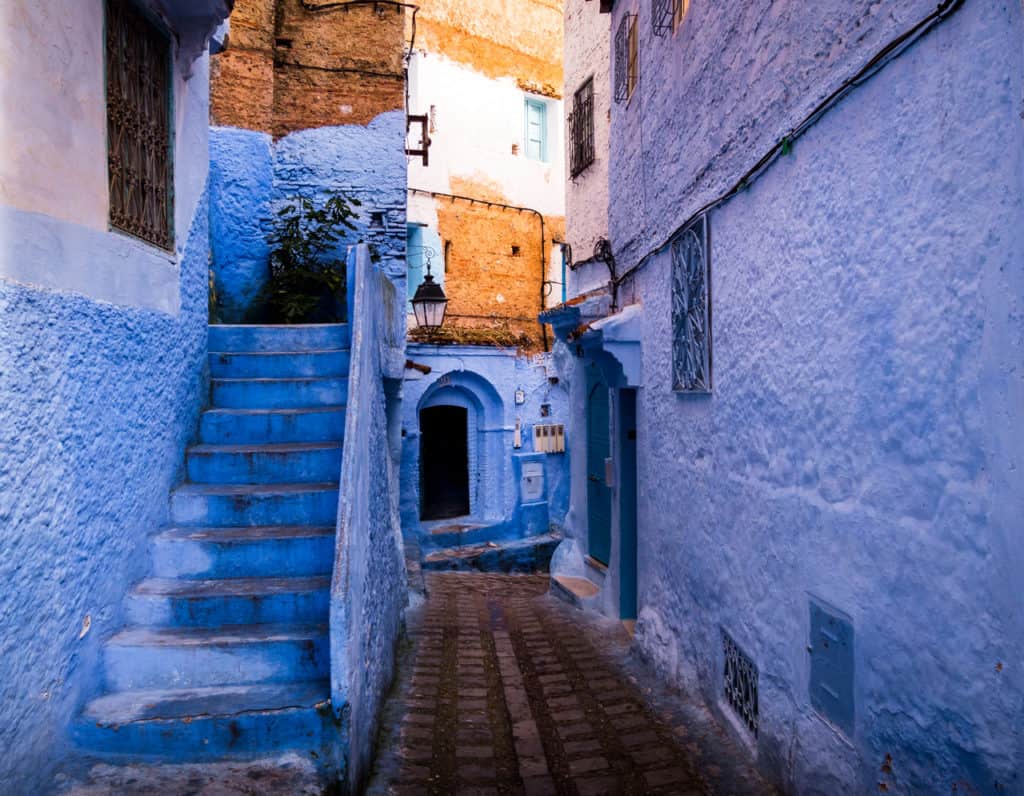 Chefchaouen
If you're staying in a full hostel, or while traveling on a crowded bus or train, it would be a sensible idea to use locks to secure your bags. Some travelers even lock their suitcases during the day at hotels to deter theft by housekeepers.
These are essential for proper peace of mind when going on a train trip around the country. Very often, you will have to store your bags away from your seat or your train cabin and you won't always be able to see them. Lockable luggage cables will enable you to tie all your bags together and to lock them to a fixed structure on the train.
The power sockets in Morocco are of type C and F. The standard voltage is 220 V and the standard frequency is 50 Hz. These are the same sockets you will encounter in Europe. The plugs for these sockets have two long prongs.
If you bring a universal power adapter, you will be able to charge all of your electronic devices while in Morocco.
It's important to keep your hands clean while traveling but this is especially true in Morocco. It's common to eat with the right hand in this African country. However, in places like the Sahara desert, water might not always be plentiful. Bringing a small bottle of hand sanitizer can help you keep your hands clean wherever you are.
It's safe to drink tap water in Morocco but only if you know beforehand if the town or city properly filters its water. Although a lot of major cities in Morocco have good filtering systems, some of them still don't.
Opt for bottled water or use a LifeStraw Water Filter Bottle to filter the tap water during your first days in Morocco as you don't know how your body might react to the bacteria composition of the local water.
This is a bottle that filters water using a filtration device. If you drink water using this bottle, any dirt, bacteria or parasites gets trapped in the filter, while the clean water passes through.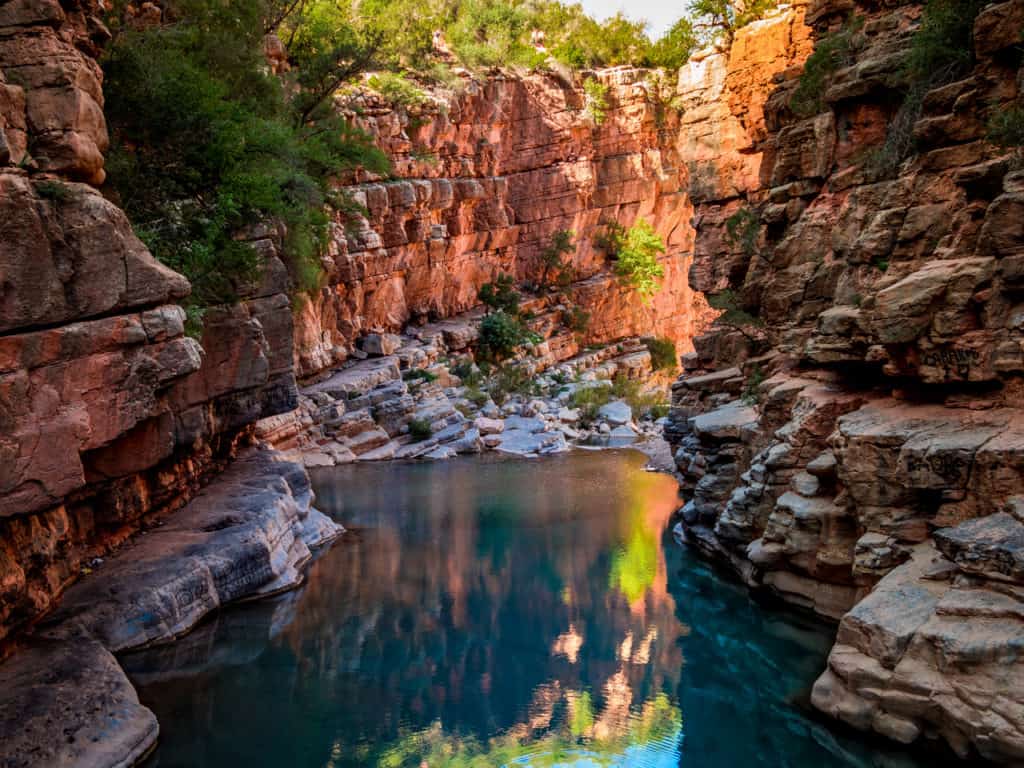 Paradise Valley
If you travel near the city of Agadir on the coast of Morocco during the summer, I would strongly advise bringing some insect repellant. There is currently an endemic parasitic infection called Leishmaniasis caused by the bites of sand flies in the southern regions of Morocco. This infection can cause sores and open wounds.
A visit to Morocco very often entails spending lots of time outdoors and in the sun, so packing some sunscreen is essential when visiting this country. It's better to bring a brand that is sweat and water-resistant like this one to stay protected while sunbathing at the beach or walking around all day.
There is nothing worse than having to put a wet towel in your backpack or having to wait for days on end for it to dry. On our trip to Morocco, Cynthia and I always used a Rainleaf Microfiber Towel. They are super fast drying and ideal for drying yourself up after a day swimming in the sea. They are also useful to dry sweat after a morning run.
Beach of Taghazout
Cynthia and I love reading and we always have our e-readers with us. The most popular and compact e-reader is this Kindle E-reader. Cynthia has a Tolino Epos which she absolutely loves and I have a Tolino vision 4 HD. They are small and light to carry but big enough to read comfortably. You can add epub and pdf files on them. They have a convenient background light so we can read at night without having to use a torch and the batteries last for weeks.
Toilets in most touristic destinations will have toilet paper. However, if you travel to remote villages, this might not always be the case.
Good sleep is essential if you want to fully enjoy your trip to Morocco. I find that the tiniest bit of light really prevents me from sleeping properly. A lot of hotels and hostels in Morocco don't have very good blinds on their windows and traveling with an eye mask helped me sleep a lot better.
If you are looking for a good but cheap eye mask, check this one out.
I usually travel with a Canon G7X mark ii. It's a great little point-and-shoot camera for photography and filming and it's so small that it doesn't attract much attention. It's the ideal camera for taking pictures in Morocco since Moroccans are not always very fond of foreigners taking pictures of them with huge cameras.
I really love this camera but it's not weather-sealed so whenever there's rain I can't use it.
Cynthia has a Lumix G90 which is the perfect outdoor camera! The quality of the images is amazing and the camera is weather-sealed so she can use it even when there's a big sand storm. It's not as compact and light as a point-and-shoot camera but it's lighter than a DSLR.
If you want to take your photography to the next level while you are in Morocco, read: Portraits of Morocco – How to Photograph People in Morocco.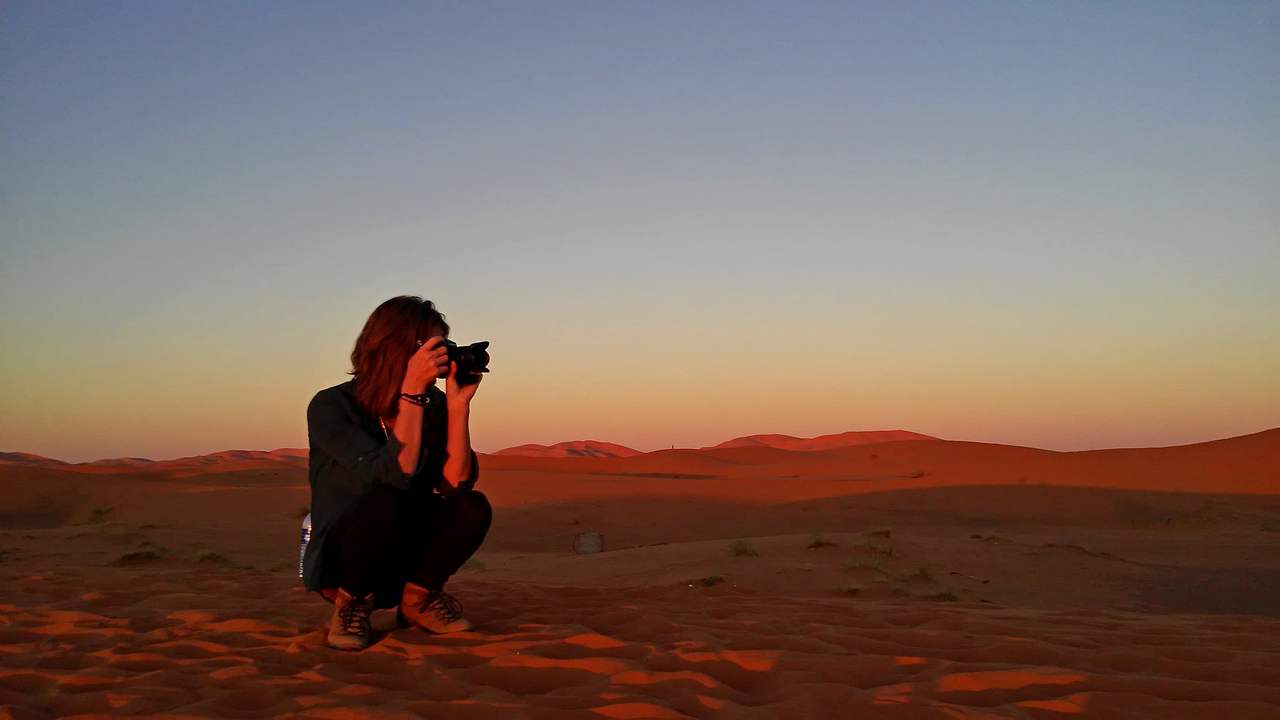 I highly recommend getting your hands on the Lonely Planet Moroccan Arabic Phrasebook. It is packed with all the essential words and phrases you will need on your trip to Morocco and will help you in every situation — from finding a hotel room to ordering tajine or joining the local festivities, this book will cover almost every situation you could imagine.
[kt_box opacity="1″ background="#eded6d"]
Read also: Tips and tricks to learn Moroccan Arabic
[/kt_box]
---
3. Packing list for Backpackers and Hikers traveling to Morocco
Morocco is a great destination for backpackers who want to avoid touristic areas and crowds in big cities. Hitchhiking and camping is very easy and Moroccans are usually more than happy to receive foreigners in their home.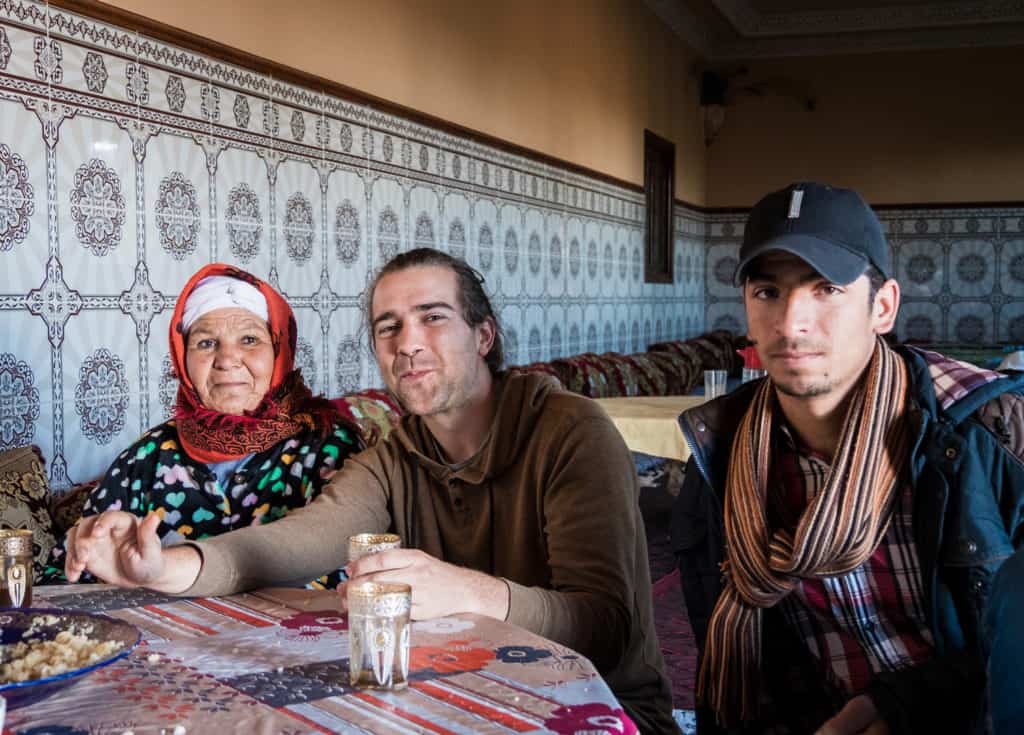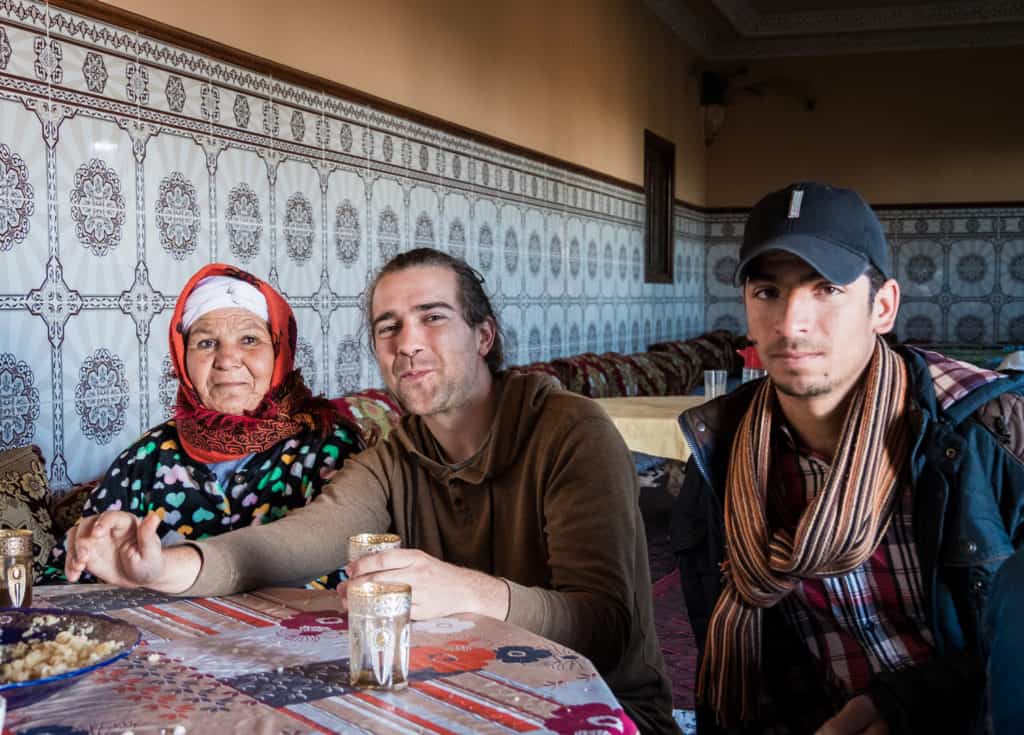 Backpacking in this African country, however, requires a bit more preparation than staying in touristic resorts. You'll need to be ready to camp and sleep anywhere and you'll probably end up cooking most of your food to stick to a smaller budget.
[kt_box opacity="1″ background="#eded6d"]
If you would like to find tips to save money in Morocco,
read our Moroccan Budget Guide.
[/kt_box]
There are also plenty of amazing hikes around the country such as the ones near the Todra Gorges and the trek up to Mount Toubkal. Going there will require good hiking shoes and cooking and camping equipment. This is the camping and hiking equipment we recommend you bring to Morocco:
If your plan is to hike and trek around Morocco you'll need a backpack that is strong, sturdy and that can carry all of your luggage. If your backpack is comfortable on top of being the ideal size, you will be able to carry all of your equipment effortlessly. Ideally, the backpack should be made of waterproof material or have a waterproof cover. The zippers need to be big and strong and the material very durable.
I travel around with the Forclaz 90 and I'm super pleased with it! 90L might be a little too big for what you need but there are smaller ones, like the Forclaz 50 and the Forclaz 70.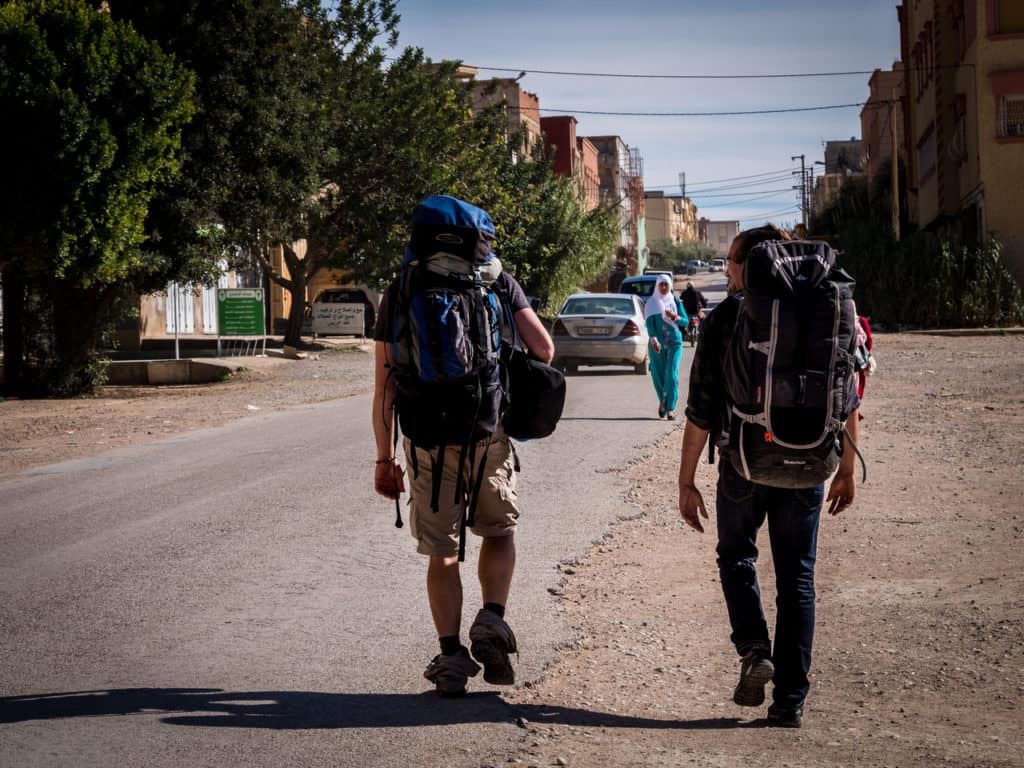 Camping is allowed in Morocco and you can pitch camp almost anywhere you want without any problems. A bit of discretion is advised as commercial campgrounds are becoming more and more popular. People who see your camp might want you to pitch your tent in a commercial campground instead (for which you will have to pay).
I suggest that you bring a lightweight tent with you to Morocco. We have the Quechua Quick Hiker Tent, which weighs around 3 kg. It has been our house for the last three years and it's still in amazing shape! It's made for three but it's ideal for two with the backpacks stored inside the tent.
If you're traveling by yourself, you could always save a lot of space and weight by bringing a camping hammock instead of a tent. You'll find many palm groves and little forests in Morocco where you can easily attach your hammock to a (palm) tree.
If you travel to Morocco in winter, it will be essential to bring a good warm sleeping bag. Very often hostels provide very few blankets to their guests. I can assure you that I would have been cold very often in Moroccan hostels if it wasn't for my sleeping bag.
If you're camping, I would suggest getting a sleeping bag that can be compressed a lot but that will still keep you warm. Our sleeping bags are comfortable until -2°C (28°f) and are pretty compact to travel with. They're the perfect sleeping bags for trekking in summer but they will be a good supplement to the blankets provided by hostels in winter.
For most of our trips around the world, Cynthia and I used to travel with cheap sleeping mats which we could roll up and easily attach to your backpack. However, they didn't insulate very well when we had to sleep on cold surfaces and they were not made of durable material.
Cynthia's back started suffering from the hard and cold surfaces we often slept on so last year we invested in a Therm-a-Rest Sleeping Pad.
Those sleeping pads are self-inflatable and they are very comfortable. They insulate our bodies from the cold ground very well. They weight just a tiny bit more than our previous mats but it's worth the comfort at night!
We traveled with a Reusable Emergency Safety Blanket ever since we started our overland journey from Ireland to Central Asia and it has always been very useful!!
It's not only a good blanket to keep us warm in case of extreme weather, we've also been using it to insulate the tent from the cold ground. Before putting our sleeping pads in the tent, we covered the ground with this reusable foil blanket. It has made a big difference during cold nights and it almost doesn't take any space.
If you're planning to do a lot of camping far away from civilization in Morocco, you'd better bring a good flashlight. In the daytime, you might be aware of what the terrain looks like but once it's dark, it will be different. You might have a hard time seeing the rocks or trees that surround your tent and bump in them if you walk out.
Unless the moon is full, you'll need a strong flashlight to move around in the darkness. I suggest you use a headlamp so you have your hands free to cook, read, or walk around.
This is the ultimate camping tool. A Swiss army knife has everything you could need when far away from civilization. From a knife, scissors, a bottle opener and a can opener to tweezers if you end up with a splinter. I've traveled around Morocco with a Swiss army knife and I was using it on a daily basis.
Nothing makes me happier than a warm drink and a hot meal after a long day of hiking. Bringing a small camping stove on your trip to Morocco will enable you to cook a hot meal after a day in the mountains or to boil some water for a coffee in the morning. It's better to bring an ultralight camping stove to avoid carrying too much weight on your trip.
Camping cookware, cutlery, and mug
To be able to cook on your stove, you'll need some good cookware. We recommend pots and pans that are made out of titanium or stainless steel such as this lightweight cookware set.
We also travel with a spork-knife and collapsible bowl set. These bowls can be used as a plate or a bowl, they're very light and they barely take any space in your bag!
For a drinking mug, we recommend this outdoor camping mug. It's made out of stainless steel and you can put it directly on your camping stove to heat up water or make a warm soup.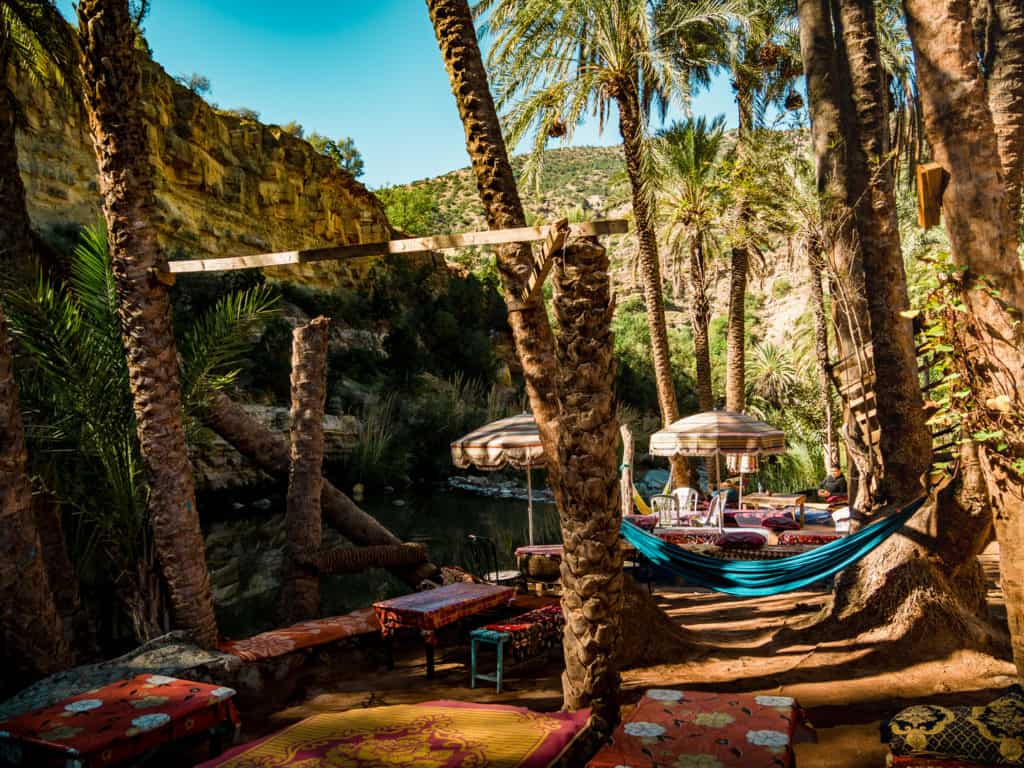 Paradise Valley
Hiking for a full day up mount Toubkal can be extremely demanding on the feet unless you have a good pair of hiking boots. Bring comfortable hiking shoes that will protect your feet from rocks and hard uneven surfaces. The shoes should have a good grip, ankle support and be light enough for you to move easily with them.
We usually hike with boots from the brand Columbia.
Before going on a hike in the Atlas Mountains, pack a few pairs of good hiking socks. We love using high-quality merino wool hiking socks. They're super comfortable and they keep our feet dry. Even on a very hot day, these socks don't get too warm.
The north of Morocco gets a lot of rain in winter. Whether you're hiking in the Riff mountains near Chefchaouen or up to the Akchour waterfalls, bring a good rain jacket with you. The rain jackets from the North Face are great ones to bring!
Even though the days might be warm, the temperatures in Morocco tend to drop a lot at night. It's essential to pack at least one warm sweater for the cold evenings. You won't need a big winter jacket unless you're hiking outside of the summer season. A good fleece jacket or a sweater will be thick enough to protect you from the cold and the wind in the high mountains of the Atlas.
Thermal underwear is lightweight, doesn't take much space and it really keeps you warm during the day or at night! You absolutely need to bring this kind of underwear with you when heading to the mountains. Even in lower altitudes, the temperature can become a lot colder at night so having this thermal underwear will also help you have a good night of sleep.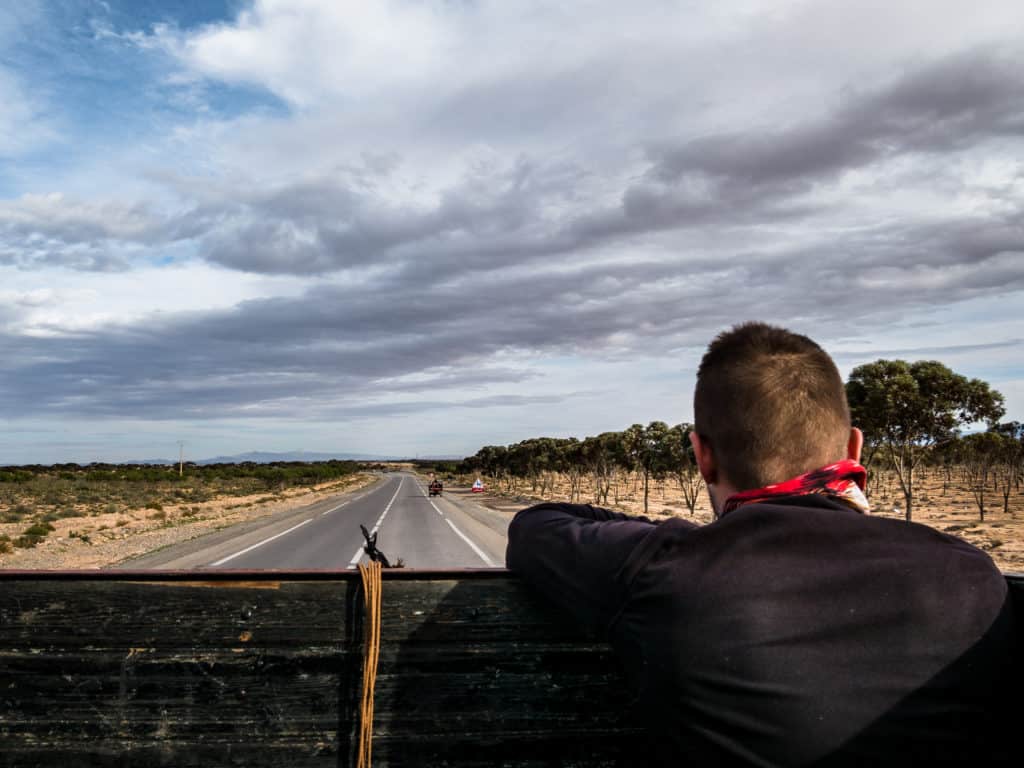 [kt_box opacity="1″ background="#eded6d"]
Read also: Surfing in Morocco – A Guide to the Perfect Holiday
[/kt_box]
---
4. Packing list for people going on a desert tour in Morocco
If you're planning on spending some time in the Sahara desert and you are wondering what to wear and bring, remember this: when in Morocco do as the Moroccans do.
Since the temperature varies a lot between day and night in the desert, it's important to wear clothes that serve many purposes and that are above all very functional. If you are wondering what could be good clothing items to bring on a trip to the desert, read this article.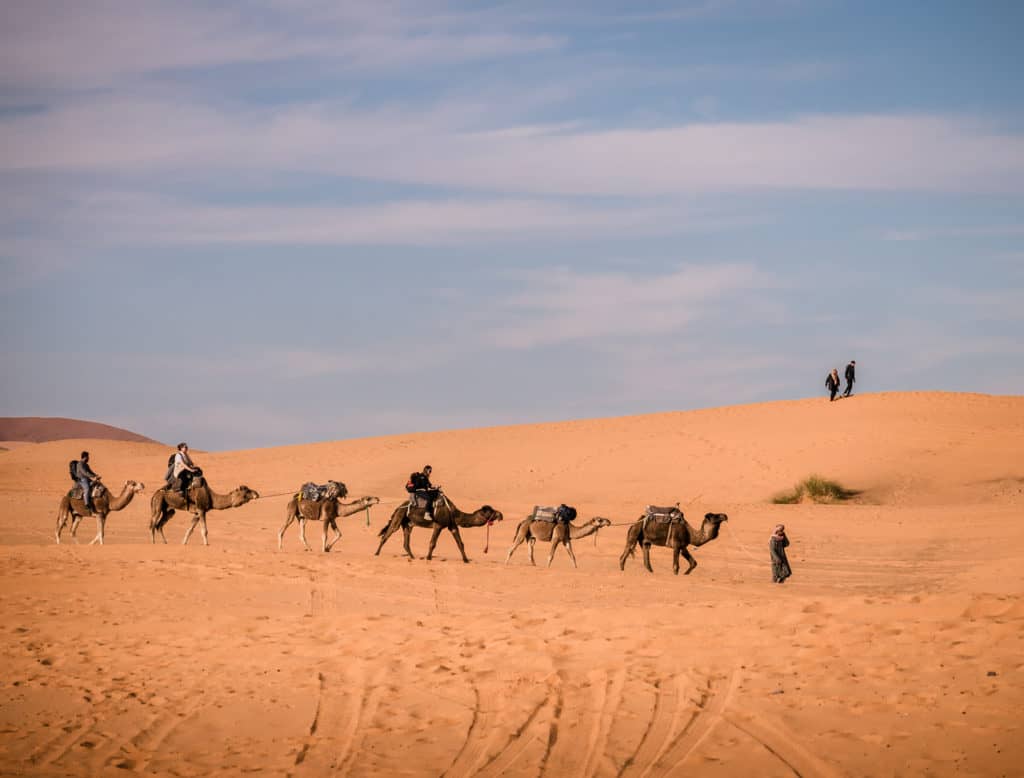 ---
5. What to bring to keep your money safe in Morocco
The main squares of Marrakesh and the small winding streets of Fez can, unfortunately, be a hot spot for thieves and pickpockets (see common scams in Morocco).
Unwary tourists visiting these cities can get their most precious valuables stolen (often wallets or passports) while they're walking around in the crowds. The first line of defense against pickpockets is to not attract attention by walking around with precious valuables or large open bags.
There are different ways to keep your money safe while walking in the crowds of big Moroccan cities. First of all, you should keep your wallet in your front pocket or carry a money belt. If you have larger valuables that won't fit in a money belt, I would suggest traveling with a slash-resistant and lockable anti-theft bag.
Another great way to prevent losing your money and papers in large cities is to travel with a pickpocket-proof jacket. These jackets come with hidden inner pockets where you can hide your valuables and important papers.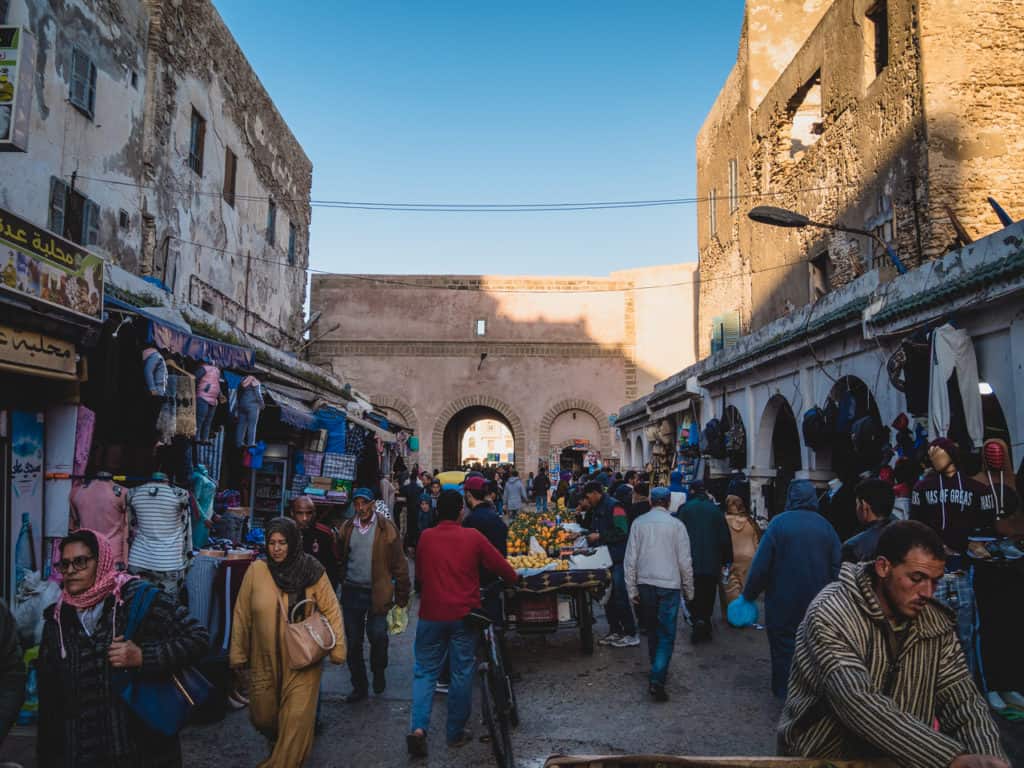 [kt_box opacity="1″]
Worried about safety in Morocco?
Read Is Morocco Safe?
[/kt_box]
---
6. Which medicine should you bring to Morocco
If it's your first time in Morocco and you're not used to the food or the water, having anti-diarrhea tablets could be a life-saver. Nothing is worse than heading to Morocco for a week or two and spending half of that time sitting (or squatting) on the toilet.
Electrolyte tablets are useful in a wide variety of situations. They give your body all the minerals and vitamins that it could have lost through excessive transpiration, vomiting or diarrhea. They will be very useful If you suffer from a bad tummy or if get a sunstroke.
Activated charcoal use helps promote a healthy digestive tract by removing toxins that cause allergic reactions and that make you sick. If you have suffered from food poisoning or had diarrhea from eating street food, for example, activated charcoal can be used to cleanse the digestive system.
I can't imagine having to lie down in bed all day suffering from headaches while on a trip to Morocco. Take pain relievers so you can focus on being a tourist and discover this new country. These over-the-counter medicines can help with travel ailments such as jet lag-induced headaches or minor sunstrokes.
It's safe to drink tap water in Morocco but only if you know beforehand if the town or city properly filters its water. A lot of major cities in Morocco have good filtering systems but some of them still don't. If you just arrived in Morocco and your body is still not completely used to the water you'll have to purify it. These tablets can very useful during your first few weeks in the country.
It's hard to tell when exactly allergies are going to creep up while you're traveling, especially if you're heading to windy and sandy places such as the Sahara desert. Combat allergy symptoms such a stuffy nose, itchy eyes, and sneezing, by packing some over-the-counter medicine.
The Moroccan roads that cross the Atlas are narrow and winding. Traveling there by bus can be a nightmare if you suffer from motion sickness. The same applies to taking a ferry from Morocco to Spain to renew your travel visa. The wind in the Strait of Gibraltar can make one sick very quickly. Instead of confining yourself to a trip of nausea and dizziness, bring medicine so you can travel like a champ.
small cuts and scrapes can happen so quickly and very often they happen in the most unexpected circumstances. Having an antibiotic cream to treat scrapes could be especially useful if you plan on hiking in the Moroccan mountains. Don't forget to also bring some band-aids so you can cover any small wound or cut.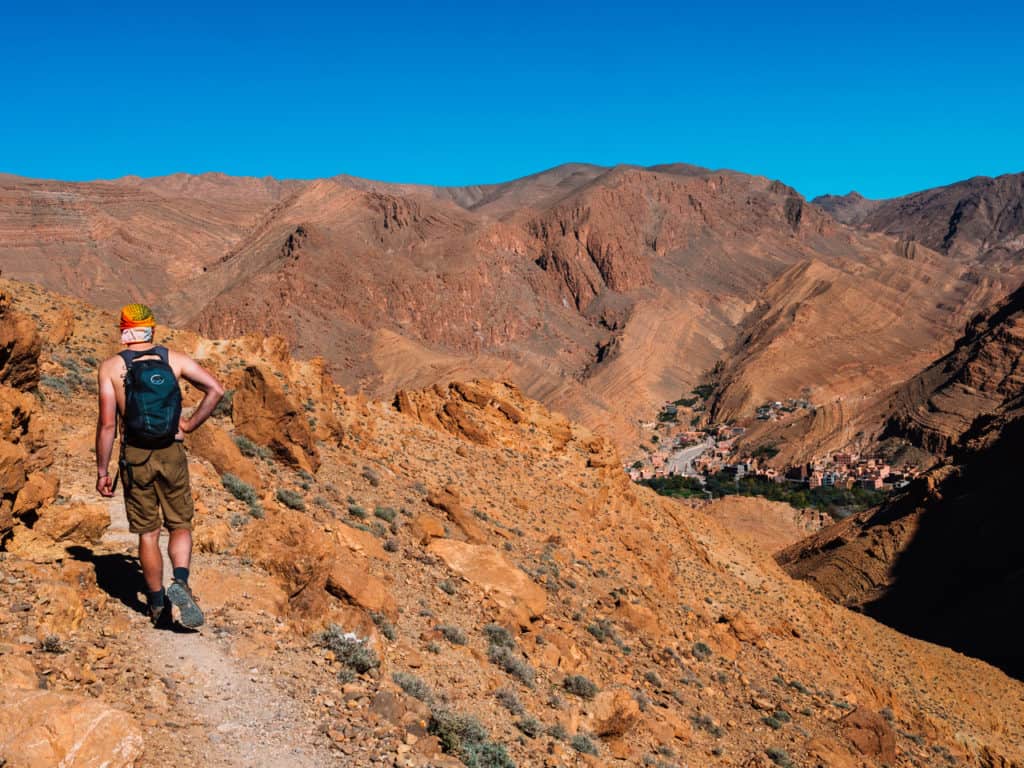 ---
7. Perfect gifts to bring to your Moroccan friends
When Moroccans return home after a trip abroad, it's safe to assume that almost half of their luggage are gifts for family and friends. Although people in Morocco have access to almost all the same items and conveniences that we could buy abroad, the quality is usually slightly inferior.
Traveling to Morocco with small gifts is a good idea. You can give them to everybody, whether it's someone that hosted you, showed you around the major cities or simply had a chat with you. Receiving a gift will be appreciated by your Moroccan friends and it will show them your gratitude for their efforts.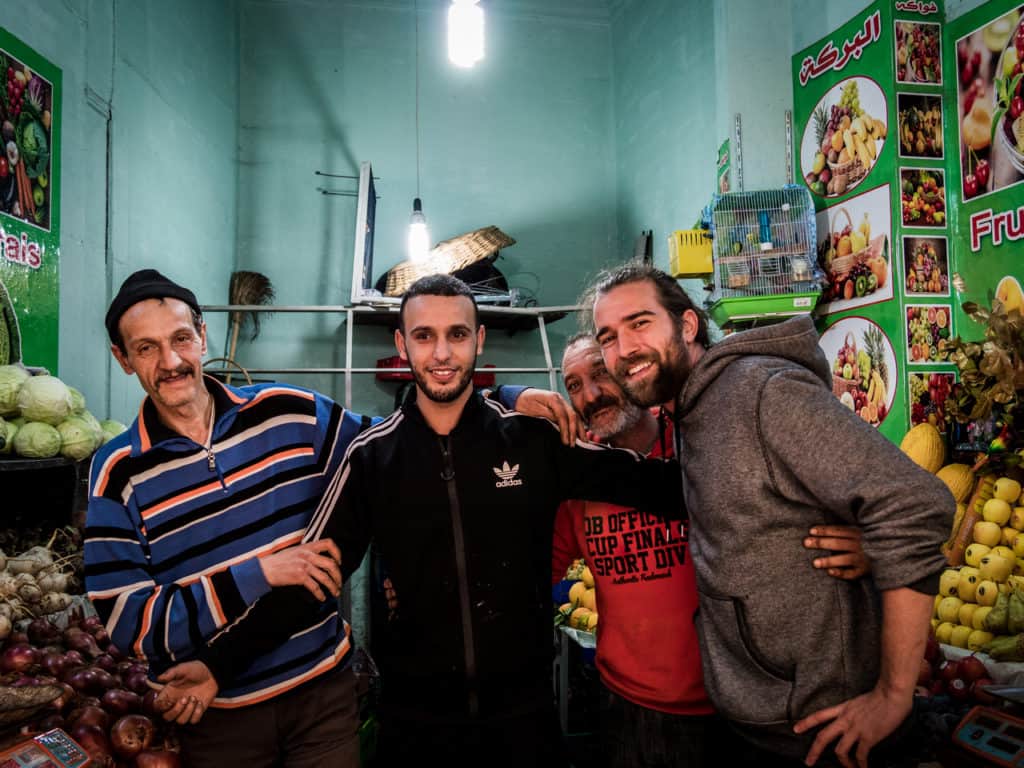 When traveling to Morocco I would suggest bringing some of the following items with you:
soaps or creams
Something unique from your country (maple syrup, coffee, chocolate, candies, postcards)
coloring books and coloring pencils or crayons for the kids
Soccer balls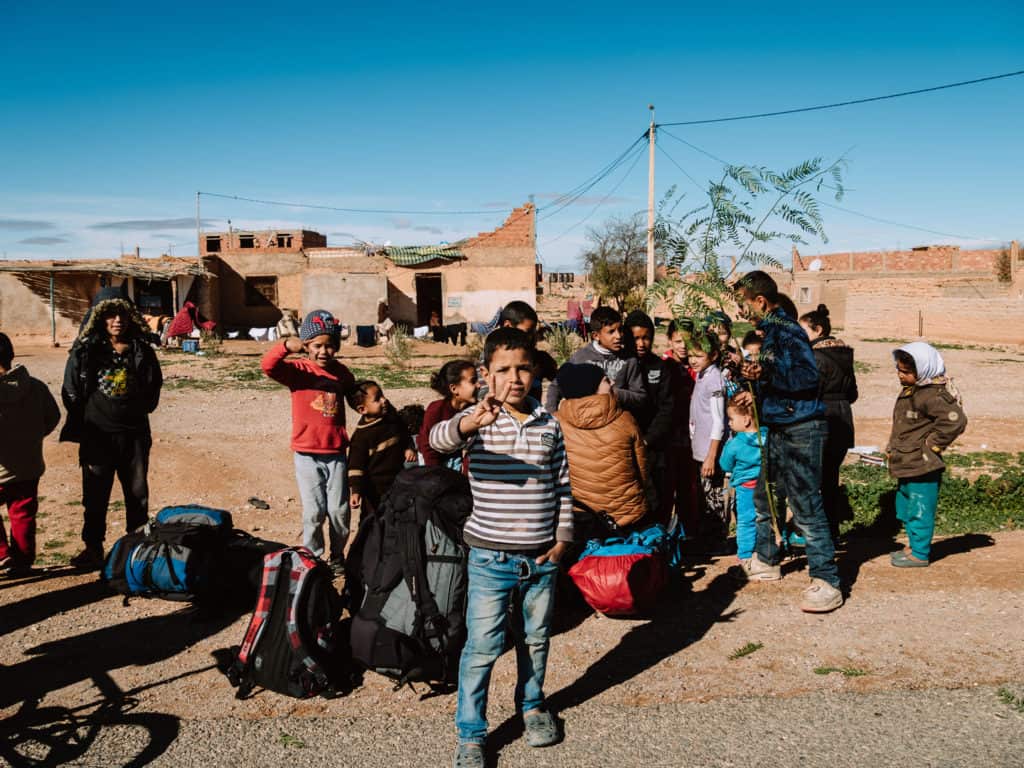 If you're invited to eat in Morocco, it's considered good manners to bring a gift. People will not be offended if you don't but it is a nice gesture. Gifts are also a fantastic way to break the ice and start a conversation. When Cynthia and I were hitchhiking around Morocco, we traveled with a Canadian friend that always had maple syrup candies to give to drivers picking us up. Needless to say, they all really appreciated it and were more than happy to give us a lift.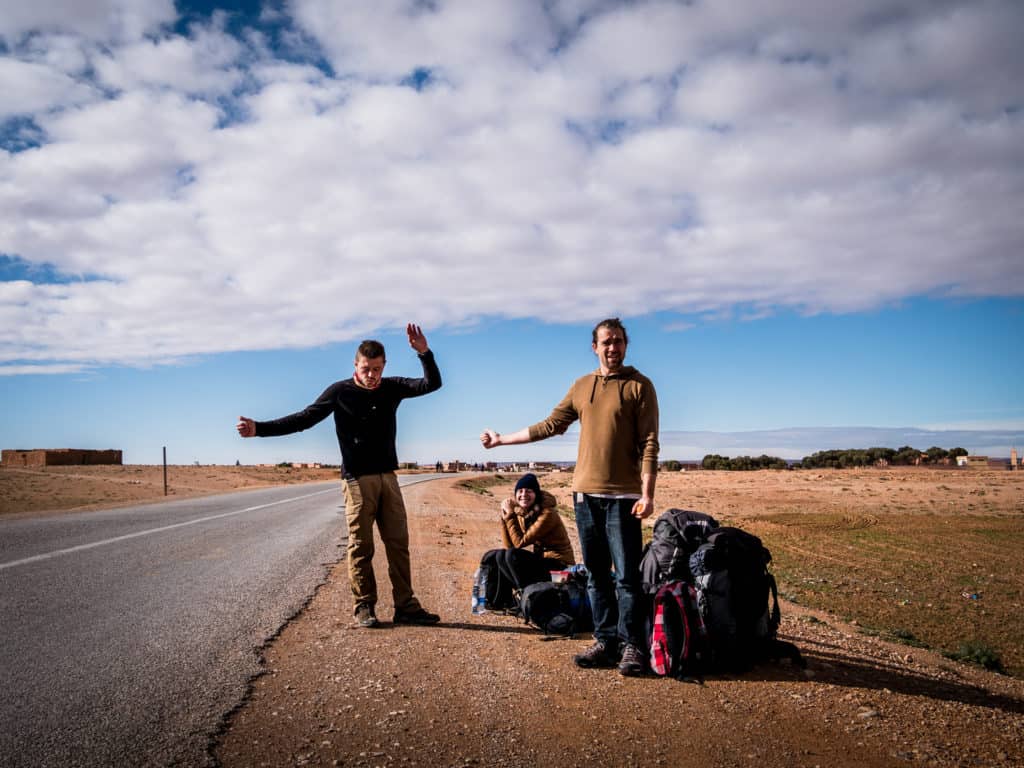 Do you ever have problems packing up your bag before heading on a trip to a new country? We hope this guide will help you pack for your next trip to Morocco.
If you have any questions about additional things that you would like to bring to this North-African country, let us know by commenting below or by contacting us.
We wish you a fun, relaxing and safe journey to Morocco!
*This article contains affiliate links. If you book a hotel/hostel or purchase one of the recommended products through our website, we'll receive a small commission at no extra costs for you. This way you're helping us writing more informative and awesome guides like this. Thank you!
KNOW BEFORE YOU GO – MOROCCO TRAVEL TIPS:
Everything you need to know about traveling independently in Morocco :
Planning to rent a car in Morocco? Read this first:
A few travel and safety tips for Morocco:
Planning to travel to Morocco during Ramadan? Read this first:
How is it to travel to Morocco during Ramadan?
Hiking, surfing and nature trips in Morocco:
Our Moroccan city guides:
MOROCCO TRAVEL RESOURCES: