This article is a homage to Morocco. It's a list of all the reasons why I fell in love with this beautiful North-African country and why I keep going there over and over again.
Morocco is a country that I deeply love and that I keep going back to. Before going there for the first time in 2013 I knew so little about the place. I was visiting the country out of sheer curiosity and as a means to escape the cold European winter.
Enjoying the sun in Tangier (2013 – 2014)
The moment I arrived there however, I was charmed by the immense cultural richness of the country. It felt like I was traveling in an uncontrolled mix of North Africa, Spain, Portugal, and France. I was thrilled! I heard people talking in a strange dialect that would mix Arabic and European languages.
I was surrounded by new sounds, smells, and style of clothes I had never witnessed before. The cities were so much more chaotic than I was expecting and I got lost more than once in the open air markets of the old Medinas. I loved every second of it and I was having the time of my life.
Visiting Tinerhir in the winter of 2013- 2014
The country wasn't just the ideal destination for my low-budget traveling style, there were tons of fun activities to do like camping in the Sahara desert, visiting gorgeous waterfalls like the Akchour waterfalls near Chefchaouen or the Ouzoud waterfalls near Marrakesh and rock climbing in the Todra Gorges. I was overwhelmed by the number of awesome things to do and beautiful places to visit. I felt like I was in a backpacker's paradise!
Outdoor activities weren't the only enchanting thing about the country, there were also plenty of cool cities to visit. Rabat, Tangier, and Fez were my favorite ones!
My first visit to the country eventually turned into a year of living and traveling there, after I found out how easy it was to renew my tourist visa.
Backpacking in Essaouira (2014)
At first, it was a bit hard for me to communicate with people. It seemed like they were always talking so fast and I had no idea where one word would end and where the next one would start. But I worked hard to learn "Derija", the Moroccan Arabic, and even though it was still hard for me to talk with the people, I was slowly on getting there.
Now, five years after my first visit, I'm back in the country and able to speak the language almost perfectly. Morocco is a place that I now call home and where I feel completely at ease. I fell in love with the country and its people and I'm happy I'm taking time to discover this gorgeous place.
Morocco has a beauty and cultural heritage that is rarely found anywhere else. Looking back now at this country where I lived and traveled for more than a year, I decided to write down the top things that made me fall in love with it. I hope this list will inspire you to visit Morocco one day and who knows, maybe you'll fall in love with it as well.
1. The generosity of the Moroccan people
I have so many good examples of how generous Moroccans can be that I'm not even sure where to begin. When I first traveled to Morocco, I naturally decided to hitchhike as it was a means of transport that I had used for years.
I was delighted when the drivers picking me up would invite me to have a meal with them in their house. This wasn't a rare occurrence. I was invited to have a meal with a Moroccan family at least once every day. People were so happy to share their traditional dishes with me and I would often be so full when I would leave that I could barely walk.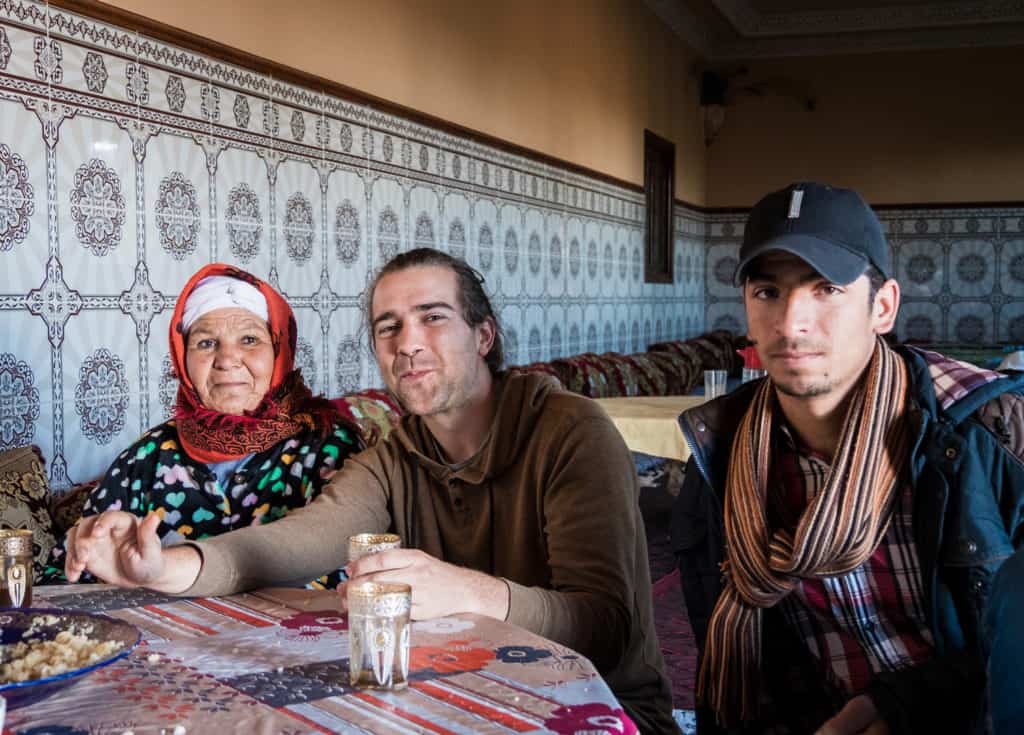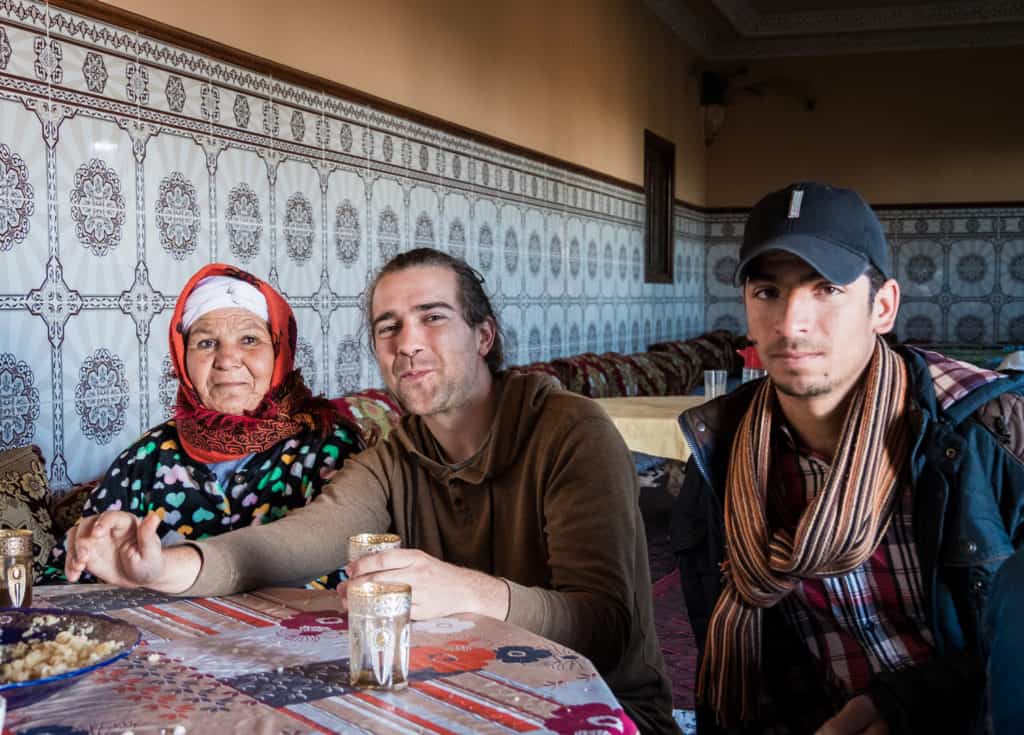 Not only would these lovely Moroccan families feed me but they also often insisted on paying for a shared taxi or a bus ride to my next destination. It seemed to be an act that was so natural for them and I knew they weren't expecting anything in return.
When I said thanks to them, they answered "Allah wajib" which means "It's my duty". This notion of helping strangers and receiving foreigners that are visiting the country is intrinsically part of the Moroccan culture and it had a very profound effect on me.
Traveling in the Atlas Mountains (2014)
I had another amazing show of generosity when I first moved to Tangier. I was renting a small room in the heart of the old Medina with an American friend. I still wasn't able to speak Arabic very well but the moment we set foot in our room, all the neighbors of the building came to introduce themselves.
We communicated with smiles and funny hand gestures and there was such a welcoming warmth coming from them. They brought tagines and couscous and tons of other delicious dishes to welcome us to our new home. We couldn't believe that so much kindness was even possible. Some of these neighbors became very fond of us and would continue bringing us food week after week.
Moroccans are generous at a level that just cannot be put into words. Throughout my travels in the country, the people I met went above and beyond to make sure I had a great time there. This is probably the main reason why I was charmed by Morocco and its people.
[kt_box opacity="1″ background="#eded6d"]
Read everything you need to know about backpacking in Morocco in our
Ultimate Travel Guide to Morocco!
[/kt_box]
2. The amazing food
Oh the Moroccan food…thinking about it as I'm writing this article, makes my mouth flood with saliva and my belly grumble.
Moroccan dishes are super rich in flavors, spices, and ingredients. They are not only tasty but also very healthy. Most dishes contain a lot of veggies and whole grains, freshly prepared meat, spices and sweet fruit rather than refined sugar.
Moroccans also use couscous in a lot of their dishes which is much healthier than rice. Morocco's cuisine has been influenced by Andalusian Spain, Arabia, and France in a delicious combination of mouthwatering flavors that make it unique.
I'm crazy about tagines. It's a succulent, stew-like dish full of flavor and traditional spices. Its slow-cooked in traditional cookware that has, incidentally, the same name as the dish. A tagine is a rich mixture of meat, poultry, or fish, and often includes vegetables or fruit. Vegetables may also be cooked alone in the tagine. This dish is an ode to the senses and I can't get enough of it.
Moroccan food can also be very cheap. I generally start my day with a bowl of B'ssara. It's a rich bean soup traditionally served for breakfast. It's topped with a swirl of olive oil and a sprinkling of cumin. It costs just a few pennies a bowl and I eat so many of them!
What never stops amazing me about the food in Morocco is how the meal time is a communal experience. All the family members will generally gather around one single plate covered by a mountain of couscous and vegetables and they will all eat together while exchanging stories. Being part of this is something that affected me in a beautiful way and definitely made me fall in love with Morocco.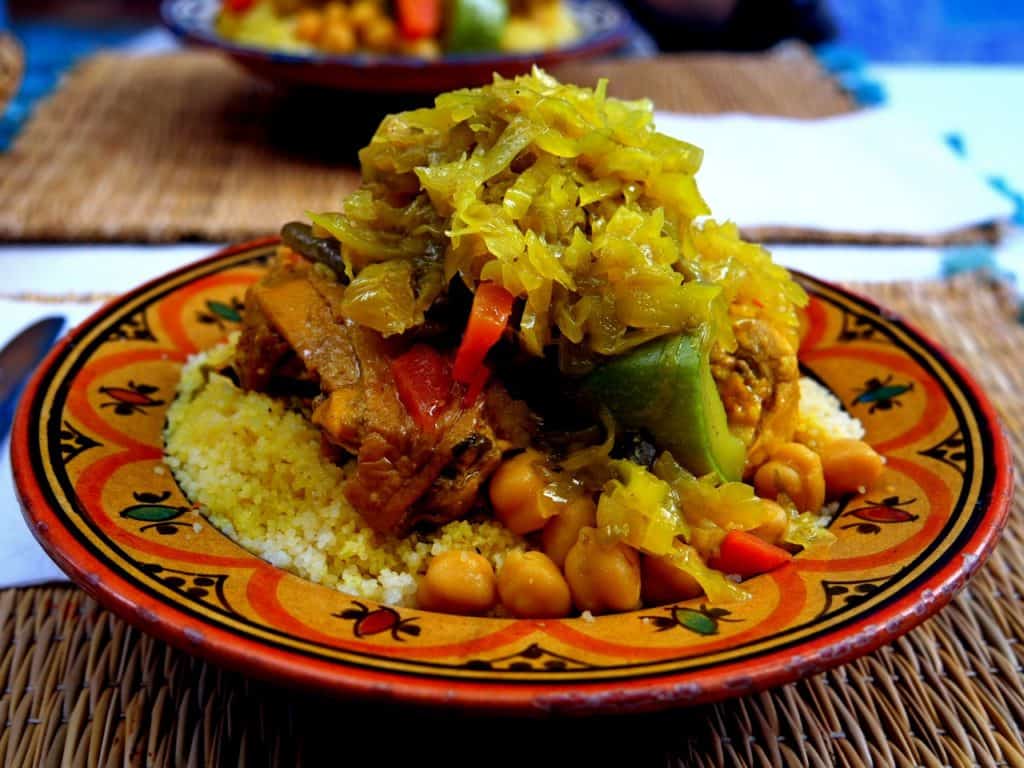 [kt_box opacity="1″ background="#eded6d"]
How much does it cost to travel to Morocco?
Read it in our Budget Guide to Morocco!
[/kt_box]
3. The laid-back attitude
Moroccans from all walks of life seem to have a stress-free laid back attitude. It doesn't matter whether it's the policeman down the street, the cafe owner, or a high school teacher, they all just look so relaxed!
This laid-back attitude is one of the things that made me fall in love with Morocco. Life goes by at a slow speed in this North African country.
People take time to appreciate the small things in life and whenever you make plans, they often conclude their agreement with "Inshallah", which literally means "if God wants" but actually translates as "maybe or let's see". In my experience, it also translates as "probably not".
This attitude can sometimes be frustrating for tourists who are on a tight schedule or when you want to get things done. At the same time, it's a lesson in learning to let the things go that you can't control. If you're in need of a stress-free holiday, Morocco could be a good country for you.
[kt_box opacity="1″ background="#eded6f"]
Planning a trip to Marrakech?
Read: What to do in Marrakech – A Complete Guide to Morocco's Red City
[/kt_box]
4. A melting pot of cultures
When I arrived for the first time in Morocco, I was surprised to see how the culture is a rich tapestry that blends tons of different influences and traditions together. One could say that Morocco is a mix of Berber, Arabian and European cultural influences.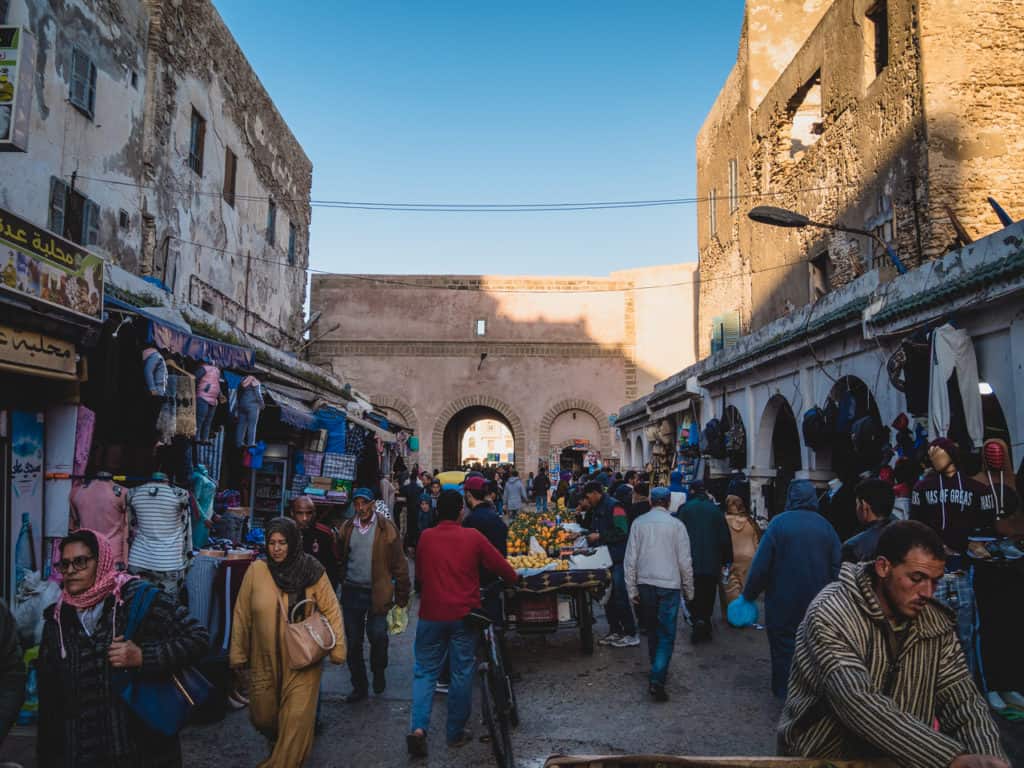 For one, the Arabic language that is spoken in Morocco is totally unique and most Arabic speakers from other countries have a hard time understanding it. It blends words of Berber origin with classical Arabic and words of French and Spanish are also assimilated in the colloquial language.
The different faces of Morocco
[kt_box opacity="1″ background="#eded6d"]
Take your photography skills to the next level
Read: Portraits of Morocco – How to Photograph People in Morocco
[/kt_box]
The mix of different cultures doesn't reflect itself only in the spoken language. The Moroccan dishes were also strongly influenced by the meeting of different traditions.
The Berber people were the ones who created staple dishes like tagine and couscous. When the Arabs invaded the country, the brought with them new spices, nuts, and dried fruits. They were also the ones who introduced the sweet and sour combinations that we see in dishes like tagine.
The Jewish communities introduced their preserving techniques that we see in the use of preserved pickles, lemons etc. while the Ottoman Empire introduced barbeque (kebabs) to the Moroccan cuisine.
This melting pot of cultures is also apparent in the architecture of certain cities. Essaouira, for example, has a distinct Portuguese flavor when it comes to the layout of the streets and the way the fortified walls of the old Medina were built.
5. The exotic beauty and colors of the country
Cynthia often says that Morocco is one of the most colorful countries she has ever traveled to. I couldn't agree more! This is especially apparent after spending a couple of years living in the cities of post-Soviet countries such as Georgia and Kyrgyzstan, where the buildings are quite stern and gray.
Bishkek, the capital city of Kyrgyzstan
From the colorful djellabas worn by women to the beautifully ornate hand-made pots and plates, Morocco is a country full of beautiful colors and designs. This is one of the reasons why we love getting lost in the Moroccan streets and markets where it's easy to find many beautifully colored textiles, spices and ceramics. Walking in an open-air Moroccan market is a sight to behold.
Moroccans tend to love painting the doors and walls of their houses with beautiful colors. Chefchaouen, the blue city of Morocco is the perfect example of this. This quirky town is probably one of the prettiest we've seen in Morocco because of its blue-washed streets and buildings. That's why it got nicknamed "the Blue Pearl of Morocco".
Chefchaouen
Moroccans love to integrate colorful designs in almost everything they do. They use colorful tiles to decorate their homes and even use them to make public fountains more attractive.
Another one of the reasons why all these colors appeal to us so much is because they make almost any picture look good. If you love to take pictures of art, designs and colorful patterns, you have to visit this beautiful country.
[kt_box opacity="1″ background="#eded6d"]
Read about the
Top Things to do in Chefchaouen, the Blue City of Morocco
[/kt_box]
6. The wide variety of landscapes
Before visiting Morocco, I had the impression that the country was a huge, arid desert. I couldn't have been more wrong in my assumption.
Of course, there are some beautiful desert villages to visit in Morocco like Merzouga but this is not the only type of landscape the country offers. One of the things that made me fall in love with Morocco is how diverse the landscapes are.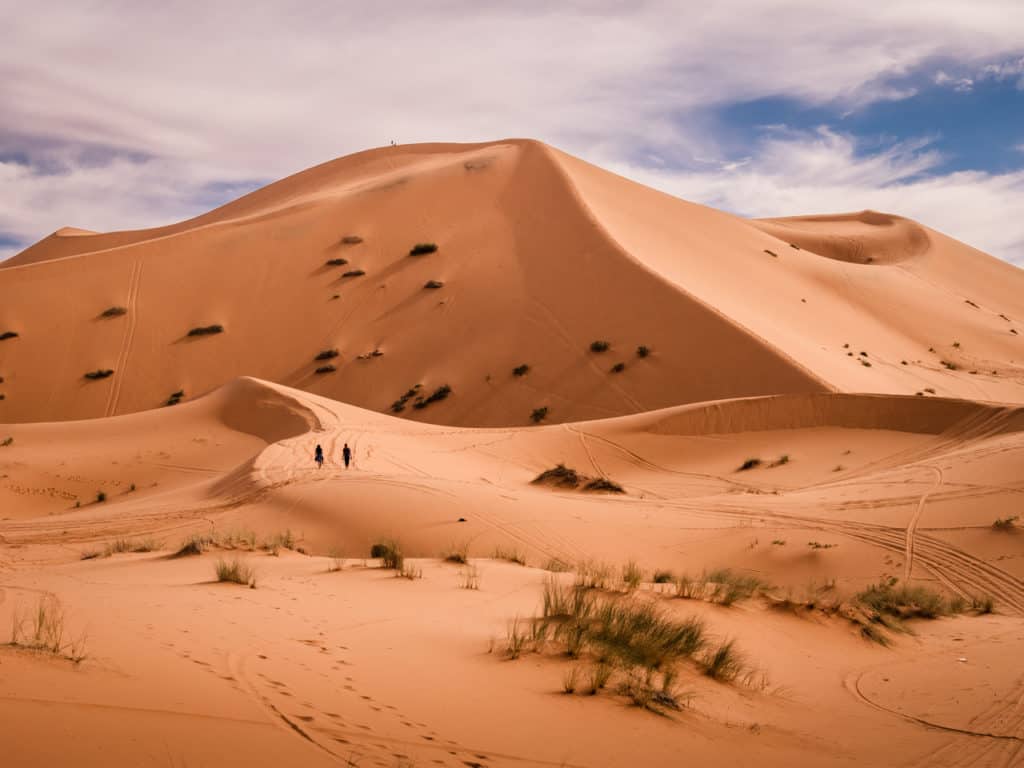 The desert near Merzouga
The whole northern part of the country is composed of lush forests and when the autumn rains come around, it's possible to see waterfalls and rivers overflowing with fresh water in the mountains.
Some of the most beautiful waterfalls in Morocco are the Akchour waterfalls in the Rif mountains. Cynthia and I had so much fun hiking up to the waterfall last autumn. It is located in the Northern part of the country, about 45 minutes driving from Chefchaouen. Another beautiful waterfall worth visiting is the Ouzoud waterfall near Marrakesh. I was overwhelmed by its size. It's the second tallest waterfall in Africa.
The Akchour Waterfalls near Chefchaouen
Morocco doesn't only have beautiful deserts and lush forests, it also has amazing mountains. The ones near the Todra Gorges are a great location for mountain climbing and beautiful hikes.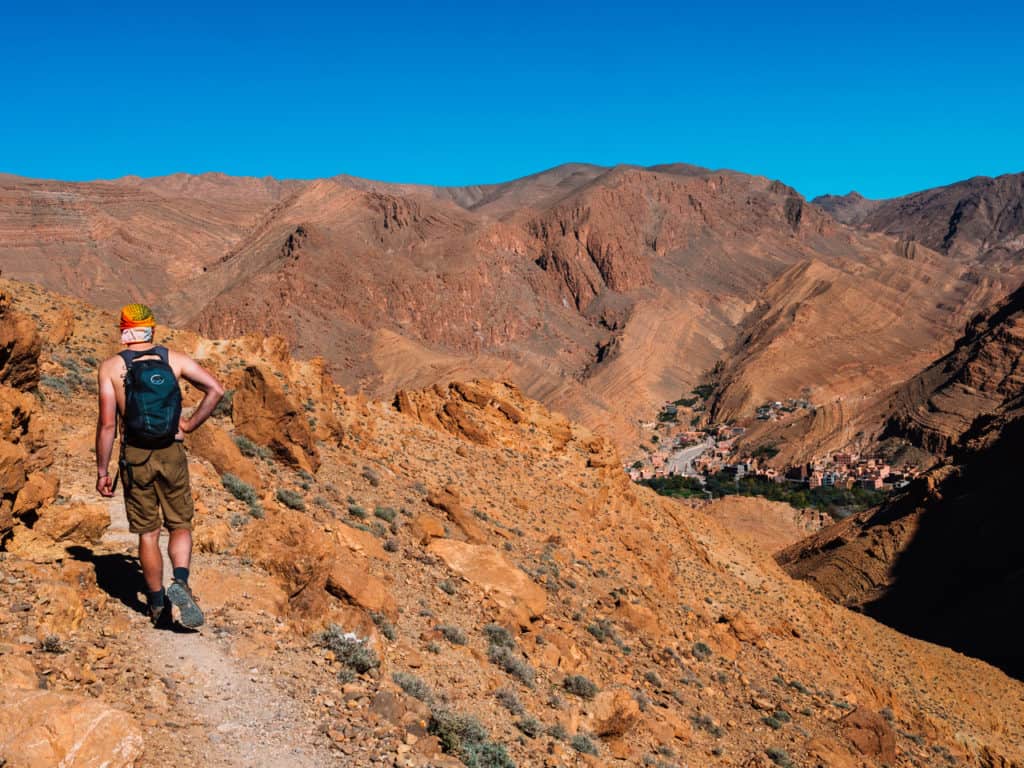 Last but not least, I couldn't talk about the Moroccan landscapes without mentioning how beautiful the Moroccan beaches are. If you want to see some amazing beaches in Morocco, I recommend visiting the ones located south of Essaouira.
Sunset on the beach of Taghazout, a small surf town south of Essaouira
[kt_box opacity="1″ background="#eded6d"]
Read also: Surfing in Morocco – A Guide to the Perfect Holiday
[/kt_box]
7. The intellectual challenge of learning Moroccan Arabic
If you are a long time reader of this blog or viewer of our YouTube channel, you know by now just how much I love to learn new languages. My close friends often joke that I must have been a parrot in a previous life for my ability to repeat flawlessly and with perfect intonation any new word I hear.
Spending a period of time long enough in Morocco to study the language spoken by its people is also one of the reasons why I became charmed by the country. I was able to have a broader understanding of the culture and I can now have long lengthy conversations with Moroccans on topics ranging from sports to politics.
Moroccan Arabic itself is also a language that presented a whole new exciting challenge to my mind. I know I sound like a total language nerd now but let me tell you that learning this dialect was and still is one of the most exciting undertakings of my life.
Quick tip:
If you would like to learn basic Moroccan Arabic sentences during your trip, I suggest reading Tips and tricks to learn Moroccan Arabic. I explain how to learn this language very quickly and effortlessly. If learning new languages is not something you enjoy, I suggest getting your hands on the Lonely Planet Moroccan Arabic Phrasebook.
It is packed with all the essential words and phrases you will need on your trip to Morocco and will help you in every situation — from finding a hotel room to ordering tajine or joining the local festivities, this book will cover almost every situation you could imagine.
It's easier to ask for directions when you speak the language!
8. Getting lost in the small streets of the old medinas
Imagine miles and miles of tiny, narrow, endless paths in between buildings and you'll have a pretty accurate picture of what the old medinas of Morocco look like. They usually contain the oldest buildings and one could say they are the heart of the cities.
The medinas are a mix of residential areas, shopping centers, and food markets. There is something thrilling and exciting about getting lost on these little streets and alleys. You can observe the daily activities of the people and it almost feels like seeing the Moroccan culture from the 'inside'.
Wandering the narrow streets of the medinas used to be my favorite pastime when I lived in Tangier during my first year in Morocco. I absolutely recommend it to get a real feel of the cities. It can be confusing and overwhelming in the beginning but it's a part of the adventure.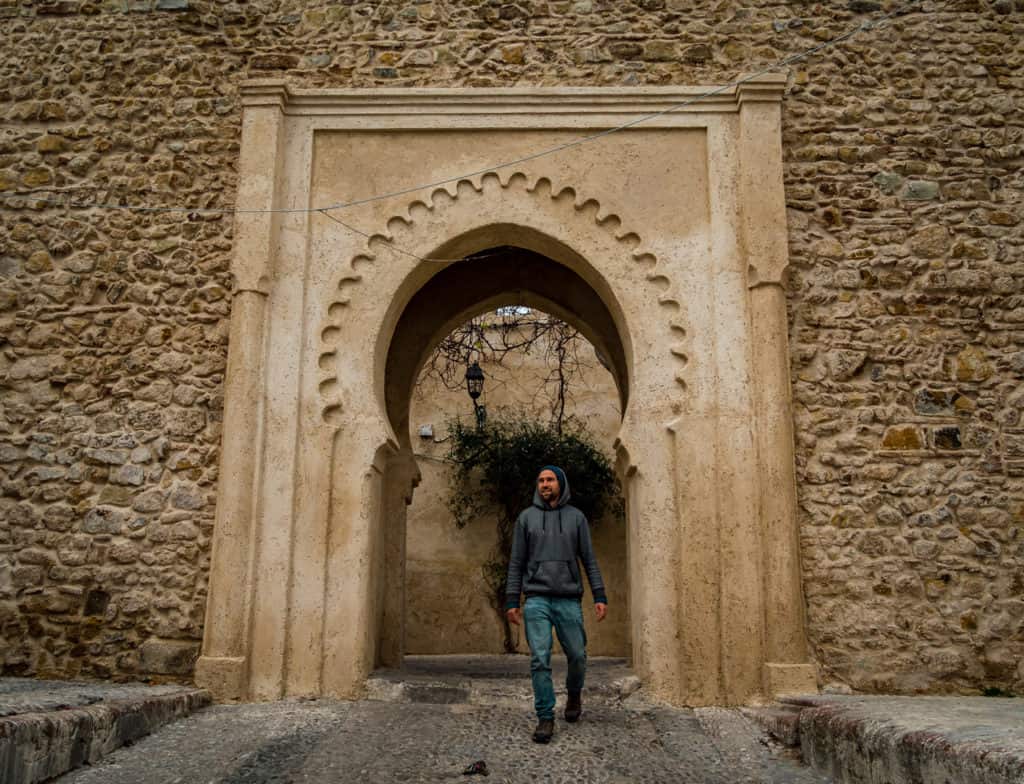 9. The stunning architecture of the riads and palaces
I haven't shared this with many people but when I was in high school, one of my dreams was to become an architect. I was fascinated with exotic architectural styles from all around the world. Becoming an architect is no longer my dream but visiting Morocco has definitely rekindled this love I have for building design.
Specific decoration guidelines of Islam have been used to direct the construction and ornamentation of buildings in Morocco for centuries. This gives a very distinct flavor to the architectural beauty of the cities. Moroccan traditional construction uses very interesting design elements such as elaborate geometric patterns and zellij (a ceramic-tile mosaic).
One thing that I find particularly stunning in the Moroccan architecture is the presence of open courtyards with lavish gardens that can be found at the center of most buildings. If you share the same fascination for exotic architecture as I do, you'll love Morocco as well!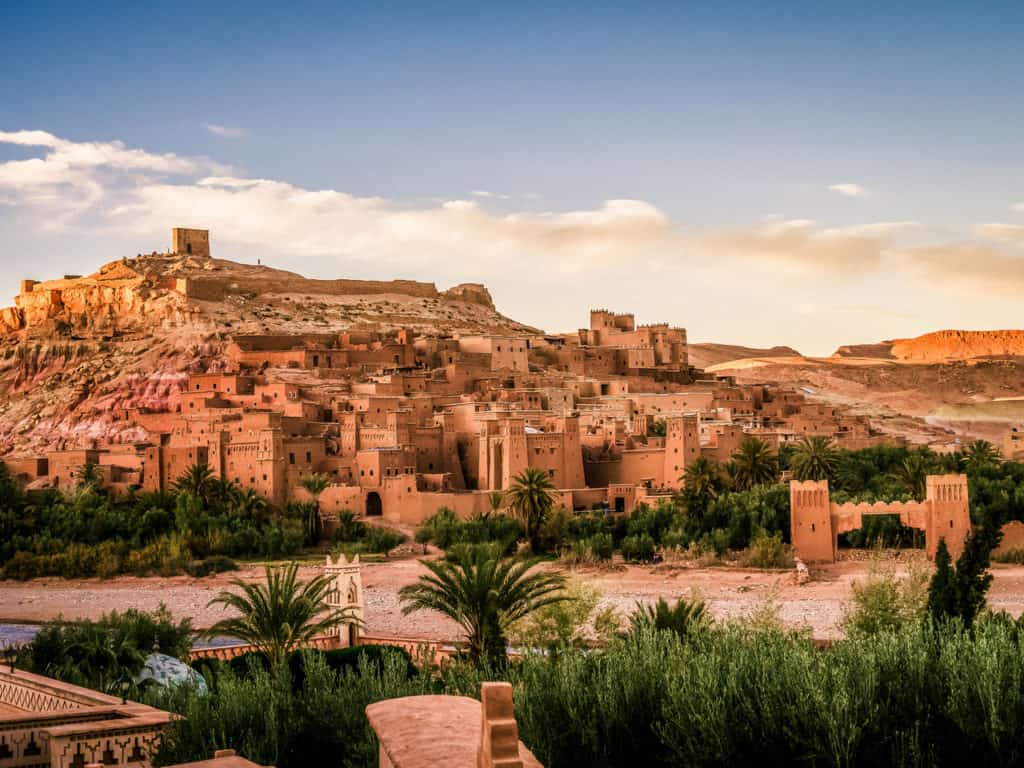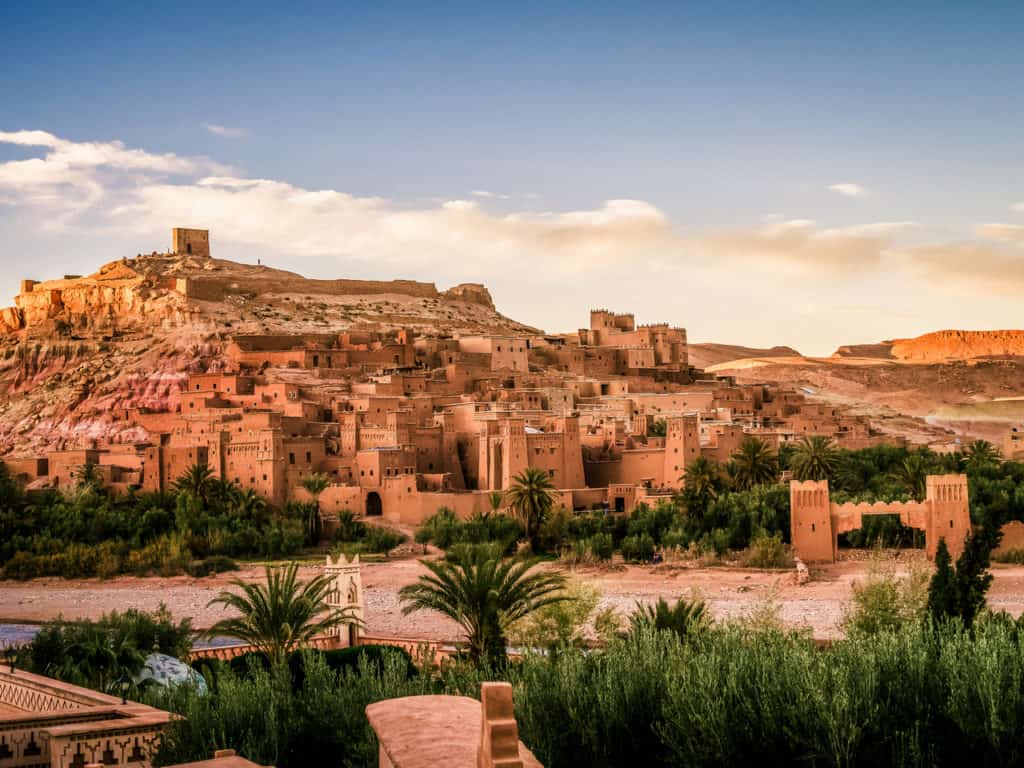 The stunning architecture of Ksar Ait Ben Haddou, a fortified mud city
[kt_box opacity="1″ background="#eded6d"]
Discover the Best Places in Morocco in 7 days!
[/kt_box]
10.Relaxing at a traditional hammam
When I travel to a new destination, I'm always concerned about doing things exactly the way the locals do them. When I arrived in Morocco, one of the first things I wanted to try was washing at a local hammam. It's probably the most quintessential Moroccan experience and it's a big part of the culture.
Hammams are steam rooms where people go to wash in exchange for a modest fee. Men and women are usually in two separate rooms or they use the steam bath at different times.
In Morocco, you will have two options when it comes to visiting hammams. You can either go to the popular local hammam where the majority of the locals go to or you could visit a spa type hammam.
I would personally recommend the more popular and less fancy ones. The reason why I particularly enjoyed visiting hammams in Morocco is that it's a place where people of all age and all background meet and where they take time to relax and clean themselves while chatting about everything.
Hammams are not only good for the skin, but they are also especially good for the nerves and remain to this day one of my favorite places to relax after a day of writing articles or hiking in the Moroccan mountains.
All you need to do before you go is grab some natural Argan soap and your scrubbing cloth. Once there, you'll be handed a bucket and you have to undress in the midst of locals scrubbing each other's back while chatting about their daily life.
11. The Moroccan Whiskey
If my time in Morocco could resume itself in one flavor it would be the flavor of mint tea. I've never drunk more tea in my whole life than when I was in Morocco. Moroccans are so fond of this sweet drink that they call it the "Moroccan Whiskey". It is served with almost every meal and tastes absolutely delicious.
The serving of mint tea to the guests is considered a sign of hospitality and friendship. There is even an art to serving it. Mint tea must be poured into the glasses from high above. The higher the teapot is, the better. This serving method aerates the tea and enhances the mint flavor. Moroccans especially like when the tea they serve in glasses is full of bubble and foam.
I just can't stop drinking this sweet drink while practicing my Arabic with the locals when I travel around Morocco.
12. Hearing the call to prayer
I can't recall exactly when was the first time I heard the call to prayer but when I talk about the beauties of Morocco with my friends, it's almost always the first thing I mention.
There is something very pleasing and melodic about the call. One thing that has always filled me with awe is how all the mosques would start the call to prayer with just a few seconds of interval. The farthest ones resonating in the distance and echoing the ones nearby.
It's also quite special to see how people flock together towards the mosques in their prayer clothes.
Although hearing the call to prayer at five o'clock in the morning can be a disconcerting experience if you're not used to it, it still remains quite beautiful. I can assure you that you'll quickly get used to it and after only a few weeks in Morocco, it won't wake you up anymore.
[kt_box opacity="1″]
Worried about your safety?
Read Is Morocco Safe?
[/kt_box]
13. Living in Tangier
Last but not least in the reasons why I fell in love with Morocco is a city that stole my heart: Tangier. I lived for six months in this northern city of Morocco and I have so many fond memories of the place.
It has everything I ever wanted from a city: a sense of exotic mystery, the most interesting history, beautiful sights, and unspoiled beaches. It's also the place in Morocco where I have the biggest amount of friends but that's probably due to the fact that I lived there longer than anywhere else in the country.
Although Tangier was at times a bit stressful, chaotic, and even overloaded my senses, it was the ideal melting pot for my culture hungry mind. I loved it from the moment I walked in the small winding streets of its old medina and I can understand why it inspired countless writers and artists.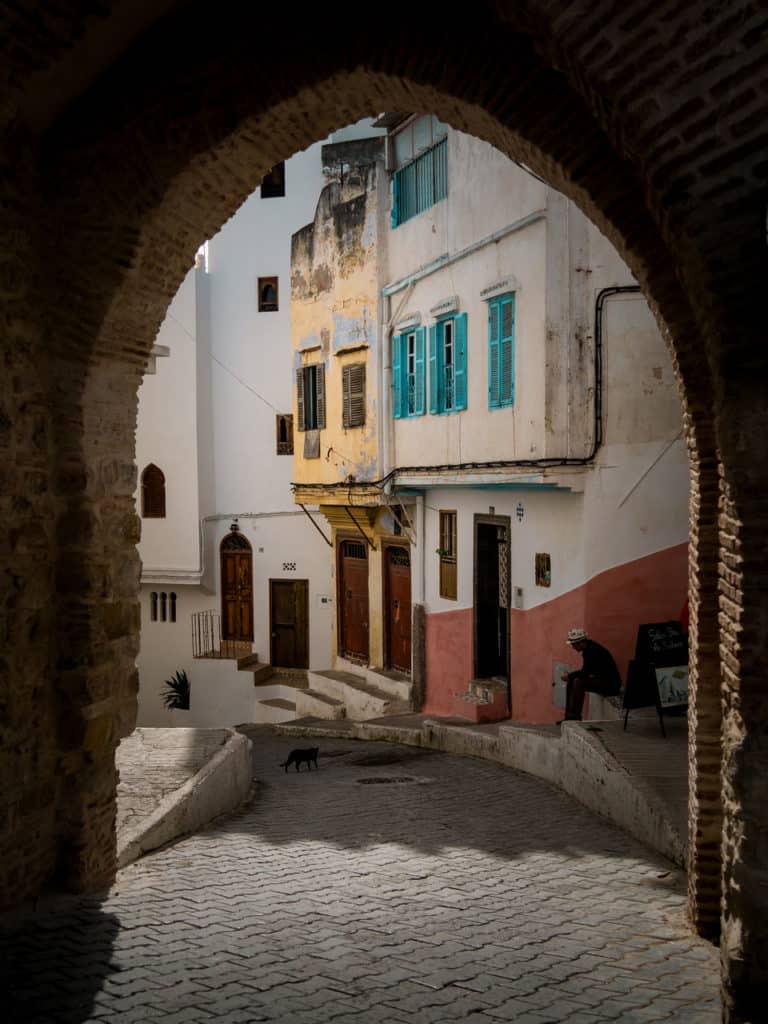 The reason I lived in Tangier and started loving this city so much is not a typical story. Towards the end of my first few months in Morocco, my travel budget was already exhausted. So much so that I barely had any money left in my account when I arrived in this coastal city. I was basically homeless and a bit desperate when I first set foot in the streets of the old Medina. At the time, I was traveling with an American writer who was also in a dire financial situation. One could say that we had hit the bottom of the barrel and we had no idea where our next meal would come from.
We were able to muster up the little bit of money we had left to rent a small, gloomy room in the heart of the old city. After renting that room, all we could afford with our budget was a meal a day. That's when I saw just how generous Moroccans are.
All the families living in our building would come knocking on our door to bring us food almost every day. Although they never asked, and we were too proud to tell them, somehow they knew we were struggling to stay afloat. Their welcoming smiles when they would bring us tajines and couscous were full of warmth. I had never seen such generosity before and the whole experience touched me to my core. Without the help of these beautiful people, I don't know if I would have been able to keep my sanity.
Have you heard the expression "necessity is the mother of invention" before? Well, this saying could perfectly apply itself to what happened to me during that period of time. It is during that struggle of not knowing where my next meal would come from that I had the deepest period of introspection of my whole life. I decided at that moment that I would never be in that position again. I had to find a creative avenue that would give me financial freedom. I started thinking of ways to create a travel related business that would put me in a more comfortable financial position and that could even create a residual income over time.
It is at that moment that I decided to market the best product I could think of, my travel stories. It's in Tangier where I decided to start a YouTube channel. Not long after setting that intention, I met Cynthia (who had a similar idea) and that's when Journal of Nomads was born. Tangier affected me the same way it affected many artists and writers. The city and situation I was in while living there ignited my creative flame. Tangier and its people changed me in a way no other place had done before.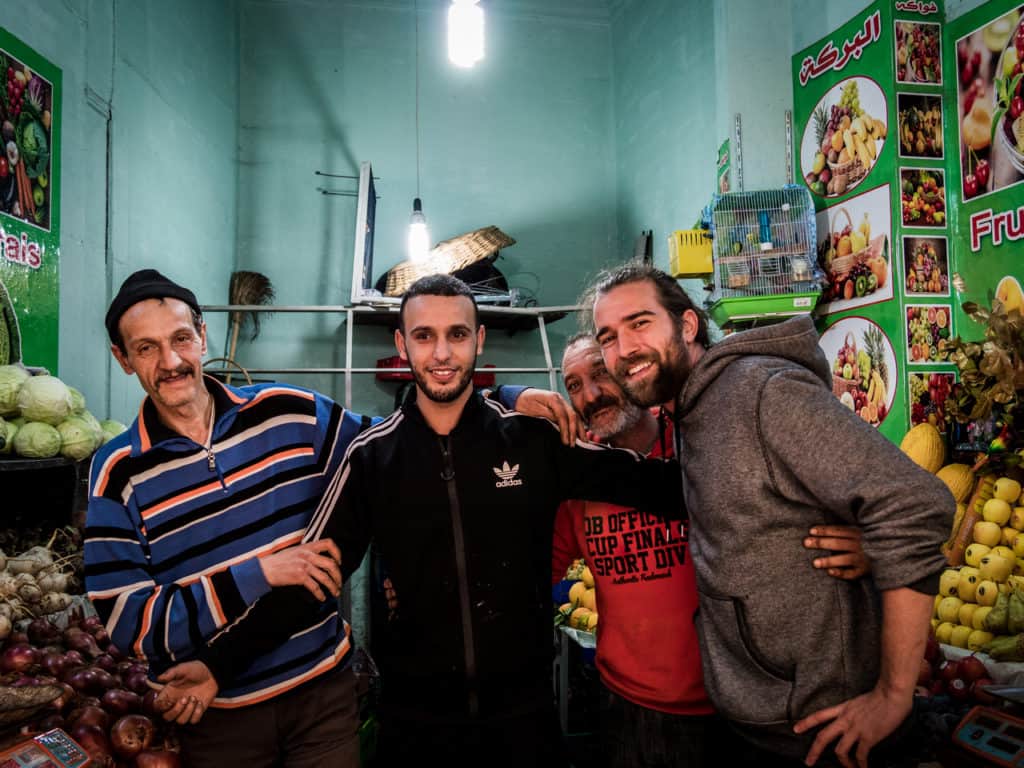 Tangier and Morocco affected me so deeply that it gave my life a completely new direction. If I look back at the person I was then and the man I am now, I see two completely different persons. I'm grateful for the lessons Morocco has taught me and even now, 5 years later, the country and its people are still very dear to me.
[kt_box opacity="1″ background="#eded6d"]
Read my City Guide to Tangier,
an in-depth guide to my favorite city of Morocco, written together with my friend Ruby, a blogger and dancer who has spent the last five years living there.
[/kt_box]
I hope this list of reasons why I fell in love with the country will inspire you to visit it one day as well. I hope you'll love Morocco as much as I did!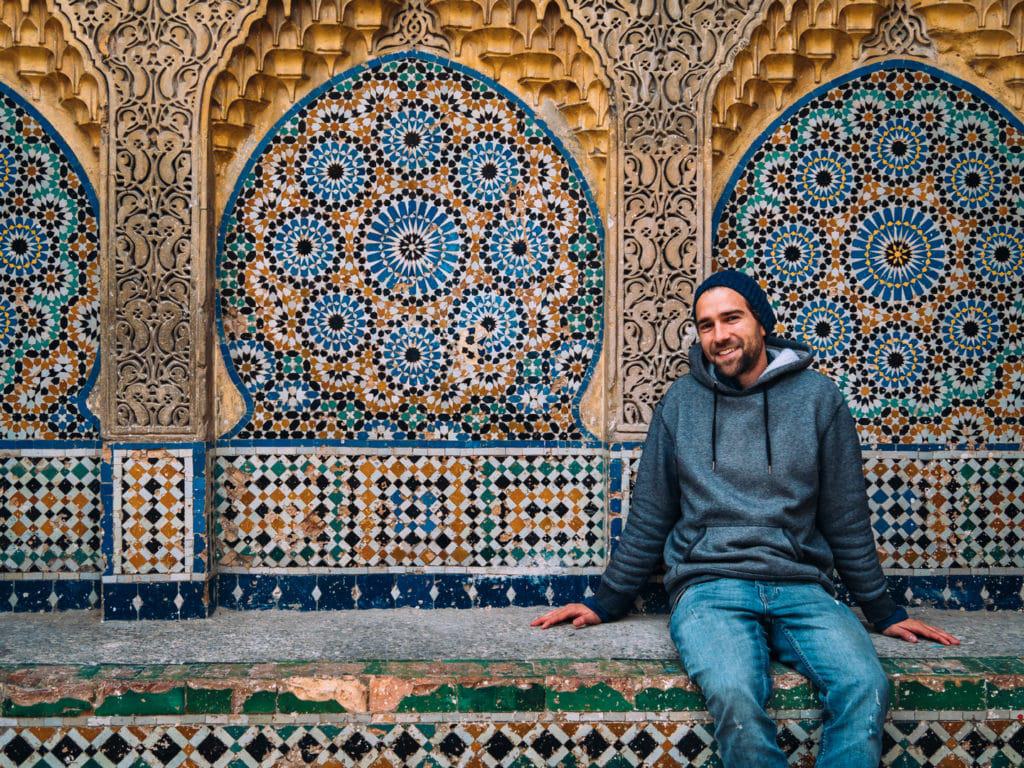 Have you already been to Morocco? Did you also fall in love with the country? Or did you have different experiences? Tell me more about it in the comments below!
KNOW BEFORE YOU GO – MOROCCO TRAVEL TIPS:
Everything you need to know about traveling independently in Morocco :
Planning to rent a car in Morocco? Read this first:
A few travel and safety tips for Morocco:
Planning to travel to Morocco during Ramadan? Read this first:
How is it to travel to Morocco during Ramadan?
Hiking, surfing and nature trips in Morocco:
Our Moroccan city guides:
MOROCCO TRAVEL RESOURCES: