This article contains all the information you need to rent a car in Morocco. If you're wondering how renting a car in Morocco works, where you can rent a car in Morocco or how much renting a vehicle in Morocco costs, stick around and I'll answer all your questions.
Morocco is probably one of my favorite countries in the world. It has beautiful sand dunes, huge rock-climbing walls, and gorgeous waterfalls.
The country, however, is huge. People that have only a limited amount of time to visit Morocco are often wondering what is the best way to visit it at their own pace while seeing as much as possible. The best option is to rent a vehicle in Morocco.
Not only will you be able to go wherever you want, if you're with a few friends you'll also save on bus and train costs. You'll have the luxury of stopping along the most beautiful valleys and viewpoints to take stunning pictures.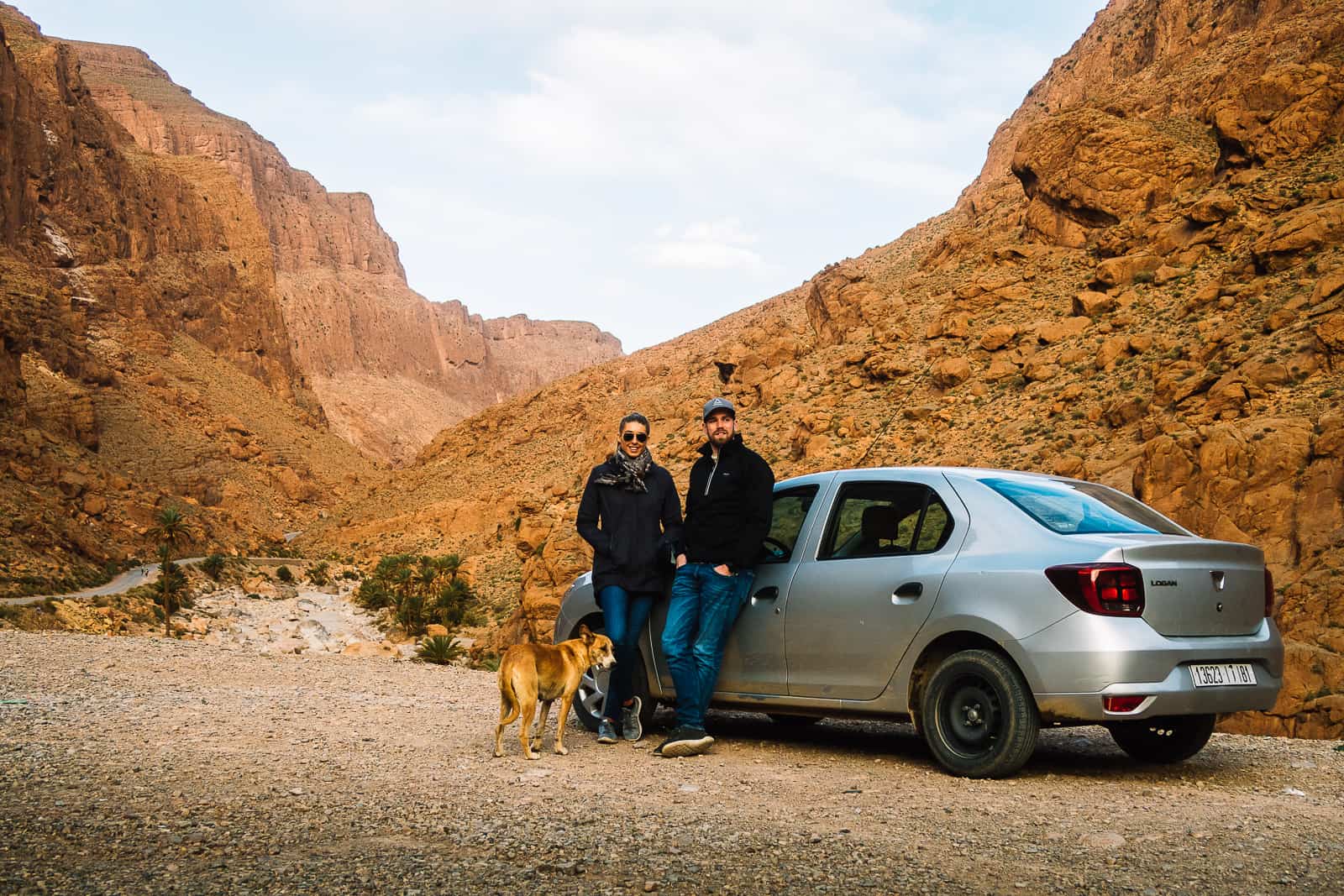 When you have your own rental car, you can stop anywhere to take stunning pictures…
Recently, my brother and his wife came to visit me for a holiday in Morocco. At first, we weren't sure if we would rent a car. I knew the road conditions in South Morocco were pretty good but I had no idea about the costs of renting a car and the Moroccan road laws.
After doing a bit of research however, I quickly realized that renting a car in Morocco would be way easier than I had initially thought. Morocco is a really diverse country and it made sense to rent a car so we could stop anywhere we wanted and explore local villages, valleys, and mountains at our own rhythm.
We rented a car in Marrakech and drove all the way to the sand dunes of Merzouga. After exploring the desert, we drove back north trough the Todra gorges. This is just one of many Moroccan travel itineraries you could also follow to discover the country.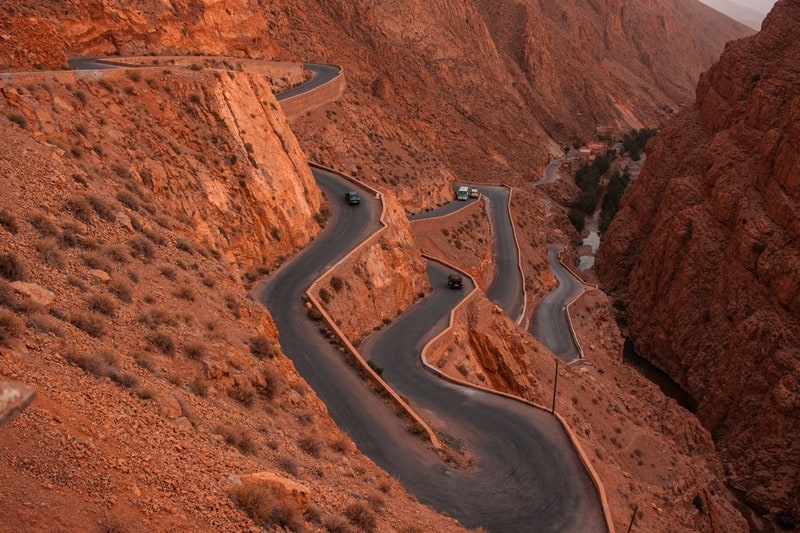 We also got into a habit of picking up Moroccan hitchhikers along our journey and they would invite us to their villages to have tea, coffee, and traditional Moroccan food.
Here are a few recommendations and tips I learned from my experience renting a car in Morocco and driving around the country for a whole week.
Why should you rent a car in Morocco?
Morocco is a country that is extremely easy to visit by train or bus. It's super relaxing to just sit back and enjoy the landscapes as you see beautiful mountains and deserts from your window.
If you already planned out your whole itinerary around Morocco, hopping on a bus or a train is probably the best way to go.
However, if you're like us and you like to stop wherever you want and whenever you like, driving a car in Morocco will provide you with the ultimate freedom.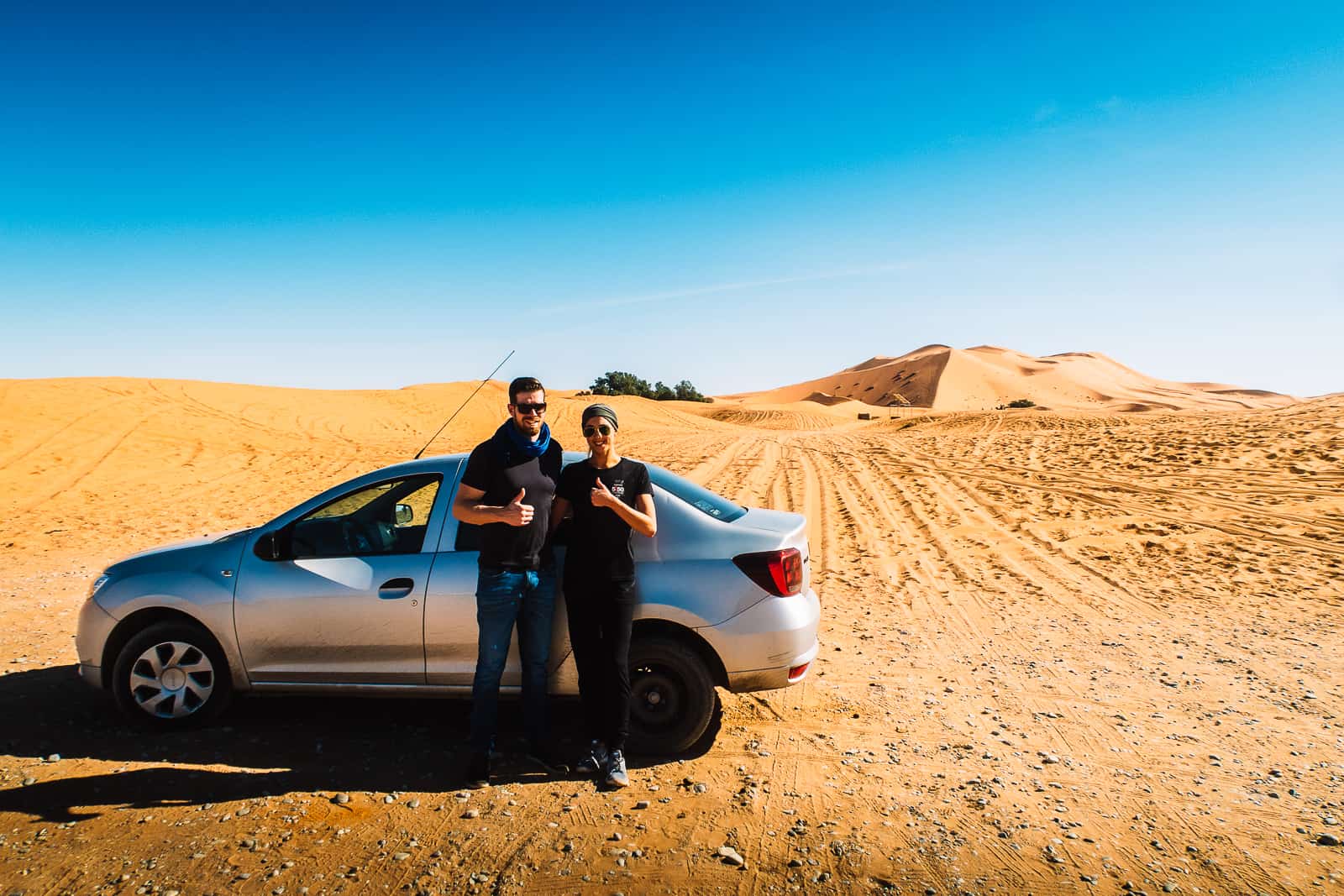 With your own car, you'll be able to stop everywhere…
You'll be able to stop and take pictures of all the interesting landscapes you'll come across. You'll also have the luxury of stopping in small villages along the way and visit them on foot.
Having your own car in Morocco also means you can stop in any restaurant you fancy along the way. You can also buy and carry groceries in the trunk of your car if you prefer cooking.
Another great advantage of driving your own car across Morocco is that you have space for your backpacks and gear and don't need to constantly carry everything on your back.
Where can you rent a car in Morocco?
There are two different ways of renting a car in Morocco. It can be done either through an online agency, then the car is picked up at the agreed-upon location or it can be done through smaller local companies.
The bigger international car rental agencies are picking up on the consistent increase in tourism in Morocco.
Because of this, these companies are now opening branches in every major Moroccan city such as Marrakech, Casablanca, Rabat, Essaouira, and even Tangier.
It's a good idea to rent a car in Marrakech if you want to explore the southern part of the country…
When I traveled by car around Morocco with my brother and his wife, we rented a car through Auto europe. It's a really big company that has a mix of good online reviews. There are other big car companies that also operate in Morocco such as Avis and Hertz.
In my opinion, it's better to rent a car online in Morocco instead of going through a smaller local company. You'll be able to compare options and reviews ahead of time for particular brands and models.
The car rental business in Morocco is very competitive, and you could still be able to get a better deal with the local rental agencies but only if you speak Moroccan Arabic and if you have the time and energy to haggle for better prices.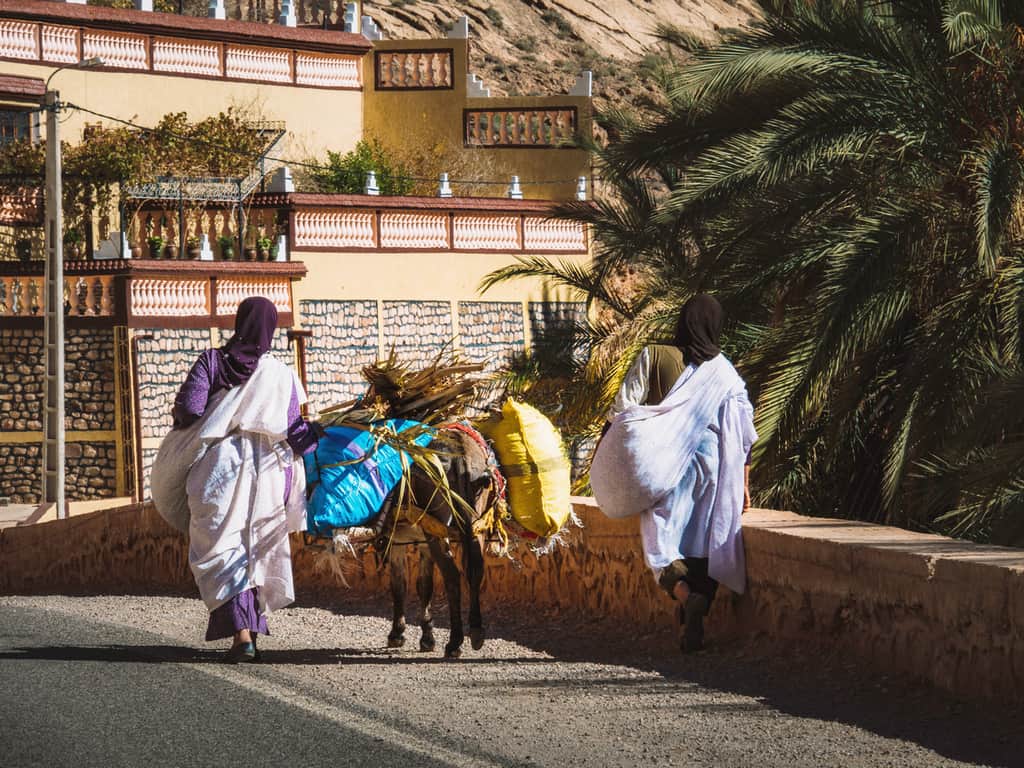 [kt_box opacity="1″ background="#eded6d"]
Where to drive to in Morocco?
Here are the 17 best places to visit in Morocco!
[/kt_box]
A few things to remember when you rent a car in Morocco
1. Always double-check online reviews and what's included in the contract
With so many car rental companies competing with each other in Morocco, it's worth taking some time to peruse online reviews to find the very best one.
Moroccan scams are not unheard of when it comes to car rental companies. Have a proper look at all the reviews of the company you'll rent from if you don't want to become a victim of scammers.
Make sure to inspect the car with your camera so you can have a video record of any damage or scratch that was already on the vehicle.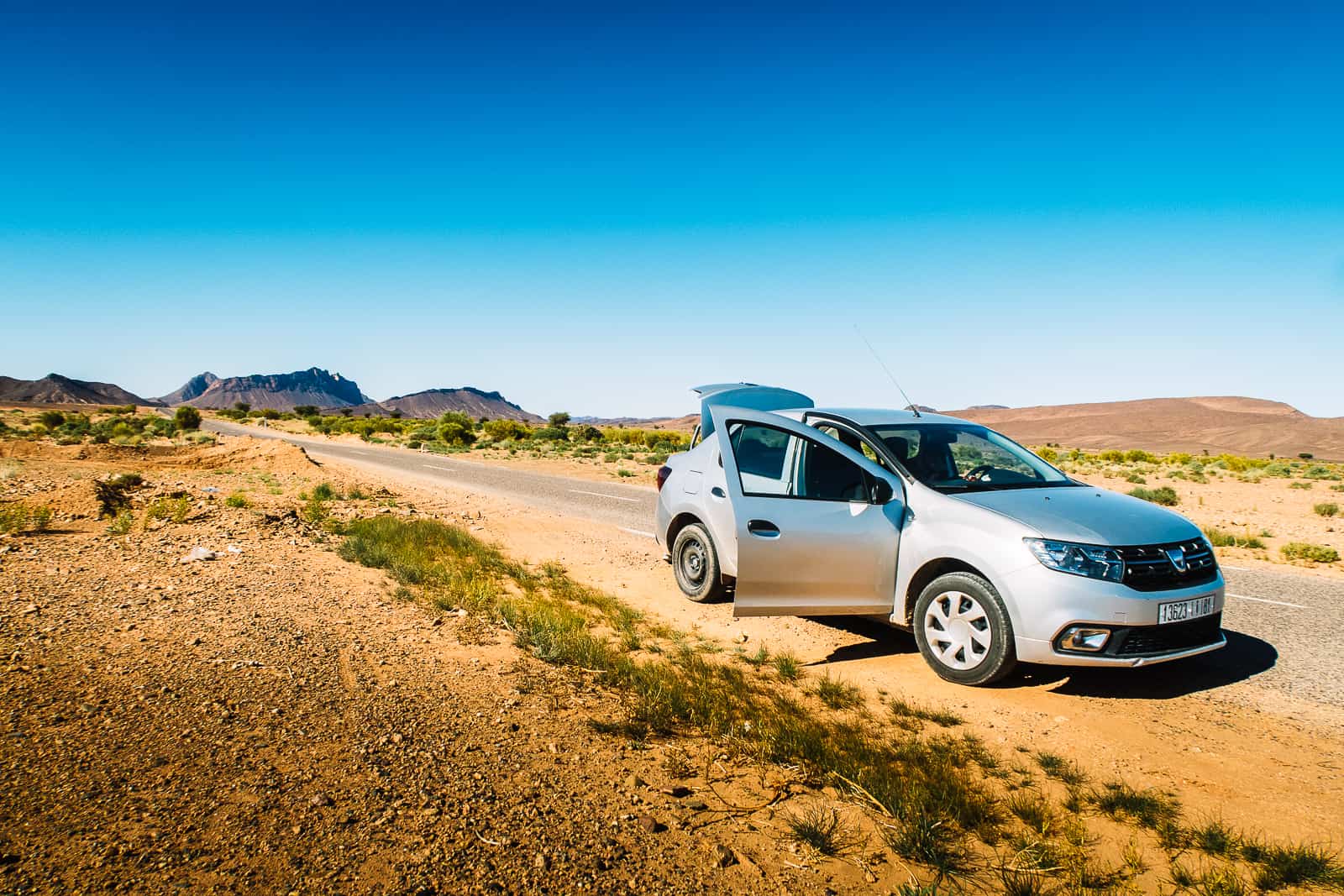 Inspect your rental car thoroughly before setting off on a road trip across the country…
When my brother and I rented a car in Morocco, we made sure that every dent and crack that was already on the automobile was well marked on the contract.
There were a few cigarette burns inside the car but the company we rented from didn't mark these in the contract as we were apparently only responsible for the exterior of the vehicle.
Also, don't forget to inspect your contract thoroughly for any information on extra cleaning fees. If these extra charges are not already in the contract, any attempt to make you pay for them would be a scam.
2. Bring the right documents
You don't need an international driving license to rent a car in Morocco. All you'll need is a valid driving license from your home country and your passport.
The picture in your driving license must match the photo in your passport. After filling out the forms, you will be required to buy insurance if you're dealing with a local company instead of an online agency and leave a credit card imprint.
You'll also need a valid credit card from which money will be retained in the form of a deposit.
What documents will you receive when renting a vehicle in Morocco?
The car rental company will provide you with a small document including your car insurance and proof of rental as well as the rental contract.
Keep these close to you with your passport in the glove compartment of the car. There are many police checks in Morocco and although they generally just wave foreigners through, you never know when they might ask to see these papers.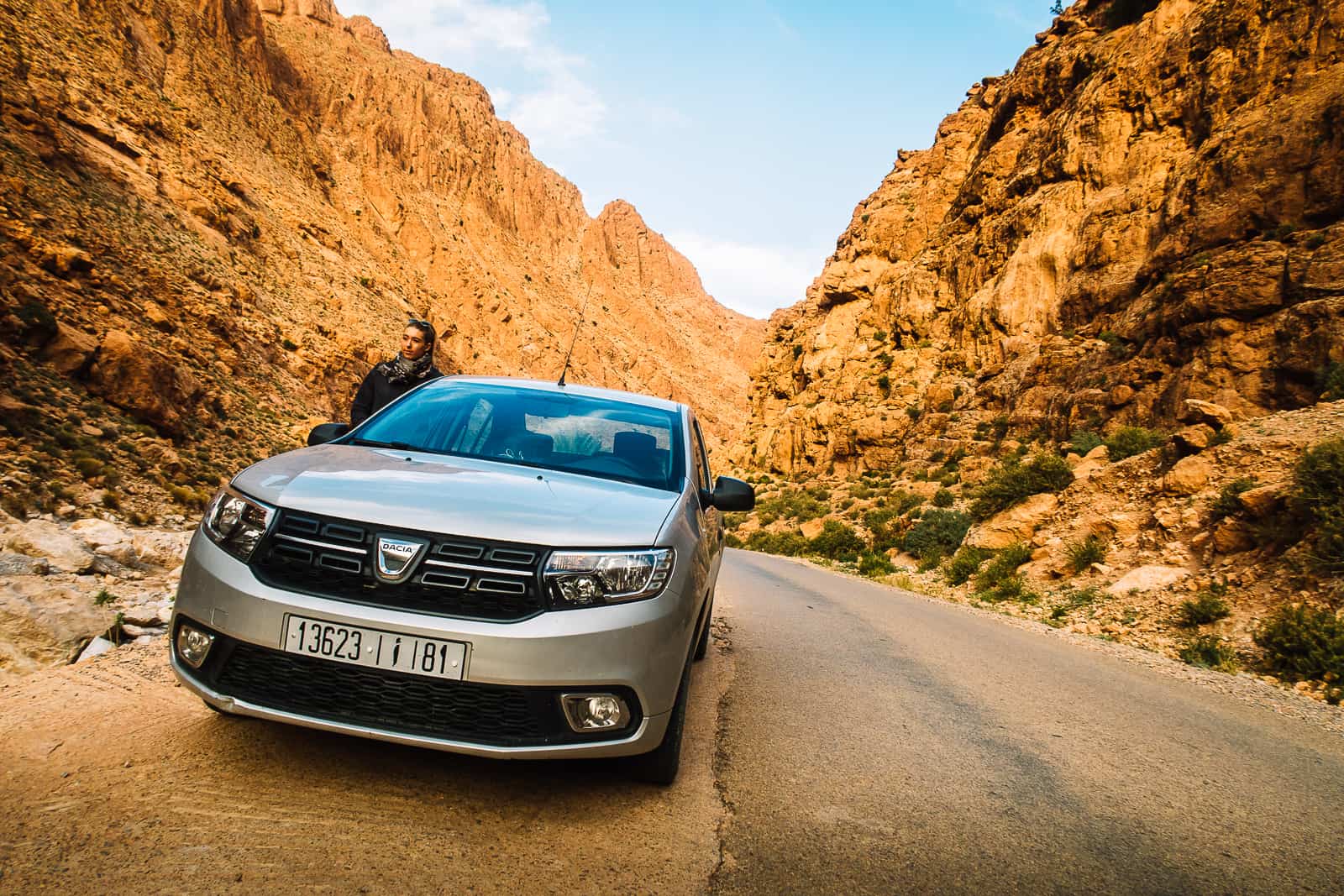 3. People may not speak English
When we were traveling around Morocco by car, my brother and I got blocked by a snowstorm on a super high mountain pass called Tishka. Because of this, we were unable to bring the car back to Marrakech, the city where we had to leave the vehicle.
When we explained the situation to the car rental company, we realized their staff barely spoke any English. Luckily, we could explain what was going on in French and we were able to drop the car off in Agadir instead.
You can easily get by with car rental companies in Morocco if you speak some French or a bit of Moroccan Arabic.
4. Make sure the credit card you use can cover the deductible
When we rented our car, the supplier provided basic insurance covering liability, damage, and theft. This insurance came with a relatively big deductible, 1000 USD or 1500 CAD. This deductible is what was held from our credit card when we picked up the car.
However, in the unlikely event that your credit history isn't good, you might not be able to cover the deductible fee with your credit card. Double-check what the credit limit on your credit card is before proceeding with the rental process.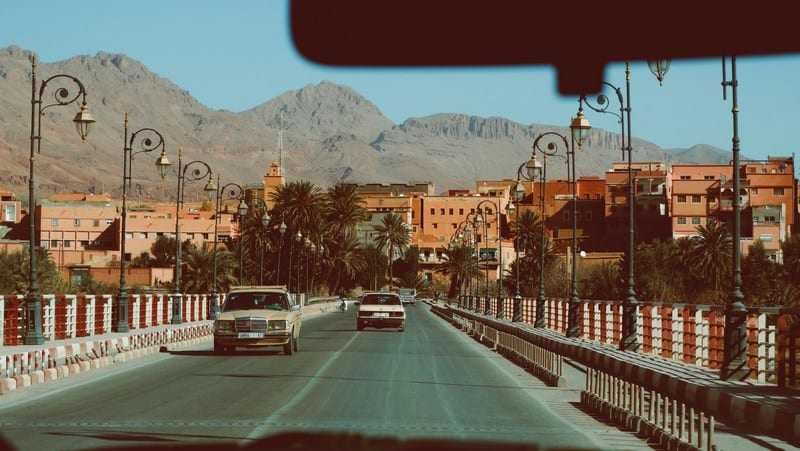 Roads around Morocco are in fairly good condition…
5. What if you need to drop the car off in a different Moroccan city?
Because of roads being blocked by snow, my brother and I had to drop off the car in a different city and a day after the return date that was in our contract.
For bigger car rental companies in Morocco, this won't be a problem. We rented our car through Auto europe and it cost 700 MAD to drop the car off in a different location and an extra 200 MAD because we dropped the car off a day later.
Is it safe to drive a rental car in Morocco?
Driving in Morocco is very safe. People generally don't drive extremely fast. Except for the southern part of the country near Merzouga and in the high atlas mountains near Toubkal, the roads are generally good and well maintained.
Driving on countryside roads in Morocco is usually quite safe, however, if you drive in big cities like Rabat, Tangier, Casablanca or Marrakech, it can be quite challenging.
Read Is it safe to drive in Morocco for more safety tips on driving your own car around the country.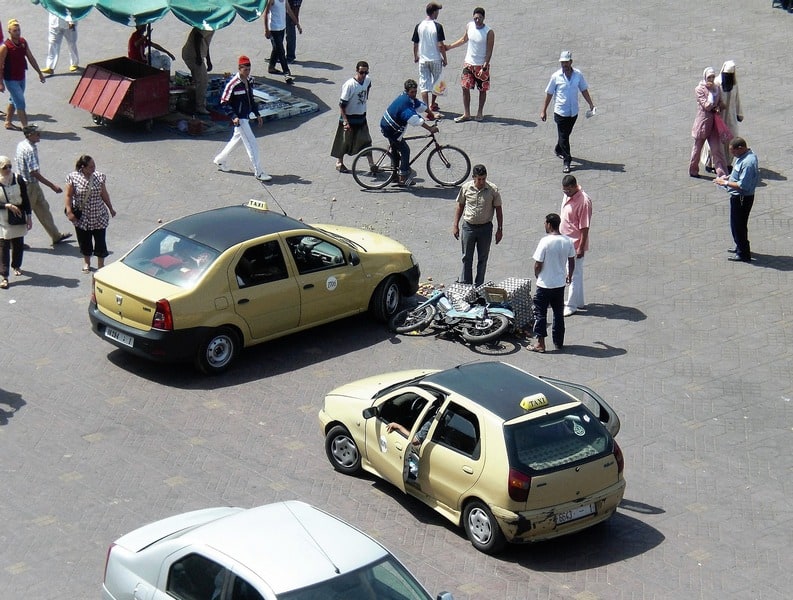 Accidents are not uncommon in big cities like Marrakech…
How much does renting a car in Morocco cost?
Rental cars are quite affordable in Morocco and if you're with a small group of friends, you'll end up saving a lot of money.
Car rental in Morocco costs between 15 and 50 USD a day. The price will depend on the company that you rent with and the model you rent.
Moroccan laws and things you should know before driving in Morocco
There are fixed speed limits in Morocco for driving on the highway and for driving in urban areas. On Moroccan highways, the speed limit is generally around 120 km/hour and around small towns and cities, the limit is around 50 km/hour.
Another thing worth noting is that in Morocco, red lights and stop signs are sometimes completely on the far right of the road, so they are super easy to be missed if you don't pay attention.
Sometimes they can also be a bit hidden behind tree branches.
Have you ever driven a car in Morocco? Are you planning to rent a car and drive around the country? Let us know in the comments below!
Read the rest of our articles for more travel tips for Morocco:
Everything you need to know about traveling independently in Morocco:
A few travel and safety tips for Morocco:
Planning to travel to Morocco during Ramadan? Read this first:
How is it to travel to Morocco during Ramadan?
Hiking, surfing and nature trips in Morocco:
Our Moroccan city guides:
MOROCCO TRAVEL RESOURCES: