Is Meknes worth a visit? What are the best things to visit in Meknes? This is a complete guide to all the sights and attractions of Meknes including a list of best restaurants and best hotels of this Moroccan city.
When I landed in Morocco, one of the first cities I heard about was Meknes. I was captivated by the descriptions of its huge gates and remnants of its imperial past.
I also couldn't stop thinking about the ancient Roman ruins of Volubilis that are still standing about one hour from the royal city.
I was looking forward to seeing the ruins of Volubilis…
Meknes is very easily reached from other popular Moroccan cities such as Rabat, Fez, and Essaouira so I was planning to get there as soon as I could.
I was aching to visit this city and couldn't wait to soak up all the historical sights near the old Medina. When I arrived there, however, it turned out that those historic hotspots in Meknes were quite disappointing.
With all the expectations I had, the sights were overpriced, not well explained and a huge let-down.
Most of the historical attractions and sights around the city are way too expensive for what they are. Paying 7 Euros to see empty stables with no information provided during the visit is a ripoff in my opinion.
The visit of the royal stables was very expensive and there wasn't much to see…
The city itself is quite beautiful but I think that the free activities and sights around Meknes are way better than the ones you'll have to pay for. Walking in the old medina, for example, is much more fun than visiting the stables or the old prison.
If you love Roman ruins, a trip to Volubilis will be worth it. This was the one historical attraction in Meknes that I found was worth its price.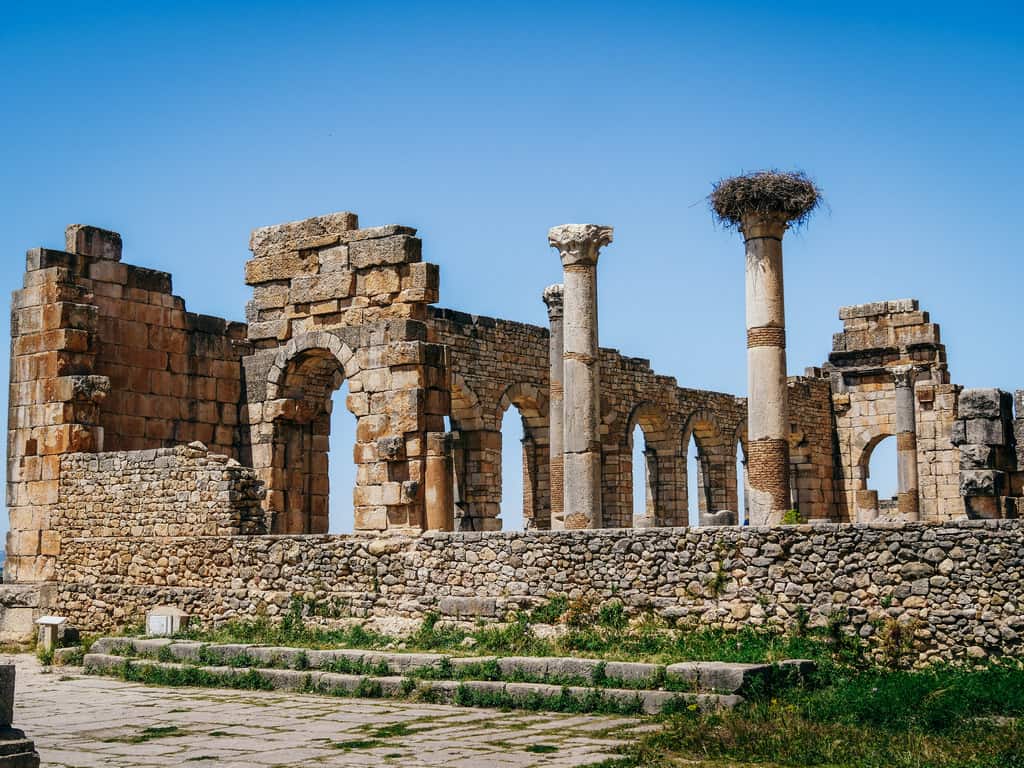 This attraction was worth its entry price…
In this guide to Meknes, I will tell you all about the different things to see and do in Meknes and I'll give you an honest review of what I think are the attractions you should skip. I'll also give you great suggestions about where you should eat and stay while visiting this royal city.
1. Things to do in Meknes
Meknes is a city that is mainly famous for its historical sites. Another thing that is quite appealing about Meknes is that it receives fewer tourists than other cities like Marrakesh and Fez.
In a way, it still feels a lot more authentic and untouched than other cities around the country.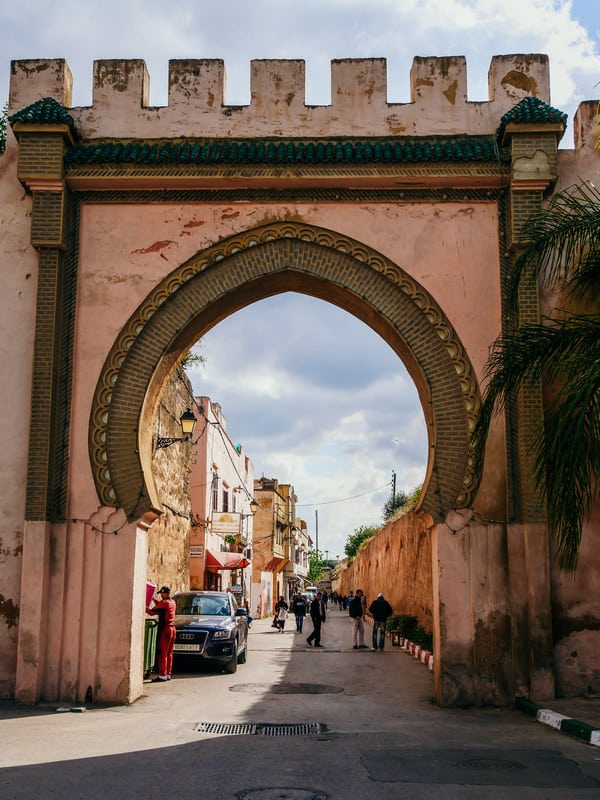 Meknes doesn't receive as many tourists as other cities like Marrakesh or Fez
You can have a lot of fun simply hanging out and getting lost in the small streets of the old city during the evening or bathing in the crowds that gather near place Heddim.
Although Morocco is an Islamic country where alcohol is sometimes hard to get by, Meknes has a very fun and vibrant nightlife in the different bars located in its city center.
Here is a list of different things to do around Meknes:
1) Visit Bab Mansour Laleuj and the other beautiful gates around Meknes
Morocco has an architecture that fascinated me since even before I set foot in the country ( see 13 things that made me fall in love with Morocco). One thing that sets Meknes apart from other Moroccan cities from an architectural point, is the collection of beautiful gates it has.
They are huge and really impressive! The most beautiful one is Bab Mansour right in front of Hedim square. It stands out so much compared to all the other gates around the country that it is considered the most beautiful one in all of Morocco.
Bab Mansour Laleuj
It has very tall columns, ancient arches and intricate turquoise tiles that really give it a unique look.
The original purpose of this gate was to pay homage to the sultan Moulay Ismail so a lot of emphasis was put on its decorative details.
The decorative details of this door are stunning!
Another stunning door that is worth visiting in Meknes is Bab el Khemis. They are both located very close to each other so it's very easy to visit one and then walk directly to the other.
Bab el Khemis is just 15 minutes walking from Bab Mansour Laleuj…
How to get to Bab Mansour in Meknes:
Bab Mansour is located near the heart of the old city right in front of a square known as place Hedim. This is its exact location in Meknes:
And this is where you will find Bab el Khemis:
2) Bou Inania Madrasa
Bou Inania Madrasa was both a school and a mosque. It has an amazing architectural style that looks quite similar to Bab Mansour (same arch patterns and tile arrangements).
Even though it's located right in the center of the old Medina, the inner courtyard of Bou Inania Madrasa remains very calm and serene.
A downside of this historical site is the fact that there is practically no information about the place to be found inside the Madrasa. The entrance fee is also way too high considering that no guide or information was provided (60 MAD for foreigners).
I would suggest reading information online before visiting this mosque as there won't be any to be found on site.
If you are hungry after your visit to the mosque, there are some lovely little food stands when you go out and walk to your left.
This is where Bou Inania Madrasa is located in the old city of Meknes:
3) The royal stables
This was probably a very impressive place when it was filled with thousands of horses (12 000 to be exact) but it has fallen in decay due to poor maintenance.
With an entrance price of 70 MAD per person for the short visit (it's possible to walk around the ruined stables in 15 minutes) we felt completely scammed.
In the end, only Cynthia went in and she was disappointed because there were no information boards and barely anything to see. My advice would be to skip this place until the price is lower.
There are many way more interesting free attractions around Meknes.
Except for providing a bit of cooling shade on a hot summer day, it's pretty much a waste of time. To save yourself the visit, we included a few pictures of the stables here.
If you are adamant on visiting the stables though, here is where they are located in Meknes:
4) The prison of Habs Qara
This is an underground prison where the Sultan Moulay Ismail would keep prisoners far away from the public eye. The prison is so big, it is said that it could contain up to 60 000 prisoners.
Most of these prisoners were slaves that were ordered to work on the sultan's laborious building projects.
The royal stables were built by slaves kept in the prison of Habs Qara…
While this place has so much history, we knew very little when we went in and not much more when we came out.
There was no exhibit or information inside and the visit was absolutely not worth the entrance price (around 60 MAD per person again) I would suggest skipping this place, you won't miss much.
This is where the prison Habs Qara can be found in Meknes:
[kt_box opacity="1″ background="#eded6d"]
Planning a trip to Morocco?
Read: The Ultimate Travel Guide to Backpacking in Morocco
[/kt_box]
5) Hang out at place Hedim
When I visit a new country or a new city, I'm always on the lookout for places where I can soak in the vibe of my new location. Place Hedim (also called Lahdim square) is one of those places.
It's full of people, music, games, and competitions. It's a place where snack vendors rub shoulders with snake charmers and ostriches.
People often say it's a smaller, less chaotic version of Jemma el Fna square in Marrakesh. Although I still found it super busy and noisy, it's the number one place I would recommend visiting in Meknes.
It's the main square of Meknes and it feels in a way like the beating heart of the city. I would recommend visiting it during the evening when the temperature cools down and the square becomes more lively.
You can visit place Hedim and Bab Mansour together as the two locations are very close.
Here is the view of Bab Mansour from place Hedim:
Here is where you'll find place Hedim in Meknes:
[kt_box opacity="1″ background="#eded6d"]
Want to save money on your next trip to Morocco?
Read: Morocco on a budget
[/kt_box]
6) Explore the city by horse carriage
If walking around all the different sites of the city start tiring your feet, another option is to visit the city by horse carriage.
What is so great about visiting the city this way is that you'll have the time to relax while seeing the best attractions of Meknes. You'll be able to reach areas that are far from each other rather quickly and you'll see things that would not be accessible by car.
A quick 30-minute carriage ride of the city's main tourist attractions costs between 100 MAD and 120 MAD. You can find the horse carriage right in front of Bab Mansour.
7) Visit the souk and the old city of Meknes
The Souk and the old city of Meknes are some of the best places to discover the Moroccan culture. The souk in Meknes is not as hectic as the ones in Fez or Rabat but it's still a great place to visit and see the culture from the "inside".
There are a few entrances to the souk and the old medina on the corners of place Hedim.
In the little streets of this open-air market, you'll be able to find leather products from Fez and wooden crafts from Essaouira. Apart from these products, you'll be able to see something that is quite particular to the souk of Meknes: Damasquinerie products.
Damasquinerie is something that is only still practiced in Meknes and more particularly in the open air market of the old Medina.
It's a process where silver is embedded on another kind of metal to create intricately beautiful decorative items.
[kt_box opacity="1″ background="#eded6d"]
Want to learn Arabic?
Read: tips and tricks to learn Moroccan Arabic
[/kt_box]
8) Enjoy an evening in one of the many cool bars of Meknes
Meknes has a relatively large selection of bars given the small size of the city and the fact that it receives a much smaller amount of foreign tourists than other places.
While a few of these bars are designed to serve international customers, some really retain a local flavor.
Here are some of the best bars in Meknes:
Novelty
This bar also serves as a restaurant and it has a great selection of international beers such as Heineken and Budweiser.
They also have good pizzas and Tajines. The first floor is a bar and the restaurant is upstairs.
The atmosphere there is quite friendly and welcoming and it's a place where both men and women can feel comfortable.
This is where you'll find Novelty in Meknes:
Bar Pegale
This is one of the bars in Meknes that caters more to locals than to foreigners. It's a bit hidden in a more residential part of the city. The bar has a lot of imported spirits as well as local beers.
Here is the location of Bar Pegale in Meknes:
Le Pub
This bar is also a restaurant and it's located in the more modern part of the city. They serve Moroccan, European and Asian food and they have a good selection of salads, fish and meat dishes. Food is served from 19:30.
The bar section can get quite noisy at night but it's a great place to dance. They also have a huge choice of drinks and the bar has a retro ambiance.
This is the address of Le Pub in Meknes:
Black Horse
This is the perfect place to eat some grilled meat and some french fries while enjoying a cold beer. They also have very good pizzas and an excellent shrimp tagine.
This is the location of the Black Horse bar:
Le Churchill Bar
This is probably my favorite bar in Meknes. It's inside of a hotel called Zaki hotel and Spa. The staff there is very friendly and the barmaid speaks very well English.
The place has a very relaxing atmosphere with soft background jazz music. The furniture is leather sofas and armchairs that are so comfortable. There's also an outside drinking area. The only downside of this place is the fact that the wine and spirit selection is very expensive.
Here is where you'll find the Churchill Bar in Meknes:
9) Explore Meknes from Fez with a local guide
Because Meknes and Fez are located so close to each other (only 63 km separate the two cities), a lot of people decide to use Fez as a base to explore Meknes. From Fez, it's possible to explore Meknes with a local guide. You can find an overview of this tour on Get Your Guide.
With this tour, you will explore the mosques, museums, monuments, and gardens of the imperial city with convenient return transport to and from your accommodation.
This tour lasts about three hours and you can book it here.
[kt_box opacity="1″ background="#eded6d"]
interested in visiting Fez?
Have a look at its world-famous tanneries!
[/kt_box]
2. Enjoy a few day trips outside of Meknes
Meknes itself is a very beautiful city but two locations just 40 minutes outside of the city are also totally worth visiting. These are the ancient city of Moulay Idriss and the Roman ruins of Volubilis. It's possible to visit these two places back to back as they are located right next to each other.
The visit to Volubilis and Moulay Idriss shouldn't take more than a few hours but because the ride there is about 40 minutes, it would be worth dedicating a day for this trip.
1) Moulay Idriss
The town of Moulay Idriss is quite small but it's considered one of the holiest places in Morocco by Muslims. It is said in Morocco that six pilgrimages to Moulay Idriss are the equivalent of one trip to Mecca.
This is the city where Moulay Idriss arrived in 789 bringing with him the religion of Islam and creating a new dynasty called the Idrisid dynasty.
The ruins of Volubilis are located just 5 km away from Moulay Idriss and this is where most of the material used to build the holy town was taken from.
You can get to Moulay Idriss and Volubilis from Meknes either by public bus, shared taxi or with your own car. If you're more adventurous, hitchhiking there is also possible.
I would suggest getting to the holy city first and then walk the remaining five kilometers to the ruins.
How to get to Moulay Idriss from Meknes by public bus
You can get to Moulay Idriss from Meknes by taking the public bus #15. It leaves from the bus stop near the grand taxi station and it costs 7 MAD for a one-way ticket.
This grand taxi station can be found across from the French Institute, approximately half a kilometer west of the Gare Al Amir Abdul Kader train station.
You can catch bus #15 near Bab el Khemis…
The same public bus can be taken back from Moulay Idriss to Meknes but it only comes around every 30-40 minutes.
This is where the shared taxi station is located in Meknes and near which you can take a public bus to Moulay Idriss:
How to get to Moulay Idriss from Meknes by shared taxi
From the taxi station that I described above, it's possible to take a shared taxi directly to Moulay Idriss. A seat in a shared taxi from Meknes to Moulay Idriss costs 10 MAD but it's also possible to buy all the seats for 60 MAD.
You can also get a round trip to Moulay Idriss, Volubilis and back to Meknes for about 100 MAD.
How to get to Moulay Idriss with your own car
If you have your own car or if you are renting one, I would definitely advise driving to Moulay Idriss. The road is very pleasant and safe and you'll be driving through the beautiful Moroccan countryside.
Only 30 km separates the two locations and you should be there in about 40 minutes.
Here is the way to get there:
2) Volubilis
I'm a huge fan of Roman ruins. I can't really put the finger on what I like so much about them.
It feels therapeutic and soothing somehow to walk in the ruined buildings of this ancient empire.
I know it's weird but there is something about it that I find very calming.
Volubilis is one of Morocco's most significant places of archaeological interest and although the entrance fee is a bit high (70 MAD) I found it was totally worth it!
This ancient city is part of UNESCO's protected sites. It's a place where you see beautiful columns and well-preserved mosaics.
There are also different bathhouses and part of an aqueduct that can be found among the ruins.
While other historical sites around Meknes lack exhibits and information, there are plenty of information boards around Volubilis that explain the purpose of each section of the Roman city.
There is also a small but well-equipped museum right at the entrance of the site that documents the whole history of the ruins.
How to get to Volubilis from Moulay Idriss
Volubilis is located just 5 km from the town of Moulay Idriss, there are signposts on the road indicating the way there from the small town.
[kt_box opacity="1″ background="#eded6d"]
Worried about safety in Morocco?
Read: Is Morocco Safe?
[/kt_box]
3.Where to stay: the best and cheapest homestays and riads in Meknes
When it comes to accommodation, Meknes tends to be much more expensive than other Moroccan cities as far as hotels are concerned.
One of the best experiences you can have in Morocco is staying in a Riad, typical rich Moroccan houses with indoor courtyards and fountains, designed with zellij (Moroccan tiles).
Riads in Meknes are surprisingly cheap (some as low as 20 Euros a night) and they are very beautiful.
Meknes doesn't really have any hostels for budget travelers but a great option for people who want to save money is the Bed and breakfast Maison Olga located in the old Medina.
The city also has plenty of beautiful mid-range guesthouses on Airbnb where you could stay (if you use this link to sign up with Airbnb, you get a 30% discount on your first booking!)
1) Best riads to stay in Meknes
This is a beautiful riad that was lovingly restored. It only has five rooms so it's always very quiet and cozy. The rooms are all very large and they have super comfortable beds.
The food served at the riad is very good and the portions are very generous so it's quite convenient to eat directly there instead of going out.
Getting to this riad is really easy as they are a few signposts indicating its location near Bab Bardaine.
Click to check out rates and availability for "Riad Inspira"
This riad is just 15 minutes from Bab Mansour so it's very centrally located and easily accessed. All the doors of this riad are beautifully sculpted and the whole place is decorated with traditional Moroccan tiles.
They serve a delicious breakfast every day composed of Moroccan pancake with toppings, a sweet bun, yoghurt and two cups of coffee or tea.
Click to check out rates and availability for "Riad Bab Berdaine"
Some riads in Meknes offer delicious breakfasts…
This is a new riad that was recently renovated. It's located right in the center of Meknes near the old city. The best part of this riad is its rooftop terrace that offers a gorgeous view of the surroundings. It's located right next to Bab Mansour, Lahdim square and the souk.
Click to check out rates and availability for "Riad Yanis"
Most riads also have an excellent internet connection, perfect to get some work done…
2) Best budget option to stay in Meknes
This is where Cynthia and I stayed the longest while in Meknes. The hosts Carlo and his wife were very lovely people and they gave us tons of tips and practical information to help us with our visit of the city.
Although this house is located right in the middle of the souk, it's still very peaceful and calm. The rooms are all very large and spacious and we slept super well there.
Another great thing about Maison Olga is the delicious breakfast that is served every day. It's mainly fruits, different kinds of bread, cheese, jam, tea, coffee, and milk.
Click to check out rates and availability for "Maison Olga"
[kt_box opacity="1″ background="#eded6d"]
For a list of cheap accommodation we recommend in Meknes,
read: Best and cheapest accommodation in Meknes
[/kt_box]
4. Where to eat: the best restaurants in Meknes
Meknes has so many good restaurants that it would be impossible to put them all in this guide. These are the ones we tried and recommend:
Aisha
This restaurant has some of the best food in all of Meknes. They offer traditional Berber dishes and Moroccan specialties.
Although the restaurant is small, it feels very authentic and it gives the feeling of eating at a friend's home. What the restaurant lacks in space is made up for by the great ambiance and the hospitality of its owner.
They have very tasty salads, great soups, and excellent Tagines.
To make sure there will be space when you arrive, I would recommend calling ahead of time and making a reservation at the following number: +212 620-574730
La Maison de la Pizza
This is a great place if you're in the mood for some Italian food while in Meknes. They have a very good selection of pizzas all freshly made and some good wines.
Restaurant Baraka
This is a restaurant with excellent service. The meals are traditional Moroccan food (tagine,harira, and couscous) but the portions are all very big.
It's owned and run by a Moroccan family and they will gladly answer all your question about the city and advise on some places to visit around Meknes.
Chez Kenza
This restaurant is a bit hard to find but the excellent prune chicken tagine they serve makes getting there absolutely worth it.
5. How to get to Meknes
Since most people arriving in Meknes will be coming from Fez (the two cities are super close to each other), I decided to include practical information on how to transit between the two destinations.
How to get to Meknes from Fez by bus
The two easiest ways to get to Meknes from Fez is either by bus with the company CTM or if you're not short on time, by train. Trains in Morocco are quite comfortable but apart from the high-speed train between Casablanca and Tangier, they tend to be rather slow.
I've traveled around Morocco with different bus companies and I have to say that CTM although being slightly more expensive than other bus providers, has much more comfortable vehicles.
The trip between the two cities costs around 25 MAD and takes one hour.
The CTM bus station in Fez is located in place Atlas (see map below).
You can reserve your ticket in advance at the bus station or book it online. However, if you book your ticket online, you still have to go to the CTM office to pay for your luggage on the day of departure so make sure you arrive at least 30 minutes in advance.
This bus will bring you to the CTM station in Meknes located West of the Ville Nouvelle, a couple of blocks from the main train station.
How to get to Meknes from Fez by train
Another very good option to get to Meknes from Fez is to go by train. Moving around Morocco by train is a good idea because they're inexpensive and they are the perfect way to see the incredible Moroccan landscapes.
Make sure to bring cash to buy your ticket as it's not always possible to pay by debit or credit card. Trains take around 45 minutes to reach Meknes from Fez and the ride costs 32 MAD.
This is where the train station is located in Fez:
Once you arrive in Meknes, you'll need to take a taxi if you want to reach the old city where most of the interesting sites are located.
Trains in Morocco are very comfortable…
How to get to Meknes from Fez by shared taxi
A seat in a shared taxi from Meknes to Fez will cost 25 MAD. It takes about one hour to cover the distance between the two cities by taxi.
These taxis leave Fez from in front of the main bus station (just outside Bab El Mahrouk).
How to get to Meknes from Fez with your own car
If you are in Morocco with your own car or if you are renting one, driving directly to Meknes will be much more convenient than getting there by taxi, bus or train.
The distance between the two cities is only 63 km and getting to Meknes should take around an hour if you follow highway A2.
Here is the way to get there:
[kt_box opacity="1″ background="#eded6d"]
Are you looking for a car to rent in Fez?
[/kt_box]
I hope you enjoyed reading this guide to Meknes and that it will help you plan your trip to this beautiful historical Moroccan city.
Have you been to Meknes already? What did you like the most about this city? Are you planning on going soon and do you have more questions? Let us know in the comments below.
*This article contains some affiliate links. If you book a hotel/hostel or purchase one of the recommended tours through our website, we'll receive a small commission at no extra costs for you. This way you're helping us writing more informative and awesome guides like this. Thank you!
KNOW BEFORE YOU GO – MOROCCO TRAVEL TIPS:
Everything you need to know about traveling independently in Morocco :
Planning to rent a car in Morocco? Read this first:
A few travel and safety tips for Morocco:
Planning to travel to Morocco during Ramadan? Read this first:
How is it to travel to Morocco during Ramadan?
Hiking, surfing and nature trips in Morocco:
Our Moroccan city guides:
MOROCCO TRAVEL RESOURCES: