This article covers everything you need to know if you plan to visit Merzouga and the desert in Morocco. You'll find information on how to get to the Merzouga desert village and where to stay to free activities and things to do on a budget, including a desert trip and camping in the Sahara desert in Morocco.
Post originally published in December 2018. Updated in February 2021.

Who has never dreamed of sleeping in the Sahara cozily nestled between sand dunes while looking at the stars?
The desert has always inspired me and when I was young, I often imagined myself riding camels between the sand dunes of some far away country. I dreamed of sleeping under the stars in the desert while drinking tea next to a campfire.
Merzouga in the southern region of Morocco was the perfect place for me to live all of these fantasies. It's a small town in the Sahara desert in Morocco, not too far from the Algerian border. It's known as the door to Erg Chebbi, a huge stretch of sand dunes south of town.
Merzouga is such an iconic place to visit in Morocco that it's considered one of the best destinations in the country!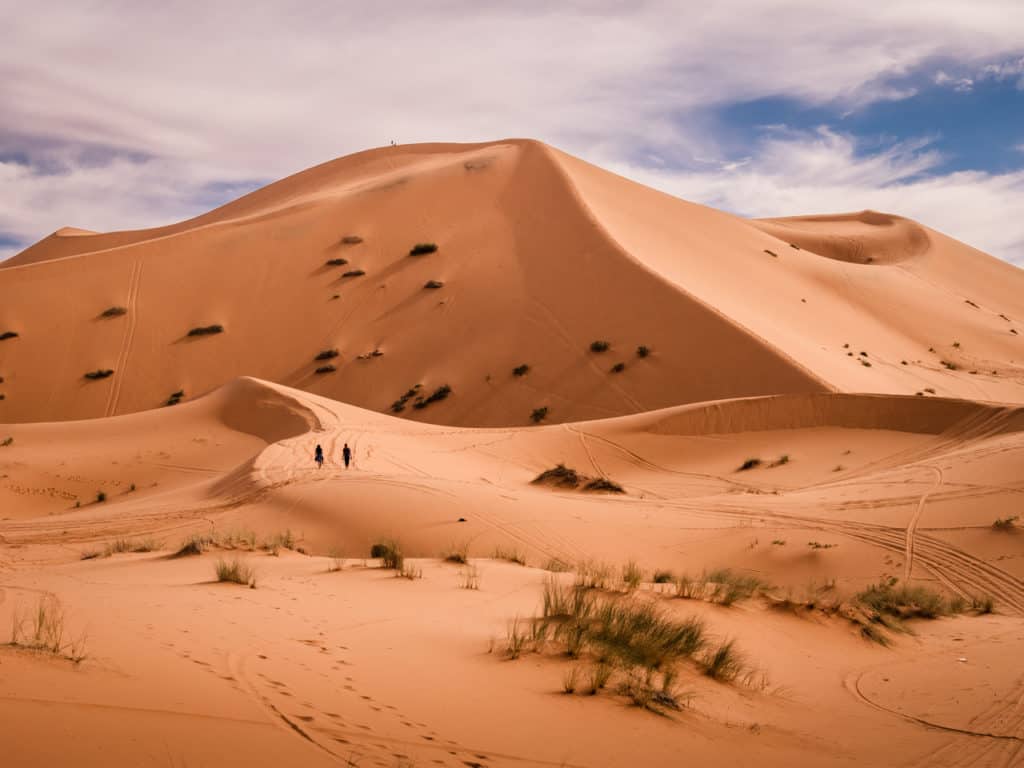 Erg Chebbi, Merzouga
I was there five years ago and couldn't resist visiting this charming little village once more this year. I pitched my tent in the desert, got lost between the dunes, drank plenty of tea and saw more camels than I could imagine.
The best part is that it was super easy to get there and I did all of these activities without spending a fortune. If you want to experience the beauties of the Sahara desert without breaking your piggy bank, this is the place to visit.
Planning a trip to Morocco? Read everything you need to know in the
I wrote this guide to help you plan your trip to this gorgeous desert village, covering almost everything I could think of so you can get the most out of your visit to the Sahara desert.
Disclaimer: Some of the links in this article are affiliate links. If you make a purchase through them, I'll receive a small commission, at no extra costs for you. This way you're helping me running this website and writing more informative and awesome guides like this. I only recommend products and services that I like and trust. Thank you! 
---
1. Things to do in the Desert in Morocco near Merzouga
Merzouga is a calm and quiet town in the Sahara, yet it offers a surprisingly big amount of cool fun activities.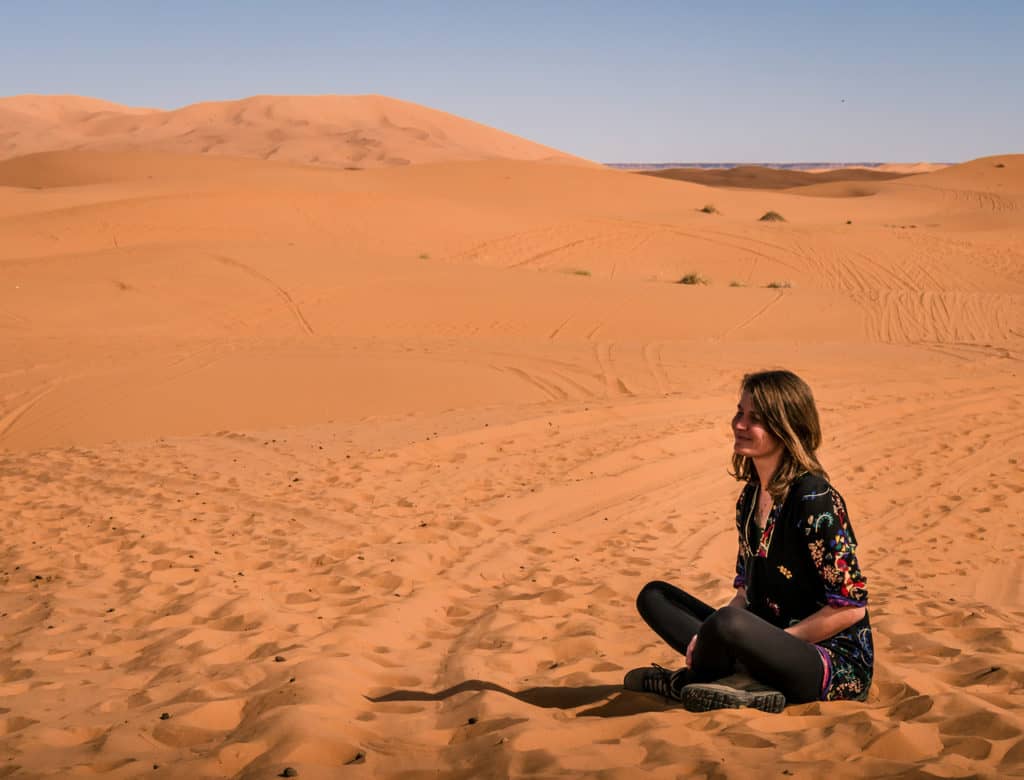 Or … you can just relax and enjoy the peaceful energy of the desert
The best time of the year to visit Merzouga is in spring between the months of March and May, or in fall between the months of September and November.
During these periods, the weather isn't too hot and you'll be able to enjoy your time in the desert much more. The temperature in summer reaches highs of 40°C (104°F ) and it rarely drops below 26.7°C (80°F) at night.
Regardless of the time of the year you visit Merzouga, always cover your head to avoid getting sunstroke. Sun protection is vital.
It could be a good idea to cover yourself with a wide-brimmed hat or a bandana. To avoid losing a lot of water through sweat, a good clothing option to spend time in the desert are light-colored long-sleeve shirts and pants.
My Canadian friend Simon is not really setting a great example here…
Also, make sure to always drink plenty of water while you visit the desert. The general rule is to drink at least a gallon a day—and you should double that amount if you are going on long walks.
No matter what time of the year you visit this village (although I wouldn't recommend summertime, it's just way too hot then), you'll always find plenty of cool things to do.
Here is a small list of super fun activities you can do in Merzouga, whether you are a budget traveler like us or whether you prefer to travel a bit more luxuriously. Since Merzouga is the perfect place to do many free activities, I really encourage you to try these first.
Free Things to do in Merzouga
1. Pitch your tent between the dunes in the Sahara desert
This is, in my opinion, one of the best free activities to do in Merzouga. For a lot of people, camping means hiking to the heart of a lush forest, perhaps near a pristine alpine lake or on the shores of a fast-flowing river.
Many imagine the desert as a vast and arid place where they would never pitch their tent. It's true that the desert can be quite inhospitable, however, that's not the whole picture.
I witnessed some of the most beautiful sunsets in my life right from the side of my tent in the desert of Merzouga. Seeing the sun gradually disappear between the dunes while it paints the arid landscape with warm shades of colors was quite a spectacle.
Dawn in the desert is also a beautiful sight, as the sun's first rays begin to diminish the night chill and you feel the air warming up.
Camping in this Moroccan desert is a really fun experience but it does require a bit of planning. Make sure you have a good tent, a thick floor mattress ( the desert sand becomes cold as ice at night) and a warm sleeping bag.
The temperature in the desert cools down very quickly at night so if you want to sleep well it's important to have warm layers under and over your body.
When the sun starts to set in the desert, you're in for a treat!
2. Walk to the top of the highest sand dune
The desert near Merzouga is known as Erg Chebbi. It's a huge area filled with sand dunes south of town. Out of all the sand dunes that can be seen from the village, one particularly stands out. It's much higher than all the rest of the desert and looks like a huge mountain of sand.
Reaching the top of this dune from the center of town takes about one hour. Be aware that climbing in the sand is not so easy, so bring a lot of water with you and avoid going there around noon.
The best moment to go there is right before sunset. Watching the sun slowly disappearing over the horizon from the top of this dune is a spectacular sight and makes the long and strenuous climb really worth it. I recommend you bring a blanket with you if you go at that time as the temperature will drop very quickly the moment the sun disappears.
Climbing to the highest sand dune of Erg Chebbi
3. Admire the stars from the desert
There is no better place to admire the stars than from the desert itself. Since Merzouga is a small town, the sand dunes around it receive almost no light pollution, making this a prime stargazing location.
I was amazed by how clear the milky way appeared above us and how bright and big the stars seemed to be. It was a really soothing experience to see millions of lights above us in all directions and the best part is that it was completely free.
If you would like to admire the stars through the lens and optics of a powerful telescope in Merzouga, there is a company that can help you do just that!! This company is called Morocco Desert Stargazing and they organize awesome trips to the desert where you can watch the stars from their telescopes.
If you fancy beers in the desert under the night sky while admiring the stars, it's possible to get some at Auberge Kasbah Merzouga. This hotel is located right at the edge of the desert so it's a really good place to grab a few beers on your way to the dunes.
Always remember, however, that drinking in public in Morocco is prohibited and in general, being drunk outside is never a great idea.
4. Walk around Dayet Srji – a seasonal salt lake west of Merzouga
As we were hitchhiking towards Merzouga, a few Moroccan drivers told us we would be able to see flamingos next to this southern village. Flamingos in the desert!? I couldn't believe what I was hearing.
I thought it would be impossible to find a lake (and birds) in such an arid location. But we found the lake and it was surrounded by herds of camels that were there to refresh themselves in the cool water.
The lake is called Dayet Srji and it's located West of Merzouga. It can easily be reached by walking and it takes about 45 minutes to get there on foot from the village.
The lake is often dry in summer but when full (usually during winter), it attracts all kinds of migratory and desert birds including flamingos (unfortunately, we didn't see them while we were there).
Dayet Srji is also a great place to watch the sunset and many Moroccan families will spend the winter evenings on the shores of this lake having a picnic with their loved ones.
Or… you could have a picnic with your beloved camel…
Things to do in the sahara desert in Morocco on a budget
Aside from the free things you can do independently, Merzouga offers a plethora of cheap activities that almost every budget traveler will love.
From sandboarding between the dunes to going for a ride in a 4×4 in the desert, we guarantee you won't run out of cool things to do in this desert village.
1. Sunset camel ride in the desert
There are various companies in Merzouga offering camel rides throughout the whole day and they are generally not too expensive.
For the travelers who are fascinated with the ancient African camel caravans, this is the perfect opportunity to feel like a nomad for a couple of hours.
Although these treks are possible during the whole day, the best time is at sunset. Short camel rides to the desert that do not include an overnight camping in a luxury camp are relatively cheap.
They start at around 17 USD per person for two hours with a private guide.
Almost every hotel or hostel in Merzouga can organize a private camel trek to the desert with a guide so if this is something you would fancy make sure to tell your hotel manager about it.
These short camel rides can also be super romantic so it's the perfect idea if you are traveling with your significant other.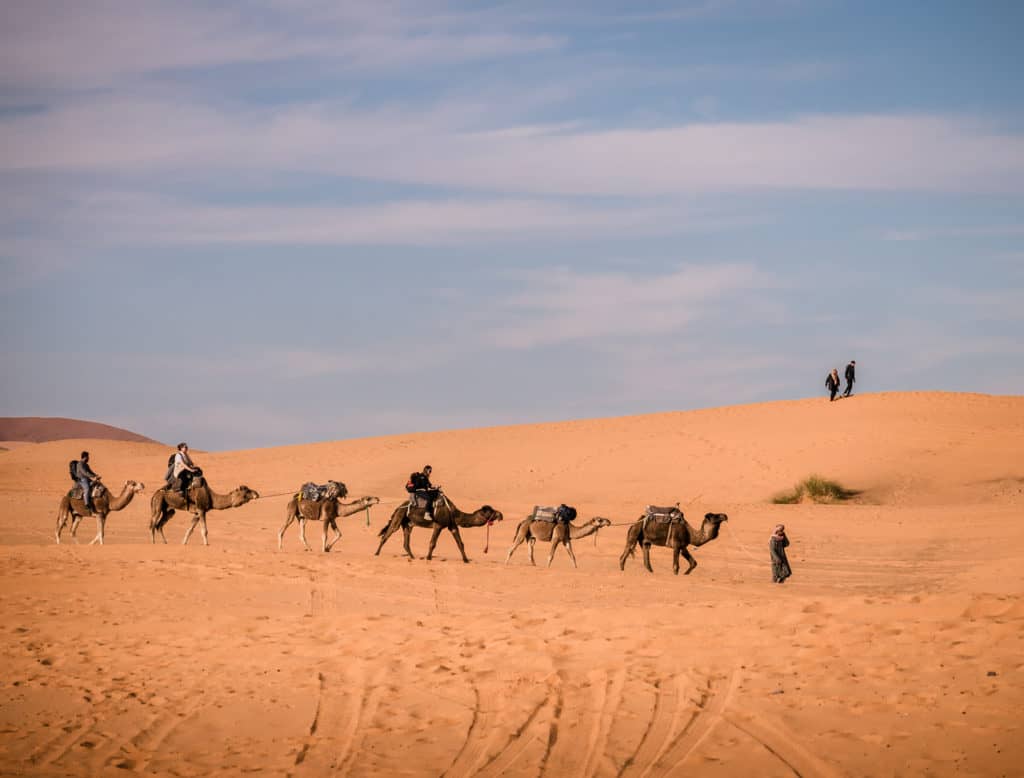 2. Sandboarding in the dunes
If you want to discover the desert in a more "alternative" way and get covered in sand in the process, you should try sandboarding. Although this activity looks at first glance as something that could be dangerous, it's actually super safe.
The sand dunes of Erg Chebbi in Merzouga are really soft so you shouldn't fear falling down. This is also a great activity to do with kids but make sure to cover your eyes with goggles to avoid getting sand in them.
Imagine the thrill of sliding down a dune at full speed while standing on a board. This is what we did in Merzouga with other travelers that were staying in our hostel and we had such an awesome day.
There are some tents near the entrance of the desert right next to Auberge Kasbah Merzouga where you can rent boards for the price of 100 MAD for the whole day. There is also a shop directly on the main street in town next to the mosque where you can rent sandboards for 50 MAD per day.
Tip: Ask other travelers at your hostel if they want to join as this is an awesome activity to do with friends.
3. Going for a ride in a 4×4 in Erg Chebbi
Although this activity is not as traditional as riding a camel through the dunes, nothing beats the feeling of zooming up and down through the desert in an off-road vehicle.
The guides operating in Merzouga are all quite young but don't let their youthful appearance fool you. These guys are all very experienced guides and they know the desert like the back of their hands.
It's possible to go on a short 2-hour trip in a 4×4 or go on a full day trip with a private guide to some nearby Berber villages and then to the dunes.
This day trip is a great choice because it gives you the chance to discover traditional Berber music and dance, and have the opportunity to try their instruments and learn to play some desert music of your own!
You'll also get to visit a Berber family in their tent for lunch. You'll learn how they live in their tents with their goats, sheep and working donkeys, as well as how to prepare a Berber pizza on the fire.
Check out the prices for this day trip here.
4. Listen to traditional Gnawa music in Khamlia
The Gnawa are an ethnic group inhabiting Morocco and they have some of the most beautiful traditional music you will hear while visiting the country. The ancestors of the Gnawa people were brought from Central and West Africa as slaves through the Sahara desert in caravans that eventually arrived in the southeastern part of Morocco.
One village where you can discover this culture is Khamlia. It's located just 7 km south of Merzouga. The town itself is quite small with a population of 390 people of Gnawa and Berber origins. Khamlia is located right next to the Erg Chebbi dunes.
It's possible to reach the village by shared taxi or to drive there if you have your own car. There are two Gnawa musical groups that receive tourists and play music for them in Khamlia.
One of the two groups is called Bambara and the other group is called Pigeon des Sables. You can go anytime you want and you don't need to reserve in advance. They have signs on the side of the road advertising their business and they will play for you even if you are alone.
Although they don't ask for money, it's a nice gesture to give them some if you enjoyed the music and you can also buy a CD to support them and help them continue sharing their culture with the world.
Booking a camel trek and luxury camping tour in the Sahara desert near Merzouga
You might prefer joining a Sahara desert tour during which you'll go by camel to a beautiful camp in the desert where you'll spend the night. There are a lot of companies offering such tours.
I recommend checking out Sahara Holiday Tours as they also offer desert tours from Marrakech, Fez, and Casablanca to Merzouga, which might come in handy if you don't have much time.
Here are the experiences of my friend Jacomijn from Safe and Healthy Travel who booked a luxury camping tour.
Jacomijn from Safe and Healthy Travel
When I thought about going to Morocco for the second time, one thing was at the top of my list. I wanted to go into the Sahara and spend a night there!!
I flew to Fes and spent a perfect day getting lost in the old medina. There are lots of trips to be booked to the Sahara including the night in a luxury tent…which I wanted of course!
Photo by Jacomijn (Safe and Healthy Travel)
I love the serenity of the desert. Nothing around you, just the sun to warm you in those last hours of the day… Of course, making some fun pictures in the desert is part of the trip. Every guide will help you with that!! They have got some great ideas too.
After the sunset, we got to our Luxury Camp, Quiver Desert Camp. It was just the best!! I could not have asked for more!
We even got a real bathroom with a hot shower in our tent!! At night we had a bonfire and the morning started early with again a great show given to us by the sun!!
Photo by Jacomijn (Safe and Healthy Travel)
Tip: I went to the desert camp by camel and returned by jeep. You can also request to go by quad, which I would have loved to do (but I only realized this afterward).
---
2. What to wear and bring on a Sahara Desert camel trek in Merzouga
If you're planning on spending some time in the Sahara desert and you are wondering what to wear and bring, remember this: when in Morocco do as the Moroccans do.
A complete packing list for a trip to the desert
As the temperature varies a lot between day and night in the desert, it's important to wear clothes that serve many purposes and that are above all very functional.
Here's an overview of clothing and items to bring on a trip to the desert in Morocco.
A scarf will be your best piece of clothing in the Moroccan desert for various reasons.
First of all, you'll be using it to cover and protect your face from the sun and the sand. If your scarf is long enough, it will also cover your shoulders. If you don't want to risk a sunstroke, remember to cover your head well. Another advantage of the scarf is that it can serve as a blanket if you want to lay down on the sand.
If you go on a tour with a Berber guide, you could also ask him to fold it and tie it on your head in the traditional way.
We recommend this Shemagh Scarf made of cotton.
With the type of weather you will encounter in the desert, it's much better to wear large flowy pants. These pants will dry quickly if you sweat and are not as heavy as jeans or as other types of pants. The best pants are those that are made of cotton or linen, these materials are top choices for a breathable fabric to wear in hot weather conditions.
We recommend the CandyHusky light pants, not only will you feel good wearing them, they also look super awesome!
If you want to protect your eyes from the intense light that will be present throughout the day, it's important to bring a good pair of sunglasses with UV protection. These will also protect your eyes from the small dust particles the wind carries.
Bringing Merino wool socks to the desert may sound a bit counter-intuitive but believe me, it gets super cold at night! I completely forgot to bring warm socks the first time I camped between the dunes in Merzouga and my feet were so cold I couldn't sleep at all.
I recommend you bring more than one pair of these super hot Merino wool socks to the desert, you'll have warm feet and a good night of sleep.
As soon as the sun sets over the horizon, the Moroccan desert will become very cold so if you're planning to spend the night in the desert make sure to bring a warm sweater or two. I recommend this warm sweater lined with sherpa fur if you want to be prepared for the cold nights in the Sahara.
Something I definitely have to warn you about: the sand literally gets everywhere! So watch out with the electronics you bring to the desert, including your phone and camera.
Luckily, Cynthia has the Lumix G90, a camera with a weather-sealed and dustproof body, ideal for any outdoor situation!
However, she strongly suggests not to change lenses while you're out in the desert. Use a lens that is versatile enough to capture the beautiful scenery (she used the Panasonic Lumix G Vario Lens, 14-140MM, F3.5-5.6 for the photos in this post).
She also highly recommends that you clean your camera thoroughly once you're back in the dust- and sand-free room of your hostel or hotel.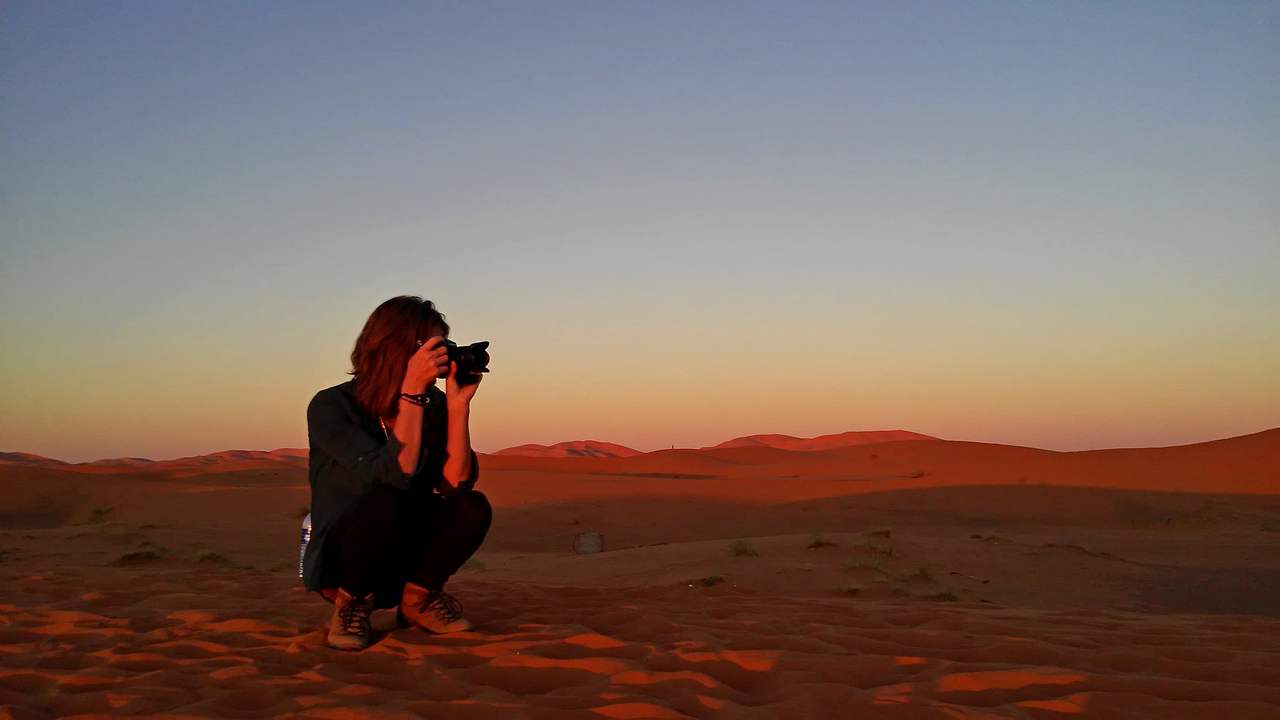 ---
3. Where to stay in Merzouga
Merzouga is a village that offers a wide range of hostels, beautiful Kasbah hotels that are decorated with Berber artifacts and luxurious desert camps. Depending on your needs you will find a place to stay that will match your budget.
Since Cynthia and I are budget travelers, I will mainly focus on the budget hostels in Merzouga, but I will also cover some hotels and desert camps that were recommended by fellow travelers.
Best budget hostels of Merzouga
Staying in a budget hostel is a great idea if you want to meet other young travelers and exchange travel stories with them. While these budget hostels don't offer the luxuries of bigger hotels, they often include a kitchen where you can cook your own food and a common room where you'll make new friends.
Here are some of the best budget hostels and budget guesthouses in Merzouga.
Hostel Hassan is definitely the place to stay if you want to meet other travelers. While we were there, we met many backpackers from all around the world. This hostel provides a kitchen where you can cook your own meals during the day and a delicious free breakfast served every morning.
This property is located at about 3.4 km from lake Dayet Srji where you can observe pink flamingos.
If you travel with your tent, it's also possible to install it in the hostel's backyard. If you want quality company and a friendly atmosphere while being away from home, Hostel Hassan is the place for you.
It's also possible to organize a camel trek tour to the desert combined with an overnight stay in a desert camp for only €37 per person directly at the hostel.
Click to check out rates and availability for "Hostel Hassan"
This beautiful hostel features barbecue facilities, a terrace, and a beautiful garden. It's the ideal place if you want to relax in the garden with a bit of shade. Guest rooms at the guesthouse are equipped with a comfortable seating area where you can enjoy a quiet evening after long walks in the desert.
A continental breakfast is served every morning at the property.
Click to check out rates and availability for "Hostel Back Home"
Located within 458 m of Camel Trekking Company in Merzouga, Dar Gamra has a terrace and a shared lounge. At the inn, every room comes with a patio with a beautiful mountain view, some rooms at Dar Gamra will also provide the guests with a lake view.
A breakfast is available every morning on location and includes a continental, buffet and American options.
Click to check out rates and availability for "Dar Gamra"
Best hotels in Merzouga
These hotels are all a bit more luxurious. They are ideal places to stay if you are traveling with your significant other or if you are in Merzouga on your honeymoon. Some of them will provide a pool.
Auberge Camping La Liberté has a very good restaurant and a delicious breakfast served every morning. This hotel is located very close to the sand dunes and organizes camel and 4×4 tours in the desert.
Click to check out rates and availability for "Auberge Camping La Liberté"
Located right beside the desert of Erg Chebbi, Auberge Les Roches has a beautiful interior courtyard where you will find palm trees and a pool. BBQ facilities are available in the hotel and free Wi-Fi access is provided in public areas.
The guest rooms are decorated with traditional Berber carpets and designs. They all offer either a beautiful view of the sand dunes or of the terrace. Each room has a private bathroom that comes with a shower and a toilet.
The center of Merzouga is a 10-minute walk away from this hotel while you can find an oasis just 20 minutes away.
Click to check out rates and availability for "Auberge Les Roches"
This Riad is probably the most luxurious place in this lineup. It is set in the Moroccan desert a bit outside of town. This air-conditioned riad is located near Lake Dayet Srij. It has a beautiful rooftop terrace with views over the sand dunes, a pool filled with fresh water and free Wi-Fi access
All of the air-conditioned guest rooms have a traditional Moroccan style and are decorated with mosaic tiles. The private bathrooms include a hairdryer.
A huge buffet breakfast is served every morning at Riad Ali. Traditional recipes such as tagines and couscous are served in the restaurant.
Click to check out rates and availability for "Hotel Riad Ali"
Best desert camps in Merzouga
Spending the night in a luxury camp among the sand dunes of Erg Chebbi is a once in a lifetime experience.
Imagine yourself relaxing and gazing at the ever-changing colors of the desert as the sun is setting behind the dunes while hearing traditional Gnawa music. Sleeping in these camps is perfect for honeymooners, solo travelers and small groups of friends seeking uncompromising privacy and the calmness of the desert.
In this section, I will cover a few of the best desert camps in Merzouga, starting from the most inexpensive ones to the high-end luxurious options.
Before you go on a camel trek to the Sahara, you have to remember one thing: there is a huge difference between the budget desert camps and the luxury ones so make sure you know exactly what will be provided in your camp.
First be aware of the sleeping arrangements. Will you sleep in a bed with covers or would it be preferable to bring your sleeping bag? It's also good to double-check if the tent will be heated and if dinner will be provided at the camp.
Almost every hotel or hostel in Merzouga offers and organizes their own camel tours in the desert and overnight stays at their own private desert camps.
It's best to first talk with your hotel owner to see what kind of tour they can organize for you. If, however, you would like to book your desert tour ahead of time, here are great desert camps to consider.
This desert camp is one of the most inexpensive one in Merzouga but it still provides cozy beds with warm bed sheets and a delicious breakfast and dinner if you book these options. Each tent has a carpeted floor making them warm and cozy. A shared toilet is also available on site. It's also possible to have a shower and breakfast at the main house, in Merzouga.
This desert camp offers trekking by foot, on camel, by quad or 4×4.
Click to check out rates and availability for "Camel Trek Bivouac"
This gorgeous luxury camp is set up in a way that reflects both the beauty of the desert as well as the traditional nomadic culture of the region. It offers all the luxury of your home while being completely remote from the rest of the world.
This luxury camp has accommodations with free WiFi a bathroom and a shower and the rooms are absolutely gorgeous! A very big buffet breakfast is also available every morning at the camp.
It's a great place to stay between the dunes, it's comfortable and relaxing at the same time and you will love the breakfast and dinner cooked here.
Click to check out rates and availability for "Sirocco Luxury Camp"
This luxury camp will offer you an escape from the crowds of the cities and let you relax in a beautiful pristine environment. Apart from your guide and your travel companions, the only other people you will encounter during your stay are the native nomads that call this arid but beautiful environment their home.
The tents of this camp are gorgeously decorated with traditional Berber carpets. This camp has a BBQ and a children's playground so it's ideal for families.
Click to check out rates and availability for "Golden Camp"
Photo by Jacomijn (Safe and Healthy Travel)
---
4. How to get to the Sahara desert near Merzouga
Getting to Merzouga is a lot easier now than it was 5 years ago. The road to get to the village is now completely paved. Although there aren't any trains going there yet, it's possible to reach this desert village either by bus or with your own car. In this section, I'll explain how to get there from nearby popular cities.
How to get to Merzouga from Marrakech
Traveling from Marrakesh to Merzouga by bus is quite a long journey (about 12 hours) so my best advice would be to cut this trip in two. I would suggest staying either in Ouarzazate for a day where you can visit an ancient mud Kasbah called Ait Ben Haddou or in a city called Tinerhir where you can visit stunning rock gorges.
Getting a bus out of Marrakech is really easy. You can find a Supratour or a CTM bus to Ouarzazate or Tinghir at the main Marrakesh bus station. This bus station is located almost adjacent to the train station in Marrakech.
The ticket prices for these 2 bus companies are almost the same and the CTM timetables and ticket prices can be found online. The trip from Marrakech to Ouarzazate takes 4 to 5 hours and this will usually include a break somewhere along the way while the trip to Tinerhir will take a bit more than 6 hours.
I suggest spending at least a full day in either one of these two places before continuing your journey south towards Merzouga. The bus stations with buses going in the direction of Merzouga in Tinghir and Ouarzazate are very easy to find.
The Supratour bus from Ouarzazate to Merzouga costs 200 Moroccan Dirhams while the bus from Tinghir to Merzouga should cost a lot less.
Getting to Merzouga from Marrakesh by car
If you are traveling around Morocco with your own car or if you decide to rent one, it means you can plan your own route, take breaks wherever and whenever you please and get to know the country in a much more intimate way.
To get from Marrakesh to Merzouga you will have to follow highway N9 and highway N10. This route will take you the cities of Ouarzazate and Tinghir, two stops I absolutely recommend.
How to get to Merzouga from Fez
Getting to Merzouga from

Fez

by bus
There are a few bus stations in Fez where you can catch a bus towards Merzouga but the main one is called the Gare Routiere Boujloud. It is situated just on the side of the main peripheral highway( highway R501).
To get there exit the old city through the blue gate also called Bab Boujloud. From there walk across the square until you arrive at Bab Mahrouk. Cross this old gate and turn right into the downhill road, the bus station will be on the next access road to your left.
There are CTM and Supratour buses going from Fez to Merzouga but this bus journey is quite long. Some good options could be to stop halfway in Errachidia or to take an overnight Supratour bus from Fez to Merzouga and get some sleep on the bus.
There is a Supratour bus that departs from Fez at 8:30 pm and arrives in Merzouga at 7:15 am the next morning. All the prices and timetables can be found on the Supratour website.
Getting to Merzouga from Fez by car
If you have the luxury of traveling by your own car or if you are renting one, the road from Fez to Merzouga will take you along gorgeous olive plantations, beautiful deserts and is definitely a pleasant drive.
The driving distance between Fez and Merzouga is 469 km and it should take around 7 hours to reach the southern town. Driving from Fez to Merzouga is a great idea if you have the time and if you want the freedom to stop along the road and take great pictures. To reach this desert village simply follow highway N13 towards the South.
---
5. Other cool places to visit near Merzouga
Merzouga is the ideal place to visit a small part of the Sahara desert. If you still want to explore more interesting parts of Morocco, Merzouga is not far from some other awesome Moroccan destinations.
1. Tinerhir and the Todra gorges
Tinerhir is a city in the region of Drâa-Tafilalet, Northwest of Merzouga. The city is famous for its huge rock gorges that receive avid rock climbers every year. Tinerhir is also famous for its beautiful palm grove that covers more than 30 km and a handful of abandoned mud Kasbahs.
How to get to Tinerhir from Merzouga
Tinerhir is located 200 km North-West of Merzouga and driving between the two cities should take about 3 hours. It's also possible to take a Supratour bus in the morning from Merzouga to get there.
If you have your own car, simply follow highway N13 going North from the desert town until it reaches Rissani. From there, follow highway N12 west. Once you reach Alnif, take route 113 North and you will reach Tinerhir shortly after.
2. Dades Gorges
The Dades Gorges are a series of gorges carved out in the mountain by the Dades River. This river comes from High Atlas mountains and flows for about 350 km southwest before joining the Draa River at the edge of the Sahara. It's the ideal place for mountain hikes and rock climbing. It's also located near Tinghir and the Todra gorges.
How to get to the Dades Gorges from Merzouga
To get there from Merzouga, you will have to first pass through Tinghir. Take highway N12 all the way to Tinghir and then continue west on highway N10. Once you reach Boumalne Dades, take route R704 North.
The Dades Gorges are located 270 km Northwest of Merzouga and getting there will take about 4 hours.
3. Ait Ben Haddou
Ait Ben Haddou is an ancient fortified mud-brick village located between the Sahara and Marrakech. It's a place known as a Ksar- the North African term for "Berber castle".
This village is one of Morocco's World Heritage Sites and was used as a set in the TV-series Game of Thrones to portray the slaving city of Yunkai that Daenerys Targaryen laid siege to.
This old fortified village is located just 30 km north of Ouarzazate so it's ideal to visit both and then continue towards Marrakech if you are coming from Merzouga.
How to get to Ouarzazate and Ait Ben Haddou from Merzouga
It's possible to find a Supratour or a CTM bus that leaves Merzouga early in the morning and goes all the way to Ouarzazate. Ait Ben Haddou is located only 30 km north of this city so from there it's easy to find a shared Taxi.
If you have your own car, you will love the landscape as you drive there. Simply follow the highway N12 direction North-West until this highway becomes highway N9. Follow it until you reach the city of Ouarzazate. This city is located 368 km North-West of Merzouga and reaching it should take about 5 hours. Once you're there you can continue North for about 30 km to reach the fortified village.
---
One small note I would like to add at the end of this guide is how useful an Arabic phrasebook has been for me to get by around Morocco. I highly recommend getting your hands on the Lonely Planet Moroccan Arabic Phrasebook.
It is packed with all the essential words and phrases you will need on your trip to Morocco and will help you in every situation — from finding a hotel room to ordering tajine or joining the local festivities this book will cover almost every situation you could imagine.
I hope this guide to Merzouga will help you during your stay in this gorgeous desert village. Have you been to Merzouga already or do you plan to go soon? Let us know in the comments below.
All photos in this post were taken by Cynthia (unless otherwise stated). Check out her Morocco Photo Gallery for more stunning images of Morocco!
KNOW BEFORE YOU GO – MOROCCO TRAVEL TIPS:
Everything you need to know about traveling independently in Morocco :
Planning to rent a car in Morocco? Read this first:
A few travel and safety tips for Morocco:
Planning to travel to Morocco during Ramadan? Read this first:
How is it to travel to Morocco during Ramadan?
Hiking,surfing and nature trips in Morocco:
Our Moroccan city guides:
MOROCCO TRAVEL RESOURCES:
KNOW BEFORE YOU GO – MOROCCO TRAVEL TIPS:
Everything you need to know about traveling independently in Morocco :
Planning to rent a car in Morocco? Read this first:
A few travel and safety tips for Morocco:
Planning to travel to Morocco during Ramadan? Read this first:
How is it to travel to Morocco during Ramadan?
Hiking,surfing and nature trips in Morocco:
Our Moroccan city guides:
MOROCCO TRAVEL RESOURCES:
Related Posts