Are you worried about safety in Morocco? We'll show you that Morocco is safe as long as you follow common sense. This article contains all the safety information you need to know about Morocco to enjoy your trip there in 2020.
Morocco is a country that I deeply fell in love with and that I keep going back to. From the first moment I stepped foot in Morocco five years ago, I was completely mesmerized by its culture, landscapes, and cities.
The country is the ideal destination for low-budget traveling style, there are tons of fun activities to do like camping in the Sahara desert, visiting gorgeous waterfalls like the Akchour waterfalls near Chefchaouen or the Ouzoud waterfalls near Marrakech and rock climbing in the Todra Gorges.
Morocco is truly a backpacker's paradise.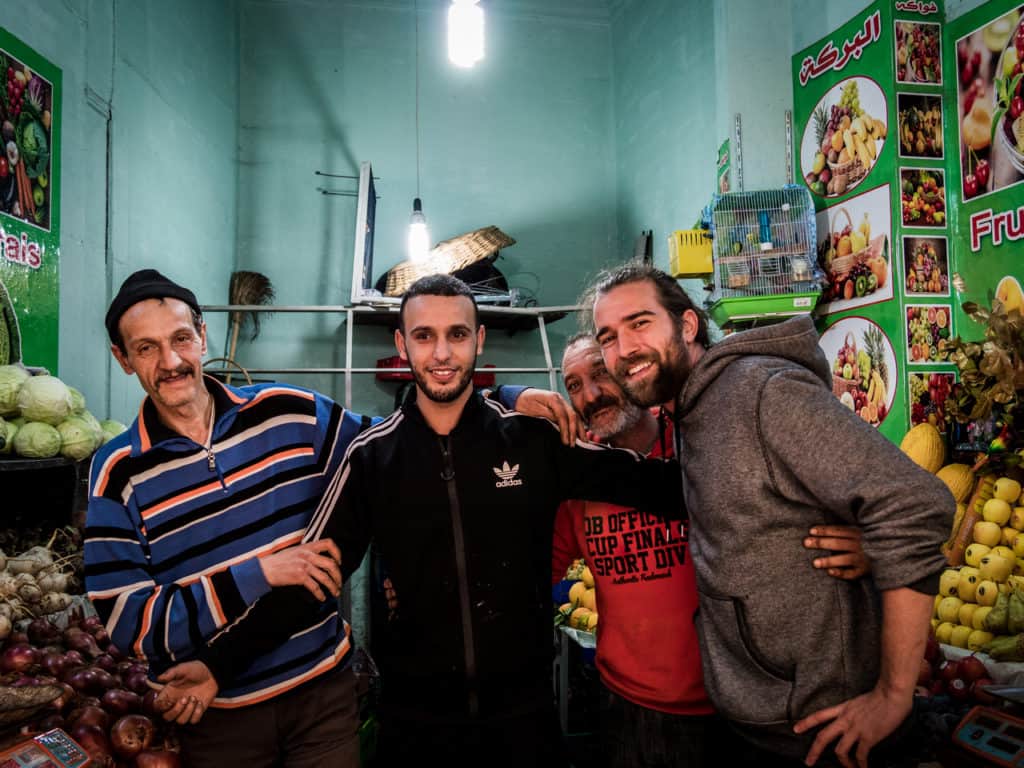 Moroccans are super friendly and love to share their culture with foreigners…
Answering the question ''Is Morocco safe?" is quite easy. After going back to this country for years I can guarantee that Morocco is very safe to travel to!
Last year alone more than 10 million people visited Morocco, making it one of the most visited countries in Africa. With such a high amount of visits, the amount of crime in Morocco is still extremely low.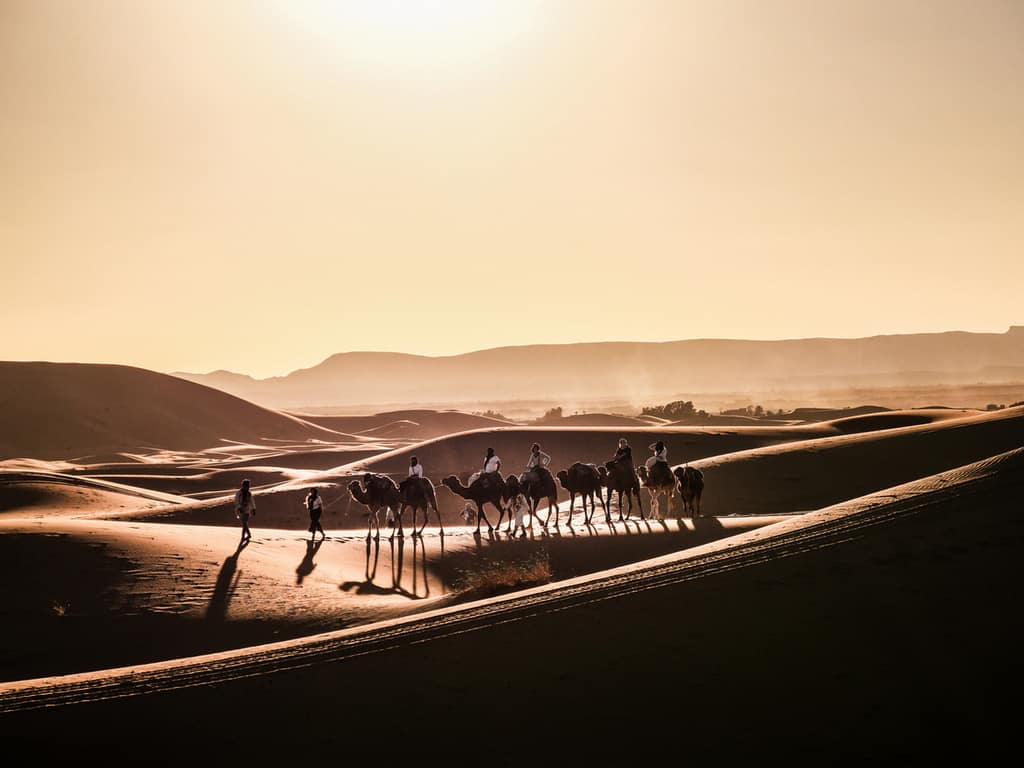 Many people come to Morocco to visit the Sahara desert…
However, a low percentage of crime incidents in a country doesn't mean that crime is not present.
Crime in Morocco is mostly petty crime such as scams and pickpockets. It's very unlikely that you'll be assaulted or hurt as a tourist.
That being said, there are still a few things I wouldn't recommend doing and some areas of Morocco that should be avoided. I'll cover them all in this article, I'll also cover a few common scams you might encounter.
1. Is Morocco safe for tourists?
Tourism in Morocco is growing at an incredible rate. Because of this, the level of security in the country is upgraded every year.
There is rarely violent crime in Morocco and it almost never targets foreigners. The Moroccans are very welcoming and love to share their traditions and culture with foreign tourists.
Moroccans love to meet foreigners and practice their English with them…
When I was living in Tangier, I would often meet young Moroccan students who were curious about where I was from and who would invite me for a coffee or a meal to talk about my adventures and practice their English.
If you're worried about being harassed in Morocco, you shouldn't. More touristic cities around Morocco such as Rabat, Marrakech, and Casablanca have a very good presence of touristic police.
This special task force is dedicated to the well being of foreign tourists.
Moroccans tend to avoid confrontation with foreigners as much as possible. They are extremely hospitable, and tourists are well-received throughout the kingdom. Even if an altercation with a foreigner would happen, they would try to de-escalate the situation as much as possible. A great example of this is a situation that happened a few weeks ago in the city where I live, Tangier.
A British vegan activist aggressively attacked a chicken vendor in one of the city's souk. She threw herself onto the cages containing live chickens, attempted to break open the lid, and bit and punched the vendor. None of the Moroccan bystanders, harmed her and they tried to calm her down instead of getting offended by the situation.
The situation goes to show that Moroccans are generally not combative and would rather have a peaceful outcome in any confrontation with foreigners.
There is a good presence of touristic police in big cities like Rabat…
That being said, tourists in Morocco should still be vigilant about the safety of their personal belongings, especially in big cities like Marrakech or Fez.
The big squares and markets of these Moroccan cities are sometimes frequented by petty thieves and pickpockets.
They can pick your pockets, snatch your purse, give you the wrong change, or scam you.
The sad part is that most victims don't realize what happened until someone points out the ridiculous price they ended up paying for a product or when they realize that their phone isn't in their bag anymore. It's a sad experience to feel cheated and it can change the happy mood of a trip pretty quickly.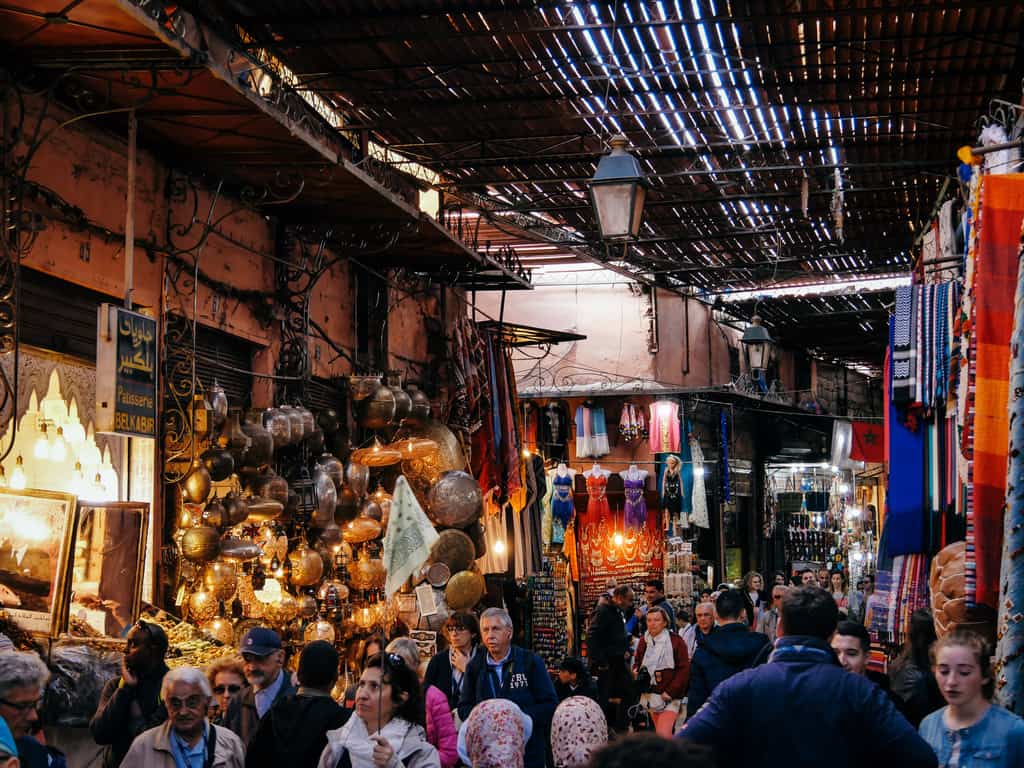 You'll have to be careful of pickpockets in the big markets of Marrakech…
The best solution to avoid being pick-pocketed is to stay very alert and aware of your belongings at all times. You should leave all your important and valuable items at your hotel and walk around only with what is absolutely necessary.
Keep your wallet in your front pocket or carry a money belt. Another great option is to travel with a slash-resistant and lockable anti-theft bag. I would also recommend getting good travel insurance that covers theft.
In 12 Common Scams you might encounter in Morocco I cover all the common scams you might come across in Morocco and tips on how you can avoid them.
2. Is Morocco safe for students and expats?
Because Morocco is a very affordable destination, it attracts students and expats from all over the world. The country also has great and affordable universities, contributing to its cosmopolitan atmosphere.
It is very normal to ask yourself the question of whether or not the country is safe for foreigners. I would say Morocco is a very safe country for students and expats.
Rabat is a beautiful and safe city for expats and students…
For expats planning to install themselves in Tangier, Casablanca, Rabat or Marrakech, I would recommend reading the following city guides:
Marrakech: What to do in Marrakech – A Complete Guide to Morocco's Red City
Rabat: 10 Things to do in Rabat – A Complete Guide to Morocco's Capital City
Casablanca: What to see in Casablanca in two days – Top Things To Do in Casablanca
Tangier: Top Things to Do in Tangier – The Ultimate City Guide
In each of these city guides, I cover the safety situation for expats and students in each of these particular Moroccan cities.
I would also recommend joining the following Facebook groups to talk and communicate with expats already well established in Morocco:
It's a great idea to become part of these Facebook groups when moving to Morocco. There are thousands of expats and locals in these groups that can answer your questions concerning safety around the country and that can help you adapt to life in this North-African country.
3. Is Morocco safe to travel for families?
If you're wondering if Morocco is safe for children you shouldn't worry. Moroccans love kids. For them they are sacred and they hold a very special place in their culture.
I would even say that you'll enjoy the experience more if you travel with kids. You'll see the generous and caring side of the Moroccan culture in their response to children.
Children are sacred in Moroccan culture…
Moroccan society is very family-oriented. Moroccans usually have big families and they are incredibly friendly to kids.
Because of this children can help break the ice and encourage contact with Moroccans who are generally very helpful and protective towards families.
Another good side of being a family in Morocco is that you'll avoid the attention of scammers if you're traveling with kids.
Here are a few recommendations I would have for families traveling to Morocco:
Avoid tap water in Morocco
While tap water in Morocco is generally considered safe (see below) I wouldn't advise it for young kids. It takes a while for the body to adapt to the tap water of a new location.
To avoid buying plastic water bottles, I would recommend bringing a LifeStraw Water Filter Bottle.
This is a bottle that filters water using a filtration device. If you drink water using this bottle, any dirt, bacteria or parasites gets trapped in the filter, while the clean water passes through.
Avoid the contact with stray animals in Morocco
There are a lot of stray cats and dogs in Morocco. They may look cute and inoffensive but they could have rabies. Even a small scratch or bite from such an animal could have dire consequences for your child.
Be up to date with your kid's basic vaccination
Your children should be up to date with their basic vaccination before traveling to this country. As an adult, you don't need any compulsory vaccinations to travel in Morocco.
However, vaccinations for Hepatitis A and Typhoid are recommended, especially if you are visiting smaller cities or rural areas, or if you are an adventurous eater.
Travel with a first-aid kit to Morocco
Scratches, cuts and small bruises can happen quickly and unexpectedly. I would suggest bringing a first-aid kit that contains antiseptic wipes, compresses, and band-aids, as well as painkillers and anti-diarrhea medicine. This is the first-aid Kit I recommend.
Morocco has great cities to travel with your family such as Marrakech, Rabat, and Chefchaouen. It's also a great country for a family surfing holiday.
4. Is Morocco safe for solo women?
With the increase of tourism in the country, it's totally normal to wonder if Morocco is safe for female tourists. Being a solo female traveler anywhere in the world comes with its own particular dynamics and risks. Morocco is no different.
So what should solo female travelers expect in Morocco? Well, first of all, traveling as a woman alone in Morocco can be very safe and a great experience but it's important to be a bit more cautious than in other parts of the world.
Here are a few things that solo female travelers in Morocco will have to consider:
Catcalling
Catcalling is unfortunately very common in Morocco. It's a country that is notorious for its high rate of street harassment. In 2017, a survey reported that 73% of women in Morocco experience harassment in public spaces.
That's a figure that is extremely high. but the majority of harassment will most likely just be men complimenting how beautiful you are. Just completely ignore any men approaching you and soliciting your attention.
Dress code
It's very important for solo female travelers to dress appropriately in Morocco. Avoid wearing clothes that are too revealing and cover your legs and shoulders to avoid garnering unwanted attention.
Read What to wear as a woman in Morocco for clothing suggestion.
Walking alone at night
It's better to avoid walking alone at night. Especially in the suburbs of big Moroccan cities. Make sure you know ahead of time where you are going.
One of the typical scams that you might encounter as a solo woman in Morocco is the "Nice guy showing the way". This scam consists of a Moroccan offering unsolicited help such as pointing out the way to a hotel or guiding you to a restaurant. Once you arrive at the hostel the scammer will ask you for an over inflated tip in exchange for his service.
For example, while you're walking with your backpack in the streets of the old medina of Marrakech, someone approaches you and suggests to guide you to your hostel. Once you arrive there, he asks for 30 or 50 MAD for the five minutes it took to help you and will not leave until you give him a tip.
To find your way without problems around the Moroccan cities, I would recommend downloading Google maps on your phone before your trip to Morocco.
One of the cool features of Google maps is that it can be used both online and offline. Connect to the wifi at your hostel and download a map of the part of the city you wish to explore. This map works with the GPS chip in your phone so it will continue working, even when you're offline.
I would suggest learning a few Moroccan Arabic sentences to ask for help if it's absolutely needed. I give a few of these helpful Arabic sentences at the end of this guide.
5. Are Moroccan cities safe?
Big Moroccan cities such as Rabat, Marrakech or Casablanca are not more dangerous than any other city in the world. But just like everywhere else, it's important to keep a low profile and not attract unwanted attention as a foreigner.
Follow the following tips to stay safe in Moroccan cities.
You can wear whatever you want as a tourist in Morocco, but in the crowded markets and old medinas, you shouldn't show off your wealth.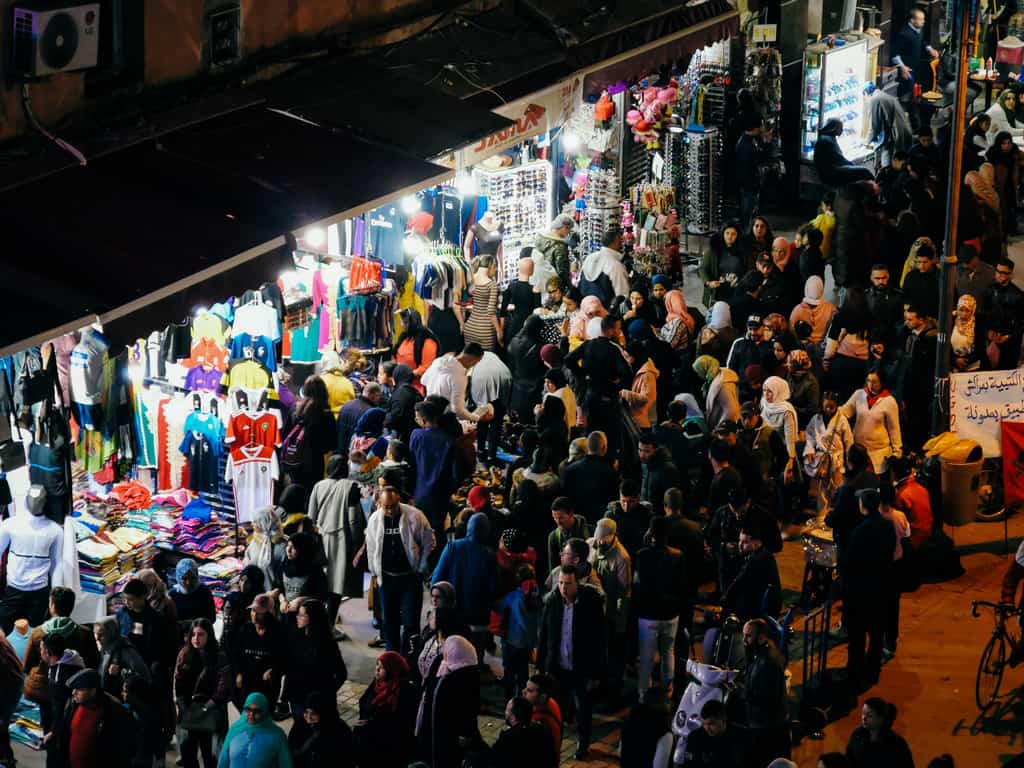 It's important to not flash your expensive belongings in big crowds…
Because of the poverty rates in the country, many Moroccans wrongly assume that all foreigners who come to their country are rich. It's important not to feed that belief and attract the unwanted attention of thieves by flashing your expensive belongings.
Leave all your important belongings in your hotel room if possible. I would also recommend not to walk alone at night in the suburbs of Moroccan cities as foreigners could become targets of mugging.
6.Common scams in Morocco
Most Moroccans are honest and very helpful to travelers. However, the country is a very popular destination and just like in every other very touristic destination, scamming unwary travelers is quite a common thing.
You will find warm and friendly people all around the country but if you're not careful, you could easily fall for a scam or a tourist trap.
In 12 Common Scams you might encounter in Morocco (and how to avoid them), I'll tell you about the most common scams in the country and give you tips and pointers on how to avoid them.
7. Is it safe to hike in Morocco?
Hiking in Morocco can be done safely as long as you follow certain ground rules. If you hike in Morocco never hike alone and make sure a Moroccan friend knows where you're going and at what time you'll be back.
Bring plenty of water, snacks, a GPS or a map and a first aid safety kit. A hike in Morocco I would particularly recommend is the hike to Toubkal. It's the highest mountain in North-Africa but the fact that you climb up the mountain with a local guide makes this hike a very safe one.
Another hike I would suggest doing while in Morocco is a beautiful hike in the mountains surrounding the Todra gorges.This trek will bring you through beautiful Berber settlements. If you're lucky, you might even get invited for a tea with the Berber people.
For more safety tips on hiking in Morocco, read The Guide to Imlil and Hiking Mount Toubkal in Morocco.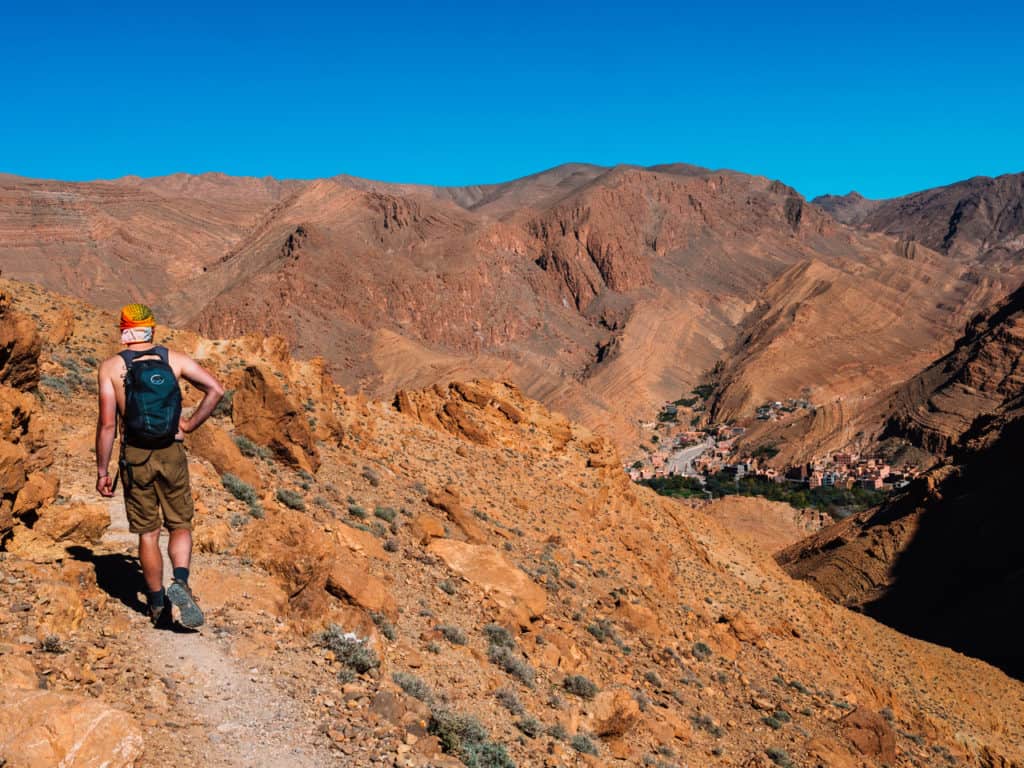 There are beautiful trails to hike in Morocco…
8. Is it safe to go camel riding in Morocco?
Riding camels in Morocco is quite safe. These animals are very gentle and calm by nature. You may occasionally get one that is a bit nervous or tired but they are rarely dangerous.
If you do fall from your camel (which is extremely rare), you'll fall on sand and you're not likely to get hurt.
Don't forget to read our guide on Merzouga to plan your camel riding trip in Morocco.
9. Is it safe to drive in Morocco?
Driving in Morocco is very safe. People generally don't drive extremely fast. Except for the southern part of the country near Merzouga and in the high atlas mountains near Toubkal, the roads are generally good and well maintained.
If you have your own car, driving on countryside roads in Morocco is usually quite safe, however, if you drive in big cities like Rabat, Tangier, Casablanca or Marrakech, it can be quite challenging.
Driving in Moroccan cities can often feel very chaotic. You will definitely feel a big difference between the cities, the smaller towns and rural areas when it comes to driving.
On small Moroccan roads, it can sometimes take hours before you see a car passing by…
Moroccan cops are not as corrupt as in other countries we visited like Kyrgyzstan and Kazakhstan. You'll find that the road police in Morocco is very helpful towards foreign tourists. If you ever need assistance from the cops while driving around Morocco, don't be scared to approach them.
Another thing worth noting is that in Morocco, red lights and stop signs are sometimes completely on the far right of the road, so they are super easy to be missed if you don't pay attention.
Sometimes they can also be a bit hidden behind tree branches.
[kt_box opacity="1″ background="#eded6f"]
Read our tips on Renting a Car in Morocco!
[/kt_box]
10. Is public transportation in Morocco safe?
City buses and petit Taxis in Morocco are generally safe. Grand taxis, however, are not the safest means of transport in Morocco. These are the taxis that connect towns and cities together.
They usually are old Mercedes Benz that lack rear seat-belts. For transport between cities in Morocco, I would recommend using buses from the companies CTM and Supratours.
They are the most reliable bus companies around the country and they have by far the most comfortable buses. They also have very similar prices and schedules.
You can buy your tickets online with both companies and their websites are very easy to navigate. The CTM website, for example, can be viewed in English.
As for city buses, they are usually safe but I wouldn't recommend them for solo female travelers. I have heard a few female expats reporting being groped in public buses in Morocco.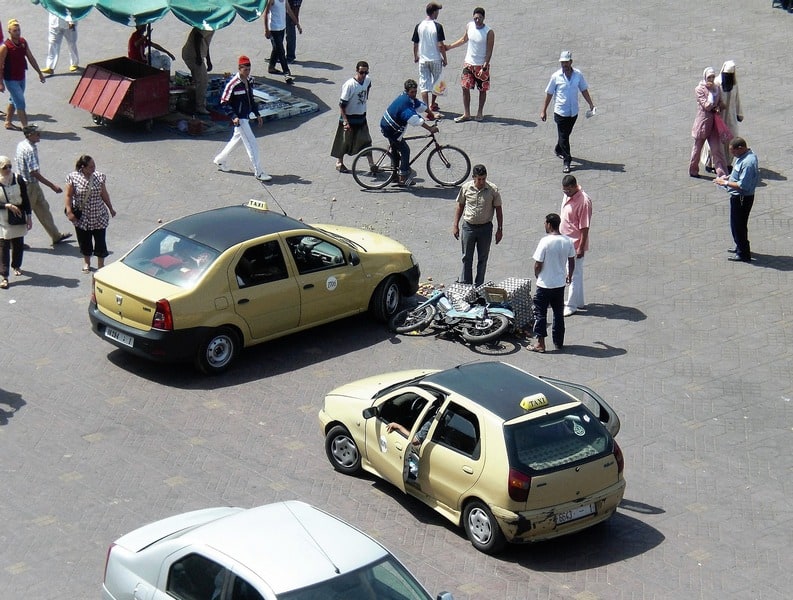 Although public transportation is Marrakech is generally safe, an accident can always happen…
11. Is the food in Morocco safe?
The food in Morocco is not only safe, but it's also extremely delicious! It's one of the reasons why I fell in love with Morocco!
Moroccan dishes are super-rich in flavors, spices, and ingredients. They are not only tasty but also very healthy. Most dishes contain a lot of veggies and whole grains, freshly prepared meat, spices and sweet fruit rather than refined sugar.
Moroccans also use couscous in a lot of their dishes which is much healthier than rice. Morocco's cuisine has been influenced by Andalusian Spain, Arabia, and France in a delicious combination of mouthwatering flavors that make it unique.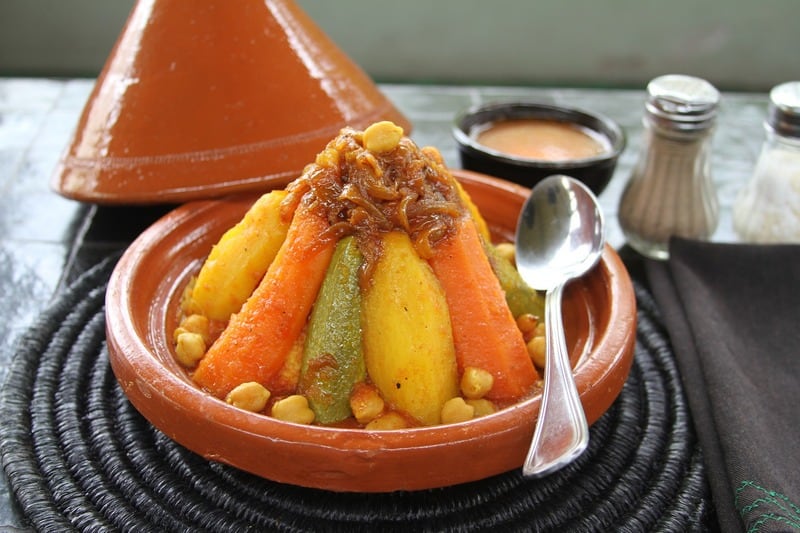 Moroccans love to eat tagines. It's a succulent, stew-like dish full of flavor and traditional spices. It's slow-cooked in traditional cookware that has, incidentally, the same name as the dish.
A tagine is a rich mixture of meat, poultry, or fish, and often includes vegetables or fruit. Vegetables may also be cooked alone in the tagine.
Moroccan food can also be very affordable. I generally start my day with a bowl of B'ssara. It's a rich bean soup traditionally served for breakfast. It's topped with a swirl of olive oil and a sprinkling of cumin. It costs just a few pennies a bowl and I eat so many of them!
If you have a sensitive belly, however, it would be a good idea to take some precautions. In Morocco, you'll be exposed to completely new food, water, and bacteria. If you want to fully enjoy your holiday and not have to run to the bathroom, it wouldn't be a bad idea to bring some probiotics in tablets or powder.
Finally a small word of advice concerning eating street food in Jemaa el Fena square in Marrakech. Jemaa el Fena square is an incredibly exotic place that will overwhelm all your senses. Stalls with Moroccan street food are a regular sight and eating there is an experience by itself.
I would ask you to reconsider it though. The hygiene of these food stalls is not the best and getting food poisoning there is not uncommon. I would opt instead for a meal in one of the restaurants that surround the square.
12. Is it safe to drink the water in Morocco?
It's safe to drink tap water in Morocco but only if you know beforehand if the town or city properly filters its water. Although a lot of major cities in Morocco have good filtering systems, some of them still don't.
The Moroccan authorities are becoming more and more concerned about the pollution caused by plastic bottles of water. Many hotels will offer filtered water that is safe to drink to their guests.
Opt for bottled water or use a LifeStraw Water Filter Bottle to filter the tap water during your first days in Morocco as you don't know how your body might react to the bacteria composition of the local water.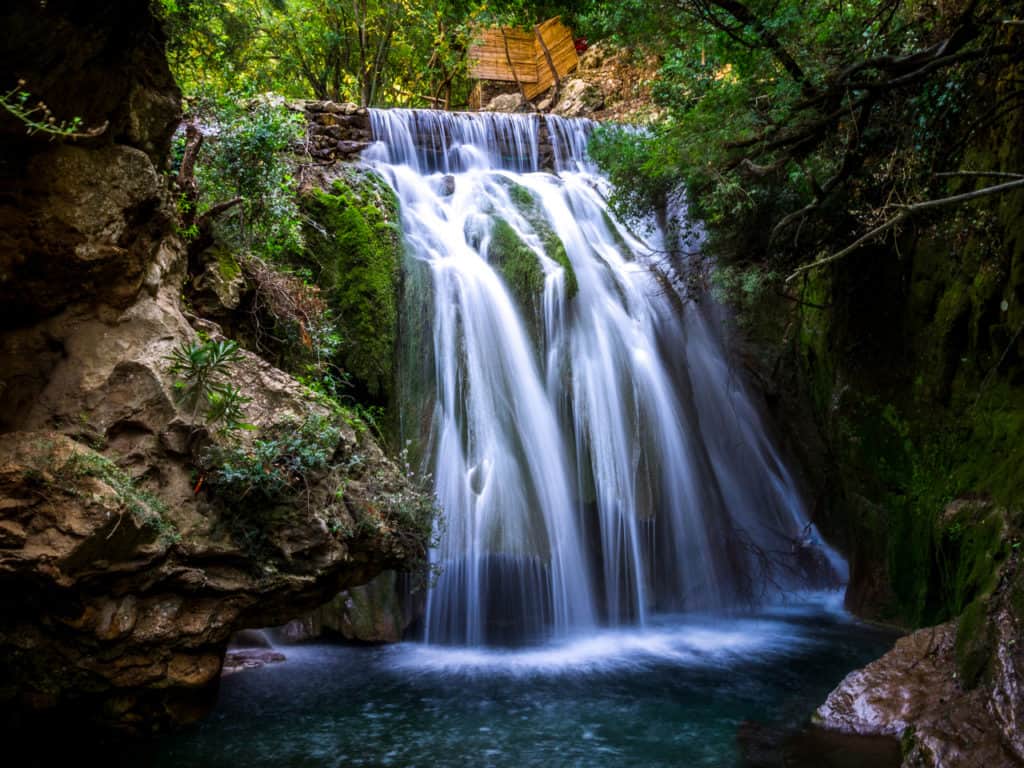 With a LifeStraw Water Filter Bottle, you'll be able to drink water anywhere in Morocco…
Bottled water is available everywhere and if you want to be eco-friendly, bring a LifeStraw Water Filter Bottle. This is a bottle that filters water using a filtration device.
If you drink water using this bottle, any dirt, bacteria or parasites gets trapped in the filter, while the clean water passes through.
These water filter bottles are very light to carry and super useful for when you go trekking in the mountains. You can use them to drink the water in the middle of nature without worrying about becoming sick. Click here for more info and prices.
13. How is healthcare in Morocco?
It's important to visit Morocco with good health insurance. Hospitals in Morocco do not benefit from the same standards that would be found in Europe or North America.
Public hospitals in Morocco are not very good, and private hospital care in the country is very expensive.
If you need a modern hospital or clinic while in Marrakech, read this article to find out which clinic we recommend.
Here are other modern hospitals and private clinics we recommend in Morocco:
Private hospitals and clinics in Tangier
If you need a private clinic while in Tangier, the one we recommend is Clinique Assalam.
This is a private hospital of the highest standards in Tangier. You will find doctors speaking French and English at this private hospital.
This is the address of the clinic:
10, Avenue Abderrahman Youssoufi, 90000 Tanger
Private hospitals and clinics in Rabat
If you need a modern hospital or clinic while in Rabat, we recommend Clinique Agdal. It's a central private hospital that's recommended by expats living in Rabat.
This is where it's located in Rabat:
6 place Talha, Avenue Ibn Sina Quartier de l'Agdal 10100 Rabat MAROC
Private hospitals and clinics in Casablanca
If you need a private clinic in Casablanca, we recommend Clinique Dar Salam.
This clinic offers quality services in French and English. Their emergency phone number is 0522 85 14 14.
728, Bd Modibo Keita Casablanca Maroc
14. Travel insurance for Morocco
Morocco rarely has violent crimes and these almost never target tourists. You can travel around the country with good peace of mind knowing that there is absolutely no chance you would get mugged or run into an altercation with someone.
The only crime that you might encounter in the country (although it's very unlikely) is petty crime such as pickpocketing.
Consider getting travel insurance that covers the theft of personal belongings such as the World Nomads Travel Insurance.
15. Are there areas of Morocco you should avoid?
Morocco is very safe but there is a part of the country you should avoid if you can. This is the Western Sahara near the Algerian and Mauritanian borders.
Don't confuse the Sahara desert with the Western Sahara region of Morocco.
The Western Sahara is an area in the southernmost part of Morocco where the legal status of the territory and the issue of its sovereignty remain unresolved. The northern border of the Western Sahara extends from the coast just north of Dakhla to the eastern border with Mauritania.
The area was for a long time the site of an armed conflict between Moroccan government forces and the POLISARIO Front, which is still seeking independence for the territory.
Another fact that makes this area a dangerous one for unwary travelers is that there are still thousands of unexploded mines buried in the Western Sahara.
Exploding mines have occasionally been reported, and they have caused death and severe injuries. There have also been sporadic reports of violence in the cities of Laayoune and Dakhla stemming from sporting events and political demonstrations.
I suggest not traveling in this part of Morocco unless you are with someone who knows the area well. If you absolutely have to transit through Western Sahara, stick to the main highway between Dakhla and the Mauritanian border.
16. Is there terrorism in Morocco?
A lot of governmental sources and online blogs give mixed reviews about terrorism in Morocco, and this can be really confusing. Here is what you need to know.
Morocco is not a country that is untouched by terrorism. But acts of terrorism in the country are few and far in between.
In 2011, a small cafe in the central square of Marrakech was the target of a terrorist bombing. The attack killed 17 people, most of whom were tourists.
Last year two Scandinavian girls were murdered near Toubkal in the Atlas mountains by Isis members and a lot of people were alarmed and wondering if Morocco is a dangerous place.
The Moroccan government has responded to this threat of terrorism with greater security measures over the years all across the country and today Morocco is much safer than it used to be.
That being said, Morocco is a much safer destination than a lot of other places around the world.
The low incidence of terrorism is corroborated by the Global Terrorism Index (GTI).
Every year, this report ranks 163 of the world's 195 countries according to how much they are impacted by terrorism.
Morocco scored "very low" on the 2018 report. With a ranking of 132, Morocco placed better than Norway (123), and Iceland (130).
Although terrorism has affected Morocco in the past, the country is now safer than ever and you can visit its beautiful landscapes and cities without having to worry.
Moroccans are very welcoming…
17. Helpful Moroccan Arabic phrases for emergencies in Morocco
Here are a few sentences that you could use in Morocco if you're experiencing distress or if you need help:
waqaf!: Stop!
Sir faHalek!: Go away!
Sheffar!: Thief!
E-awennee afak: Help me please
A-ayt al boliss!: Call the cops!
A-ayt ela shee tabeeb!: Call a doctor!
Tsreqt: I've been robed
Sreq lee l-sak: Someone stole my bag
Sreq lee l-beztam: Someone stole my wallet
Breet na-hayt al seefara: I want to call my embassy
radee na-hayt al boliss!: I will call the police!
Fayn al Kommeesareeya?: Where is the police station?
For more sentences for Morocco, read Tips and tricks to learn Moroccan Arabic.
If memorizing sentences is not your thing, I highly recommend getting your hands on the Lonely Planet Moroccan Arabic Phrasebook. It is packed with all the essential words and phrases you will need on your trip to Morocco and will help you in every situation — from finding a hotel room to ordering tajine or joining the local festivities this book will cover almost every situation you could imagine.
18. Emergency phone numbers for Morocco
If you ever run into a dodgy situation in Morocco and need to call the police, you can do so by typing 190 or 112 in big cities.
If you're outside the city, the number to call is 177. This will contact the Royal Gendarmerie.
A few other useful numbers for when you travel around Morocco are 150 to call an ambulance and 15 for the fire brigade.
I hope you have an awesome adventure in Morocco and that this guide will help you stay safe and have a great time there. Have you been to Morocco? Do you plan to go there soon? Let us know in the comments below or get in touch with us.
*This article contains affiliate links. If you purchase one of the recommended products through our website, we'll receive a small commission at no extra costs for you. This way you're helping us writing more informative and awesome guides like this. Thank you!
Read the rest of our articles for more travel tips for Morocco:
Everything you need to know about traveling independently in Morocco :
Planning to rent a car in Morocco? Read this first:
A few travel and safety tips for Morocco:
Planning to travel to Morocco during Ramadan? Read this first:
How is it to travel to Morocco during Ramadan?
Hiking, surfing and nature trips in Morocco:
Our Moroccan city guides:
MOROCCO TRAVEL RESOURCES: