If you're wondering about security in Marrakech, look no further. In the following guide, I'll tell you all my tips on how to stay safe in Marrakech.
Marrakech is a fascinating Moroccan city. It's a destination that is full of magic, mystery, and overwhelming bustle. People from all over the world come to wander the small streets of this gorgeous city in search of dizzying exoticism.
Marrakech is advertised left and right as the top destination in Morocco but is it safe? Opinions on that vary all over the world.
If I'd ask my family in Canada, they would verify online on the travel advisories issued by the Canadian government. The Canadian government urges travelers going to Morocco to "exercise a high degree of caution" and considers the country as a high-risk destination.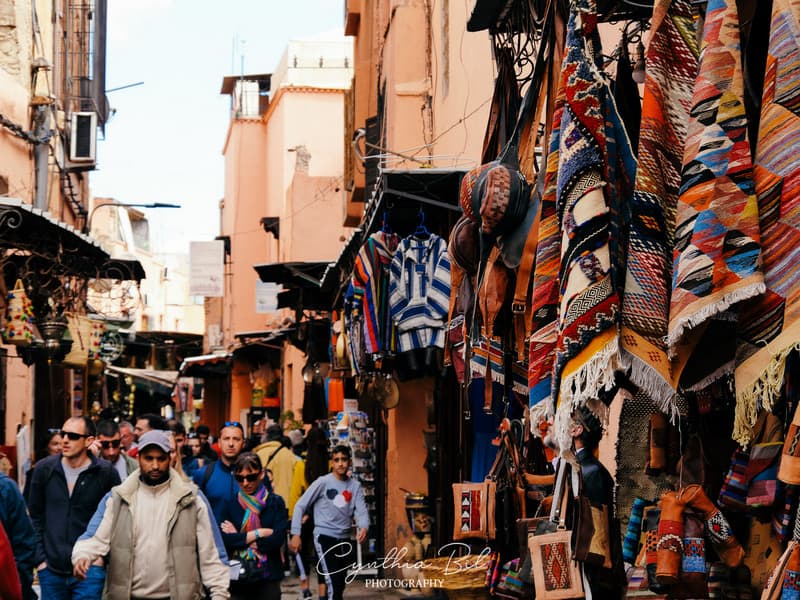 International SOS considers Morocco a low-risk country just like most of Europe. Most travel agencies around the world agree that Marrakech is quite safe to visit however certain precautions must be taken before visiting the famous red city.
Although the city is beautiful and a feast for the eyes, it's small narrow streets and crowded areas makes it a particularly appealing place for pickpockets.
It's a place that is unfortunately notorious for theft, scams and con artists.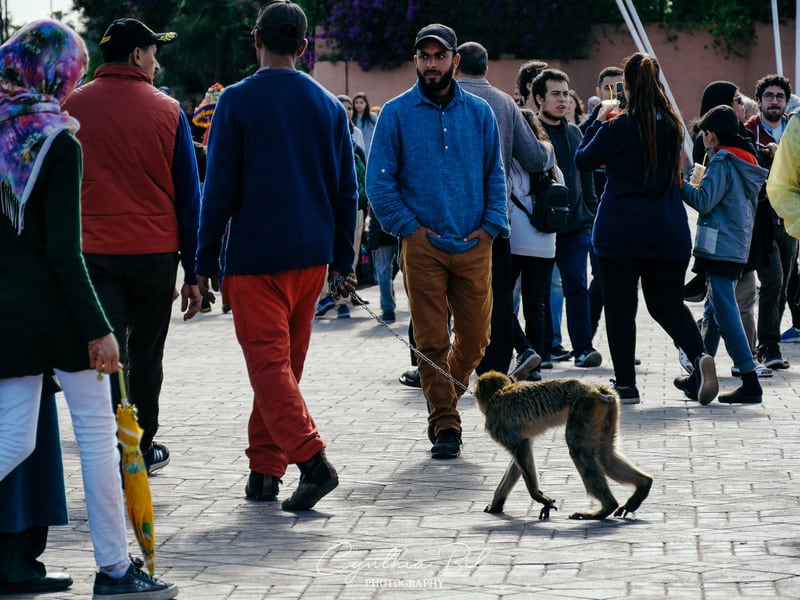 Traveling there requires to be alert all the time as your attention will be solicited in all directions and the streets can be overwhelmingly crowded.
If you want to learn more about safety in Marrakech, read on.
1. Is Marrakech safe for tourists?
Tourists from all countries should be perfectly safe in Marrakech.
In a recent discussion with one of my American friends, he confided to me, that he initially didn't want to visit Marrakech years ago because he thought the city was quite dangerous for tourists and ridden with terrorists.
He decided to go after he realized that there hadn't been any terrorists attack there in years. Needless to say, he fell in love with the city. He's now been living in Marrakech for the last five years and he can attest to the safety of the city.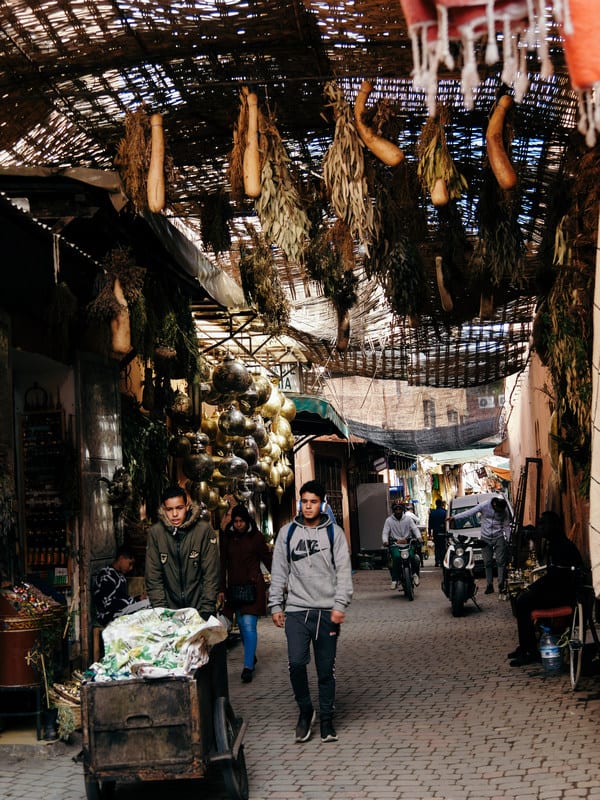 Marrakech is safe for American tourists and for tourists from the rest of the world. Marrakech is safe for students and expats as well.
It's a beautiful city that captures the essence of Morocco in a spectacular way. However, if you want to be perfectly safe in Marrakech, it's important to follow a few precautions and be very aware of your environment at all times.
Marrakech is not just flowy dresses and water fountains like some travel influencers would have you believe. It's a city that can be at times super chaotic and your senses will be constantly stimulated. For some, this can become quite overwhelming.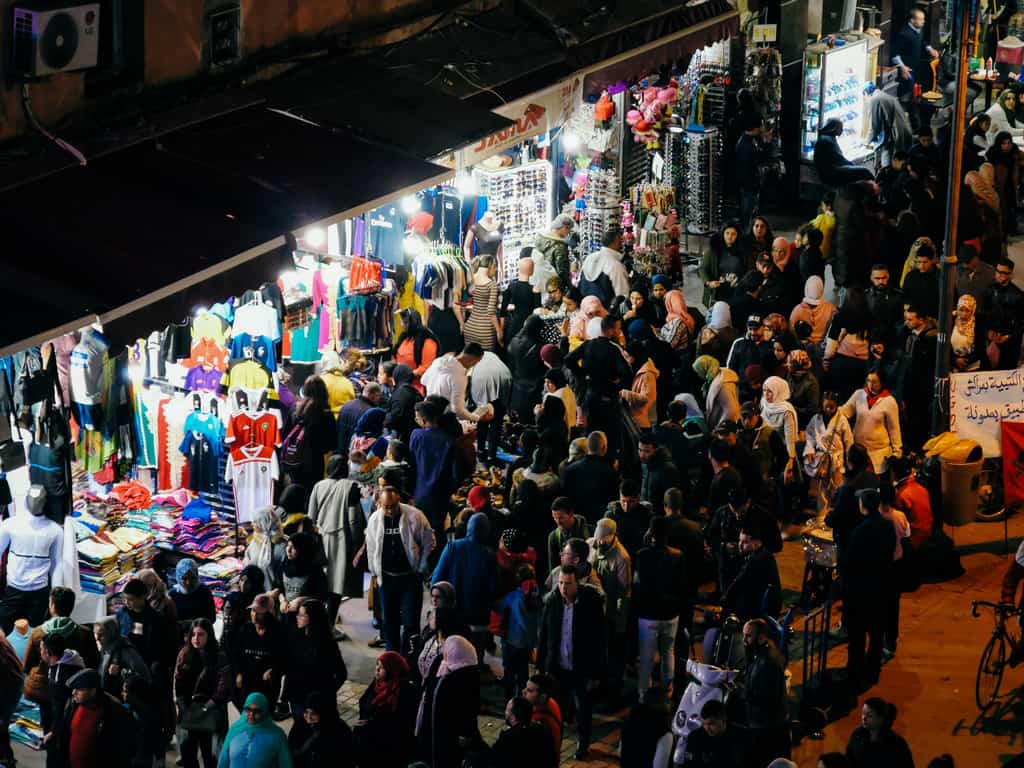 Huge crowds gather on the streets of Marrakech at night…
One tip I would have before your visit to Marrakech would be to read my guide: What to do in Marrakech – A Complete Guide to Morocco's Red City.
I would also advise getting familiar with some common scams you could fall for in Marrakech by reading 12 Common Scams you might encounter in Morocco (and how to avoid them).
If you want some great tips and advice while visiting Marrakech, I would also suggest becoming part of the following two Facebook groups:
[kt_box opacity="1″ background="#eded6f"]
Planning to visit more cities in Morocco?
Read Everything you need to know about Backpacking in Morocco
[/kt_box]
2. Is Marrakech safe for solo female travelers?
Marrakech should be perfectly fine for solo female travelers as long as they avoid wearing clothes that are too revealing and walking alone in the Medina at night.
Even while taking these precautions though, solo female travelers will occasionally have to deal with hassle in the Medina of Marrakech.
It's part of the culture and can be lighthearted, but being hassled in the streets can also feel threatening.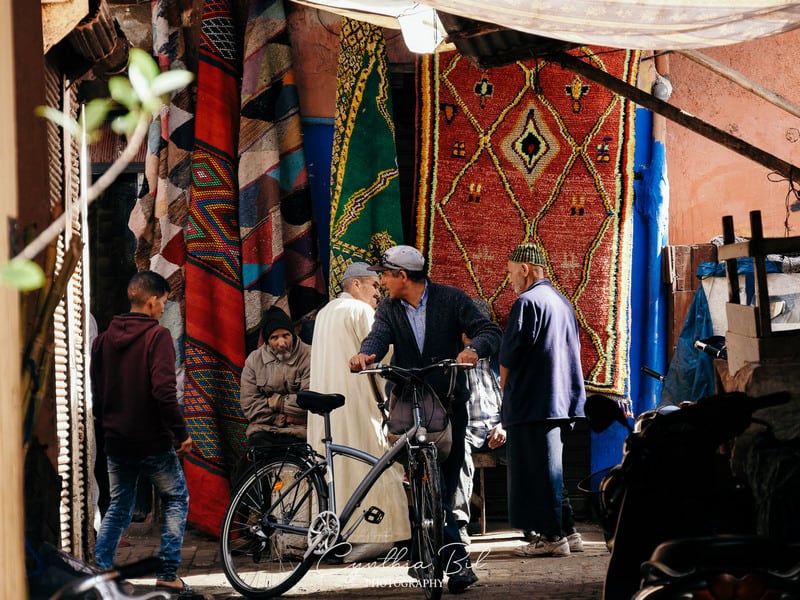 My best advice if you're a solo female traveler would be to politely ignore any men randomly approaching you in the street or offering their help to show you the way somewhere.
This also happens to be a common scam in Morocco.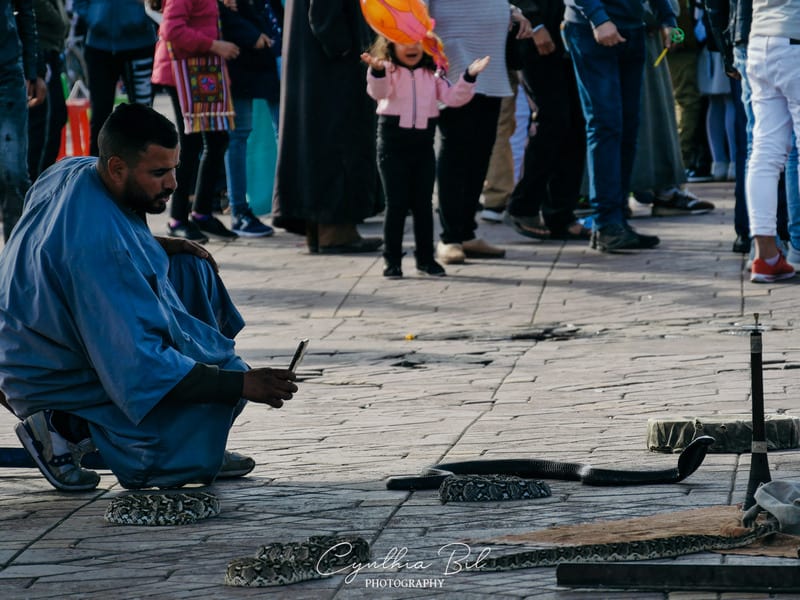 When some scammers see that you're stopping to look at your phone and seem a bit lost on the way to a famous attraction, like the tanneries, for example, they will approach you and offer their help to guide you.
Once you arrive at your destination however, they will ask a ridiculous amount of money for the five minutes it took to help you and will not leave until you give them a tip.
It's best to politely ignore anyone soliciting your attention while you're walking on the streets of Marrakech.
[kt_box opacity="1″ background="#eded6f"]
Read more about scams you might encounter in Marrakech
[/kt_box]
3. Is Marrakech safe to travel for families?
If you're wondering if Marrakech is safe for kids, you shouldn't worry. Moroccans love kids. For them children are sacred and they hold a very special place in their culture.
I would even say that you'll enjoy the experience more if you travel with kids. You'll see the generous and caring side of the Moroccan culture in their response to children.
Moroccan society is family-oriented. Moroccans usually have big families and they are incredibly friendly to kids.
Because of this children can help break the ice and encourage contact with Moroccans who are generally very helpful and protective towards families. Another good side of being a family in Marrakech is that you'll avoid the attention of scammers if you're traveling with kids.
[kt_box opacity="1″ background="#eded6f"]
Planning a family trip?
Find out how to travel in Morocco on a budget!
[/kt_box]
4. Are there areas of Marrakech you should avoid?
There aren't really any areas of Marrakech that you should avoid but I don't recommend spending time in the suburbs of the city late at night.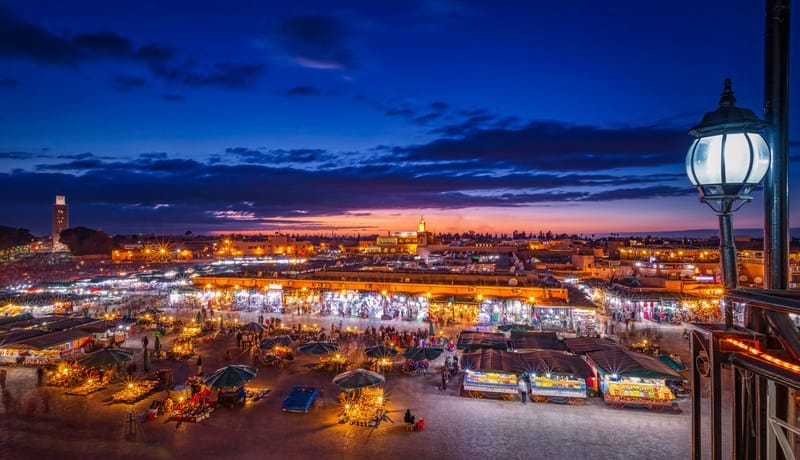 The city center is totally safe at night…
5. Is it safe to drive in Marrakech?
While people in the rest of Morocco don't drive very fast, car accidents tend to be very common in Marrakech. Whenever possible try to walk around the city instead of driving and use public transportation as your second option.
If you absolutely need to get a cab, hop in a petit taxi instead of a grand taxi.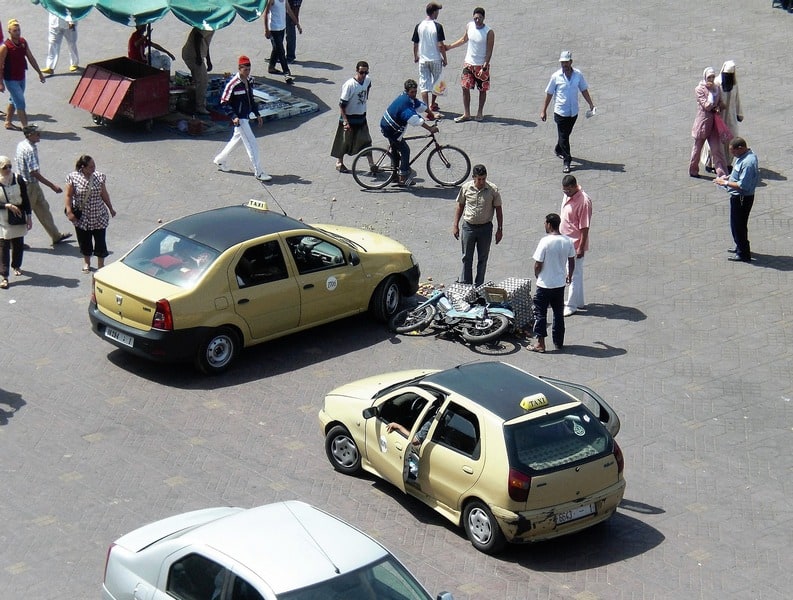 Grand taxi in Morocco are generally old four-door Mercedes from the eighties without air conditioning. They typically lack rear seat-belt making them an unsafe choice for transportation in Marrakech.
Petit taxis in Marrakech are normally smaller cars and they are a lot safer. Make sure to agree ahead of time with the driver on what the final fare will be or ask him to turn on the taximeter.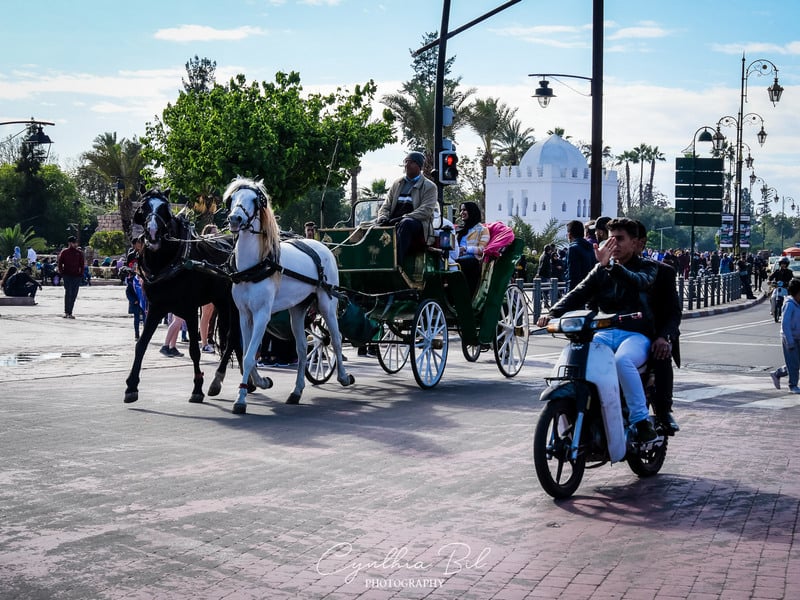 Remember that a lot of taxi drivers in Marrakech try to scam tourists by over-inflating their prices. This is a common scam all around Morocco.
A quick tip: Learning some words in Moroccan Arabic will help you avoid this trap.
If you have your own car, driving on countryside roads in Morocco is usually quite safe, however, if you drive in big cities like Rabat, Tangier, or Marrakech, it can be quite challenging.
Driving in Moroccan cities can often feel very chaotic. You will definitely feel a big difference between the cities, the smaller towns and rural areas when it comes to driving.
Another thing worth noting is that in Marrakech, red lights and stop signs are sometimes completely on the far right of the road, so they are super easy to be missed if you don't pay attention. Sometimes they can also be a bit hidden behind tree branches.
[kt_box opacity="1″ background="#eded6d"]
Worried about safety in Morocco?
Read: Is Morocco safe?
[/kt_box]
6. Is public transportation in Marrakech safe?
In Marrakech, public transportation such as small taxis and city buses tend to be really safe. Small taxis usually have seat-belts and they are shared by fewer people than the grand taxis (old Mercedes Benz that lack rear seat-belts).
As for the city buses, always keep a close eye on your belongings. Because it's a closed environment where everyone is close to each other, it's a space often targeted by pickpockets.
When taking public city buses in Marrakech, keep your wallet in your front pocket. You can also carry a money belt or travel with a slash-resistant and lockable anti-theft bag.
[kt_box opacity="1″ background="#eded6d"]
Morocco Itinerary – Discover the best places in Morocco in 7 days
[/kt_box]
7. Is the food in Marrakech safe?
The food in most restaurants of Marrakech is not only safe, but it's also extremely delicious. From chicken tagine, spicy harira to delicious lamb Tanjia, in Marrakech you'll be able to sample great exotic dishes.
The food there is not only great, but it's also extremely affordable.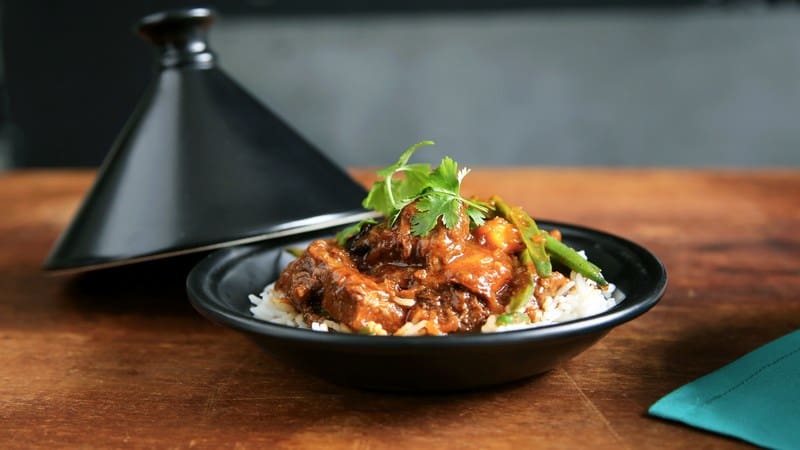 Now a bit of small advice so you avoid problems when eating in Marrakech. Avoid eating near and inside the Jemaa el Fena square so the following reasons:
One: Some restaurants in the square use very dodgy techniques to cheat unwary travelers. For example, the waiters may claim that bread and water are complimentary with the meal but then charge for them afterward. They may also charge you for food you have never ordered.
Another more sinister trick is to have two separate menus. They'll show you one before you order on which the food is cheaper. When it will be time to pay, you'll notice that your bill is much more expensive than what you expected.
If you ask for an explanation they will bring a different menu with much higher prices. There is no point in arguing with them because you'll never see the first menu with cheaper prices again.
This happened to me during my first week in Marrakesh. I ordered a lot of food in a restaurant after seeing how good the prices on the menu were, only to be conned when they brought a different menu at the end of the meal.
The waiters were all standing around me like a mob, insisting that I was wrong about the prices while they were holding a completely different menu with different prices. In the end, I just got angry and walked away without paying anything.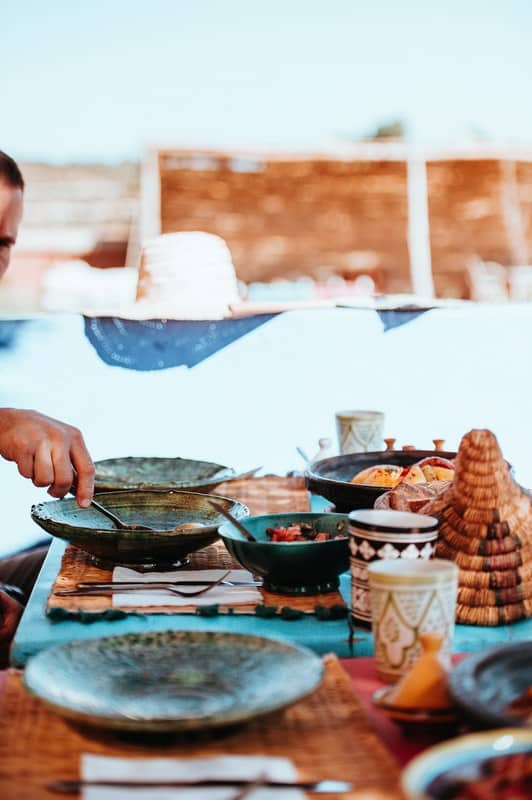 How do you avoid this scam
If you ever are the victim of this scam, simply pay what you assume the initial price was and walk away. The restaurants operating this type of racket are known by the cops, so they will never file a report against you if you just walk away without paying their "tourist" prices.
two: Jemaa el Fena square is an incredibly exotic place that will overwhelm all your senses. Stalls with Moroccan street food are a regular sight and eating there is an experience by itself. I would ask you to reconsider it though. The hygiene of these food stalls is not the best and getting food poisoning there is not uncommon.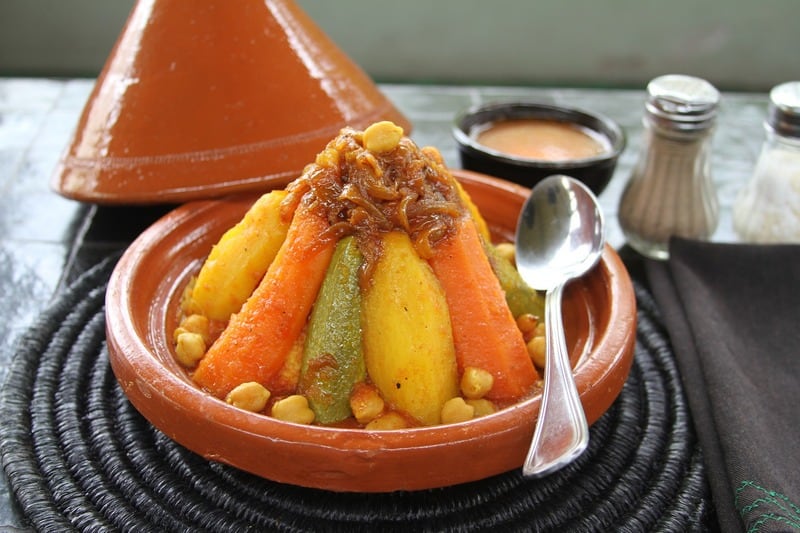 8. Can you drink the tap water in Marrakech?
Because I spent years living in Morocco people often ask me if the tap water in Marrakech is safe.
While the locals regularly drink tap water in Marrakech, visiting tourists will not have time to get used to it. Since their body is not used to all the new bacteria, it's probably best for them to drink bottled water.
I highly recommend getting a Lifestraw Water Filter Bottle. Although the tap water in Marrakech is not dangerous, it may contain many new bacteria that your body would not react well to.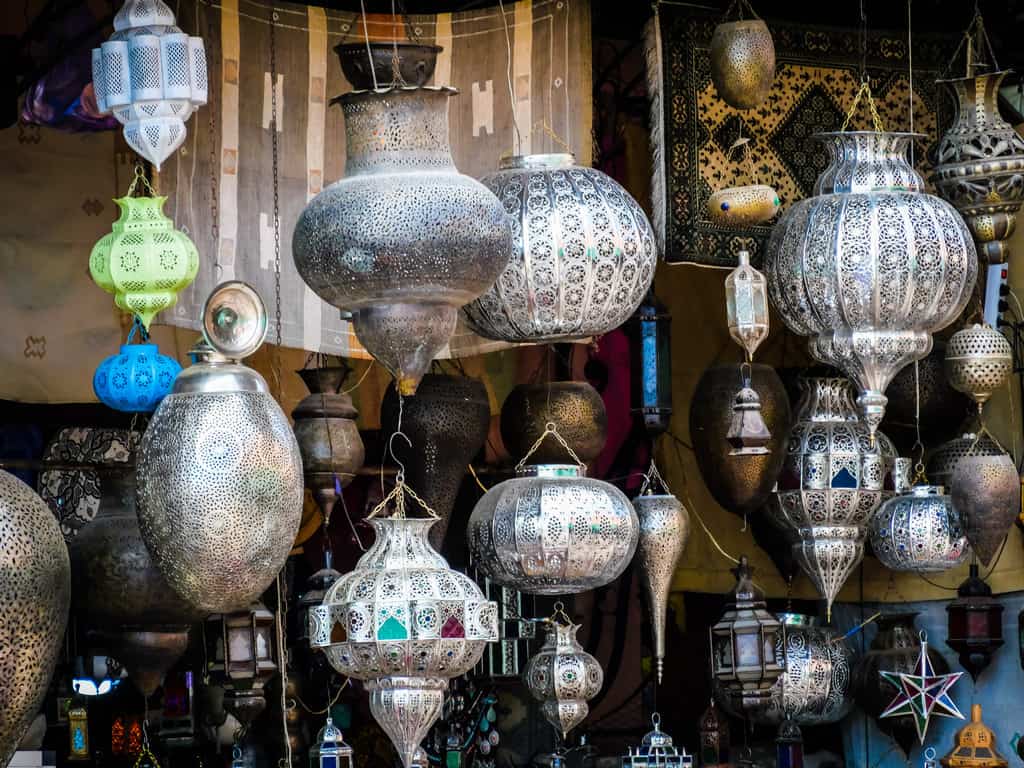 If you drink water using this bottle, any dirt, bacteria or parasites gets trapped in its filter, while the clean water passes through.
Expats that have been living in Marrakech for a while shouldn't have any problem drinking tap-water as their body should be fully acclimated.
[kt_box opacity="1″ background="#eded6f"]
Read tips and info about Backpacking in Morocco
[/kt_box]
9. How is healthcare in Marrakech?
It's important to visit Marrakech with good health insurance. Public hospitals in Marrakech are not very good, and private hospital care in the city is very expensive.
Morocco has two healthcare systems: private and governmental. The private system is only accessible by paying and generally costs a lot even by foreigners standard.
The governmental system of healthcare has quite different standards than what foreigners are used to in Europe or America.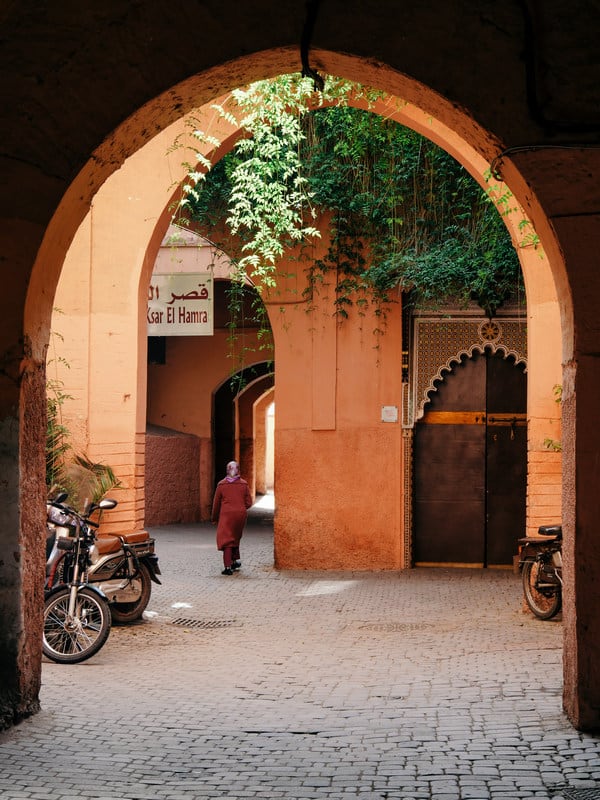 If you need a modern hospital or clinic while in Marrakech, we recommend Clinique Internationale. It's a central private hospital that's recommended by Marrakech's expats It's located east of the Menara Gardens, just off the road to the airport.
In this modern hospital, you can also receive service in English.
This is where Clinique Internationale is located:
Another hospital with a good reputation among foreigners in Marrakech is Polyclinique du sud. This one is located in Gueliz.
10. Travel insurance for Marrakech
Marrakech rarely has violent crimes and these almost never target tourists. You can walk around the city with good peace of mind knowing that there is absolutely no chance you would get mugged in Marrakech.
That being said, you should still be vigilant about the safety of your personal belongings, especially in the souks or street-markets of Marrakech. Pick-pocketing is not uncommon in the small streets of these open-air markets.
The best solution to avoid being pick-pocketed is to stay very alert and aware of your belongings at all times. You should leave all your important and valuable items at your hotel and walk around only with what is absolutely necessary.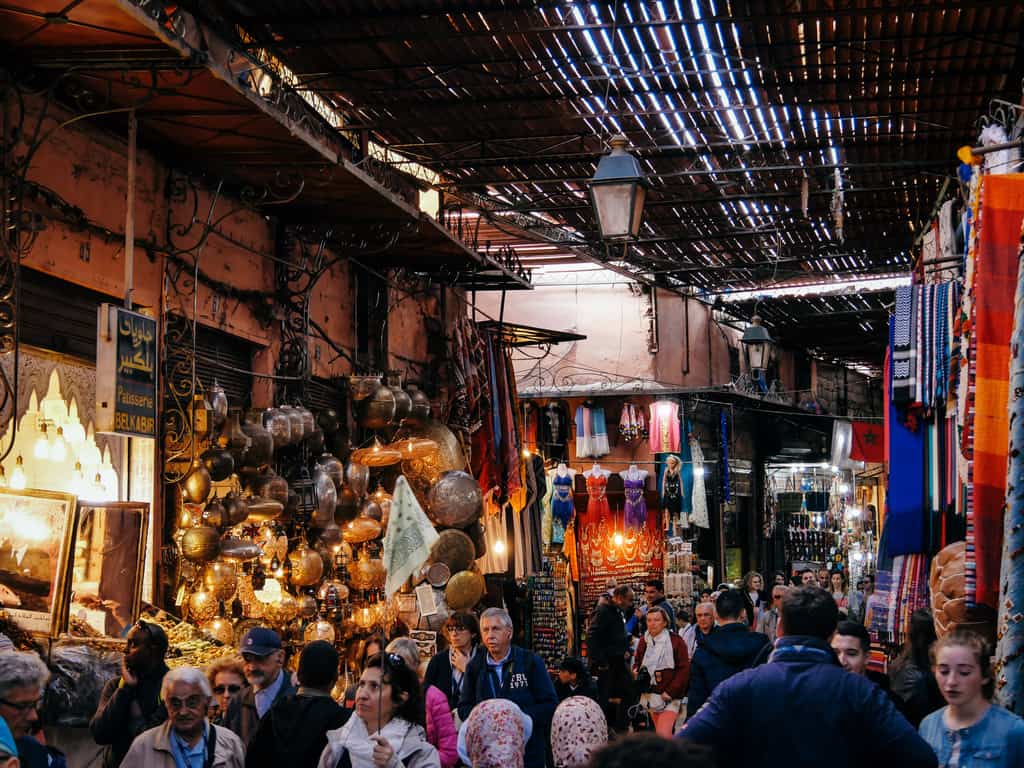 The streets can be quite crowded…
Consider getting travel insurance that covers the theft of personal belongings such as the World Nomads Travel Insurance.
Apart from having good travel insurance, you should keep your wallet in your front pocket or carry a money belt. Another great option is to travel with a slash-resistant and lockable anti-theft bag.
[kt_box opacity="1″ background="#eded6f"]
Read our Ultimate Packing List for Morocco!
[/kt_box]
11. Is there terrorism in Marrakech?
Marrakech is not a city untouched by terrorism. In 2011, a small cafe in the central square of Marrakech was the target of a terrorist bombing.
The attack killed 17 people, most of whom were tourists.
ISIS has been carrying out a few attacks throughout the years in Morocco, with tourists and other foreigners as the key targets. Last year two Scandinavian girls were murdered near Toubkal in the Atlas mountains by Isis members and a lot of people were alarmed and wondering if Morocco is a dangerous place.
The Moroccan government has responded to this threat of terrorism with greater security measures all across the country and today Morocco is much safer than it used to be.
Although terrorism has affected Marrakech in the past, the city is now safer than ever and you can walk around its busy streets without having to worry.
12. Is Marrakech safe at night?
As long as you're near the city center and you don't venture far on the outskirts of Marrakech, your risk of being harassed, mugged or assaulted is very low.
The city becomes much more alive at night and it's when street musicians and performers come to Jemaa el Fena.
If you want to be totally safe avoid the areas of Gueliz and Hivernage at night as the nightclubs of these districts are regularly frequented by prostitutes and random street fights erupt in that part of the city.
[kt_box opacity="1″ background="#eded6f"]
Visit the Ouzoud waterfalls near Marrakech!
[/kt_box]
13. Helpful Moroccan Arabic phrases for Marrakech
Here are ten expressions that will help you get by in Marrakech:
Afak: "Afak" is the Derija word to say please. You can use it after asking for something. One way I used this word when I first arrived in Morocco was to simply point at fruits or vegetables and say "heda afak". This translates as "this, please" and although by itself it doesn't mean much, believe me, it goes a long way.
Fayn: "Fayn" is the word for where. You can use it to ask for the toilets- "Fayn al toilet afak?" – Where is the bathroom, please? "Fayn al cafe afak?" – Where is the cafe, please? You could also ask for the Taxis using this word.
Shukran: This is the word to say thank you. You can use it after the waiter brings your food or after someone points you in the direction of the toilets or the market. Moroccans greatly value when foreigners speak their language and using this expression will definitely make them smile.
Ech Hal or Bech Hal: This is the expression to use to say "How much" when you want to buy something. You can say "Ech Hal heda?" or Bech Hal while pointing at some vegetables at the market. This literally means how much is this?
Smeetee: "Smeetee" literally means "My name is…" So when meeting someone you could say smeetee and then follow by saying your name.
Shno smeetek?: After telling people what your name is the best thing to do is to ask them. Shno smeetek? translates as "What is your name?"
Sabah al Khayr: This means Good morning.
La bass?: This is an expression used to ask people how they are while saying hi at the same time
Bislama: This means Goodbye.
Anta tahdar al engleezeeya?: This translates as "Do you speak English?"
If you would like to learn even more Moroccan Arabic sentences and expressions, you could always read my guide on the language: Tips and tricks to learn Moroccan Arabic. In this article, I explain how to learn Darija quickly and effortlessly.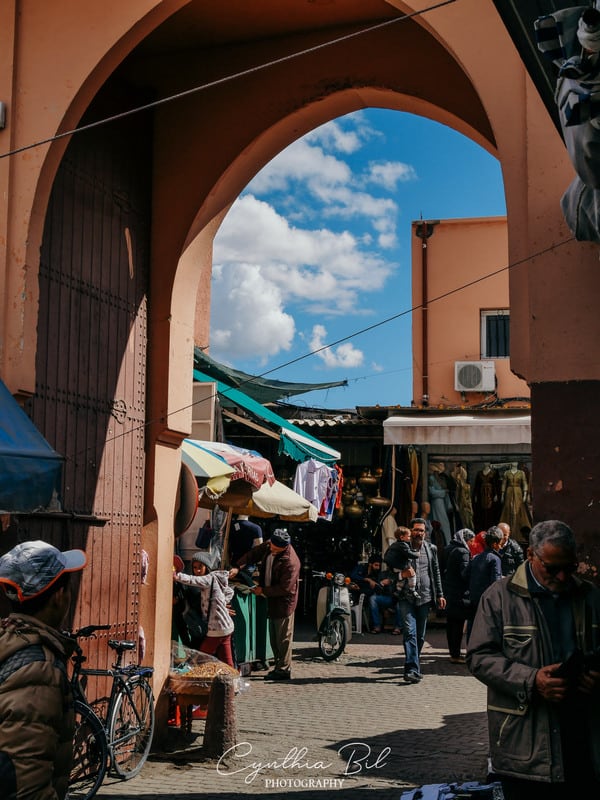 I hope this article helped you learn more about security and safety in Marrakech.
If you have any questions or if you want to add anything to this article, don't hesitate to write a comment below or contact us.
*This article contains affiliate links. If you book a hotel/hostel or purchase one of the recommended products through our website, we'll receive a small commission at no extra costs for you. This way you're helping us writing more informative and awesome guides like this. Thank you!
Read the rest of our articles for more travel tips for Morocco:
Everything you need to know about traveling independently in Morocco :
Planning to rent a car in Morocco? Read this first:
A few travel and safety tips for Morocco:
Planning to travel to Morocco during Ramadan? Read this first:
How is it to travel to Morocco during Ramadan?
Hiking, surfing and nature trips in Morocco:
Our Moroccan city guides:
MOROCCO TRAVEL RESOURCES: