This is a guide to the beautiful town Imlil in the Atlas mountains of Morocco. This guide contains detailed information on all the day hikes near Imlil and about hiking Mount Toubkal with a guide.
I looked in front of me and all I could see was an endless chain of craggy snow-covered mountain peaks. The air felt thin. Breathing was becoming difficult, almost painful.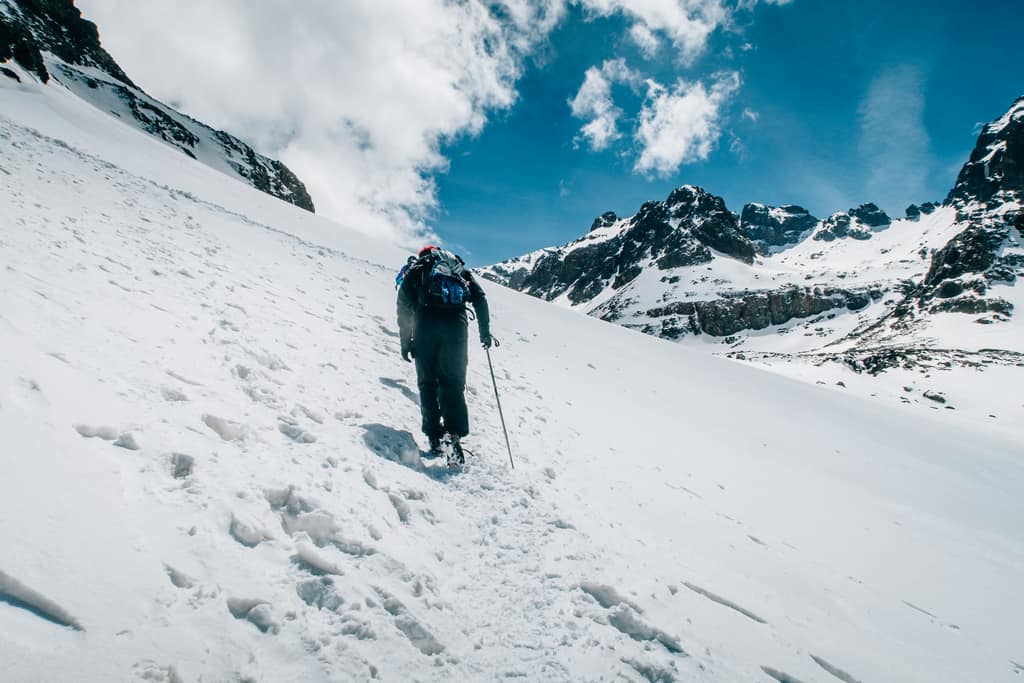 The last time I had done some serious hiking was in Kyrgyzstan when I hiked up to the glacier lake Ala-Kul. I thought I was ready for bigger hikes in Morocco after walking around the Todra gorges and hiking up to the Akchour waterfalls.
I thought I was ready to hike Mount Toubkal, the highest peak in North Africa, standing tall at a whopping 4100 meters above sea level. I wasn't. My whole body was aching.
My legs were shaking. I felt desperately unprepared and unequipped. The crampons that were supposed to give me a steady grip on the ice-covered slope of the mountain had just broken and I was slipping backward.
The slope towards the summit was quite steep and I was slipping backward…
As much as I didn't feel ready when I hiked up the trail to reach this majestic Moroccan mountain, I felt exhilarated. In every direction I looked, I could see some of the most pristine landscapes I had ever witnessed.
A lot of online blogs say that mount Toubkal is one of the easiest summits in the 4000 meters range. Don't be fooled. Mount Toubkal is a non-technical hike, meaning that you don't need a rope and some dangerous maneuvers to reach the top. But it isn't an easy hike, especially not in winter.
The path that takes you from the refuge all the way to the peak is long and steep. In winter, you're also exposed to a constant cold wind that blows on that face of the mountain.
It's important to dress warmly and wear good warm gloves (see what to wear in Morocco). I wasn't properly dressed for this challenge but when I reached the top I couldn't feel the cold anymore. I felt super proud and happy with what I had accomplished in only one day.
I decided at that moment to write a guide to help you achieve the same. Whether you want to reach the summit of Toubkal in a day or two or even hike to other mountains in the region, you've come to the right place.
In this complete guide, I will tell you all about hiking to Toubkal, what you need to bring and how you can hire a guide to get there. I will also cover the beautiful village of Imlil (from where the hike starts) in detail.
From where to stay and where to eat, this guide will help you have an unforgettable adventure in Imlil and in the mountains of the High Atlas.
Happy hikers after we reached the summit of Toubkal…
Want to be ready during your hike to Toubkal?
Read: What to wear in Morocco
1. How to get from Marrakesh to Imlil
Imlil is very easy to reach from the bustling busy city of Marrakesh. It's so close to the famous city that it's often considered as one of the best day trips from Marrakesh.
Because this village is located almost right in the center of the country, it also means that it can also be reached without too much effort from Essaouira and Merzouga.
A visit to Imlil and Mount Toubkal could fit perfectly in a 3-week trip through Morocco. 
How to get from Marrakesh to Imlil by shared taxi
The easiest way to get from Marrakesh to Imlil is to take a shared taxi or a grand taxi as they are called in Morocco. The small mountain village is just 60 km from Marrakesh so getting there doesn't take much time (75-90 minutes)
There is a grand taxi station across the street from the Jemaa el-Fnaa bus stop.
Once you get to this taxi station, it's possible to hire the whole taxi for yourself for 250 MAD to 300 MAD or you can share it with other passengers. If you wait for the taxi to fill up, the price will be much lower (around 50 MAD to get to Imlil).
If there is no shared taxi going to Imlil when you reach the station or if the taxi takes too long to fill up, you can also reach Imlil by a combination of a bus to Asni and then catching a taxi from there to Imlil.
The small streets of Imlil…
How to get from Marrakesh to Imlil by bus and taxi
It takes around one hour and a half to reach the small town of Asni from Marrakesh by bus. From there one can easily catch a shared taxi to Imlil for 10 MAD or hitchhike the remaining 17 kilometers to Imlil.
You can get a bus from the central bus station in Marrakesh.
How to get from Marrakesh to Imlil with your own car
If you have your own car or if you are renting one, you can also drive directly to the small village of Imlil. Expect the drive to be very pleasant.
The road is almost completely paved all the way to the mountain village and will take you through some gorgeous landscapes. The road there is relatively safe but during winter it tends to be covered by rocks that fall from the cliffs nearby so drive carefully.
As you travel there the countryside around you will completely change. You will see the environment change from arid dust to green, leafy foliage.
The trees blossoming near Imlil…
The temperature will also become cooler. As you approach the village, the hills become gradually filled with more and more fruit trees. After a year and a half traveling around Morocco, I have to say that this is probably my favorite part of the country.
When Cynthia and I visited Imlil for the first time, we were amazed by the amount of apple and cherry trees blossoming in the hills and mountains surrounding the village.
The area around Imlil is still green during the winter…
This is the way to Imlil from Marrakesh:
To get there you will have to follow the highways P2009 and P2024 towards the south.
Are you planning to travel to Imlil during Ramadan?
Read this first: How is it to travel to Morocco during Ramadan?
2. Where to stay in Imlil
Imlil has a lot of small but beautiful guesthouses where hikers and nature enthusiasts stay all year round before starting the long trek to the summit of Toubkal. The prices and comfort they offer vary quite immensely.
After going around town and having a look at different properties, here are the top places where we would recommend you to stay in Imlil:
We were so comfortable in Targa Imoula that we ended up staying there for almost a week and a half. The rooms are all equipped with a huge double bed and the heater in the room gave us some relief from the cold and rainy winter weather.
Each room has its own private bathroom with a shower and loads of hot water. This guesthouse also has a nice rooftop terrace where we spent most of our time contemplating the mountains in the distance. We had a delicious breakfast every morning in the guesthouse and it was the perfect way to start the day.
Click to check out rates and availability for "Targa Imoula"
The view from the rooftop terrace of Targa Imoula
This is a great place to stay and it's easily accessible from the entrance of the village. The rooms are very lovely and cozy.
What makes this place so appealing is that the owners are mountain guides and they can advise you on the treks and hikes around Imlil. Almost all the windows at this guesthouse give a gorgeous view of the surrounding mountains.
Click to check out rates and availability for "Atlas Mazik Lodge"
Les Terrasses de Toubkal by atelier chef Tarik
This is probably the most colorful guesthouse in town. The walls of the rooms all have their own beautiful shade of pastel colors. The guesthouse also has a cozy romantic restaurant with a fireplace and local musicians sometimes come there to play Berber folkloric music.
Click to check out rates and availability for "Les Terrasses de Toubkal by atelier chef Tarik"
Planning a trip to Morocco?
Read everything you need to know in our
Ultimate Travel Guide to Backpacking in Morocco!
3. Where to eat in Imlil
Imlil has all kinds of restaurants, sandwich stands, and little shops that sell shawarma and pizza. My girlfriend and I became really fond of a few places in town and we kept going back to the same few restaurants day after day to eat.
Here are the restaurants that we think are worth checking out in Imlil:
Riad Imlil
This Riad is also one of the best restaurants in town. If you want comfort and great food in one place, you should definitely come here.
It's located right on the edge of a little river and it's quite soothing to hear the sound of the water as you eat on the terraces or in the garden. Because we were there during the blossom season, all the fruit trees of the garden were in flowers and it created a beautifully romantic atmosphere.
Guesthouse Ain Mizane
This Guesthouse/café had a very nice outdoor little garden where we would go to enjoy delicious tagines and big portions of couscous. The staff there is super friendly and I really enjoyed speaking Moroccan Arabic with them on a daily basis.
This cozy little café is on the main road between the entrance of Imlil and the first bridge.
Imlil has plenty of small restaurants and cafes…
4. Best hikes in and around Imlil
There are plenty of beautiful hikes around Imlil. The most popular one, of course, being the hike to the summit of Mount Toubkal.
There are a few hikes that leave from the mountain refuge near the summit of Mount Toubkal and bring you to other neighboring mountains. These are as beautiful and as epic as Toubkal itself and I will cover a few of them in this article.
There are also a few shorter day hikes that start in Imlil. Here are three hikes we recommend:
1) Hiking from Imlil to the radio tower
This is a very quick and easy day hike from Imlil. The radio tower can be seen from almost everywhere in town and It doesn't take a lot of time to reach the top of the small mountain where it is.
From there you can see all of Imlil, the villages of Myzyk and Armound, and the surrounding valleys. This small but relatively challenging hike is also a great way to acclimatize yourself to the mountains and prepare for the trek to Toubkal.
The radio tower in Imlil
2) Hiking to the waterfall near Armound
This is another very easy hike from Imlil. If you plan on spending only a few days in this part of the Atlas mountains, this is the hike I would recommend.
It's only a kilometer and starts in the village of Imlil. From the center of town walk towards Riad Imlil and before you reach it, you will encounter a street that goes uphill to your right.
If you follow that street up you will reach a small trail that follows the river and leads directly to the waterfall and the village of Armound. If you get lost, don't worry, the locals are super friendly and will gladly point you in the right direction.
The small waterfall is quite lovely and filled with water during winter. At the base of the waterfall and around the river you'll find small shops where Moroccans sell fresh orange juice and snacks.
If you continue walking from the waterfall in the direction of Toubkal, you will eventually reach the small village of Armound.
This village is on top of a small hill and overlooks Imlil. It's quite a picturesque place and it feels like traveling back in time.
The small streets are filled with traditional Berber shops and it's the perfect place to enjoy a mint tea while admiring Toubkal in the distance.
The village of Armound near Imlil
3) Hiking along the river from Imlil to Asni
This is not really a popular hike in Imlil as it takes you in the opposite direction of Mount Toubkal. The views along the river, however, are totally fantastic, especially during summer when all the trees are lush and green.
The distance between Imlil and Asni is only 17 kilometers so you can easily do this hike in a day. Because the paved road that connects the two villages follow the river, it's easy to get back on it at any point during the hike.
This hike can only be done during summer because during winter and spring the rains raise the water level in the river quite drastically and it can be dangerous.
Hiking along the river can only be done during summer…
5. A few things to consider before you hike from Imlil to Toubkal
Do Moroccans in Imlil and Toubkal speak English?
Hiking in the Moroccan mountains and especially near Imlil is becoming easier and easier since more guides now speak English. However, do remember that a big part of the population still speaks only Arabic and Berber.
Learning a few words or expressions in those languages before visiting the high Atlas mountains will definitely be helpful. If you would be interested in learning Moroccan Arabic you could read Tips and tricks to learn Moroccan Arabic.
If learning languages is not your thing, I would recommend getting your hands on the Lonely Planet Moroccan Arabic phrasebook and dictionary. It's packed with thousands of sentences that will help you in different situations and scenarios.
It will be useful to ask your guide where you will be sleeping in the mountains and how much the food or the trek will cost.
Speaking Moroccan Arabic will also help you make new friends on the way to Toubkal…
Is it safe to hike or ride a horse to Toubkal?
Hiking or riding a horse to Toubkal is becoming safer and safer since the installation of three police checkpoints along the way. They know who went up the mountain and who hasn't come down yet.
If you would fall from a rock or a ledge, they would be alerted relatively quickly and could provide help and assistance as soon as possible.
A porter waiting with his donkey at a police checkpoint on the way to Toubkal.
But do remember that mountain hiking anywhere in the world comes with a certain dose of risk. Regardless of your skills as a mountaineer, hiking in completely new and different terrain is not the safest thing.
Some of the passes between the mountain refuges and the peak of Toubkal are very high and can be quite treacherous at certain times of the year.
Some of the mountain passes near Toubkal are quite treacherous…
Therefore it is paramount that you have good travel insurance before going on a trek to Toubkal. The insurance we recommend is World Nomads. It covers almost anything that could virtually happen to you in high mountain altitudes and covers you on treks of up to 6,000 meters.
World Nomads is also one of the few policies that won't require you to be in your home country to purchase, renew or extend your insurance. If your trip happens to go on a little longer than planned, you can easily extend your plan online.
What kind of weather should you expect in the mountains around Imlil?
The best time to visit Toubkal is between the months of May and September. The weather is much more comfortable during that period of time and there is barely any snow on the summit.
During winter and early spring, however, the weather can be very cold at night depending on how high you are. The average temperature during the day can be around 3°C (37°f) and -7°C (19°f).
At night the temperature easily goes down to 0°C and sometimes even reaches -11°C (32°f and12°f).
During winter it rains a lot in Imlil and Toubkal is covered in snow. I'd recommend you bring a good warm sleeping bag and some warm clothes regardless of the time of the year you hike around Imlil.
6. What should you bring on a hike to Toubkal?
You will need to bring very different equipment depending on the time of the year you hike to Toubkal. If you go there in summer, you will be fine with walking sticks and your summer clothes.
If you go there in winter, however, you will need to rent some crampons in the town of Imlil as well as walking sticks before heading up the mountain. You will also need to bring warm winter clothes, a warm winter beanie, and some gloves.
You can rent crampons and walking sticks all around Imlil.
Here are other very important things you should bring with you to Toubkal:
It's now mandatory to have your passport with you on the hike to Mount Toubkal. You will have to show it at three different police checkpoints along the way.
I would suggest buying peanuts and dry raisins for the hike. These snacks will give you a lot of energy and they can be bought in any of the small shops in town before you start your trek.
Money for sleeping in the refuges:
There are two small mountain refuges located near the top of Mount Toubkal. People usually hike up to them during the first day of the trek, sleep there for the night and then reach the summit the next morning.
I reached the summit in one day but I still had to sleep in the refuge at the end of the day. I went back to Imlil the following day after spending an awesome night in the mountains.
The two mountain refuges have different prices. I stayed in one called "Les Mouflons" and it cost me 280 MAD to sleep there with dinner and breakfast included.
Arriving at the mountain refuge where we spent the night.
Most of the shops in Imlil where you can rent crampons and walking sticks also sell topographic maps of Toubkal and the surrounding mountains.
Although you do need a guide to hike up to Toubkal, I would strongly suggest getting a map of the mountain for extra safety. If at any point you would get separated from your guide or lost, having a map like this could save your life.
These maps are very detailed, super useful and a must to take with you so you know where you're going and what you can expect during the trek.
If you're not good at reading topographic maps (I still have a hard time with that myself), a hiking GPS could be very useful and provide extra safety on your hike to Toubkal. The one we recommend is the Garmin Foretrex Waterproof Hiking GPS. Check out this awesome GPS here.
Here's what you should include in a first-aid kit when you hike to Toubkal:
Antiseptic wipes
Compresses and band-aids
Painkillers – it's not much fun hiking when you got a huge headache
Anti-diarrheal medicine – it's definitely not much fun hiking when you got diarrhea!
Altitude sickness pills – Toubkal is much higher than 3000m. If you're sensitive to high altitudes, these pills could help you. Please seek medical advice first.
If you want a great compact first-aid kit specially made for hiking, camping, trekking, and outdoor adventures, check this one out.
You won't find many toilets in the mountains on the way to Mount Toubkal. If if you do find one, it will probably be without toilet paper.
You'll find normal toilet paper in nearly every corner shop in Morocco. However, if you want to be eco-friendly, It would be better to bring biodegradable toilet paper on your trek.
It'll be harder to find this type of toilet paper in a Moroccan shop so I suggest you buy it in advance in your local supermarket or order it here.
On my way up to Toubkal, every hiker I met coming down had a reddish face burnt by the sun. The sun rays were even stronger because they were amplified by the snow.
The sun can be quite vicious in the high mountains of the Atlas so definitely do not forget to bring some sunscreen with you.
This is another very important item that can be a lifesaver in case you get lost on the mountain. Let's imagine you would get lost or you would fall in a crevasse and wouldn't be able to use your phone to call for help.
Even if you would shout, your voice would be covered by the wind. Blowing in a whistle is a lot less tiring and the noise can be heard from miles away across the mountains.
Any shepherd or hiker who might be in the area will hear you and locate your position by following the noise. This is the whistle I recommend.
It's very popular to do the hike to Toubkal in two days. Because of this, many people start the second day of the hike around 4 AM. By doing this they can admire the sunrise from the summit.
In winter this can mean that you will be hiking in the dark for about 3 hours unless you have a good flashlight.
I suggest you use a headlamp so you have your hands free to hold on to walking sticks while you on your way to the summit.
Hiking for a full day up mount Toubkal can be extremely demanding on the feet unless you have a good pair of hiking boots. Bring comfortable hiking shoes that will protect your feet from rocks and hard uneven surfaces. The shoes should have a good grip, ankle support and be light enough for you to move easily with them.
We usually hike with boots from the brand Columbia.
All of Morocco gets a lot of rain in winter. Whether you're hiking in the Riff mountains near Chefchaouen or up to Toubkal, bring a good rain jacket with you. The rain jackets from the North Face are great ones to bring!
It's important to wear good crampons when climbing Toubkal in winter.
Planning a trip to Marrakech?
Read What to do in Marrakech – A Complete Guide to Morocco's Red City
7. Do you need a guide to hike to Toubkal?
You might have heard the tragic news of the murder of two Scandinavian girls in the Atlas mountains. Since this terrible day, it is now mandatory to hike to Toubkal with a guide.
Between Imlil and the summit of the mountain, there are three police checkpoints that verify you are accompanied by a guide.
You can hire one for a day or multiple days trek to Toubkal by going to the "Office of Mountain Guides of Imlil" or by contacting them ahead of time on their website. You can also call them at 00212 (0) 524 48 56 26.
This is where the office is located in Imlil:
The "Office of Mountain Guides of Imlil" is an association that was created in the late eighties with foreign mountain guides. The aim of this association is to provide certified mountain guides in the region of Mount Toubkal.
However, I noticed that almost everyone in Imlil works as a mountain guide, with or without certification. When you walk in the village, a lot of men will approach you and ask if you need a guide to climb Toubkal.
A lot of men in Imlil work as mountain guides…
When I arrived in the small mountain town, I hadn't done a lot of research on the matter and I ended up climbing to Toubkal with an uncertified guide.
The experience was really good and my guide Hassan was super knowledgeable about all the mountains in the region.
My guide Hassan that walked with a German couple and me all the way to the top of Toubkal
I hiked for two days with him and a German couple and the experience was one I'm not close to forgetting. After the hike to Toubkal, he invited us to his house to share a delicious couscous with his family.
I absolutely recommend the services of this guide. If you would wish to contact Hassan for a hike to Toubkal you can call him at +212 616-819298. He doesn't speak a lot of English but he is quite fluent in French and Spanish.
The German couple I spent the day hiking with from Imlil to Toubkal…
In case you're not up for looking for a guide independently and rather join a group, you can also book a trek with tour organizations like Toubkal Trekking in Morocco.
8. How much does it cost to hire a guide to trek to Toubkal?
Prices for guides to Toubkal vary a lot. If you hire one with the "Office of Mountain Guides of Imlil", you'll pay a bit more. You will, however, benefit from having a guide that is experienced in mountain rescue and knows how to administer cpr.
Their prices also include transfers to and from Marrakech in modern safe vehicles, fully qualified English-speaking mountain guides, private cooks who prepare delicious full meals on the trail and porters and mules to carry your bags.
On their website, they offer an interesting selection of short day trips and longer multiple-day treks for a wide range of prices.
If you would prefer to hire a guide on the spot directly in Imlil, you can expect to pay between 400 and 700 MAD to go to Toubkal and back.
This price doesn't include your food, the price of the crampons if you go there in winter and a night spent at the refuge halfway up the mountain where you will have to stay.
Some of the guides to Toubkal also provide donkeys to carry your bags…
9. How long does it take to hike from Imlil to Toubkal?
It took me about 4 hours to hike from Imlil to the mountain refuge. Once I got there, I took a little break and then continued towards the summit.
It took me another two hours and a half to reach the summit. So, all in all, it took me six hours and a half to reach the peak of Toubkal from the town of Imlil without trying to go extremely fast.
I reached the top of the mountain in one day but some people choose to do it in two days. It all depends on your fitness level and how acclimatized you are to high altitudes. It's important to walk at a pace that feels comfortable for you and to stay safe.
Climb the mountain at your own rhythm and stay safe…
10. Staying at the mountain refuges in Toubkal
There are two mountain refuges on the way to the summit of Toubkal. One is called "Les Mouflons" and the other one is called "refuge du Toubkal".
During the low season (winter and spring), there is no need to contact them ahead of time to book your stay there. You can just show up and there should be plenty of room.
I stayed in "Les Mouflons" and it cost me 280 MAD for the night with dinner and breakfast included. They have different prices depending on the time of the year.
If you visit Toubkal during the high season (summer and fall), I would suggest contacting the refugees ahead of time just to make sure they will have a bed available. These are the websites where you can contact them ahead of time:
I hope you have an awesome adventure hiking from Imlil to Toubkal. It was one of the most challenging hikes I ever did but it was totally worth it. If you do climb Toubkal, let me know in the comments below how it went.
*This article contains some affiliate links. If you book a hotel/hostel or purchase one of the recommended products through this website, I'll receive a small commission at no extra costs for you. This way you're helping me writing more informative and awesome guides like this. Thank you!
KNOW BEFORE YOU GO – MOROCCO TRAVEL TIPS:
Everything you need to know about traveling independently in Morocco :
Planning to rent a car in Morocco? Read this first:
A few travel and safety tips for Morocco:
Planning to travel to Morocco during Ramadan? Read this first:
How is it to travel to Morocco during Ramadan?
Hiking, surfing and nature trips in Morocco:
Our Moroccan city guides:
MOROCCO TRAVEL RESOURCES: