A lot of travelers visiting Kyrgyzstan are wondering about how to hike to Ala-Kul. What is the best way to hike to this gorgeous alpine lake? We think that making the trip to Ala-Kul lake into a 4-day trek is the best way to enjoy the fantastic scenery while acclimatizing to the high altitude.
Ala-Kul. All the travelers visiting Kyrgyzstan will, at one point or another, hear about this majestic alpine lake. This lake is the reigning king of the Kyrgyz mountain lakes both for its stunning colors and accessibility.
An incredible amount of tourists hike there during the summer season.
It's even dubbed by the locals as the 'pristine diamond of the Karakol Canyon' for its surreal shades of blue and turquoise.
Look at that incredible shade of blue!!
Since visiting Kyrgyzstan, Cynthia and I have been organizing 4-day group hikes to this glacier lake to share the beauty of this jewel with other travelers.
There are many different ways to reach the lake. You can start the hike from the Karakol valley or from the Altyn-Arashan valley. Some people take 3 days to reach the lake and get back to Karakol.
My girlfriend is proud of reaching the lake…
In my opinion, the best and easiest way to reach Ala-Kul is to do a 4-day hike that takes you first through the Karakol valley. After witnessing the beauty of the lake, two days of trekking through the Altyn-Arashan valley will bring you back to civilization.
You'll also get the chance to enjoy hot-springs on the third day of the hike and believe me, it will do wonders to relax your sore muscles.
These are some of the views you'll have on the first day of the hike…
This hike is quite challenging and not just on the physical level. You'll also have to face the unpredictability of the weather in the mountains. There have been times where we were surprised by hail and thunderstorms in the middle of July!
But believe me, it will be totally worth the effort when you'll cross a 3,800-meter high mountain pass and get treated to the most spectacular views on the third day of the trek!
This is the view you'll get from the Ala Kul pass…
In this article, I'll give you all the information you need to hike from Karakol to lake Ala-Kul. From how much food you need to pack to where the best camping spots are, consider this article your top reference.
[kt_box opacity="1″ background="#eded6f"]
This trek to Ala Kul is part of the 14 best hikes in Kyrgyzstan!
[/kt_box]
1. Why should you go on a trek to Ala-Kul?
Kyrgyzstan is a country where tourism is still in its infancy. And with most of the country standing above 3000 meters, you're not so likely to run into other tourists while hiking there.
The mountains in Kyrgyzstan are pristine, unspoiled and vast.
While I love the mountains, the high alpine lakes are what makes Kyrgyzstan so appealing.
The country contains more than 1,900 alpine lakes. Some are huge while others are so small they aren't even labeled on a map.
In my opinion, the one that is the most beautiful and that feels the most rewarding to reach is lake Ala-Kul. After two days of hiking, very few feelings and emotions compared to what I felt upon seeing the lake for the very first time.
Seeing the lake for the first time after two days of hiking feels incredible!
It's jaw-droppingly beautiful and the whole area surrounding it feels very serene and peaceful. I'm not a religious person but I could say that I had a very strong spiritual experience when I first looked down upon this lake.
Hiking to lake Ala-Kul is not a walk in the park but getting there is quite straight-forward. Anyone with a good level of fitness should be able to reach the alpine lake and hike back to Karakol in four days.
[kt_box opacity="1″ background="#eded6f"]
7 reasons why you should visit Kyrgyzstan
[/kt_box]
2. Day by day itinerary of the 4-day loop hike to Ala-Kul
A few things to do before you start the hike:
Ask about the weather conditions at Destination Karakol
Before you start this hike, head over to the office of Destination Karakol or call them at +996 500 006 886 to learn more about the weather conditions in the Karakol and Altyn-Arashan valleys.
Destination Karakol can also provide a guide or porters for your trek if needed.
This is where the office is located in Karakol:
I wouldn't recommend hiking in the mountains around Karakol without a good old-fashioned paper map or a digital map of the area on your phone.
This is the topographical map I recommend. It's a fantastic trekking map that includes the locations of guesthouses, yurt camps, and popular tourist attractions throughout the area.
Contact details are included for local agencies who can arrange transportation, gear rental, guide hire, and horse rental. It can be bought online or at the Destination Karakol office.
Another great option is to download an offline map of the area on your phone. You can use the apps 2Gis or Maps.me, just make sure your phone will be sufficiently charged for the whole journey.
Install 2Gis on your phone so you don't get lost…
Bring enough food and a water-filter bottle
Although there's a guest-house in the Altyn-Arashan valley where you can buy snacks and eat warm meals on the third day of the hike, you should still bring enough food for 4 days.
We always bring dried fruits, nuts and energy bars whenever we go hiking. A few fresh fruits, some vegetables, and canned food are also light enough to bring on a hike like this. Noodles are easy to cook and you can add some vegetables (fresh or canned) to make a proper meal if you have a small lightweight camping stove with you.
We recommend this ultralight camping stove, ideal for hiking and backpacking.
If you have a stove, you'll be able to make yourself a warm coffee when you wake up…
All of the food for the trek can be bought in Karakol for very cheap (food in Kyrgyzstan doesn't cost much).
Water bottles are available everywhere in Kyrgyzstan but if you want to be eco-friendly, bring a LifeStraw Water Filter Bottle on your trek to lake Ala-Kul. This is a bottle that filters water using a filtration device. If you drink water from streams and rivers while using this bottle, any dirt, bacteria or parasites will get trapped in the filter.
These water filter bottles are very light to carry and super useful for when you go trekking in the mountains. You can use them to drink the water in the middle of nature without worrying about becoming sick. Click here for more info and prices.
[kt_box opacity="1″ background="#eded6f"]
Not sure how much money you should bring to Kyrgyzstan?
Read: Kyrgyzstan on a budget
[/kt_box]
Day one: A pleasant easy hike through Karakol valley – 16 km
This hike begins just outside of Karakol, at the entrance of the Ala-Kul nature reserve. It's very easy to take marshrutka 101 from the center of Karakol to the entrance of the park.
You can also take a taxi for 400 KGS that will stop between the entrance and a broken bridge farther along the trail saving at least 1 hour of walk.
You'll be surrounded by trees on the first day of the hike…
After crossing the gate at the entrance of the park, you'll have to walk for a bit less than an hour before reaching and old bridge to your right. The most beautiful sights of the first day are located on the other side of that bridge.
After you've crossed it, you'll have to hike for about 16 km on very easy terrain before arriving at the campsite for the night.
The first day of the hike is mostly flat and you'll follow the Karakol river along a good part of the trail.
The view is gorgeous and you would have the impression of being in the Swiss Alps if it wasn't for the few yurt camps you'll encounter along the way.
You'll have to cross shallow waters a few times along the way…
On the first day of the hike, you might come across herds of horses who love grazing in this valley.
They are very tame and if you approach them slowly you'll get some stunning pictures…
This first day of hiking will bring you to the end of the Karakol valley near a bridge that crosses to the east bank of the river.
There are usually a few tents and this area and it's an ideal camping spot for the night if you have your own tent.
If you want to see exactly where the camping spot is, watch this video:
At the end of the valley near a bridge that crosses the river is the perfect camping spot…
If you don't have your own tent you can also sleep a bit farther into the valley in a yurt. They charge around 1000 som per night and this usually includes breakfast.
Although you might arrive very early during the day in this area and be tempted to continue hiking, it's better to stop here for the day.
The next kilometers of the hike are quite strenuous and it's better to start the hike again full of energy the following day.
Where can you get potable water on the first day of the hike to Ala-Kul?
The path follows a gushing river on the first day of the hike but I wouldn't advise getting water from it. The current is very strong and it isn't very safe to lean above it in order to fill your water-filter bottle.
What I would recommend instead is to fill your bottle from the water of a calm little stream between the camping area I described earlier and the yurts that are farther in the valley.
Day two: A harder hike from Karakol valley to Ala-Kul Lake – 12 km
The challenging part of the trek begins on the second day as you hike up towards Ala-Kul lake (3500 meters). The pass to the lake is quite steep and very challenging. You will be hiking along a steep path for hours and crossing sharp inclines and slippery rocks.
Cross the bridge that goes to the east bank of the river early in the morning so you can enjoy the sunset at ala-Kul in the evening.
The bridge is next to this tree…
Be very careful while crossing this bridge (see below), it's an old bridge and the planks are slippery and not very stable.
From there the path becomes steep very quickly. after two hours of hiking, you'll come across a small yurt camp where you can buy beers, snacks, and soft drinks.
If you continue a bit past this camp, into a forested area, you'll arrive at an old log cabin right next to a small river. This is a great place to fill your water-filter bottle and get a bit of rest before continuing towards the lake.
Once we got surprised by a hail and lightning storm and we had to hide in this cabin for an hour. It kept us dry while we waited for the storm to pass.
I grew really fond of this place and it reminded me of the log cabins that are quite popular around Canada. I recommend you stay there for a bit before moving forward.
The rest of the hike towards the lake is very strenuous. You'll be scrambling up between loose, slippery rocks, gravel, and muddy paths.
As you go up you'll feel the air becoming thinner and it will be harder to breathe.
Not too far from the lower edge of the lake stands a gorgeous waterfall. In the early Spring, it can be still completely frozen but the ice melts throughout the summer. Cynthia and I always stop here for pictures.
This is what the waterfall looks like in Spring…
and in the middle of the summer…
You'll have a beautiful view of the valley down below and the waterfall itself is a stunning backdrop for any photo.
After taking pictures in this beautiful spot, you're almost there. You'll climb up the last gravel wall before finally arriving at the jewel of the Tian-Shen mountains.
Arriving there after two days of hiking will surely be an unforgettable experience.
You can camp directly on the rocky bank of the lake when you arrive or hike for half an hour towards the left shore to camp on some higher cliffs.
This is usually where we pitch the tent to enjoy the sunset.
You'll see a sign advertising the Ak-Sai camp along a small rocky path. If you follow this trail for half an hour you'll arrive at a large plateau that overlooks the lake.
you'll see some tents belonging to the company Ak-Sai travel that are there the whole year.
This area is less exposed to the wind and you'll find some flat spots where you can pitch your tent quite easily.
It's also the perfect spot to witness gorgeous sunsets…
Where can you get potable water on the second day of the hike to Ala-Kul?
There are a few freshwater springs seeping through the rocks near the Ak-sai permanent campsite. This water generally doesn't need to be filtered and it's always very cold even in the middle of summer.
Day three: From Ala-Kul lake to the beautiful Altyn-Arashan hot springs
The third day of the hike is, in my opinion, the most beautiful. From the camping area that overlooks the lake, you'll be hiking first towards the Ala-Kul pass (about 3,900 meters high)
It's a very steep climb from the lake to this pass and it becomes harder to breathe as you climb up because of the elevation.
The path that goes up to the Ala Kul pass follows the lake for a little while…
Even after all the training, I had made in preparation for this hike, I remember feeling out of breath with my heart racing as I was climbing higher and higher towards the pass.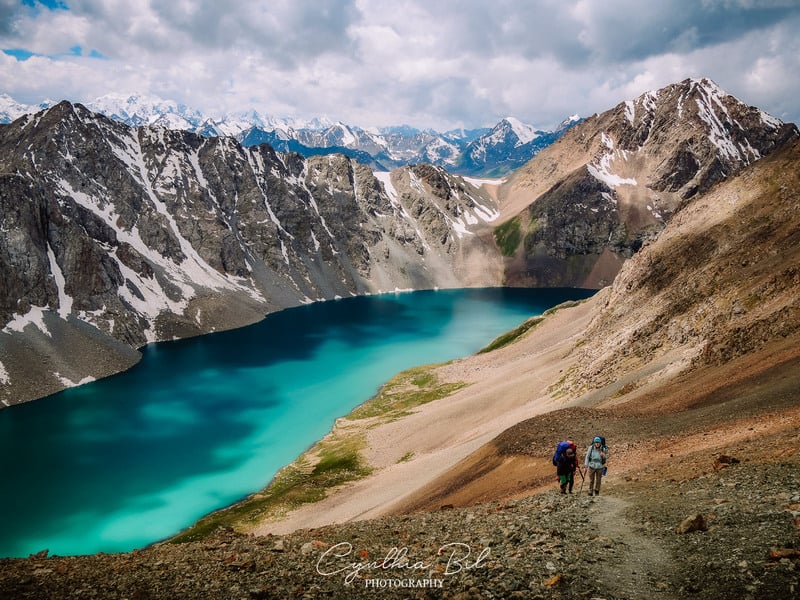 I would advise treading this path with a lot of caution because there are frequent rock-falls in the area.
Keep your eyes on the rocky cliffs above and listen very carefully to detect ahead of time any noises of rocks tumbling down.
Once you reach the summit, you will get treated to a beautiful view of the highest peaks of the Terskey Alatau mountain range. The Karakol Peak, Djigit, and the Oguz Bachi Peaks will be in sight and believe me, they are absolutely stunning!
The top of the pass is the perfect place to take a short break and snap some beautiful pictures of the lake.
We couldn't resist the temptation of taking a picture together on top of that gorgeous pass…
and neither could the members of our group…
There are two different trails to get down on the other side of the ridge and they are both very steep. It will take about 20 minutes to scramble down the gravel path.
This is the view on the other side of the ridge…
The trails are slippery and can be quite muddy at the beginning of summer.
Every step down will send gravel flying and tumbling in all directions
A few times, I ended up slipping and fell on my ass while walking down on these paths. It's preferable to walk down with good hiking poles.
There are a few yurt camps down in the valley below the pass. some of the Kyrgyz nomads that spend the summer there rent out their horses. This could be a good idea if the trek has been harder than you anticipated and you need a bit of a break on the third day.
The way down the valley from there is relatively easy. At first, you'll be walking down into a stunning valley called the Keldeke Gorge before eventually reaching the Altyn-Arashan valley.
You'll be walking along lush green pastures and meandering rivers.
At a certain point, you'll have to cross one of the rivers. The water level there is very low. You can either cross the river by taking your hiking boots off or by crossing on the few rocks that emerge from the water.
Farther down the path, you'll reach the Altyn-Arashan valley and you'll have to cross a few smaller water streams.
After about five hours of hiking, you will come across two big guest-houses and a few yurts in the Altyn-Arashan valley.
You can sleep in the yurts or get a room in the guest-houses for a very modest price.
If you travel there during the low season you can show up and book your stay on the spot but if you visit this valley during high season, you'll have to reserve online ahead of time.
We recommend staying at the Ala-Kul guest house in Altyn Arashan. It's a guest house where it's possible to stay in a room or in a yurt. The owners are very helpful and can give you tips on hiking in the area, they can also help you organize horse treks in the region.
Altyn-Arashan means 'Golden Spa' and this valley is famous for its hot sulfur springs. The mineral water in these springs has a temperature of 40-50°C.
You can access them free of charge if you stay in one of the guesthouses.
These outdoor hot springs are totally worth it!
After three long days of hiking, these hot-springs will do miracles for your sore muscles. Every time I'm there, I make a point of spending at least half an hour soaking myself in the boiling hot water and then jumping in the ice-cold water from the river.
This increases blood flow, eases muscle pain and will feel fantastic after the long walk to get there!
Here is a video that I made with my brothers in winter when we visited the hot-springs:
[kad_youtube url="https://www.youtube.com/watch?v=QtonN7XpiFI" width="600″ height="400″]
Where can you get water on the third day of the hike from Ala-Kul?
If you have a water filter bottle, you'll be able to fill it in the various streams and rivers between the lake and the hot springs.
If you don't have a water filter bottle, you can buy water bottles at the guest-houses near the springs.
Day four: Hiking from the Altyn-Arashan hot-springs to the village of Ak-Suu
The last day of the hike is very easy and because you'll be walking in a forested area, you'll be getting nice shade from the trees if it's a hot and sunny day.
The walk is mostly downhill and you'll be walking for about 19 km before you reach the village of Teploklyuchenka (this town is also more commonly called Ak-Suu), the endpoint of this trek.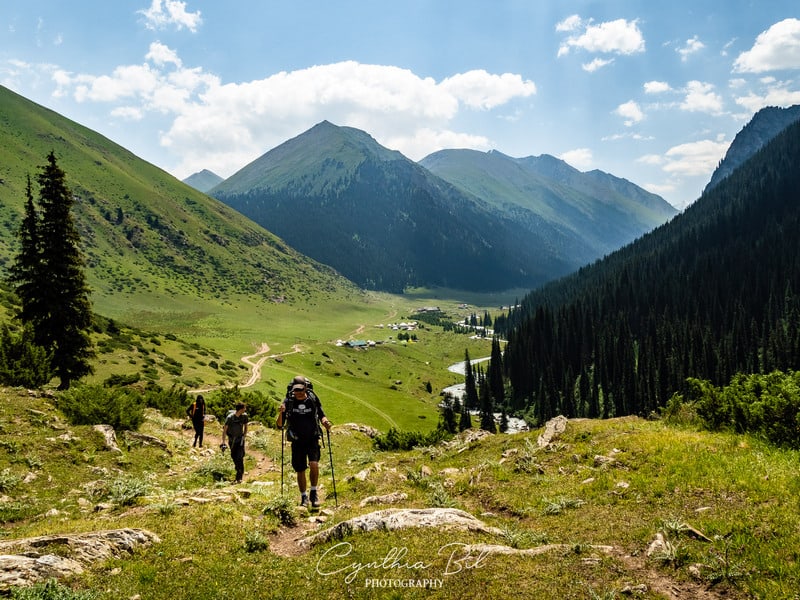 Leaving the Altyn-Arashan valley on the fourth and last day of the trek…
For most of the way, you'll be hiking next to a beautiful river gushing with water. Although you might be tempted to use the water from this river to fill your bottle, I wouldn't advise it.
The current is quite strong and in most places and the banks of the river are very slippery.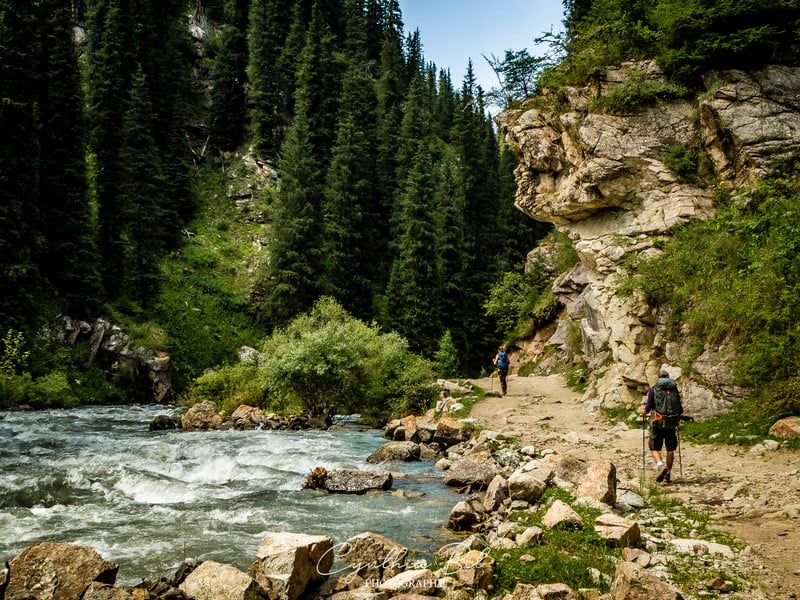 Instead of trying to get water from this river, fill your water-filter bottle at the guest-house at the beginning of the day.
Once you reach Ak-Suu, you can take a marshrutka (minibus) back to Karakol for about 30 som per person.
Where can you stay in Karakol?
In Karakol, we usually stay at Argo Guest House. The owners are super friendly and welcoming and the food they cook is absolutely fantastic.
The guest-house is in a very quiet neighborhood and all the rooms are very luxurious and sparkling clean while still super cheap.
It's the perfect place to relax after four days of hiking!
[kt_box opacity="1″ background="#eded6f"]
Want to go on a horse trek in Kyrgyzstan?
Read: Going on a Horse Trek to Song Kol in Summer and Winter
[/kt_box]
3. A few things you should know before going on a trek to Ala-Kul
Is it safe to hike to Ala-Kul?
I would say that hiking to lake Ala-Kul is relatively safe. There are a few potential dangers that you need to keep in mind, however:
While the first and second day of the hike are free of danger from rock-falls (see the day by day itinerary above), the third day of the hike will bring you from the lake to a high mountain pass (3900 meters) and you'll be hiking near cliffs that can be dangerous if you don't pay attention.
Stay alert when walking under these cliffs…
Early summer is the period during which most of the rock-falls occur in this area but it's important to walk on this part of the path with caution throughout the whole year.
As you move from the campsite that overlooks Ala-Kul to the Ala-Kul pass (see below) keep your eyes on the cliffs that dominate the path and listen very carefully for any noise of rocks tumbling down.
Because part of the path is right next to a gushing river on the second day of the hike (see above) and because of unexpected rainfalls, the trail always poses the risk of being very slippery in some areas.
When I first hiked to Ala-Kul, I didn't take this into consideration. I slipped and ended-up covering myself in mud but at least I didn't get hurt. I was lucky but if I would have slipped at the Ala Kul pass, I could have gotten seriously hurt…
Be careful when threading the path of the Ala Kul pass…
Altitude sickness can hit anyone, anywhere and at any time regardless of your previous high altitude hiking experience.
The first sign of altitude sickness is dizziness but symptoms also include difficulty breathing, having a hard time sleeping and vomiting.
If you have any of these symptoms while hiking to Ala-Kul, we suggest taking a break to see if you feel better and drinking a lot of water. If the situation doesn't get any better, the best option is to go down to a lower altitude.
Hiking to Lake Ala Kul is not a race. Do it at your own pace and take the time to acclimatize…
You could camp for a few days near the hut on the second day of the hike. This will help your body acclimatize to the higher altitudes of the trek.
The reason why we recommend doing this trek to Ala-Kul in 4 days instead of 3 days is because the first day serves as acclimatization and helps you avoid altitude sickness.
There are a few river crossings on the way up to Ala-Kul and from there down to the Altyn-Arashan valley. Most of the bridges used to cross these rivers were built a long time ago and are now in a decrepit state.
They are creaky, a few of them are missing some planks and they can also be very slippery.
Be careful when crossing this bridge on the second day of the hike…
I would advise crossing them with caution. A few years ago, a traveler decided to take a selfie from one of these bridges. He slipped and fell into the river. He was holding on to one of the protruding planks for dear life until someone came around to help him.
On this 4-day hike, you'll be coming across plenty of streams and rivers. Although the water may seem clean, drinking from most of them could be dangerous. There are plenty of horses and cattle in the area and the water is filled with coliform and dangerous bacteria.
We usually travel with a water-filter bottle. On this trek to ala-Kul, there is no need to carry a huge amount of water with you (this would be very heavy to carry). Just fill your water-filter bottle every time you come across a stream and you'll have a constant reserve of fresh drinking water!
The water-filter bottles that we have, filter out 99% of the bacteria so we're able to drink the water without having to worry that we'll get sick.
You'll find plenty of rivers where you can fill your water filter bottle…
4. What kind of weather should you expect in the mountains around Ala-Kul?
Weather can be very unpredictable in the mountains around Ala-Kul. It's not uncommon to have beautiful weather in the morning and hail storms in the afternoon or early evening. It's very important to start the trek with a good rain jacket and thick rain pants.
Even in June, the mountains that surround the lake can be very cold and it snows quite regularly.
The weather is totally unpredictable in the Kyrgyz mountains…
Don't continue trekking when there's poor visibility due to fog, snow or heavy rainfall. It can be dangerous to hike when you can barely see the trail or when there's a lot of snow on the path.
Even if you start this hike to Ala-Kul lake in the midst of summer, I would recommend bringing a winter sleeping bag and a warm jacket.
[kt_box opacity="1″ background="#eded6f"]
Wondering if Kyrgyzstan is safe?
Read: Is it safe to travel to Kyrgyzstan?
[/kt_box]
5. How long does it take to reach Ala-Kul on foot?
If you start from the bridge at the beginning of the Karakol valley, it's possible to reach Ala-Kul in only a day.
I would still advise taking two days to hike to the lake. The main reason is that the first day helps your body acclimatize to the high altitude. After those 2 days to the lake, you can then take 2 days to hike back towards Karakol in the Altyn-Arashan valley.
I also think that it's important to pace yourself and not try to hurry up to the lake. It's better to take your time and give yourself the proper time to rest every day.
[kt_box opacity="1″ background="#eded6f"]
Want to discover cool activities around Kyrgyzstan?
Read: The top 28 things to do in Kyrgyzstan
[/kt_box]
6. How difficult is hiking to lake Ala-Kul?
It's important to be well prepared and to have a good fitness level before hiking to lake Ala-Kul. Although the first and last day of the trek are relatively easy and don't represent a major challenge, the second and third day are considered by some to be extremely difficult.
I would say that the most challenging part of this hike is the stretch between the lake and the Ala-Kul pass. The altitude there is so high that breathing becomes increasingly difficult.
You'll also have to scramble between loose gravel and unstable boulders.
Some rocks are not very stable…
We advise all of the participants of our Adventure Trek to do some exercises and at least a bit of physical training so they can be ready for the hike to lake Ala-Kul.
Going to the gym and doing moderate running on an inclined thread-mill is a great way to prepare for the trek to the lake.
7. What should you bring on a hike to lake Ala-Kul?
During this hike to lake Ala-Kul, it's extremely important to have the right equipment with you. You'll be dealing with unpredictable weather and harsh terrain.
Trust me, it's the worst to be hiking and camping in the mountains when you're soaking wet or freezing cold because you forgot to pack some waterproof and/or warm clothes!
To make sure you're prepared for the trek to lake Ala-Kul and you don't forget anything, Cynthia created a list of everything you need to pack and do when you're planning a multiple-day trek in Kyrgyzstan.
Keep in mind that because of the yurt camps, permanent tents and guest-houses that you'll come across on this trek, it's possible to do the hike without bringing a tent.
[kt_box opacity="1″ background="#eded6f"]
What are the best places to visit around Kyrgyzstan?
Read The 15 best and most beautiful places to visit in Kyrgyzstan to find out!
[/kt_box]
8. What are some reliable agencies organizing hikes to lake Ala-Kul?
During the long period that Cynthia and I spent in Kyrgyzstan (a year and a half), we had the chance to discover many companies that organize treks to Ala-Kul.
Most of these companies are quite big and well established, however, because of their size they only organize trips for huge groups and it becomes a bit hard to have a more personally tailored trip.
Our guide Aleksei from Kyrgyz Nomad…
When it comes to hiking to lake Ala-Kul, We highly recommend a company called Kyrgyz Nomad Travel. They can organize porters, cooks and provide camping equipment during the trek. They are also experts on the region.
If you would like to combine the trek to Ala-Kul with 3 days of horseback riding and share this experience with a small group of travelers during 10 days full of adventure, you could join our Adventure Trek.
9. How much does it cost to hire porters to lake Ala-Kul?
Porters in Kyrgyzstan usually carry between 10-15 kg of your belongings on top of the trekking and camping gear necessary for the hike.
The porters hike a lot faster than most people even while carrying so much gear so you should give them only the things you won't need till the end of the day when you reach the camp they have set up.
It's possible to hire a porter for the Ala-Kul trek in Karakol for around 25 euros per day. The cost of a porter for the whole 4-day trek should be 100 euros.
I hope this guide was useful and that you'll enjoy hiking and trekking to the pristine lake Ala-Kul in Kyrgyzstan as much as we did!
We wish you an awesome trekking adventure to Lake Ala-Kul
We always love to hear from you so if you have any questions concerning hiking in Kyrgyzstan or if you think there's more information we should add to this article, get in touch with us or let us know in the comments below!
*This article also contains affiliate links. This means that if you purchase a product through one of these links, we'll receive a small commission at no extra costs for you. This way you're helping us writing more informative and awesome guides like this. Thank you!
** The photos in this post were taken by Cynthia with a Lumix G90, the ideal camera for outdoor adventures.
KNOW BEFORE YOU GO – KYRGYZSTAN TRAVEL TIPS:
Everything you need to know about traveling independently in Kyrgyzstan (visa, how to get to and around Kyrgyzstan, where to stay,…):
Plan your trip to Kyrgyzstan:
Hiking, skiing and horseback riding in Kyrgyzstan:
KYRGYZSTAN TRAVEL RESOURCES: