This article is an ode to Kyrgyzstan with all the reasons why this little Central-Asian country is so special to us and why you should visit it this year!
Kyrgyzstan is a country that captured our imagination from the very first time we entered its border from Kazakhstan. It has beautiful unspoiled mountains, crystal-clear mountain lakes, a fascinating culture, and interesting traditions.
We were amazed to see so many horses everywhere and that nomads are still living in yurts during the summer to follow the grazing of their cattle. Life in the countryside of Kyrgyzstan seemed so simple and quiet and this is something that immediately charmed us.
When we first arrived in Kyrgyzstan, we still had the plan to hitchhike and sail around the whole world and we didn't have the intention to stay in the country for very long. We had traveled all the way there on an overland journey from Europe and our goal was to reach South-East Asia as quickly as possible.
After only three days in Kyrgyzstan, we decided we would be staying there for a while. What was just supposed to be a few months at first eventually became a whole year in this Central-Asian country. Now looking back, I'm so glad we took the decision to live and travel there for a longer time.
Hiking to Ala Kul lake
There is an endless amount of things to do and plenty of beautiful places to discover in Kyrgyzstan. It's a country where you can learn how to build yurts, walk around a fairy tale canyon and witness the perfect skills of eagle hunters. It's also a very cheap destination and you can easily cross the border into Kazakhstan to renew your Kyrgyz visa.
Eagle hunter in Kyrgyzstan
The nature of Kyrgyzstan has a wild untouched beauty that is rarely found anywhere else around the world. Reminiscing now this country where Cynthia and I lived and traveled for a year, it's hard not to feel a certain nostalgia. I decided to write down the top reasons that made Kyrgyzstan so special to us and hopefully, this list will inspire you to visit the country one day as well.
Sunset at Song Kol Lake
[kt_box opacity="1″ background="#eded6d"]
Read everything you need to know about traveling in Kyrgyzstan in our
Ultimate Backpacking Guide to Kyrgyzstan!
[/kt_box]
1. The rich and sometimes odd cultural heritage
The culture of Kyrgyzstan is just fascinating. The Kyrgyz people are mainly Muslim, they speak Russian and Kyrgyz and generally have Asian features. They share many affinities with the nomadic people of Mongolia. A few of these affinities, for example, are the use of yurts during summer and the practice of hunting with Eagles. People in Kyrgyzstan also live semi-nomadic lives.
They live in villages in winter but spend the warmer months moving around the mountains with their flock of sheep. The culture there felt so different from all the ones we had previously encountered but it also felt like I had been there my whole life. I was really at ease and comfortable waking up inside one of the cozy yurts and drinking Kymyz (a fermented horse milk drink) felt totally natural.
Playing with the kids in a yurt
One of the most impressive traditions of Kyrgyzstan is the ancient art of hunting with golden eagles. Central Asia is the birthplace of eagle hunting. The nomads who traveled through the Central Asian steppes started taming these birds of prey thousands of years ago. They would tame and train the birds and then use them to hunt and acquire furs during the cold winter months.
This form of hunting isn't essential for survival anymore but the ancient tradition Is still taught from father to son. The same custom used to exist in Kazakhstan but there, it has almost completely disappeared. Kyrgyzstan is one of the few places where you can still find the traditions of the nomadic tribes of Central-Asia.
While I was living in there, I had the chance to see the eagle hunters train their birds of prey and it was truly interesting to see the whole process. The hunter who is also called a berkutchi often talks and sings to the bird so it learns to recognize his voice.
One of the techniques used to train the eagle to hunt is to fasten a stuffed fox fur to a rope. The rope is then pulled by the hunter riding a horse at full gallop. Every time the bird manages to catch the fur, he is rewarded with a bloody piece of meat for his efforts.
I found the whole demonstration of the training process super interesting and I was surprised to learn that the hunter and the eagle stay almost 20 years together. During that time, they build a very strong connection.
The eagle isn't just the hunting partner and the livelihood of the berkutchi, the bird is his family. The richness of this tradition sparked a wave of respect inside me and if I were to go back to Kyrgyzstan tomorrow, I'd probably pay a visit to the eagle hunters as soon as I could.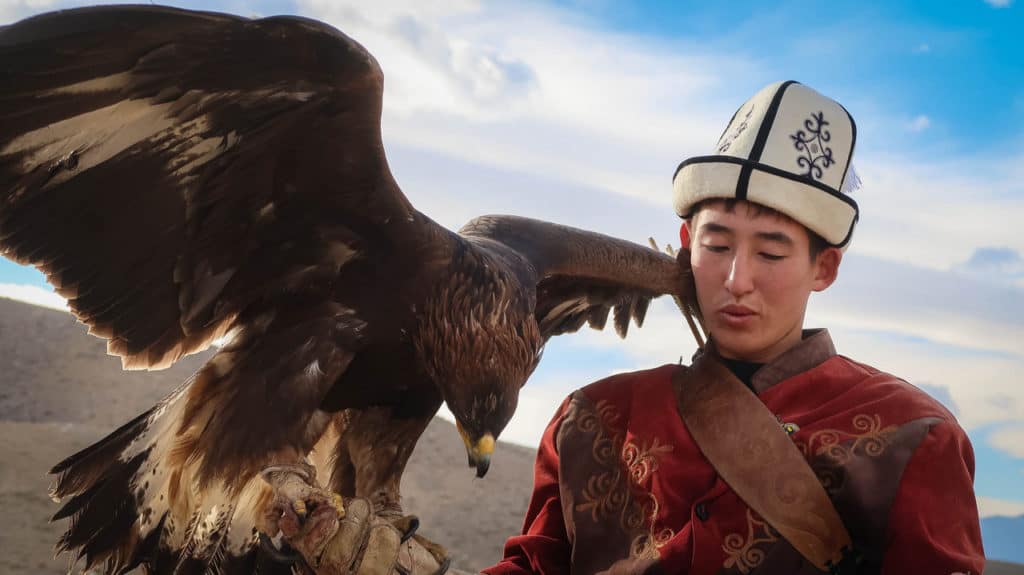 If you would like to learn more about this tradition and visit the eagle hunters on your next trip to Kyrgyzstan, read our article: Eagle Hunting – About the ancient tradition and where to visit the Eagle Hunters in Kyrgyzstan.
A strange sport called Dead Goat Polo
During a hitchhiking trip from Bishkek to Osh, one of our drivers dropped us off in a small town called Kara-Kul. We arrived just in time to see a local competition of Kyrgyzstan's most popular horse game. A game called Kok Boru or Dead Goat Polo.
Even though we had never heard about this sport, we were really excited to watch an authentic competition. We had no idea we were about to see a violent rugby game on horses with a headless goat used as the ball…
The history of this sport is very interesting. One of the spectators told us that the name Kok Boru actually means Grey Wolf and that there are a few different versions on the origins of the game. One legend says that the sport was created in the mountains by locals who saw a pack of grey wolves kill a goat and toss it around just for fun.
Another explanation we were told was that the sport was meant to prepare the Kyrgyz riders and their horses for war. While watching the game, we could see that the players were violently crashing into each other, which would also happen on a real battlefield.
The whole demonstration was quite brutal and violent but at the same time, it was bewildering, exciting and overwhelming. You'll see exactly what I mean in this video:
[kad_youtube url="https://www.youtube.com/watch?v=-J30kFbvoaE"]
We are well aware that using a dead animal for sport is a sensitive issue and definitely causes controversy. Cynthia and I always try to learn more about different traditions instead of judging them. As travelers, we find it important to visit a country with an open mind and be respectful of different cultures.
The Kyrgyz people have immense respect for their animals and they generally treat them very well. They see them as living beings, entitled to a free life. That's why you'll see horses, cows, goats, and sheep wander freely in the mountains and valleys. When the Kyrgyz take their lives, they honor the animal by not wasting it in any way.
Although this sport might seem strange to a foreigner, I have to say that witnessing it gave us a rich cultural experience. If you want to learn more about this odd sport, read: Ready Steady Goat! An insight into Kok Boru (Dead Goat Polo).
The beautiful celebration of Nowruz
Witnessing the celebration of Nowruz in Kyrgyzstan is definitely one of the highlights of my time there. Kyrgyzstan celebrates many festivals and sacred days but Nowruz is a very special one. It's celebrated all over the country from the busy capital of Bishkek to the small villages bordering the south shore of Lake Issyk Kul.
Nowruz (pronounced "no-rooz"), which literally means "New Day" in Farsi, is the Persian New Year. It marks the first day of the first month in the Iranian calendar and it starts at the exact moment of the vernal equinox, which is the beginning of spring in the Northern Hemisphere. That's why it's also called the Festival of Spring.
When merchants started traveling along the Silk Roads (a network of trade routes between China and Eurasian countries) they didn't only trade goods but also exchanged knowledge, ideas, cultures, and beliefs. That's how Nowruz was introduced into Central Asian countries.
The day before Nowruz, we traveled from Bishkek to a small village on the south shore of Lake Issyk Kul to see how it was celebrated in the countryside. We traveled to see the South Shore National Games Festival in the small village of Kyzyl-Tuu. Because we arrived there a day before, we were able to see how all the people from the surrounding villages were preparing for the spring celebration.
Making decorations for the Nowruz festival
During the preparations and on the day of Nowruz, we were delighted to see so many different types of food and gorgeous displays of the Kyrgyz tradition. At the beginning of the festival, we listened to performers recite poems and tell stories about Nowruz. They also sang traditional songs that were accompanied by instrumental music and performed traditional dances.
We also saw beautiful rituals such as burning a branch of juniper to symbolically cleanse away the troubles and bad luck from the past and start the new year refreshed and renewed.
Later during the day, we were treated to some competitions in archery, wrestling, dancing and a fine demonstration of Salburun (the nomadic tradition of hunting with eagles). It's hard for me to put in words how much fun being there was but if you watch this video it will give you a good idea
[kad_youtube url="https://www.youtube.com/watch?v=TWjvULxRVkA"]
I feel a bit sad that we will miss Nowruz in Kyrgyzstan this year as we are currently traveling in Morocco. I know, however, that we will be back in that gorgeous country one day, right on time for this festival and we will be delighted to taste all the food prepared and see the beautiful celebrations.
If you would like to learn more about how Nowruz is celebrated in Kyrgyzstan, read: Celebrating Nowruz in Kyrgyzstan.
Traces and remains of the Silk Road everywhere
I'm a big history nerd and I couldn't have been happier in Kyrgyzstan. During centuries Kyrgyzstan was a country where merchants from Asia would travel towards the west to sell silk and various other merchandise and goods. Merchants, traders, and adventurers such as Marco Polo have walked over the Kyrgyz mountain passes.
During their trips through Central-Asia, these people and their caravans had to rest somewhere and they built various 'caravanserai' along the way. This was a sort of roadside inn where travelers could stop for the night or a few days to rest.
Because the trading routes became so popular, a lot of cities were also created. Thousands upon thousands of merchants would meet and sell or exchange their products in these cities.
What is so interesting about Kyrgyzstan is that the whole countryside is sprinkled with old ruins of the silk road. One of the most popular ruins to visit is an old Caravanserai called Tash Rabat in the region of Naryn. This caravanserai has an unusual architecture and this lead many people to believe it was originally a Buddhist monastery.
It's located in a beautiful setting. The green mountains that surround this ruined building are very quiet and the silence is only occasionally broken by herds of horses running in the distance.
This was the perfect place for Cynthia and me to relax and think about the merchants that had walked these lands centuries ago. While I was there, I got up before sunrise to explore the mountains around the site. It was so beautiful to see the sun rising and slowly bathing the caravanserai in a golden color.
Tash Rabat is not the only remain of the silk road in Kyrgyzstan. Another very cool place to visit ( and this one is not too far from Bishkek) is the Burana Tower. It's the last thing that remains from an ancient city called the city of Balasagun. This was once a booming metropolis that received thousands of Silk Road caravans.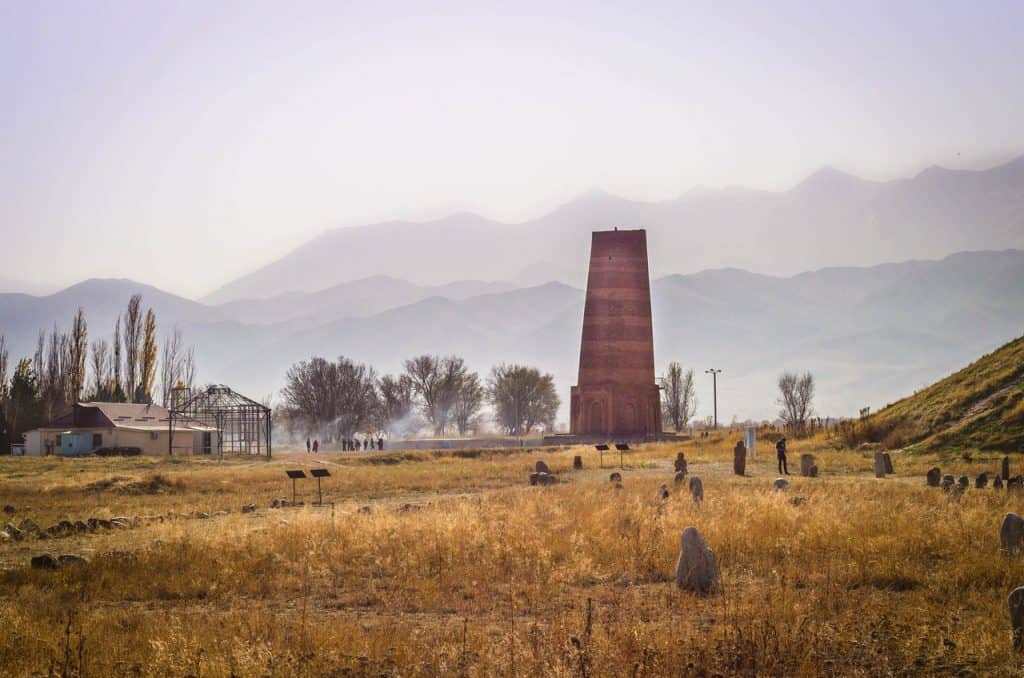 It's one of Kyrgyzstan's most famous historical sites and I would love to go back there again, even after visiting this place nearly 4 times (I'm a big history nerd, remember?).
Although the tower itself might not seem very exciting to many people, I find it's quite a fascinating and mysterious place to visit. It feels so crazy to imagine that this archaeological site where nothing remains used to be a huge city and was once considered the center of the world.
Kyrgyzstan definitely has a rich heritage and history. I was never bored while I was there because there were always new things to learn and discover about the place. If you want to learn more about all these traditions and treasures from the past have a look at all our articles about the country where we share many other interesting customs and beautiful sights.
2. The friendliness and hospitality of Kyrgyz people
It's said that the best way to get to know a country is by spending time with the locals. You learn so much about the culture and their daily lives. If you already know us a little, then you know that this is what interests us the most during our travels.
Already on our first evening in Kyrgyzstan, we got invited by a family to spend the night in their home. They treated us to some local dishes and rang their neighbors and extended family to come and meet us. Even though our Russian language skills weren't very fluent, we were able to have a good conversation and we could learn more about the daily routine of the family.
You can see the beautiful generosity of the family who hosted us in this video:
[kad_youtube url="https://www.youtube.com/watch?v=iuI8s_td–g"]
This is just one small example of how generous, friendly and hospitable, the Kyrgyz people were with us. While Hitchhiking in Kyrgyzstan, our drivers would often invite us for a meal and they seemed so happy to be able to help. We didn't only fall for the beautiful landscapes of Kyrgyzstan, its people really stole our hearts!
[kt_box opacity="1″ background="#eded6d"]
Kyrgyzstan is also a very safe country
Read: Is it safe to travel to Kyrgyzstan?
[/kt_box]
3. The various festivals
Kyrgyzstan is a country where each city, town or region organizes a lot of festivals every year. No matter what time of the year it is, if you start asking around, you're bound to find a festival taking place not too far from your location.
Nowruz is probably the most famous festival in Kyrgyzstan but apart from that one, there are also various horse games and traditional sports competitions taking place all year round. On the 31st of August (Independence day of Kyrgyzstan) and on the 21st of March (Nowruz – Spring Festival) you can watch the national championship of Kok Boru in the Pishpek Hippodrome in Bishkek.
During the summer all the CBTs around Kyrgyzstan organize different horse festivals. You can find out more about these festivals on their website. There's also the At Chabysh Horse Festival that takes place at the Peak Lenin base camp and plenty of other National Horse Games Festivals. You can find a complete list of all the festivals and where they are held here.
One very special event that took place in Kyrgyzstan while we were there was the World Nomad Games. One of the reasons why we stayed so long in Kyrgyzstan, was not to miss out on this beautiful event. And… it was so totally worth it!
The World Nomad Games are an international sports competition, dedicated to the ethnic sports practiced in Central Asia. Last year 66 countries were taking part in those games, including Kyrgyzstan, Kazakhstan, Azerbaijan, Uzbekistan, Russia, Mongolia, Afghanistan, Hungary, Scotland, and even the United States!
We showcase this beautiful event in a small video we made:
[kad_youtube url="https://www.youtube.com/watch?v=DEA4yCEG1zw&t="]
We saw several competitions of archery, horse wrestling and Kok Boru (Dead Goat Polo), alternated with cultural activities and events, showcasing the Kyrgyz and other nomadic cultures from around the world. There was so much to see and absorb that we felt exhausted in the evenings but we were oh so happy to be a part of this!
4. The many hiking and trekking trails
Kyrgyzstan is a hiker's paradise. The country has thousands of mountain trails that reach high peaks, gorgeous passes, and beautiful alpine lakes. For outdoors enthusiasts like us, this Central-Asian country was the perfect destination. Cynthia and I absolutely love the mountains and hiking on far, off-the-beaten-path trails.
We are crazy about the mountains. The higher and more beautiful they are, the more we love them. That's why Kyrgyzstan (and Georgia) became one of our favorite countries for its countless mountain hikes. What makes Kyrgyzstan such a prime location for mountain hikes is that 90% of its territory is above 1,500 meters.
We lived in Kyrgyzstan for about a year. During that time we've done a few treks in the Kyrgyz mountains and it's been an absolutely unforgettable experience! We often felt like we were the only people in the world while hiking through those remote and majestic landscapes.
We recently published the Complete Guide to Hiking in Kyrgyzstan to help you plan your trekking adventure to this country.
It covers everything you need to know whether you want to organize a trek with a trekking company or hike independently around the country. It also includes a list of the 13 most beautiful hiking trails the mountains offer. The mountains of Kyrgyzstan marked us forever and we're sure they'll leave an unforgettable impression on you as well.
5. Tons of alpine lakes, rivers, and hot springs
Kyrgyzstan has a huge water reserve and that means there are plenty of lakes, streams, and rivers all over the country. Kyrgyzstan has more than 2000 lakes and 40,000 rivers. The country has a huge still untapped potential for watersports like kayaking and whitewater rafting. These activities only became popular quite recently but you can already find a few local tour operators who organize kayaking and rafting trips.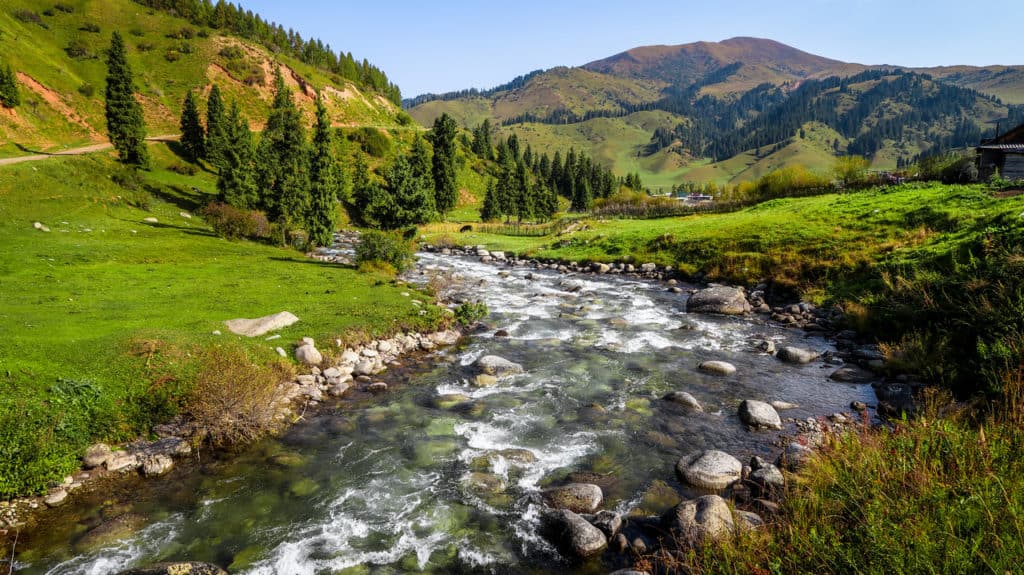 Kyrgyzstan also has a lot of hot springs. Some of them are very popular because they're very beneficial for health. Locals often visit the hot springs to treat diseases and this is the case for the ones found in the gorgeous valley of Altyn Arashan. They became so popular that a small resort consisting of small pools in private cabins have been built to accommodate the many visitors.
The hot springs of Altyn Arashan are probably the most famous springs in Kyrgyzstan. The water is generally almost near boiling point and is known to help with diseases related to the nervous, endocrine, cardiovascular and musculoskeletal systems. I went there for the first time with my brothers during winter and it was a really relaxing experience! Watch the video here.
[kt_box opacity="1″ background="#eded6d"]
Read: The 15 best and most beautiful places to visit in Kyrgyzstan
[/kt_box]
6. The endless variety of things to do and places to see
After living and traveling in this small Central Asian country for more than a year, We realized there was an endless selection of things to do during our journey there: from staying with the nomads and people of Kyrgyzstan and learning how to build a yurt to tasting the local cuisine, discovering the country on horseback and going on the most beautiful hikes.
Even a whole year in Kyrgyzstan isn't enough to fully discover the culture, experience the sights and sounds and enjoy nature at its fullest.
Luckily for you guys, Cynthia wrote a list of the top 28 things to do in Kyrgyzstan. In this article, we mention tons of activities that will help you make the most out of your visit. Whether you're passionate about folk music, ethnocultural festivals, odd sports or the Kyrgyz cuisine, you'll find it all in this guide.
We even learned how to build a yurt!
7. Travel to Kyrgyzstan while it's still an off-the-beaten-path destination
While we were living in Kyrgyzstan, we rarely met other backpackers. We even got excited when we saw foreigners walking in the streets of Bishkek, the capital of the country! Now that we are in Morocco we see many tourists on a daily basis and we realize how much of an 'unknown' destination Kyrgyzstan still is.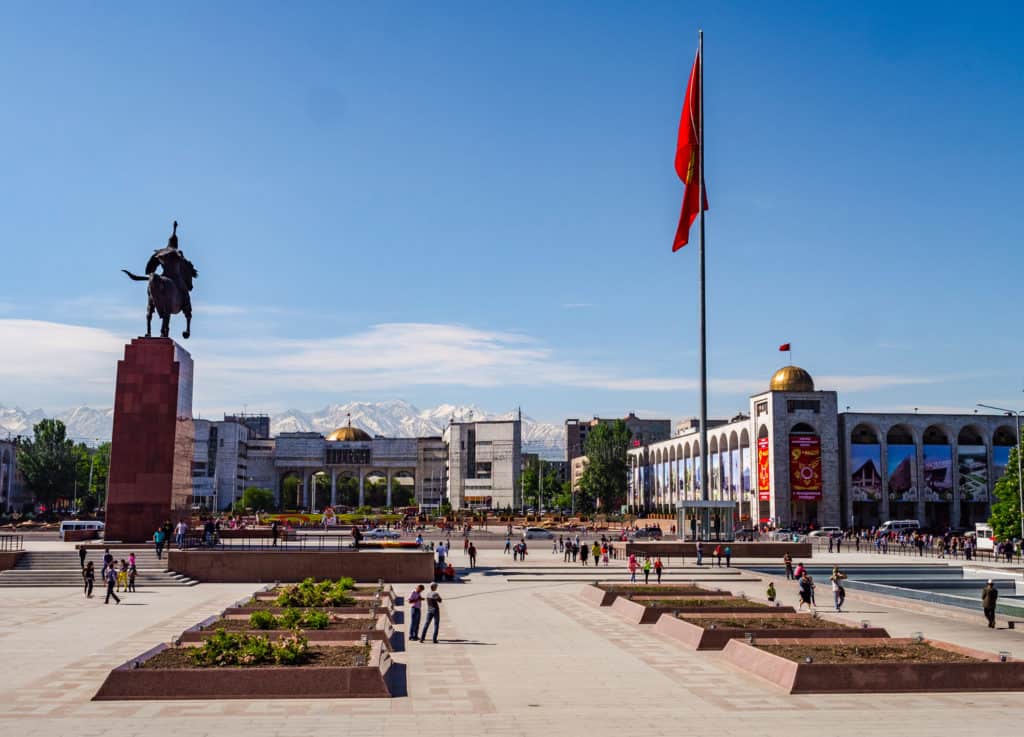 Bishkek
Kyrgyzstan has been under the radar of many travelers for a long time but this is going to change soon. The country has been listed on the Lonely Planet as a must-see destination and slowly but surely it's attracting more and more backpackers.
However, the amount of people that visit Kyrgyzstan is nothing in comparison with popular destinations like Thailand, Vietnam, Peru, Mexico, etc. You can still hike for days in the mountains or walk in big cities like Osh and Karakol and barely meet other travelers.
So now is a great time to discover the extraordinary nature and authentic culture of Kyrgyzstan as we foresee that this country will soon become a very popular destination.
Definitely check out our Ultimate Travel Guide to Backpacking in Kyrgyzstan for all the practical information you need to know on how to get a visa, how to get around, what to pack,…
[kt_box opacity="1″ background="#eded6d"]
Read also:
How much does it cost to travel and live in Kyrgyzstan
[/kt_box]
We loved Kyrgyzstan so much that we are going back this summer. We've found our own little piece of paradise on this planet!
[kt_box opacity="1″ background="#eded6d"]
You can join this summer on an awesome adventure in Kyrgyzstan!!
Read more about our adventure tours here!
[/kt_box]
Have you already visited Kyrgyzstan? What did you love most about the country? Or are you planning to visit it soon? Tell us what inspires you to go there!
Let us know in the comments below!
KNOW BEFORE YOU GO – KYRGYZSTAN TRAVEL TIPS:
Everything you need to know about traveling independently in Kyrgyzstan (visa, how to get to and around Kyrgyzstan, where to stay,…):
Plan your trip to Kyrgyzstan:
Hiking, skiing and horseback riding in Kyrgyzstan:
KYRGYZSTAN TRAVEL RESOURCES: