If you're planning to visit Kyrgyzstan in winter, this article is for you. This 10-day Kyrgyzstan itinerary for winter will help you plan an awesome adventure in this small Central Asian country during the coldest months of the year. It contains useful information such as how to get around Kyrgyzstan in winter and what are the best activities to do in Kyrgyzstan during that period of the year.
Kyrgyzstan has a unique mountainous landscape that attracts visitors from all over the world. People visit this destination to hike on hundreds of mountain trails around the country and visit the yurt camps of nomadic families.
If you're a fan of nature and mountains, you'll be in heaven in Kyrgyzstan.
While most people visit the country in summer, there are plenty of reasons why you should visit Kyrgyzstan in winter.
The landscapes become incredibly stunning, the country's valleys fill up with snow and become perfect for backcountry skiing and you can also enjoy a horseback riding adventure in a completely unique setting!
You can enjoy a horse riding adventure in a completely unique setting…
The country also benefits from regular snowfalls throughout winter and more and more ski resorts are opening up all over.
After traveling around Kyrgyzstan on a mission to try all the best winter activities, I have compiled this small Kyrgyzstan itinerary to help you enjoy your trip there to the fullest!
[kt_box opacity="1″ background="#eded6d"]
Have a look at my one week Kyrgyzstan Itinerary for summer
[/kt_box]
A few things you need to know before visiting Kyrgyzstan in winter
Kyrgyzstan is cold in winter. Temperatures reach -20° C in Bishkek and it sometimes gets even colder in the mountains.
It's important that you travel there with warm winter clothes, otherwise, your trip might turn into a nightmare very quickly.
Bring a winter jacket, some winter gloves, good boots, winter pants, and a warm hat.
Kyrgyzstan offers amazing backcountry skiing trails…
Hiking on your own in Kyrgyzstan during winter could be very dangerous since it's very cold during the day and the temperatures become even more extreme at night.
I wouldn't recommend hiking there without a guide.
Read The Complete Guide to Trekking in Kyrgyzstan to see which local trekking agencies we recommend.
Some mountainous areas are more prone to avalanches so bring a good avalanche kit with you…
Since this Kyrgyzstan itinerary includes winter sports and backcountry skiing in some areas with a high risk for avalanches I would recommend bringing an avalanche kit and having good travel insurance.
You'll need to travel with an avalanche safety kit that includes a beacon, a shovel, and a probe and more importantly, you'll need to know how to use this kit.
[kt_box opacity="1″ background="#eded6d"]
Read our Complete Packing List for Trekking in Kyrgyzstan
[/kt_box]
Should you rent a car or use public transport to visit Kyrgyzstan in winter?
It's very easy to discover the northern part of Kyrgyzstan by public transport. However, if you're in the country for only a short amount of time and you want to follow this itinerary day by day, I would strongly suggest renting a vehicle.
I would recommend using this car rental and transfer agency based in Bishkek for any car rental while you're in Kyrgyzstan.
By renting a car you'll easily access some very remote villages…
By renting a car, you'll be able to follow your own schedule, you won't have to wait for buses and more importantly you'll be able to stop wherever and whenever you want to take pictures.
If you want to take public transport instead to follow this itinerary, I will also include all the bus stations where you can catch buses between each destination and how much taxis should cost.
[kt_box opacity="1″ background="#eded6d"]
Wondering how to travel around Kyrgyzstan?
Read our Kyrgyzstan Travel Guide
[/kt_box]
10-day Kyrgyzstan itinerary for winter
Day 1 – Visiting Bishkek
Your adventures around Kyrgyzstan are likely to start in Bishkek. It's the capital of the country, international flights there are relatively cheap and it's very easy to travel overland from neighboring countries like from Almaty ( Kazakhstan) to Bishkek or to get to Bishkek from Tashkent (Uzbekistan) by bus.
It's a modern and cosmopolitan city but it still preserves the essence of the Kyrgyz culture and Soviet architecture.
On top of being super interesting, Bishkek is also a very safe city to visit (read: Is it safe to travel to Kyrgyzstan).
For information on how to get from the airport to the city center, read The Complete City Guide to Bishkek.
For the first day of this Kyrgyzstan itinerary, I would suggest visiting the Osh Bazaar and the various squares and parks in the city center.
The parks of Bishkek look lovely in winter…
The Osh Bazaar is one of the largest bazaars in Bishkek and it's really an iconic and historic part of the capital. You'll find it in the western part of the city not far from the Western Bus Station.
It's possible to buy everything in this huge open-air market and it's the best way to immediately be immersed in the Kyrgyz culture.
You'll find all the delicacies and the food products the Kyrgyz people love in this huge market. You'll see the way people dress and you'll also discover spices, dishes, cheese products and ingredients typical to this Central Asian country.
To find out where the bazaar is located and what its opening hours are, read Tips to Visit the Osh Bazaar in Bishkek.
The Osh Bazaar is a huge open-air market visited by foreigners and locals…
Visiting the squares and parks of Bishkek
When I think back about the year Cynthia and I spent in Bishkek, the beautiful parks of the city are what first pops in my mind. The one I would recommend to visit during your first day in Bishkek is Oak Park.
It's a park filled with majestic oak trees and sculptures right in the city center and it's surrounded by some of the best cafes and restaurants in the city. It's a great place to stroll around and relax after a visit to the Osh bazaar.
Oak park looks lovely in winter…
And finally, no visit of Bishkek would be complete without a stroll around Ala-Too square.
This huge square is the center and heart of Bishkek.
This square is famous for a huge statue of Manas. It was built to commemorate the 20th anniversary of Kyrgyzstan's independence.
It really dominates the square and if the wind is blowing the giant flag, the combination of the two against the sky is absolutely impressive.
Where to stay in Bishkek
Bishkek attracts travelers from all over the world and it's actually an inexpensive city for people who are traveling around Kyrgyzstan on a budget.
Bishkek offers a huge choice of hostels for budget travelers who want to save money and swap stories with fellow backpackers in the shared kitchen or bar in the evening.
Have a look at all the hostels we recommend in Bishkek.
Day 2 – Skiing in Chunkurchak
The mountains of Kyrgyzstan are covered in snow during winter and they're perfect for skiers and snowboarders of all levels.
Chunkurchak is the closest ski base to Bishkek. It's really convenient to drive there for a day of skiing from the capital of the country.
Some of the slopes are relatively big but they're all without curves or abrupt turns so it will be the perfect ski base if you're a beginner or if you're traveling with children.
I skied there with a group of bloggers last winter and we loved it!
How to get to Chunkurchak from Bishkek
If you have your own car or if you're renting one, you'll be in Chunkurchak in no time. Only 41 km separate the ski base from the capital.
It takes about an hour and a half to drive from Bishkek to the ski resort.
The best way to get there is to drive through Tash Moinok.
Another way to get there is by hopping in a taxi in Bishkek. A taxi from the capital to the ski resort will cost around 7 to 9 USD or about 500 to 600 som.
A great app to install on your phone is Namba taxi. It works like Uber.
All the Namba taxis have a meter so you'll always know how much to pay. Just enter your location and a taxi will arrive within 5 to 10 minutes. It's also good to have this app if you want to leave Chunkurchak and get back to Bishkek by taxi after a day of skiing.
I would suggest leaving Bishkek as early as possible so you can enjoy a full day of skiing.
Where to stay in Chunkurchak after a day of skiing
Going back to Bishkek to stay there after skiing in Chunkurchak could be a very convenient option. The city has tons of great hostels.
Another good option could be spending the night just 5 minutes from Chunkurchak in an ecolodge and go back to the city the following day.
I would recommend spending the night near Chunkurchak in the ecolodges of Supara Chunkurchak.
These beautiful eco-huts are just 5 minutes away from the ski base. They mix the rustic charm of ski lodges with Kyrgyz decorations. They're surrounded by a small forest in the perfect setting to relax after a day of skiing.
What I particularly liked about this place was its utter serenity – especially in the evening. All I could hear was the muffled sound of snow falling from the pine trees. Have a look at these lodges here.
Click to check out rates and availability for "Supara Chunkurchak"
Day 3 – Witnessing an eagle hunting performance
For the third day of this winter itinerary, you'll witness a very important tradition in Kyrgyzstan: the ancient tradition of eagle hunting.
In Kyrgyzstan, hunters are preserving the traditional eagle training techniques and falconry skills of their ancestors.
Meeting them and seeing these ancient traditions is one of the most interesting activities in the country.
One group of eagle hunters that is very active in sharing this ancient knowledge with visitors is the Salburun Federation.
We explain what eagle hunting is and how to get in touch with Salburun Federation in this article.
It's better to arrange an eagle hunting demonstration with them in the early afternoon, that way you can get to Bokonbayevo at your own pace, get installed in one of the guesthouses in town and you'll also have time for a small lunch before seeing the performance.
How to get from Bishkek to Bokonbayevo by public transport
The easiest way to get from Bishkek to Bokonbayevo is to take a marshrutka (a Kyrgyz minibus). Marshrutkas leave from the Western bus station in Bishkek.
In Bishkek, people call this bus terminal "Zapadnyi" or New "Novyj" Bus station "Avtozakzal" or shortly "Vakzal".
This is the location of the bus station:
Look in the bus station for the marshrutka that goes to Bokonbayevo. This shared minibus doesn't have a schedule and it will only leave once it's full.
A marshrutka from Bishkek to Bokonbayevo will cost around 250 som. The distance between the two cities is 400 Km and it should take about 6 hours to reach Bokonbayevo.
How to reach Bokonbayevo from Bishkek by shared taxi
If you don't want to wait for the marshrutka to fill up before it leaves, you can always take a shared taxi to Bokonbayevo. Shared taxis leave from the western bus station as well but they will be slightly more expensive than a minibus (300 to 400 som instead of 250).
The taxi will also only leave once it's full but since it only fits 6 people, it's likely to leave much sooner.
Where to stay in Bokonbayevo
Bokonbayevo is not a very big village but there is a surprisingly big amount of small but comfortable guesthouses there.
Guest House Aziza is the guesthouse I recommend in Bokonbayevo.
Being in Guesthouse Aziza was super relaxing and it was the perfect place to meditate on our experience with the eagle hunters when we were in Bakanbayevo. This lovely establishment has a beautiful backyard and garden where you can read and relax in the shade in the afternoon.
If you like to cook your own meals, there a few convenience stores where you can buy food nearby.
Guest House Aziza has super cozy beds and there is a fantastic breakfast served on location every morning. The breakfast is composed of eggs, fruits and veggies, jam, butter, and delicious bread.
Click to check out rates and availability for "Guest House Aziza"
Day 4 and 5 – Skiing in Karakol and paragliding
The fourth and fifth day of the trip will be filled with adrenaline on the slopes of my favorite ski base in Kyrgyzstan: Karakol ski resort.
This resort is located in the Issyk-Kul region 400 km away from Bishkek and very close to the city of Karakol.
It's a fantastic place for skiing and snowboarding with 20 km of slopes for people of all skill levels.
The base has 5 ski lifts that bring you up to an elevation of 3040 meters.
Once you're all the way at the top, you'll have the option of riding well-groomed snow or fresh powder.
In Karakol, you'll have the option of riding well-groomed snow or fresh powder…
I spent some time riding in Karakol with my brothers and filmed our trip. You can see what the hills look like in this video.
Another awesome activity that you can do at the Karakol ski base is paragliding.
In Karakol, you can paraglide in tandem with a pilot. It's the perfect winter activity for anyone who wants beautiful views of the snow-covered peaks of the Tian-Shen mountains.
Your Sky Trial pilot will control the paraglider from behind, allowing you a hands-free, front-facing view of the landscape. This just may be the greatest selfie-opportunity in all of Kyrgyzstan!
Paragliding in Karakol will be a great opportunity to get some awesome selfies…
Before skiing or paragliding at the base, you'll first need to reach Karakol from Bokonbayevo.
How to reach Karakol from Bokonbayevo by public transport or with your own car
Marshrutkas go from Bishkek to Karakol throughout the day. If you stand on the side of the highway in Bokonbayevo or next to the bus stops (you'll find them right at the exit of town) you won't have to wait too long before you see a minibus coming your way.
There is also one big bus from Bishkek to Karakol each night that stops off in Bokonbayevo. In Bokonbayevo, the station (vagzal) is in the center of town, near the market and in front of Argymak Cafe.
If you have your own car or if you're renting one, you'll need to follow the highway A363 for about two hours East and you'll reach Karakol.
How to reach Karakol ski base from Karakol and where to stay in Karakol
In Everything you need to know about Skiing in Kyrgyzstan, I explain how to reach the ski base from Karakol and I also give a few suggestions of guesthouses where you could stay in Karakol.
Day 6 – Backcountry skiing in Boz Uchuk
For the rest of this Kyrgyzstan Itinerary, you'll be backcountry skiing in some of the most beautiful mountain chains around Karakol.
For more information on what type of equipment you'll need to do this, read Backcountry skiing in Kyrgyzstan.
On the sixth day of this itinerary, I would suggest some backcountry skiing in Boz Uchuk not too far from Karakol.
The mountains near Boz-Uchuk are absolutely stunning in winter!!
The whole range of mountains surrounding the Boz-Uchuk valley and the valley itself are fantastic places to do some backcountry skiing in Kyrgyzstan.
The trails of this valley go up a gradual ascent to an altitude of 3000 meters above sea level.
It's possible to do a day of backcountry skiing from the village of Boz-Uchuk and sleep in a small yurt camp at the end of the valley. From there, you'll be able to access gorgeous mountain ranges and admire stunning views.
The yurt camp is located in a pine forest and close to a river that never completely freezes in winter. Reaching this yurt camp by backcountry skiing takes about 3 hours from the village of Boz-Uchuk.
I explain how to reach this village by public transport or with your own car and how to organize your backcountry skiing trip there in Everything you need to know about skiing in Kyrgyzstan.
Day 7- Backcountry skiing in Boz Uchuk and driving to Jyrgalan
After a warm and peaceful night in a yurt at the end of the Boz Uchuk valley, you'll be exploring with your backcountry skis or your split board the area that lies beyond it.
You'll have a delicious breakfast in the yurts and then you'll be skiing up the valley to reach higher mountains.
You'll see gorgeous peaks covered in powder where you'll be able to put your skiing skills to the test. You will ski until the early afternoon and then head back to the yurts for lunch.
After half a day of backcountry skiing, you'll come back to this yurt camp to enjoy a delicious meal…
From the yurts, you'll ski back to Boz Uchuk where you can either drive towards Jyrgalan with your own car, take public transport or organize your own private transfer.
How to reach Jyrgalan from Boz Uchuk by public transport
From Boz Uchuk, you can take the marshrutka 331 to Jyrgalan. It passes on the road that goes towards Jyrgalan a bit outside of town. This Marshrutka goes to Jyrgalan from Karakol three times a day.
If you don't want to wait for this minibus, you can also take a taxi in Boz Uchuk or call a taxi through the Namba app.
How to reach Jyrgalan from Boz Uchuk with your own car
To drive from Boz Uchuk to Jyrgalan you'll first have to reach the village of Novovoznesenovka. Right after this village, the road splits. Turn to the right and continue until Ak Bulung village, then turn left at the sign (it says: "To the left – Jyrgalan, to the right – Enilchek").
After 2km, follow along the asphalt road as it jogs right. The road will become a non-asphalt road that is in good shape — continue on it until you reach Zyndan village. After the village, the road jogs left and you will come to an intersection.
Turn right at the sign for Jyrgalan (it says: "Jyrgalan – 14 km"). After about 7km you will reach a forest. Turn left at the sign (it indicates: Jyrgalan to the left, Tulpar Tash to the right). You will reach Jyrgalan village after about 5km.
Where to stay in Jyrgalan
There are a few different guesthouses in Jyrgalan, the one we recommend is Alakol-Jyrgalan Guest House. It's super cozy and has a beautiful view of the surrounding mountains. The beds are all very cozy and the breakfasts and dinners are very delicious and filling.
If you have your own cooking pots and your own food, you can also use their kitchen to cook different dishes.
The owner Emil speaks very well English and will be more than happy to show you around town and help you organize your ski trip to the surrounding mountains the next day.
Click to check out rates and availability for "Alakol-Jyrgalan Guest House"
Day 8 and 9 – Backcountry skiing in Jyrgalan
Day eight and nine of this itinerary around Kyrgyzstan will be spent backcountry skiing in Jyrgalan. There are tons of trails where you can backcountry around town but if you're traveling with friends a great option to reach the higher mountain peaks can be to hire a snowcat for the day.
By converting a piste basher also known as a snowcat and installing a passenger cabin on it to shuttle skiers to the top of the hills, a company called Ryce travel has quickly become the go-to for backcountry skiing in Jyrgalan.
Even though there are other places in Kyrgyzstan where it's possible to do catskiing, the area surrounding Jyrgalan is one of the best in the country.
You can find more information on booking this activity for your next winter trip to Kyrgyzstan here.
If you don't want to hire a snowcat, there are still hundreds of trails that will take you from Jyrgalan to the nearby mountains and back.
Before you start your expeditions, make sure you have a good pair of skins for your skis so you can go uphill without problems.
Day 10 – Back to Bishkek while exploring canyons and waterfalls
After nine days of skiing around the country, it will be time to head back towards Bishkek to take your flight back home or to continue onwards to new adventures.
This last part of the itinerary will require that you have your own car so you can stop at the different locations and sights on the southern shore of Lake Issyk-Kul.
If you don't have your own car, stopping at the different sights along the way will be a bit harder but not impossible. You will need to hop from one minibus to another in between the different attractions until you reach Bishkek.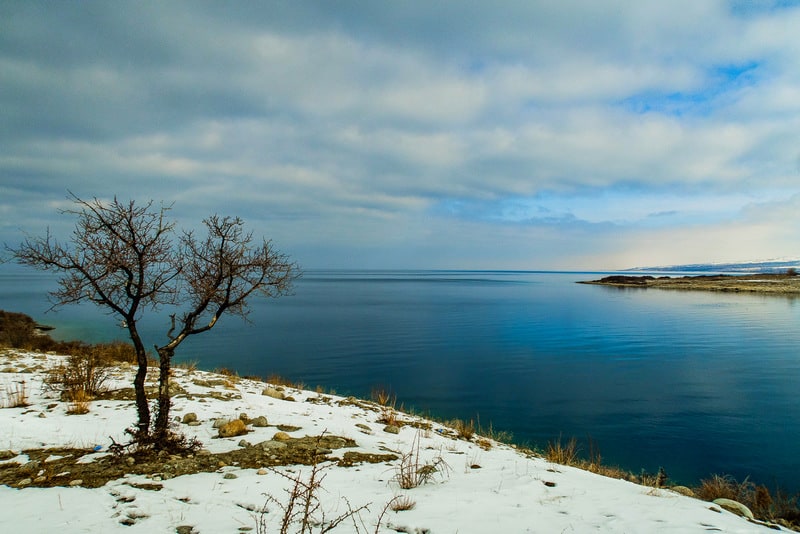 Lake Issyk-Kul looks totally different in winter!!
From Jyrgalan you have to first reach Karakol. This can be done by taxi, with your own car or by marshrutka. The distance between the two cities is 47 kilometers and it takes about an hour and a half by marshrutka. By taxi, it should cost around 1,300 som. You can have your hotel book a taxi for you to get the best rate.
Since the distance between Jyrgalan and Bishkek is quite big, I would recommend leaving the small mountain town as early as possible.
After you reach Karakol, it will be very easy to follow the paved road on the southern shore of Lake Issyk-Kul to reach Bishkek.
Lake Issyk Kul is quite unique. It's the seventh deepest lake in the world, the tenth-largest lake by volume, and the second-largest saline lake after the Caspian Sea. You're unlikely to find a lake that has all of these unique traits anywhere else in the world.
The southern shore of the lake has some gorgeous canyons and stunning waterfalls.
The canyon I would recommend visiting is the Fairytale Canyon.
This canyon is one of the most spectacular features of Kyrgyzstan's nature. It's a really scenic place and being there feels magical.
This place is often nicknamed "Fairytale Canyon" because of its strange rock formations that resemble animals, fantastic creatures and castles. It's not just the shape of the rocks in this canyon that are remarkable but also the thousands of different shades of colors you'll see there.
I explain where the canyon is located in this article.
The south shore of Lake Issyk-Kul is also a place where you can see one of the most beautiful waterfalls in Kyrgyzstan – the Barskoon waterfall.
Barskoon waterfall is actually not just one waterfall but three. The first one is easily accessible and is reached after hiking for 20 minutes on a small path in the forest. The other two waterfalls are located a bit higher and can be reached on foot or by horseback riding.
I explain where this waterfall is located and how to get there in this article.
I hope this itinerary will be useful and that you'll enjoy your time around Kyrgyzstan.
Have you traveled to Kyrgyzstan in winter? Have you been there in summer?
If you have any questions concerning the different places in this itinerary let us know in the comments below.
In case you're also planning on visiting more places, definitely check out our other guides on Kyrgyzstan!
KNOW BEFORE YOU GO – KYRGYZSTAN TRAVEL TIPS:
Everything you need to know about traveling independently in Kyrgyzstan (visa, how to get to and around Kyrgyzstan, where to stay,…):
Plan your trip to Kyrgyzstan:
Hiking, skiing and horseback riding in Kyrgyzstan:
KYRGYZSTAN TRAVEL RESOURCES:
Disclaimer:
*This article contains affiliate links. This means that if you purchase a product or stay in a hotel through one of these links, we'll receive a small commission at no extra costs for you. Thank you!
**This publication is made possible by the Sustainable Winter Tourism Development Project financed by the Government of Switzerland through the State Secretariat for Economic Affairs (SECO) and implemented by Helvetas Kyrgyzstan as well as by the support of the American People through the United States Agency for International Development (USAID) Competitiveness, Trade, and Jobs Activity in Central Asia. The contents of this publication are the sole responsibility of Nicholas Danis Bertrand of Journal of Nomads and do not necessarily reflect the views of the Government of Switzerland and Helvetas Swiss Intercooperation or USAID and the United States Government.