Wondering how to get to Bishkek from Tashkent by bus? Read on to find out where to buy your bus ticket, where the Tashkent-Bishkek bus leaves from, and how long the journey will take.
Central-Asian countries are all very different from each other and have unique features.
Uzbekistan is known for its stunning Islamic architecture that you'll find in Samarkand, Bukhara and Khiva while Kyrgyzstan is famous for its pristine mountain hikes. Both of these countries were part of the ancient trade road known as the Silk Road.
These two countries are so different and yet complementary that it's almost impossible to visit one without wanting to see the other.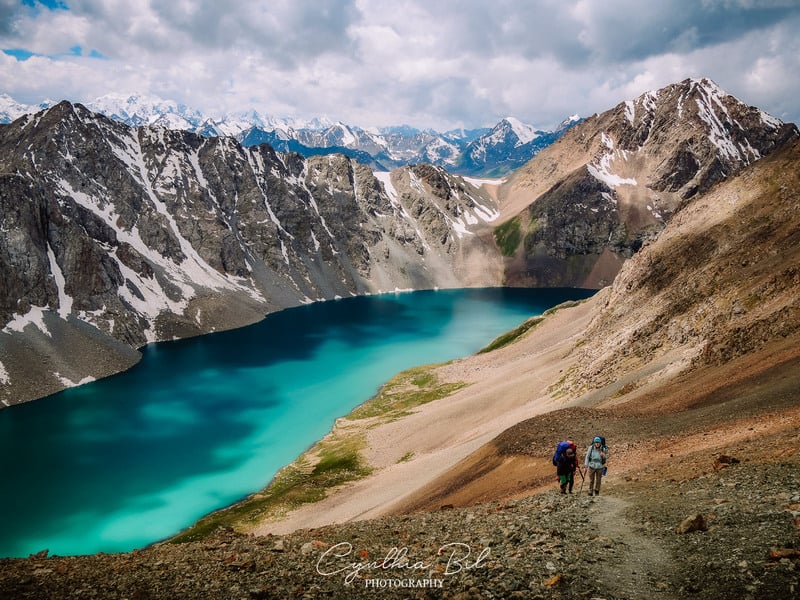 Kyrgyzstan is a country known for its stunning mountain hikes…
Traveling in Central Asia used to be complicated as it was hard to get a tourist visa for the different stan-countries and the lack of proper public transport connecting the main cities of the countries. This has all changed now!
There is now a bus line connecting Tashkent in Uzbekistan with Bishkek in Kyrgyzstan. Traveling between the two cities by bus takes about 14 hours and this bus runs at night.
There is now a bus going from Tashkent to Bishkek…
In this article, I'll tell you where to buy your bus ticket, where the bus leaves from, and details about the two border crossings that you'll have to go through.
[kt_box opacity="1″ background="#eded6d"]
Read: 15 Things to do in Tashkent – The Complete City Guide
[/kt_box]
Where can you buy a bus ticket to go from Tashkent to Bishkek?
Long-distance buses connecting Tashkent and Bishkek leave from the bus station near the Olmazor metro station in Tashkent.
Here is where you'll find the bus station Tashkent Avtovagzal:
It's better to buy bus tickets directly at the bus station instead of online. The official website doesn't always work and you still need to print your ticket at the station.
This is the bus station from which you'll leave towards Bishkek…
Bus prices tend to change quite regularly depending on the day of the week and the month of the year. We bought our tickets at the end of August and it cost us 120 000 som each.
This is inside Tashkent Avtovagzal…
To reach this bus station, you can take the metro from the city center for 1400 som or reach it by taxi.
Taxi drivers in Tashkent tend to overcharge foreigners. For Uzbekistan, it's better to download the Yandex app on your phone.
Yandex works as a cab-hailing app meaning you won't have to negotiate directly with the driver and you can avoid being ripped off.
If you take the metro you'll have to get out of the Olmazor station on the side that has this post:
This sign indicates that you're on the right way to get to Tashkent Avtovagzal…
After you get out of the metro station, continue walking in the direction of this sign:
[kt_box opacity="1″ background="#eded6f"]
Looking for cool things to do in the capital city of Kyrgyzstan?
Read: Top Things to do in Bishkek
[/kt_box]
What is the schedule of the Tashkent – Bishkek bus?
The buses going from Tashkent to Bishkek only run at night. They leave twice from the bus station at 6 and 7 in the evening and they arrive in Bishkek the next day at nine and 10 o'clock in the morning (local time in Kyrgyzstan – Bishkek is one hour ahead of Tashkent).
The bus does a few stops during the night at small roadside restaurants where you can eat and go to the bathroom.
The bus will also do a few stops for money exchangers to come on board and offer to exchange your Uzbek soms for Kyrgyz soms.
The rate they offer is not extremely good but better than what most banks offer in the city centers of Tashkent or Bishkek. Make sure you know what the rate is before exchanging any money.
Things you need to bring on the bus
The aircon in the bus tends to become a bit cold during the night so I would suggest bringing a warm sweater with you.
It's also important to keep your passport with you on the bus instead of leaving it in the luggage compartment underneath the vehicle.
If you want to buy food along the way also make sure that you have local currency with you. In the case of the road restaurants on this bus line, they are mainly in Kazakhstan so you'll need to have some Kazakh Tenges.
How long and where are the border crossings?
During this journey between Tashkent and Bishkek, you'll have to do two border crossings.
First, you'll be crossing the Uzbek-Kazakh border at Zhibek-Zholu, about one hour outside of Tashkent.
Once the bus arrives at the Zhibek-Zholu border, everyone needs to get out of the bus, pass their bags through security and get their passport stamped.
Once the passports are stamped, everyone gets back on the bus and then the whole process starts again at the Kazakh border.
You'll need to check beforehand which visa you need for Kazakhstan. If you're eligible for a free tourist visa on arrival, you don't have to worry about anything.
If you need to apply for a visa in an embassy, you could also check if you can get a transfer visa for Kazakhstan. You can find more information about which visa you need here.
Crossing this border at night with the bus usually takes around an hour.
The second border crossing is between Kazakhstan and Kyrgyzstan at the Taraz-Talas border. The bus will arrive there in the early morning and it's usually not busy at all at that time of the day so this border crossing should also take around an hour.
Arriving in Bishkek
The bus will arrive in Bishkek at the western bus station. This is where the station is located:
Tip: To find your way around Bishkek, use the following apps:
Namba Taxi: This is a taxi service that is similar to Uber and Yandex. It's very straightforward and quite popular in Kyrgyzstan.
Bus.kg: A great app to figure out the different marshrutka routes. Enter your starting point and destination and the app will tell you which marshrutka you need to take. Taking a marshrutka within the city costs 10 som.
Maps.me or 2GIS: Both apps function like Google Maps but are more accurate in this part of the world. They also tell you which bus or marshrutka you have to take to get to your destination.
[kt_box opacity="1″ background="#eded6d"]
Prepare your travels to Kyrgyzstan.
Here's Everything you need to know before Traveling to Kyrgyzstan!
[/kt_box]
Where should you stay in Bishkek?
If you're only transiting through Bishkek, then I'd suggest staying at the Apple Hostel. This budget-friendly hostel is only 3 minutes walking from the Western Bus Station, which is the main bus station of Bishkek.
If you're planning on staying a few days in Bishkek to explore the city, then I'd suggest you stay at a hostel or guesthouse that is located near the city center. I'd recommend Compass Hostel and Centre Hostel.
[kt_box opacity="1″ background="#eded6d"]
Don't forget to read Top Things to do in Bishkek – The Complete City Guide to Bishkek
[/kt_box]
I hope this post was very useful to you and I wish you a great and safe journey from Tashkent to Bishkek! Let me know in the comments if you have any more questions and/or how your journey went!
---
Going on an adventure to Kyrgyzstan? You might want to read these guides:
KYRGYZSTAN TRAVEL RESOURCES:
Disclaimer: This post contains affiliate links. If you book your accommodation through one of the links, we get a commission at no extra costs to you!