A detailed report on how to get from Bishkek to Almaty by bus and shared taxi, crossing the Kyrgyzstan – Kazakhstan border at Korday, including tips, prices and places to stay in Almaty.
It's very easy and straightforward to get from Bishkek to Almaty.
The journey takes about 4 to 6 hours, depending on traffic, weather conditions and the number of people when you want to cross the border.
We made this journey quite often whenever we wanted to renew our Kyrgyz visa (more info about that here), so we became quite the experts on the subject!
Tip 1: Avoid traveling from Bishkek to Almaty on snowy days. The road conditions are pretty bad (and dangerous) when it snows. We did it once and our driver lost control over his vehicle on the slippery road. Nobody got hurt but it was a scary moment!
Tip 2: The best time to cross the border is early in the morning or late in the evening. During these times there shouldn't be many people crossing the border and you'll avoid being pushed and shoved around by the crowd.
The best time would be to leave Bishkek at 8 or 9 am, so you'll arrive 30 minutes later at the border. This is a good and rather quiet time to cross the border.
How to get from Bishkek (Kyrgyzstan) to the border in Korday
There are several borders in the region around Bishkek. The nearest border is Korday, located about 21km from the city center (see map below).
You have 3 options to go from the city center of Bishkek to the border:
1) Take a taxi for 300 som. If you're having a hard time bargaining with the taxi drivers, use the Namba taxi app. This app works similar to Uber and the taxis have a fixed rate.
2) Take city mashrutka #333 or #285. You can catch either one at the bus stop near the Tsum Shopping Center (see map below) for 30 som and they both stop right at the border.
3) Take the long-distance mashrutka (minibus) that goes directly from Bishkek to Almaty. They run daily from morning (around 7 am) until evening (the last one is around 7 pm) and they leave from the Western Bus Station in Bishkek (see map below).
Buy a ticket at one of the ticket offices at the station for 400 som and ask where you can find the mashrutka to Almaty. Someone will point you in the right direction.
Once you found the right mashrutka, give your ticket to the driver and he'll store your luggage in the back of the minibus. All you have to do now is take a seat in the van and wait until the mashrutka is full (which shouldn't take longer than 30 to 40 minutes).
Tip: If you decide to take the long-distance mashrutka early in the morning, you could spend the night in Apple Hostel as this hostel isn't only budget-friendly but also located on a 3-minute walking distance from the Western Bus Station.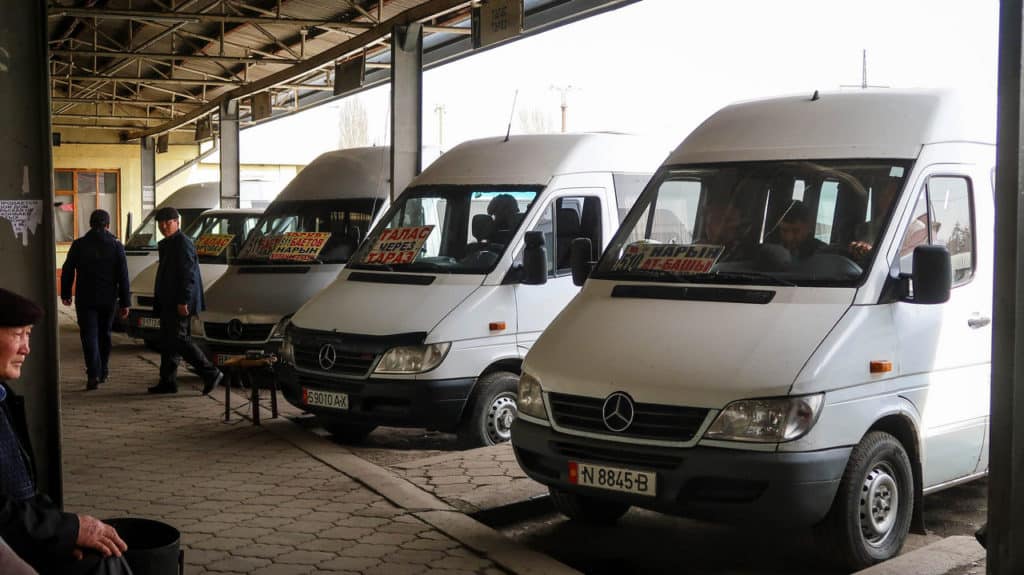 [kt_box opacity="1″ background="#eded6d"]
Read also: Top Things to do in Bishkek – The Complete City Guide to Bishkek
[/kt_box]
Crossing the Kyrgyzstan – Kazakhstan border at Korday
Whether you travel by taxi, city mashrutka or long-distance mashrutka; once you arrive at the border, you'll have to get out of your vehicle and take all your luggage with you.
If you came by long-distance mashrutka, take note of the license plate number so you can easily find it back on the Kazakh side of the border.
The time it will take you to go through the border depends on how many people there are.
If there's a lot of people, you'll see long and disorganized queues and you might experience a lot of pushing and shoving. Many people will try to cut in front of you so don't be afraid to stick out those elbows and stand your ground!
If there aren't many people, you should be on the other side of the border within 20 minutes.
First, you'll have to show your passport at the migration booth on the Kyrgyz side. Once the official stamps your passport, you move on towards the Kazakh migration booths.
Before you queue in front of any of the booths, you'll have to fill in a migration card. You can find them on your left-hand side when you enter the Kazakh migration building. If not, ask one of the guards for an English migration card.
It's very important to keep this card with you during the entire duration of your trip to Kazakhstan. If you don't have this paper with you when leaving the country, you will have to pay a huge fine and you might get into some serious trouble.
Show both your card and your passport (and visa if you had to apply for one) to the official in the booth. They might inquire about your itinerary but normally they shouldn't ask you any questions.
Make sure that the official stamps your migration card twice.
Once you've got your passport and migration card back, head towards the exit of the building. There you might have to put your luggage through a scanner, but this normally shouldn't take very long. And that's it.
Welcome to Kazakhstan!
[kt_box opacity="1″ background="#eded6d"]
Read all our guides about Kazakhstan!
[/kt_box]
How to get from the Kyrgyzstan-Kazakhstan border to Almaty
Once you've crossed the border, you'll have two options.
If you took the long-distance mashrutka from the bus station in Bishkek, this bus should be waiting for you on the Kazakh side of the border (that's why you have to take note of the license plate).
Don't panic if you can't find it immediately, sometimes it takes a while before it can cross the border.
Keep an eye out for fellow passengers. Once everyone is back on the mashrutka, it will take you all the way to the Sayran bus station in Almaty.
This journey takes about 4 hours. The driver usually takes a 10-minute break halfway the journey at "Cafe Eurasia" where you can go to the toilet (50KZT or 5 KGS) and buy some snacks.
If you don't have any transport yet, you'll have to take a shared taxi from the border to Almaty.
You won't have to search for a taxi because the taxi drivers will be waiting for you as soon as you're exiting the border gate.
Don't let them overwhelm you and most importantly, don't let them rip you off! A shared taxi usually fits 7 passengers and each passenger pays 2500 tenge.
If the driver wants to charge you more, walk away and search for another taxi driver that asks for the fair price.
The taxi leaves once it is full. If you don't want to share the taxi, be prepared to pay the full price, which is usually between 10.000 and 15.000 tenge.
Changing money at the border
There's a small money exchange booth at both sides of the border with a decent conversion rate.
However, exchange just enough soms/euros/dollars to som to get you to Almaty. There you'll find many exchange offices and ATM's with a much better conversion rate!
Arriving in Almaty
Whether you travel by minibus or taxi, both vehicles will drop you off at the Sayran Bus Station. The bus station is located 7km west of the city center so you'll have to take a city bus or a taxi to get to your hostel or guesthouse.
We strongly recommend the budget-friendly European Backpackers Hostel! This hostel is located near Dostyk Place, which is in the center of Almaty.
You can get there by taking city bus #45 from the bus station to Dostyk Plaza. Depending on the traffic, the bus ride takes about 60 minutes and costs 150 tenge.
Ask the driver or the ticket officer on the bus to tell you when the bus arrives at Dostyk Plaza. From there it only takes a 5-minute walk to the hostel.
You can also opt for taking a taxi. Just wave any car down (a lot of drivers in Almaty work as unofficial taxis) and tell the driver you want to go to Dostyk Plaza (or any other destination in Almaty). The ride costs around 1000 tenge if you're going to Dostyk.
You can also request a taxi through the Yandex taxi app, which works similar to Uber. The price should be the same.
Tip: To find your way around Almaty, use following apps:
Yandex Taxi: This is a taxi service that is similar to Uber and is very straightforward.
Maps.me or 2GIS: Both apps function like Google Maps but are more accurate in this part of the world. Enter your starting point and destination and the app will tell you which bus you have to take to get to your destination.
[kt_box opacity="1″ background="#eded6d"]
Read: The best hikes and day trips to do in and around Almaty!
[/kt_box]
I hope this post was very useful to you and I wish you a great and safe journey to Almaty! Let me know in the comments if you have any more questions and/or how your journey went!
[kt_box opacity="1″ background="#eded6d"]
Prepare your travels to Kazakhstan!
Read: Everything you need to Know about Backpacking in Kazakhstan!
[/kt_box]
Disclaimer: This post contains affiliate links. If you book your accommodation through one of the links, we get a commission at no extra costs to you! See it as a small donation to keep this blog going. Thank you!
KNOW BEFORE YOU GO – KAZAKHSTAN TRAVEL TIPS:
For information about the visa, how to get to Kazakhstan, the best time to visit, how to get around the country by public transportation, where to stay,… read:
Safety tips for Kazakhstan
Plan your trip to Kazakhstan, beautiful trips and hikes around Kazakhstan:
Border crossings in Kazakhstan:
KAZAKHSTAN TRAVEL RESOURCES:
Accommodation & Lodging in Kazakhstan: Booking.com
Travel Insurance for Kazakhstan: SafetyWing
Books and guides about Kazakhstan: