This article covers all the information you need to know about visiting the Kolsai Lakes and Lake Kaindy, including how much it costs, how to get there from Almaty, where to stay and what to do.
Kazakhstan is often described as a land of deserts, vast steppes, yurts and camels. The country also gets associated with the old caravan routes of the Silk Road, along which was often little but dried-up steppes to keep the travelers entertained during their long journeys. The overload of nothingness was exhausting while we were driving from West to East across Kazakhstan for more than 10 days in a row. I can only imagine how fried-up the brains of those travelers must have been as they had to cross the same distance on a camel or horse.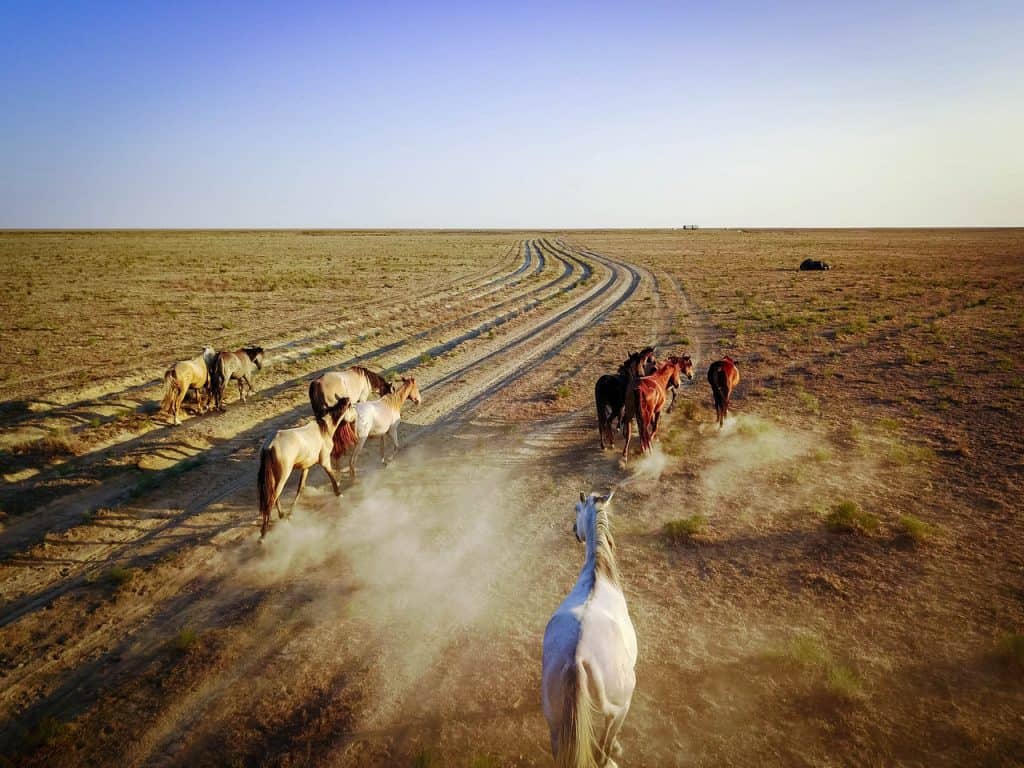 The Southeast region of Kazakhstan was a striking contrast to what we've experienced on our road trip.
The natural diversity of this region is amazing – from arid deserts and scenic canyons to lush valleys, snow-peaked mountains and turquoise lakes. This territory is called Zhetisu, which means in Kazakh "Seven Rivers".
A large number of rivers are flowing down the slopes of the Northern Tien Shan and Dzungar Alatau Mountains, forming stunning lakes along their way.
We visited a few of these lakes in the Kolsai National Park and the nearby sunken forest of Lake Kaindy. These lakes are part of the "Golden Triangle", a trio of major natural attractions in Southeast Kazakhstan, which also include the Charyn Canyon and the Altyn-Emel National Park.
In this post I focus on the Kolsai Lakes and Lake Kaindy, but I would also recommend reading our guide to Charyn Canyon as it is worth a visit on your way from or back to Almaty!
[kt_box opacity="1″ background="#eded6d"]
Read: The Ultimate Travel Guide to Backpacking in Kazakhstan!
[/kt_box]
An introduction to the lakes
The Kolsai Lakes
The Kolsai Lakes are a system of three lakes, nestled among the hills of the Northern Tien Shan Mountains, approximately 300km east of Almaty. They are also called "The Pearl of the Northern Tien Shan" and after visiting the lakes, we totally get why! The 3 lakes are so clear that, when the sun is out, the surrounding forests, hills and snowy mountain peaks are mirrored in the water.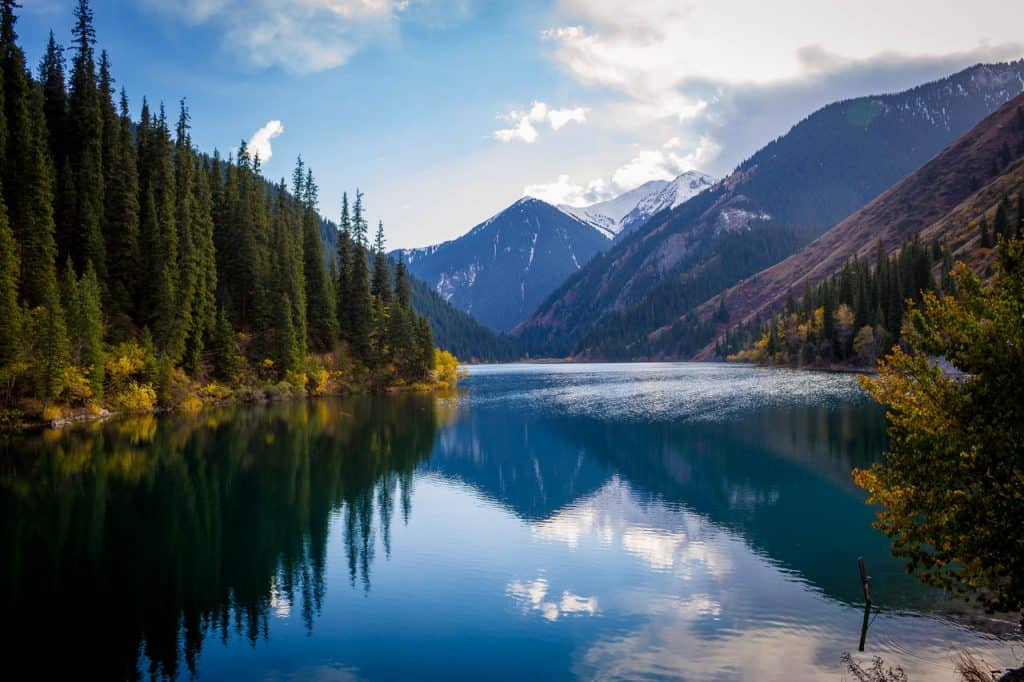 The two lower lakes, Kolsai 1 and Kolsai 2 (easy to remember) are surrounded by spruce trees, alpine meadows and mountain pastures. Kolsai 1 is at an altitude of 1000m while the second lake, being much higher into the mountains, is at an altitude of 2500m. Grassy slopes replace the spruce forests on the hills surrounding the third lake, which is at an altitude of 2700m.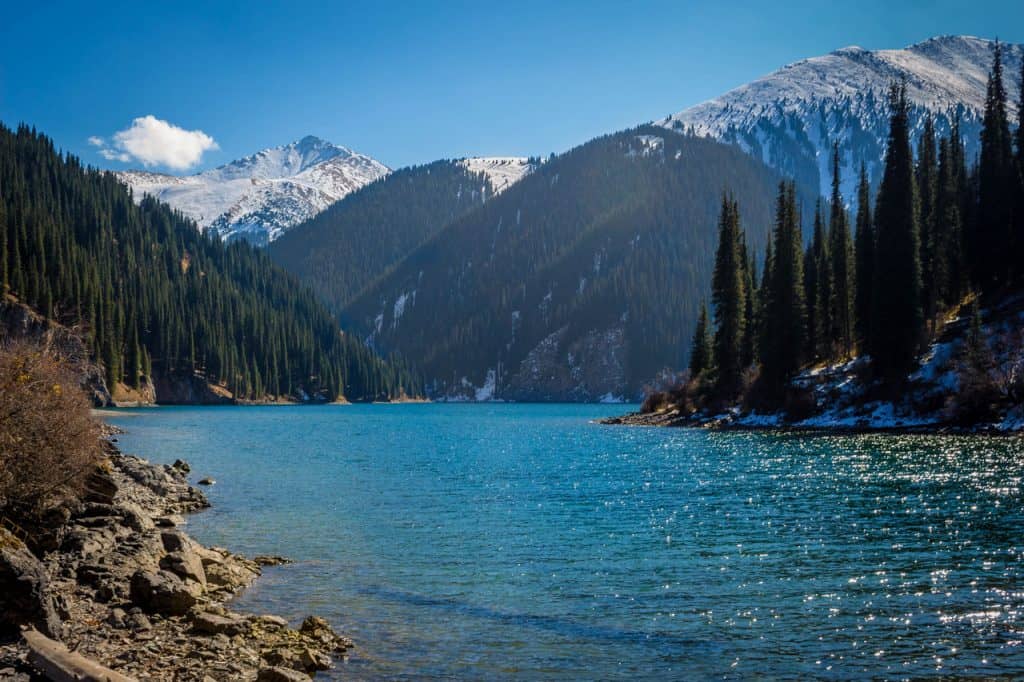 The sunken forest of Lake Kaindy
Lake Kaindy is at an altitude of 2000m and geologically very young. This 400m long lake was formed in 1911, after an earthquake triggered an enormous limestone landslide, which formed a natural dam in the gorge that was covered by spruce trees. Water started flooding the basin and submerged the forest. The dried-out trunks of the trees rise above the surface of the water, looking like the masts of sunken ships.
The lake is almost 30 m deep and if you look underwater, which is very easy because the water of the lake is very clear, you can still see the needles on the submerged trunks. Due to the cold temperatures, the trees were naturally frozen and well preserved in the water. You could go diving in this lake to see its unique beauty, but brace yourself for the cold! The temperature of the lake is maximum 6ºC in summer!
Strangely enough, this uncommonly beautiful lake is still quite unknown. The Kolsai Lakes, which are about 36km from Lake Kaindy, are far more popular. This is probably due to the fact that it's pretty difficult to get to this lake, if you don't have a 4×4 at your disposal. But do not despair, I will tell you exactly how you can get there!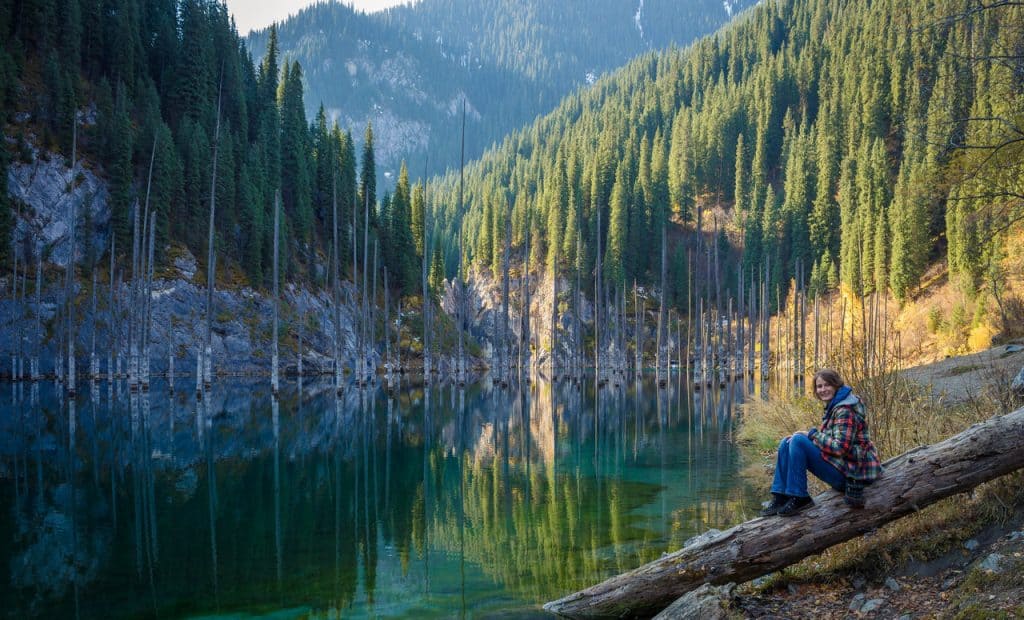 [kt_box opacity="1″ background="#eded5a"]
Don't miss out on Charyn Canyon on your way to or from the lakes. Read our guide here!
[/kt_box]
What you need to know about visiting the Kolsai Lakes and Lake Kaindy
How to get there
It takes about 6 hours to reach the Kolsai Lakes and Lake Kaindy from Almaty.
How to get to the Kolsai Lakes from Almaty (and how to get back)
By public transportation
Getting to the Kolsai National Park by public transport is probably not your best option. We heard that there is a bus leaving from Sayahat bus station (Almaty) to Saty, the closest village to the lakes. However, out of all the (local) people we asked, no-one knew when this bus leaves. If you're lucky enough to catch this bus (if you did, please provide us with more info in the comments below), get off in the village of Saty.
From there it's a 15km walk before you reach the entrance gate. You could always try to hitchhike that part of the way as there should be a few cars passing by. Getting back with the same bus will be very hard, if you were able to take this bus to get there in the first place! You can hitchhike back or read how to get there and back by taking a shared taxi.
Getting to the Kolsai Lakes by shared taxi
If you don't have your own transportation and you don't want to hitchhike the whole way, this could be the best and cheapest way to the Kolsai Lakes. Go to Sayahat bus station and search for the shared taxis that go to Kegen, the name of a village near Saty (the drivers will shout it). Ask the driver to drop you off at the intersection with Saty (say "stop Saty povorot"). The shared taxi should cost around 3000 tenge per person (about $9 at the current exchange rate) to the intersection with Saty (see map).
From there it's another hour or two to Saty so you can always try to hitchhike. Some drivers will ask you for money. You shouldn't pay more than 2000 tenge so make sure to be clear from the start (otherwise they might try to rip you off). Once you arrive in Saty, you can ask your driver to drop you off at the entrance of the park (which will cost you another 1000 tenge) or you can hope to catch a free ride by hitchhiking.
Getting back from the Kolsai Lakes to Almaty shouldn't be too hard. You can hitchhike back from Saty (or pay the driver) to Zhalanash or to the intersection with the main road (see map). Maybe you're lucky and you'll get a ride straight to Kokpek or Almaty. In any case, keep the following prices in mind.
From Saty to the intersection: 2000 tenge.
From the intersection to Kokpek (see map): 1000 tenge.
You'll definitely find a bus or shared taxi from Kokpek to Almaty for 3000 tenge.
Getting there by renting a car in Almaty
A more expensive option is to rent a car. If you're willing to pay the price, you'll get a lot more time and freedom to explore. Rent a 4×4 car as the road towards the Kolsai lakes is pretty bumpy and the road doesn't go further than the first Kolsai lake. Friends of ours were able to rent a car for 30.000 tenge per day ($90 at the current exchange rate) through a local office in Almaty but if you search the internet (f.eg. rentalcars.com), you can find cheaper deals. You can always ask fellow travelers in your guesthouse/ hostel if they are up for joining you on this trip and share the costs.
Hitchhiking to the Kolsai Lakes
If you have the time, you can definitely get to the Kolsai Lakes by hitchhiking. It won't cost you anything and the trip towards the lakes will probably be an adventure on its own. Take a mashrutka or shared taxi to get out of the city center and once you reach the highway (A-351), you can start hitchhiking towards Kegen. Don't miss the turn to Zhalanash/Saty (see map). Make it clear from the start that you're not paying for the ride, otherwise you might get some problems. Please read our tips on hitchhiking in Kazakhstan.
Booking a tour to the Kolsai Lakes
If you don't want to visit the Kolsai Lakes independently, you can find plenty of tour companies. Mind you, they can be pretty expensive! Take the time to do some research and find the best and most affordable deal. If you speak some Russian or know someone who can help you (maybe the owner of your hostel/guesthouse), you can book a tour with HappyTravels. They offer pretty good deals. You can also visit the Center Smart Tourism office in Almaty to see what they offer. Most tours include meals and accommodation.
How to get to Lake Kaindy from Almaty (and how to get back)
As Lake Kaindy is only 36 kilometers away from the first Kolsai lake, the information above is pretty much the same. Instead of going all the way to Saty, you will have to turn left one kilometer before the village. The intersection is near a cemetery and you'll also see a sign.
The difference, however, is that the road towards the lake is very rough and is often partly flooded so you'll need a 4×4 to get there. You could try to catch a ride at the turn before Saty, as there will be some cars passing by. You might have to pay 1000 tenge for the ride or maybe you'll meet a friendly driver who will bring you there for free.
How much does it cost to visit the Kolsai Lakes and Lake Kaindy – park fee
The costs of visiting both national parks are the same. Note that you have to pay for both as they work independently. Before entering the parks, you will come across an entrance gate. The officer in the little kiosk will ask for your passport, documents (if you're driving) and will want to know if you'll be camping there for the night. The entrance fee without camping is 727 tenge per person (about $3), 1000 tenge per car and if you want to spend the night in your tent, you'll have to pay another 350 tenge per tent (the prices tend to change, depending on the season). Keep the receipt with you as you'll have to show it upon exiting.
When we arrived at Kaindy Lake, it was already late in the evening. We noticed that the park guard was drunk. His breath reeked of alcohol and he was having a hard time keeping our money in his hands as he was trying to count it. He never gave us a receipt and the day after, when we wanted to leave the park, another guard stopped us and asked for it. We tried to explain in the little Russian that we know, that the previous guard hadn't given us any proof of payment. When we said that his colleague had been drunk the night before and probably put the money in his pocket, the guard eventually let us leave. Moral of the story: always ask for a receipt so you don't have to pay twice!
Hiking and Camping
Hiking around the Kolsai Lakes
The first lake is accessible by car and you can walk around it in just a couple of hours. If you have more time and you're up for a good hike, I would definitely suggest to hike up to the second lake and maybe even the third lake. The three lakes are connected by a well-maintained hiking trail, which takes you along meadows, dense forests and steep slopes.
It's an 8 km walk from the first lake to the second one, which takes about 2 to 3 hours of hiking. Be aware that some parts of the trail are very steep. Once you reach the second lake and you still have some energy left (I didn't), you can continue the trail on the left side of Kolsai 2 to the third lake, which is another 5km. The third lake is only 6km away from the Sary-Bulak Pass (3278m) on the Kyrgyz border. I heard that you can hike up until there and get treated to some superb views over the blue Issyk-Kul lake in Kyrgyzstan.
You can hike to the second lake and back in one day, but it takes at least two days to do the whole trek to the third lake and back. Most of the trail is very clear to follow with a few signposts and blue arrows here and there. When in doubt, look for horse tracks (and horse poo) to find the right direction (that's how I did it).
If hiking isn't your thing, you can always rent a horse near the first lake for a day to take you up from Kolsai 1 to Kolsai 3. Please be accompanied by a guide, who can help you with getting the animals over any tricky and steep parts of the trail.
If you want to cool down after a long hike, you're allowed to swim in the lakes.
Important Note: The start of the trail begins on the right side of Kolsai 1. You'll see armed guards at the entrance and they will ask you to leave your passport with them. The path leads to the Kyrgyz border and it's their duty to prevent anyone from crossing this border illegally. Once you're back at Kolsai 1, they will hand you back your passport. Some of the guards speak some English and they are really nice guys!
Camping at the Kolsai Lakes
If you want to camp at any of the three lakes, you'll have to pay an extra fee when you enter the park. The prices can change but we had to pay about 350 tenge per tent per night. Keep the receipt with you in case any ranger inquires for it on the campground.
During the summer, at the peak of the tourist season, rangers will show you to a designated camping area as you won't be the only person camping there. If you prefer to be by yourself, you can always hike to the forest and find a camping spot there. During the low season (from October to May) you'll probably be alone as not many people are up for sleeping outdoors in the cold.
Be aware that you're higher up in the mountains so the nights can be cold, especially if you decide to pitch your tent at Kolsai 2 or Kolsai 3. We camped at Kolsai 1 mid-October and the temperature at night dropped below freezing point. You're allowed to make a camp fire around the lakes but it's prohibited in the forest. Read our guide on how to prepare for camping in winter if you intend to do the same.
Hiking around Lake Kaindy
Once you arrive at the car park of Lake Kaindy, you won't have to walk far to see the sunken forest. It's about 10 minutes hiking from the car park to the lake but keep in mind that the trail is pretty steep. The lake is only 300 meters long so you can walk along its shore.
If you're up for a multiple-day hike, you can connect Kaindy Lake with the 3 Kolsai Lakes. Take a topographic map so you won't get lost!
Camping at Kaindy Lake
You can camp anywhere you want near Kaindy Lake. There is a space near the car park with a few long-drop toilets and picnic benches but you can also pitch your tent along the lake's shore. Just as with the Kolsai Lakes, prepare yourself for cold nights as you're at an altitude of 2000m. Unfortunately it's prohibited to make a campfire anywhere near the lake.
If camping is not your thing, here are some other options to find a place to sleep in the region:
Kolsai Lakes and Lake Kaindy accommodation options
There are two accommodation options near the Kolsai lakes. There are yurts and rooms in small guesthouses available near the first lake. The yurts cost 7000 tenge per person, a room will be 4000 tenge per person, including breakfast. Be aware that the prices might change, depending on the season. There are no restaurants or convenience stores near Kolsai 1, so make sure to bring your own food. Some homestays will offer lunch and dinner for 1000 tenge per meal. There are no accommodation options, with the exception of camping, near the other two Kolsai lakes and Lake Kaindy.
You could stay in one of the homestays in Saty, the closest village to both lakes. Ask people for a "Gastenyitza", which means hotel in Russian. They will point you to a guesthouse or homestay that costs 4000 tenge per night, including breakfast. You will most likely have the option to eat lunch and dinner there, count on an extra 1000 tenge per meal.
If you want to book a room in a homestay/guesthouse beforehand, you could book it through a tour company or arrange it through the Ecotourism Office in Almaty.
Important note: The homestays and yurts at Kolsai are closed from October to May.
Best time to visit Kolsai Lakes and Kaindy Lake
Summer (June – September):
The lakes are becoming popular every year and you'll find many fellow nature lovers there during the high season. This is the best time to camp comfortably but you might have to share the space with others. It is also the easiest time of the year to hitchhike or take a shared taxi to the lakes as there will be a lot more traffic.
Autumn (October-November) and Spring (April – May):
If you want to enjoy the tranquility of the lakes but not freeze your ass off, it's better to visit them late May or late September. The weather is warm enough to spend a lot of time outdoors and the yurts and guesthouses around Kolsai will still be open (they close from October on and open again in May). There's going to be a lot less traffic than during the summer but you should still be able to find a ride (paid or free) to the lakes. There will probably some snow along the hiking trails and the lakes might be frozen at that time of the year so I wouldn't recommend camping there unless you're well-equipped.
Winter (December – March):
This is not the best time to visit the lakes. Winter here is pretty rough and the roads and hiking trails are sometimes closed, due to heavy snowfall. It will also be very hard to find a homestay that is open.
We visited Kaindy and Kolsai mid-October and although the weather was nice and sunny during the day, the nights were very cold (below freezing point). We also saw some snow on our way to the second Kolsai Lake. If you don't mind camping in these temperatures and you're well-equipped, it is quite special to be here by yourself!
What you need to take with you
Bring enough food and water with you for the amount of time you're going to spend near the lakes, since there are only a few convenience stores in the nearby village of Saty. Pack a water filter as you can get your water from the rivers and lakes (saves you the extra weight of carrying all those bottles of water).
Wear proper hiking boots and bring a raincoat in case of sudden showers.
If you're planning to spend the night near the lakes, be aware that it can be pretty chilly. Bring a warm sleeping bag and enough clothes to keep you warm at night. You can find more tips about camping in winter here.
Bring toilet paper and wet wipes as some guesthouses don't have showers.
Pack a first-aid kit. You never know…
Have a look at the video of our trip to Charyn Canyon, the Kolsai Lakes and Lake Kaindy so you know what to expect:
[kad_youtube url="https://www.youtube.com/watch?v=3YZAnPq2z9o" width="600″ height="400″]
[kt_box opacity="1″ background="#eded57″]
If you're planning a trip to Kazakhstan, check out our travel guide to Kazakhstan for more useful tips and information.
[/kt_box]
We hope this guide provided you with all the information you need to have a great time in this stunning area. If you have more questions, let us know in the comments below. Feel free to post tips, photos or stories of your own visit to the lakes.
KNOW BEFORE YOU GO – KAZAKHSTAN TRAVEL TIPS:
Everything you need to know about traveling independently in Kyrgyzstan (visa, how to get to and around Kazakhstan, where to stay,…):
Safety tips for Kazakhstan:
Plan your trip to Kazakhstan, beautiful trips and hikes around Kazakhstan:
Border crossings in Kazakhstan:
KAZAKHSTAN TRAVEL RESOURCES:
Accommodation & Lodging in Kazakhstan: Booking.com
Travel Insurance for Kazakhstan: SafetyWing
Books and guides about Kazakhstan: