Are you looking for a cheap, fun and alternative destination to go snowboarding or skiing this winter? Keep on reading as this guide will give you all the reasons and practical info on why your next winter sports holiday should be in Shymbulak, the biggest ski resort in Kazakhstan and Central Asia!
Kazakhstan is probably not the first destination you have in mind for a winter sports holiday. I never even thought that one day I'd be skiing down the powdered slopes of the mountains near Almaty (or should I say stumble down, as it had been 20 years since my last skiing experience). But I'm so happy I did, because, to be honest, how many people can tell stories about that time they went skiing or snowboarding in Kazakhstan? It's definitely an unforgettable experience!
Our friend Josh from Cycling for Days. This was his very first day of skiing…ever!
The best and most popular place to go skiing in Kazakhstan is in Shymbulak in Almaty, the biggest and most modern ski-resort of Central Asia. The diverse set of slopes offer many opportunities to skiers and snowboarders of any level.
[kt_box opacity="1″ background="#eded6d"]
For all the practical information about traveling in Kazakhstan (such as visa, registration, traveling to Almaty,…) read:
The Ultimate Travel Guide to Kazakhstan
[/kt_box]
1. When is the ski season in Almaty, Kazakhstan
As the mountains are quite high, the ski pistes in Shymbulak retain their snow quite well. The winter sports season in Almaty usually starts from late November/ early December and continues until late March, depending on the season and the snowfall.
2. Where to stay in Shymbulak and Almaty
There are some luxurious hotels and resorts on the premises of Shymbulak and if you can afford to stay there, you'll definitely enjoy the stunning views and the fresh mountain air.
However, since Shymbulak is only 30 minutes away from Almaty and very easy to reach by public transport, I'd suggest you stay in the city center itself. If you'd search for the perfect stay on wego.com, you'll find many great hostels and cheap hotels in Almaty. The money that you'd otherwise spend on lodging could be used to do some fun things in Almaty!
Niko and I always stayed at the European Backpackers Hostel. This hostel is located right in the city center. It's a 5-minute walk from Dostyk Plaza where you can find the bus stop to Shymbulak.
Dostyk Plaza
3. How to get to Shymbulak Ski Resort from Almaty by public transport
To get to Shymbulak by public transport, you have to take bus 12 at one of the bus stops on Dostyk Avenue (we always took the bus at Dostyk Plaza but most people will take it at Hotel Kazakhstan). This bus goes all the way to Medeu, the highest ice skating rink in the world, which is only a 30-minute ride away from Almaty's city center. Get off one stop before the bus terminal at Medeu. You'll spot the cable car station across the street.
A one-way ticket from Almaty to Medeu costs 150 tenge (less than $0.50) if you buy it on the bus or 80 tenge if you have a bus card (ask for it in your hostel or hotel). If you prefer to take a taxi, it will cost you around 2000 tenge (a bit more than $5).
Once you're at the cable car station, you have to purchase a day pass that will allow you to go up to the ski resort. You can either choose a round-trip (cause you've got to get back down, right) from the bottom of the mountain to the base of the ski resort, which is 2500 tenge (adult)/ 1500 tenge (kid) per person or you can get a combi-pass for 3500 tenge (adult)/ 2500 tenge (kid) that includes the 3 cable cars needed to go all the way up (and back) to the highest point of the ski resort, which is at an altitude of 3200 meters.
The first time you buy a pass for the cable car, you'll have to pay an additional 2000 tenge for the pass itself.
Note: You can also purchase a ski pass at this station. For info on the prices, see 'How much does it cost to go skiing in Shymbulak' in the section below.
During the ski season, the cable cars run from 10.00 until 18.00 on weekdays and from 10:00 until 19:00 on weekends. The cable cars are exceptionally open until midnight on Thursday and Saturday for the night skiing. They also run outside the ski season if you want to go hiking in the area during summer.
If you want to save some money or you want to leave earlier to the ski resort, you can always take the mini-bus from Medeu to the base of Shymbulak for 200 tenge. I think it runs from 8 am until 8 pm but doublecheck to make sure!
4. How much does it cost to go skiing in Shymbulak Ski Resort?
Here's an overview of the prices for skiing/ snowboarding in the ski resort of Shymbulak. The currency rate at the time of posting: $1 = 370 tenge
Ski passes:
Renting gear:
Rental costs of equipment at the ski resort: 5000 – 9000 tenge per day depending on what you need (clothes, helmet, gloves, goggles, skis, snowboards). Don't forget to bring your passport as you'll need it as proof of identification). Here's an overview of all the rental prices at Shymbulak.
However, if you don't mind carrying everything up, you can also rent your ski-equipment in Almaty for a cheaper price. Check the website of extremal.kz for an overview of the prices.
Renting a locker:
You can rent a locker at the base of the ski resort for 1000 tenge per day, 3500 tenge for a week, 12.500 tenge for a month or 48.000 tenge for the whole season (with a 2000 tenge deposit which you'll get back as soon as you return the key to the locker).
Ski/ snowboarding classes:
You can take skiing or snowboarding classes at Shymbulak. You can request an English speaking instructor. The price of the classes depends on the number of lessons you want to have and whether you want to have private lessons or group lessons. Individual classes start from 13.500 tenge for 1,5 hour. You can also buy a package of 10 classes for 75.000 tenge. Here's an overview of the different type of skiing or snowboarding classes and their prices.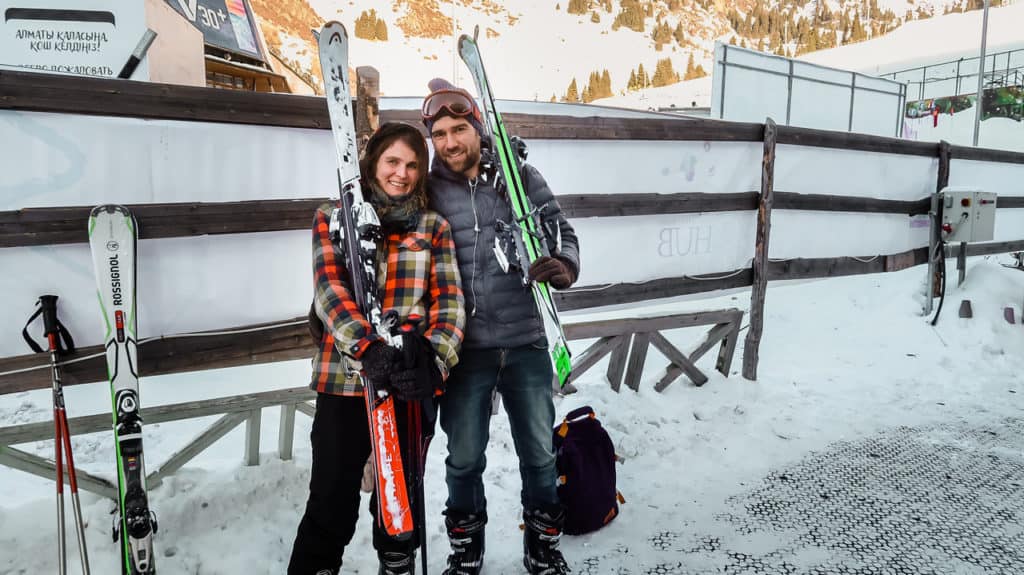 It would be hard to travel and hitchhiking with a set of skiing equipment, so we rented all of our gear at the ski resort
5. What you need to know before you go skiing in Shymbulak
Here's an overview of all the practical information for when you go skiing or snowboarding at the ski resort in Shymbulak:
What are the opening times?
The cable car from Medeu to Shymbulak operates daily from 10.00 until 18.00 on weekdays and from 10.00 until 19.00 on weekends. It's exceptionally open until midnight on Thursdays and Saturdays for the night-skiing.
The ski-lifts from the base of the ski resort (at an elevation of 1600 meters) to the 'first level' (at an elevation of 2300 meters) run daily from 10.00 until 17.00 on weekdays and from 10.00 until 18.00 on weekends. They are exceptionally open until 23.00 on Thursdays and Saturdays for the night-skiing.
The ski-lifts from the 'first level' (at 2300 meters) to the Talgar Pass where the highest slopes of Shymbulak are at an altitude of 3200m, run daily from 10.00 until 16.30 on weekdays and from 10.00 until 17.30 on weekends. They are exceptionally open until 22.30 on Thursdays and Saturdays for the night-skiing.
What level of difficulty are the slopes?
There are 20 km of slopes available for skiing and snowboarding: 4 km for beginners, 10 km for skiers and snowboarders with an intermediate level and 6 km for the advanced ones.
Is it possible to go backcountry skiing and snowboarding from and around Shymbulak?
There are many possibilities to go off-piste around Shymbulak. Check out the backcountry and ski-mountaineering guidebook on powder.kz for more info and details!
Are there any restaurant and bars at the ski resort?
There are several bars and restaurants at Shymbulak where you can enjoy a drink or a good meal. There's even a yurt bar at the Talgar Pass, the highest point of the ski resort. If you go for a drink there, you'll definitely feel that you're in Central Asia. However, be aware that the prices for drinks and meals are rather expensive. If you want to stay on a budget, you'd better take some food with you from Almaty.
Safety and avalanche risks
It is very safe to go skiing or snowboarding in Shymbulak. Every morning, before the resort opens, a team of ski patrol rescuers will inspect the slopes. If there would be any problem or danger in a section, they would close it until the problem is fixed. The information about the slopes is always displayed near the cable car and ski lift stations.
You shouldn't worry too much about avalanches during the ski season. The avalanche risk is the highest during spring when the snow is melting. Shymbulak also has its own 24/7 anti-avalanche service, in which specialists check and predict the avalanche danger. If there would be even the slightest chance to an avalanche, certain parts of the area or even the whole ski resort would close.
6. Other fun things to do in the winter near Almaty and Shymbulak
Ice-skating in Medeu, the highest ice-skating rink in the world
It's quite special to go ice-skating at Medeu. This ice-skating rink was built in 1949 and became one of the top speed skating venues in the world during the Soviet era. It consists of 10.500 square meters of ice and it lies at an altitude of 1691 meters above sea level, making it the highest ice-skating rink in the world! Nowadays it's a recreational ice-skating place where you can just go and have fun during the winter season.
The Medeu ice-skating rink is open daily from 10.00 until 16.00 and from 18.00 until 23.00, except on Mondays. The ticket office closes one hour before the end of the session.
Adults pay 1800 tenge for one day of ice-skating fun in the rink, a day-ticket for young adults (13y.-23y.) costs 800 tenge and children between 7 and 12 years old can go ice-skating for 400 tenge. Children who are younger than 7 years, can go for free.
You can rent ice-skates at Medeu. Adults pay 1000 tenge for a pair, children (up to size 33) 500 tenge.
Hiking in a winter wonderland
You can go on many beautiful day hikes around the area of Shymbulak and Almaty, even during winter.
A really beautiful one is the Four Peaks Trail, which brings you across four mountain peaks (hence the name of the trail): Peak Furmanov, Peak Panorama, Peak Bashuta, and Peak Shymbulak. The total distance of this hike is 11km and takes about 7 – 8 hours.
The hike starts at Medeu (at 1691 meters) and goes uphill towards Peak Furmanov (at 3000 meters). Many hikers turn back at peak Furmanov but you can continue along the other two peaks to end at peak Shymbulak (at 3450 meters). There you can return by taking the ski lifts and cable car back down to the bus station.
The views towards peak Furmanov
If you're not up for an intensive hike, the walk towards the Butakovskiy Waterfall is a good alternative option. It starts at the same trailhead as the Four Peaks Trail but along the way, you'll have to turn left. You'll see a map with the hiking routes at the trailhead and you'll see a sign along the way where you have to turn to get to the waterfall.
Another beautiful day hike is to Kok Zhailau, 3 Brothers and Peak Kumbel. The total distance of this hike is 8.7 km and takes about 7-8 hours. This hike starts a bit before the bus stop to take the cable car to Shymbulak.
The first part of the hike is very steep but it becomes flatter after that. After about two hours, you'll reach Kok Zhailau (at 2250 meters), where you'll have a beautiful panoramic view over Almaty and it's a popular spot, even during winter, for a picnic. You can return from this point or continue south towards 3 Brothers (2846 meters) and Peak Kumbel (3280 meters).
If you're planning on going on a day hike, be aware that it's winter and that it gets dark early. Start early in the morning so you can finish your hike before it gets dark. There aren't any lights in the mountains and it can be very dangerous to find your way back in the dark! Niko got lost when he went hiking with his brother to 3 Brothers peak and, well, just watch the following video:
[kad_youtube url="https://www.youtube.com/watch?v=gFG8-0ZeJys&t" width="600″ height="400″]
After all of this is said and done, I just want to emphasize that, whether you go skiing, snowboarding or hiking, accidents can happen fast. Make sure you have a good insurance before you go into the mountains! I recommend the travel insurance of World Nomads:
Have lots of fun on your winter sports trip to Almaty and Shymbulak!
What is your favorite winter holiday destination? Did you ever go skiing or snowboarding in an alternative destination? Which places would you recommend? Tell us more about it in the comments below!
[kt_box opacity="1″ background="#eded6d"]
Interested in more alternative winter holiday destinations?
Read our Guide to skiing in Georgia!
[/kt_box]
KNOW BEFORE YOU GO – KAZAKHSTAN TRAVEL TIPS:
KAZAKHSTAN TRAVEL RESOURCES: