How to travel by train in Kazakhstan?
Claire Martin from Claire's Footsteps traveled solo through Kazakhstan by train.
She wrote for us the complete guide to the Kazakhstan Railway, from how to book train tickets to what to expect on the trains in Kazakhstan.
Kazakhstan is a country that very few Western tourists visit but actually takes up a huge space on the map – it's the ninth largest country and biggest landlocked nation in the world.
Much of Kazakhstan is taken up by desert and steppe, so it only has a population of 18 million – just under a third of the population of England alone.
Nonetheless, there's plenty to see in Kazakhstan: from the diverse and cultural city of Almaty, which is fringed by mountains, to the futuristic capital of Astana/ Nur-Sultan (the name officially changed recently, but many Kazakh citizens prefer to still call it Astana), to the desert landscapes in the country's far West.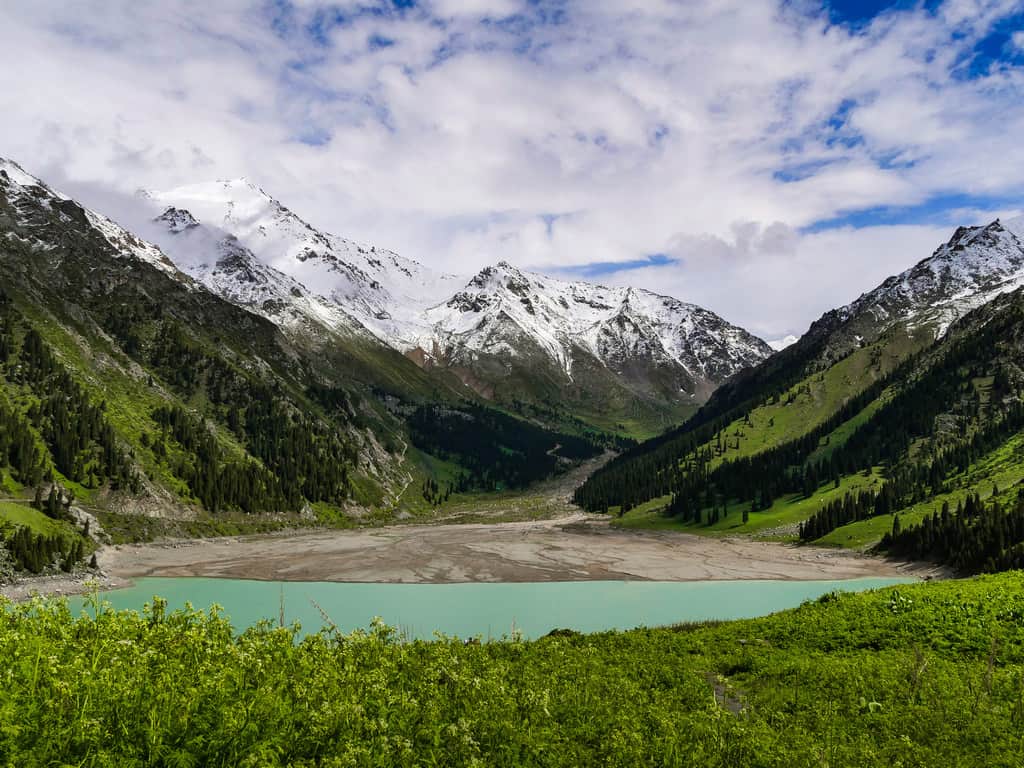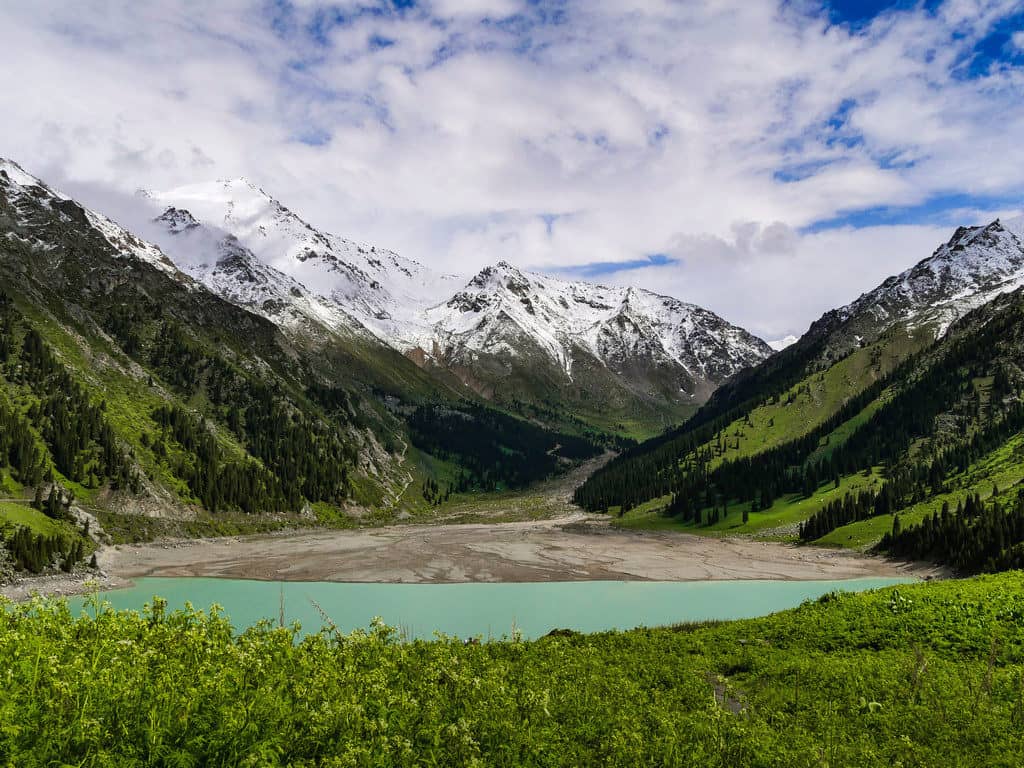 Mountainous landscapes in the southeast of Kazakhstan
[kt_box opacity="1″ background="#eded6d"]
Also read:
The 26 most beautiful places to visit in Kazakhstan
[/kt_box]
But how do you get from A to B? You could fly, of course, but that's never my preferred option. In fact, I dislike flying so much that I travelled from Bali to London by boat, train and bus, but that's a story for another time!
Taking the trains in Kazakhstan is a more eco-friendly alternative to flying everywhere, it's normally considerably cheaper, and it's quite the experience.
The country offers post-Soviet vehicles that take what feels like days to reach their destination but provides a very traditional experience.
There are also speedy, futuristic Talgo trains which reminded me more of a UFO that had come to transport me between destinations than their slow Soviet cousins.
Taking the trains in Kazakhstan is easy when you know a few things – and lucky for you, we're going to go into these few things here!
How to book train tickets in Kazakhstan
It's fairly simple to book tickets for Kazakhstan trains online. If you can speak some Russian or can get the help of a Russian speaker, even better.
To book a train from Russia to Kazakhstan (I took one from Novosibirsk to Nur-Sultan), you can use the Russian Railways website. These are a bit more expensive than if you book them at the office, but it's in English and is very easy to use.
To book a ticket from Nur-Sultan to Almaty, I used Bilet.kz which can handily be translated into English. Ticket prices here are good, although it mainly books tickets for the Talgo trains.
When booking my train from Almaty to Tashkent, I used Tickets.kz.
Finally, to book my ticket back into Kazakhstan (I went from Nukus in Uzbekistan to Mangystau in Western Kazakhstan), I booked a ticket at the ticket office in Tashkent.
This was fairly easy – I'd already worked out what to say in Russian, but by the end of my transaction I had three locals at the kiosk offering to translate.
So basically, there are quite a few ways to book your tickets in Kazakhstan. Sometimes one website might not work, for some reason, and you'll have to try another way – but it is fairly straightforward!
[kt_box opacity="1″ background="#eded6d"]
Also read:
Everything you need to know to travel independently to Kazakhstan
[/kt_box]
Where to take trains in Kazakhstan
Every city in Kazakhstan has a main station (Vokzal in Russian), and some cities, like Almaty and Nur-Sultan, have two.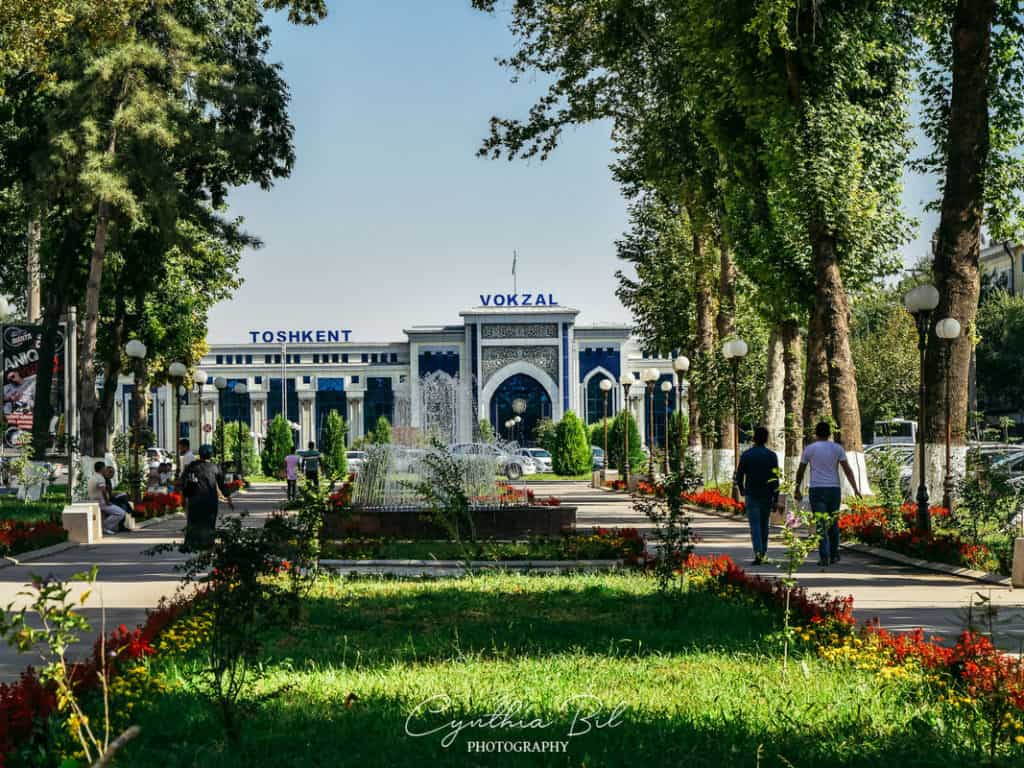 All the train stations in Central Asia are called "Vokzal"
Once you've booked a ticket, double-check which station the train leaves from, and make sure you book a taxi to the right place (I'm talking from experience here!).
You can use the Yandex app to book taxis. It's the safest way to take taxis in Kazakhstan (they are generally safe, but there is the odd isolated incident with unregistered cabs) and you'll get a fair price.
Plus, there's English to Russian translation when you're talking to your driver, and the option to split rides up. I'm a big Yandex fan, in case you can't tell.
[kt_box opacity="1″ background="#eded65″]
Reading tip:
How to get from Almaty (Kazakhstan) to Tashkent by train and by bus?
[/kt_box]
What to do at the train station in Kazakhstan
The train stations in Kazakhstan are pretty straight-forward.
Generally, there will be a big screen and you can match your train number on the ticket with the train numbers up there.
Normally there will also be an announcement (sometimes in English, although not all the time!) when the train is ready to board.
However, I was caught out with this once and nearly missed my train because I didn't hear an announcement.
So if you don't hear a boarding announcement or see the screen change to boarding, ask someone! It's unlikely that people will be able to speak English but if you show them your ticket, you'll get pointed in the right direction.
Soviet Trains in Kazakhstan
The old Soviet trains have three classes: Luxe, Kupe and Platzkart.
I tried out Kupe and Platzkart (I'm not fancy enough to try out Luxe yet, unfortunately!), so I can give first-hand knowledge on both of these.
Kupe are second class trains, 4 berth cabins, with a small table, a plug socket, storage space, and individual lights.
You'll generally be sharing with three other people unless you're on a particularly quiet route.
If you're lucky, they will greet you with some Central Asian hospitality, and be keen on chatting (even if most of the time this is through Google translate!) and sharing food. This happened to me lots of times throughout my travels in the region.
There is, of course, the chance that you could be in a cabin with three people who don't want to talk and aren't impressed with your attempts to speak Russian (happened to me as well!). It's just luck of the draw!
In Platzkart, however, you're bound to find someone to have a chat with. Platzkart are carriages with about 40 beds in – like hostel dorm rooms in a train carriage.
There are two sets of bunk beds in each compartment. Running along the other side of the train is another set of bunk beds, the lower of which is turned into a table and chairs in the day.
Because the compartments are open, you'll meet a lot more people in Platzkart. It will also be noisier and less private, so it depends on what your priorities are during your Kazakh train adventure!
As I mentioned before, I haven't tried out Luxe yet, but I've been told that they are roomier, with just two beds. Perfect if you're travelling as a pair and want privacy.
Talgo Trains in Kazakhstan
Talgo trains don't have the Platzkart option and just offer second and first-class sleepers.
The second class is an upgraded version of Kupe, with everything looking shiny, clean and new and just a lot less Soviet.
I presume first class is an upgraded version of Luxe, bringing the 1960s trains into the 21st Century!
Talgo also offers in-train entertainment (the WiFi didn't work on either Talgo train I took, but I did have the opportunity to watch Russian films and listen to Russian hip hop) and complimentary cold drinking water.
Are the trains in Kazakhstan safe?
Solo female travel in Kazakhstan brings about all sorts of questions: largely, is it safe? In a nutshell, yes, it is.
People on the trains are generally very keen to look out for a tourist and are generally just curious about where they are from and why they are going.
For a solo female traveller, there are always questions about their marital status, which are normally asked out of curiosity but occasionally asked with some ulterior motive.
Generally, I found even if I felt that these questions were asked with an ulterior motive, it was quite easy to make it clear that I wasn't interested, and as there were always lots of people around in the trains – the majority who would be looking out for me – I never felt unsafe.
It's advisable on any overnight train journeys to keep your valuables close to you.
In Platzkart, I kept my daypack by my head when I slept. In Kupe, I was a bit more relaxed, as the cabins can be locked and my cabin mates always seemed like decent people.
Other than that, trains in Kazakhstan are perfectly safe, and an excellent way to travel.
[kt_box opacity="1″ background="#eded6d"]
Reading suggestions:
Is it safe to travel to Kazakhstan?
[/kt_box]
Train travel in Kazakhstan
Travelling by rail is definitely my favourite way to see the country – and Kazakhstan is no exception.
It's a fantastic way to enjoy local life, make new friends, see the country and travel on a budget. Watch the following video to see how the train journey from Almaty to Tashkent by Talgo train looks like:
[kad_youtube url="https://www.youtube.com/watch?v=CbGxj9vcbWo" width="600″ height="400″]
Hopefully, this guide to Kazakhstan Railway has helped you plan your Central Asian adventure!
KNOW BEFORE YOU GO – KAZAKHSTAN TRAVEL TIPS:
Everything you need to know about traveling independently in Kyrgyzstan (visa, how to get to and around Kazakhstan, where to stay,…):
Plan your trip to Kazakhstan, beautiful trips and hikes around Kazakhstan:
Border crossings in Kazakhstan:
---
About the author:
Claire Martin is a British travel blogger and freelance writer. She blogs about eco-travel and overland adventures on her blog Claire's Footsteps.
She has driven around the entirety of Australia and travelled from Bali to London without flying.
Follow her footsteps on YouTube and Instagram!