You're wondering what's the best way to get from Almaty to Tashkent? Then you came to the right place!
This article will tell you how to get from Almaty to Tashkent by bus and by train. I also included information about crossing the Kazakhstan – Uzbekistan border.
Kazakhstan and Uzbekistan are some of the most gorgeous countries to visit in Central-Asia. The two countries neighbor each other so it's very easy and straightforward to get from Almaty to Tashkent, the capital of Uzbekistan.
Although the bus and train rides can take a long time (13 and 16 hours respectively), it's a very relaxing journey. It's a good idea to travel this way if you're on a budget and/or if you have plenty of time to spare.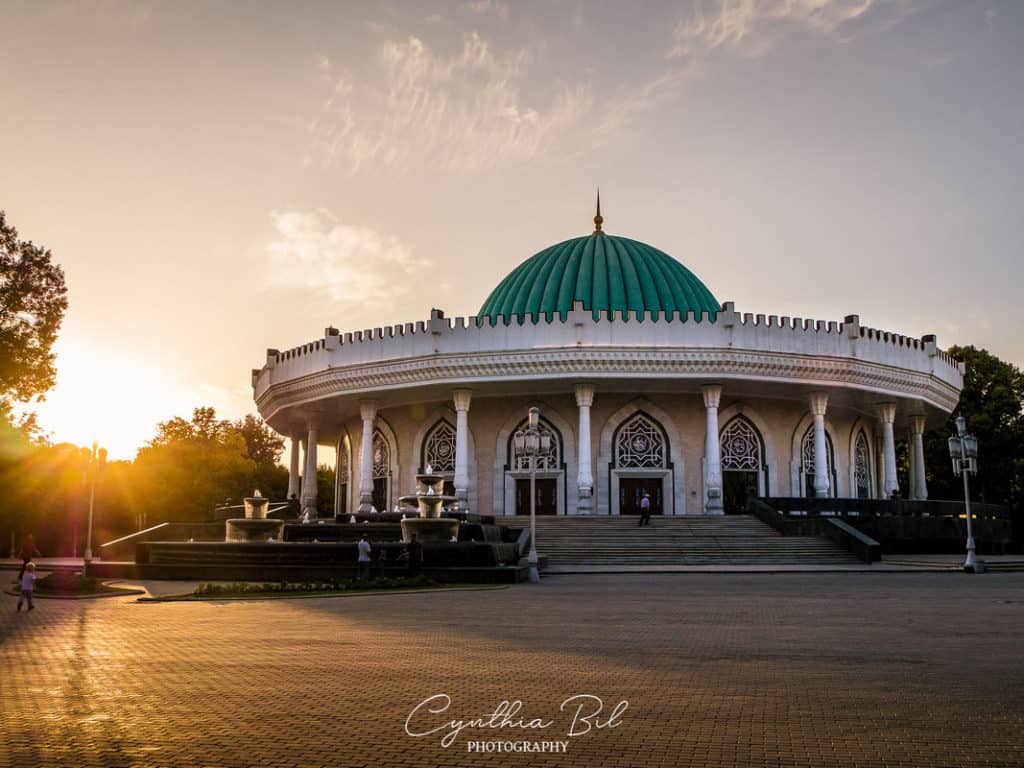 Tashkent has tons of beautiful museums…
If you don't have much time, you can look into taking a cheap flight between the two cities. If you buy your flight early enough you can get it for as low as 80 Euros.
In this article, I will tell you about all the different ways you can get from Almaty to Tashkent, how much each means of transport will cost and how much time it will take.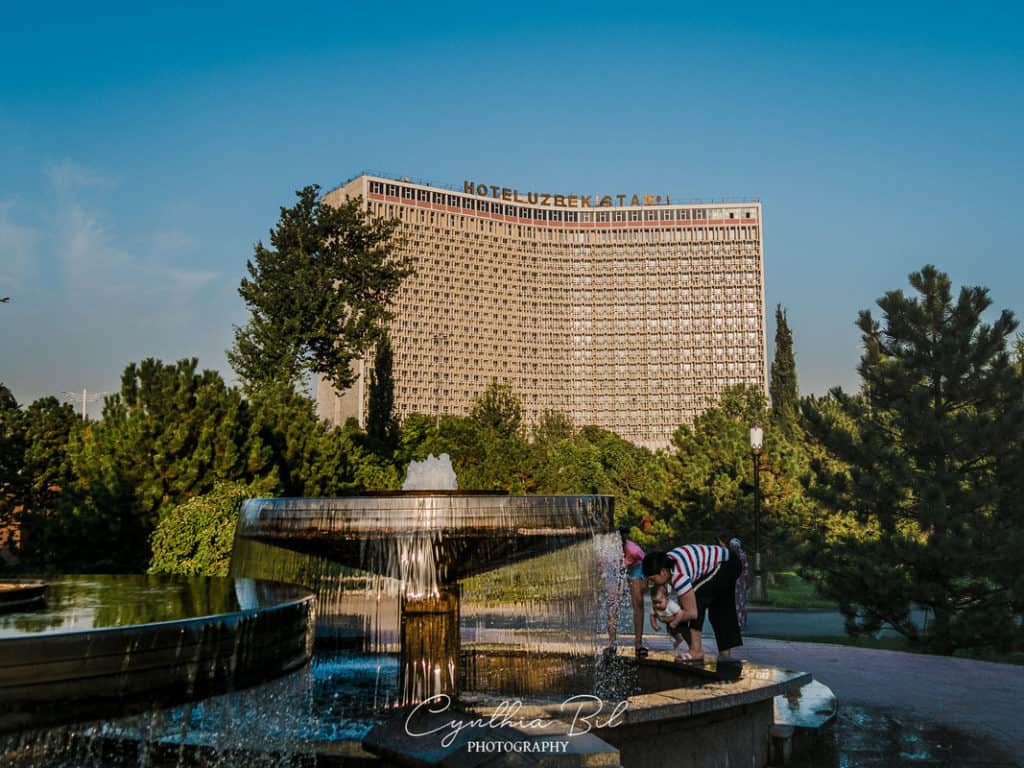 Fountains and parks are everywhere in Tashkent…
[kt_box opacity="1″ background="#eded6d"]
Going on a trip to Tashkent soon?
Definitely check out our
Tashkent City Guide with The 15 Top Things to do in Uzbekistan's Capital
[/kt_box]
1. How to get from Almaty to Tashkent by train?
The most comfortable option to get from Almaty to Tashkent is probably by train, although it's not the fastest way to get there.
There is a new train that runs three times a week from Almaty to Tashkent. The train leaves from the train station Almaty-2 in Almaty.
Here is where the train station is located in Almaty:
Whenever we visit Almaty, we always stay at the budget-friendly European Backpackers Hostel (we really love it there!). This hostel is located near Dostyk Plaza, which is located in the center of Almaty.
You can reach this train station by hopping on bus 141 near the hostel (ask the owner where the stop is and he'll gladly show you the way to get there) or by using the Yandex App to call a taxi.
You can book your train tickets to Tashkent online through the website ticketz.kz or directly at the train station. Third-party websites also sell tickets but they tend to charge a lot more.
The train from Almaty to Tashkent is very comfortable and it has three different class options. You can travel during the whole 16 hours in a reclining seat for about 4 200 Tenge (around 11 USD).
If you want to be a bit more comfortable, you can book a bed in well-kept sleeper cabins that can accommodate up to four people. This will cost around 9 300 Tenge (around 24 USD).
A third option is to book a bed in a luxury cabin. The luxury cabins cost around 38 286 Tenge (about 100 USD) and they have two beds. These cabins even come with their own showers!
If you are traveling with children under 5 years old, they don't need a separate bed and can share one with you. You will need, however, to book a cheaper ticket for them at the train station.
The train has a nice restaurant but it can be quite crowded. You can bring your own snacks if you want to save money.
The air conditioner on the train is at night very cold so I would recommend bringing a few extra sweaters to stay warm.
As with the bus that goes from Almaty to Tashkent (see below), money exchangers will come on board and offer to exchange your Kazakh Tenges for Uzbek soms.
The rate they offer is not extremely good but better than what most banks offer in the city center of Tashkent. Make sure you know what the rate is before exchanging any money.
The border crossing could take a long time especially if the border is busy. It could take anywhere between one to three hours to get both your Kazakh exit and Uzbek entry stamps.
[kt_box opacity="1″ background="#eded6d"]
Wondering how much it costs to travel in Uzbekistan?
[/kt_box]
2. How to get from Almaty to Tashkent by bus?
To take a bus from Almaty to Bishkek, you'll have to go to the Sayran bus station in Almaty. The bus station is located 7km west of the city center so you'll first have to take a city bus or a taxi to get there (see map below).
There are three buses leaving every evening from Almaty to Tashkent. They depart from the Sayran bus station at 6, 7, and 8 pm.
I would recommend buying your ticket from the Sayran bus station a couple of days ahead as this is quite a busy line. I bought mine the same day I left and the tickets were almost all sold-out! Don't forget to bring your passport!
This is the bus station where you'll arrive in Tashkent…
To get from the European backpacker hostel to the bus station, we always go for the cheapest option, which is taking city bus #45 or #49 from the bus stop near Dostyk Plaza to Sayran bus station.
Depending on the traffic, the ride takes about 60 minutes and costs 150 KZT if you pay cash, or 80KZT if you have a bus card (ask for it in your hostel). Ask the bus driver to stop at Sayran bus station.
You can also take a taxi to the bus station. If you use the Yandex taxi app, you'll pay a fixed price (between 600 and 1000 KZT, depending on where you're leaving from).
Once you arrive at the bus station, go inside the building and walk towards the left wall where many small ticket booths are aligned next to each other. Ask for 'Avtobus Tashkent'. People will show you the ticket booth where you can purchase your ticket. Tickets from Almaty to Tashkent cost around 5000 Tenge.
Once you have your ticket you can go through to the first door next to the ticket booth and walk towards your right behind the bus station.
Look for the platform with a sign that says Tashkent or "Ташкент" in Russian.
These buses are relatively comfortable. They have reclining seats, aircon and enough space to stretch your legs in front of you if you're not very tall.
Tashkent Bus Station
The journey from Almaty to Tashkent by bus takes on average about 14 hours. This includes the time spent crossing the border.
The driver will take a half-an-hour break around midnight at a roadside restaurant where you can go to the toilet (50KZT) and buy some snacks or a warm meal.
I would suggest bringing a sweater because the bus gets a bit cold during the night.
Exchanging Kazakh Tenge for Uzbek Som on the way to the Uzbek border
Along the way, the bus driver will make a few stops and let some money-changers climb aboard. They usually offer a much better rate than you would get at banks or money-exchange offices in Tashkent.
A quick tip: Look up what the exchange rate is with the App XE currency before you exchange money on the bus and always double-check the amount you receive.
Although most of these money-changers are usually honest people just trying to make a living, you'll stand out as a foreigner and could easily be scammed.
Arriving at the Zhibek-Zholu border by bus near Tashkent
Once the bus arrives at the Zhibek-Zholu border, everyone needs to get out of the bus, pass their bags through security and get their passport stamped. Once the passports are stamped, everyone gets back on the bus and then the whole process starts again at the Uzbek border.
Crossing the border can take from 2 hours to 4 hours, depending on how busy it is when you arrive.
Once you're on the other side of the border, it will take a bit less than an hour to arrive in Tashkent. You can either take a taxi or a metro to get to your hostel (see below).
3. Flying from Almaty to Tashkent
A third option is to fly from Almaty to Tashkent. Flights run daily between the two cities and flight time is approximately an hour and a half.
To get to the airport from the city center, you can either call a taxi with the Yandex App (this will cost around 1400 Tenge) or you can use a city bus. The buses that go from the city center to the airport are buses 79, 86, 92, and 106.
You can get a flight between the two cities for around 80 euros if you buy your ticket ahead of time.
Once you land in Tashkent, you can take taxi from the airport to the city center. Most taxi drivers will claim it's 50 000 Uzbek Som but you shouldn't pay more than 25 000 Uzbek Som, which is the equivalent of about 3 USD.
[kt_box opacity="1″ background="#eded6f"]
Read before you go: Is it safe to travel to Uzbekistan?
[/kt_box]
4. Driving from Almaty to Tashkent with your own car
If you have your own car, driving from Almaty to Tashkent is definitely an exciting journey. One of the things to consider when driving in Kazakhstan is that gas stations tend to be very far apart from each other (see Is it safe to drive in Kazakhstan?).
The road between Almaty and Tashkent is now completely paved so you won't have to deal with the old gravel roads we used when we crossed the country by car.
One important driving rule to follow in Kazakhstan is that your car lights need to be switched on at all times.
The trip between the two cities will take about 10 hours. The distance between Almaty and Tashkent is roughly 800 km and you can reach the Uzbek capital by following highway A2 towards the west.
You can enter Uzbekistan at the Zhibek-Zholu border but an alternative route is to enter at the Kaplanbek or Serke-Turkistan borders. These border-crossings are also not too far from Tashkent but they are usually much less busy.
For all the rules and practical information concerning driving in Uzbekistan, read this article.
5. Crossing the Kazakhstan – Uzbekistan border at Zhibek-Zholy
Crossing the border into Uzbekistan used to be a long and slow process. Bags, laptops and even cellphones were checked thoroughly. This is now a thing of the past and crossing the Kazakh-Uzbek border has never been easier.
The border at Zhibek-Zholu is relatively busy due to its proximity to Tashkent but it's open 24 hours a day. You can exchange money on both sides of the border before you continue towards Tashkent.
6. Arriving in Tashkent – How to get around and where to stay?
Once you arrive in Tashkent, you'll probably need to reach your hotel or hostel in the city center.
If you are arriving at the airport or at the bus station, the taxi costs around 3 USD (25000 Uzbek Som) from the airport to the city center. Taxi drivers will try to get you to pay more but 25 000 Uzbek Som is the price you'd get if you'd call your taxi through a phone app.
We recommend installing the Yandex app on your phone so you can easily go from the bus station to the city center without being overcharged.
Another option is to take the metro directly to your hostel from the bus station. The metro station that is next to the bus station is called metro Olmazor. You can take the metro to almost any part of the city for only 14000 Som so this is definitely the cheapest option.
[kt_box opacity="1″ background="#eded6d"]
Reading tip:
The Complete Guide to Tashkent's Stunning Metro!
[/kt_box]
If you are arriving via the Northern railway station, the taxi to the city center should cost around 2 USD (16000 Som).
A hostel we highly recommend in Tashkent in the Top Hostel. It has huge spacious dorms equipped with air-conditioning. The dorms don't have so many beds so the hostel is generally quiet.
This establishment also has a fully equipped kitchen where you can cook your own meals. There is a cozy common area with mattresses and pillows to relax and to exchange travel stories and tips with fellow backpackers.
Click to check out rates and availability for "Top Hostel"
That's it! I hope this post was useful and I wish you a pleasant journey from Almaty to Tashkent! In case you'd have more questions, feel free to leave a comment below!
Disclaimer: This post contains affiliate links. If you purchase a product or stay in a hostel through one of the links, we get a commission at no extra costs to you! Thank you!
KNOW BEFORE YOU GO – UZBEKISTAN TRAVEL TIPS:
Everything you need to know about traveling independently to Uzbekistan:
Plan your trip to Uzbekistan:
How to get from Tashkent to Bishkek by bus