What are the things you should do and visit in Bukhara? Maybe you're wondering where to stay in Bukhara or where to eat in the city? This is the complete guide to Bukhara, Uzbekistan.
Bukhara is a city unlike any other in Uzbekistan. Walking between the numerous arches and cupolas of the old city feels like walking back in time. But not like traveling back in time to a period where things were less advanced. No, in Bukhara it's quite the opposite.
The city breathes of an architectural genius that is seldom found in our modern metropolises.
Bukhara was designed by genius architects…
The sheer mastery and craftsmanship that went into building the minarets, cupolas, and walls of this city baffles me.
If you've been following this blog for a while you know I'm a big fan of architecture so walking in Bukhara felt like being a kid in a candy store.
It's a place where one can walk around and spend days on end visiting some of the world's most beautiful mosques and Madrasas. Bukhara has some buildings that are more than a thousand year old and the old center hasn't changed much since its construction.
Another thing that fascinated me about the city was its numerous pools of water like the one at Lyabi Hauz that reflects the blue mosaics around it.
Bukhara is a city dotted by ancient water pools…
Bukhara is an architectural mirror of the past. While there have been some restoration efforts to repair buildings that were in ruins, these reconstructions were much more subtle than other cities like Samarkand or Khiva for example.
Because of this Bukhara still feels very authentic.
Bukhara still feels very authentic…
Whether you are drawn to the city because of its fascinating history, its huge citadel called the Ark or because of the beauty of the Kalyon Mosque, everything you will see there will enchant you and invite you to stay longer.
In this guide, I will tell you what are the most beautiful sights to visit in Bukhara, where to find them and how much visiting each place will cost. I'll also show you that Bukhara is not just about architecture and give you a list of cool things to do in and around the city.
[kt_box opacity="1″ background="#eeee22″]
Read:
Uzbekistan Travel Guide – Everything you need to know about traveling to Uzbekistan Independently
[/kt_box]
Things to know before you visit Bukhara
The old city of Bukhara has been through a lot of restoration over the last few years and for some people, this might not feel 100% authentic.
This might be true but something I noticed about the old city is that it still feels like a very genuine place even if it's not as it used to be. Bukhara doesn't feel like a big open-air museum the same way Khiva does. It's a city that feels very much lived in.
If you arrive by bus or by train, you'll arrive in the new city. The newer part is called Kegen and a taxi can bring you from there to the old town for 20 000 som.
Is Bukhara safe?
When traveling in a foreign country, it's totally normal to think about your own well-being. You shouldn't worry too much about Bukhara though, after traveling there for a while, I can assure you that it's a very safe city.
It's quite small and generally, people there are delighted to see foreigners. You might be approached by Uzbek students wanting to practice their English or by locals who'll invite you for tea. Bukhara is very safe for solo female travelers, students, and expats.
Now you might be wondering about petty crime such as mugging or about the presence of pickpockets. Because Bukhara has a good touristic police presence these crimes are almost unheard of.
Pickpocketing is unheard of in the markets of Bukhara…
There is one thing I noticed in the suburbs of Bukhara however that could be a safety issue; the huge presence of stray animals.
While they may look cute and inoffensive these cats and dogs could have rabies. Even a small scratch or bite from such an animal could have dire consequences. Only approach them if you got a rabies vaccination.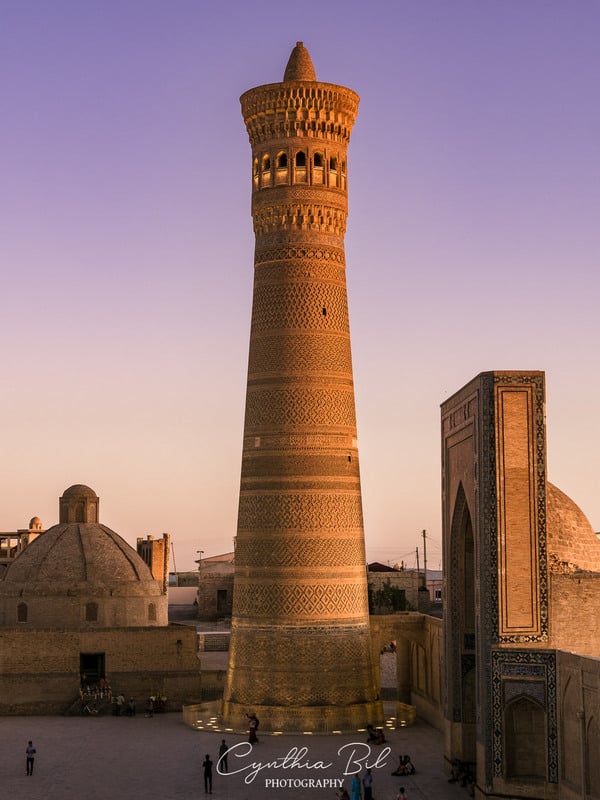 Another recommendation I would have would be to avoid drinking tap water in Bukhara. While tap water in Tashkent is generally considered safe, the water pipes in Bukhara tend to be very old and drinking water there could make you very sick.
To avoid buying plastic water bottles, I would recommend bringing a LifeStraw Water Filter Bottle.
This is a bottle that filters water using a filtration device. If you drink water using this bottle, any dirt, bacteria or parasites gets trapped in the filter, while the clean water passes through.
[kt_box opacity="1″ background="#eded6f"]
Worried about safety in Uzbekistan?
Read: Is it safe to travel to Uzbekistan
[/kt_box]
What are the most beautiful places to visit in Bukhara Uzbekistan?
The city of Bukhara is divided into two parts, the old city, and the new city. While a big part of the city's inhabitants lives in the new city, the older part is the most interesting area. This is where you'll find most of the beautiful Madrasahs and minarets.
A taxi can bring you from the train station to the old city for 20000 Uzbek Som and getting there takes about twenty minutes.
1. Ark fortress
This huge white citadel used to be a military fort and the symbol of the state's power.
This is one of Bukhara's oldest structure and it holds several museums, a mosque and old stables.
We went there in the early evening when the huge walls of the fortress were bathed in the setting sun and it was a sight to behold.
The Ark as been standing proud as the entrance to the old city of Bukhara since the 5th century AD. It was used as a real fortress until the early 1920s.
The fortress has massive gates…
This massive citadel has been destroyed and rebuilt many times over the ages. the saying goes that the Emir himself blew up the palace so it wouldn't fall into enemies hands.
Before going into the Ark, I suggest taking a moment to climb the Bukhara observation tower that stands opposite the citadel. From that vantage point, you'll be able to see the fortress from above.
Walking inside the fortress is a good visit to do in the early evening when the sun is setting. From the top of the walls, you'll have a beautiful view of the western part of the city and park Samanidov covered in the last rays of sunlight.
This is the view from the fortress while the sun is setting…
What are the opening hours of the Ark fortress and how much does it cost?
The Ark is opened every day of the week from 9 AM until 8 PM. A self-guided visit costs 15 000 som. It's also possible to visit the citadel with an audio-guide for 3000 som or with a personal guide for 9000 som.
People at the booth ticket will suggest you take a guided tour but I don't believe it's necessary since all of the different exhibitions in the museums are well explained with small panels in English, Russian, and Uzbek.
2. Poi Kalon ensemble
This courtyard is surrounded by the Kalon minaret, the Miri Arab Madrasah, and the Kalon mosque. It's, in my opinion, the most beautiful part of the old city and the crown of Bukhara.
There is no doubt that this Uzbek city would feel much less grandiose without this stunning group of architectural beauties.
People come from all over the world to witness the beauty of this place. The blue cupola of the Madrasah is covered in a golden glow during sunset and it's definitely a sight you'll never forget.
The Kalon Minaret was built in 1127 AD. Its height is about 47 meters and it dominates the center of the old city.
Because of this, it was called the Kalon minaret which means "Great". It's so impressive that Genghis Khan decided to spare the tower after conquering Bukhara.
The Kalon mosque that stands next to the minaret is the largest mosque in Bukhara and a great place to visit in the early morning. The best time to visit it is at sunrise, if you go there earlier than the official opening time you can visit the mosque for free.
When you visit this mosque, wear some appropriate clothes that cover your shoulders. When we were there, we saw a bunch of tourists who had obviously forgotten they were in a sacred place.
The best place to enjoy a sunset over the Poi Kalon ensemble is from the upper terrace of cafe Chasmai Mirob located at a corner of the square.
This is what the view from the restaurant looks like:
Here is where the Poi Kalon Ensemble is located in Bukhara:
3. Ismail Samani Mausoleum
The Ismail Samani Mausoleum is located in a beautiful park full of trees, canals, and a pool of water called Samanidov park. This is one of the oldest few buildings that remain from the rich Persian Samanid dynasty that ruled Central Asia until the 10th century.
This shrine is considered to be one of the oldest monuments in the Bukhara region.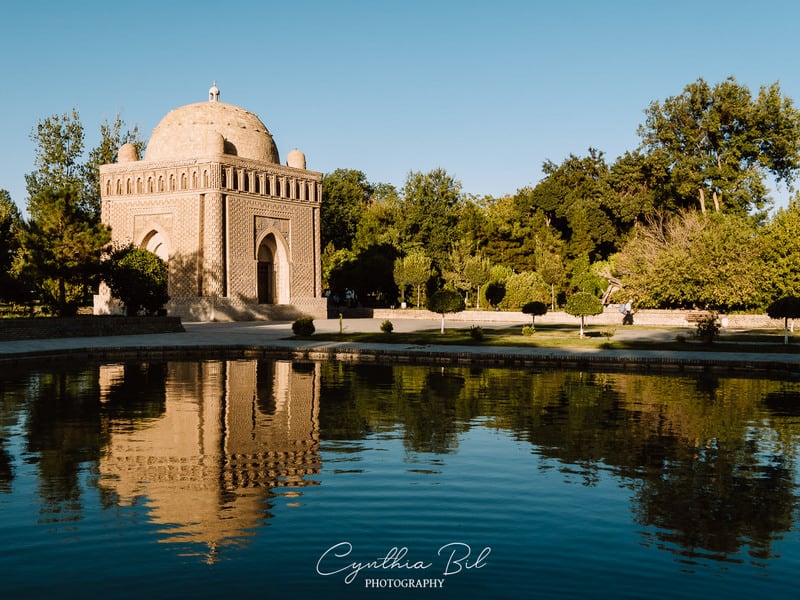 When Genghis Khan invaded the city, the Mausoleum was covered in mud from recent flooding and was protected from the destruction that plagued the rest of Bukhara.
The site was only rediscovered in 1934 and it took two years to excavate the monument from the ground and mud that covered it.
The mausoleum stands next to a small pond of water and it's a great place to relax at sunset. There is also a small amusement park nearby where local families go to enjoy one of the many rides in the early evening once the temperature is not too hot.
Here is where you'll find the Ismail Samani Mausoleum:
4. Lyabi Khauz Ensemble
Lyab-i Hauz means "by the pond" in Persian. It's the name of the area that surrounds one of the few hauz or small water ponds of Bukhara.
When Bukhara was first built, it was possible to find smaller ponds like this one in every inner courtyard of the old city. Nowadays, they are much rarer and Lyabi Hauz is one of the few remaining ponds in the city.
The pond is surrounded by small restaurants, souvenir shops, a very unique Madrasah, and a mosque.
What is very special about the Madrasah of Nadrid Divan-begi that stands on one side of the pond is the fact that it has one of the few Islamic mosaics that depicts animals instead of purely geometrical shapes.
This is one of the few Islamic mosaics that depict animals…
This is a place that is not only visited by tourists but also by locals. It's not uncommon to see young teenagers from Bukhara hanging out at the tables of restaurants near the pond in the evening.
This is the area where Lyab-i Hauz is located:
5. Chor Minor Madrassah
Chor Minor, which means four minarets in the Tajik language is one of the most charming buildings in Bukhara. It has four turquoise domes and it's a sight to behold during sunset.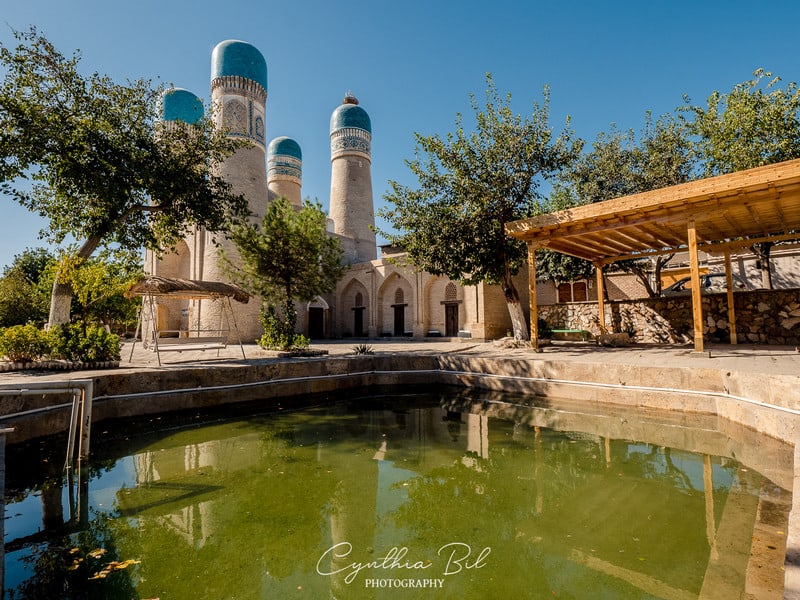 The four towers above this building were never intended to be used as religious minarets.
The building itself was the gatehouse to a nearby Madrassah. The turquoise cupolas of this building are very often covered by storks nests.
This monument is oddly located in Bukhara because it's a bit far off from the center of the old city and it's lost in the center of a residential area.
Although Chor Minor is quite a tall building, it's almost impossible to catch a glimpse of it until you're right next to the old monument.
Follow this map to find Chor Minor:
6. Ulugbek Madrasah
This madrasah is relatively small compared to the ones found in the Poi Kalon Ensemble but it's still very gorgeous. It shares its name with a similar madrasah found in Samarkand.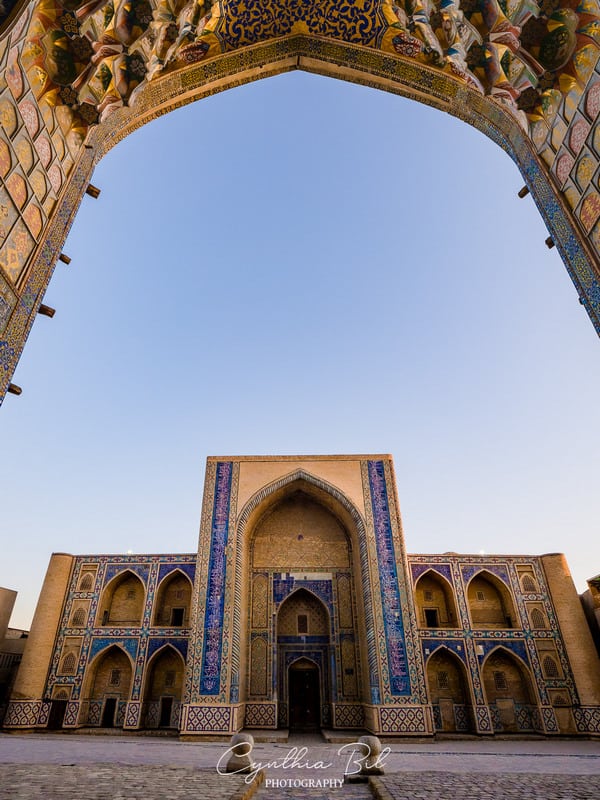 This Madrasah is a bit smaller than others in the city but it's still absolutely stunning…
The man who ordered its construction was called Ulugbek and he was an enlightened and intellectual ruler. He was very concerned about the development of science in Uzbekistan. While he was alive Bukhara was a very strict and conservative city.
He decided to build this madrasah in the hopes that the city would eventually become a center of science and education instead of being so conservative.
The construction was built in 1417. The portal of the building has a carved inscription taken from the Koran: 'The pursuit of knowledge is the responsibility of every Muslim man and woman'.
This building could receive up to 80 students. They studied subjects such as astronomy, mathematics, and Arabic.
This is where you'll find this peculiar madrasah in Bukhara:
7. Abdulaziz Khan Madrasah
Abdulaziz Khan Madrasah is part of the architectural ensemble of Ulugbek Madrasah and is found right across from it, however, it is much bigger and more beautiful.
It was built a few centuries after the Ulugbek madrasah and clearly shows how architecture evolved drastically in the time period between the two constructions. While the Ulugbek madrasah is quite simple, the Abdulaziz Khan Madrasah is grand and elaborately decorated.
The walls and portals of this madrasah display almost all the decoration techniques used in those times: reliefs, gorgeous tiles, brick mosaic, and ornamental stalactites. I love architecture and I spent hours just staring at this gorgeous construction.
8. Bolo Khauz Mosque
Bolo Khauz is just a hundred meters away from the Ark citadel and is totally worth a visit. This mosque has some of the most stunning and intricately carved wooden pillars I have ever seen.
The ceiling above the pillars is covered in gorgeous frescoes and geometrical patterns.
There is a small pool of water (hauz) in front of the mosque. Locals occasionally come to sit next to this pool and relax in the shade of the surrounding trees.
If you fancy eating some shashlik, you'll find a great restaurant called Bolo Khauz chaikana (see below) right across from the mosque.
9. Chor Bakir complex
I know it's a bit strange but I absolutely love visiting cemeteries. There is something about these places that feels calm and somehow peaceful. I find it's also easier to meditate about my future plans when I am reminded of our limited time in this world.
When I was in Bukhara I had the chance to visit a cemetery unlike any other; the Chor Bakir necropolis.
This vast cemetery covering almost 3 hectares is located just a few kilometers outside of the old town and it's really worth a visit. It was the burial place of Abu-Bakr-Said and many people in Uzbekistan consider this sacred place to be a very important pilgrimage site.
While some people might find the idea of visiting a cemetery quite strange, Chor Bakir is a place that I found very beautiful. It's located a bit outside of town so you'll need to walk for a bit more than an hour or take a taxi to get there.
Cool things to do in and around Bukhara
1. Visit the animal market
If you want to see something totally out of the ordinary in Bukhara, I recommend an early morning visit to the animal market. Hundreds of Uzbek shepherds gather in a small field near Bukhara on a weekly basis to buy, sell and trade livestock.
We went there with the owner of our guesthouse since he convinced us it would be the perfect opportunity to take great pictures and he was absolutely right.
Even kids come to sell or exchange livestock at this animal market…
We took a taxi from the Ark for about 4000 som and drove for 10 minutes before reaching the field where the animal market was organized.
This animal fair takes place twice a week, Sundays and Thursdays from 3 AM to 9 AM. To get there simply mention you want to go to "Molbazaar – animal market" to your taxi driver.
2. Watch a street performance
During summer there are many musicians and dancers performing in the streets of the old city of Bukhara. It's not uncommon to come across people dressed in traditional clothes dancing to an eerily beautiful song.
Some of these dancers might even invite you to join them if they notice you are a foreigner.
It's also quite common to see street musicians perform in the evening and entertain tourists with their beautiful music.
You'll often come across musicians in the central squares of Bukhara in the evening…
3. Travel around the old city by rickshaw
A great way to discover Bukhara is from the back of a rickshaw. These are carts pulled by a bicycle. For a modest price, you can visit all of the old city's most interesting sights in a short amount of time.
This rickshaw ride takes you to sites in the old city which are impossible to reach by car. You can customize your itinerary according to your interests. You can also stop along the way to soak in the sights, sounds, and smells of this ancient city.
4. Walk along the water canals of Bukhara
Bukhara is a city that used to be famous for its water system. Up until a century ago, the city had an extensive network of water canals and more than 200 stone pools (hauz).
This is where people used to gather, gossip about their neighbors, drink some water and wash their clothes.
The pools and canals are where people would get together and chat about their daily lives…
However, the water wasn't changed often and Bukhara became notorious for water-borne diseases. It is said that the average 19th-century Bukharan died by the age of 32.
Nowadays there are a lot fewer canals running through the city. Cynthia and I really enjoyed walking for hours next to the running water. It's also a great way to discover hidden parts of the old-town.
5. Wander around the little bazaar
Bazaars and markets are the living and beating hearts of every Islamic city. Bukhara is no different. when visiting the old city, you should absolutely stroll around its bazaar. The market is found under old rock domes right in the center near Poi Kalon Ensemble.
Unfortunately, nowadays only souvenirs are sold at the bazaar. It's impossible to find the spices, silk, and rugs that used to be sold there.
I can only imagine how the shouting of merchants from all over the world must have filled these domes centuries ago. The market does retain a certain charm from its former glory though and I'm sure you'll find some interesting souvenirs for your loved ones there.
The building in which the bazaar is held has some dome-like roofs…
This is the location of the bazaar in Bukhara:
6. Visit one of the numerous museums in the city
Although Bukhara is not a huge city, it has a lot of museums to explore.
One that we strongly recommend visiting is the Workshop-museum of Bukhara dolls. This museum was established in the hope of reviving the ancient tradition of making dolls of paper mache in Bukhara. Doll making was and still is a very important tradition in Uzbekistan.
This museum is full of dolls representing very famous people from the Uzbek folklore. there are dolls made in the likeness of the emir of Bukhara and his guards while some look like rich merchants or peasants.
Tourists can also buy any doll they like in this museum.
In Uzbekistan clay dolls sculpting and puppet making is very popular…
Another museum that is worth a visit is the Palace of Moon-like Stars also called Sitorai-Mokhi-Khosa. This used to be the summer palace of the last emir of Bukhara, Alim Khan. This museum is located outside of the city and can be reached by taxi for 10 000 som.
It combines Russian architecture with traditional Islamic designs. There are three buildings within the compound as well as a beautiful water pool. You can walk and discover the museum by yourself for 15 000 som.
If you'd like the services of a guide, you'll have to pay an extra 30 000 som. There is also an additional charge of 10 000 som if you bring a camera inside.
This is where the palace is located:
7. Enjoy the sunset in Samanidov park
Samanidov park is a great place to enjoy the sunset. During sunset tons of small exotic birds gather in the trees of the park and create a fantastic ambiance while the temperature cools down.
The park also has a few water canals that run inside of it, so the temperature there is always comfortable even during the warmest summer days.
A lot of local families come here in the early evening to enjoy long walks between the trees or to enjoy a ride on a Ferris wheel located at the end of the park.
If you visit Samanidov park during the early evening, make sure to visit Samanidov mausoleum located at the end of the park. Towards the end of the day, this monument is bathed in a beautiful warm light.
Here is where you'll find Samanidov park in Bukhara:
8. Travel around the city on a hop-on-hop-off bus
Bukhara has now official Hop On Hop Off Buses that will bring you to all the different places of interest in one day. They have a bus that leaves from Lyabi- Kauz every day between 9 AM and 6 PM.
It circulates between the old and the new city and goes around the different monuments located outside of the city.
Because you can hop on and off the bus as many times as you like during the day with only one ticket, it's the best way to see as many things as possible in the shortest amount of time.
Here is where you can catch the hop on hop off bus:
9. Visit Uba, a village famous for its clay ovens
If you are staying around Bukhara for more than just a few days, and you love traditional craftsmanship, I absolutely recommend you visit the small village of Uba. This is a small Uzbek town that is famous for its clay ovens.
Almost everyone in the village of Uba makes a living crafting clay ovens. These are made with the vast supplies of clay that are found in the rivers near the town.
The oven makers of Uba love to receive foreigners in their town and they are super proud to show their work.
While in Uba we met an incredibly talented sculptor; Kubara Babaeva. She is 87 years old and she has been sculpting clay figures since she was 6.
The little statues that she lovingly brings to life represent fantastic creatures and otherworldly beings.
Kubara Babaeva in front of her workshop…she has the kindest smile
If you visit her workshop in Uba, you'll see that even in old age she keeps a sharp mind and is sculpting these statues with so much passion. Hearing her tell us how spirit guides inspire her work was nothing short of extraordinary.
Kubara Babaeva has been sculpting fantastic creatures since she was six years old…
If you want to visit Uba for its clay ovens or to witness the brilliant sculptures of Kubara Babaeva, you'll have to first take a taxi.
Ask the taxi driver to bring you to "Karvon bazaar gijduvan avtostayanka". A taxi to get there should cost around 8000 som. At this location, you'll see a minibus station.
From the station, you can ask around and find a shared van that goes to the village of Uba in the Vobkent district.
This is what the station looks like: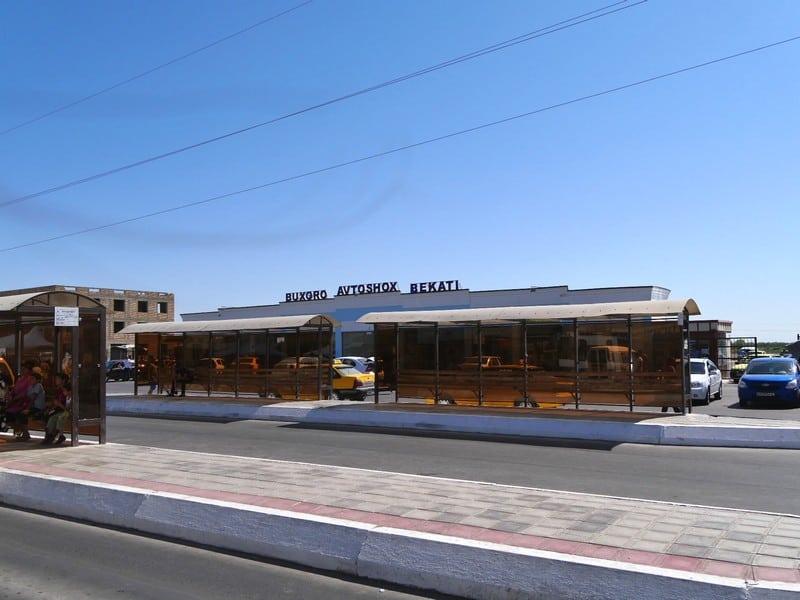 10. Climb up Bukhara observation tower
This observation tower is the perfect place to admire the Ark citadel from above. It's also the perfect vantage point to see the old buildings of the city become orange in the rays of the setting sun.
We wouldn't recommend going up there in the middle of the day however because unless the sun is setting the view probably won't be so spectacular.
A ticket to go up the observation tower costs 40000 Som and you can go all the way to the top in a small elevator.
The tower is right across from the street in front of the Ark of Bukhara.
This is the view of the Ark from the tower…
11. Visit the beautiful photo gallery of Shavqat Boltaev
While in Bukhara, we stayed in a guesthouse owned by the city's most famous photographer; Shavqat Boltaev. After getting to know each other, he realized that we were also very interested in photography when we visited the animal market together. He then invited us to visit his photo gallery and wow what a fantastic place that was!
We're so glad we visited it because this gallery became one of our highlights of Bukhara and a place we absolutely recommend.
The photo gallery is a great way to have an inside look into the Uzbek culture…
It's in a hidden building with an inner courtyard just on one side of Jubar street. Shavqat exposes a vast collection of his most beautiful pictures of people he took in and around Bukhara.
He also exposes the work of other Uzbek photographers and his gallery is a great way to discover the country from the eyes of locals.
He has pictures of people from all the different cultures that compose the unique melting pot of the city. The way in which he captured moments from the daily life of the locals is absolutely stunning. If you love portrait and documentary photography, visiting this gallery will leave you speechless.
Shavqat, the owner of the gallery is very knowledgeable about Bukhara and he guided us all around the city…
The best part is that visiting this gallery is absolutely free but you can always encourage the photographers exposing their pictures there by buying prints and postcards.
Shavqat was an invaluable ally while we were in Bukhara…
Here is where you can visit the photo gallery:
[kt_box opacity="1″ background="#eded6d"]
Find out what are the top things to see and do in Khiva!
[/kt_box]
When is the best time to visit Bukhara?
It's much better to visit Bukhara in Spring or Fall since Summer in Uzbekistan can be unbearably hot. The best time to visit Bukhara is during the months of April, May, September, and October.
Cynthia and I visited the city at the end of August and the temperature was relatively good.
If you visit Bukhara towards the end of August you will see plenty of fresh fruits…
If you visit Bukhara during the summer and don't cope so well with the heat, avoid going out of your guesthouse between 12 and 4 O'clock and you should be fine.
Bukhara can be quite cold during winter and it's not uncommon for the city to receive a good amount of snow during the coldest months of the year. If you visit Bukhara in winter, I would recommend bringing a good winter jacket and some warm gloves.
[kt_box opacity="1″ background="#eded6d"]
Wondering how much it costs to travel in Uzbekistan?
[/kt_box]
Where to eat in Bukhara
1. Old Bukhara
If you like meat and want to try some traditional Uzbek lamb, this is the place to visit. Old Bukhara serves delicious tender Chops, and tender mutton.
The restaurant is quite nice looking with a beautiful and cool courtyard and a nice rooftop terrace. The staff is really friendly and attentive.
This is where the restaurant is located in the old city:
2. Bolo Hauz chaikana
A Chaikhana, or a teahouse, was a place to rest along the legendary Silk Road. It was a place where travelers would rest, sip tea, and sing together.
Bolo Hauz chaikana was inspired by these traditional teahouses and it's the perfect place to rest and enjoy a great meal with your friends.
This restaurant is very close to the Ark citadel and at a walking distance from the Bolo Hauz mosque. Because of this, the prices are a little bit higher than in other less touristy places, but it's still very reasonable even with the usual 10% service charge added.
Bolo Hauz Chaikana has a very simple interior but the design of the place is not the reason why we loved this restaurant so much. The food there was fantastic and the portions really huge. We both had shashlik and Samsa and could barely finish our meal because of the big amount of food.
They also serve Uzbek salads, soups, plov (pilaf) and noodles.
This is where you'll find this awesome restaurant.
3. Mavrigi restaurant
Mavrigi is a restaurant that we kept going back to and eating there became a bit of a daily ritual. It's right next to a small pool of water by the old minaret and it's possible to eat inside or outside next to the water.
This is what Mavrigi looks like from the outside…
Eating there is particularly enjoyable at sunset when the outside tables bathe in a golden glow and it's not too hot. The inside part of the restaurant has a huge inner courtyard with a big tree right in the middle of it and the walls are decorated in traditional Uzbek silk.
There is a huge tree right in the middle of the restaurant…
It's a restaurant where you can enjoy traditional Uzbek food. The shashlik is grilled outside and they have some of the best chicken we tasted in Central-Asia.
Eating at Mavrigi in the evening became one of our favorite rituals while in Bukhara…
Here is where you can enjoy a great meal by a pool of water:
What are the best and cheapest guesthouses in Bukhara?
There are plenty of very good hostels and guesthouses in Bukhara. The best place to stay is in the old city near all the popular attractions and sights.
In Uzbekistan, tourists have to register every night in a hotel, a hostel or a guesthouse. When you check-in, the owner of the establishment will ask you for your passport to write the registration papers. You have to keep these registration slips with you as they can be checked when you leave the country.
We didn't stay very long in Bukhara but while we were there, we stayed in these awesome guesthouses:
This was by far our favorite guesthouse in Bukhara. The owner of this guesthouse – Shavqat Boltaev also owns an astonishing photo gallery which we recommend visiting (see above)
Shavqat and his wife are the most hospitable and welcoming hosts that you will find in Uzbekistan. From we moment we arrived until we left, they spoiled us with delicious breakfasts and vast amounts of traditional Uzbek tea.
The owner was a goldmine of information and insights related to Bukhara. He walked with us around the old town and showed us his photo gallery. He also brought us to the animal market and to the small village of Uba where we saw the traditional art of making clay ovens.
The room was extremely comfortable and clean and the guesthouse is located in a very quiet part of town.
Click to check out rates and availability for "Art Guest House Usto"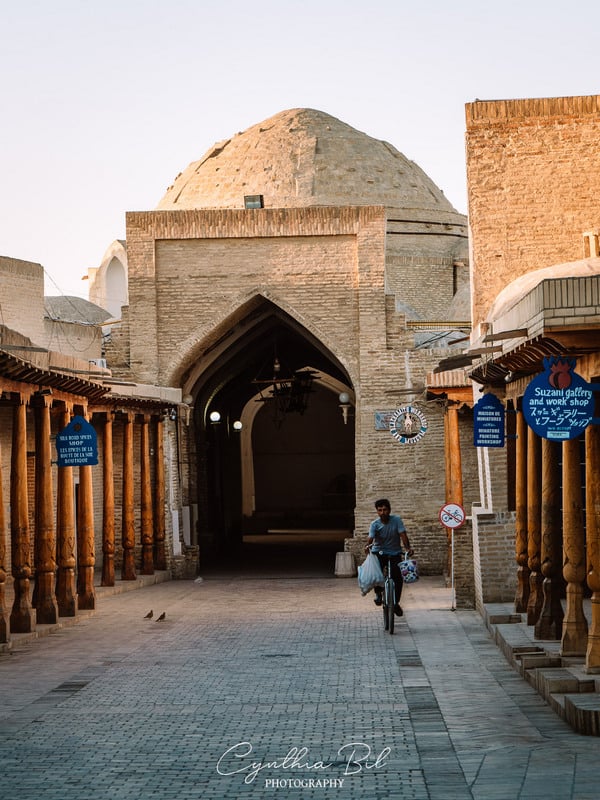 This is another guesthouse we strongly recommend in Bukhara. It's located just 5 minutes away from the Liaby Khaus ensemble so it's very central and getting there is quite easy and convenient.
The manager Gulnara prepares a delicious breakfast for the guests every morning in the courtyard. You'll have an assortment of meat, sausages, eggs, fruits, and Uzbek pancakes.
The rooms of this establishment are decorated with beautiful Uzbek paintings depicting scenes of traditional everyday life and the mattresses are very comfortable.
Click to check out rates and availability for "Gulnarakhanum Guesthouse"
Payraviy is a very simple and sober guesthouse. It's a place where we felt super comfortable and we just wanted to spend the whole day in the comfort of our bed watching movies.
This guesthouse has a very good air conditioning system which was a lifesaver during the hot summer season. The owners speak English and are super eager to help you get around the city and show you the most beautiful sights of Bukhara.
Click to check out rates and availability for "Payraviy "
Great festivals to attend in Bukhara
Nowruz holiday – March 21st
Nowruz is one of the most treasured holidays in Uzbekistan. It's known as the Persian new year. It's a day to celebrate nature and to welcome spring.
In Uzbekistan, people celebrate this day by enjoying delicious food with their neighbors, friends, and family. In Bukhara, you can expect plenty of street performances and shows of traditional dances during the holiday.
Day of Khudja Nassridin – April 1st
Khudja Nassriddin is a philosopher known for his witty humor. He is at the center of many anecdotes and popular folk tales.
In Uzbekistan, he became a symbol of humor, wisdom, and jokes and according to legends, he lived in Bukhara. Because of this, there is a festival dedicated to him every year on the 1st of April.
Silk and spice festival – last weekend of May
This is one of the most famous festivals held in Bukhara and it attracts international and Central-Asian visitors. During the last weekend of May, many different spices that were popular during the silk road period are on display in the bazaar of Bukhara.
People visit the city during that weekend to buy and sell spices from all over Central-Asia.
Melon Festival – July 30th to August 2nd
During this festival, Uzbek farmers proudly show their harvest of melons. They have over 100 different types of melon on display. It's a great time to buy melons as they usually are much cheaper during those few days.
Independence day – September 1st
This is probably the most important day in Uzbekistan. Uzbekistan became an independent country on September 1st, 1991.
Since that day, the whole country celebrates the anniversary of independence with performances, shows, and musical events. Streets and squares are decorated with flags and military parades can be seen in almost every major squares of popular Uzbek cities.
Fireworks can also be seen at night over Bukhara.
Day of Bukhara city – 19th-20th of October
These are two days dedicated to the city of Bukhara. Acrobats and street performers fill the streets of the old city while craftsmen show a display of handmade iron tools and knives on stalls in the market.
Although Uzbekistan is mainly Muslim, the New Year (January 1) has been celebrated since the Soviet times in the same fashion it's celebrated around the rest of the world.
Before New Year, people carefully prepare for the holiday. They dress up a tree; decorate the streets and houses with garlands.
The main heroes of Uzbek New Year are Grandfather Frost and Snow Maiden, who are named in Uzbekistan as Korbobo and Korkiz.
How to get to Bukhara
Bukhara is located in the south-western part of Uzbekistan. It's relatively far from other Uzbek cities and getting there takes a while but it's still easily reachable by train, bus or shared taxi.
Bukhara is now connected by train to Tashkent, Samarkand, and Khiva.
Trains in Uzbekistan are super comfortable…
1. How to get from Tashkent to Bukhara
Getting from the Uzbek capital to Bukhara is very easy. There is a high-speed train that connects the two cities as well as a standard train. It's also possible to take a night train towards Bukhara.
Traveling between the two cities by bus is also super convenient.
Getting from Tashkent to Bukhara by train
Tashkent's main railway station (the northern railway station) is a large building with blue windows dating from the early 1980's. Getting there by metro is pretty straightforward.
You just have to get out at the Tashkent metro station on the blue Uzbekistan Line. Getting there by taxi from the city center should cost around 16000 Som.
Some trains in Uzbekistan are very modern…
This is where the northern train station is located in Tashkent:
You'll need your passport to buy a train ticket. The train station is usually very crowded with people so it's preferable to arrive there early in the day.
It's also possible to buy train tickets from the southern train station if it's closer to your hostel or Airbnb apartment.
This is where you'll find the southern train station:
You can buy train tickets online but the official Uzbek website only works properly half of the time so I would rather suggest getting your train tickets directly at the station.
Here are the different train schedules from Tashkent to Bukhara:
Afrosiyob train (high-speed train)
07:28 11:19 Daily
18:50 22:39 Daily
Sharq Train
09:13 15:09 Except Tuesdays
Night Train Tashkent-Bukhara
22:20 06:19+1 Except Saturdays and Sundays
To give you an idea of prices, Cynthia and I got tickets from Tashkent to Bukhara on the Sharq train for 94000 Som per person.
From the train station in Bukhara, you can catch a taxi to the old city for 20000 som. Taxi drivers waiting at the station like to overcharge tourists but you shouldn't pay more than this.
Getting from Tashkent to Bukhara by bus
Long-distance buses connecting Tashkent and Bukhara leave from the bus station near the Olmazor metro station.
Here is where you'll find the bus station Tashkent Avtovagzal:
As with the train tickets, it's better to buy bus tickets directly at the bus station instead of online. Bus prices tend to change quite regularly but they generally cost around 66.000 som.
There is a bus that leaves Tashkent at 3 o'clock in the afternoon and that arrives in Bukhara at 4:25 in the morning of the next day.
Getting from Tashkent to Bukhara with your own car
If you have your own car or if you are renting one you can get to Bukhara from Tashkent by following the highway M39 towards the south-west until you reach Samarkand. From there you can continue along the highway M37 towards the west until you reach Bukhara.
Bukhara is located 576 km from Tashkent and it takes 8 hours to get there by car.
2. How to get from Khiva to Bukhara
Khiva is another gorgeous Uzbek city and a trip to Uzbekistan should include a visit to both locations. Transportation between the two cities is well organized and there are trains connecting Khiva to Bukhara three days a week.
Getting to Bukhara from Khiva by train
The train station in Khiva is located just outside of the old city, so you don't really need a taxi to get there.
You'll need your passport to buy a train ticket and in the high season, it's preferable to buy it ahead of time.
There are trains between Khiva and Bukhara tree days a week. The train leaves on Tuesday, Friday, and Sunday.
There is a morning train that leaves Khiva at 8:57 and that arrives in Bukhara at 14:50 in the afternoon. There is also an afternoon train that leaves at 14:30 and arrives in Bukhara around 22:30.
3. How to get from Samarkand to Bukhara by train
There are direct trains between Samarkand and Bukhara making traveling between these two cities very easy.
I recommend buying your train ticket at the train station in Samarkand ahead of time since the official Uzbek railway website doesn't always work.
Here is where the train station is located in Samarkand:
There are about five trains a day connecting the two cities, including night trains.
[kt_box opacity="1″ background="#eeee22″]
Plan your visit to Samarkand:
Samarkand City Guide – Top Things to do in Samarkand
[/kt_box]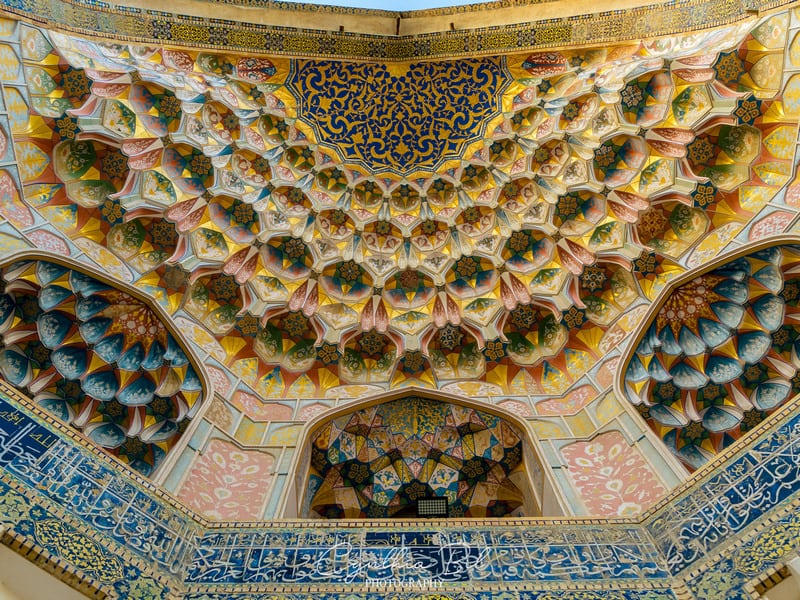 I hope this guide was super useful and that you'll have a great time in Bukhara. If you have any questions or if you've already been to Bukhara, we'd love to hear from you in the comments below!
*This article contains some affiliate links. If you book a hotel/hostel or purchase one of the recommended products through our website, we'll receive a small commission at no extra costs for you. This way you're helping us writing more informative and awesome guides like this. Thank you!
KNOW BEFORE YOU GO – UZBEKISTAN TRAVEL TIPS:
Everything you need to know about traveling independently to Uzbekistan:
Plan your trip to Uzbekistan: