What are the things you should do and visit in Khiva? Maybe you're wondering where to stay or where to eat in Khiva? This is the complete guide to Khiva, Uzbekistan.
I have spent a bit more than a year discovering countries that were once crossed by the fabled Silk Road. While nations such as Kazakhstan and Kyrgyzstan did conserve traces of this huge trade route, it's in Uzbekistan where I felt like I was traveling back in time the most.
Uzbekistan was able to conserve the rich architecture and gorgeous palaces that were present during the silk road period. Even through periods of war and turmoil, these beautiful buildings were never erased from the tiny Central-Asian country.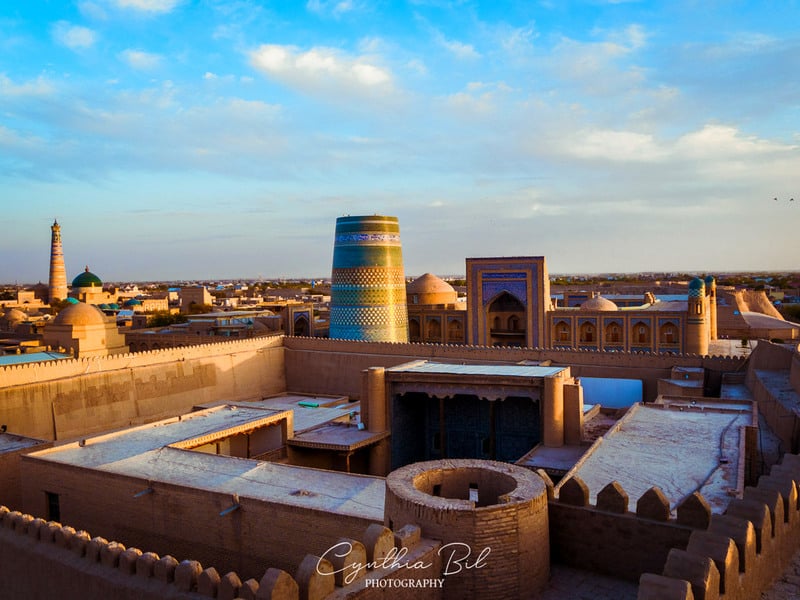 These gorgeous buildings were never lost even in periods of war and turmoil…
While on my journeys around Central-Asia, people kept telling me that I absolutely had to visit Khiva in Uzbekistan. They described the city of Khiva as a mystical place.
I had seen pictures and just couldn't wait to witness the stunning tile work and shinny turquoise minarets the city was famous for.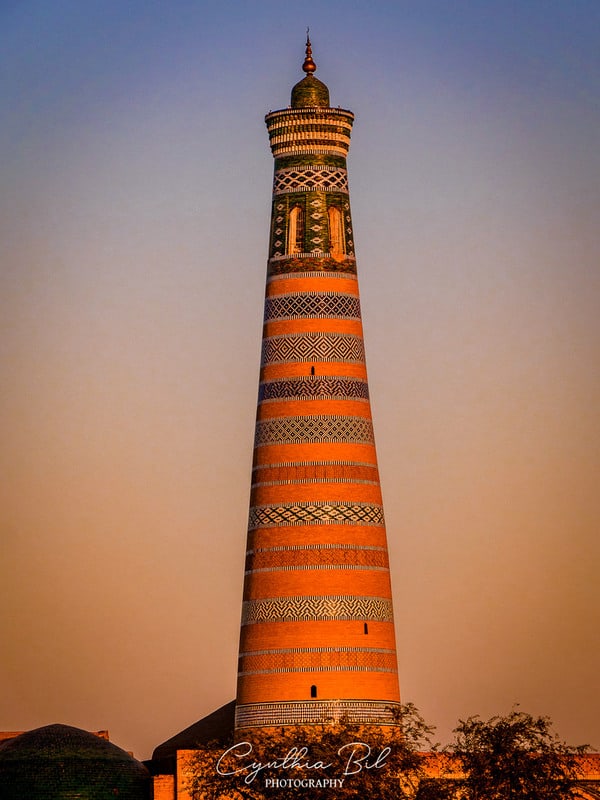 I really couldn't wait to see stunning minarets like this one…
Well, let me tell you it didn't disappoint! Khiva was everything that I was expecting and more. The city surprised and charmed me.
From carpet weaving workshops to stunning minarets overlooking the ancient town, from old mosques to gorgeous tile-covered towers, everywhere I look, I was amazed.
Witnessing the process of making rugs is one of the top things to do in Khiva…
It's true that Khiva's name was once synonym with slave caravans and terrible cruelty. It used to be a slave-trading post located between huge arid deserts.
However, today nothing remains of that brutal past. Khiva is now a touristic town that waits for busloads of tourists instead of slave caravans.
It's a bit difficult to imagine the city could have had such a barbaric past.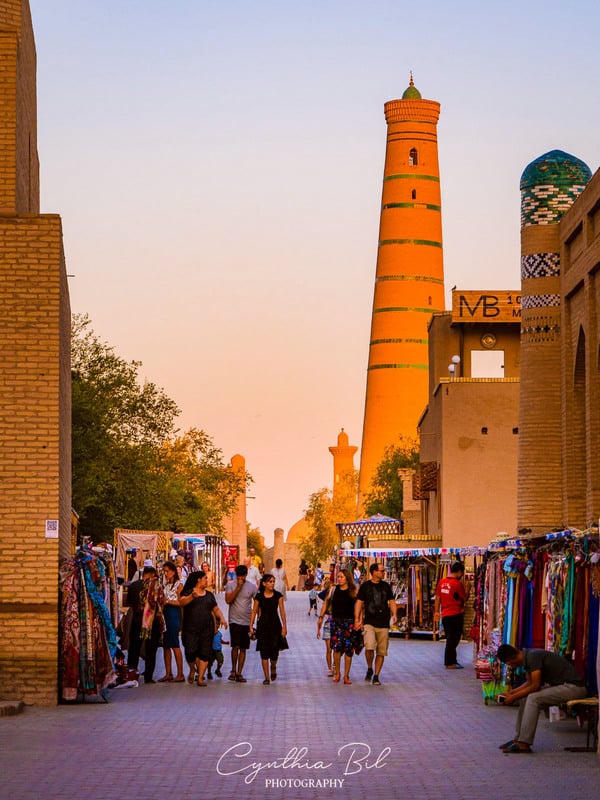 Although it once had a barbaric past, Khiva is now overrun by tourists…
If you visit Uzbekistan, Khiva is a city that you shouldn't miss. It has tons of architectural vestiges of the past and so much history.
Whether you're in the city for a week or you decide to spend just one day in Khiva, you won't be bored. There are tons of things to do and sights to see in this ancient settlement.
Things you need to know before going to Khiva
Khiva is a city that has been rebuilt and renovated throughout the years. For some people, it doesn't feel quite as authentic as other places such as Bukhara for example. It's very touristy and a bit similar to Samarkand.
For me, this wasn't a problem because even though the city is normally quite touristic, I was there during low-season and could observe the everyday life of the locals.
During the low season, we could witness the everyday life of the locals such as these girls preparing for an Uzbek festival…
It's a city designed for tourism and you even need to buy a ticket to visit the old city if you walk in through the official gates. You can also enter the old city for free through the caravanserai where there are many souvenir shops. There are also a few free entrances scattered around the old town.
This is where the free entrance to the old city is located…
You can buy a ticket to visit the main attractions of Khiva at the western and eastern gates. There are three types of tickets sold there and they include the entrance to different parts of the city.
We found that the best option is to buy the tickets sold for 100 000 som.
This ticket includes the entrance to all of the city's interesting buildings except for the Pahlavon Mahmud Mausoleum, the watchtower, and the Islam Khodja minaret. The tickets for the mausoleum can only be bought at the entrance of the mausoleum itself.
We discovered that it's actually cheaper to buy the tickets for the watchtower and the minaret separately instead of buying a ticket that includes their visit for 150 000 som at the city's entrance.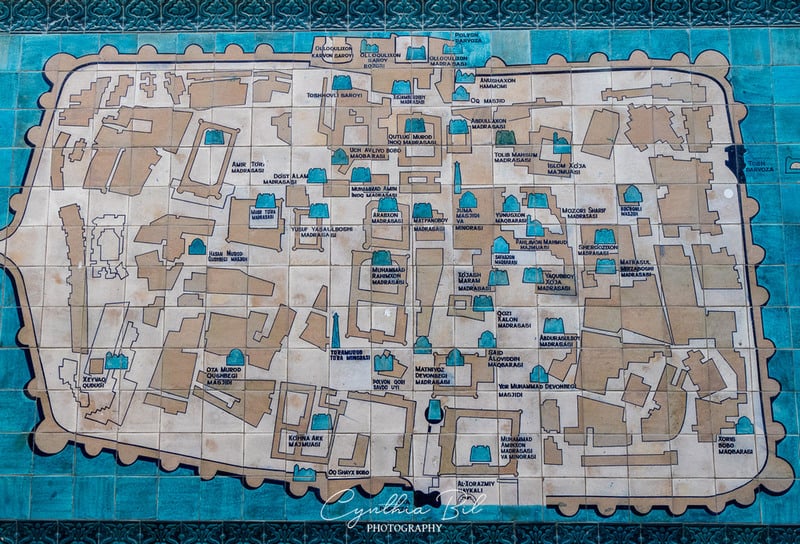 You'll find this tilemap on a wall at the entrance of the old city…
If you visit Khiva during the high-season you will be swimming in a sea of tourists and cameras. That's not to say that you can't find moments when the old city is a bit calmer.
So when is the best time to visit Khiva? I would say if you want to have the absolute best weather in Khiva while avoiding the swarms of tourists, it's best to visit the city towards the end of August.
Khiva now has a train station with direct trains from Bukhara and Tashkent. When walking out of the train station in Khiva, taxi drivers will approach you and tout their prices to bring you to the old city.
Don't accept any of their offers. the train station is 20 minutes by foot from the old town and you can easily get there for free.
[kt_box opacity="1″ background="#eded6d"]
Feeling inspired to travel in Uzbekistan alone?
Read Everything you need to know about backpacking in Uzbekistan!
[/kt_box]
Is Khiva safe?
You might be wondering if Khiva is safe for solo female travelers or if it's safe for kids or families. Khiva as most cities in Uzbekistan is very safe. Kids and families are a sacred part of the Uzbek culture and men almost never approach women on the streets.
Khiva is a small town that is now totally geared for tourism. There is a whole regiment of touristic police in the old town so I would say it's totally safe.
You'll see plenty of Uzbek families strolling around the center of Khiva…
Petty crimes affecting foreigners such as theft or pickpocketing is unheard of in Khiva.
One thing I would advise however concerning safety in Khiva is to steer away from stray animals. There are a lot of stray dogs and cats in the suburbs of the town. While these animals may look cute and inoffensive, they could have rabies.
[kt_box opacity="1″ background="#eded6d"]
Worried about safety in Uzbekistan?
Read: Is it safe to travel to Uzbekistan?
[/kt_box]
Top things to see and do in Khiva
1. Kalta Minor minaret
Before going to Morocco, I imagined it would be full of shining minarets, colorful ancient towers, and turquoise tiles. Khiva turned out to be the way I had originally imagined Moroccan cities to look like.
Khiva was also the way I imagined distant ancient cities while reading 1001 nights. There is one particular monument that really stands out as you start walking in the old city. It's a large turquoise-tiled tower that can be seen from quite a distance.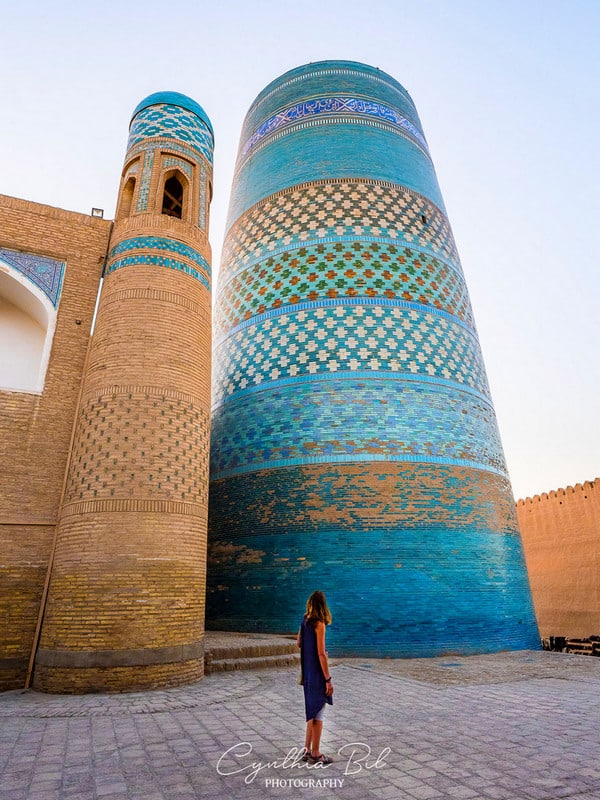 Kalta Minor minaret is huge…
Although this tower seems to be complete, it was actually designed to be the base of the tallest minaret in Uzbekistan.
The construction of this structure began in 1851. It was hoped that the minaret would be tall enough to enable people standing on top of it to see all the way to Bukhara.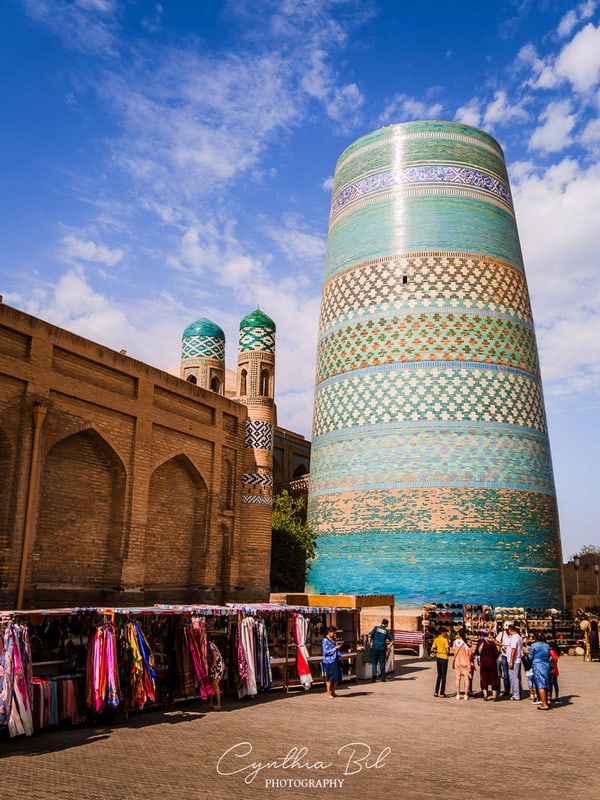 Unfortunately, the Khan who had ordered its construction dropped dead in 1855, leaving the tiled structure incomplete.
Kalta Minor minaret is really beautiful during sunset when its blue tiles are covered in a reddish glow.
There is also a lovely little restaurant across from the minaret where you can eat awesome pilav called Bir Gumbaz (see below).
2. Juma mosque
After traveling in Muslim countries for many years, I have to say I've seen a fair share of mosques but none were as eerily mysterious as this one. It is very different from any other Mosque I've seen in Uzbekistan or in other countries such as Morocco.
The Juma mosque has 218 wooden columns supporting its low-ceiling wooden roof – a concept thought to be inspired by ancient Arabian mosques. The pillars are beautifully carved.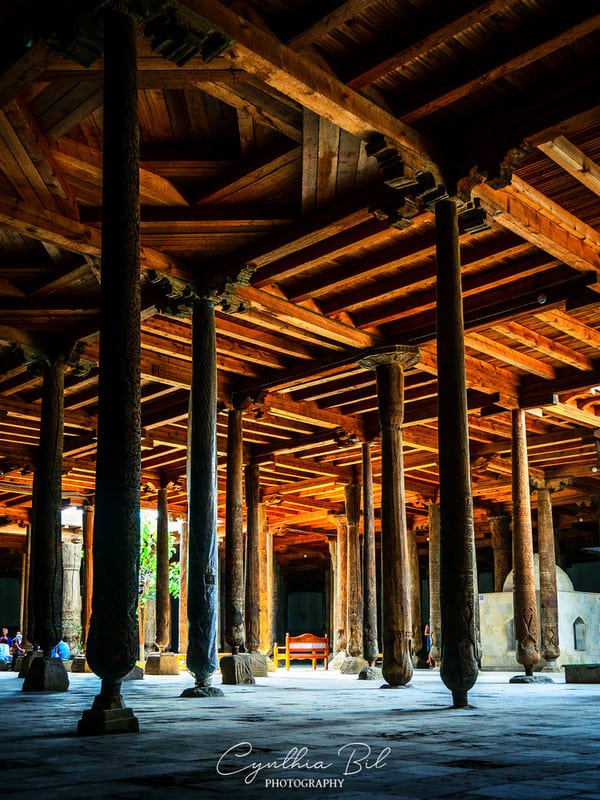 The beautiful wooden pillars look almost like a forest…
The wooden pillars give a special energy to this mosque. It almost feels like walking in the forest and reminded me of the Bolo Hauz mosque in Bukhara.
The center of the roof has a light well giving the place a beautiful natural light.
There is a very peaceful atmosphere in this place and even in the heat of summer, the interior of the mosque stays cool and fresh.
Although the mosque is now inactive, it is said that it could once receive 500 people.
The entrance to this mosque is valid with the 2-day tickets sold at the entrance of the city.
Here is where you'll find Juma mosque:
3. Islam Khodja Madrasah and minaret
This Madrasah with its beautiful minaret really is the jewels and symbol of Khiva. It was the first site in Uzbekistan to be included in the UNESCO World Heritage List.
Built in 1908, the minaret could be seen from a great distance and it helped travelers find their way to the city.
What is particular about this architectural complex is the fact that the madrasah was intentionally designed to be smaller than average while the minaret was intended to be the tallest minaret in Uzbekistan.
One activity that we definitely recommend doing while in Khiva is to climb the Islam Khodja minaret.
While I'm a bit scared of heights, this doesn't affect Cynthia in the slightest so she's the one who climbed all the way to the top of the tower.
The stairway to the top of the minaret is very steep and narrow. Be careful if you cross people coming down the stairs as you're going up because the way down the staircase is particularly treacherous.
Here is where the Madrasah and the minaret are located in Khiva:
4. Visit the Kuhna Ark fortress and take pictures from the watchtower
The Kuhna fortress was the residence of Khiva's ruler. Its the place where the ruler kept his harem, personal stables, and a private mosque. A barrack and a jail were also on the compound.
Some would say that this ark is so full of interesting sights that it's almost like a city within a city. It's the perfect place to visit if you want to have an inside look at the life of a Khivan leader.
The inside of the fortress also gives you access to the summer mosque, a mosque that was typically only accessible to the Khan and his relatives.
The throne room is worth checking out, It's from this room that the khan delivered brutal and swift justice to the enemies of the throne.
You get a beautiful view from the top of Kuhna fortress…
If you enter the old city from the western gate, the Kuhna fortress will be to your left.
If you want perfect sunset photos of Khiva, the watchtower is where you'll have to be. You can access this old tower from inside the Ark.
This is the inside of the Ark:
This is the view that you'll get from the watchtower on the top of Ark:
This is the view you get from the fortress around sunset, absolutely gorgeous!
From this vantage point, you'll have a great view of Mohammed Rakhim Khan Madrassah and of Islam Khodja minaret in the distance.
The entry to Kuhna Ark is included in the 150 000 som ticket that you can buy at the city gates.
However, we recommend buying a 100 000 som ticket that doesn't include this watchtower and buy a separate ticket to access it. It turns out to be a lot cheaper that way.
5. Visit the Mennonite museum in Khiva
I was super surprised to discover that from the 1880s through to the 1930s, just an hour by horse from Khiva, lived a colony of German Mennonites.
These people were worlds apart culturally from the inhabitants of Khiva yet the two communities lived in peaceful harmony. The Khan of Khiva even arranged for them to have superb fertile of land where they would be able to grow fruits and vegetables.
When Uzbekistan became part of the soviet union, the community was dissolved.
They had already effectively established a community with no class inequalities and refused to obey the Soviets who wanted to separate their group and send them to work on different collective farms.
Today there is almost no signs left from their passage in Khiva but elderly locals do recall them and will tell you how honest and hardworking they were.
There is a small museum dedicated to their presence near Khiva in the center of the old city. Right next to Bir Gumbaz restaurant in Palvan Kori trading center.
To visit the remains of the former colony, take a taxi to Yangi Arik, about fifteen minutes drive from Khiva, and from there ask for Okh Mejid.
6. Visit a traditional silk carpet weaving workshop
Khiva was right at the heart of the silk road and it's a city where carpet weaving has always played a very important role. There is a workshop right in the old town where women continue the tradition of hand-weaving silk carpets.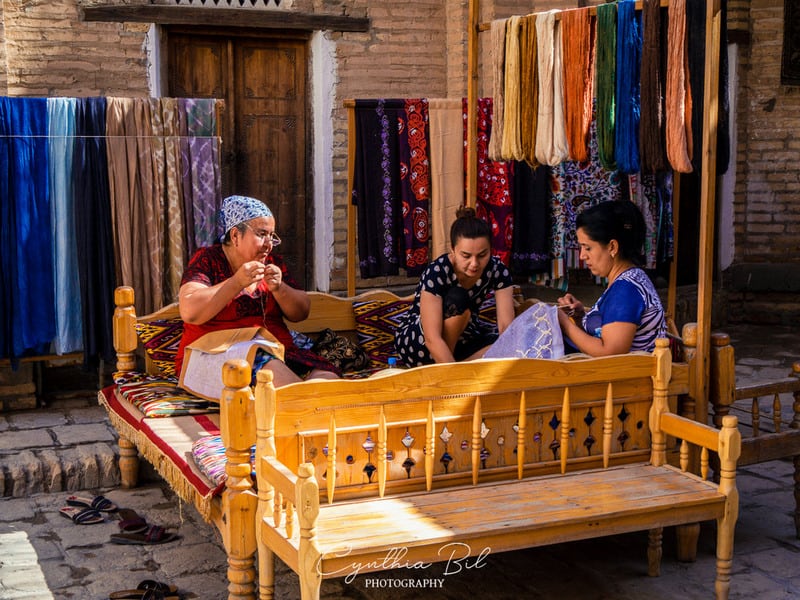 It takes them two to three months to study the pattern of the carpet and to set-up the weaving rack. Completing a carpet can take anywhere between six months to a whole year.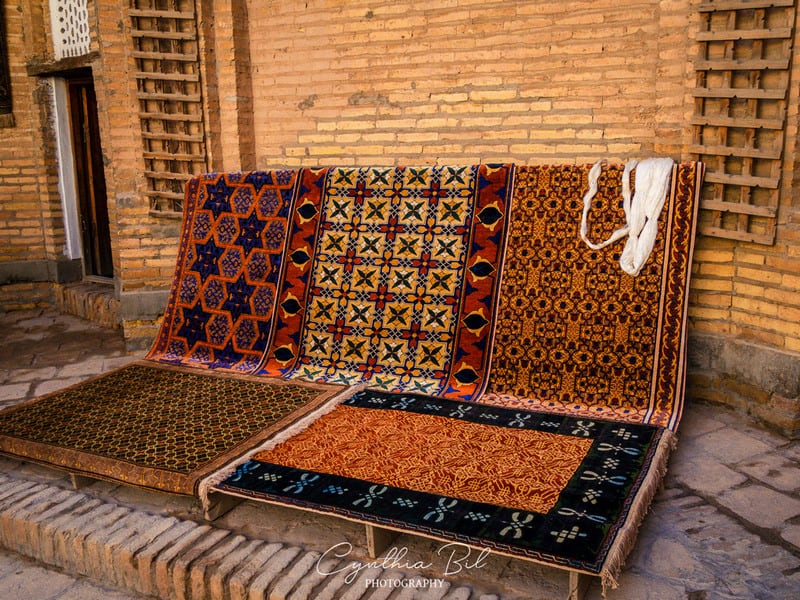 Visiting these traditional workshops is something that always fascinates us. With the coming of modern machines, a lot of the traditional skills and knowledge of craft making is lost.
The carpet workshop was started as a project in partnership with UNESCO to preserve all the traditional techniques.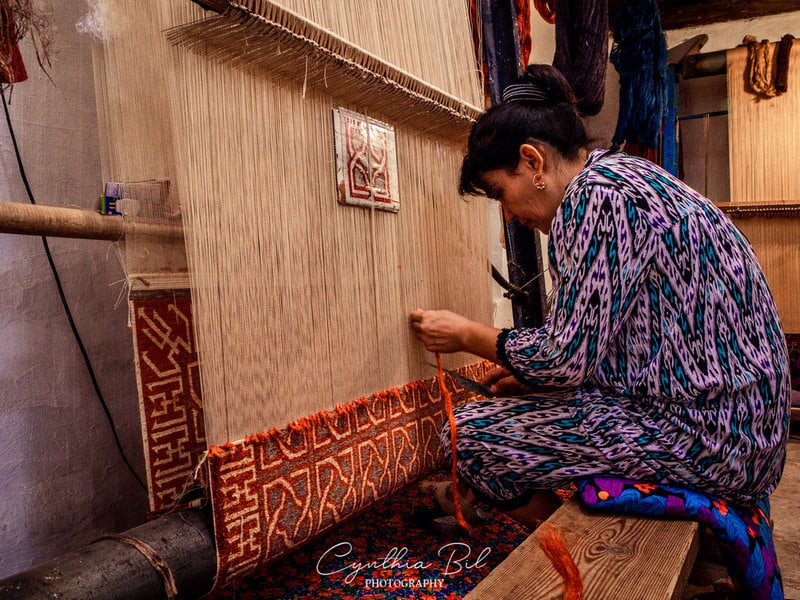 There is so much work that goes into creating these rugs…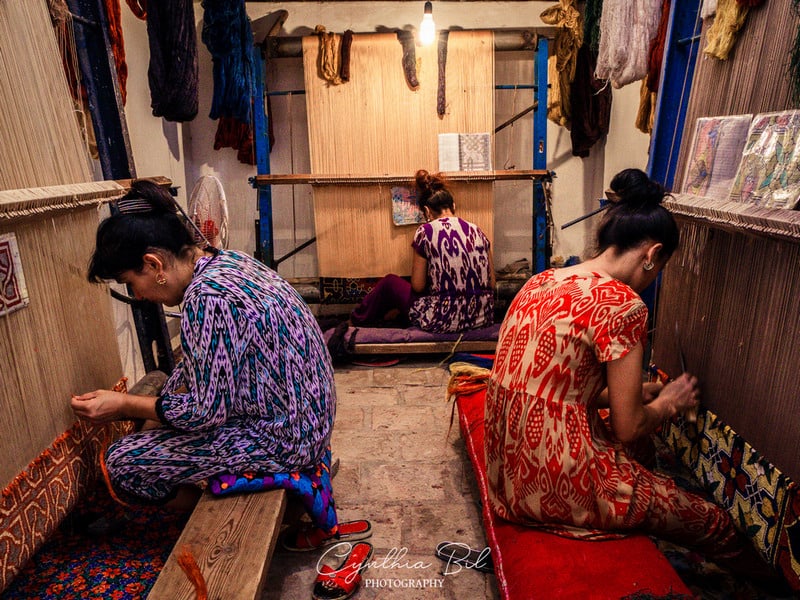 Visiting this workshop in Khiva feels like stepping back in time. The entrance is free and the women working there will be happy to answer all your questions.
Here is where you'll find the workshop.
[kt_box opacity="1″ background="#eded6d"]
Prepare your trip to Bukhara with this complete city guide
[/kt_box]
Where to eat in Khiva
Although Khiva is a relatively small city, it has some fantastic restaurants. Here are some of our favorites:
1. Terrassa Cafe and restaurant
Terrassa Cafe is a restaurant with great food but that's not the main selling point of this three-story restaurant. This establishment has a fantastic rooftop terrace where you can enjoy dinner and sunset at the same time.
The terrasse of this restaurant gives you a perfect view of Kuhna Ark on one side and of the Mohammed Rakhim Khan Madrassah on the other side.
The food here is also fantastic. Whether you want some perfectly cooked shashlik, delicious pilav, manti or great soups, Terrassa Cafe is the place to be. The staff at Terrassa Cafe speaks English very well and they have vegan and vegetarian options.
If you want to sit all the way on the top terrasse, you'll have to reserve a table ahead of time.
You can reserve a rooftop table by calling them at +998 94 936 00 18.
Here is the location of Terrassa Cafe:
2. Bir Gumbaz
This is a small restaurant right across from the Kalta Minor Minaret. It's a good place to have dinner once the temperature is not too hot in the evening.
The menu is pretty standard for Uzbekistan and the prices are reasonable. The spinach dumplings and the kebabs are super tasty.
They also have a very good selection of beers. If the weather is too hot, they have little traditional roofed tables where you can eat in the shade.
The staff is very attentive and they speak English very well.
What makes this restaurant a good choice is a view on the minaret and the fact that it's the perfect place to watch the locals go about their everyday lives.
Here is where you'll find Bir Gumbaz:
3. Malika Kheyvak restaurant
After traveling around Central Asia for a while, I know how refreshing it can be to eat something else than traditional dishes for a change.
Maybe you're tired of eating Pilav after Pilav. If that's the case then Malika Kheyvak restaurant has great pizzas, greek salads, and European options. The eggplant salad and yogurt are also very tasty.
Here is where you'll find Malika Kheyvak restaurant.
[kt_box opacity="1″ background="#eded6d"]
Wondering how much it costs to travel in Uzbekistan?
[/kt_box]
What are the best and cheapest hostels and guesthouses in Khiva?
There are plenty of very good hostels and guesthouses in Khiva. The best place to stay is in the old city near all the popular attractions and sights.
In Uzbekistan, tourists have to register every night in a hotel, a hostel or a guesthouse. When you check-in, the owner of the establishment will ask you for your passport to write the registration papers.
You have to keep these registration slips with you as they can be checked when you leave the country.
We didn't stay very long in Khiva but while we were there, we stayed in these great establishments:
Staying at Mirza Bobur felt almost like being in the comfort of our own home. The hosts were very friendly and although they don't speak English, they did their very best with google translate to make sure we were happy and comfortable.
We felt like we were part of the family while staying there. The breakfast was huge and left me feeling full until the afternoon.
The owner invited us to go fishing in a lake near the city and he kept giving us great insights about the history of Khiva.
The location of this guesthouse is very hard to beat. It's right in the center of the old city next to Terrassa Cafe and Kuhna Ark. The rooms all have air-conditioning so they're very comfortable even in the harsh summer heat.
Click to check out rates and availability for "Khiva Mirza Bobur Guest House"
Guest House Orzu is located in the old town, just by the East Gate. It's conveniently located near the main attractions. If you're arriving by train, this guesthouse is at a walking distance.
All of the rooms of this guesthouse are very comfortable with good working AC and a private bathroom. The guesthouse has a peaceful outside patio where you will be served a tasty breakfast every morning.
The owner gave us a small map of the old city with recommendations of what was worth visiting and what wasn't.
Click to check out rates and availability for "Guest House Orzu"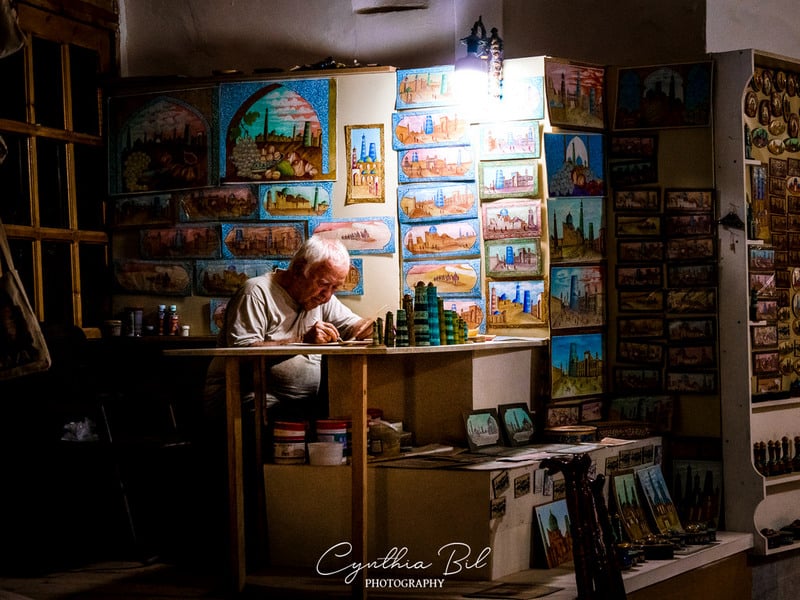 How to get to Khiva?
1. How to get to Khiva from Tashkent by train?
With a newly built train station in Khiva and direct trains between the two cities, traveling from Tashkent to Khiva has never been easier.
Tashkent's main railway station (the northern railway station) is a large building with blue windows dating from the early 1980's. Getting there by metro is pretty straightforward and costs only 1400 som.
You just have to get out at the Tashkent metro station on the blue Uzbekistan Line. Getting there by taxi from the city center should cost around 16000 Som.
This is where the Northern train station is located in Tashkent:
You'll need your passport to buy a train ticket. The train station is usually very crowded with people waiting to buy a ticket so it's preferable to arrive there early in the day.
It's also possible to buy train tickets from the southern train station if it's closer to your hostel or Airbnb apartment.
This is where you'll find the southern train station:
You can buy train tickets online but the official Uzbek website only works properly half of the time so I would rather suggest getting your train tickets directly at the station.
There is a night train that goes from Tashkent to Khiva on every day of the week except Saturday and Monday. It leaves from Tashkent at 20:30 in the evening and arrives in Khiva the next morning at 10:52.
On Thursdays, this train leaves at 21:42 in the evening and arrives the next day at 14:55.
For some practical information about the trains in Uzbekistan (what you need to bring, how the beds are, etc.) read this article.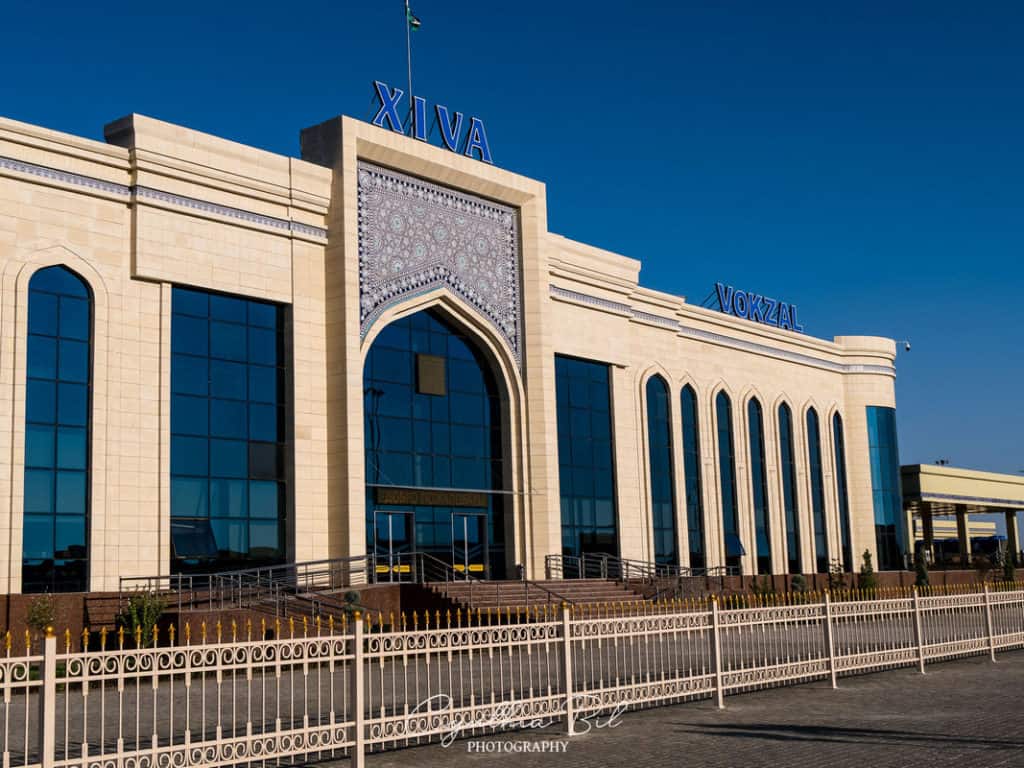 2. How to get to Khiva from Tashkent by bus?
The station where you can catch a bus to Khiva is the Tashkent Avtovagzal located near metro Olmazor.
This is where you'll find the bus station:
This bus station is very easy to reach by metro and a ticket to get there costs only 1400 som.
As with the train tickets, it's better to buy bus tickets directly at the bus station instead of online. Bus prices tend to change quite regularly depending on the day of the week and the month of the year you buy it.
This is what the bus station looks like in Tashkent…
At the time of writing this article (September 2019) a bus ticket between Tashkent and Khiva costs around 115 000 Som.
The bus leaves at 18:00 in the evening and reaches Khiva the next day at 13:00.
For some practical information on taking buses in Uzbekistan, read this article.
3. How to get to Khiva from Bukhara by train?
The train station in Bukhara is about 20 minutes from the old city by car. A taxi to get there should cost 20 000 som from the old town.
Here is where the train station is located in Bukhara:
During the high season, there are a lot of tourists traveling between Bukhara and Khiva by train so I would suggest buying your train ticket ahead of time if possible.
The train from Bukhara to Khiva takes about 6 hours. There are two trains, one that leaves at 04:15 in the morning and arrives at 10:52 and another one that leaves at 12:24 and arrives in Khiva at 17:51.
The train station in Khiva is located just twenty minutes on foot from the old city.
4. How to get to Khiva from Bukhara by bus
Bukhara has three bus stations. The one where you can find a bus for Khiva is near Karvon bazaar. To get there you'll need to take a taxi from the city center of Khiva.
Ask the taxi driver to bring you to "Karvon bazaar gijduvan avtostayanka". A taxi to get there should cost around 8000 som. At this location, you'll see a minibus station that looks like the one in the picture below.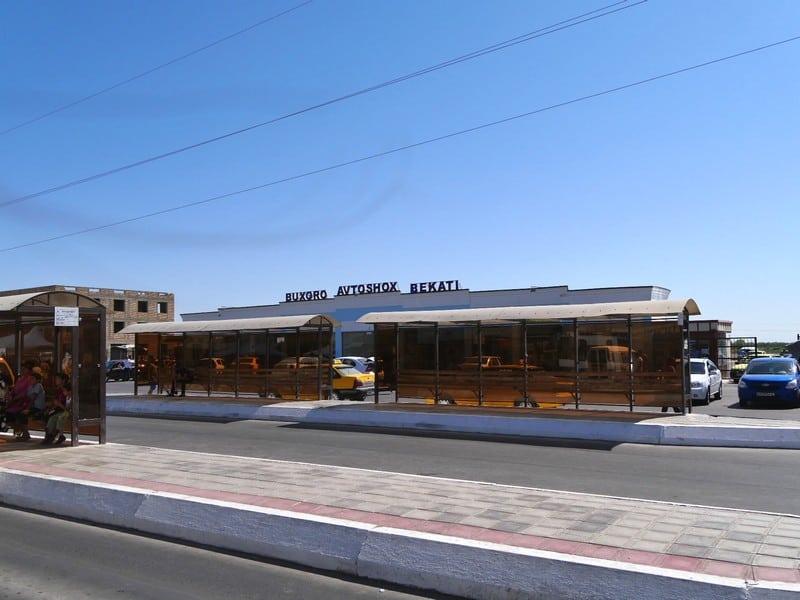 From this bus station, you can ask around and find a bus that goes to Khiva.
Bus prices tend to change a lot but they generally charge around 140 000 som to bring you to Khiva.
From this station, you can also catch a shared taxi to Khiva for 50 000 som per person.
I hope this guide was super useful and that you'll have a great time in Khiva. If you have any questions or if you've already been to Khiva, we'd love to hear from you in the comments below!
*This article contains affiliate links. This means that if you purchase a product through one of these links, we'll receive a small commission at no extra costs for you. Thank you!
In case you're also planning on visiting more places, definitely check out our other guides on Uzbekistan!
KNOW BEFORE YOU GO – UZBEKISTAN TRAVEL TIPS: