How was it to travel as a woman alone in a country like Uzbekistan? Is Uzbekistan safe for a solo female traveler?
I'll tell you everything in this blog post!
Uzbekistan isn't a popular travel destination (yet). It's actually one of the few countries that aren't overrun by foreign tourists.
Maybe it's not so appealing because Uzbekistan is in the heart of Central Asia and therefore seems far and out of reach? Or is it because it's a neighboring country of Afghanistan, a country that has been pictured in a negative light over the years?
I can tell you with certainty that you absolutely have nothing to fear! The Uzbeks are extremely hospitable and helpful people.
It's also very easy to get around by public transport (read more about it here) and it's really a top destination if you like beautiful Oriental architecture, colorful bazaars, and great food.
[kt_box opacity="1″ background="#eded6d"]
Read: Everything you need to know about Traveling Uzbekistan Independently
[/kt_box]
Why did I travel alone to Uzbekistan?
Before Niko and I were together, I was a solo traveler. This had a big influence on my personal development. It wasn't always easy to travel alone. I had to do everything by myself, there were moments I felt very vulnerable and it could get pretty lonely at times.
It was often challenging and I didn't always enjoy traveling solo, but now that I look back on it, it has shaped me into the person that I am today. I became emotionally and mentally stronger, I've got more self-confidence and I've learned how to be alone. I can now honestly say that I enjoy my own company.
4 years ago in Ireland, when I was still a solo traveler
For the past 3 years, I haven't traveled by myself. Why should I, when I have a great travel partner with whom it works so well?
Even though Niko and I are constantly together, we give each other space and allow each other to be ourselves. We complement one another perfectly and I know that I can always count on Niko for support (and vice versa). If everything went so smoothly between us, then why did I decide to go alone to Uzbekistan?
It was initially our plan to go together. I had already applied for the Uzbek visa at the embassy in Almaty (Kazakhstan) when Niko was still organizing the papers he needed for his application. As a Belgian, I don't need a letter of invitation to obtain a visa, but Niko, being Canadian, needs one.
-> Update: As from February 2019, citizens of many countries can now travel visa-free in Uzbekistan or have to apply for an e-visa. Read more about it here.
Just as he was about to apply for his visa, he received a message from his brothers that they were coming to meet him in Kazakhstan. Exactly in the same period that we had planned to go to Uzbekistan. He hadn't seen his brothers in two years, so his decision to postpone our trip was quickly made.
In the meantime, my visa application for Uzbekistan had been approved. This visa had a specific date so I could only use it for the period I had requested, which overlapped with the arrival of Niko's brothers. I had the choice between letting this visa expire to travel with the three brothers or… going alone to Uzbekistan.
Although that thought made me quite nervous – after all, it had been a long time since I traveled by myself – it somehow felt like the right thing to do.
I already knew that it was going to do me well. Traveling solo for the first time in years would take me out of my comfort zone. It would be enriching to reconnect with myself and test the skills and knowledge I had acquired over the past years.
It would also be a great opportunity for Niko to spend some time alone with his brothers and strengthen the bond between them. And for us, as a couple, we would experience how it's like to miss each other.
So I made the choice to travel alone to Uzbekistan.
[kt_box opacity="1″ background="#eded6f"]
Worried about your safety?
Read: Is it safe to travel to Uzbekistan
[/kt_box]
A solo female traveler in Uzbekistan – my experiences
However brave traveling alone to Uzbekistan may sound, I admit that I felt anxious when I crossed the border from Kyrgyzstan. With my blond hair and a big backpack, I quickly caught the attention of the other people who were waiting to cross the border. I might as well have stuck a sticker on my forehead with "I'm a tourist".
People were looking at me with curious eyes and I became very self-conscious. The good thing was that all the staring quickly came to a stop when one of the border guards noticed me and pulled me out of the queue.
He escorted me ahead of the line, where an official stamped my passport. After that formality was done, the same guard guided me to customs. I had the impression that they didn't see many tourists around, especially not women traveling alone. My presumptions got confirmed at customs.
There are very strict rules about what you can and can't bring in the country (for a complete overview, look here) and I read that they carefully check the content of your luggage. The two customs officers seemed to be more interested in me than in what I had packed in my bag.
"Are you alone?", one of them asked, while his colleague sniffed through my backpack. "Yes, I travel by myself", I replied. "Can I see your passport?" When I gave it to him, he looked attentively at my photo.
"So, you aren't married?" He asked. "No, I'm not". "You look young for your age." remarked the other official, who had stopped inspecting my bag and was looking at my passport over the shoulder of his colleague.
"What is your job?", he asked while looking me straight into the eyes. "I'm a teacher". Now I had his full interest. "How much do you earn per month?" was his next question.
I started having the feeling that I was on a speed date instead of a border check. "I guess you'd love to know but I'm not so sure that this is very polite to ask a woman you just met.", I responded.
"So I guess I can't ask you for your phone number either", he said while handing me back my passport. I started laughing. His colleague, who had followed the conversation, returned my backpack with a grin. "Enjoy your stay in Uzbekistan."
I thought it was pretty funny. I had heard horror stories about how annoying the officers at the borders can be, but I never expected them to start flirting with me. I only hoped that the other men in Uzbekistan wouldn't approach me like that. Otherwise, this would become a very tiring journey!
I didn't have to worry. With the exception of one guy who randomly started chatting with me in the train station of Samarkand and kept insisting on us having a drink together (he tried hard, he even promised me some chocolate cake), the male population of Uzbekistan left me alone.
I got the impression that, despite their curious looks, they didn't feel comfortable approaching me. I suspect that, according to their culture and religion (predominantly Islam), it's not appropriate to speak to a single foreign woman.
However, when that pushy guy at the train station didn't give up, some men rushed to my aid and told the guy to leave me alone.
So yes, it is really safe to travel as a woman alone in Uzbekistan. The Uzbek people welcome you as a guest in their country and they want you to enjoy yourself. Tourism is gradually becoming one of the most important sources of income and the people do their best to ensure that you, as a tourist, have a fantastic experience.
[kt_box opacity="1″ background="#eded6d"]
Read: Samarkand City Guide – Top Things to do in Samarkand
[/kt_box]
Something else that I also noticed, is the big amount of police officers in the streets. You see them everywhere in the cities: on nearly every street corner and at the entrance of public buildings.
If you want to travel by train, you first have to go through a security scan and you also have to show your passport.
There's always someone on the lookout, so even if a person would have bad intentions, he or she wouldn't get far without being chased by a cop. This also ensures that you, as a traveler and especially as a woman, will feel extra safe. Big Brother is watching!
Can you spot the cop?
[kt_box opacity="1″ background="#eded6d"]
Read: Bukhara City Guide – Top Things to do in Bukhara
[/kt_box]
I mainly traveled by train in Uzbekistan. It was the cheapest, fastest and most comfortable way to move from city to city (read more about it here).
I also preferred train travel to taking a shared taxi (another cheap way to get around Uzbekistan, more info here) to avoid dealing with pushy taxi drivers.
A few times I got really angry with them. Whenever I was leaving the train station, they were swarming around me like bees around honey. I know that they have a job to do and they want to earn money but they have to learn to take no for an answer.
I hated it when they followed me down the street, and kept asking if I needed a taxi. Wasn't it clear that I didn't need one?!?
In the few situations where I needed a taxi, I didn't like the bargaining part. I always informed myself in advance about how much I should pay for the trip so I knew when they doubled their rates because I was a foreigner.
I found it so annoying to bargain with the drivers to get the correct price and neither they or I wanted to give in for a long time (we probably looked like bickering siblings). It wasn't like they were asking for a high price, but when you know that it's double the amount of money you should normally pay, it sucks to feel scammed.
As the days went by, I became better and more confident in negotiating. I know that it's part of the culture and since Niko and I are planning on staying in Central Asia for at least another 6 months, I have to learn how to deal with it. But up to this day, I still don't like bargaining.
Despite the annoying taxi drivers (whom you actually find all over the world), Uzbekistan is a very nice and safe country to travel in. The people are genuinely friendly and helpful. They are very curious about you and if you visit the towns or villages, you can certainly expect to get invited for a tea or a meal!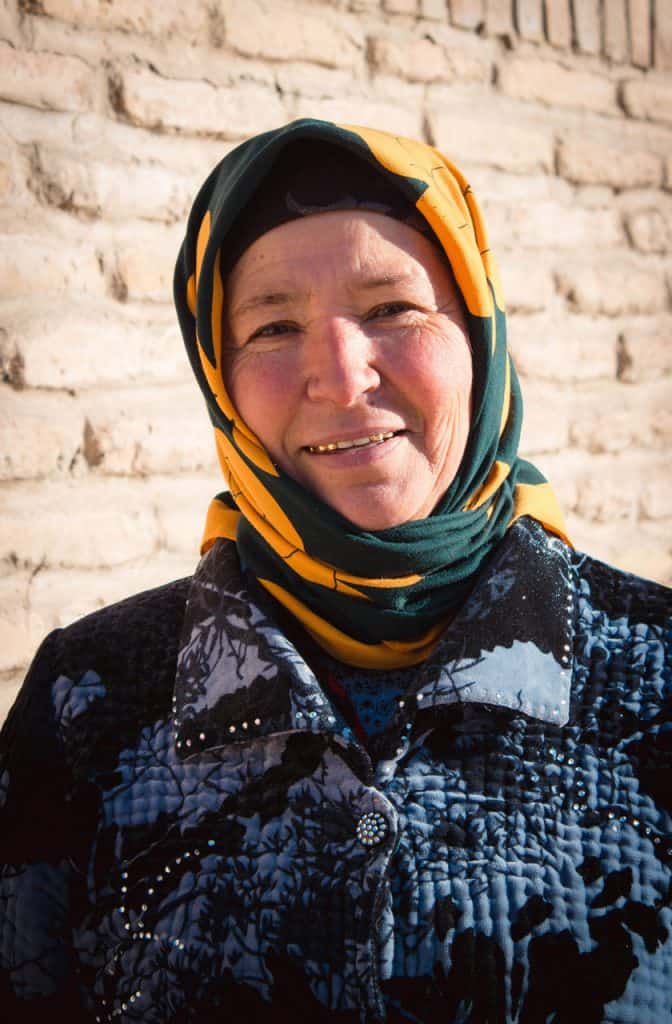 [kt_box opacity="1″ background="#eded50″]
Are you feeling inspired to travel (alone) to Uzbekistan? Read this guide about what you need to know and how to prepare yourself before backpacking to this country.
[/kt_box]
How was it to be alone in a foreign country?
As this was an important part of my trip, I'd like to share how it was to be alone in a country where I barely spoke the language.
It was a big adjustment in the beginning. My first destination in Uzbekistan was its capital Tashkent. I always find big cities overwhelming and this time I felt extra vulnerable because I was alone.
[kt_box opacity="1″ background="#eded6d"]
Read:
Tashkent Metro – The Complete Guide to visit Uzbekistan's Stunning Subway
[/kt_box]
In the first few days, I was a bit defensive and I wasn't really open towards the people. I also felt lonely because I kept thinking that it would have been a lot more fun if Niko had accompanied me.
It felt awkward to go to a local restaurant and eat there by myself. I was really stuck in a negative thought pattern and I nearly regretted that I went on my own to this foreign country.
Fortunately, I quickly became aware of these thoughts. I just had to give myself some time to find my own rhythm. Nothing is more relaxing for me than nature, so I spent a lot of time in one of the many beautiful parks in Tashkent.
There I was able to recharge myself. It felt like I had to find myself again. I knew that it had been my choice to travel alone so I had to embrace it and make the best out of it. As soon as I did that, I started feeling much better. I actually starting liking my own company!
I think the hardest part of traveling alone is, that you spend a lot of time (often too much) in your own head. You can't really focus your attention on someone else. We're often our worst enemy. It's so important to be kind to ourselves!
A little trick that I used, was pretending that I wasn't talking to myself but to a friend. Sounds a bit schizophrenic but it helped. After all, you won't be mean to your best friend, right? So why not treat yourself in the same way? That's how I became fully aware of how I treated myself and my thoughts.
As the days went by, I began to enjoy my alone-time and my self-confidence started growing. I opened myself to people and they started responding to it.
You are never really alone. It really depends on your attitude. People feel it when you close yourself off and therefore will approach you less quickly. When you look at your surroundings with an open heart, it will respond to you in the same way.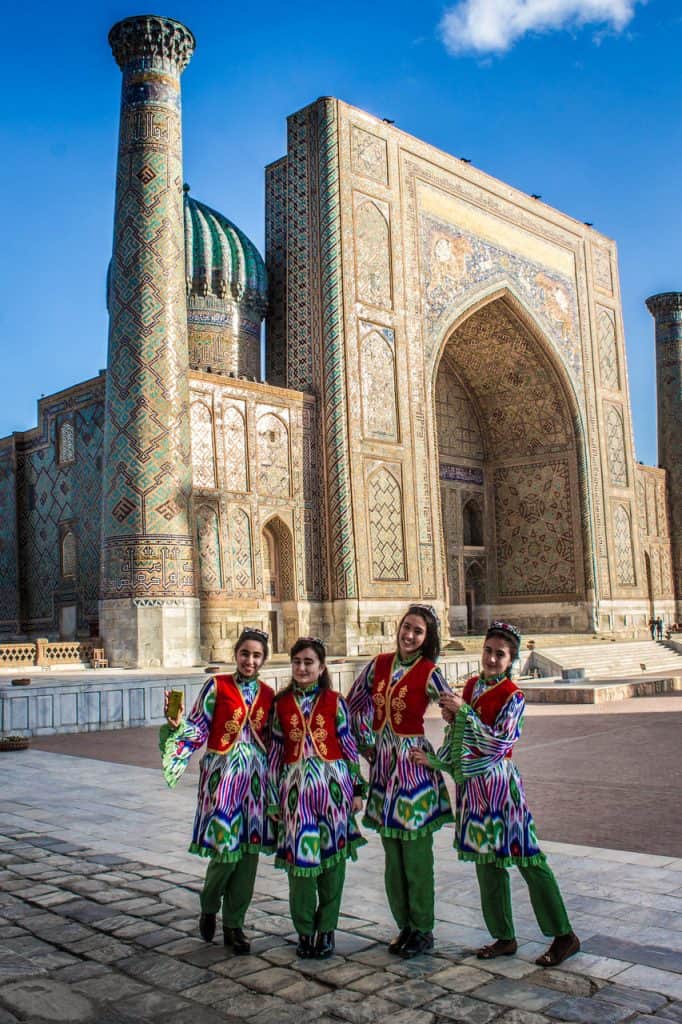 The only thing I regretted was that I didn't spend more time studying Russian, so my level of the language wasn't good enough to have a deep conversation with the people. Especially the women really wanted to talk to me and I often felt awkward because I couldn't understand them (and neither could they). A golden tip if you travel alone: try to learn the language!
[kt_box opacity="1″ background="#eded50″]
I recommend the language learning method of Pimsleur! Click here for more info: Learn a New Language with Pimsleur – Free Shipping Every Day!
[/kt_box]
Thanks to these audio classes, I had at least a basic level of Russian. If only I had studied more…
The solo trip to Uzbekistan has done me really well. Not only have I seen fantastic things (read here some more travel tips about Uzbekistan), I've also made a beautiful journey within myself. The beginning might have been a bit difficult, but at least I learned a lot from it!
I feel good about myself and I now know that we are never alone after all. I strongly recommend going at least once in your life on a solo journey. Who knows what you will discover about yourself!
Have you ever traveled by yourself? How was that? What did you like about it and what was challenging? What did you learn from it? Let me know in the comments below!
Disclaimer: This post might contain affiliate links. If you purchase a product through one of the links, we get a commission at no extra costs to you! See it as a small donation to keep this blog going. Thank you!
KNOW BEFORE YOU GO – UZBEKISTAN TRAVEL TIPS:
Everything you need to know about traveling independently to Uzbekistan:
Is it safe to travel to Uzbekistan?

Plan your trip to Uzbekistan: