This is the complete and updated Uzbekistan travel guide with all the information you need to know before you go traveling and backpacking in Uzbekistan.
Uzbekistan is a country in Central Asia that is becoming a very popular destination. It's located on the famous Silk Road, where you can find a wealth of culture and impressive Islamic architecture.
I traveled to Uzbekistan for the first time in 2017 and recently returned for a second visit. The country has recently opened its doors to the world and there have been many positive and noticeable changes ever since!
It's nowadays very easy to travel independently in Uzbekistan! So here's an updated guide with everything you need to know about backpacking in Uzbekistan.
1. Do you need a visa to travel to Uzbekistan?
Update 2019
It used to be a hassle and a pricey affair to obtain a tourist visa for Uzbekistan. You had to apply for a visa in the Uzbek embassy in advance, you needed an LOI (Letter of Invitation) and the visa was date-specific. This all has changed since February 2019!
Since Shavkat Mirziyoyev became the new president of Uzbekistan in 2016, he's been making big changes to accelerate the tourism development of the country by making it easier for foreigners to enter Uzbekistan.
When I traveled to Uzbekistan in December 2017, I still had to apply for a visa in a nearby embassy. I was only allowed to stay 15-days and my visa was date-specific so I had to properly plan my journey. I was lucky I didn't need an LOI as a Belgian citizen, which saved me quite some money.
Niko, being a Canadian citizen, had to go through a lot more paperwork to obtain his visa and in the end, he decided not to join me. Now he was also able to travel to Uzbekistan with a free visa on arrival!
Niko finally made it to Uzbekistan!
1.1 What's the current visa policy for Uzbekistan?
Citizens of Azerbaijan, Armenia, Belarus, Ukraine, Moldova, Russia, Georgia, and Kazakhstan can visit Uzbekistan without a visa for 90 days. Citizens of Kyrgyzstan can go visa-free for 60 days.
Starting from 1 February 2019, citizens of the European Union, Canada, Australia, New Zealand, the United Arab Emirates, Israel and many more countries can travel to Uzbekistan visa-free for a period of 30 days:
As of February 2019, citizens of 76 countries – including the United States, China, and India – are granted the right to receive an electronic entry visa for a period to 30 days.
If your country of citizenship isn't on any list, you'll still need to apply for a visa in the Uzbek Embassy.
1.2 How to apply for an e-visa for Uzbekistan and how much does it cost?
Applying for an electronic visa for Uzbekistan is very easy but remember that you should apply at least 3 days before your arrival in the country!
Just go to the Official Electronic Visa Portal of Uzbekistan and fill in your information. This visa is still date-specific so you need to enter the date of your arrival and departure. Remember that you can stay up to 30 days in the country!
Once you've filled in your personal details, you have to upload a passport photo and a scanned copy of your passport (look here for guidelines).
After you've activated your application by entering your email address, you'll need to pay for the consular fee to receive your e-visa. The cost of obtaining an e-visa is 20 USD and has to be paid with a valid Visa card.
Once your application is approved, the electronic visa will be sent to your email address in pdf format within 48 hours. Print the e-visa so you can show it upon your arrival.
1.3 How can I renew the tourist visa for Uzbekistan?
As I don't have to apply for an e-visa, I'm not sure how many times you can apply for a new tourist visa within one year.
What I did notice though is that, if you travel to Uzbekistan on a free tourist visa, you can enter and exit as many times as you want.
I traveled for a couple of days to Tashkent and Samarkand, left the country by crossing the land border with Tajikistan and returned 8 days later to Uzbekistan. Upon my 2nd arrival in Tashkent, I received a new stamp that allowed me to stay another 30 days in the country.
As there are no clear rules yet about how many days within a year you're allowed to stay in Uzbekistan, you can currently do a couple of border runs in the nearby countries like Kazakhstan, Kyrgyzstan, and Tajikistan and easily renew your tourist visa.
Before you all get excited, just keep in mind that this might change at some point in the near future.
[kt_box opacity="1″ background="#eded6d"]
Read:
Samarkand City Guide – Top Things to do in Samarkand
[/kt_box]
2. Traveling to Uzbekistan by air and by land
2.1 Where do you fly into for Uzbekistan?
Tashkent International Airport is the airport in Uzbekistan where most international flights arrive. The airport is small and you won't have trouble finding your way around it.
There is a currency exchange office in the airport that offers a good exchange rate if you have US Dollars. There are nowadays also ATM's available in the airport of Tashkent where you can take out US Dollars and Uzbek som (see 4.2 How much money should I take to Uzbekistan).
How to get from the airport to Tashkent city center by taxi and how much does it cost?
It's a 30-minute drive to get from the airport to the city center of Tashkent by taxi.
As soon as you exit the airport, you'll be greeted by many eager taxi drivers who are happy to bring you to the city center of Tashkent for 50.000 Uzbek som.
This is the same rate as the "official" taxi office in the airport, which doesn't make sense as the standard price for a taxi from the airport to the city center of Tashkent is between 20.000 and 25.000 som (around US$2 – US$3).
This means you'll have to negotiate the price with the driver and you might not feel like playing the bargaining game after a long flight. So here's a good personal tip.
When you exit the airport, ignore the taxi drivers who are standing at the gate. Walk to the left towards the parking lot across 'Departures' . There you'll find taxi drivers who just drove travelers from the city center to the airport.
They'll be happy to quickly return to the city center and therefore are a lot easier to negotiate with. Offer the driver 20.000 som, max 25.000 som. Show him the money and tell him to take it or leave it. He'll probably try to ask for more but as soon as you start walking towards another taxi, he'll very likely take it…
How to get from the airport to Tashkent city center by bus and how much does it cost?
There are buses that run daily from 6am until 11pm between the airport and the city center.
When you exit the airport, walk past the parking lot and you'll see them on your left. A bus ticket costs 1200 som and can be bought on the bus itself.
As there are different buses, it might be hard to figure out which bus to take. The apps maps.me and especially wikiroutes can help you to see which bus and route to take to your hotel. Bus #67 goes straight to the city center.
How to get from Tashkent city center to the airport and how much does it cost?
The easiest and most straightforward way is to ask the receptionist of your hostel or hotel to call a taxi for you. A taxi from the city center of Tashkent to the airport will cost between 15.000 and 20.000 som.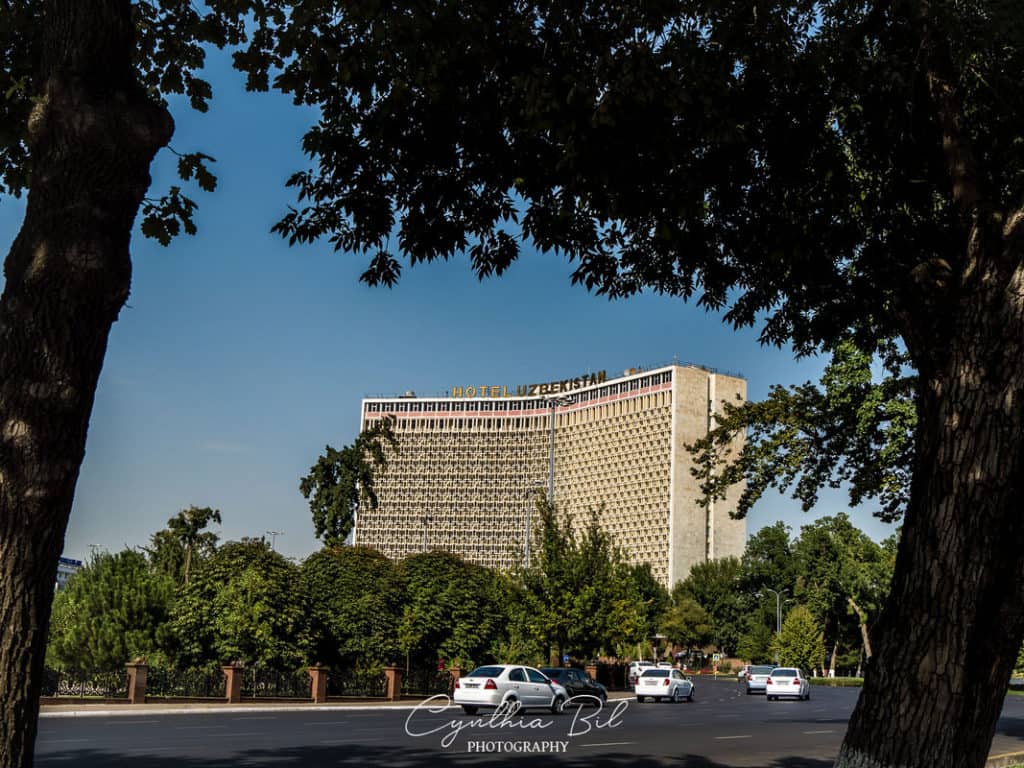 [kt_box opacity="1″ background="#eded6d"]
Reading Tip: 15 Top Things to do in Tashkent – The Complete City Guide
[/kt_box]
2.2 Traveling overland to Uzbekistan
Uzbekistan has land borders with Afghanistan, Turkmenistan, Kazakhstan, Kyrgyzstan, and Tajikistan.
It used to be quite a hassle to travel overland from the neighboring countries into Uzbekistan.
The security at the border used to be very tight, you had to fill in many documents (like with how much money you enter the country, where you're going to stay,…) and your luggage got scanned thoroughly by the border guards for prohibited items. It took ages to cross any of the land borders into Uzbekistan!
But now, entering the country is easier than ever! The border crossings are now less strict than they used to be. Your luggage goes through a scanner but the border guards will rarely ask you to open your bags and filling in documents at the border is now a thing of the past!
The most common and easiest routes to travel overland to Uzbekistan are:
From Shymkent (Kazakhstan) to Tashkent by bus and train
From Khudjand (Tajikistan) to Tashkent by bus
3. What vaccinations do you need for Uzbekistan?
You don't need any compulsory vaccinations to travel in Uzbekistan. However, vaccinations for DTP, Hepatitis A and typhoid are recommended; especially if you are planning on eating something 'more adventurous' or if you want to travel to remote villages.
4. What do you need to bring and pack for backpacking in Uzbekistan?
Let's start with what you CAN'T bring into the country:
4.1 Prohibited items – what is still forbidden to bring to Uzbekistan.
It used to be strictly forbidden to bring painkillers with codeine, sleeping pills, antidepressants or any other medication with narcotic substances in the country. Nowadays the border guards don't check the medication you're bringing with you.
When I entered Uzbekistan in 2017 by crossing the land border in Osh (Kyrgyzstan), the guards searched my phone, laptop and e-reader for political, religious and pornographic content.
Any photos, books or movies that had something to do with military, politics or bearded men (seriously, they used to see bearded men as a threat in Uzbekistan) had to be removed in advance.
Now you only have to delete photos of naked girls or/and guys and your porn stash before entering Uzbekistan (I'm sure you can travel without for a while 😉 ). Some guards might still check your phone or laptop for pornographic content.
And – unfortunately – drones are still prohibited.
4.2 How much money should I take on a trip to Uzbekistan?
The Uzbekistani Som (UZS) is the official currency used in Uzbekistan. 1 euro is about 10.000 UZS and 1 USD is about 9000 UZS (August 2019).
Much has changed concerning money matters in Uzbekistan since my last visit in 2017!
When I traveled to Uzbekistan in December 2017, I had to bring cash money as there were very few ATM's in the country (and if I'd find one, it didn't work). Upon my arrival, I had to fill in a form to declare the amount of cash I was entering the country with.
When I left Uzbekistan, I had to fill in the same form, this time indicating how much money I had left on me. Back then it was important that you left the country with less money or they would suspect you of illegal practices.
Nowadays you only have to declare your money if you're bringing in more than 2000 USD.
In 2017, the highest denomination available was a banknote of 5000 Uzbeki Som. I needed an extra bag to carry the 2400 banknotes after exchanging 150 US dollars into 1.200.000 Som…
There are now new banknotes of 10.000, 50.000 and 100.000 UZS available, which makes a huge difference in size and weight in your wallet (and the amount of time spent on counting your change…).
Every touristic city, like Tashkent, Samarkand, Bukhara, and Khiva, have now ATM's where you can take out US dollars and/or Uzbeki Som with a VISA card. You currently still can't use credit cards, like Mastercards and Maestro, but this might change soon as well. There are also 2 ATM's at the international airport in Tashkent.
Brand new ATM's in Uzbekistan!
The only thing I'd still recommend is bringing some US dollars in cash, just as a back-up. For a 10-day trip, I would recommend taking 400 USD or €350 per person in cash to Uzbekistan.
In touristic places, like Bukhara, some of the machines can't keep up with the demand of the tourists and are quickly empty. If you have some spare US dollars, you can easily change them in a bank or in a local exchange office.
Just keep in mind that if you want to exchange money, your banknotes should be crisp and in good condition. It happened a few times that the exchange office gave me a lower rate as my banknotes were a little crumpled.
It also used to be very difficult to exchange the Uzbek sum back into US dollars. Nowadays this no longer a problem.
Before you leave Uzbekistan, you can exchange your remaining som at the bank or in one of the exchange offices at the land borders or in the airport.
[kt_box opacity="1″ background="#eded6d"]
Wondering how much Uzbekistan costs?
[/kt_box]
4.3 Travel Insurance for Uzbekistan
It isn't mandatory to have travel insurance if you are traveling to Uzbekistan. However, I would suggest getting one for the period of your trip. You just never know…
If you don't have travel insurance yet, we recommend the travel insurance provided by World Nomads or the travel medical insurance by SafetyWing (starting from only $37 /4 weeks!)
[kt_box opacity="1″ background="#eded6d"]
Read:
Is it safe to travel to Uzbekistan?
[/kt_box]
4.4 Power sockets in Uzbekistan
The power sockets in Uzbekistan are of type C and F. The standard voltage is 220 V and the standard frequency is 50 Hz.
Bring a universal power adapter to charge all of your electronic devices while in Uzbekistan.
4.5 What to wear in Uzbekistan?
Uzbekistan has a continental climate with four seasons. Pack appropriate clothes for the period in which you're traveling.
If you're traveling to Uzbekistan in winter (between the months of November and March), bring warm clothes as it can be very cold with average temperatures of -10°C/ 14°F and there's often a lot of snow.
Pack light clothing if you're visiting Uzbekistan between the months of June and September as the temperatures in summer are around 36°C/ 97°F.
People often think that Uzbekistan is a religious country since the majority of the Uzbeks are Muslim and that there's a strict dress code to follow. This is not true.
Uzbekistan is a secular state which means that in theory, people can wear whatever they want. However…
The Uzbeks are rather conservative people who won't show much skin so keep this in mind while packing your summer clothes.
What to wear as a man in Uzbekistan in the summer?
Men can wear shorts and T-shirts but they better leave any singlets at home. It's also not appropriate to walk around bare-chested.
What to wear as a woman in Uzbekistan in the summer?
You'll see many Uzbek women wearing beautiful colored scarves that are tied around their heads. This is a cultural thing and it's mainly the elder Uzbek women who wear these so female travelers don't have to worry about covering their hair.
There's isn't a required dress code for female tourists but be aware that Uzbekistan is still a conservative country. What is seen as appropriate will depend on where you're going.
Tashkent, the capital, is a modern city and many young girls and women walk around in short skirts, dresses, and shorts.
It's okay if you wear shorts, dresses, skirts and tops or T-shirts with short sleeves in touristic places like Samarkand, Bukhara and Khiva. But it's seen as disrespectful to parade around in mini-skirts, tight little dresses and revealing tops. You'll also draw unwanted attention to yourself.
If you like to explore less-touristic places like small towns and villages, dress modestly. Wear a T-shirt or a tunic over long trousers or a long skirt. Three-quarter pants or skirts are also fine, just don't walk around the village in a tank top and short shorts.
If you visit mosques and religious sites, even in touristic cities, cover your arms. Don't be so self-absorbed to think it's okay to strike a sexy pose in a revealing dress inside or in front of a mosque. If you're an influencer who wants a nice photo for Instagram, please stay respectful towards the culture!
4.6 A phrasebook and dictionary
Uzbek is the official language but Russian is also widely spoken as Uzbekistan used to be part of the USSR.
In general, the Uzbek people don't speak a lot of English so knowing some phrases in Russian would be very helpful! That's why I recommend bringing a small pocket phrasebook like the Lonely Planet Russian Phrasebook & Dictionary as it contains useful phrases that you might need on your trip around Uzbekistan.
I also suggest you install the Google Translate App and download Russian into your app so you can use it offline.
4.7 A travel guide for Uzbekistan
Many people nowadays prefer to read blogs (and we thank you for that 🙂 ) to find practical travel information about a country. I do the same thing as I like to read about other travelers' first-hand experiences.
The disadvantage of online blogs and articles is that you need internet to access them, unless you printed the posts or saved them as a pdf version.
The internet connection in Uzbekistan isn't always the best and it's not that easy to get a SIM card (see 12.5 Internet in Uzbekistan) so an old-school travel guide could come in handy while traveling through the country.
I recommend the Bradt Travel Guide to Uzbekistan and the Lonely Planet Central Asia Travel Guide.
[kt_box opacity="1″ background="#eded6d"]
Read: Bukhara City Guide – Top Things to see and do in Bukhara
[/kt_box]
5. When is the best time to travel to Uzbekistan?
The best time to visit Uzbekistan is in spring (mid-April – beginning of June) or autumn (mid-September – beginning of November). The temperatures during those seasons are very pleasant and it won't be too hot to walk around during the day, in contrast to the hot summer months.
Winter in Uzbekistan is also very special. If it snows, you'll get to see a magical winter wonderland! That's why I traveled to Uzbekistan in December. Unfortunately, I arrived a bit too late (or was it too early?) to see the cities fully covered in snow.
It had snowed several days before my arrival and I could only enjoy the last bits of it in the capital Tashkent. In other cities, the snow had already disappeared by the time I arrived there.
Another advantage of traveling during winter is that there won't be many travelers and as it's low-season, the hotels and hostels are also going to be cheaper.
The last traces of snow in Tashkent
6. How to get around Uzbekistan
6.1 Getting around Uzbekistan by train
The best way to get around Uzbekistan is to travel by train. Taking the train is comfortable, easy and very cheap.
The Uzbekistan railway connects now all the major touristic destinations: Tashkent, Samarkand, Bukhara, and – since December 2018 – Khiva.
There are three types of trains (and we've tested them all!): the Afrosiyob, the Sharq and the Night Train.
In the article Taking trains in Uzbekistan – The Uzbekistan railways guide, you'll find a complete guide to the Uzbekistan train system, including information on taking Uzbekistan high-speed rail and the Uzbekistan sharq train.
6.2 Getting around Uzbekistan by bus
If you prefer to see the road instead of the railway, you can also travel around Uzbekistan by bus. I like to mention that it's a slower and less comfortable way to get around, especially when you want to travel big distances.
Taking a bus isn't also not that much cheaper than a 2nd class ticket on the Sharq train. You can check the bus schedules and buy your ticket at the local bus stations. You'll need your passport so bring it with you! You should also buy your ticket at least one day in advance.
International Bus Station in Tashkent
To travel within a city, you can take a city bus. They are very cheap and you pay the fare directly to the driver on the bus. You can check the bus routes within cities on the app maps.me.
You'll also see many minibusses racing around the cities. The most common ones are the 'Damas'. These minibusses are great if you want to travel in a big city or go to nearby towns or villages.
Inside a 'Damas'
6.3 Getting around Uzbekistan by (shared) taxi
A shared taxi is a taxi that you share with usually 4 to 5 other passengers. It doesn't have a fixed schedule but leaves once the taxi is full.
Those taxis leave at a fixed location – often near the bus station or just outside the city. Your hostel or hotel will know where to find them.
You won't have to search long for a taxi. The drivers will probably find you first – they'll ask where you're going or they'll be shouting out their destination… Be careful because they can be quite pushy!
Try to have an idea of how much you have to pay for a ride (ask about it in your hotel/hostel) because the drivers like to double the rate for ignorant tourists.
Before you get in the shared taxi, confirm the price with the driver and tell him clearly that you want to share the taxi with other passengers. It happens that the driver thinks you want to have the taxi for yourself. If you don't want to share a taxi, you'll have to pay for the other seats as well.
A trip of 2 to 3 hours to another city will cost you around 60.000 UZS, depending on how good you are at bargaining.
Taking a shared taxi used to be the only way to travel from Bukhara to Urgench and Khiva. This trip costs 80.000 UZS and isn't very comfortable as it's an 8-hour long drive, mainly through the desert. Since there is a train nowadays that connects Bukhara and Khiva, I'd go for this option.
You can also take a private taxi to get around cities. Just flag them down on the side of the road or, if you have a sim card, install the Yandex app on your phone. The app only works in Tashkent and functions like Uber.
Pay maximum 8.000 UZS for a ride within the city.
If you're visiting Tashkent, you can also get around the city by metro. The Tashkent Metro Stations are very beautiful and taking the underground should be one of the things you definitely have to do while visiting Uzbekistan's capital!
The ceiling of Alisher Navoi Station, one of the many beautiful metro stations in Tashkent
[kt_box opacity="1″ background="#eded6d"]
Read also: The Complete Guide to Tashkent Metro in pictures
[/kt_box]
6.4 Driving in Uzbekistan
It used to be impossible for foreigners to rent a car in Uzbekistan. This changed recently. You can find several car rental places in Tashkent.
In case you're traveling to Uzbekistan with your own car, you're allowed to bring it into the country as long as you have all the required documents. More information can be found here.
Know that it's very difficult to find diesel; propane is the main fuel in Uzbekistan, petrol comes in second.
Check out to the website of Caravanistan for more information on traveling by car in Uzbekistan.
6.5 Hitchhiking in Uzbekistan
Hitchhiking in Uzbekistan is possible and a fun way to connect with the locals. One thing you have to know is that most drivers will charge you money for the ride.
Be very clear from the start that you don't have money if you don't want to pay for the ride.
If you want to hitchhike, it wouldn't be a bad idea to learn some Russian so you can explain your intentions to the driver and have a conversation with him.
6.6 Domestic flights in Uzbekistan
If you don't have much time and you want to cover the distance between Tashkent and Khiva quickly, you can take a domestic flight between Tashkent and Urgench. Urgench is a 30-minute drive from Khiva.
The duration of the flight between Tashkent and Urgench is only one hour and a half. You can book your flight ticket(s) on the website of Uzbekistan Airways.
If you book well in advance, the average price for a flight between Tashkent and Urgench costs 60USD. You can pay online by Visa and Mastercard.
[kt_box opacity="1″ background="#eded6d"]
Read also: What to do in Khiva – the open air museum of Uzbekistan
[/kt_box]
7. Accommodation in Uzbekistan
It used to be illegal to stay with a host family in Uzbekistan. Travelers had to register every night in a hotel or hostel. You had to keep those registration slips with you as they were checked by the border guards when leaving the country.
These rules became a lot more flexible. Nowadays you're allowed to camp, stay with a host family or book a room or apartment on Airbnb for 3 nights in a row without getting registered.
If you stay longer than 3 nights, you still need to check in a hostel or hotel to get a registration slip. You pay for this registration in the form of a "city tax" which is usually 3USD per night.
New hostels and hotels are popping left and right in every touristic city in Uzbekistan. You can easily find and book a room in advance on booking.com.
The registration happens automatically as soon as you check-in. The receptionist will ask for your passport and once you check-out, you'll receive a registration slip.
You need to keep these registration slips with you as the border guards might ask for them at the border when you leave the country. If you take the overnight train, this ticket is also seen as registration, so don't throw this one away!
However, every time I left Uzbekistan, nobody has asked for my registration slips upon my departure. I've heard the same from other travelers.
But if you're planning to regularly camp in the wild or stay with a local family, I'd still advise you to stay in a ho(s)tel every 3 to 4 nights, just to have some proof of registration.
8. Food and drinks in Uzbekistan
The Uzbek cuisine is characterized by dishes that consist mainly of rice, noodles, vegetables and lots of mutton. As a vegetarian, it can be challenging – but not impossible – to find meat-free meals, but if you're a vegan, it'll be very hard to eat a typical Uzbek meal.
Plov is the most popular dish in Uzbekistan. It has rice, mutton, onions, carrots and raisins baked in sheep fat.
In the summer you'll also find lots of fruit, especially melons. You can buy fresh vegetables, fruit, various spices and sweet Uzbek candy at one of the many local markets.
If you want a break from the Uzbek cuisine, you can eat in one of the many international restaurants in the larger cities – such as Tashkent and Samarkand.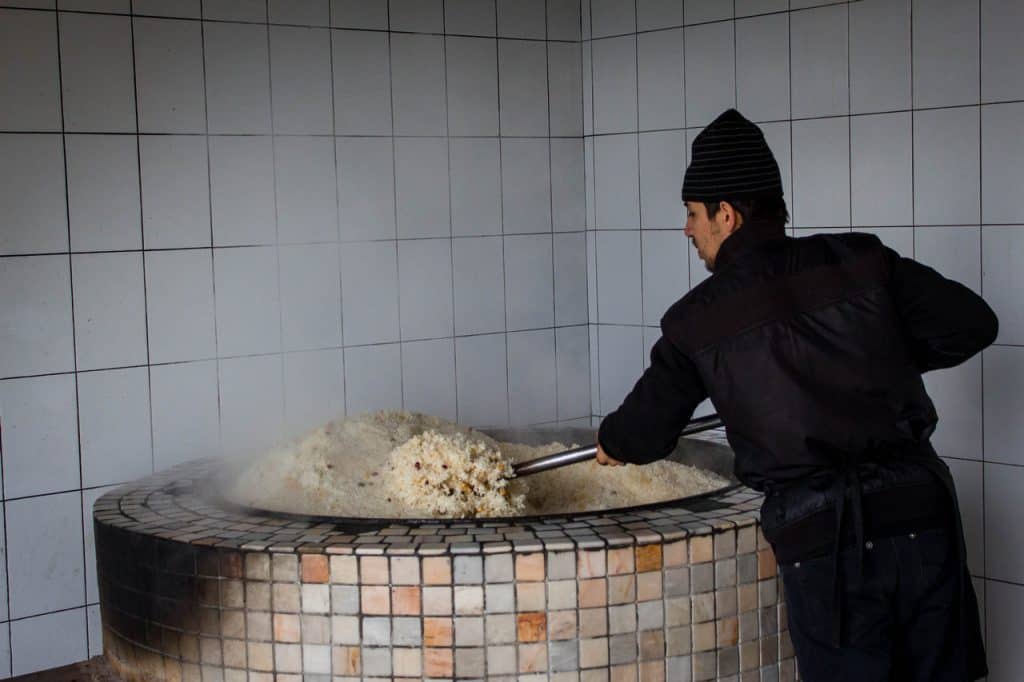 The food is mainly served with water, soft drinks or tea. Coffee is also available but rather expensive. An espresso costs 15.000 UZS (almost $2), an Americano 20.000 UZS and a Cappucino 25.000 UZS (almost $3).
You can buy alcoholic drinks – such as beer and Uzbek wine (which is quite nice!) – in local supermarkets and liquor stores. Vodka and cognac are available in all shapes and sizes.
9. Religion in Uzbekistan
Uzbekistan is a secular state. During the Soviet regime, religious practices were severely suppressed. Only after the fall of the Soviet Union in 1991 did the religious freedom in Uzbekistan increase.
About 93% of the population is Muslim and 7% is Russian Orthodox. Although many people actively practice their religion, they have quite a liberal view about it.
You'll see women wearing headscarves but this is more connected to the culture than to the religion.
As a foreign woman, you're not expected to cover your hair. There's also no strict dress code (as you could read in 4.5 What to wear in Uzbekistan) that is related to the religion.
10. Which languages are spoken in Uzbekistan?
The official language is Uzbek. It belongs to the family of Turkic languages so if you speak some Turkish, you might understand Uzbek a little bit. Especially the numbers are similar. My knowledge of the Turkish language helped a lot when I had to bargain with vendors and taxi drivers!
Many Uzbeks also speak Russian as Uzbekistan was once part of the Soviet Union. Knowing some Russian will certainly play to your advantage if you want to connect with the locals!
People who work in the hospitality sector know a bit of English but most people in Uzbekistan don't speak the language.
I learn a new language using the audio classes of Pimsleur. This is a great learning method to study a new language. It helped me a lot to quickly reach a basic level in Russian.
Click here for more information: Learn a New Language with Pimsleur!
11. Is Uzbekistan safe to visit?
Many people wonder if it's safe to travel in Uzbekistan. It's still a relatively unknown country in Central Asia and its neighboring country Afghanistan doesn't have the best reputation. A country ending with -stan gets quickly associated with danger.
However, you absolutely have nothing to worry about! Uzbekistan is totally safe!
You'll see police officers on every street corner and at every public place. They even introduced a "Tourist Police" now!
Tourism is a rich source of income and the Uzbeks genuinely want you to have a fantastic experience in their country. They are very hospitable and kind people and you'll be received as a very welcome guest!
I was alone when I traveled to Uzbekistan for the first time and I never felt unsafe! You can read about my solo journey here.
So yes, Uzbekistan is a very safe destination to visit! You really don't have to worry about anything!
[kt_box opacity="1″ background="#eded6f"]
Still worried about the safety in Uzbekistan?
Read: Is it safe to travel to Uzbekistan
[/kt_box]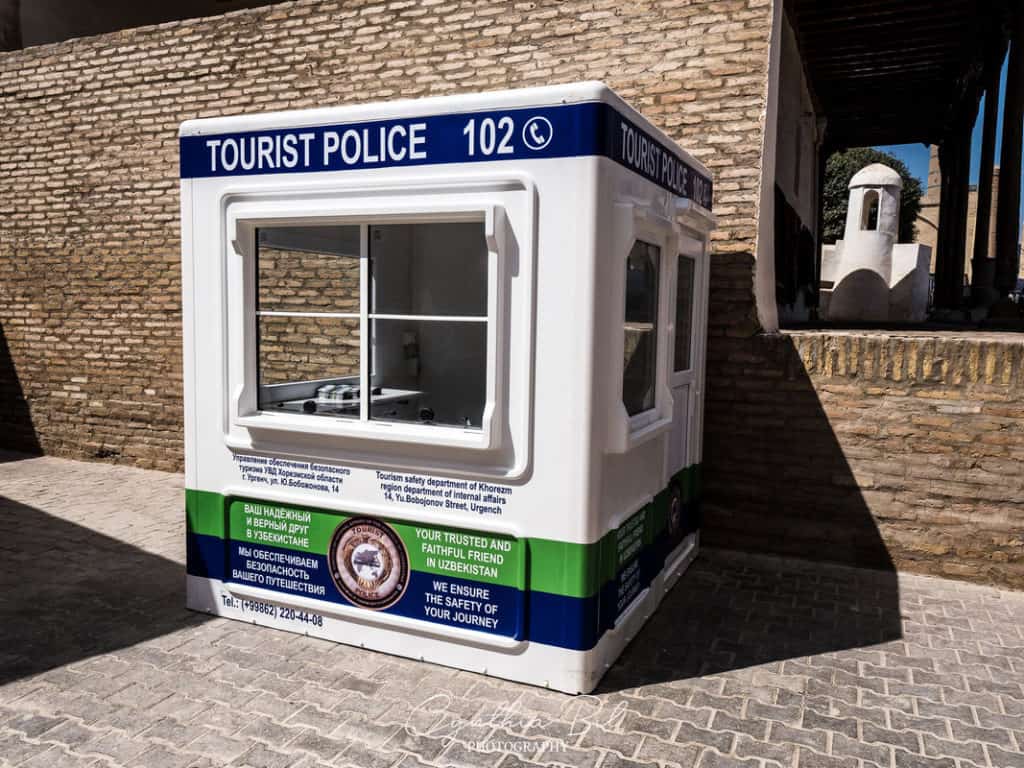 The Tourist Police – Your Trusted and Faithful Friend in Uzbekistan!
12. A few more useful things to know before traveling to Uzbekistan
12.1 Can you drink the water in Uzbekistan?
I wouldn't advise you to drink the tap water in Uzbekistan. Buy bottles of water in the local supermarkets or better, bring a water bottle with a filter.
These are reusable bottles that filter water using a microfiltration device. When you drink tap water using a water bottle with filter, any dirt, bacteria or parasites will be trapped in the fibers of the filter, while the clean water passes through.
It's not only good for your belly and wallet, but it's also great for the environment because you don't have to buy any plastic bottles of water!
12.2 Bathroom facilities in Uzbekistan
All the hotels, hostels, and guesthouses in Uzbekistan have western toilets. There are also western toilets in public places like restaurants, museums and train stations and even on the train you can find a proper sitting toilet.
Only if you're staying at the home of a local family in small towns and villages, you'll have to feel comfortable using a squat toilet.
There's usually toilet paper available but keep some with you, just in case. Don't throw the toilet paper in the toilet as the drains block easily. Use the garbage bin instead.
12.3 Tipping in Uzbekistan
You don't have to leave a tip in the restaurant as the service is automatically included in the bill.
However, this is not mentioned on the menu and a lot of foreigners get confused or think they're scammed once they receive the bill. They think they're being overcharged but if you look at the bottom of the bill, you see that a service fee of 10 to 15% has been added to the total costs.
12.4 Common scams in Uzbekistan
One of the most common scams in Uzbekistan is getting overcharged by taxi drivers. It already starts as soon as you arrive at the airport (see 2.1 Flying to Uzbekistan)or at any land border.
The taxi drivers will usually charge you double or triple the standard rate. You have to bargain hard and have a lot of patience to get the price down. If you're not sure what the normal price is, try to get at least half the price of what the driver is offering you.
Here are some standard taxi rates:
from the airport to the city center of Tashkent (and vice versa): 20.000 UZS per taxi (not per person!)-> they will try charging you 50.000 UZS
from the train station of Samarkand to the city center: 15.000 UZS per taxi (not per person!) -> they will try charging you 30.000 UZS or more
from the train station of Bukhara to the old city center: 20.000 UZS per taxi (not per person!) -> they will try charging you 40.000 UZS or more
from the train station of Khiva to the old city center: 10.000 UZS per taxi (not per person!) -> they will try charging you 30.000 UZS or more
Another scam you have to be careful of is when you visit monuments or museums. When you pay the entrance fee, make sure that they don't charge you automatically for a guide.
In some places, especially in Samarkand, you have to pay extra if you want to take photos. Some ticket offices will automatically include a camera price or pretend there is one. If you're in doubt, ask for the price list as every ticket office should have one, and check if you're paying the correct fee.
12.5 Internet and getting a sim card in Uzbekistan
The wi-fi connection in big cities like Tashkent and Samarkand is usually reliable and relatively fast.
The internet connection in Bukhara and Khiva isn't the best and not all the hostels have wi-fi there. It's also difficult to find a good internet connection when you travel to more remote areas.
It wasn't possible before to buy a sim card in Uzbekistan but now you can get one at a mobile phone provider in Tashkent.
There are 5 main mobile phone providers in Uzbekistan: Ucell, Uzmobile, UCell, UMS and Beeline. I was able to get a sim card with Beeline and the coverage is pretty good. I paid 50.000 UZS for 5GB (around $6). It isn't the cheapest though…
You have to bring your passport and you must provide a registration slip of your ho(s)tel to have a sim card registered to your name. You can also recharge your mobile credit at a local supermarket, just ask about it at the counter.
12.6 Useful apps for traveling in Uzbekistan
Here are some useful apps that you can download before your next trip to Uzbekistan:
This is a very practical app to find your way in Uzbekistan. You download the map of the country for offline usage. The app gives you accurate directions and shows you where you can find the nearest restaurants, bus stations, ATM, hotels, places with wi-fi, points of interest,… It also tells you the number of the bus you need to take when you travel within a city.
Wikiroutes is a handy app if you travel by public transportation. It shows you the bus and/or metro route and tells you where to hop on and off.
Google Translate is a great app if you want to communicate with the locals. Just write down or say the sentence and the app will help you out. Download the Russian language pack so you can use Google Translate offline.
This is a currency conversion app that always uses the latest rates in effect. It's useful to keep track of how much things cost in Uzbekistan.
This is usually the first app we use when we're making our way towards a new city. Booking.com is a hotel and hostel booking website that is also available as a phone app. We made most of our reservations in hostels in Uzbekistan through Booking.com and we realized that no other app comes close to it in terms of inventory and price.
Yandex Taxi is the Central Asian version of Uber. I like using this app to get around Tashkent (it doesn't work in other Uzbek cities) by taxi without having to bargain for the price and/or getting ripped off by a taxi driver. Unfortunately, the taxi drivers in Uzbekistan are cheeky and will often charge double the standard rate to tourists.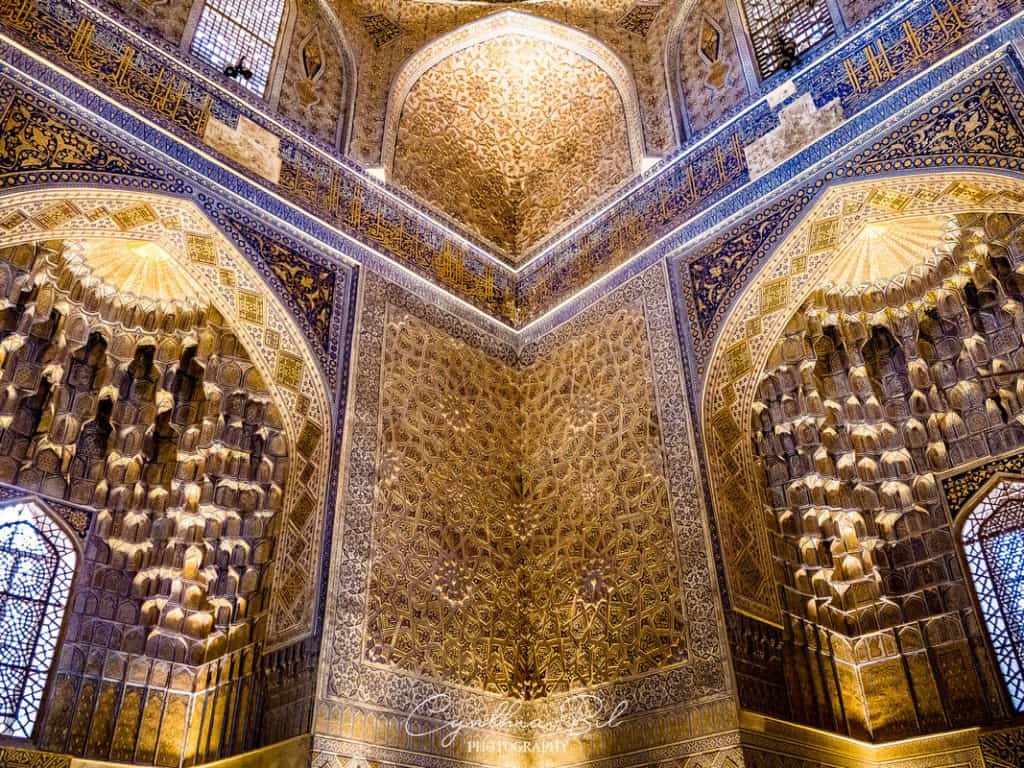 I hope this guide helps you to travel around Uzbekistan with ease. I'm wishing you a fantastic time in this special country and enjoy marveling at the exquisite architecture!
Do you still have questions about your upcoming journey to Uzbekistan? Let me know in the comments below or send me an email!
Disclaimer: This post contains affiliate links. If you purchase a product through one of the links, we get a commission at no extra costs to you! See it as a small donation to keep this blog going. Thank you!
KNOW BEFORE YOU GO – UZBEKISTAN TRAVEL TIPS:
Everything you need to know about traveling independently to Uzbekistan:
Plan your trip to Uzbekistan: