Wondering how to get from Bishkek to Tashkent by bus? Read on to find out where to buy your bus ticket, where the Bishkek-Tashkent bus leaves from, and how long the journey will take.
The Central Asian countries are all very different from each other and they offer unique sights to travelers and adventurers.
While Kyrgyzstan is known for it's pristine mountain hikes, Uzbekistan is the country where relics, cities and remains of the Silk Road were mostly left untouched and can still be visited today. You'll find stunning Islamic architecture in the cities of Khiva, Samarkand, and Bukhara.
These two countries are so different and yet complementary that it's almost impossible to visit one without wanting to see the other.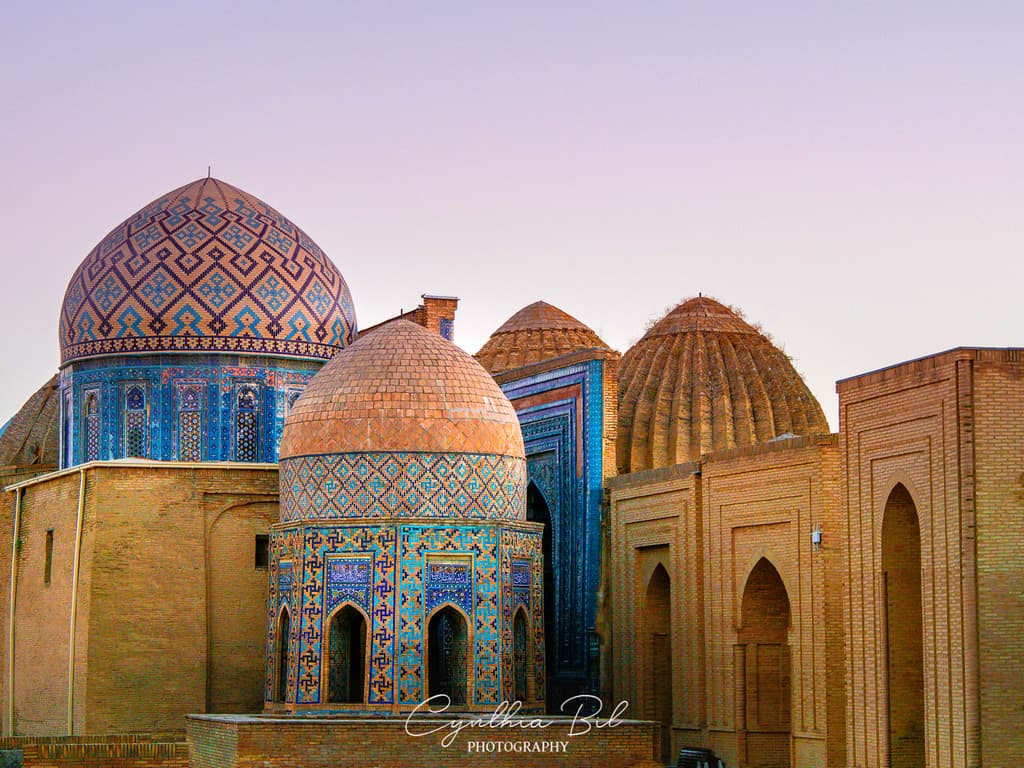 While Kyrgyzstan is famous for its mountains, in Uzbekistan you'll find beautiful architecture…
Traveling in Central Asia used to be complicated as it was hard to get a tourist visa for the different stan-countries and there was a lack of proper public transport connecting the main cities of the countries. This has all changed now!
There is now a bus line connecting Bishkek in Kyrgyzstan with Tashkent in Uzbekistan. Traveling between the two cities by bus takes about 8 to 13 hours depending on how long it takes to cross the borders and this bus runs at night.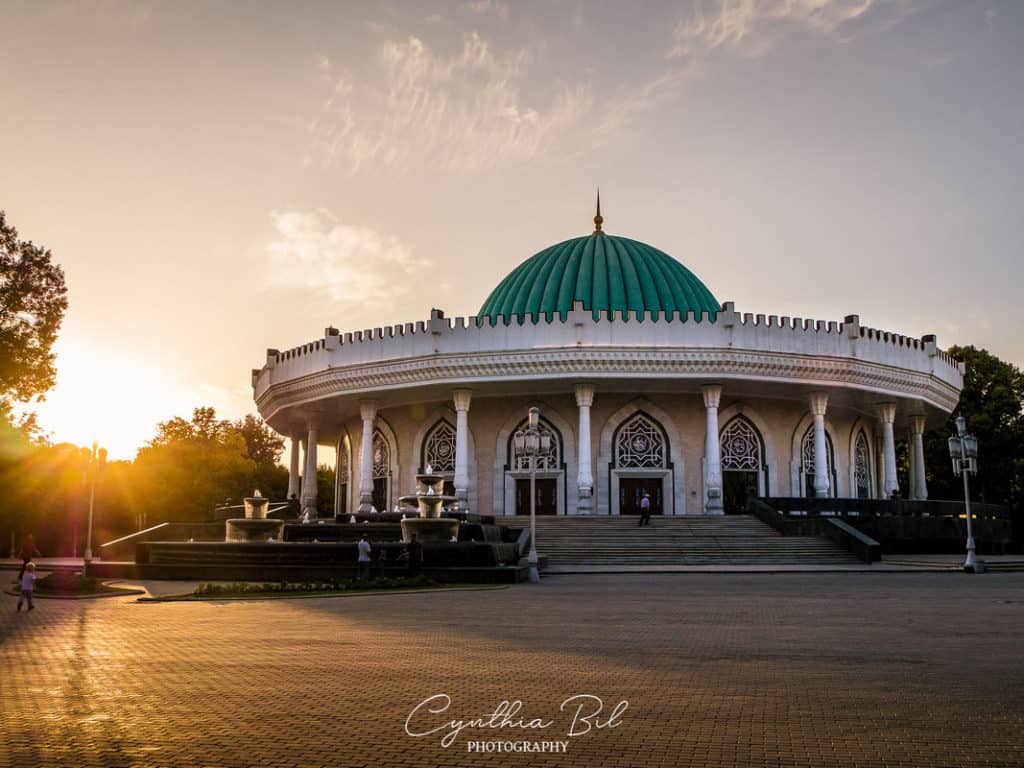 Tashkent has some stunning museums…
In this article, I'll tell you where to buy your bus ticket, where the bus leaves from, and details about the two border crossings that you'll have to go through.
[kt_box opacity="1″ background="#eded6d"]
Read: 15 Top Things to do in Tashkent
[/kt_box]
Where can you buy a bus ticket to go from Bishkek to Tashkent?
Long-distance buses connecting Bishkek and Tashkent leave from the western bus station in Bishkek.
Here is where you'll find this bus station:
You can only buy your ticket at the Western bus station itself. Bus prices tend to change quite regularly depending on the day of the week and the month of the year but they generally cost around 1100 Kyrgyz Som.
It's very easy to reach the Western bus station from the center of Bishkek by taxi. However, be wary, taxi drivers in Central Asia tend to overcharge foreigners. For Kyrgyzstan, it's better to download the Yandex app on your phone.
Yandex works as a cab-hailing app meaning you won't have to negotiate directly with the driver and you can avoid being ripped off.
What is the schedule of the Bishkek – Tashkent bus?
The buses going from Bishkek to Tashkent only run at night. They leave twice from the bus station at 16:30 and 23:30 in the evening and they arrive in Bishkek the next day in the morning.
Because the time of the journey varies according to how long it takes to cross the border, it's hard to predict when the bus arrives in Tashkent.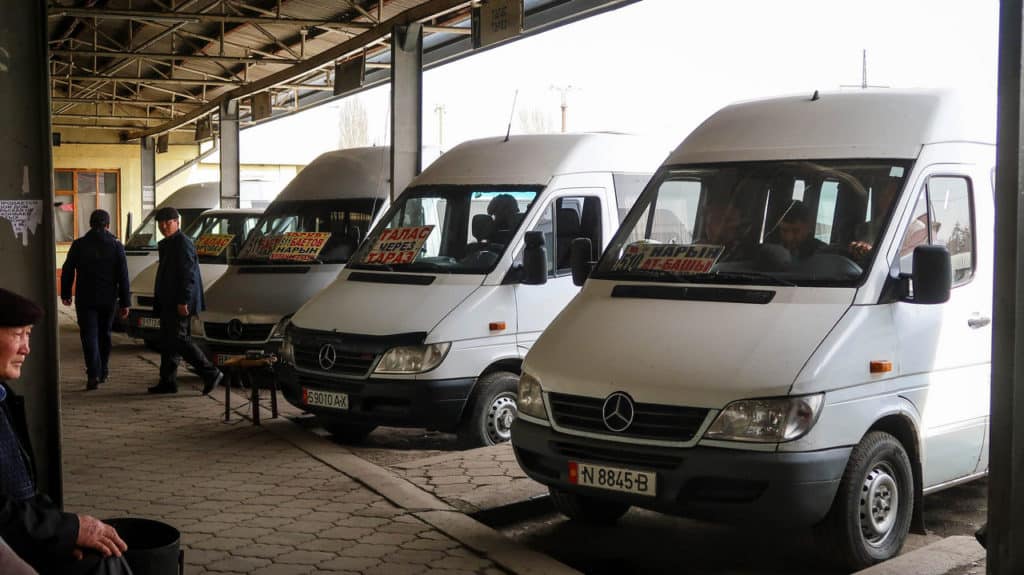 You'll find plenty of buses and marshrutkas at the Western bus station in Bishkek…
The bus does a few stops during the night at small roadside restaurants where you can eat and go to the bathroom.
The bus will also do a few stops for money exchangers to come on board and offer to exchange your Kygyz soms for Uzbek soms.
The rate they offer is not extremely good but better than what most banks offer in the city centers of Tashkent or Bishkek. Make sure you know what the rate is before exchanging any money.
Things you need to bring on the bus from Bishkek to Tashkent
The aircon in the bus tends to become a bit cold during the night so I would suggest bringing a warm sweater with you.
It's also important to keep your passport with you on the bus instead of leaving it in the luggage compartment underneath the vehicle.
If you want to buy food along the way also make sure that you have local currency with you. In the case of the road restaurants on this bus line, they are mainly in Kazakhstan so you'll need to have some Kazakh Tenges.
How long and where are the border crossings?
During this journey between Bishkek and Tashkent, you'll have to do two border crossings.
First, you'll be crossing the Kyrgyz-Kazakh border at Taraz-Talaz,a couple of hours west of Bishkek.
Once the bus arrives at the Taraz-Talaz on the Kygyz side of the border, everyone needs to get out of the bus, pass their bags through security and get their passport stamped.
You'll see some interesting monuments in Tashkent…
Once the passports are stamped, everyone gets back on the bus and then the whole process starts again at the Kazakh border.
You'll need to check beforehand which visa you need for Kazakhstan. If you're eligible for a free tourist visa on arrival, you don't have to worry about anything.
If you need to apply for a visa in an embassy, you could also check if you can get a transfer visa for Kazakhstan. You can find more information about which visa you need here.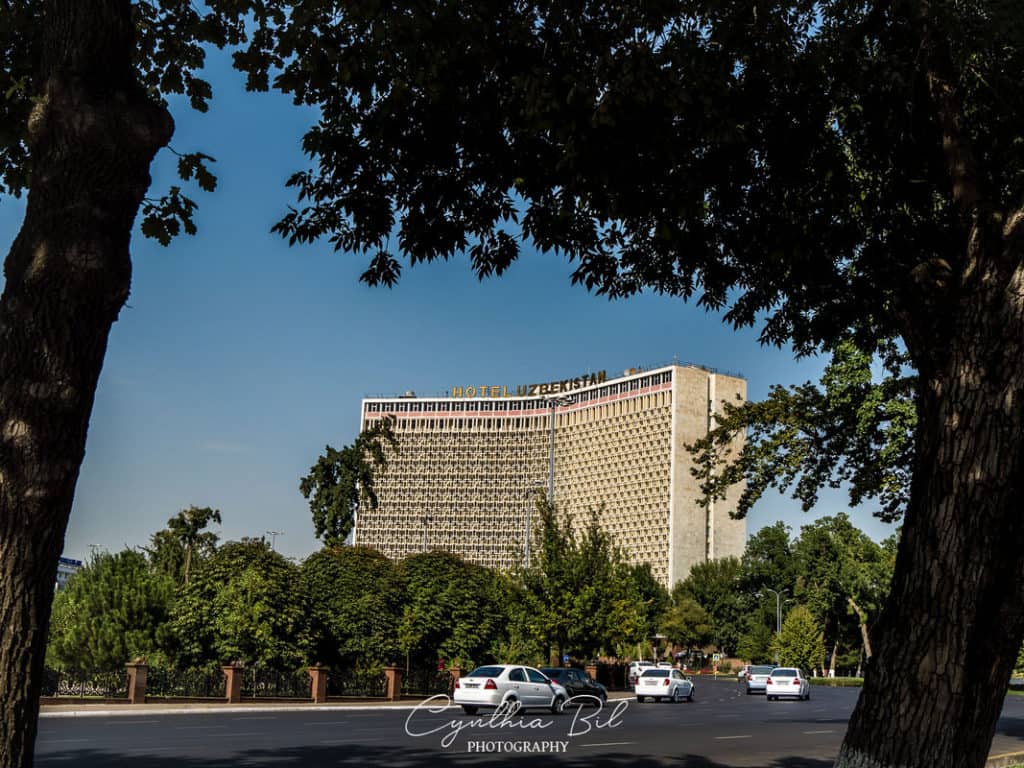 The second border crossing is between Kazakhstan and Uzbekistan at the Zhibek-Zholu border, one hour north of Tashkent. The bus will arrive there in the early morning and it's usually not busy at all at that time of the day so this border crossing should take around an hour.
Arriving in Tashkent
The bus will arrive in Tashkent at the Avtovagzal station near the Olmazor Metro.
This is what the station looks like…
Here is where the station is located in Tashkent:
The best option is to take the metro directly to your hostel from the bus station. The metro station that is next to the bus station is called metro Olmazor.
You can take the metro to almost any part of the city for only 14000 Som so this is definitely the cheapest option.
[kt_box opacity="1″ background="#eded6d"]
Wondering how much it costs to travel in Uzbekistan?
[/kt_box]
Where should you stay in Tashkent?
A hostel we highly recommend in Tashkent in the Top Hostel. It has huge spacious dorms equipped with air-conditioning. The dorms don't have so many beds so the hostel is generally quiet.
This establishment also has a fully equipped kitchen where you can cook your own meals. There is a cozy common area with mattresses and pillows where you can relax and exchange travel stories and tips with fellow backpackers.
Click to check out rates and availability for "Top Hostel"
That's it! I hope this post was useful and I wish you a pleasant journey from Bishkek to Tashkent! In case you'd have more questions, feel free to leave a comment below!
*Disclaimer: This post contains affiliate links. If you purchase a product or stay in a hostel through one of the links, we get a commission at no extra costs to you! Thank you!
Read all our travel guides on Uzbekistan:
KNOW BEFORE YOU GO – UZBEKISTAN TRAVEL TIPS: