It's almost time to say goodbye to 2017. In just a couple of days we'll be entering a new year and this is the moment where Niko and I do a small ritual. We buy a bottle of red wine, we snuggle up on the couch in whichever home we have at the moment (currently a small flat in Bishkek in Kyrgyzstan) and we reflect about the past year. We like to talk in depth about the things we've learned, the experiences we had and the goals we've reached. It's such a powerful way to end the year on a positive note.
So how was 2017? It wasn't only a significant year for our travels but also for our work, personal development, family and relationship. Here's an overview of the changes that this year brought us:
WORK & MONEY
This is the part of our life that went through the biggest change this year. A lot of people will tell you that money isn't important and it's definitely not the most essential factor in life. You don't need to be rich to live a happy life and you don't need much money to travel the world (see our tips on this subject here). But let's face it, having some money can make a huge difference.
When Niko and I arrived in Georgia in September 2016, we only had $200 left (read the full story here). We could have continued our travels and hoped for the best, but we wouldn't have gotten very far. Our blog was growing but we weren't making enough money from it yet to cover our expenses so we had to combine it with another job.
That job was teaching English online. Seriously, teaching online is such a fun and easy way to make money while traveling. You just have to make sure you've got a fast and reliable internet connection and a good laptop. If you've got the skills to teach a language, don't waste any more time and read our Ultimate Guide to Online Teaching.
Thanks to this job, we were able to save $10.000 in just 8 months and we could even invest in a drone (a DJI Mavic, click here for more details about this awesome flying camera) and new photography gear. In return, this enabled us to create better vlogs (watch them here) and our YouTube Channel grew to over 1000 subscribers. We also got paid to make videos for a few companies.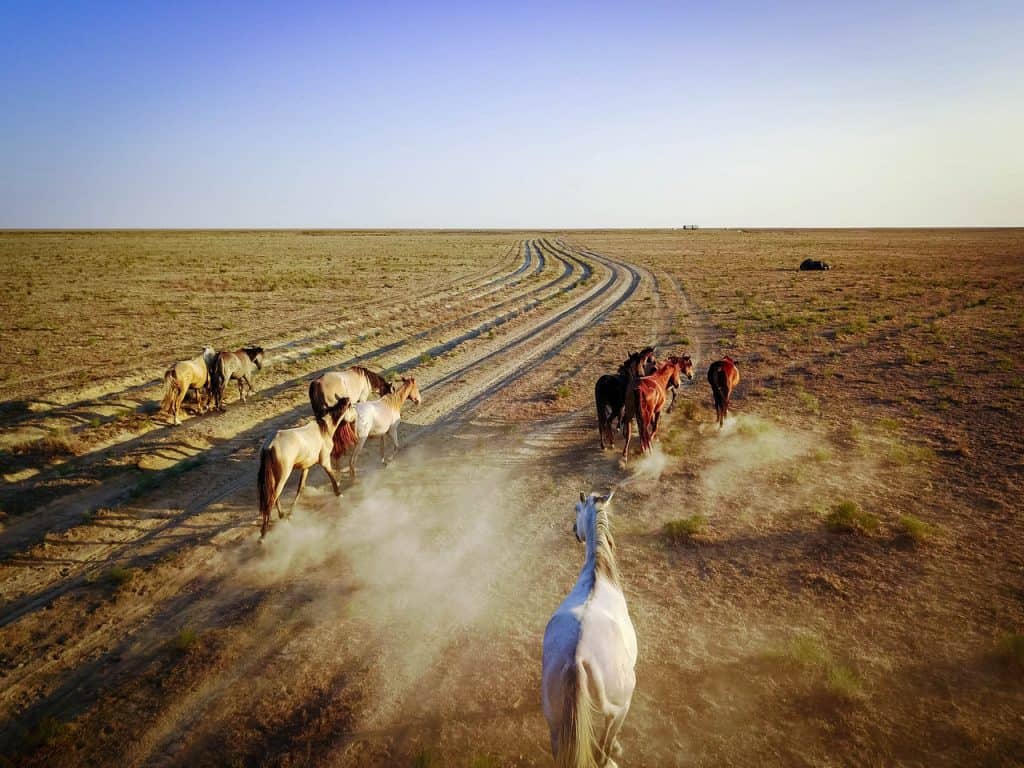 Throughout the year we noticed a big growth on Journal of Nomads. More and more people started following us, the engagement on our Facebook page grew a lot and the monthly visitors on our website doubled! We received so many beautiful messages and emails from people that felt moved and inspired by our stories and that really touched us.
That's why we want to thank you. Thank you so much for your love and support! Without you, we wouldn't be able to share our stories and videos. You are the reason why we keep pushing ourselves to learn and grow and to create more and better content. A huge and heartfelt THANK YOU! Journal of Nomads wouldn't be possible without you!
So what's our plan for 2018 concerning work and money? We're still going to teach online and we have some big plans in mind for Journal of Nomads. To be continued…
PERSONAL DEVELOPMENT/ LIFESTYLE
Niko:
This year I realized how easy it is to work online from anywhere in the world. As a result, my life as a nomad became much more comfortable. I spent years travelling with almost no money and although I really enjoyed this experience, I started having enough of this rough lifestyle. It started wearing me down. I still wanted to travel but in a more comfortable way. I felt I was limited, due to the lack of money.
I was surprised how easy it is to make an income by working and teaching online. It was like a new world opened to me. I finally experienced financial abundance. Now I feel so much more relaxed and interestingly enough, I've noticed how positive things come in my life more easily since I'm a lot less stressed. When you feel good and happy, good things are bound to happen. Money doesn't create happiness but it can definitely help with creating the lifestyle you want!
I also made a lot of progress concerning my filming skills. I learned that if I want to create good videos, my camera needs to be curious. I became more confident in approaching people and filming them. Speaking the language makes a huge difference! By initiating a conversation, I can get very close to people and they welcome me in their space. I discovered how to make people feel comfortable and act natural in front of my camera. This way I've been able to capture a lot of authentic and real moments on video. I feel that I made a lot of progress in my visual storytelling and I'm definitely aiming to continue this in 2018.
 [kt_box opacity="1″ background="#eded68″]
Would you also like to learn a new language? We use the learning method of Pimsleur. Learn more here.
[/kt_box]
Cynthia:
I surprised myself this year. I've always been a dreamer, I used to love coming up with ideas and talking about what I wanted to do but I struggled to take the actions that were required to materialize these ideas. I lacked consistency, discipline and confidence. That changed throughout 2017. I now know that if I want to make something happen, I have the power and the ability to do it. From being a dreamer, I became a doer. I developed many skills, even in areas I never thought I would. I can even make websites now!
However, I fell into my own trap of wanting to do too much in a short amount of time. That doesn't really work for me. It's not healthy for my general well-being. I often had to remind myself to take a break, to go out for a walk and spend some time in nature. I went from being too much of a dreamer into an extreme doer. Only when we resumed our travels in the summer, did I realize how exhausted I was and how I needed to take a break from the laptop (and my own mind).
I'm proud though of what I accomplished in the past year. I learned about webdesign, improved my photography skills (and already sold some photos to magazines!) and got better at writing. I want to keep growing into this direction because I love doing this blogging thing so much. I couldn't imagine doing anything else. I just want to find a better balance between being active and relaxing. That's something I'm aiming to work on in the coming year. I'd like to integrate meditation and yoga into my daily routine, no matter if we're on the road or living temporarily in one place.
RELATIONSHIP
We came a long way as a couple and as travel partners. We spend 24/7 together and are still not tired of each other's company! On the contrary, it's actually weird when the other person isn't around. It's not that we need each other to be happy or to do something but we just happen to function so well as a team.
We sometimes argue but that usually doesn't last long. We're very honest and trust is at the foundation of our relationship. We tell each other everything, even if it's not always something that the other likes to hear. But it helps us grow as a couple and it strengthens our relationship. We've learned how to accept and respect each other's differences and we know when to give each other some personal space. In fact, our relationship grew stronger and our love has deepened even more over the past year.
This year, for the first time in the 3,5 years that we've been together, we each went on a separate adventure. We didn't see each other for 3 weeks and that was a bit weird! While Niko traveled to Kazakhstan to meet up with his brothers, I went on a solo journey to Uzbekistan. We suddenly had to adjust to a different kind of flow. I had forgotten how it was to travel by myself and it was good for my personal development to do this. I embraced my solitude and enjoyed traveling and spending time by myself. However, as the days went by, I started to miss him more.
Niko was experiencing the same thing. Although he wasn't alone on his trip, he felt that it was a different vibe to travel without me and he also had to adjust to this. He mentioned that he often caught himself thinking of how much I'd enjoy the places he visited and the activities he did with his brothers. Even though we weren't physically together, we were still every day in each other's thoughts.
It was good to see each other again after three weeks. We both know that we just really like being together and that we have a very healthy and co-creative relationship. We love the same things, we have the same goals and we're having the same future in mind. We're not just lovers but we're also best friends and compatible partners in travel, work and life. No one can tell what the future will bring but we're seeing a positive one. Every year spent together has been a great year and we're looking forward to where this path of us where lead. Can you hear the wedding bells ringing?
[kt_box opacity="1″ background="#eded65″]
Do you already know the unusual story of how we met? If not, read it here!
[/kt_box]
FAMILY
Cynthia:
One of the disadvantages of being a nomad is that we barely see our family. The last time Niko and I saw our loved ones, was in 2015, just before we started with this overland journey around the world. Back then, we vowed we wouldn't take a single airplane to travel the world, not even to return to our home countries to visit our family. But as the years were passing by, I started to miss my family and friends a lot!
That's why I returned to Belgium in June for one week. I needed to go back anyway to take care of some papers so I saw this as the perfect excuse to book a flight. It was a very short visit but I enjoyed the time with my friends and family so much! I actually wished I'd stayed a bit longer than just one week. It wasn't enough to catch up and properly reconnect with them.
I'm happy with my lifestyle and wouldn't want to change it one bit. I absolutely love what I do and I can't picture myself living in Belgium anymore. But I'd like to see my loved ones more often. I feel that I'm missing out on many things (babies, weddings,…) and sometimes I feel guilty about that. So I'd like to fly back at least once every two years to see my friends and family. We'll continue traveling the world without taking airplanes, but from now on we'll make an exception whenever one of us feels the need to see the family.
Niko:
Both of my brothers came to join me on my travels this month. It was so special to have them both here and share part of my trip with them, especially since it's been two years since I saw them and the first time ever the three of us traveled together. I felt overwhelmed by joy and love. They were here for three weeks but it felt a lot shorter. Our time together went by so quickly!
One of the things I'm most happy about, was that I was able to share my passion for video-making with my youngest brother and see that he thoroughly enjoyed it. I taught him how to make his own videos on this trip and I felt so proud when he showed me the finished result.
I'm happy to know that they're now going to join me more often in different parts of our trip around the world and that they're excited about this as well. I'm already looking forward to the next time I'll see them. Maybe it'll be in Thailand, on our wedding day…
TRAVELS in 2017
This year we hitchhiked from Georgia to Kyrgyzstan, crossing a distance of more than 6000 km. Our initial idea was to reach South Korea or Japan by the end of the year but, as usual, our plans changed along the way and we wanted to spend more time in Central Asia. Here's a short overview of our travels in 2017:
GEORGIA (January – August)
We started the year in Tbilisi, Georgia's capital city. One month later we moved to Batumi, the country's most extravagant city on the coast of the Black Sea. We lived there for about 3 months before we moved to a small flat in Gori, a town famous for being the birthplace of Stalin. There we could strongly see and feel the influence of Soviet era. It was an interesting experience, that's for sure!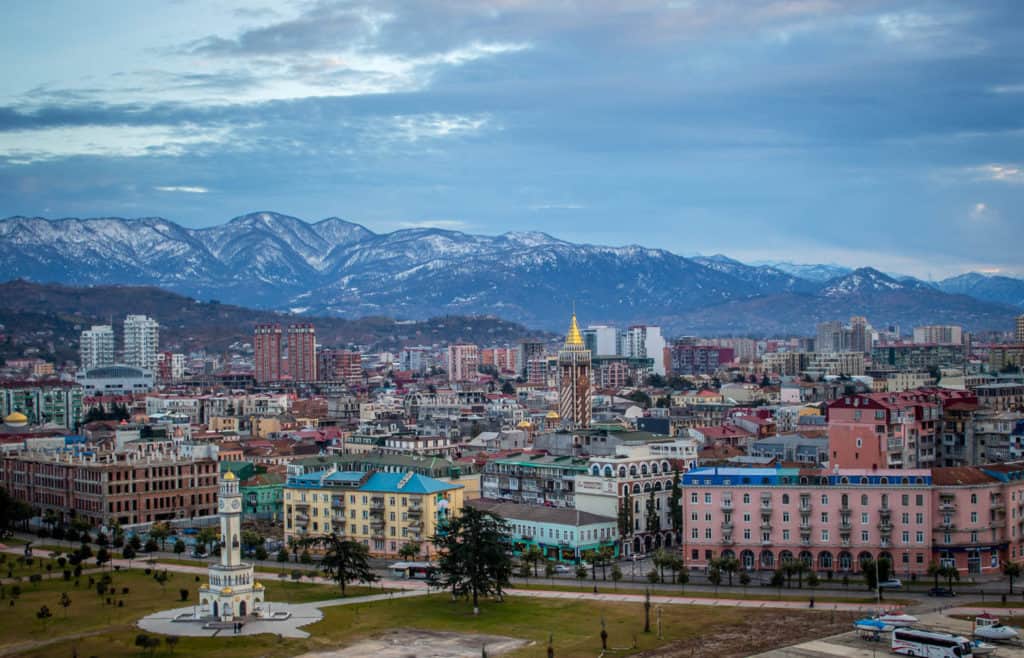 On the 8th of August we finally packed our bags and resumed our travels. We hitchhiked to Kakheti, the most eastern province in Georgia, and after 10 days of exploring and camping in the national parks of Tusheti and Lagodekhi, we were ready to say goodbye to the country that had been our home for almost one year. Our last ride in Georgia was a memorable one. We left the country by horse and chariot!
[kt_box opacity="1″ background="#eded65″]
We absolutely loved Georgia and we strongly recommend to visit this stunning country! Check out our stories and travel guides about Georgia here.
[/kt_box]
AZERBAIJAN (August – September)
Azerbaijan was such a fun country to hitchhike in! We didn't advance very fast as we got constantly invited by people for tea or meals. The hospitality of the Azerbaijani's was definitely the highlight of the three weeks we've spent in the country. Just have a look at our videos and you'll know what we mean! How to summarize our time in Azerbaijan? One tea at a time!
CROSSING THE CASPIAN SEA BY CARGO SHIP
Taking the boat from Azerbaijan to Kazakhstan was one of the most epic moments of our travels in 2017. This boat, a freight and passenger ferry, doesn't have a fixed schedule and leaves when it's full. We waited for three days in the port in Baku before we could board the ship. You would think that it was boring to wait so long but we had plenty of entertainment.
The first night in the port we got surprised by a sandstorm and we woke up with sand in our eyes and ears. From the second day on we got the company of other travelers who were also waiting for the same boat. The port started to look like a nomad camp. In the evening of the third day we could finally board the ship and finally, at 5 am in the morning, we left the port. After 27 hours on the Caspian Sea, we arrived in the port of Aktau in Kazakhstan. Watch the whole story in the video:
[kad_youtube url="https://www.youtube.com/watch?v=F6RpTlWHn5I&t" width="600″ height="400″]
KAZAKHSTAN (September, October, December)
While we were waiting for the boat in Baku, we met Tom and Alex, two British guys who were on a road trip from London to Vladivostok (Russia). We connected from the start and when they offered us to join them on their road trip through Kazakhstan, we couldn't refuse. It was awesome! We drove more than 3000 km from West to Southeast Kazakhstan. We camped for many nights in the desert and although we spent most of the time in the tiny space of the car, we had a blast!
Watch the videos we made about the road trip here.
After a short road trip through Kyrgyzstan (see below), we entered Kazakhstan for a second time. We spent nearly one month in Almaty, a big city in the Southeast of the country. During that time we met many other travelers with whom we explored the Almaty region. We were up for a big surprise! It's one of Kazakhstan's most varied regions: from semi-deserts to lush forests, Grand Canyon-like rock formations and crystal-clear mountain lakes!
[kt_box opacity="1″ background="#eded65″]
Check out our blog posts about Charyn Canyon, the Kolsay Lakes and Lake Kaindy here.
[/kt_box]
The third visit to Kazakhstan was in the beginning of this month, when Niko went to meet his brothers in Almaty. They spent one week skiing, hiking and climbing in the snowy Zailiyskiy Alatay mountain range around Almaty. Niko is currently editing the vlogs about the trips he did with his brothers, so keep an eye out on our YouTube Channel!
Tip: if you subscribe to our channel, you'll get a notification whenever we publish a new video 😉
KYRGYZSTAN (September, November – December)
Kyrgyzstan mesmerized us the very first day we set foot in the country. Our trip to Kyrgyzstan was meant to be a very short one, as we were in a hurry to travel towards Mongolia before the winter would kick in. But this country had something so pure, so authentic and so beautiful that we couldn't resist its charm. On the second day here we changed our plans. Instead of rushing through Central Asia, we wanted to take the time to really get to know this part of the world. We decided that Kyrgyzstan was going to be our new home for 2018!
After hitchhiking for a few weeks in November through the country (read the stories here), we quickly found a small flat in the capital city of Bishkek. This is going to be our home until the summer. We're so excited about this new chapter in our journey! Just like with Georgia, we want to explore Kyrgyzstan and its neighboring countries to the fullest, so that by the time we leave, Central Asia has no more secrets for us!
[kt_box opacity="1″ background="#eded65″]
Want to know what we've already discovered in Kyrgyzstan? Check out our Kyrgyzstan Archives.
[/kt_box]
UZBEKISTAN (December)
While Niko was traveling with his brothers in Kazakhstan and Kyrgyzstan, I went for 10 days on a solo trip to Uzbekistan. Not only is Uzbekistan super safe for women who travel by themselves, it's also the perfect destination if you're into architecture and history. The ancient Silk Road cities with the many mosques, mausoleums and madrasas were just jaw-droppingly beautiful!!
I'm in the midst of writing down my stories and travel guides about Uzbekistan, so keep an eye out for them in the coming month!
TRAVELS IN 2018
We're going to hop around between the different Central Asian countries until the summer. We've also heard that Kyrgyzstan is organizing the World Nomads Games in September, which we would love to see! After that we'll continue our travels towards Mongolia, Russia, South Korea and Japan. We're curious in which country we'll be writing the 2018 overview!
Where were you in 2017? What were your highlights? And what are your (travel)plans for 2018? Let us know!!
WE WISH YOU A FANTASTIC AND MAGICAL 2018!!!
* This post contains affiliate links. By using these links you support this blog at no extra cost for you!