Is Kazakhstan worth visiting? What is there to see and where to go in Kazakhstan?
Here are the 26 best places to visit in Kazakhstan: from the most beautiful landscapes and natural wonders to the best cities and most remarkable historical sites.
Although Kazakhstan is one of the 10 largest countries in the world, it's still a destination that many travelers haven't put on their bucket list. After spending nearly 3 months on-and-off in the country, I can tell you that Kazakhstan is definitely worth visiting!
There are many hidden treasures in the country that will leave you in awe, whether it's because of their beauty or their weirdness. And the best thing of all, tourism in Kazakhstan isn't so big yet so you won't have to share these beautiful places with many other travelers!
If you're an intrepid traveler and like to explore cool, beautiful and unusual sites that people haven't heard about before, then you should add this huge Central Asian country to your bucket list!
Beautiful nature in Kazakhstan: The Kolsai Lakes
So what are the things to do in Kazakhstan? Where should you go and what places should you see?
With the help of 4 of my favorite friend-bloggers – who've also spend quite some time in the country – I made a list with all the points of interest and the must-see places in Kazakhstan.
Here are the best cities to go to, the most beautiful landscapes to see, the best national parks to hike in and the most remarkable cultural and historical sites worth visiting.
11 beautiful places near Almaty (Southeast Kazakhstan)
The Almaty region is the most visited region of the country.
Almaty is very often the first city where travelers arrive and the majority of them don't go beyond this part of the country – which is, to be honest, a shame as there are some incredible places in other parts of the country. You'll find out when you continue reading this article.
The natural diversity of the Almaty region is amazing – from arid deserts and scenic canyons to lush valleys, snowcapped mountains, beautiful glaciers, and turquoise lakes.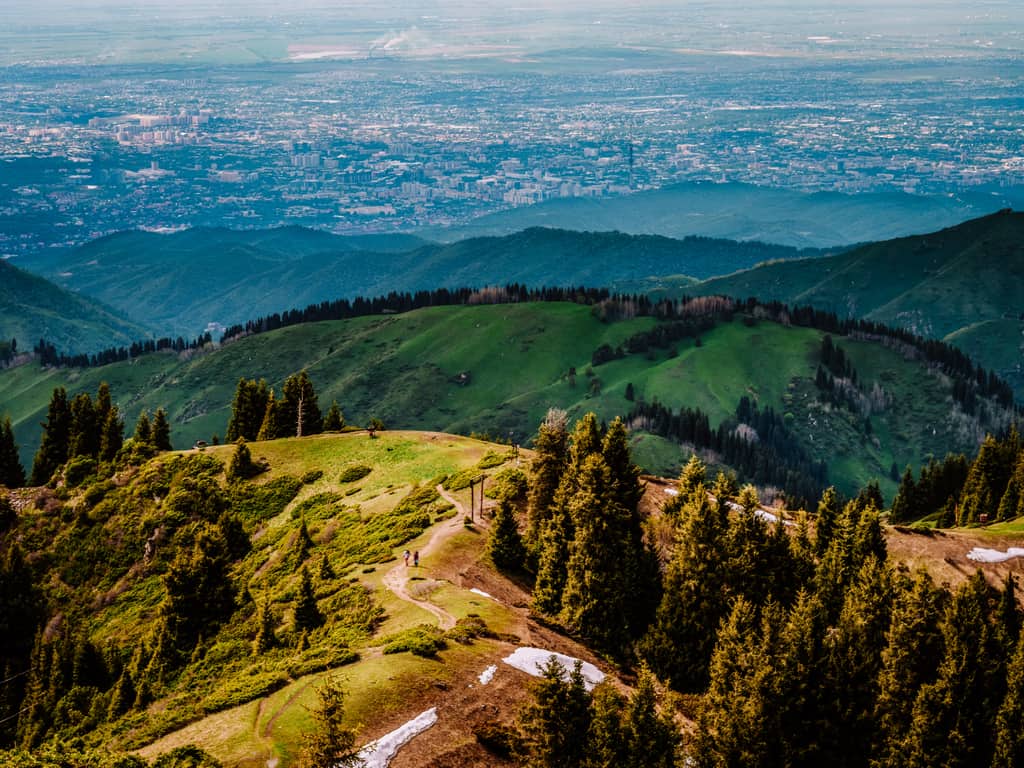 Here's an overview of the most beautiful and coolest places to visit near Almaty and in the Southeast of Kazakhstan. You'll need about 10 to 15 days if you want to visit them all.
RentalcarsFor every place, I added info on how to get there by public transport but the easiest way is by driving there yourself. If you wanted to rent a car, check your options with .
1. Almaty
Almaty is the former capital of Kazakhstan and the largest city of the country. It's the gateway of many travelers who start their journey in the country or travel to the neighboring country Kyrgyzstan.
Almaty is a surprisingly modern city. It's the scientific, cultural, historical, industrial and financial center of the country and by the looks of the number of banks, shopping malls and modern designs of the buildings, you can tell that there's money invested in this city!
Niko and I often visited Almaty whenever we had to renew our visa for Kyrgyzstan, and we always enjoyed spending a couple of days here.
Fun fact: The name Almaty means comes from the Kazakh name 'Alma-Ata', which means 'father of apples'. It is believed that the Almaty region is the birthplace of the first apple on earth. According to a legend, the Garden of Eden was located somewhere in the city and the place where Adam picked the forbidden fruit.
Whether or not this Kazakhstan city was the Garden of Eden, Almaty surely has a spectacular beauty, being surrounded by the beautifully snow-capped Tian Shan mountains where you can find the last wild apple forests in the world.
How to get to Almaty:
Almaty is the Rome of Kazakhstan as all the roads in the country lead to this city. You can get there by train, minibus or by plane.
Read all the practical information about traveling to and around Almaty in: The Ultimate Travel Guide to Backpacking in Kazakhstan
Where to stay in Almaty:
There are many lodging options in Almaty, varying from expensive hotels to budget hostels.
Niko and I always stayed at the European Backpackers Hostel whenever we visit Almaty. It's one of the best and coziest hostels we've ever stayed in (and that says a lot when you know that we've been traveling for more than 7 years!), it has both private and dorm rooms and it's located in the city center. Check the current rates here.
Other great budget hostels (starting from €5 per night per person in a dorm room):
Private room in hostel or guesthouse (starting from €15 per night per room):
Things to do in and around Almaty:
Things to do in Almaty:
There are also many beautiful day trips and hikes around Almaty.
Read Hiking in Almaty – The best and most beautiful hikes in the area
2. Ile-Alatau National Park
The Ile-Alatau National Park is a beautiful national park located in the Trans-Ile Alatau mountains south of Almaty. The park was created in 1966 and is home to approximately 300 species of wildlife, including the snow leopard.
There are lots of hiking trails in the National Park that will bring you through woodlands and alpine meadows towards beautiful waterfalls, glaciers, and lakes.
The park is the perfect place to do some beautiful one-day hikes and treks if you want to get out of the city for a while.
The world's largest outdoor ice-skating rank Medeu and Central Asia's top skiing resort Chymbulak are located on the edge of the Ile-Alatau National Park in the Malaya Almatinka Valley. Both are open from November to March and are very popular places for the local winter sports lovers.
How to get to the Ile-Alatau National Park from Almaty:
If you want to go skiing or ice-skating in Medeo and Shymbulak or you'd like to do a couple of hikes in the National Park, you have to take bus #12 from the center of Almaty to Medeu. We usually take the bus at Dostyk Plaza.
A bus ticket costs 150 tenge (€0.50) and it only takes 20 minutes to reach Medeo and the start of the hiking trails.
If you're planning a multiple-day hike, you're allowed to camp in the National Park. Bring warm clothes, proper trekking, and camping gear and don't leave any traces (take your trash with you!!)
3. Big Almaty Lake
Photo by Megan Starr
Another beautiful spot in the Ile-Alatau National Park is Big Almaty Lake. My friend Megan, who writes the super-cool blog Megan Starr, recently went there on a day trip from Almaty.
Big Almaty Lake is easily the most famous and recognizable lake in Kazakhstan. Situated extremely close to Almaty, it can strangely feel like worlds away from city life when you arrive in the mountains to the lake.
Known for its ever-changing blue and teal hues, the lake is located very close to the border of Kyrgyzstan- a border that you used to be able to cross on foot but is now off-limits to trekkers. Big Almaty Lake supplies drinking water to the residents of Almaty and you are prohibited from swimming in its vivid waters.
There are several hiking opportunities in the area, including Big Almaty Peak, a pyramid-shaped mountain that protrudes from behind the lake and is visible within the city, as well. The Big Almaty Lake is a can't-miss for those visiting Almaty and want to see some of the city's best nature.
Read: Everything you need to know about Big Almaty Lake.
Photo by Megan Starr
How to get to Big Almaty Lake from Almaty:
Getting to the lake is fairly easy if you have money and the means to order a taxi, otherwise, you will need to book a tour to get up there. If you are traveling with others, you can split the costs. A taxi one-way to Big Almaty Lake from Almaty is about 3000 tenge ( $9-10).
Bring your passport, some water and snacks, and proper hiking boots when going to Big Almaty Lake.
4. Issyk Lake
Photo by Megan Starr
Megan also visited the picturesque Issyk Lake a bit north of Almaty. It's nestled in the mountains, is also part of the Ile-Alatau National Park and is fed by the Issyk River. The lake is often confused with Lake Issyk-Kul in Kyrgyzstan, which is one of the largest freshwater lakes in the world.
The lake was created by an ancient natural landslide damming the valley and then was covered up by another natural landslide destroying it in 1963. Eventually, man stepped in and created the lake again. The mountain views, pristine nature, and Soviet relics in the area make this lake a can't miss in Kazakhstan.
Read: Lake Issyk: A Turquoise Slice of History and Pleasure Near Almaty
How to get to Issyk Lake from Almaty:
Issyk Lake can be reached by taking a bus from Almaty to Esik and catching a taxi from there into the mountains or by private vehicle. If you have an off-roading vehicle, you can drive around the lake to the river on the backside of it and there are some cozy picnic spots and views.
It takes about 2 hours to reach the lake. You can also book a tour.
5. Turgen Gorge
The Turgen Gorge is also part of the Ile Alatau National Park. This beautiful gorge is a real paradise for hikers and is home to dense forests, alpine meadows, lakes, hot springs, and seven waterfalls.
You can go on some stunning hikes or visit the gorge on a mountain bike or on horseback. Here's a great hiking guide to the Turgen Gorge.
How to get to Turgen Gorge from Almaty:
The Turgen Gorge is located 80km east of Almaty. You can get there by taking a bus from Almaty to Esik and catching a taxi to the village of Turgen. The entrance to the Gorge is near the village. Here's a great detailed guide on how to get there.
Where to stay:
You can camp near the Turgen Gorge.
6. Kolsai Lakes
The Kolsai Lakes are a system of three lakes, nestled among the hills of the Northern Tien Shan Mountains, approximately 300km east of Almaty. They are also called "The Pearl of the Northern Tien Shan" and after visiting the lakes, I totally get why!
The 3 lakes are so clear that, when the sun is out, the surrounding forests, hills and snowy mountain peaks are mirrored in the water.
The two lower lakes, Kolsai 1 and Kolsai 2 are surrounded by spruce trees, alpine meadows, and mountain pastures. Kolsai 1 is at an altitude of 1000m while the second lake lies at an altitude of 2500m.
Grassy slopes replace the spruce forests on the hills surrounding the third lake, which is at an altitude of 2700m. The three lakes are connected by a hiking trail.
How to get to the Kolsai Lakes:
It's a 6-hour drive from Almaty to the Kolsai Lakes National Park. For a detailed description and map on how to get there by public transportation or with your own vehicle, read the Complete Travel Guide to the Kolsai Lakes.
Where to stay:
You can camp in the Kolsai Lakes National Park or stay at Guesthouse Arcabay-Karligash in the nearby village of Saty. Click here for more info.
7. Lake Kaindy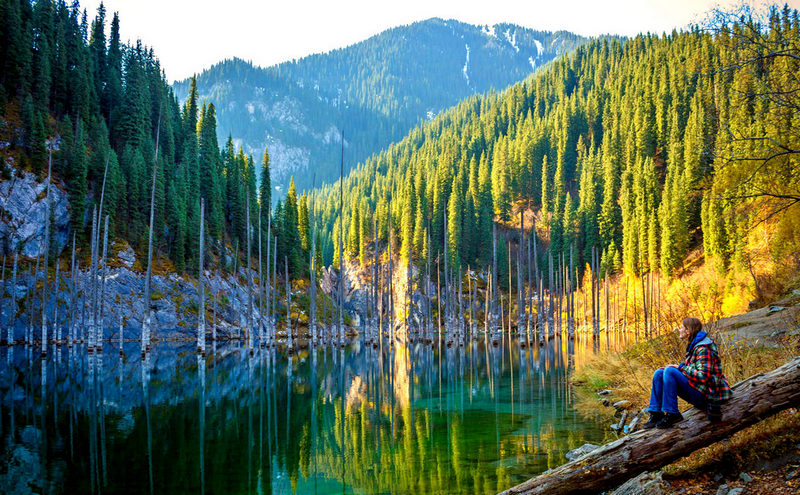 Lake Kaindy is at an altitude of 2000m and geologically very young. This 400m long lake was formed in 1911 after an earthquake triggered an enormous limestone landslide, which formed a natural dam in the gorge that was covered by spruce trees. Water started flooding the basin and submerged the forest.
The dried-out trunks of the trees rise above the surface of the water, looking like the masts of sunken ships.
The lake is almost 30 m deep and if you look underwater, which is very easy because the water is very clear, you can still see the needles on the submerged trunks. Due to the cold temperatures, the trees were naturally frozen and well preserved in the water.
You could go diving in this lake to see its unique beauty, but brace yourself for the cold! The temperature of the lake is maximum 6ºC in summer!
How to get to Lake Kaindy:
Lake Kaindy is only 36 kilometers away from the Kolsai Lakes National Park so you can visit both if you have your own transport. For a detailed map and description on how to get there by public transport or with your own vehicle, read my Travel Guide to Lake Kaindy.
Where to stay:
There's a designated camping spot near Lake Kaindy. If you don't have a tent, you could stay at Guesthouse Arcabay-Karligash in the nearby village of Saty. Click here for more info.
8. Charyn Canyon
The Charyn Canyon is part of the Charyn National Park and stretches 154km along the Charyn River, one of the deepest rivers of the Northern Tien Shan mountains.
For more than 12 million years, wind, water and sand sculpted Charyn's red sandstone to form the wonderful shapes and shades that vary from deep orange to light brown.
Some of the cliffs resemble fantastical figures, the reason why some parts of the canyon are also called the Valley of Castles, the Devil's Gorge and the Ghosts Gorge.
The Charyn Canyon consists of 5 different canyons: the Valley of Castles, the Temirlik Canyon, the Yellow Canyon, the Red Canyon and the Bestamak Canyon.
The Valley of Castles is the most famous part of the Charyn Canyon that you can visit in one day but if you can spare an extra couple of days, you can hike around or explore them all with a 4×4 vehicle.
How to get to Charyn Canyon:
It's a 4-hour trip from Almaty to Charyn Canyon. For a detailed description and map on how to get there by public transportation or with your own vehicle, read my Travel Guide to Charyn Canyon.
Where to stay:
You're allowed to camp in the canyon but be careful not to pitch your tent on a cliff! If you don't want/like to camp, you can always pay the price and stay in one of the yurts or wooden cabins of the eco-park at the bottom of the canyon, near the Charyn River.
The park also has a restaurant and hot springs. Count on 25.000 tenge (around $70) per person per night, including 3 meals.
9. Altyn-Emel National Park
Photo by Sergey Terekhov, source: About Kazakhstan
The Altyn-Emel National Park is a huge place with unusual landscapes like the white, red and orange Aktau hills and archaeological attractions such as the Terekty Petroglyphs and the 31 Scythian tombs.
The most famous part of the National Park are the Singing Dunes, huge sand dunes that make the low vibrating sound of an engine when the wind moves the sand.
You can visit the Altyn-Emel National Park in one day but you can also take 2 days to explore the area.
Photo by Sergey Terekhov, source: About Kazakhstan
How to get there:
The Altyn-Emel National Park is a 4-hour drive from Almaty. If you don't have your own transport, you could try to hitchhike there or pay for a taxi (which can be quite pricey). Another option is to book a tour.
Where to stay:
There are 5 guesthouses in the park, ranging from 2500 tenge ($7) to 5000 tenge ($14) per person. You're also allowed to pitch your tent for free at a designated camping spot in the park.
10. The sacred sanctuary of Tamgaly-Tas
Tamgaly-Tas was an open-air sanctuary where religious rituals were held. People used to come here to recharge themselves with energy and health and it was also a sacred place where Buddhists came to pray and meditate.
Tamgaly-Tas means 'written rocks' and is named after the series of rocks and boulders that are carved and painted with incredibly beautiful images of Buddha, bodhisattvas and Tibetan scriptures.
The Buddhas of Tamgaly-Tas can't be mistaken with the petroglyphs of Tamgaly, a historical site with ancient carvings from the Bronze Age. The Tamgaly Petroglyphs can be found 150km west of Almaty while Tamgaly-Tas is located 170km to the northwest of Almaty.
How to get there:
It's a 4-hour drive to get from Almaty to Tamgaly-Tas. However, you can't get there by public transport. You can only reach the place with your own (off-road vehicle), by renting a car and/or driver or by booking a tour.
11. Nomad's Land
Photo by Megan Starr
My friend Megan Starr visited another very unique place in the Almaty Region – Nomad's Land.
Nomad's Land is an area in the middle of the Kazakh steppe that sits along the Ili River. From photos and at first glance, people may not realize what the place is as it looks like a historical find in the middle of the barren landscape, but it is actually a film set that was left abandoned from the Kazakh/French movie "Nomad".
The epic movie is from 2005 and its plot is centered around 18th-century Kazakhstan. The movie was apparently a little lackluster, but the area that it was set in is anything but! The film set never gained much recognition and still is relatively unknown, but Instagram photo opportunities have brought it a bit of attention in recent years.
It isn't easy to reach, on the other hand. You will need private transportation (or an organized tour) and an off-roading vehicle to get out to it. Once you arrive, there is a small tent selling plov and other local delights and someone who charges for entrance to the film set. The fee is minuscule and worth paying.
You are able to peruse the set and take photos, but the real gem is the scenery. The Ili River is quiet, clean, and clear and completely breathtaking. I loved the drive out there and the scenery once there far more than the film set, but both are worth a visit. Pack a nice picnic, put on some sunscreen, and take a trip to Nomad's Land!
Photo by Megan Starr
5 cool and remarkable places to visit around Shymkent (South Kazakhstan)
The southern part of Kazakhstan is very different from the other regions in the country. It's the most Kazakh part of Kazakhstan so this is the region where you can experience the Kazakh culture at its best.
One of the largest trade routes of the Great Silk Road used to pass through this area so it's also a region of Kazakhstan where you can visit the marvelous constructions that were built during the years of the silk trade.
There's also a big influence from the Uzbek culture as South Kazakhstan shares a border with Uzbekistan. Tashkent, the capital of Uzbekistan is only 120 km away from Shymkent so many travelers briefly stop in Shymkent before continuing their overland travels to Uzbekistan.
I'd say it's worth it to take at least 4 days to explore Shymkent and the beautiful mausoleums and unique sites in the Turkestan Region.
1. Shymkent
Photo by Lost with Purpose
Shymkent was the city where Niko and I took a little break from the road after a 2-week road trip through the Kazakh steppes. My backpacking friend and blogger colleague Alex from Lost with Purpose also took the time to enjoy this most southern city of Kazakhstan.
Shymkent is the gateway to the heartland of Kazakhstan's spirituality: Turkestan. Although Turkestan's Mausoleum of Khoja Ahmed Yasawi is the main draw for most people, Shymkent offers a surprisingly pleasant stopover for people willing to linger. Lacking major tourist sights itself, incredibly friendly locals define Shymkent.
To see, walk through the main bazaar. Once word gets out that foreigners are afoot, jolly ladies will pull you into their stall to ask you a million and one questions.
Beware, these ladies can be cheeky (in a good way): one woman inquired as to the availability of my grandfather! I recommend you take some time to just wander around the bazaar and other areas of Shymkent.
How to get to Shymkent:
You can reach Shymkent by plane from Almaty or Astana and by (overnight) bus or train from any city in Kazakhstan.
The bus is the cheapest way of getting around but I'd say that the train is the most comfortable way to travel in Kazakhstan. You can check the train schedules and book train tickets here.
Where to stay in Shymkent:
Niko and I stayed at ShymHostle. It's one of the cheapest hostels in the city, it's located in the center but at the same time hidden away from the hustle and bustle on the streets.
It has a beautiful garden and terrace. A great hostel to relax for a while! Check the current prices here.
Other great budget hostels (starting from €5 per night per person in a dorm room):
Private room in hostel or guesthouse (starting from €20 per night per room):
2. Aksu-Zhabagly Nature Reserve
Photo by Lost with Purpose
Alex also explored the Aksu-Zhabagly Nature Reserve, which is the oldest nature reserve in Central Asia. It is named after the river that runs through it—the Aksu—and the Zhabagly mountain range. The park offers gorgeous golden fields, steep gorges, crystalline blue waters, and some interesting rock formations.
"Aksu" means "white water" in Kazakh, so named for the blue glacial water fueling the river. The river is icy cold most of the year, but brave souls can find places to swim if they so choose.
The park is quite large, and it's possible to visit for several days. If you want to attempt this, though, it's best to do so with a guide; there are no well-marked trails.
How to get to the Aksu-Zhabagly Nature Reserve from Shymkent:
You can get from Shymkent to the park by taking a mashrutka (minibus). They leave once a day in the morning (around 9am) from the Aina Bazaar in Shymkent to the village of Zhabagly.
It's a 2-hour ride and you'll arrive near the entrance of the park. However, you can't enter the park on your own.
You have to book a ranger at Zhabagly, which costs around $20 per day, including transportation. You could also book a tour with a local tour company in Shymkent.
3. The Aisha Bibi Mausoleum
The Aisha Bibi is a beautiful 11th or 12th-century mausoleum in the village of Aisha Bibi. It is the only monument in Central Asia that is fully covered with carved terracotta tilework and is admired for its unique construction and decorative art.
Aisha Bibi is the subject of a popular legend in Kazakhstan. An ancient ruler constructed the monument for a young woman named Aisha with whom he fell in love. She was killed by a snake while attempting to go against her parents wishes to be with him. It's basically a 'Romeo & Juliette' story.
This mausoleum became the local monument for faith and eternal love and is seen as a sacred talisman. Many young couples come here on their wedding day to attract good luck and eternal love in their lives. If you visit the mausoleum, you'll see many wedding couples being photographed here.
How to get there from Shymkent or Taraz:
Aisha Bibi is located at 8km from Taraz, on the main road to Shymkent. You can take the minibus from Taraz to Shymkent and tell the driver that you want to stop in Aisha Bibi or you could take a taxi.
If you're coming from Shymkent, take the minibus to Taraz and get off in Aisha Bibi.
4. Arystan Bab Mausoleum
Legends tell that the mystic Arystan Bab was the mentor of Khoja Ahmed Yasawi and by tradition, a pilgrimage to Yasawi's mausoleum in Turkestan should be preceded by a visit to the mausoleum of Arystan Bab.
It's an impressive building, originating from the 14th-century. It's framed by two domed minarets and the carpet-draped tomb of Arystan Bab is in a small room to the left of the entrance. The room is constantly filled with praying believers and pilgrims.
The mausoleum is surrounded by hundreds of tombs of devout Muslims who wished to be close to Arystan Bab. It's important that when you visit the site, you stay quiet and respectful and you should dress modestly (no shorts or tops).
How to get there:
The Mausoleum is close to the village of Kogam but you can only get there by car. If you don't have your own vehicle, you could take a taxi from Shymkent or Turkestan or try to hitchhike.
Where to stay:
There's a hotel across the road from the mausoleum. The Arystan Bab Hotel offers very cheap accommodation if you don't mind sleeping on the floor in one of the yurts. There are also basic bedrooms.
5. Turkestan
Turkestan was one of the most important commercial centers of the Silk Road. The city was founded over 15 centuries ago and is now the historical center of Kazakhstan's culture.
Turkestan is now known for the Mausoleum of Khoja Ahmed Yasawi, a Turkic Sufi saint who was the first man to introduce the Islam religion in Central Asia. His mausoleum attracts yearly thousands of pilgrims. It was designed by Amir Timur, who also has other spectacular architectural creations in Uzbekistan.
To learn more about the history of Turkestan and the mausoleum of Khoja Ahmed Yasawi, read: Turkestan, the spiritual and historical center of Kazakhstan.
How to get there from Shymkent:
Turkestan is about two hours away by mashrutka (minibus) from Shymkent. Here's a detailed description on how to get from Shymkent to Turkestan by public transport.
Where to stay in Turkestan:
It's hard to find any hostels or guesthouses online so I'd recommend you visit Turkestan as a day trip from Shymkent, where you can stay at ShymHostle.
6. The Lost City of Sauran
My good friend and world traveler João Leitão from Nomad Revelations recommended us to visit Sauran, also known as Sawran or Sawran, an ancient city about 45 km north from Turkistan city along the road to Kyzylorda.
The original walls surrounding the old town are still in excellent conditions, almost intact, and in some places, it is even possible to climb to the top and enjoy the view.
The first historical reference of Sauran dates from the tenth century, but the ruins we see today were established between the fourteenth and fifteenth centuries.
It gained fame to be one of the most magnificent castles of Kazakhstan, having escaped the Mongol destruction and having even served as capital to the Horde of the White Mongol.
Later, Sauran became a fortress of Timur. It was from Sauram that the building materials of the famous Yasavi Mausoleum came. It was abandoned gradually, and consequently entirely desertified by the year 1515.
How to get to Sauran:
You can get to Sauran from Turkestan by taxi. It's about 3000 tenge to get there and back. If you leave from Kyzylorda, you can take a minibus and ask the driver to drop you off at the site. You can also return to Kyzylorda by bus or hitch a ride towards Turkestan.
9 Other remarkable, weird and unusual places in Kazakhstan
Like I've mentioned in the introduction, Kazakhstan is a huge place with many scenic places and it would take weeks, if not months, to visit all the points of interest that are scattered around the country.
The two regions that are mentioned above – South Kazakhstan and Southeast Kazakhstan – are the most popular regions for travelers as the top places in these areas aren't too far away from each other so you can visit them in a couple of weeks.
However, if you have more time or if you're on a road trip with your own vehicle, it's also worth visiting the more off-the-beaten-path regions like North, East and West Kazakhstan. Here's an overview of some other remarkable and unusual places that you can find in these regions of Kazakhstan.
Niko and I haven't been able to visit the North of Kazakhstan yet, but our friend Megan Starr has – she loves unusual places just as much as we do!
Here are 3 cities in Northern Kazakhstan that she recommends you to visit:
1. Nur-Sultan (previously known as Astana)
Photo by Megan Starr
Nur-Sultan, previously known as Astana, is the futuristic capital city of Kazakhstan. The city was granted capital city status in 1997 as it was moved north from Almaty. As of March 2019, the name of the capital changed from Astana to Nur-Sultan in honor of the ex-president.
Located in the middle of the vast and barren Kazakh steppe, the city is now home to over one million residents and is the second coldest capital city in the world!
The planned city was designed and built by several world-class architects and can be a little confusing to tourists who are not enamored by modern architecture, however.
On the other hand, new businesses, museums, and entertainment centers are opening constantly and the development in Nur-Sultan is remarkable.
The city even held the EXPO in 2017 and has garnered a lot of attention since.
When in Nur-Sultan, don't miss visiting the Baiterek, the city's symbol, where you can ride to the top and get a glimpse over the city. Also be sure to take a trip to Khan Shatyr, a transparent tented entertainment center and mall that opened in 2016.
There are a lot of things to do in Nur-Sultan and the city is ever-changing- so definitely add it to your Kazakhstan itinerary!
Read: A Travel Guide to Nur-Sultan
Photo by Megan Starr
How to get to Nur-Sultan:
As Nur-Sultan is Kazakhstan's capital, you can get there by every means of transportation. The easiest and fastest ways to get there are by airplane or by train.
Where to stay in Nur-Sultan:
There are many accommodation options in Nur-Sultan, from cheap hostels to luxurious hotels. Look on booking.com to see your options.
Great budget hostels (starting from €5 per night per person in a dorm room):
Private room in hostel or hotel (starting from €25 per night per room):
2. Karaganda
Photo by Megan Starr
Karaganda is a city in central Kazakhstan that has around 450,000 people residing in it. The city may not be on the radar of most traveler's, but that doesn't mean that it should be ignored if you are really interested in learning more about Kazakhstan's history and its role in several 20th-century events.
Karaganda is industrial and known for its regional coal mining. In order to maintain this prosperous coal mining industry, Soviet gulags were established in Karaganda.
One of the most renowned gulags was in Karaganda and it shaped the city's history and today's modern society.
The city is brimming with ethnic Germans as a result. While many left as Germany allowed them to repatriate decades later, the city is still known for its German history and the gulags the Germans were placed in under Stalin.
This history aside, the city is presently a fascinating place and there is an abundance of Soviet architecture to keep travelers occupied and enthralled for days.
Read more: Karaganda, a fascinating city in Kazakhstan
Photo by Megan Starr
How to get to Karakanga:
You can reach Karaganda by marshrutka, car, plane, or train.
Where to stay in Karaganda:
Karaganda has a wide choice of hostels, guesthouses and hotels. Check booking.com to see the current rates.
Great budget hostels (starting from €12 per night per person):
Private room in hostel or hotel (starting from €25 per night per room):
3. Kostanay
Photo by Megan Starr
Kostanay is a city located in the far north of Kazakhstan and is as remote as it is cold (during the winter, of course).
I went there in 2013 on a very long overnight train from Astana and had a blast despite not really knowing too much about the city of just over 200,000 people.
Located close to the Russian border, Kostanay's population does appear to be more ethnic Russians than Kazakhs. The city is sleepy and there is not much going on there despite the fairly sizeable population.
During the winter months, the city builds an entire entertainment area out of ice, including a large slide that kids and adults both enjoy playing on.
There are several newer buildings in the city and there is also a mosque and synagogue located across the street from each other which stand peacefully.
One of the most famous sites in the city is this one in the photo of a girl on her laptop on a bench.
It is common to see locals (or tourists like myself) taking selfies and pictures with it.
Kostanay is truly off-the-path Kazakhstan. You will be hard-pressed to find someone who has been there, let alone heard of it.
How to get there:
You can reach Kostanay by marshrutka, car, plane, or train.
Where to stay in Kostanay:
There are some nice hostels and hotels in Kostanay. Check them out here.
There are also some very unusual towns and places of interest in West & Central Kazakhstan:
4. The abandoned seaport of Aralsk
During our road trip through the endless featureless deserts of Kazakhstan, we came across Aralsk, a small and dusty town in the middle of nowhere.
Looking at its dry surroundings, it was hard to imagine that this sleepy town used to be a booming fisherman town. As far and wide we could look, we didn't see anything that resembled a sea or even a small lake.
However, 60 years ago, Aralsk was located on the coast of 4th largest lake in the world – the Aral Sea.
Some ambitious Soviet planners wanted to turn Central Asia into the world's largest producer of cotton. They diverted the two rivers that were feeding the Aral Sea in such a way that the water would irrigate the desert where cotton could be grown for future exports.
As a result, the Aral Sea started drying up and now there's barely 10% left of it.
40 years ago this desert used to be a sea!
What was once a flourishing seaport was now a sad and abandoned place, a reminder of a plan that had gone wrong.
You can still visit this abandoned seaport, although it isn't a place that will make you feel happy.
We also tried to visit the ship graveyard near Zhalanash, a small town 65km away from Aralsk but in the last two years, most of the ships have been almost completely dismantled for scrap metal.
The only place where you can still find a proper ship graveyard is in Moynaq, Uzbekistan.
One of the dismantled shipwrecks on the Kazakh side
How to get there:
You can reach Aralsk by car or train. You can only get to the ship graveyard in Zhalanash if you travel with your own vehicle.
Where to stay:
There are about 4 hotels in Aralsk but you can't book them online. We paid $13 for a private double room.
Our friend and off-the-beaten-path expert Joan from Against the Compass also visited some unusual places in Kazakhstan. Here are two strange towns he visited:
5. Baikonur
Photo by Against The Compass
Located in the steppe of Kazakhstan, right in the middle of nowhere, Baikonur is a very Soviet town, pretty ugly in my opinion, with one peculiarity: it is where the Russian Cosmodrome was built.
For those who don't know, the Cosmodrome in Baikonur is like the Russian NASA. Here is where the famous dog Laika came from and also, where the first man to space was sent from.
After the collapse of the Soviet Union, when Kazakhstan became an independent republic, as a part of a monetary agreement, Baikonur became under Russian administration.
That is why, today, in Baikonur, they use the Russian rubble, most cars have Russian license plates and most people living there are ethnically Russian.
However, visiting the Cosmodrome requires a special permit which is very expensive to obtain and, unfortunately, you can't visit Baikonur town without this permit.
To be honest, there is not much to see in Baikonur Town, besides a couple of astronaut statues and a real, old rocket! But, if you like real off-beat stuff, the experience is really worth it!
How to get there:
You can reach Baikonur by car or by train but you can only visit the town and the Cosmodrome on a guided tour with prices starting at $700.
6. Atyrau
Photo by Against The Compass
Located in the most Western part of Kazakhstan and, practically, only visited by those travelers overlanding to or from Russia, Atyrau is a very strange town.
Atyrau was my first stop coming from Uzbekistan, after a 4-month trip through Central Asia, so when I saw all those modern buildings and fancy hotels, it was sort of a cultural shock to me…
The reason is that Atyrau is an oil-rich town, very wealthy, and home to some of the largest oil reserves in Kazakhstan, hence in the world.
From modern cafés to expensive Irish pubs filled with expats, this was not the idea I had of an off the beaten track city in Kazakhstan.
But this was not all.
Atyrau is one of the main towns that the Ural River goes through, the third longest river in Europe, after the Danube and the Volga.
However, the cool thing about the Ural River is that it is the official border between Europe and Asia, so in Atyrau, you can cross from Asia to Europe in a matter of seconds, over the many bridges that you will find across the city.
How to get there:
You can reach Atyrau by plane, by car or by train.
Where to stay:
Check out the different hostels and hotels in Atyrau here.
7. Aktau
Photo source: China Silk Road Travel
Aktau was the first city in Kazakhstan Niko and I stayed in after crossing the Caspian Sea from Azerbaijan by cargo ship.
We had a very similar experience as Joan had in Atyrau – it was a very strange city!
Aktau, located in the South West of Kazakhstan, was built in the 1960's in the desert of Mangyshlak, a very harsh, dry and dusty place for an urban settlement.
It was built from scratch and somehow they managed to make it into a very modern city.
It's impressive when you realize that it took many years to grow some vegetation in the city when it used to be a desolated and waterless desert. The only way that the people were able to plant a tree or plants was by drilling the earth and watering them every day for many years before the plants even took root and grew.
Aktau is also the only city in the world that lives entirely on seawater, which gets desalinated with the help of a nuclear reactor…
There are a few things to see here as Aktau has several cultural centers, a concert hall, and some interesting architectural ensembles. There are also some sandy beaches where you can relax, although they aren't the cleanest.
How to get there:
You can reach Aktau by plane, by train, and by car. Most travelers end up here before or after crossing the Caspian Sea by boat.
Where to stay in Aktau:
Aktau had a small variety of hostels and quite some hotels. Check them out here.
8. Mount Sherkala & The Valley of Balls
Photo Source: Wikipedia
There are 2 very special natural wonders close to the town of Shetpe in West Kazakhstan. The first one is Sherkala, also called Lion Rock, a 200-meter high mountain in the middle of a flat desert.
Another thing that makes this mountain so special is that looks different when you look at it from different points of view. On one side it resembles a yurt, from the other side a lion's head.
There are many legends told about this mountain and old local people won't recommend you to climb this mountain or go inside its caves as they believe that spirits dwell there.
Another natural phenomenon close to the town of Shetpe is the Valley of Balls.
This Valley earned its name thanks to the numerous ball-like rocks that are spread across the valley. The balls range in size from tiny marbles to huge boulders the size of a car.
Photo Source: About Kazakhstan
We tried to visit these two natural wonders but somehow we couldn't find it. Instead, we came across another special cliff formation.
I have no idea what it's called or if it even has a name, but these white cliffs that suddenly rose from the flat surrounding steppes were quite something to see!
How to get to Mount Sherkala and the Valley of Balls:
You can only reach these places by car. Mount Sherkala is about 22km North West of Shetpe while the Valley of Balls should also be near. I recently found a road description on Tripadvisor.
According to the Lonely Planet, you can also reach Mount Sherkala by taking a taxi from Shetpe.
9. The Underground Mosque of Beket-Ata
Photo Source: mfa.gov.kz
Beket-Ata was an important Sufi who chose to live in seclusion in the desert of West Kazakhstan. He built 4 underground mosques and a madrassa in the Mangistau region and the underground mosque Beket-Ata became his last refuge and burial place.
The Beket-Ata underground mosque is a spiritual, historical and architectural monument.
Beket-Ata used to be a healer and his burial place became an important pilgrimage site for Kazakh Muslims. It is said that after visiting his grave and mosques, you'll be cured of all your illnesses.
We didn't visit the mosque as it was out of our way. It's also not so easy to reach and you literally travel to the middle of nowhere. However, it does sound like a very unique place and you'll also get to meet the Kazakh people and get a look into their daily lives in the steppes.
How to get there:
Caravanistan has a detailed description on how to get to the underground mosque by car.
KNOW BEFORE YOU GO – KAZAKHSTAN TRAVEL TIPS:
Everything you need to know about traveling independently in Kazakhstan (visa, how to get to and around Kazakhstan, where to stay,…):
The Ultimate Travel Guide to Backpacking in Kazakhstan
A Beginner's Guide to Skiing in Almaty
A Comprehensive Travel Guide to Charyn Canyon
The most beautiful lakes of Kazakhstan: Kolsai Lakes and Lake Kaindy
Border crossings in Kazakhstan:
KAZAKHSTAN TRAVEL RESOURCES:
I wish you an amazing time in Kazakhstan! I'm always happy to hear about your experiences and if you came across a special or beautiful place of which you think it should be added to this list, please let me know in the comments below or contact me!
Disclaimer: This post contains affiliate links. If you purchase a product through one of the links, we get a commission at no extra costs to you! See it as a small donation to keep this blog going so we can create more awesome itineraries. Thank you!