Wondering how to visit the Osh Bazaar in Bishkek? Maybe you're curious about what you can find in the Osh Bazaar? In this article, I'll give you a few tips to help you visit this famous market in Bishkek.
No visit to Bishkek, the bustling busy capital of Kyrgyzstan would be complete without a visit to the Osh Bazaar.
This bazaar is one of the largest in Bishkek. You'll find it in the western part of the city not far from the Western Bus Station.
At the huge open-air market, it's possible to buy everything.
From food products and spices to common household goods, clothes, souvenirs, and even musical instruments, you'll be surrounded by all the products you could possibly imagine.
The crowds, the smells, and the noises can feel a bit overwhelming but it's an experience you won't easily forget.
Visiting this lovely bazaar is part of the top things to see in Bishkek and it's also one of the top 28 things to do while in Kyrgyzstan so it's definitely a place you shouldn't miss.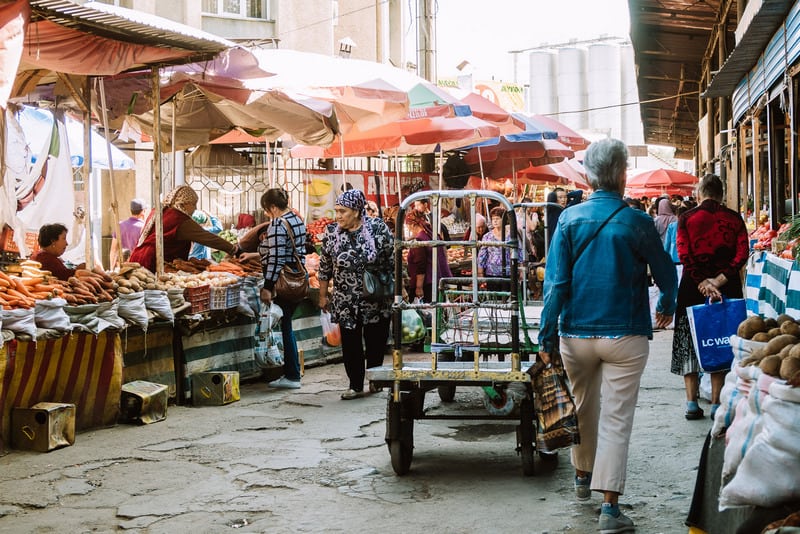 In this guide, I'll tell you how to get to the Osh bazaar, I'll give you some tips on visiting it, and I'll tell you why it's one of my favorite places in Bishkek.
Why should you visit the Osh Bazaar?
When you're discovering a new country, the best way to get a first impression of the culture you're discovering is to visit an open-air market or bazaar.
Markets tell so many stories about a culture. They give insights into the way people dress, walk and talk to each other.
You'll see all the delicacies and the food products the Kyrgyz people love in this huge market.
You also discover spices and cheese products typical to this Central Asian country.
At the Osh Bazaar, not only will be you discover a vast array of products, but you'll also find out what are the latest Kyrgyz fashions and trends.
You'll see the way young men and women like to dress.
The Osh Bazaar is the main market where the locals of Bishkek come to buy and sell their products so it's still very authentic and not overrun by tourists yet.
[kt_box opacity="1″ background="#eded6d"]
Planning to visit Kyrgyzstan in Winter?
Read our 10-Day Kyrgyzstan Itinerary for Winter!
[/kt_box]
Where is the Osh Bazaar?
It's easy to get to the Osh Bazaar from almost anywhere in Bishkek. It's near the Western bus station.
If you want to walk there, I would suggest installing the App Maps.me on your phone.
This is one of the most practical apps you could use in Kyrgyzstan. You can download the map of the Bishkek so you can use it offline. It gives you very accurate directions and shows you where you can find the nearest restaurants, bus stations, ATM, hotels, places with wi-fi, and points of interest.
The Osh Bazaar is at a 40 minutes walk from the city center along Chuy avenue.
If you'd rather take a taxi to get there, you can hop on any taxi in the city center and get there for around 150 som (about 2 USD).
Here is where you'll find the Osh Bazaar in Bishkek:
What are the opening hours of the Osh Bazaar?
The Osh Bazaar is opened every day of the week between 8 AM and 8 PM.
If you get there before the opening hours though, you're bound to see some interesting things such as people bringing in their products and shop owners setting up their stores.
It's such a huge place that you could easily spend a whole day there and not see all of it.
The Osh Bazaar is one of the top places to visit in Bishkek for photographers so I think it's worth being there as early as possible to avoid big crowds and get the perfect light.
What can you buy in the Osh Bazaar?
There are so many things that can be bought at the Osh Bazaar. Here is a small list of the different products you'll find there:
Dried fruits, nuts and oils
The first thing that you'll notice there is the hugs amount of spices and dried fruits. You can buy everything in bulk so make sure to bring a small backpack if you want to bring some almonds, nuts and dried apricots back to your hostel.
You'll also find tons of different oils, seeds, condiments, and sauces.
Sweets
Cynthia and I love sweets and the Osh Bazaar was the perfect place for us. It's a goldmine of chocolate, cookies, cakes, and candies.
Bread
If you like bread and pastries, you'll find plenty of bakeries in the Bazaar. There you can buy all kinds of traditional bread, baguettes, and spiced buns.
Clothes and household products
On top of all the food, you'll find tons of other things at the Bazaar. From cleaning products to rugs and clothes and shoes, you'll be surrounded by a paraphernalia of products.
Traditional Kyrgyz dishes and drinks
In the Osh Bazaar, you'll see a lot of small restaurants and food stalls where you can buy traditional Kyrgyz dishes and meals.
The food in Kyrgyzstan is hearty and delicious. Most meals consist of mutton, beef and chicken meat, served in dumplings, on top of noodles or rice or alongside potatoes.
If you're a vegetarian, it will be challenging to find some typical Kyrgyz dishes without meat. However, it's not impossible and you can definitely ask for meals without meat. Just expect to get some weird looks.
The only issue that you may encounter with buying things at the bazaar is that every price and product names are written in Russian while most sellers speak only Kyrgyz or Russian.
Learning a few words or expressions in those languages before visiting the country will definitely be handy.
If learning languages is not your thing, I would recommend getting your hands on the Lonely Planet Russian phrasebook and dictionary. It's packed with thousands of sentences that will help you in different situations and scenarios such as buying food at the Osh Bazaar or finding a place to stay in Bishkek.
Safety tips for visiting the Osh Bazaar in Bishkek
Osh Bazaar is a huge place that attracts tons of people.
You'll often be walking there in crowds of people between small stalls of products. Because of this, pick-pocketing is not uncommon in the market.
The best solution to avoid being pick-pocketed is to stay very alert and aware of your belongings at all times.
You should leave all your important and valuable items at your hotel and walk around only with what is absolutely necessary.
Keep your wallet in your front pocket or carry a money belt. Another great option is to travel with a slash-resistant and lockable anti-theft bag. I would also recommend getting good travel insurance that covers theft.
Have you ever visited the Osh Bazaar before? Are you planning on visiting this beautiful market soon? Do you agree it's one of the top places to see in Bishkek? Let us know your thoughts in the comments below!
In case you're also planning on visiting more places, definitely check out our other guides on Kyrgyzstan!
KNOW BEFORE YOU GO – KYRGYZSTAN TRAVEL TIPS:
KYRGYZSTAN TRAVEL RESOURCES: