Here's an overview of the 28 best things to do in Kyrgyzstan to learn more about the culture, nature, history and daily life of this country in Central Asia!
After living in Bishkek and traveling in this small Central Asian country for more than 11 months, I made a selection of what to do in Kyrgyzstan and places to see during your journey there: from staying with the nomads and people of Kyrgyzstan and learning how to build a yurt to tasting the local cuisine, discovering the country on horseback and making the most beautiful hikes.
Here's a list of the things you must do in Kyrgyzstan to experience the culture, beauty, and nature and make the most out of your visit! All you have to do now is to snap up the best airlines deals on Wego and read this list to plan your travels to Kyrgyzstan!
[kt_box opacity="1″ background="#eeee22″]
Read also: How much does it cost to travel in Kyrgyzstan
[/kt_box]
7 Things to do in Kyrgyzstan to learn more about the traditional nomadic culture
1. Stay for a few days with a nomadic family
This is in one of the best and most wonderful things you can do when you want to learn more about the Central Asian nomadic culture.
Kyrgyzstan has the most accessible nomadic culture of Central Asia. Nowadays many Kyrgyz people live a semi-nomadic way of life. This means that during the coldest months of the year, the nomads live in small towns and villages but as soon as the summer starts, they set up camp in the jailoos (alpine meadows) and spend their days tending to their herds.
Many nomadic families welcome travelers in their yurts. You can stay with them for a few nights, participate in their daily activities and learn the various skills that you need to live as a nomad in the Kyrgyz mountains.
It's not for everyone as you won't have running water, a hot shower, a flush toilet, electricity or wi-fi but if you don't mind this, you'll get the chance to experience a fascinating culture in an authentic way while being surrounded by breathtaking landscapes!
Where can you stay with a nomadic family:
During the period between early June and late September, you'll find many yurt camps all around the country. Most travelers search for them around Lake Issyk-Kul and Lake Son Kul and you'll quickly discover that the majority of these yurt camps are built to host tourists. They are quite comfortable and you can spend the night there for 450 – 600 som per person.
A yurt camp set up for tourists at Son Kul Lake
If you'd like to stay in an authentic yurt camp with a family of shepherds, you'll have to seek more remote places which are not that hard to find in Kyrgyzstan! Go on one of the many off-the-beaten-path treks (I'll soon post an article with an overview) and you'll quickly come across a yurt camp. Talk with the people, tell them your intentions and they'll most likely invite you in.
It helps to speak some Russian! In exchange for their hospitality, help the family with their daily tasks and bring them gifts like sweets, food, souvenirs from your country, materials that they can use,…
Yurt camp near the Tuz-Ashuu mountain pass
2. Learn how to build a traditional yurt
The yurts in Kyrgyzstan have existed for more than thousands of years and are nowadays still build in the same way. They are an important symbol of the Kyrgyz culture. The pattern of the tunduk, the circular crown on top of the yurt, is a national symbol of Kyrgyzstan and can be seen on the Kyrgyz flag.
The tunduk
It's definitely worthwhile to learn the technique of yurt building. There's a lot more to it then you might think! It takes about 1 to 2 hours to build a yurt that is big enough to house 15 people. Niko and I learned how to assemble a yurt and built our own in Kyzyl-Tuu, a small village on the south shore of Lake Issyk-Kul. This village is the center of the yurt craftsmanship in Kyrgyzstan, with about 50 traditional yurt makers living there.
Where can you learn how to build a yurt:
You can go by yourself to Kyzyl-Tuu and visit one of the workshops of a local craftsman.
If you don't speak any Russian, you could book a Yurt Building Tour with Discover South Shore, a non-profit organization that is focused on sustainable tourism. We joined this tour and we build our yurt together with one of the best craftsman in the country while our translator told us more about the symbolism and importance of the yurts in Kyrgyzstan.
3. Learn about the traditional Kyrgyz handicrafts and make your own shyrdak
The art of felt-making has always played an important role in the lives of the Kyrgyz people. The secrets of this handicraft were handed down from generation to generation. The felt, made from lamb wool, was primarily used to cover and decorate the yurts but this material was also used to make carpets, bags, toys, and clothes.
Inside a yurt
The thick and durable felt that is used for the outside of the yurt is called boz ui, which means gray home, named after the color. The colorful felt used to cover both the floors and walls on the inside of the yurt is called shyrdak.
They often have the most colorful embroidered decorations stitched on it, which are called tush-kiyiz. Each tush-kiyiz is unique as the design has symbolic meanings and tells the family and/or local history from the person who made it.
Each region in Kyrgyzstan has its own symbols and decorations. If you're buying a shyrdak, ask the salesperson about the meaning of the decorations!
Where can you follow a felt workshop and make your own shyrdak:
You can learn more about the meaning and stories behind the traditional Kyrgyz handicrafts at the Altyn Oimok (Golden Thimble) organization in Bakanbaevo, a town on the southern shore of Lake Issyk-Kul. Janil Baishove, the founder of the organization, offers a livelihood to women in rural regions of Kyrgyzstan by teaching them the traditional Kyrgyz handicraft techniques.
You can also learn there how to make your own nomadic carpet (shyrdak) and shop for more beautiful handmade handicrafts. For more info, contact Destination South Shore or book a Kyrgyz Handicrafts Workshop with them.
4. Meet the Golden Eagle Hunters of Kyrgyzstan
Central Asia is the birthplace of the ancient tradition of eagle hunting. The nomads who roamed the Central Asian steppes began to tame these birds thousands of years ago and this tradition was passed on from generation to generation. It was fundamental for the acquisition of food and furs in the harsh winter months.
As nowadays this form of hunting isn't essential anymore for the survival of the people, the eagle hunting tradition is slowly on disappearing. Kyrgyzstan is one of the few countries where you can find a handful of expert hunters who are determined to keep this ancient practice alive.
Read: About the traditions of the Golden Eagle Hunters in Kyrgyzstan.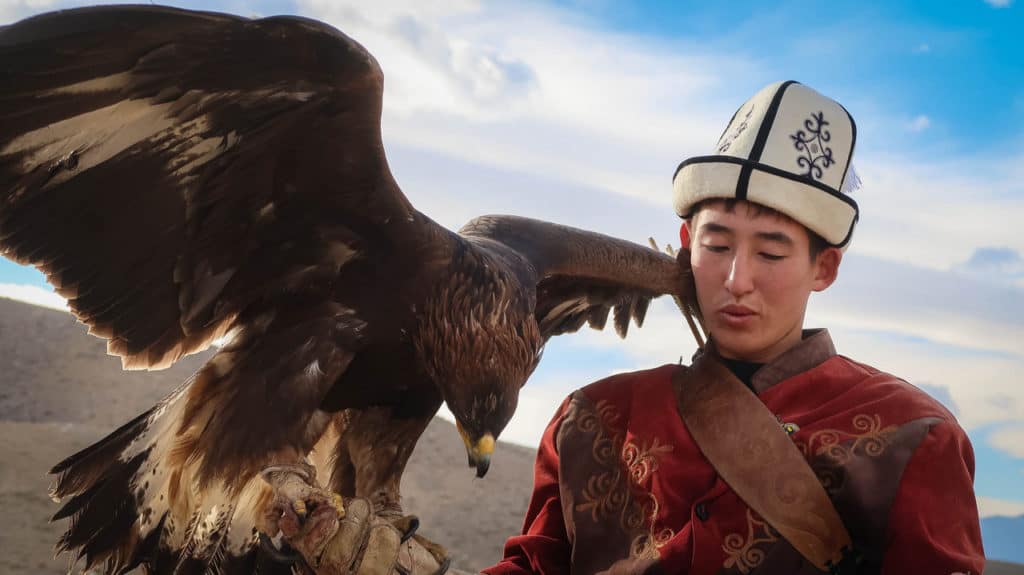 Where can you visit the Eagle Hunters?
Although this remarkable tradition is slowly dying, there are still a few hunters in the southern Issyk-Kul region who do their utmost best to keep the tradition going and pass on their skills to young disciples. They form the Salbuurun Federation.
This federation often organizes demonstrations at festivals. You can't really visit the hunters spontaneously but you can always request a meeting and a demonstration at Destination South Shore or book their Salbuurun Day Tour.
5. Attend a national horse game
Horses have always played an essential role in the lives of the Central Asian nomads. They were the first people in the world to learn the skill of horseback riding. The nomads practically lived on their saddles while roaming the endless steppes and jailoos and their children learned how to ride horses before they could barely walk. The horse was a loyal companion that enables the nomads to travel far and fast.
Nowadays horsemanship is still a much-revered skill in Kyrgyzstan. The boys in the small towns and villages learn to sit in the saddle before they can walk and while they grow up, they master the skill of riding. That's why national games and sports in which the people demonstrate their equestrian skills are an integral part of the Kyrgyz culture.
Young boys often practice their riding skills on donkeys until they're big enough to ride a horse
The national horse game is Kok Boru, better known as Dead Goat Polo. Kok Boru is an ancient honored tradition among the nomadic tribes and one of the most popular sports in Central Asia. It looks like a polo game but it's played with the beheaded body of a goat. Yeah, it's not a game for the sensitive souls!
Read: Ready, Steady, Goat! An insight into Kok Boru, the unusual National Sport of Kyrgyzstan
If this sport is a bit too much for you, there are also other horse games that you can attend, like At Chabysh (a long distance race for young boys), Kurosh and Oodarysh (both are wrestling games on horses), Kyz Kumay (catch the bride), Tiyin Enmey (a game where the rider has to pick up coins from the ground while riding at full speed) and many more!
At Chabysh
Where can you watch these horse games:
We came across some horse games by chance while traveling through rural villages.
There are also many festivals and events during the summer organized by the CBT of Kyrgyzstan. For an updated calendar on National Horse Games Events in 2018, click here. You'll also see many traditional horse games during the World Nomad Games in September.
6. Listen to Kyrgyz folk music and dance along
Music has always been a big part of a country's culture. The traditional folk music in Kyrgyzstan is a symbol of the country's heritage. There are two styles in the Kyrgyz folk music: vocal and instrumental. The vocal songs have lyrics about the nomadic lifestyle or tell epic tales from the Kyrgyz literature. The instrumental songs often refer to the sounds of the Kyrgyz mountains and the experiences of living there.
There are several instruments used in the Kyrgyz music. The komuz is the national and most important musical instrument of Kyrgyzstan. It's a three-stringed instrument that looks like a small guitar. Another important symbol of the Kyrgyz musical identity is the kyl kyak, a vertical string instrument that looks similar to a violin and is played with a bow. You'll also hear other instruments like the temir ooz komuz (a type of jaw harp), the sybyzgy (a type of flute) and the dobulba and asa-tayak are part of the percussion instruments.
Dances are traditionally performed at weddings and other joyful celebrations. One dance is particularly popular: The Kara Jorgo. This dance is characterized by quick arm, elbow and wrist movements and has its roots in the ancient nomadic culture. The Karga Jorgo has recently been made popular again by updating and speeding up the moves. Here's the music video (don't feel embarrassed to shake those shoulders along!):
[kad_youtube url="https://www.youtube.com/watch?v=77NnDv8pemM" width="600″ height="400″]
Where to see traditional music concerts and dance performances:
The best places to see a traditional music and dance performance are during a cultural festival or national event. Here's a list of festivals for 2018.
7. Go to an ethnocultural festival
The best way to experience the culture and traditions in Kyrgyzstan is by going to an ethnocultural festival. There you'll find everything in one place: the traditional clothes, yurts, music, dance, food, sports, atmosphere,… The southern shore of Lake Issyk-Kul offers a number of unique festivals and cultural events throughout the year.
Where to find these cultural festivals:
You can find the exact date and location of the cultural festivals here. Destination South Shore updates the calendar regularly.
The World Nomad Games is also the place to be to experience the nomadic culture and traditions of Kyrgyzstan and Central Asia. The games are held from the 2nd to the 8th of September 2018 on the northern shore of Lake Issyk-Kul, near the city of Cholpon Ata.
Here's a video we made when we were visiting the Nowruz Festival, a cultural festival organized by Destination South Shore:
[kad_youtube url="https://www.youtube.com/watch?v=TWjvULxRVkA&t" width="600″ height="400″]
[kt_box opacity="1″ background="#eded6d"]
How to prepare your travels to Kyrgyzstan:
1) Look up the best airline deals on Wego
2) Read our Backpacking Guide to Kyrgyzstan
[/kt_box]
7 activities you should do to enjoy the nature in Kyrgyzstan to its fullest
1. Go horseback riding
One of the most beautiful ways to experience the country in a real Kyrgyz style is by going on a horseback riding trip for one or several days. Even if you've never ridden a horse before, don't use this as an excuse for not making a trip like this. You'll regret it! See it as a new and exciting challenge. The horses that are used on these trips are well-trained and you'll always have a guide with you.
Imagine how it must be to follow the same routes on horseback as the nomads used to do, riding along the most beautiful valleys and picturesque meadows, across rugged mountain passes and on the shore of sparkling alpine lakes. I'm not exaggerating, this is what you can expect (as well as a sore back if you're not used to sitting on a horse for long hours, but hey, it's worth it).
Going on a horseback riding trip is also a great way of getting in touch with the nomads along the way. If you go on a multiple-day horse trek, you'll often spend the night in a yurt and be able to taste the cuisine of the nomads.
Where to book a horseback riding trip:
If you want to go on a horseback riding trip, you'll have to book a trip with one of the many local tour operators. Even if you're an experienced horse rider and you want to go on an independent trek, the chances are very small that a horse owner will rent you a horse without a guide. The standard price for renting a horse (with guide) for a day is around 1000 som ($15).
The best place to book an affordable horse riding trip is at the CBT of the specific region. Here's an overview of the horseback riding trips that they offer. A horseback trek to Son Kul or Tash Rabat is one of the most popular trips, but there are many others to choose from! You could also get in touch with our friend Aleksei from Kyrgyz Nomad who can arrange a tailor-made horseback trek for you.
2. Go on a hike or a trek and camp a night in the mountains
Kyrgyzstan is a paradise for outdoor and adventure lovers! There are so many beautiful treks in the country that you'll need a lifetime to do them all! Here is an overview with the best and most beautiful treks you can do in Kyrgyzstan.
Even if you don't love hiking that much, it's worth to go at least on a day hike in the mountains and camp there for the night. You'll feel like you're the only person in the world surrounded by the rugged landscapes of the Tian Shan mountain range.
Where to go on a hike or trek:
Read:
The Complete Guide to Trekking in Kyrgyzstan with the best hiking trails of the country
The best day hikes around Bishkek.
[kt_box opacity="1″ background="#eded6d"]
Prepare yourself well for a trek.
Here's Everything you need to know before going on a trek in Kyrgyzstan, including a complete packing list.
[/kt_box]
3. Swim in one of the many stunning alpine lakes (if you dare!)
Ak-Kul Lake
There are about 2000 lakes on the small territory of Kyrgyzstan! Some of these lakes can compete in size with a sea, like Issyk-Kul, and there are also many small alpine lakes that are hidden away and not even marked on any map. Every single lake is just downright gorgeous!
The three largest and most popular lakes in Kyrgyzstan are Issyk-Kul, Son Kul, and Sary-Chelek. They are the ones that you can access without having to hike for a couple of days or drive through treacherous grounds. Other lakes like Ala-Kul, Kel Suu, and Chatyr-Kul lie on higher altitudes and are definitely worth visiting but are harder to access.
To reach Ala-Kul, you have to hike for at least 2 days. You need a 4×4 car and a special permit if you want to visit Kel Suu and Chatyr-Kul because they're located near the border with China.
Ala Kul Lake
[kt_box opacity="1″ background="#eded6d"]
We organize Adventure Tours to these lakes!
Find our full itineraries here!
[/kt_box]
Most lakes are located at high altitudes and freeze during the winter, with the exception of lake Issyk-Kul which is a saline lake. You could swim in the lakes during the summer but I can guarantee you, the water is cold with an average temperature of 6 ºC – 15º. If you don't like swimming in such cold water (I feel you!) but you still want to explore the waters, you can rent a little boat for the day on the shores of the most popular lakes, like Issyk Kul and Son Kul.
Kel-Suu lake
4. Bathe in natural hot springs
If you prefer warmer waters, you'll be happy to hear that Kyrgyzstan also has tons of natural hot springs! Some of them are very popular because they're so beneficial for the health. Locals often visit the hot springs to treat diseases. Some of these hot springs became so popular that resorts have been built near them to accommodate the many visitors.
[kad_youtube url="https://www.youtube.com/watch?v=QtonN7XpiFI" width="600″ height="400″]
Where to find the best natural hot springs:
The hot springs of Altyn Arashan (see video above) are the most famous springs in Kyrgyzstan. The water is around 50 ºC and is known to help with diseases related to the nervous, endocrine, cardiovascular and musculoskeletal systems. Altyn Arashan is about 20km south-east of Karakol and near lake Issyk-Kul. You can get there by hiking (14 km) or by car (4×4 vehicle).
The Issyk Ata hot springs are believed to contain all types of magical healing powers and are renowned for being able to cure many illnesses. The temperature of the hot sulfur springs is around 35°C and help with the treatment of skin diseases and rashes. Issyk Ata is only 77km away from Bishkek and easily reachable by public transport. You can read the details on how to get there in our post about Daytrips from Bishkek.
There are also a lot of less-known hot springs like the Jukuu hot springs in the Jukuu Valley and the Kara-Tosh hot springs in the Sary-Jaz valley (both near Karakol). These hot springs are only accessible by a 4×4 vehicle or by hiking.
5. Explore magical canyons
Fairytale Canyon
Kyrgyzstan might be one of the smallest countries in Central Asia, yet it kept surprising me with the variety of its landscapes: from exquisite mountain ranges, lush valleys and hundreds of rivers and alpine lakes to stark landscapes and sandstone canyons. These canyons are one of the most spectacular features of Kyrgyzstan's nature. They are so scenic and often have a magical feel to it.
One of the most famous canyons, the Sazka Canyon, is nicknamed "Fairytale Canyon" because of its irregular rock formations that resemble animals, fantastical characters and castles. Not only the shapes in this canyon are remarkable, also the colors of the rocks are very unique.
You'll find yourself in a world of red, pink, orange and yellow and it almost feels like you're walking in a very colorful painting! The Sazka Canyon is located on the south shore of Issyk Kul, between the villages of Tosor and Kaji-Say.
Here are some more incredible canyons and rock formations for you to explore:
Jeti Oguz, a sandstone formation about 25 km southwest of Karakol. You can get there by taking mashrutka #355 from the Ak-Tilek Market in Karakol or by taking a taxi for about 600 som. On the way to Jeti Oguz, you'll also see The Broken Heart rock formation. When you continue following the car tracks, you'll come across the stunning Dragon Gorge.
Jeti Oguz
The Konorchek Canyon, also called the 'Grand Canyon of Kyrgyzstan', is a hidden gem on the road between Bishkek and Issyk-Kul. It's a beautiful red sandstone canyon (with a 2.5 million years old dormant volcano!) and a great place to go on a small one-day hike from Bishkek. The path takes you along some fantastic rock formations that are also called the 'Eolian Castles' and when you climb towards the plateau, you'll get treated to some magnificent panoramic views over the canyon! Read here how to get to the Konorchek Canyon.
Konorchek Canyon – photo by open.kg
6. Visit the walnut forest of Arslanbob
Photo by Stephen Lioy
The village of Arslanbob, located in the province of Jalal-Abad at 1700 meters above sea level, is home to the largest walnut forest in the world. The livelihoods of the 13,000 inhabitants of the village, mainly Uzbek people, revolve around the annual harvest of the walnuts.
You can visit the walnut forest all year round but the most interesting time is in autumn, around late September or early October, when it's time to harvest the nuts. The whole village moves to the forest to set up camp for a month and collect the walnuts. It's a time of festivity in which the families work during the day, meet with relatives and friends and spend evenings together sharing a meal and drinking tea.
Niko and I missed the harvest last year but you can read this informative article that will give you more insight into this annual tradition.
7. Go on a kayaking or rafting adventure
With more than 2000 lakes and 40,000 rivers, Kyrgyzstan has a lot of potential for watersports like kayaking and whitewater rafting. These activities only became popular quite recently but you can already find a few local tour operators who organize kayaking and rafting trips.
A popular place for a kayaking adventure is Issyk-Kul lake. Read more about it in Things to do in Karakol.
The Chu River that runs near the capital city of Bishkek is the most popular river for rafting tours. The best season for a river rafting trip is from June to mid-September when the water temperature is between 15 and 18 ºC. You can find more information on rafting and kayaking in Kyrgyzstan here. You can book rafting tours with Silk Road Explore or Advantour.
7 Historical places to see in Kyrgyzstan
1. Follow the ancient Silk Road
Many cities in Kyrgyzstan were closely connected with the Silk Road. However, after the invasion of the Mongols, most of the buildings and artifacts from that time were destroyed. The best preserved historical sites of the ancient Silk Road can be found in Uzbekistan but there are still a couple of historical places in Kyrgyzstan that were connected to this ancient trade route.
Located at about 80km from the capital city Bishkek, the Burana Tower is the most iconic landmark in Kyrgyzstan. This 25m high tower, a once 40 meters tall minaret, is all that remains of the ancient city of Balasagun that was once the capital of the Karakhanid Empire and welcomed thousands of Silk Road caravans.
Read more about its history and how to get there in: The Burana Tower and the Lost City of Balasagun.
Tash Rabat is another historical Silk Road site that you can visit in Kyrgyzstan. Set in a beautiful valley at about 15km from the main road between Bishkek to Naryn, this ancient caravanserai used to function as a roadside inn where Silk Road travelers and their animals could stop for the night or rest for a few days. It offered accommodation and food and provided opportunities for trade and worship. Here's a great in-depth article on the history of Tash Rabat and how to get there.
2. Walk around in a field of bal-bals
There's a big collection of ancient bal-bals in the field near the Burana Tower. These bal-bals are gravestones, made by the nomadic Turkic tribes who used to roam around Central Asia in the 6th century. These gravestones were initially erected as a representation of slain enemies and later became memorials for their own ancestors.
The bal-bals are oddly proportioned with misshapen heads and short torsos, characterized by detailed carvings of faces and hands. They were made by some of the greatest stone carvers of their time and are remarkably well-preserved. While most bal-bals seem to be gazing in the distance with a stern look on their face, you can spot one or two who seemed to be enjoying their eternal life with a smile.
3. Hunt for Soviet Architecture in Bishkek
Bishkek is the capital of Kyrgyzstan and the greenest city in Central Asia. It's the largest city in the country but most travelers don't stay here very long. They're more interested in conquering the Kyrgyz mountains. Although the city is modern, dynamic and constantly evolving, it's not really a hip destination for a city trip.
However, if you love Soviet-era architecture, you'll indulge yourself here! As a former republic of the USSR, Kyrgyzstan's capital is full of intriguing Soviet-style buildings! Here's a great Soviet architecture walking tour that will take you through the Soviet history of Bishkek!
4. Visit the National State Museum of History in Bishkek
The National State Museum of History used to be the Lenin Museum as he was omnipresent in the exposition dedicated to the Kyrgyz Soviet Revolution. The museum displayed a collection of bizarre murals carrying explicit political messages and socialist scenes from key events during the communist and Soviet history.
I can't tell whether or not these murals are still visible as the museum has been closed for restoration ever since we arrived in Bishkek (about 8 months ago). We caught a few glimpses from the outside windows and noticed that there will be an exposition on the Kyrgyz nomadic history. We still have to wait until this museum opens (it was supposed to open a few months ago but things take time here in Kyrgyzstan…) but we're definitely very curious to see the newly restored museum!
And while you're there, don't miss the hourly change of guards at the huge Kyrgyz flag in front of the museum.
[kt_box opacity="1″ background="#eded6d"]
Find other awesome things to do in Bishkek
Read: Top Things to do in Bishkek – The Complete City Guide to Bishkek
[/kt_box]
5. Check out Lenin's head at the Kirov water reservoir
Unlike in the other ex-USSR countries, you'll still find statues of communist icons in Kyrgyzstan. There's a statue of Marx and Engels in Oak Park in Bishkek and you'll find a huge statue of Lenin behind the National State Museum.
However, the monument that really blew my mind was the giant head of Lenin on the water dam at the Kirov Reservoir near Talas. You'll pass it on your way to or from the Talas – Taraz border with Kazakhstan.
6. Get enchanted by the Archaic Petroglyphs in Cholpon-Ata
Photo by Megan Starr
Just outside the city center of Cholpon Ata is an open-air museum. The site is dotted with stone circles, tombs, bal-bals and 5000 boulders that contain millennia-old petroglyphs. Many of the carvings feature images of people in daily life situations and hunting scenes to drawings of animals, including snow leopards and deer. It's said that this site was once an open-air temple where people worshipped the sun and nature. Read more about the Petroglyphs of Cholpon-Ata and how to get there.
7. Climb the sacred Sulaiman – Too Mountain in Osh
The Sulaiman-Too Mountain, located in the city of Osh, rises from the surrounding plains of the Fergana Valley. Osh used to be one of the largest cities at the crossroads of important routes on the Silk Road and the mountains was a beacon for travelers. Sulaiman Too was seen as a sacred mountain and a major place of pilgrimage.
Its five peaks and slopes contain a large assembly of ancient cult places and caves, to which sick people come in the hope to be cured. There's a smooth rock slope called Bel Tash. People believe that if you slide down this slope, you'll heal from all your ailments and women who seek to conceive will get pregnant. The caves are all interconnected with a network of ancient paths and renovated mosques.
7 Things you should try to experience daily life in Kyrgyzstan
The best way to experience daily life in Kyrgyzstan is to live here for a while, like Niko and I did. But even if you only have a couple of weeks in the country, there are a few things you can do to connect with the locals and their everyday life.
1. Shop at a local market or at a bazaar
It's quite an experience to shop at a local market or at one of the chaotic bazaars in Kyrgyzstan. It's the place where the locals do their shopping and the bazaars are an integral part of their life.
You'll find everything you need: from local food, spices, fruits, and vegetables to household goods, dodgy electronic equipment, clothes, toys, and souvenirs. The crowds, the smells, and the noises can feel a bit overwhelming but it's an experience you won't easily forget.
The main bazaars in Bishkek are the Osh Bazaar on the west side of the city and the Dordoy Bazaar on the north-eastern outskirts of the city. In Osh, you have the Jayma Bazaar, one of Central Asia's most colorful and biggest markets.
2. Buy a horse, donkey or sheep at the Animal Market
It would be hard to return home with a horse or a donkey as a souvenir (not sure how you'd explain this at the airport customs) but you can, of course, visit the livestock market without purchasing any animal. It's interesting to see how sellers and buyers bargain over sheep, goats, cows, horses, and donkeys and how the locals transport their livestock in hay-trucks and Lada Niva cars (you'd be surprised how much and what can be transported in such a small car!).
The biggest livestock market in Kyrgyzstan is the Karakol Animal Market. The market is held every Saturday morning. You'd better get there early as it finishes at 10 am. It's a 30-minute walk from the city center of Karakol or you can take mashrutka #102.
Here's a great video about the Karakol Animal Market and what to expect there:
[kad_youtube url="https://www.youtube.com/watch?v=6ufC2S7W3h8&t" width="600″ height="400″]
Tip: Close to the animal market is a car market where they sell old Soviet cars like Lada, Moskvitch, Volga, UAZ. It's also worth a look if you love old car models!
Another traditional livestock market is the Osh Animal Market. This market is held every Sunday morning. You can get there by taking mashrutka #105 or bus #5 from the center to the eastern outskirts of the city.
3. Spend a few days in a small village
Spending some time in a small town or village will give you the opportunity to observe and learn more about the Kyrgyz way of life. We've stayed in villages on the South Shore of Issyk-Kul and in the center of the country.
The villagers will be very curious about you and will often invite you into their homes for a tea and some bread and jam. You'll be the highlight of the day and many cousins, neighbors and friends will pop by to meet and greet you.
4. Experience the Kyrgyz hospitality at a family homestay
Staying in the homestay of a Kyrgyz family is a great way to learn a bit about their way of life and taste some of the local dishes. You'll have your own room and the family will respect your privacy but you'll also be welcome to join them to share a meal if you like.
You'll be sleeping on mattresses or shyrdaks (thick blankets) on the floor or in a bed, depending on the homestay. There won't always be hot water and you'll have to be comfortable with a squat toilet but this is how Kyrgyz people live. You won't find any dirty or uncomfortable homestays as the hosts find it very important to keep everything clean for their guests!
Where to find a homestay:
If you search the web, you'll come across websites on which the homestays are advertised. However, these homestays are often more like guesthouses. If you want to stay in an authentic homestay, go to the local CBT office or ask around in any village and people will show you where to find one. We've also noticed that some homestays are marked on the Maps.me app.
5. Travel by public transport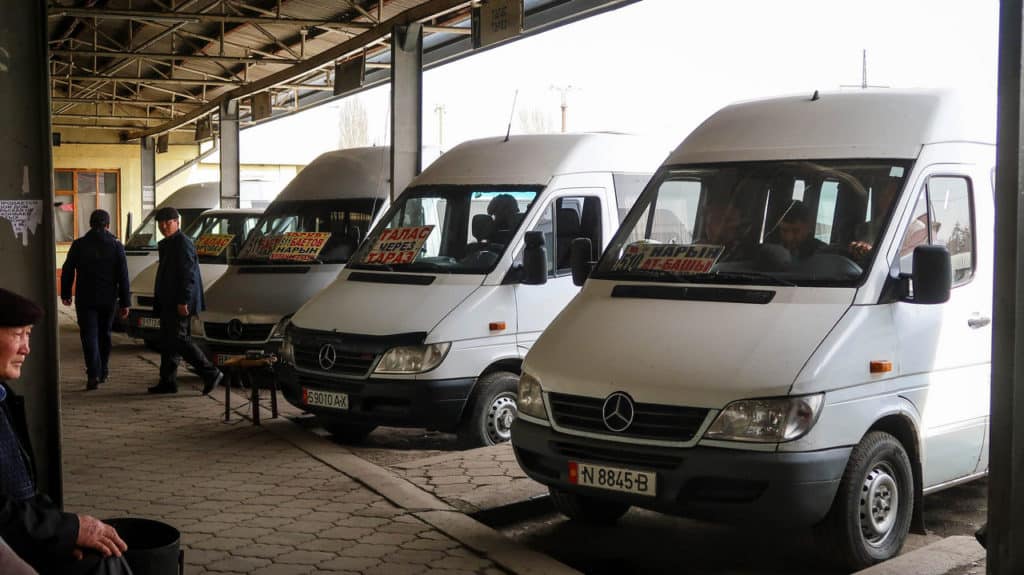 The locals travel in Kyrgyzstan by shared taxi and mashrutka. A shared taxi is basically sharing a taxi with 4 to 6 other people, depending on the size of the car. A mashrutka is a minibus that looks like a van. Some of them are quite comfortable and have air conditioning, others are decades-old and aren't the most fun to travel in when it's super hot.
Either way, if you want to experience the Kyrgyz way of living, you should at least make a small part of your journey in a mashrutka. Once you're jammed between people in an overly crowded short-distance mashrutka or have a crying kid vomiting over your knees, you'll have experienced the local public transport!
You can find all the info you need to know about traveling by public transport in our Backpacking Guide to Kyrgyzstan.
6. Learn how to make a proper Kyrgyz dish
You can't travel to a country and not taste some of the local cuisine! Since the country is engaged in breeding livestock, meat is a big part of the traditional and modern Kyrgyz cuisine. Most meals consist of mutton, beef and chicken meat, served in dumplings, noodles or rice, or alongside potatoes. Here's an overview of the most traditional and popular dishes in Kyrgyzstan.
You might also want to take a cooking class and learn how to make a proper Kyrgyz dish. You can inquire at the local CBT of the region. I know that the CBT of Naryn offers some cooking classes as well as Destination Osh.
7. Relax at a banya
Photo Source: The Culture Trip
A banya is a Russian sauna that is very popular among the locals in Kyrgyzstan. It's a special type of room where a large amount of hot steam is created with the help of water and hot air. A classic banya is heated with firewood while modern versions might use electric heat. Inside the banya, there are wide wooden benches along the walls, built up like steps. Once you're warmed up enough, you can leave the steam room and jump into a pool of cold water.
The main health benefit of a Russian bath is sweating out toxins in the body. Traditionally bundles of birch branches called "venik" are used to flog a person's body during the steaming session. These "massages" are good for blood circulation. The banya is especially popular during the winter and the locals often see it as a social occasion.
Where can you find a banya:
There are a lot of banyas in the country, even the smallest villages but you won't easily find info on the internet. The best thing to do is to ask your host where to find the local banya. A popular one in Bishkek is the Zhirgal Banya Bathhouse. The entrance is 250 som and you have to be comfortable being naked but there are separate rooms for men and women.
Now that you've read this massive list, I guess that you'll definitely know what to do on your travels in Kyrgyzstan! If you have more questions or if you think I should add something to this list, let me know in the comments below or contact me. I wish you a great time in Kyrgyzstan!
KNOW BEFORE YOU GO – KYRGYZSTAN TRAVEL TIPS:
Everything you need to know about traveling independently in Kyrgyzstan (visa, how to get to and around Kyrgyzstan, where to stay,…):
Plan your trip to Kyrgyzstan:
Hiking, skiing and horseback riding in Kyrgyzstan:
KYRGYZSTAN TRAVEL RESOURCES: