In this article, you'll find a list of the most popular hiking trips in Kyrgyzstan. Whether you want to organize a trek with a trekking company in Kyrgyzstan or hike independently around the country, this guide covers everything you need to know about trekking in Kyrgyzstan including a list of the best hiking trails.
Very often people ask us what our favorite destination is. It seems to me that the longer we travel and the more countries we visit, the harder it becomes to answer this question. One thing that we both agree upon though is that we absolutely love the mountains and hiking on far, off-the-beaten-path trails. Mountains are where we like to be. The rougher and more majestic they are, the more we love them. That's why Kyrgyzstan (together with Georgia) became one of our favorite countries for its majestic and pristine mountain hikes.
Cynthia and I lived in Kyrgyzstan for about a year. During that time we've done a few treks in the Kyrgyz mountains and it's been an absolutely unforgettable experience! We often felt like we were the only people in the world while hiking through those remote and majestic landscapes. Kyrgyzstan is one of the world's best destinations for mountain treks since 90% of its territory is above 1,500 meters. If you like the idea of trekking through remote mountains and camping on the shores of crystal-clear mountain lakes or if the sound of an off-road adventure across wild and untouched mountainous landscapes make your heart beat faster then Kyrgyzstan is definitely the right place for you.
[kt_box opacity="1″ background="#eded6d"]
Read:
The Ultimate Travel Guide to Backpacking in Kyrgyzstan
[/kt_box]
The country is filled with thousands of alpine lakes, beautiful valleys covered with flowers in spring and some of the most gorgeous landscapes we have ever seen.
This complete hiking guide to Kyrgyzstan was written to help you plan your trekking adventure to this country. It covers everything you need to know whether you want to organize a trek with a trekking company or hike independently around the country. It also includes a list of some of the most beautiful hiking trails the mountains offer.
[kt_box opacity="1″ background="#eded6d"]
Read also: The 15 best and most beautiful places to visit in Kyrgyzstan
[/kt_box]
What you need to know before you go trekking in Kyrgyzstan
Kyrgyzstan is completely covered in mountains, which means that there are endless trekking opportunities and trails that will be appropriate for your hiking experience and fitness level.
Regardless of your level as a hiker, there are a few things you should know before organizing a trek in Kyrgyzstan.
In this guide, I cover the equipment you need to bring with you on a trek to Kyrgyzstan and where you can rent it in the country's capital Bishkek. I also cover the costs of hiring a guide and the travel insurance you will need to hike in this part of Central-Asia as well as various other tidbits of information that will be super useful on your trip to this country.
1. Packing List
Cynthia and I had the chance to go on various hikes around Kyrgyzstan over the course of one year. During these alpine expeditions, we realized how crucial it is to always have the right equipment with us when we're so far away from civilization. If we forgot something, well, it wasn't like there was a house or a shop where we could buy food, water or extra gear. And believe me, there is nothing worse than hiking and camping in the mountains when you're soaking wet or freezing cold because you forgot to pack some waterproof and/or warm clothes! When it comes to packing for a trek in Kyrgyzstan, it's also important to keep it as light as possible. The two most important things are to travel light with the right equipment! Remember that you have to carry everything yourself and if you have ever done a 20 km hike that included climbing and ascending steep hills, you'll know that there's a big difference between carrying 10kg and hiking with 15kg on your back! We wrote a complete list of all the equipment we deem absolutely necessary to include in your backpack on a hike to the Kyrgyz mountains. This list covers everything you need to stay warm, be rainproof and ready for the mountains!
[kt_box opacity="1″ background="#eded6d"]
Read: The Ultimate Packing List to trekking in Kyrgyzstan
[/kt_box]
2. Travel Insurance needed to hike in Kyrgyzstan
There are a lot of hazards to be aware of when going on a hike to the mountains of Kyrgyzstan. Whether you're new to hiking or a seasoned trekker, in the mountains anything can happen. You'll sometimes have to deal with sheer cliff edges, very steep climbs, and dangerous drops. Keeping all of this in mind, it is of paramount importance to have proper travel insurance before heading out to the mountains. There is only one travel insurance we recommend for hiking in Kyrgyzstan and it's the World Nomads Travel Insurance. It covers almost anything that could virtually happen to you in high mountain altitudes and covers you on treks of up to 6,000 meters. World Nomads is also one of the few policies that won't require you to be in your home country to purchase, renew or extend your insurance. If your trip happens to go on a little longer than planned, you can easily extend your plan online.
* This is an affiliate link. If you purchase your travel insurance through our website, we get a commission at no extra costs to you! See it as a small donation to keep this blog going. Thank you!
3. Costs of trekking in Kyrgyzstan
Here's an overview of how much it costs to hire a guide and/or a porter, buy hiking permits and rent equipment. Except for the few areas where you will need to buy a permit to visit ( a few mountain regions neighboring China and Tajikistan), hiking in Kyrgyzstan will be absolutely free since there are no entrance fees. It's an ideal country to trek independently and even more so if you have experience following a map or if you have hiked before.
If you are not using the services of a guide or a porter and if you have your own camping gear, all you will end up paying for is food. That being said it is still possible to hire a guide or porter or rent equipment if you need to in Bishkek or in various small travel companies in Karakol.
How much does it cost to hire a mountain guide in Kyrgyzstan and do you absolutely need one?
Hiring a mountain guide to go on a hike in Kyrgyzstan is not absolutely necessary, however, the advantages of traveling and trekking with a guide are tremendous. They are able to read and follow a topographical map or GPS coordinates and know the mountains like the back of their hands. Mountain guides also usually take the responsibility of setting up camp and cooking so it could be worth hiring one if you have no experience in doing such things. The average price for taking a guide is between 1400 – 2400 SOM per day (roughly 20 to 40 USD per day) but this does not include transport to the mountains and the rental cost of the equipment or food you might need during the trek. Another great thing worth considering is that guides ( and porters) are generally from the areas where the trekking route goes and therefore have extensive knowledge of that region.
My guide with whom I was mapping out a new hiking trail from Ming-Kush to Ak-Kol
If you would like to organize a trek to the mountains with a guide you can always contact our friend Aleksei from Kyrgyz Nomad. He speaks fluent English and you can contact him on his website, on Facebook or Instagram.
You could also join one of our Adventure Tours to Kyrgyzstan next summer and enjoy a horseback trek to Lake Issyk-Kul and a mountain hike to Ala-Kul lake with other travelers from all around the world.
[kt_box opacity="1″ background="#eded6d"]
Book your place on our 2019 Adventure Trek!
[/kt_box]
Hiring a porter to carry your equipment in the mountains of Kyrgyzstan
Generally speaking, porters in Kyrgyzstan will carry between 10-15 kg of your belongings on top of the trekking and camping gear necessary for the hike. The porters hike a lot faster than most people even while carrying so much gear so you should give them only the things you won't need till the end of the day when you reach the camp they have set up. The cost of hiring a porter in Kyrgyzstan will be around 25 euros per day.
One of the porters during our Adventure Trek
How much does it cost to rent camping gear in Kyrgyzstan?
Renting camping equipment (tent, floor roll-up mattress, sleeping bag, and cooking stove) can be done via the Trekkers Union of Kyrgyzstan and usually doesn't cost much. They have different prices depending on whether or not you become a member of the Trekking Union. One person tent per day Price for members of the Trekking Union: 150soms Regular price: 250 soms Two person tent per day Price for members of the Trekking Union: 150 soms Regular price: 250 soms Spring and fall sleeping bag (-2C to 4C) per day Price for members of the Trekking Union: 100 soms Regular price:160 soms Winter sleeping bag (-18C to -10C) per day Price for members of the Trekking Union: 140 soms Regular price: 200 soms Sleeping mat per day Price for members of the Trekking Union: 40 soms Regular price: 70 soms Gas burner backpacker stove per day Price for members of the Trekking Union: 80 soms Regular price: 130 soms Have a look at this page for a complete list of the camping equipment they rent and their prices. The equipment that you can rent from the Trekkers Union is quite good but it won't be as good as the equipment you could bring from home. For a full list of all the equipment and gear we recommend, have a look at our Ultimate Packing List for Trekking in Kyrgyzstan.
How much do hiking permits in Kyrgyzstan cost, for which hikes do you need them and how to get them?
Hiking and trekking in the border areas near Kazakhstan, Tajikistan, and China will require a border permit. This means that climbing and trekking to Peak Lenin or Kel-Suu lake, for example, will require some paperwork. The same goes for the area around Chatyr Lake and the eastern part of the Tien Shan mountain range. Obtaining a permit for these areas can be done through the local CBT (Community Based Tourism) office and can take from a few days to a week. It is possible to do this process by emailing the CBT or by going directly to the office of the region you would like to hike in. If you want to go directly to their offices to get your border permit, have a look at their website to find a list of the different CBT offices around Kyrgyzstan and where they are located. Permit fees will vary on where you go and depending on whether you need it urgently or not. The costs will also depend on if you do it directly through the CBT office or through a travel agency.
4. Organizations to contact for more information while hiking independently in Kyrgyzstan
There are two organizations that I would absolutely recommend contacting while in Kyrgyzstan if you ever need extra information on hikes and treks in the country. These are the Trekking Union of Kyrgyzstan ( also known as TUK) and the Community Based Tourism offices ( often called the CBT offices).
Trekking Union of Kyrgyzstan
This organization is responsible for promoting and developing a lot of the adventure tourism and hiking trails around Kyrgyzstan. They are responsible for marking and mapping new trails around the country. They also rent out camping and outdoor equipment and organize different guided hikes to the mountains at very affordable prices. If you aren't sure if a particular hike in the mountains will be snow-free or if you want to obtain more information about the difficulty level or condition of a trail, it's a great idea to contact them first.
One of our guides from the Trekking Union
You can visit their website or visit their main office located in Bishkek at the following address:
168 Kievskaya St. (intersection Turusbekova St.), 720001, Bishkek
The Trekking Union is open from Monday to Friday from 9 AM to 5 PM and you can contact them through the following phone numbers, by fax, through WhatsApp or by email:
Tel.: +996 312 909 115 Mob.:+996 556 101 933 +996 705 101 733 Fax: +996 612 310 706 WhatsApp: +996 556 101 933 Email: [email protected]
The CBT organization is one you are bound to run into on your trip to Kyrgyzstan. They have offices all over the country and basically organize tours the same way different travel companies would but they give a part of the profits back to the local community.
One advantage of getting in touch with the CBT offices is that they provide local guides directly in the region you are visiting who will know the mountains very well.
Another advantage of booking the services of a mountain guide through a CBT office is that you won't need to book ahead of time and it will be very easy to organize everything on the spot.
5. Which travel company should you contact for an organized hike in Kyrgyzstan?
During the year we spent in Kyrgyzstan we had the chance to see and discover many hiking companies that organize different treks to the various pristine alpine lakes around the country. Some of these companies are very big and have been around for many years, however, because of their size they organize trips for huge groups and it becomes a bit hard to have a more personally tailored trip.
We highly recommend a company called Kyrgyz Nomad Travel. They organize tours that are 100% customizable and perfectly tailored to the experience you want. They can also bring you to destinations that are completely off the beaten path and organize yurt stays with nomadic families.
With Aleksei from Kyrgyz Nomad Travel
6. Mountain safety tips for hiking and trekking in Kyrgyzstan
Hiking in the mountains is never 100% risk-free and the beautiful mountain treks of Kyrgyzstan are no exception. You will be confronted with hazardous terrain, unpredictable weather and the possibility of suffering from altitude sickness depending on where you hike. Hiking in high mountains comes with inherent risks so it's important to be well prepared and follow some basic safety rules.
Never go alone or let someone know where you are going
Since there's barely any phone signal in the high mountains of Kyrgyzstan, it's very important to let someone know where you will be hiking and for how long you will be gone. It's always better to travel with a guide or someone who knows the terrain very well.
Make sure you have the physical condition required for the trek
Some of the treks in Kyrgyzstan are very remote and can only be accessed on foot. Having the required level of strength and endurance for a hike won't only make your trip a lot more fun but will also allow you to go farther while still having the energy to safely return home. Before starting your hike, it's good to talk with people who have hiked there before to see how difficult a trail could be.
Be prepared for all types of weather conditions
The weather in the mountains is totally unpredictable. It can change very quickly and go from a beautiful sunny day to a wet blizzard in a matter of minutes. We would suggest bringing clothes that can be put on as a layer. Always bring a rain jacket and a warm hoodie to stay dry and warm.
Watch this video to see exactly what I mean.
Don't continue the trek when there's poor visibility due to fog, snow or heavy rainfall
Even if you carry a GPS or a topographical map, I would recommend stopping as soon as you have low visibility. The risk of accidents increases drastically the moment you can't follow the path properly. Stay dry and warm until the bad weather clears up again and then it will be much safer to continue.
The mountains are treacherous terrain and it's important to always stick to the path. Most of the accidents that happen during mountain hikes are due to unwary hikers wandering off the marked trail.
Make sure you have enough food and water for the whole duration of the trek
Pack enough food and water for the duration of the trek and then pack some more just in case the trek takes longer than expected. Find out more tips to make you hike to the mountains a lot safer here.
7. Camping and staying with nomadic families in Kyrgyzstan
Kyrgyzstan has one of the most accessible nomadic cultures of central Asia. Very often you'll come across families staying in yurts in Alpine meadows on your hikes. These nomadic families spend part of the summer tending to their herds and very often welcome travelers in their yurts. They charge an average of 700 soms per day ( about 10 USD ) and this includes breakfast and dinner. It's possible to stay with them a few nights and take part in their daily activities.
[kt_box opacity="1″ background="#eded6d"]
Find out where to find these yurt camps and nomadic families in:
The top 28 things to do in Kyrgyzstan.
[/kt_box]
8. When is the best time to hike in Kyrgyzstan?
Hiking in Kyrgyzstan in winter can be very hard and in some areas almost impossible as the whole country becomes covered in snow. The summer is usually the perfect time to hike in the mountains but even then you can get surprised by snowfalls and blizzards at high altitudes. The weather in the mountains can change so quickly! It might be hot in the morning but it could suddenly become cold during the day and you could even be surprised by the occasional snowstorm in higher elevations.
Camping in the snow, late August…
We cover the general weather conditions for the mountains of Kyrgyzstan and other useful things you need to know in this article.
---
A list of the 14 best hikes in Kyrgyzstan
1. Trekking to Ala-Kul and Altyn-Arashan
While we were in Kyrgyzstan, we organized a 4-day group hike to the glacier lake of Ala Kul, a turquoise lake located at an altitude of 3500 meters.
Ala Kul Lake
It was a pretty intense hike and not just challenging on a physical level. We also had to face the unpredictable nature of the weather in the mountains (we were surprised by hail in July!). But in the end, it was totally worth the effort when we crossed a 3800-meter high mountain pass and got treated to the most spectacular views!
The view at an altitude of 3800m!
This hike starts just outside of Karakol, at the entrance of the Ala-Kul nature reserve. It's possible to take marshrutka 101 from the center of Karakol to the entrance of the park. You can also take a taxi for 400 KGS that will stop between the entrance and a broken bridge farther along the trail saving at least 1 hour of walk. The first day of the hike is pretty easy, being mostly flat and following the Karakol river along a good part of its length. The view is gorgeous and you have the impression of being in the Swiss Alps if it wasn't for the few yurt camps you encounter along the way.
The first day of hiking brings you to the end of the Karakol valley near a bridge that crosses to the east bank of the river. The challenging part of the trek begins on the second day as you hike up towards Ala-Kul lake (3500 meters). The pass to the lake is quite steep and very challenging. You will be hiking along a steep path for hours and crossing sharp inclines and slippery rocks.
The beautiful view that you will have upon arriving at the lake of Ala-Kul at the end of the day will make all the effort and the struggle to get there worth it! This lake is often referred to by the locals as the 'pristine diamond of the Karakol Canyon' for its surreal shades of blue and turquoise. It's ideal to set up camp on the banks of the lake at the end of the second day instead of continuing over the next mountain pass.
The third day of the hike brings you over the Ala-Kul pass (3,850 m). It's a short but very steep climb up from the side of the lake to this pass but once you reach the summit, you will get treated to a panorama of the highest peaks of the Terskey Alatau mountain range. The Karakol Peak, Djigit, and the Oguz Bachi Peaks will be in sight and believe me, it's stunning! I filmed the first two days of this hike and you can watch the video below to see how pristine and gorgeous the landscapes were!
[kad_youtube url="https://www.youtube.com/watch?v=hhmCZ3ZxsaE " width="600″ height="400″]
After enjoying the beautiful view from this pass, the trail will head down into the Keldeke Gorge and the Altyn-Arashan valley (2,600 m). Altyn Arashan is a valley famous for its sulfur springs that reach a temperature of 40-50°C. It's a great place to rest and relax on the third day of the hike. Watch this video In which my brothers and I travel to these hot springs in winter.
The natural hot springs of Altyn Arashan on the right
From the hot springs, the hike continues along the Arashan river toward the village of Ak-Suu, the endpoint of this trek.
[kt_box opacity="1″ background="#eded6d"]
Find out how to hike to Ala Kul with our four- day trekking itinerary!
[/kt_box]
2. Hiking from Kyzart village to Song Kol Lake
Kyzart is a small village on the main road from Kochkor towards Jumgal Kyzart Tchayek. Most hiking treks and horseback trek (check out the horseback trek we organized there last summer) to Song-Kul and other mountain lakes start from there. The first day of hiking takes you along a river and across beautiful alpine jailoos. You'll also see vast green pastures, high passes, and deep valleys.
There is no need to carry camping gear with you if you hike there during the low season; the first night of the hike can be spent at a yurt camp in Kelimche valley or in any of the yurt camps in the mountain pastures nearby. These yurts are very comfortable and quite cozy.
Yurt Camp in Kilemche Valley
If you're going in high season, be aware that most of these yurts could already be booked but you could always pitch your tent not too far away from the yurt camp. The second day of this hike brings you at an easy pass located 2 hours above Kelimche valley. Once you reach the top you can enjoy a well-deserved rest and admire the valley underneath you. From there, getting to the lake takes about one hour.
Upon reaching the lake you will see various yurt camps on the shore. You can arrange your stay in these yurt camps ahead of time or directly with the yurt owners upon arriving there.
If you would be interested in doing this trek with a group of travelers from all over the world, join our 2019 Adventure Trek.
We cover this trek to Song Kol from Kyzart as well as a hike that goes from Kochkor to Song Kol in Hiking independently to Song Kol.
[kt_box opacity="1″ background="#eded6d"]
Read: Hike Independently to Song Kol Lake in Kyrgyzstan with Two Itineraries
[/kt_box]
3. Trekking around Kel-Suu lake
Kel-Suu lake was formed thousands of years ago and is considered to be one of the most beautiful and spectacular mountain lakes in the Kyrgyz Republic. It's also one of the highest lakes in the world. The lake is difficult to reach but totally worth it!
Kel-Suu lake is located in the Kok-Kiya valley at 3,520 meters of altitude and is very close to the border with China. The lake is 12 km long and 5 to 10 meters deep when at it's fullest. Since the water level is not stable, it might happen that you arrive there and find Kel-Suu almost empty. The entire northern part is surrounded by high rocks and if you like to explore this area of the lake, you'll need to rent a boat.
Kel-Suu is one the few lakes that will require a border permit to visit. Obtaining a permit for this area can be done through the local CBT by emailing them. Getting the permit shouldn't take more than a week. The lake is very remote and the only way to get there is with a 4X4 vehicle. We highly recommend contacting Kyrgyz Nomad to arrange your trip there.
[kt_box opacity="1″ background="#eded6d"]
You could also join our 2019 Overland Expedition to Kel-Suu lake.
[/kt_box]
The valley around the lake is quite spectacular and from there you can do various hikes to the surrounding peaks where you will have a great view of Kel-Suu. A lot of shepherds in the valley also rent horses if you would like to explore the area on horseback.
Kok – Kiya Valley. Kel Suu lake is just an hour walk away
4. Hiking in Ala Archa National Park
Ala Archa is an Alpine National Park in the Tian Shan mountains, about 40km south of Bishkek. There are 3 marked hiking trails in the park and they all start at the Alpager Hotel, right near the entrance of the national park.
1. Ak-Sai waterfall
The hike to the Ak-Sai waterfall is a short one (7km round-trip) and can easily be done in one day. The path is well marked, just follow the sign to the left, towards the forest. You'll have to ascend a steep slope at first but once you arrive in the open area above the valley, the hike becomes easier.
Follow the path above the river until you reach a creek. After crossing this creek, you'll see that the path narrows. There you must stick to your left and follow the steep path until you reach the waterfall.
2. Ak-Sai Glacier
The second trail leads to the Ak-Sai Glacier, located at 3350 meters altitude.
This hike is a 9-hour round-trip and even though it's only 14 km to the glacier, the trail involves 1,100 meters in elevation gain. It's a physically demanding hike across a slippery and steep terrain and if you want to do it in one day, you should start early!
This hike might be better if you take 2 days for it. There's a free camping ground near the Ratsek Hut where you can pitch your tent for the night.
The beginning of the trail is the same one for the Ak-Sai waterfall but once you crossed the creek, you have to take the narrow path to your right. From there it's a steep 3-hour climb over stones and gravel until you reach the Ratsek Hut, a wooden cabin named after the Soviet Alpinist Razek Vladimir. Many alpinists use this area as a base camp before they climb the various peaks in the park.
Rakset Hut and Base Camp
The Ak-Sai Glacier becomes visible as soon as you reach the plateau before the Ratsek Hut but the best view of the glacier is from the ridge above the cabin.
3. Hiking to the Ala Archa Valley
The trail to the Ala Archae Valley is the least visited in Ala Archa. It leads to an old Soviet-era ski base, located at 3400m just below the foot of the Ala-Archinskii, Mana and Toktogula glaciers. There's also a small lake near the ski base that stays frozen for most of the year. You can hike to the Ala Archa Valley in one day but if you bring a tent, you can make it all the way to the ski base and even visit the Adygene Glacier. Read the detailed description of this hike here.
[kt_box opacity="1″ background="#eded6d"]
Read also: The 8 Best Hikes near Bishkek
[/kt_box]
5. Hiking in Jyrgalan valley
After hiking on different trails and mountain ranges in Kyrgyzstan, I have to say that the trails in Jyrgalan valley are some of my favorite ones.
This valley is located on the eastern shores of Issyk Kul Lake and is one of Kyrgyzstan's most picturesque regions. Until a few years ago, Jyrgalan was a small coal-mining town but after the fall of the Soviet empire, many families abandoned the town.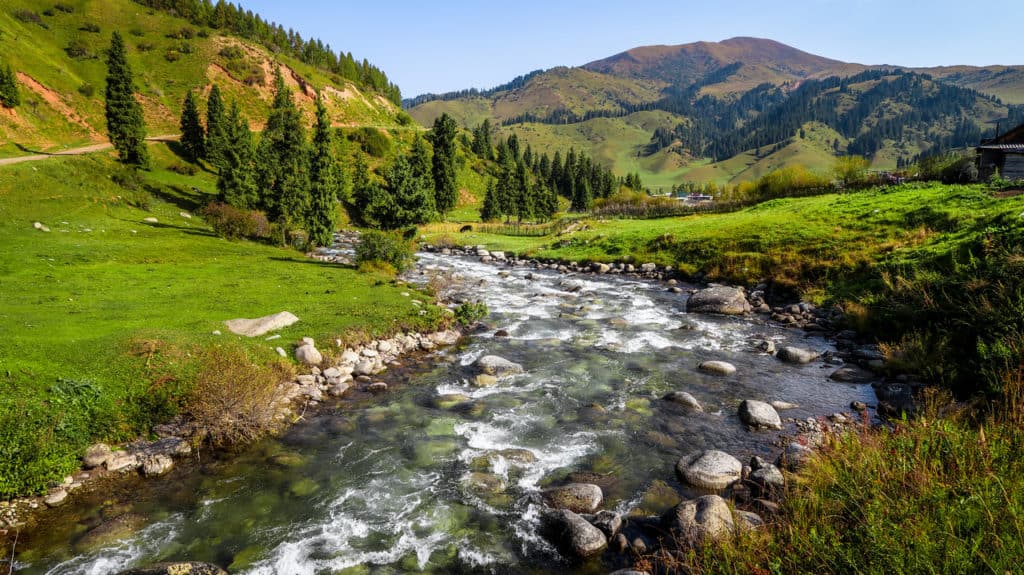 Things are now changing very quickly in Jyrgalan and it's becoming the next best hiking destination in Kyrgyzstan. When it comes to Jyrgalan valley, the question isn't whether or not you should trek there but rather which day trek or multi-day trek will inspire you the most. These treks cover a wide range of difficulty levels. They go from short half-day hikes to multiple days treks that climb almost up to 4000 meters.
Have a look at the destination Jyrgalan website to have a list of all the best day hikes and multiple day treks in the Jyrgalan valley. When I hiked there last year, I went on a short day hike to a waterfall called Kok-Bel and I also hiked to a mountain pass called Robber's Canyon. Check out the hikes I did in this gorgeous valley with a group of travel bloggers here:
[kad_youtube url="https://www.youtube.com/watch?v=ez0txW2tl14″ width="600″ height="400″]
6. Hiking to Peak Lenin
We didn't hike to Peak Lenin while in Kyrgyzstan but Chris from The Sandy Feet did. Here is his report on the hike. Dubbed the easiest 7,000m mountain in the world, the gargantuan climb to the summit of Peak Lenin starts and ends at Peak Lenin Base Camp nestled in the golden hills beneath the stark Pamir Mountains. The hike is tackled as part of a guided 3-week expedition involving several acclimatization hikes before setting off for the final push to the summit at 7,134m. Peak Lenin is not a technical climb, but it's also not a feat to be taken lightly. The altitude and challenging terrain alone make this an extremely challenging hike and a decent level of fitness and hiking experience are essential. The trail winds from the lush plains beneath the mountain along steep cliff lines of loose scree, across deeply creviced glaciers and open plains of virgin snow until the jagged peaks of the Pamir Mountains sprawl out below your feet. If the weather behaves, the views from such lofty heights are spectacular and certainly reward enough for the arduous ascent, whether you reach the summit or not.
Captured at Lenin Peak on 18 Aug 2017 by Chris Eyre-Walker Photography.
Find out more information about hiking to Peak Lenin here. If you would like to see some awesome pictures of Peak Lenin, have a look at this photo journal from Chris. While we were in Kyrgyzstan we met Stephen Lioy, travel blogger at Monk Bought Lunch and photographer based in the Central Asian city of Bishkek. He has been living in Kyrgyzstan for the last 5 years during which he has been going on countless hikes around the country. Here are 7 of his favorite offbeat hikes in Kyrgyzstan:
7. Ak-Sai Petroglyphs
Easy, 1 day, 9km, 500m+ / 441m- This easy route just to the west of the town of Bokonbaevo on the South Shore of Issyk Kol offers red rock canyons, magnificent panoramic views over the pearly blue of Issyk-Kol lake, and ends at a small collection of Tibetan Sanskrit petroglyphs defaced with a but of Soviet-era graffiti. Even better, it starts and ends just off the main highway so even travelers with a couple of hours to spare. Getting there: 1km west of the village of Ak-Sai, as the highway turns, a small dirt road leads towards the mouth of the auburn canyon in the distance. You can drive as far as the last homestead at 42°09'15"N 76°47'54"E, then climb to the top of the ridge to the SW and follow it to the petroglyphs several km onwards.
8. Three Lakes Trek
Easy, 3 days, 45km, Elevation Gain / Loss 2146m+ / 2007m- Easy to access, easy terrain and almost no route-finding make this a good option for inexperienced trekkers, and a series of three beautiful alpine lakes (including one beside the first night's campsite!) set amidst popular jailoos make it a rewarding experience for any trekker. Much of the access to and from Jumgal area follows old dirt roads, so those looking for an absolute nature immersion experience may want to arrange a car to the first lake and from the last.
Photo by Stephen Lioy – Photography and Travel Media
Getting there: Start in Jumgal region's Bash-Kaingdy village, 14km east of regional center Chaek, and head towards the mountains on any of the rough dirt roads that all eventually lead to the obvious valley mouth. The 18km road is passable all the way to the first lake, and we'd recommend arranging transportation at least until the first bridge some 5km up from the village.
9. Tuz-Ashuu Pass (in winter!)
Easy, 1 day, 12km, Elevation Gain / Loss 740m+ / 279m- Certainly not off the beaten path most of the year – this is by far the most popular route by foot or horseback up to Son-Kol lake – the vast majority of visitors come in summer. Winter, on the other hand, is the domain of fishermen and the few foolish foreigners who decide to brave the snow. Silent nights, icy lake, and an endless sea of stars all recommend the experience – and there's always Kyrgyzstan Cognac to keep the cold at bay.
Photo by Stephen Lioy – Photography and Travel Media
Getting there: An old jeep road leads up to Tuz-Ashuu from the small village of Kyzart in Jumgal region, or in summer many travelers will start on horseback from Kyzart pass to connect with the Tuz-Ashuu route via Kilemche jailoo.
10. Kol-Tor Lake
Medium, 1 day, 16km, Elevation Gain / Loss 1554m+ / 1554m- Though it's tempting to look for epic trips far away from the cities, the area around Kyrgyzstan's capital city Bishkek also has a number of nice hikes for visitors looking for something a little quicker or a little easier. In Kegeti valley, Kol-Tor Lake is one of the best – a few hours walk each way, and though somewhat steep the lake itself and long beautiful valley that stretches past it is an excellent one-day outing from the city. If you've got time, it's also possible to keep going up the valley beyond the lake to a lovely mountain vista at the top and continue over a pass to the west to the western branch of Kegeti valley or to the east to Shamsy wildlife preserve.
Photo by Stephen Lioy – Photography and Travel Media
Getting there: Public transportation from Bishkek's Eastern Bus Station departs throughout the day for Kegeti village, from which it's roughly 15km up Kegeti valley to a small guesthouse that serves as the trailhead in the Eastern branch of Kegeti valley.
[kt_box opacity="1″ background="#eded6d"]
Read also: The 8 Best Hikes near Bishkek
[/kt_box]
11. Truly Nomadic Land
Medium, 4 days, 66km, Elevation Gain / Loss 5117m+ / 4301m- Popular nomads' pastures and craggy mountain peaks make every day of this trek a delight, as does the fact that it's in a relatively under-explored section of the country near the Silk Road city of Osh. Though daily distances are fairly short, massive elevation gain and loss as the trail tracks up and over mountain ridges means amazing views but punishing leg workouts. This is a good one to consider taking horses on to carry baggage.
Photo by Stephen Lioy – Photography and Travel Media
Getting there: The route starts off the road to Kojokelen village, about halfway past the Papan reservoir, several hours southwest of the city of Osh. Public transport is limited to one or two vehicles per week, so it's worth contacting the Destination Osh DMO for help in arranging a ride. You can find more info and prices for a guided trek here.
12. Ak-Suu Transverse
Hard, 7 days, 115km, Elevation Gain / Loss 7349m+ / 7731m- Maybe my favorite trek in the whole of Kyrgyzstan. Eight passes, seven days, five mountain lakes, way too much fun. Every pass a viewpoint more stunning than the one before, and an approach to popular Ala-Kol lake that forces the whole panorama open at once instead of the gradual coming into view from the more common southern approach. Ala-Kol is certainly not off the beaten path and you'll likely more hikers on that stretch than any other trail listed here, but in the days before you should have the mountains to just you and the shepherds, and by the time you've seen the lake you'll be so excited that you'll want somebody to tell about it!
Photo by Stephen Lioy – Photography and Travel Media
Given the length, you may want to hire a guide or porters – contact Destination Karakol or Destination Jyrgalan for info and prices. Getting there: The route begins in the village of Jyrgalan and ends at the Kok-Jaiyk jailoo near the town of Jeti-Oguz, both of which are served by infrequent public transport from Karakol's Ak-Tilek Bazaar bus station.
13. Heights of Alay
Hard, 5 days, 79km, Elevation Gain / Loss 4321m+ / 4739m- I'm cheating a bit here, as I haven't hiked this route, but I've heard enough from the guys at Visit Alay and my friends Dan and Audrey of Uncornered Market that I'm certain I'll love it when I finally get the chance to go. Two massive passes, 4185m Jiptik Pass and 4303m Sary-Mogol Pass, both of which have incredible views across the Alay Valley to 7134m Lenin Peak and the mountains of Tajikistan beyond. Along the way, yurt camps and mountain lakes and waterfalls and more. It sounds like everything I love about trekking in Kyrgyzstan, and I can't wait to get down there and try it! Read more about trekking in the Alay Mountains.
Photo by Uncornered Market
Getting there: This route can be hiked as a loop from the village of Sary-Mogol in the Alay Valley, which is served by regular public transport from Osh. If you're entering Kyrgyzstan from Tajikistan or China, it's also possible to change buses in Sary-Tash to head further into the Alay instead of having to backtrack later from Osh. More Information For more information on USAID BGI's trail marking and mapping initiative or to learn where you can purchase copies of Kyrgyzstan trekking maps, see this post on Asia Hikes.
Another traveler who spent quite a bit of time in Kyrgyzstan recently contributed one of his favorite hikes in the country to this article. John Griffin, an American who now resides in Osh, told us about a very interesting hike near this southern city:
14. Be a Nomad Hike
moderate, 3 days, 32 km, Elevation Gain / Loss: 2111m + / 2834m – This inspiring three-day hike can be enjoyed on foot or on horseback. It's the ideal hike to discover the southern peaks of Kyrgyzstan known as the Alay mountains. During this hike, you will traverse meadows where Kyrgyz families keep their yurts in the summer. The nomadic camps are perfectly located along the path so you can enjoy a relaxing night in a yurt at the end of every day. On the third day of the hike, you'll get splendid views on surrounding valleys from a high mountain pass and from there you can walk (or ride a horse) to the idyllic village of Karabulak. For a complete day-by-day itinerary of this hike, read the article John Griffin wrote about it. How to get there To arrive at the trail-head of this trek, you'll first have to take a taxi from Osh to Chychyk along the Pamir Highway. Most taxi drivers do not go to Chychyk, but pass the road-side jailoo on their way to Gulcha. When looking for a taxi to the trailhead find drivers going to Gulcha and ask them to stop in either Chychyk or Kara Bulak (depending on your starting point). At Chychyk there is a sign marking the start of the trail on the side of the road, near a large silver arching monument. If you would like to do this trek on horseback instead of on foot, you can find more information for the horse, guide and yurt prices here.
I hope this guide was useful and that you'll enjoy hiking and trekking in the pristine mountains of Kyrgyzstan as much as we did!
[kt_box opacity="1″ background="#eded6d"]
Read also: How much does it cost to travel in Kyrgyzstan
[/kt_box]
We always love to hear from you so if you have any questions concerning hiking in Kyrgyzstan or if you think there's another hike we should add to this list, get in touch with us or let us know in the comments below!
KNOW BEFORE YOU GO – KYRGYZSTAN TRAVEL TIPS:
Everything you need to know about traveling independently in Kyrgyzstan (visa, how to get to and around Kyrgyzstan, where to stay,…):
Plan your trip to Kyrgyzstan:
Hiking, skiing and horseback riding in Kyrgyzstan:
KYRGYZSTAN TRAVEL RESOURCES: